Search Divi Plus Documentation
Search for answers or browse our knowledge base.
Divi visual builder became slow or does not load?
There could be more than one reason behind this situation. Please check out the following steps to address the issue.
1. System status:
When we have all the Divi Plus modules and extensions enabled, they will be available for use in the Divi Builder. As they are additional features, they would also require additional memory (above the minimum recommended values) to work efficiently.
Please check the System Status on your website to check the resource limits.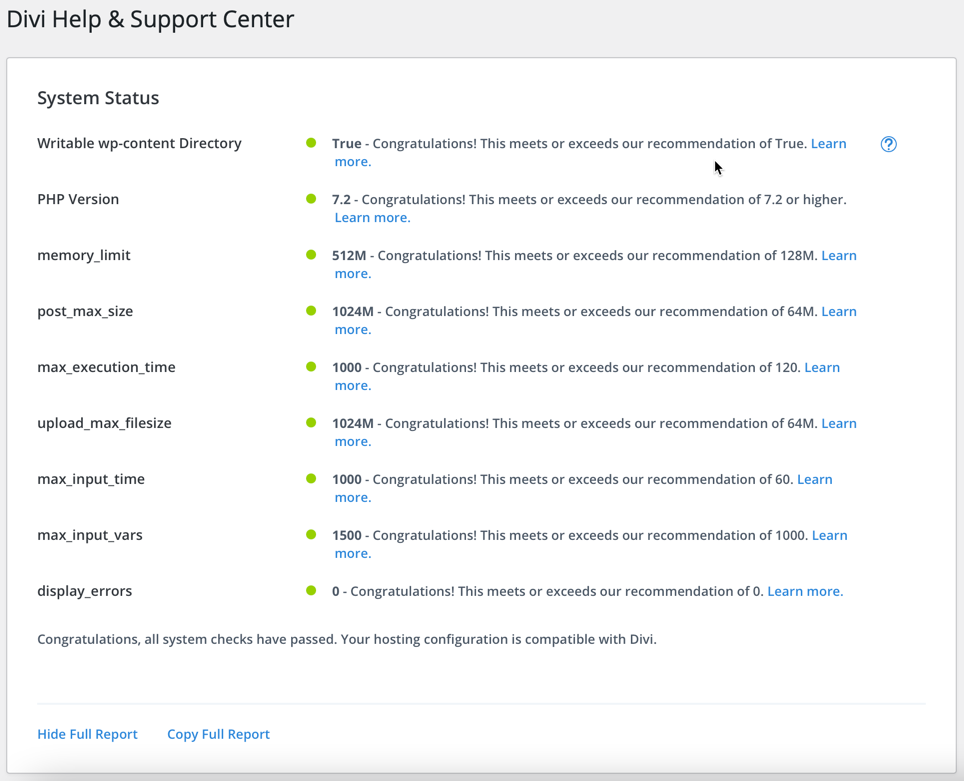 If we are near the minimum memory and resource requirements, we could try to increase the resources as the minimum requirements are recommended for Divi theme and if we add a plugin that brings in another 50+ modules, more resources will be ideal to run the builder smoothly.
As a workaround, we also have an option in Divi Plus to disable the modules that you don't want to use. This will not load the module on the builder and thus will help in memory management.
This is how we disable or enable a Divi Plus module: https://diviextended.com/documentation/divi-plus/enable-and-disable-divi-plus-modules/
2. Multiple plugins of similar functionality: We noticed similar issues on sites that had other plugins installed (similar to Divi Plus). This eventually adds a large number of modules to the builder which requires more hosting resources.
3. In Divi Plus, we have options to disable the modules you don't want to use. By default all the 50+ modules are active and are loaded on Builder. If you don't want to use all the modules, you could disable them. This will improve the performance.
Check for the above situation and if you still face an issue, please create a support ticket from the website where you placed your order.