Search Divi Plus Documentation
Search for answers or browse our knowledge base.
Import Divi Child Themes Much Faster and Easier
Note: In order to use Divi Plus child theme you must have active Divi Theme and Divi Plus plugin on your site.
Divi Plus Free Prebuilt Child Themes are free-to-use child themes that we have developed exclusively for Divi Plus users.
These child themes come with limited support for import and customization and require a basic understanding of importing and using a child theme.
It is also recommended to install Divi Plus Free Child Themes on a fresh WordPress installation.
The following documentation covers the basic steps you will need to download a Divi Plus Free Child Theme and install it on your website.
Download
You can download your Divi Plus Free Child Theme from here. Click on View Details and the Download link is present right on the top of the next page.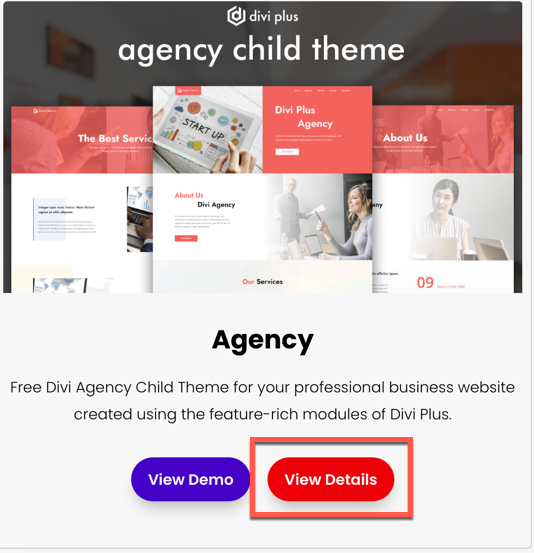 How to import
We do not cover support for settings and configuration of child themes, especially the design area. If you experience an issue with a module, please create a support ticket from the website where you made your purchase.
Note:
If you encounter issues with the demo import after installing and activating the theme, it's crucial to verify your system resources.
As Divi Plus is a multi-module plugin, having adequate system resources is essential. Insufficient resources can result in import demo content.
For detailed information on the system resource requirements, please refer to the documentation provided in the following link:
If you continue to experience the issue, please don't hesitate to contact our support portal.
Our dedicated support team is here to assist you further and resolve any ongoing problems you may encounter. Click on the below link.
https://diviextended.atlassian.net/servicedesk/customer/portals
Was this article helpful?
2.9 out Of 5 Stars
21 ratings
| | | |
| --- | --- | --- |
| 5 Stars | | 19% |
| 4 Stars | | 29% |
| 3 Stars | | 10% |
| 2 Stars | | 5% |
| 1 Stars | | 38% |