Building a Divi shop is amazing when you've got the right tool. And you don't have to put extra work to make everything right for your customers as well as you — the owner. You can use the Divi and WooCommerce to lay out the structure for your Divi store, but still, you may find it lacking some abilities that might benefit your customers a lot.
Therefore, keeping this thing in mind, we've built another Divi child theme, to help you build an eCommerce store that easily fits all your requirements. Combining the power of WooCommerce, and Divi ofcourse.
And in this blog post, we're going to look at all the amazing things this new Divi WooCommerce child theme has to offer.
Divi Cart Pro by Divi Extended
---
The new state-of-the-art Divi store child theme we've developed for you to create an overwhelmingly impressive Divi shop is Divi Cart Pro — it's fast, incredible, includes the latest features, and open possibilities for a Divi eCommerce website like never before. Using this particular Divi shop builder theme, you can easily create online stores of various kinds. Whether you want online clothing stores or grocery, the Divi Cart Pro is one of the best WooCommerce themes for Divi you can go for.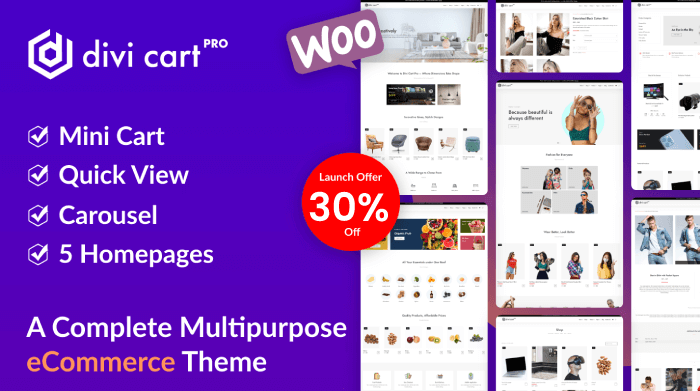 Moreover, it's developed by Divi Extended – the #1 best selling developer at the Divi Marketplace. So, you can get an idea how good this child theme is for your current or next Divi WooCommerce project.
In addition, when you'll use the Divi Cart Pro, you won't have to use or purchase any other 3rd-party Divi shop builder plugins to fulfil some eCommerce requirement. With this premium child theme, you'll get everything before hand, so you can focus on the crucial aspects of running an online business.
Insight on Divi Cart Pro – A Premium Child Theme for Divi eCommerce Stores / Shops
---
For a premium child theme having two or three sets of features isn't enough. It should provide its users more and that, too, with quality and perfection. If you're looking for that in your next Divi shop child theme, Divi Cart Pro is a nice place to start and complete your Divi and WooCommerce powered digital store. Not one, two or even three, this child theme combines a lot of different useful features that can power your website immensely. The list of features is long,
From Multiple WooCommerce Storefronts to Beyond – General Features of Divi Cart Pro
---
With the power of Divi & the functionality of WooCommerce, Divi Cart Pro, with these as its core, brings many possibilities to create an outstanding eCommerce platform. The very stunning feature it includes provide you with over 5 different modern-highly functional homepage layouts. If you want to create multiple storefronts, these are great to work with. Easily and quickly, you'd be able to set up an online shop having multiple sides. Plus, as the child theme is under the commitment to receive frequent updates, you can expect more high-quality store homepages. So, these are not all. Instead, more are on the way.
Classic Fashion

If you want to provide your customers with a straightforward yet highly functional clothing store, you can try the Classic Fashion homepage of Divi Cart Pro. It's clean, bold and places all the sections in a highly organized manner. No distraction or feeling of overwhelming.
Modern Fashion

Want to engage users on your online clothing store with stylish looks and designs? Then using the Modern Fashion homepage is a perfect choice. Similar to Classic Fashion, it's also clean, bold and organizes everything nicely.
Electronics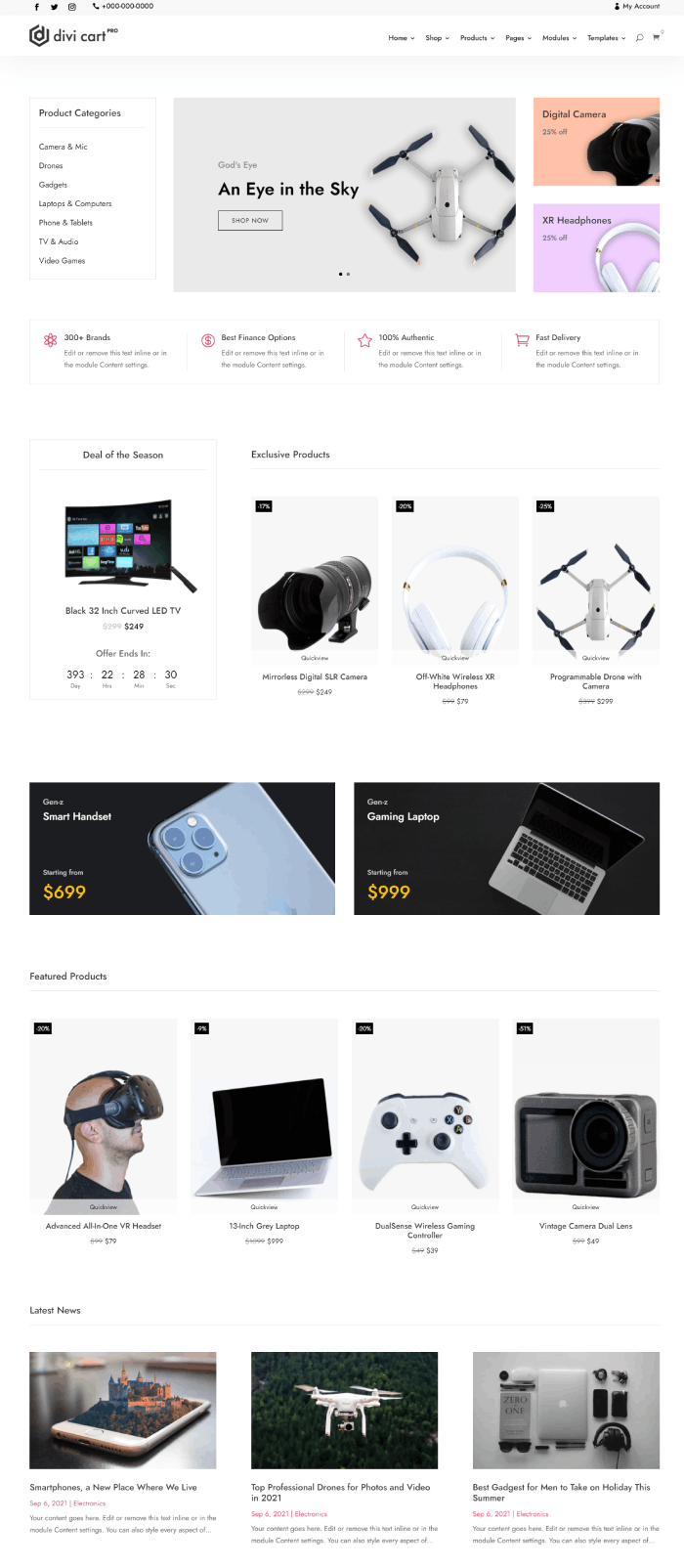 Planning to launch electronic gadgets or products online store? Then Divi Cart Pro's Electronics homepage could be the face of your new endeavour. It starts elegantly by showcasing multiple products sections with a sidebar of featured categories. On further moving down, it impresses you with its sleek design and new-age functions.
Decor

Into decor? No worries, the Divi Cart Pro and its Decor homepage, has got you covered elegantly. This particular homepage won't disappoint whether you want to build a complete decor items website or just specifics. It includes all the necessary elements required for a decor website to excite its customers and bring more cash into the pocket.
Grocery

For an online departmental or general store, there's nothing better than the Grocery homepage layout. It starts with a wide multiple section hero space — useful to display discount offers and targeted categories. Then, you get the items category section that allows customers to open the product they want to purchase easily. Moving further down, it enables you to highlight store features and policies with attractive blurbs.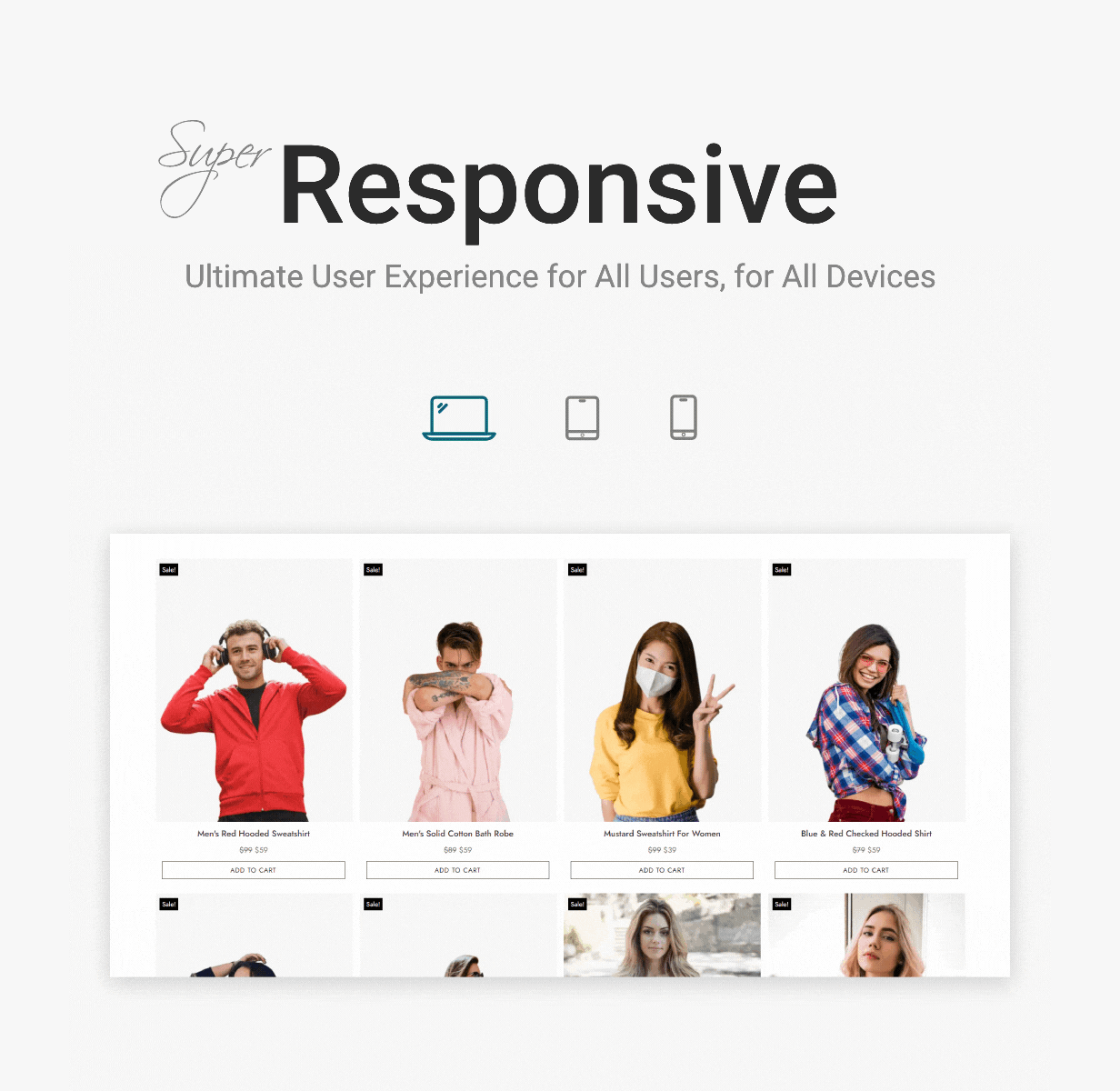 Apart from these homepage layouts, the Divi Cart Pro is exceptionally responsive to devices of different resolutions. Thus, it makes your Divi eCommerce store accessible for users of various devices. Whether Computer, Mobile or Tablet, an online shop created using Divi Cart Pro will perform the same as everywhere.
With responsiveness, what else you get with Divi Cart Pro is the ability to get imported on your WordPress easily. It comes with the Easy Import solution that lets you upload every layout or selected ones in a single click. So, no heavy-duty to get what you'll see on the demos. Simply select what you want to upload, and the rest is to the importer.
Get Divi Cart Pro at an Unbeatable Price
---
It's exciting to share that Divi Cart Pro is available at $39 only with all the outstanding features and options we'll discuss below. Furthermore, to make this new release even better, we're offering a 30% discount on it. So, you can get it at an even lower price, that's $27, before it goes back to its original.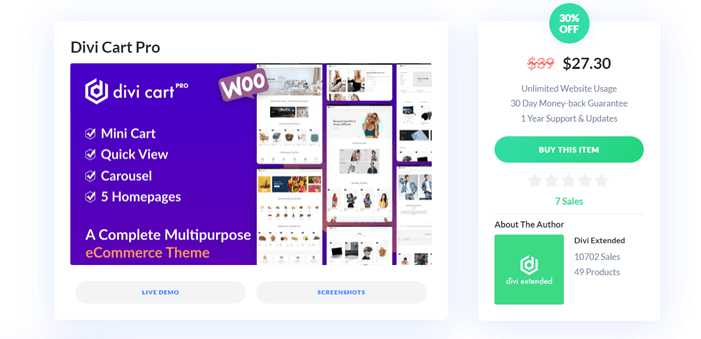 With your purchase of Divi Cart Pro, you won't only get the high-quality features and design but also receive high-quality support as well as updates for one year. And with more features and options in each update, it's possible that the price might go high. Therefore, it's the best chance to have your hands on one of the best WordPress themes for Divi WooCommerce.
Multiple Highly Customizable Divi WooCommerce Modules
---
With Divi Cart Pro, you're independent. There's no need for you to use any third-party plugin to perform various WooCommerce functions and become dependent. Because the custom modules available with this theme makes it easy for you to improve the functionalities of your Divi store. Also, if you don't want to use the pre-built shop layouts, then these custom eCommerce modules will be of great help.
Currently, it comes with 4 unique and powerful Divi modules for WooCommerce that offers exceptional features for Divi stores. Plus, as well as feature-rich, they're also easy to use. So, you can effectively make the most out of them. The custom Divi WooCommerce modules available with the theme are,
Mini Cart

— Quick & Easy to Review Cart Products

Make it easy for your visitors and customers to review their products added to the cart from anywhere on the page. The Mini Cart module allows you to add a cart icon on the store that showcases what users have added to the cart.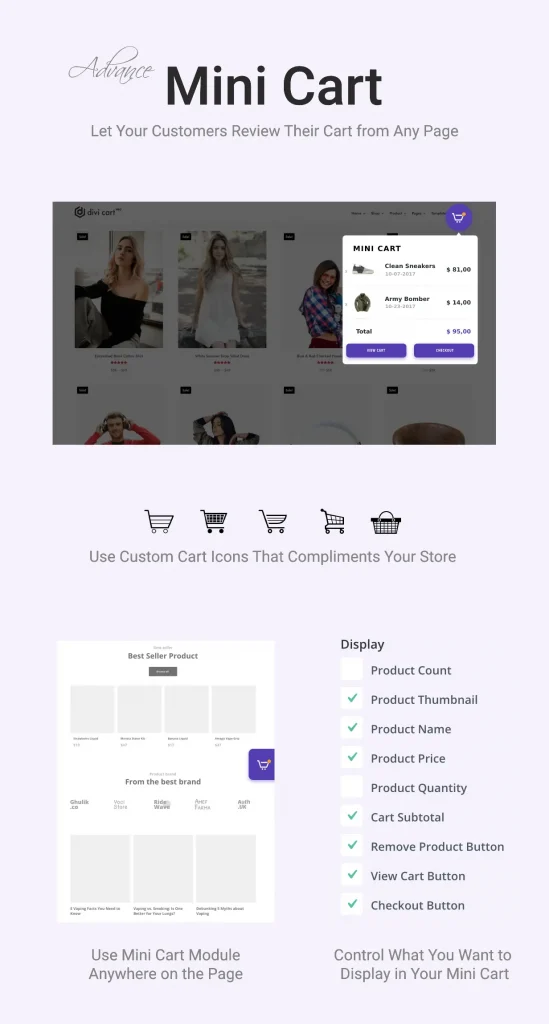 Customers can view the total amount of the products in the mini cart, visit the cart page or directly go to the checkout. It's fast and effective. In addition, it provides you with multiple different options that makes it highly efficient for your store. With this module, you can choose what to display in the mini cart, use a custom icon, display the Mini Cart On-Hover or click, and much more.
WooCommerce Products

— Style Divi Shop Products Elegantly

Don't want to use the pre-built shop layouts? No big deal. This – WooCommerce Products module has got you covered. It allows you to display WooCommerce products in the most excellent way. You can show pagination, enable Quickview, star rating and more for products.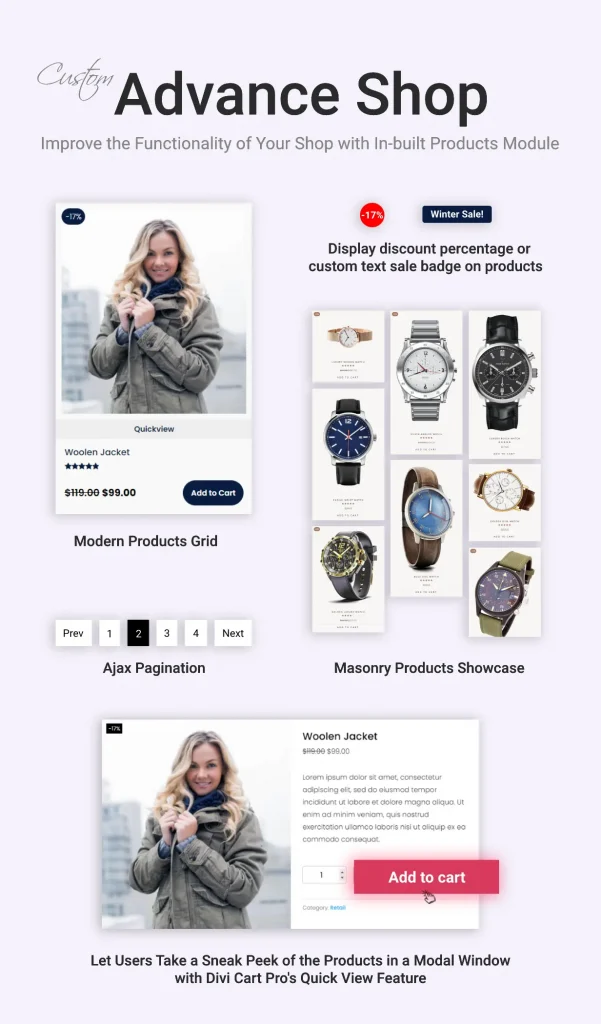 With the help of this module, you can also place products in a masonry format with multiple columns and custom spacing. The module is super intuitive, and you'd love to create your custom shop page with it.
Products Carousel

— Grab Customers Attention With Products on a Slider

Enhance the look of your Divi shop page even more using the Products Carousel module. It allows you to showcase products on an interactive slider. Users will be intrigued by it and try to interact, which would increase user sessions. Whatever options you get with the WooCommerce Products module could be applied to the products on the slider.

You can choose products from different categories, tags, and more on the slider. Plus, apply different slider customizations like arrow styles, pagination, and slider effects to make it even more interesting.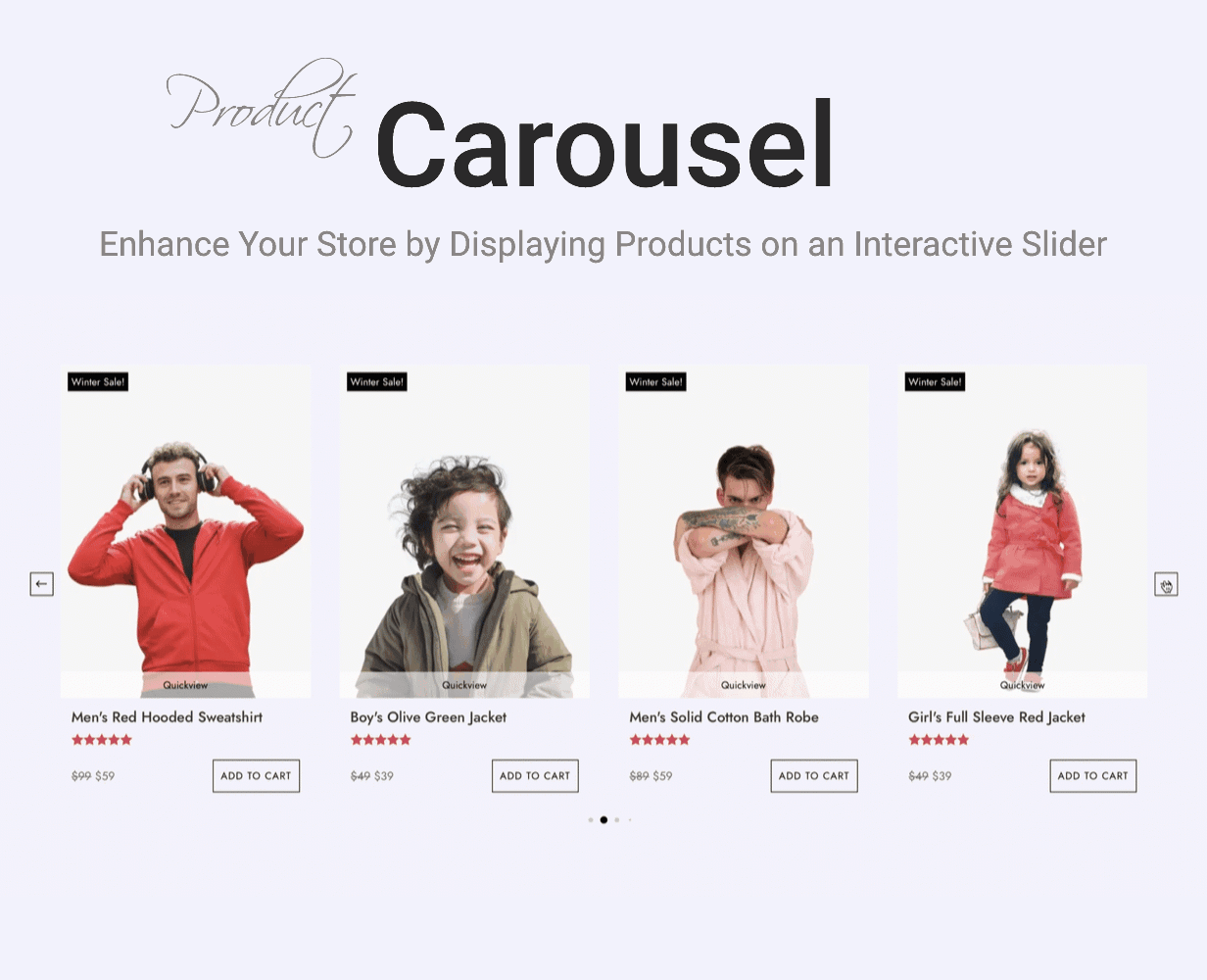 This module simply makes it possible to give a unique and outstanding look to the shop in simple clicks.
WooCommerce Categories

— Create Astonishing Products Categories

The WooCommerce Categories module gives you the power to create and display engaging products categories. Whether you want to highlight products or simply let users know what type of products are available on the store, this module is a perfect choice to do it. Similar to the following examples, you can beautifully attract users to explore more.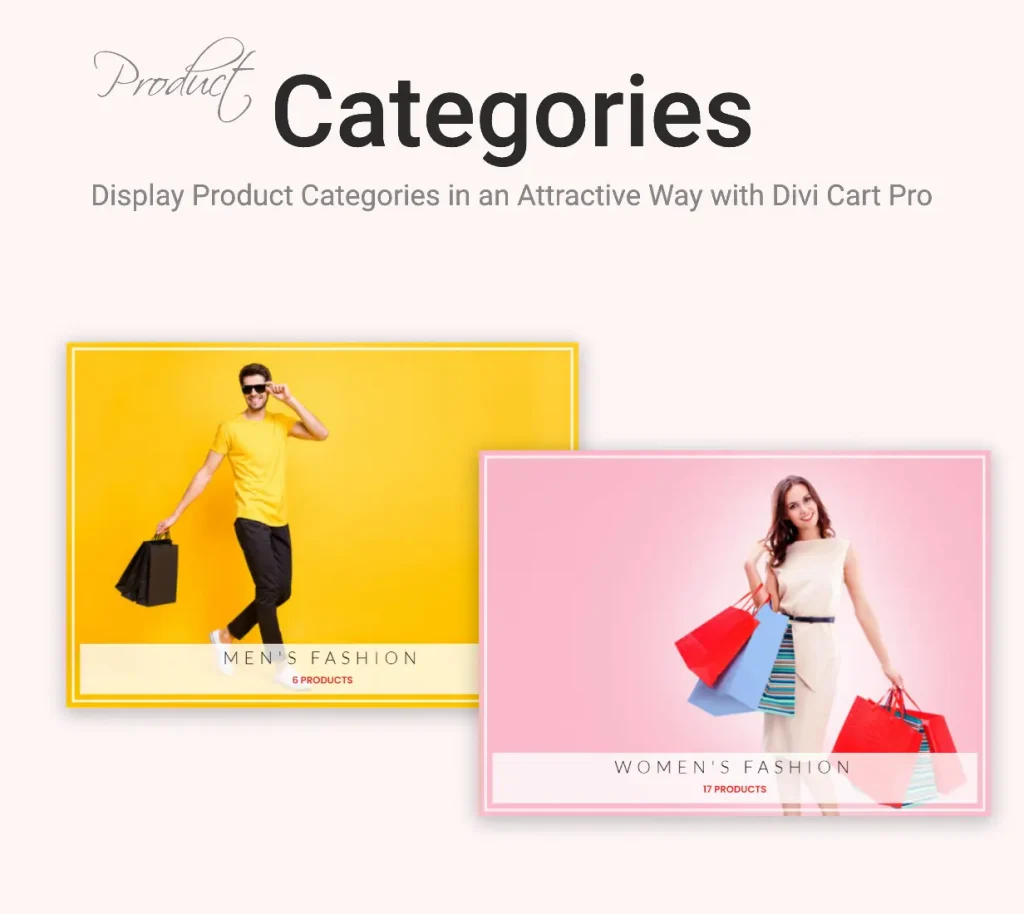 Unique & Beautiful Divi Shop Layouts
---
Without a beautiful and clutter-free Divi shop page, it would be difficult for your customers to visit products pages. And not even visit, but it would be difficult for them to stay on the site. They'd be distracted by unnecessary elements and find themselves overwhelmed. In that case, you'd face a drastic decrease in your sales and leads as well. The solution to this problem is to go with Divi Cart Pro's pre-built shop layouts.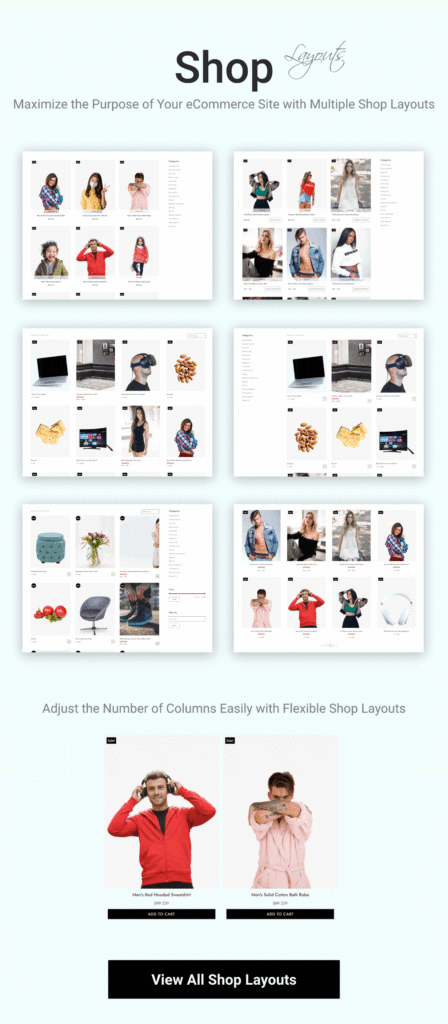 You don't want to be involved in the process of creating a Divi shop page from scratch, so using these shop layouts would be efficient. Currently, there are 5 different shop page layouts available with the Divi Cart Pro child theme. Using these layouts would be easy, and your store will have a great look.
Multiple Out-of-the-Box WooCommerce Product Page Layouts
---
With a simple Divi product page, it's much harder to compete. Also, if you've got different products from different categories, then having a similar product page layout won't intrigue users in a much better way. Though they might be able to purchase from your store, but if your competitor has a unique and modern looking layout, next time, they might consider them more than you. This is a crucial situation for every eCommerce store owner. That's why Divi Cart Pro offers its users over 10 different WooCommerce product page layouts.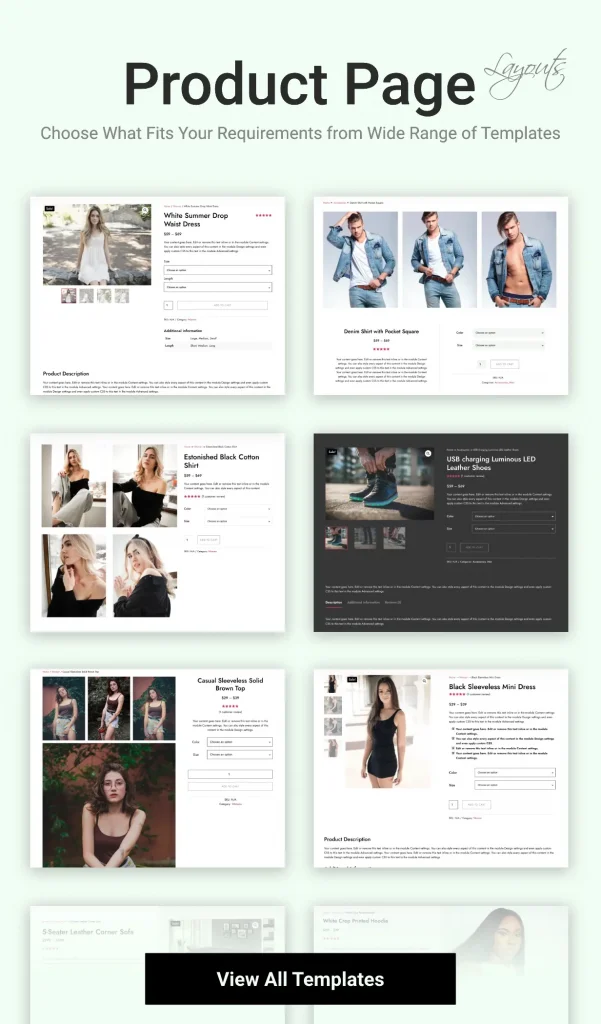 Using these layouts, you can offer your customers outstanding interfaces for your products from different categories. Furthermore, it will allow you to present a product with uniqueness, keeping customers excited to explore more. Each product page layout is clean, readable and created with the latest design trends in mind.
You can expect your product page to display various elements alongside different attractive effects such as,
Breadcrumbs.
Star rating.
On-hover zoom.
Related products.
Quantity, size and color selector.
Scroll effects
Products Image Autoplay
And more.
Exceptionally Rich Divi Templates
---
Not only shop or product pages, but with Divi Cart Pro, you can also enhance the look and feel of your store's other areas. It includes multiple templates that would increase user engagement on the store as well as reach a wider audience.
The available templates with Divi Cart Pro are,
5 Blog & Post Templates
Allow visitors and customers on your Divi shop to easily explore the content using these high-quality blog templates. Once the read/user/customer is intrigued with the archive, engage them with quality content presented on the high readability of Divi Cart Pro's post templates.
5 Header Layouts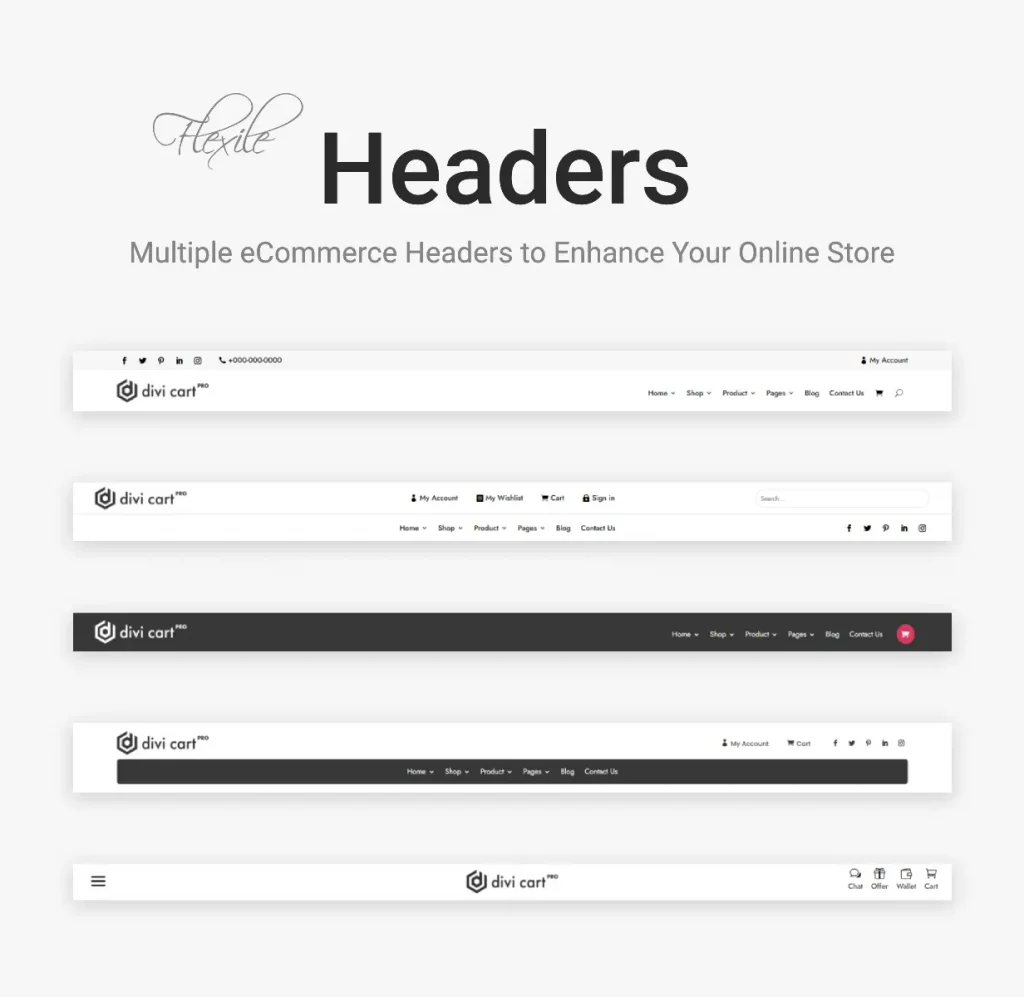 Mesmerize users with well-designed header layouts that keep menu items well organized. And makes it easy for customers to explore different areas of the Divi shop seamlessly.
5 Footer Layouts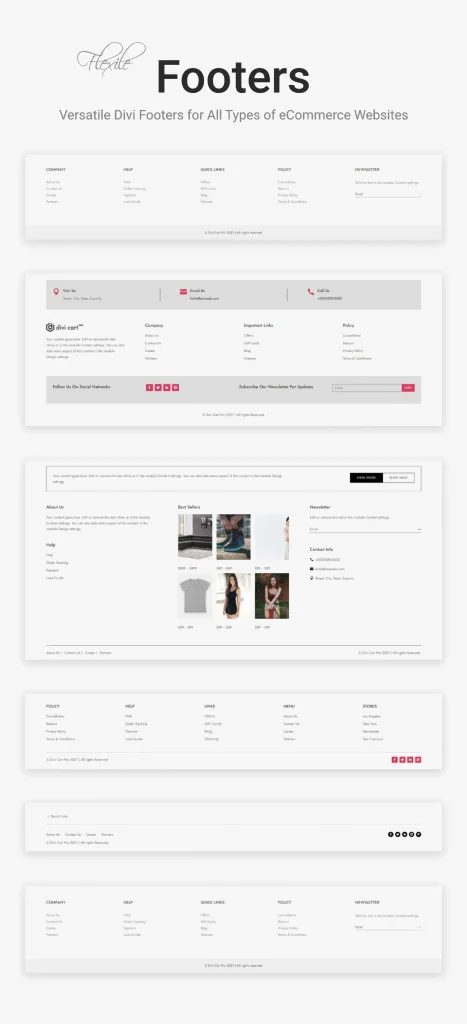 Quick links, targeted products, or even subscribers form, the 5 premium footer layouts available with Divi Cart Pro optimizes the store's footer immensely.
Do Extra for Divi Shop With Additional Pages
---
To help you complete your Divi store from all angles, the Divi Cart Pro child theme, brings additional pages for your convenience. The additional pages included with the theme are,
About us
Contact us
And 404
Using these pages, you'll be able to give your customers a profound user experience without leaving crucial details about the store or business.
Simplified Documentation to Help You Easily Use the Divi Cart Pro
---
A great child theme sets its foundation by providing easy-to-read and understandable documents that help users quickly get used to it. Without proper documentation work, you'll be confused and bound to have a hard time with the theme — no matter how great features or designs it promises to offer.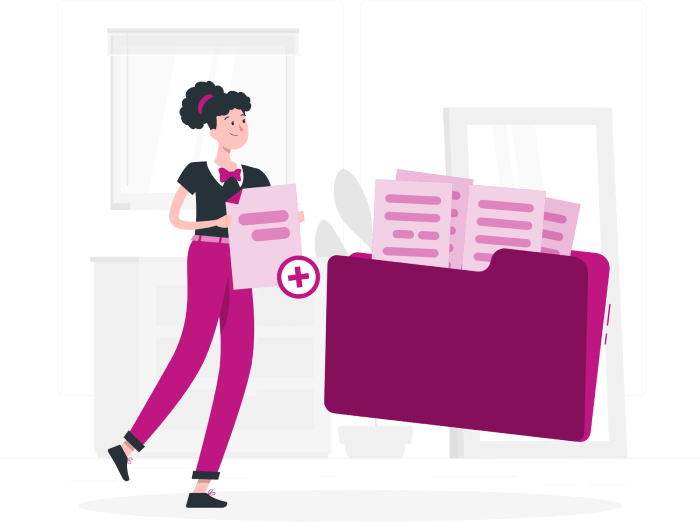 That is why Divi Cart Pro comprises straightforward documentation work that allows you quickly explore all the features and make them work per your requirement. With this Divi shop child theme, you won't find any unnecessary terms or points that might take your time for no use. Everything inside Divi Cart Pro's documentation is junk-free and up to the point.
Regular Updates to Keep Your Divi Shop Outstanding Forever
---
Technology changes faster than anything in today's time: primarily the digital. Today's flagship becomes tomorrow's history. Hence, you cannot keep one design forever for your Divi shop. Therefore, to keep your Divi online store ready to meet new looks and functionality per the latest trends, the Divi Cart Pro child theme will receive regular updates – both major and minor. To either ensure safety or bring something new for the store. Thus, it simply means, with Divi Cart Pro, your store's future is bright and ready to fit tomorrow's requirements.
Dedicated Support Whenever You Need
---
Before purchasing any product online, it's better to review how good the support is. Because after all, it defines how satisfied you'll be using the product when you'd find some issues with it. In this case, Divi Cart Pro receives one of the best customer support from its developer – Divi Extended. Whether you want installation support or any technical issue resolved, the support team at Divi Extended will provide you with the frictionless solution you might be looking for. Just give us a try, and you'll be amazed. And that's not what we are saying; instead, our customers praise.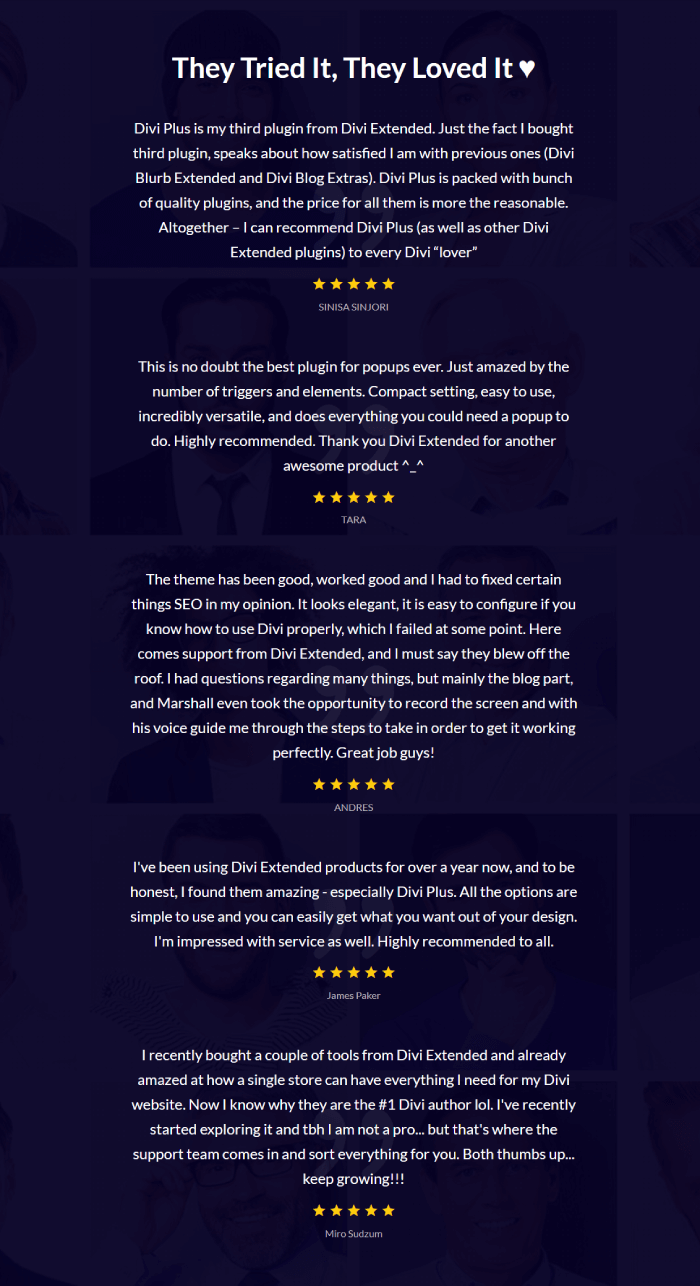 Wrapping Up
---
So that was our look at the Divi eCommerce child theme — Divi Cart Pro by Divi Extended. We looked at all the features and options it provides. Whether you want to start a new digital store or revamp the old one, using this child theme would be of great benefit. It's fast, feature-rich and highly customizable. And for a price of $39, it's a charm. However, it's currently available at $27, so you can take more benefit from it.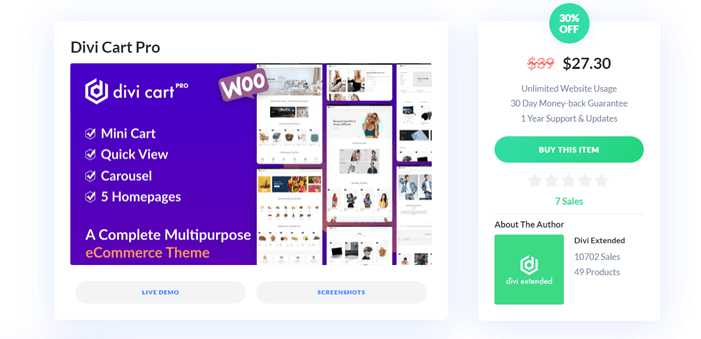 Moreover, it's under a 30-day money-back guarantee. Therefore, you're at more advantage, so give it a try and find out what best it can offer. We're sure you'll be amazed by it.
We want to hear from you. Have you tried Divi Cart Pro? Let us know what your experience was. We hope it's incredible. Now, go and grab your hands on it…. before it goes back to its original price.