Smart and Easy Way to Create Divi Popup and Lightbox for Videos, Images, Text, and Much More.
Divi Modal Popup is an essential plugin when it comes to creating Divi Popup and lightboxes. You can achieve many goals using this single plugin alone. No need to install multiple plugins for the creation of Divi Popup and Divi video lightboxes separately. Plus, various modal trigger types, content display options, and many more easy-to-use design options make it a must-have plugin in today's modern web development.













Activate Divi Popups With Multiple Modal Trigger Types
The Divi Modal Popup plugin comes with the feature that gives control to display the modal window on 2 instances. First, when users want to see the modal. Second, when you want to show them based on the session duration of the user. Therefore, it comes with Elements and On-Page Load modal trigger types that allow you to display your modal window whenever you want and wherever you want.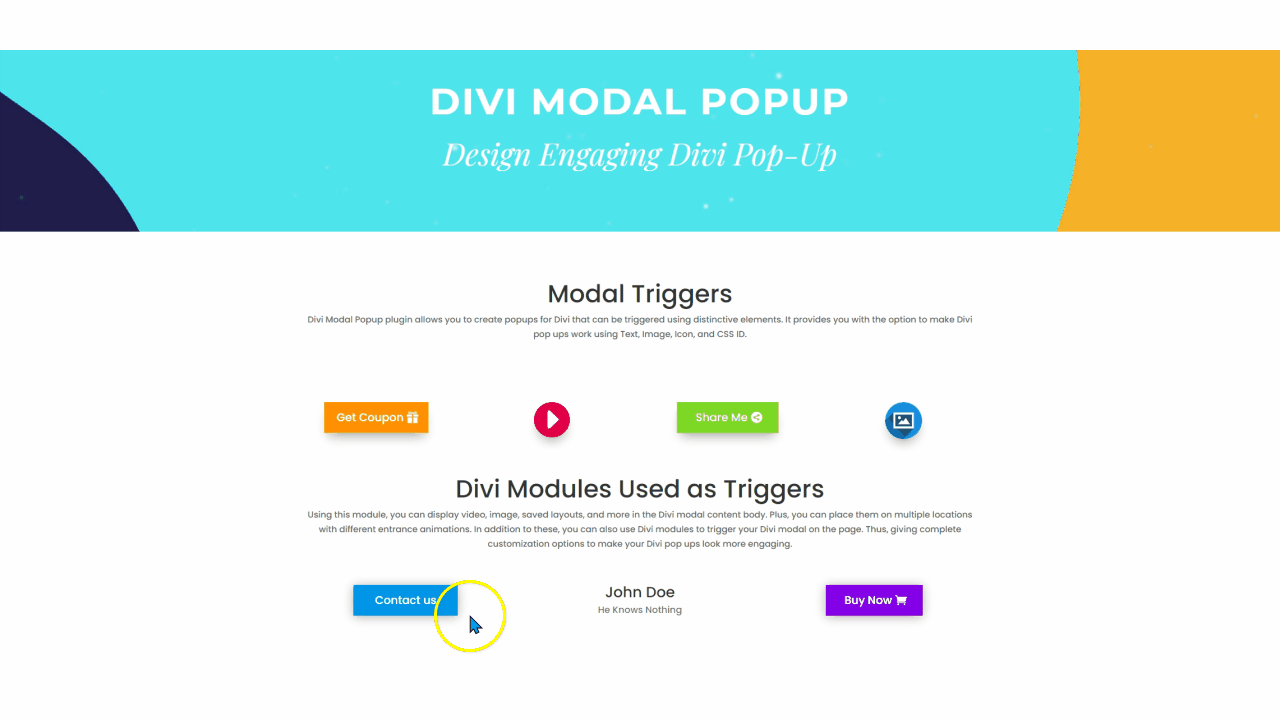 Create Divi Video Lightbox and More
Using this plugin, you'd be able to display the content of Divi modal in various types. It allows you to add videos, text, image, and even Divi Library Layouts in the modal window content body. Thus, giving you more than one option to use this plugin at its best.
Use Different Trigger Elements to Activate the Modal Window
In addition to the multiple modal trigger types, you can also use this plugin to activate the modal with different elements. Such as Button, Text, Image, Icon and CSS ID. Thus, allowing you to create popups for divi that would appear when the user interacts with the elements.
Place Your Divi Popup on the Page Wherever You Want
This feature of the Divi Modal Popup plugin enables you to display a modal window at different page locations. And not only areas, but you can also change their way of appearance. You can control the way your Divi video lightbox and popups make an entrance on the page. An exciting feature to make popups look more creative and impressive.
And Many More Customizations to Make Divi Modal Amazing
Apart from multiple trigger types, element options, and placement locations with the Divi Modal Popup plugin, you also get other numerous features. Using these extra features, you can make your popups engaging and out-of-the-box, unlike any other popups that annoy people most of the time.