One Plugin with 55+ Modules, 4 Extensions and 70+ Free Prebuilt Websites – Divi Plus
An easy to use plugin with multiple customization options to create beautiful and attractive webpage elements. Like breadcrumbs for Divi theme, headings, texts, separators, animated text, image hotspots, and before-after sliders. Also, using these Divi modules, users can easily create a beautiful Divi website within no time. A fully compatible plugin with Divi 4 and its new Theme Builder. All you have to do is use your imagination and create amazing Divi pages with the power of Divi Page Builder and our easy-to-use Divi modules.
Popular
Interactive
Image Card
Unique
Products Grid For WOO
Unique
Products Carousel
For Woo
Unique
Divi Blog Timeline
Popular
Gravity Forms Styler
Divi Library Shortcode
A faster and better way to use the saved layouts of Divi Library. The Divi Library Shortcode extension creates a shortcode for your Divi Library items that you can use to embed them anywhere on the site as per requirement.
Divi Particles Background
The Divi Particles Background extension enables you to set different animated backgrounds for each element on the site. Try different options like particle shape, speed, and more to make the particles' background extra attractive.
Element Scheduler
You can show and hide a particular element of the site on specific dates and times. Just select what you want to hide or show and choose the time it should appear or hide, and the extension will do the rest—no more extra work.
Visibility Manager
Who should see, who should not? The Visibility Manager extension provides the control to display or hide the site's elements from All Users, Logged-In Users, and Non-Logged In Users. Perfect for creating subscription or membership sites.
70+ Free Divi Child Themes
Ready to use Child Themes
Divi Plus now includes 70+ free complete child themes built using Divi and Divi Plus modules. These child themes are tailor-made for specific industries and can help you create a business website real quick.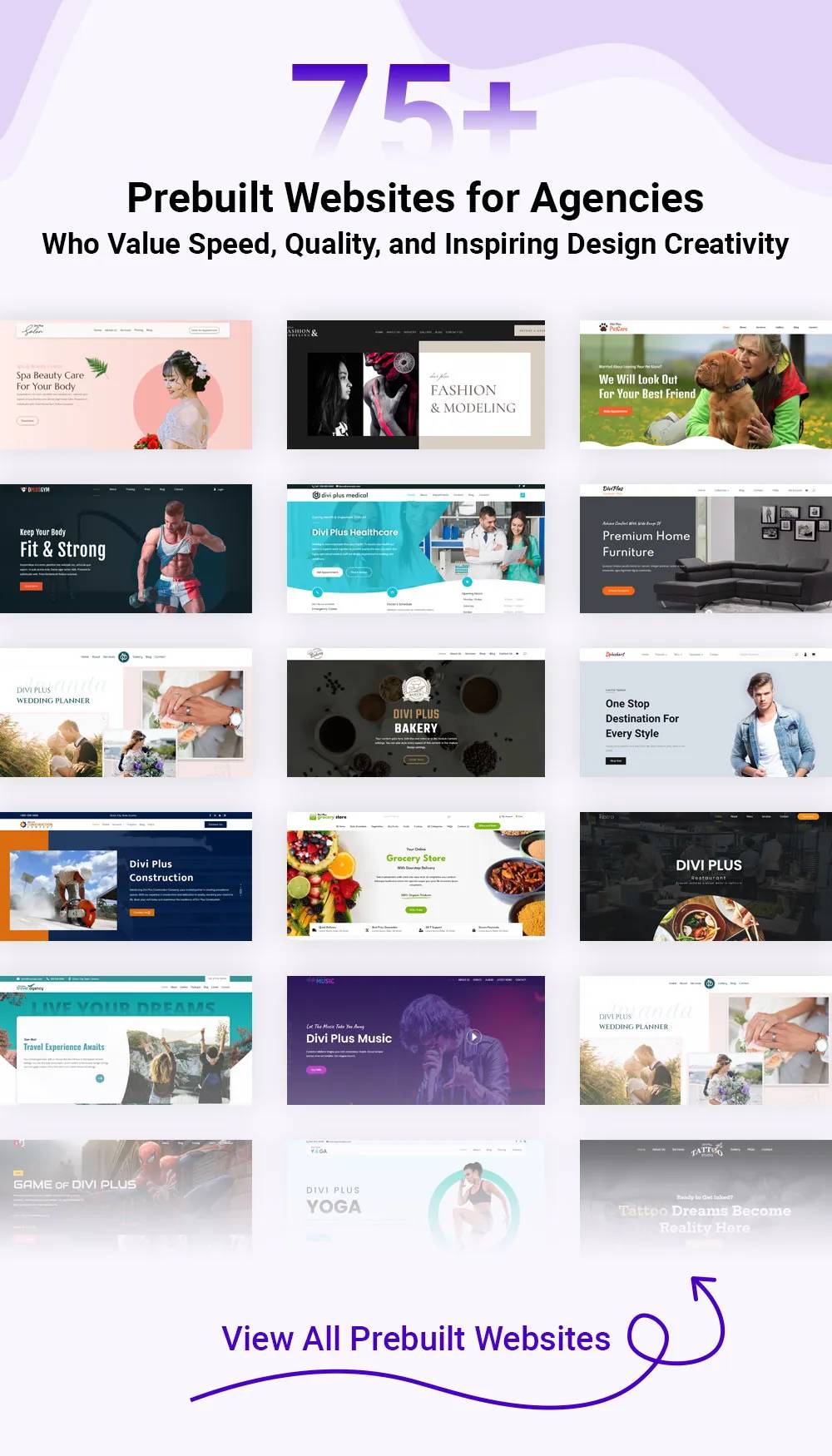 Free Starter Templates
Ready to use Starter Templates
Divi plus includes a number of free starter templates. These pre-built templates can be used to create a quick landing page for your business.
Free Section Blocks
Ready to use Section Blocks
Get access to 250+ section blocks built using Divi Plus modules. With this growing library of Divi Plus, you can build stunning pages faster with elements of your choice.
Give A New Look To Your Divi WooCommerce Shop
WooCommerce Products Module
Beautify Divi shop in a new way with the Woo Products module. It's easy, it's modern, and it's exciting. With this module, you can display WooCommerce products in a grid with masonry-style support. You can easily decide how many products should appear on the page. And can easily manage the appearance of a product's thumbnail, price, sale badge, and add to cart button. After using this Woo module of Divi Plus, a Divi WooCommerce website will no longer look like a basic WooCommerce store; else, it'll have a new-age design for the new-age web experience.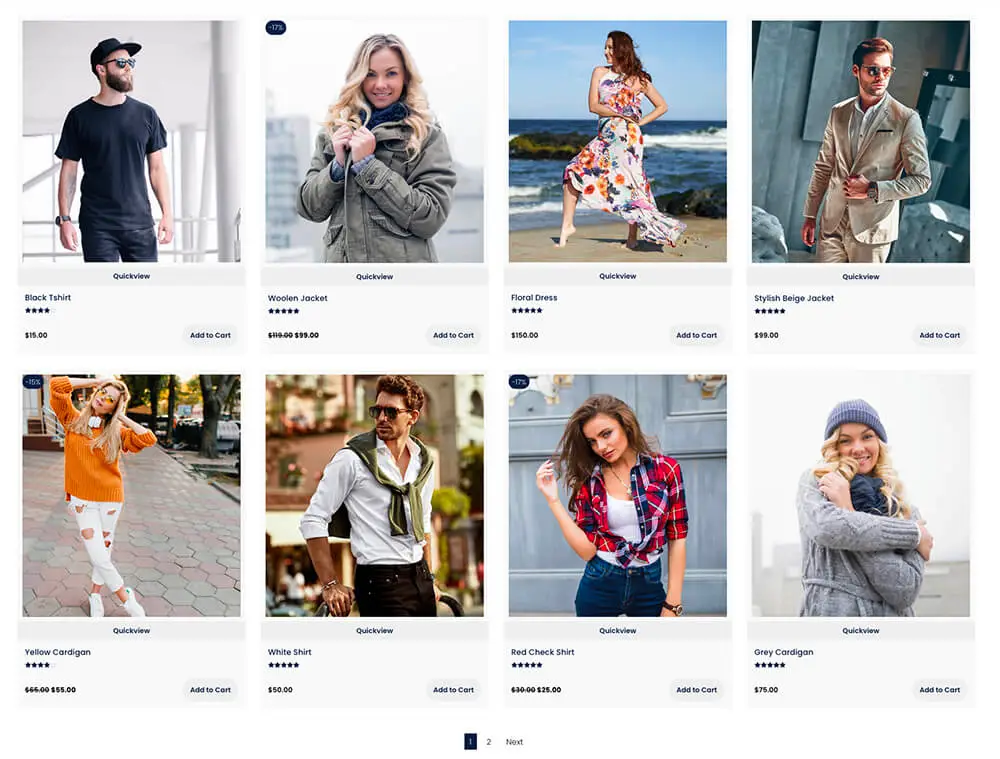 Display WooCommerce Products On A Stylish Slider
Woo Products Carousel Module
Make your Divi store powered with WooCommerce more stylish with a moving products showcase. Use the Woo Product Carousel module of Divi Plus and slide your digital store's product in different directions with multiple effects. And that's not all, style sale badge, add an Add to Cart button on hover, customize products text, choose different pagination styles, and apply a lot more exciting tweaks without any coding at all.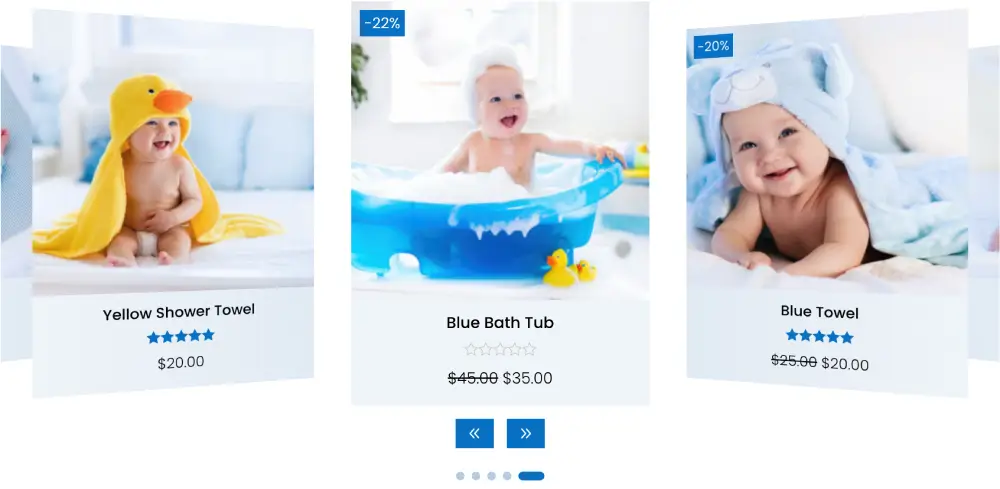 Display your store categories with style
WooCommerce Products Categories
With the WooCommerce Products Category module, you get the option to display the store's product categories in an attractive and engaging way. There are two options to show your product categories anywhere using Divi Page Builder and create an impression about a specific category in detail with stunning visuals and product counts.

Gravity Forms Styler
Enhance the beauty and appearance of your Gravity Forms by decorating them using the Gravity Forms Styler module by Divi Plus which does not require any custom CSS or improvement of other sorts. It lets your users have an amazing experience while submitting information to your website. Since styling any kind of Gravity Form is somewhat challenging, this module makes it convenient for you and allows you to avoid the hassle of styling a Gravity Form by yourself.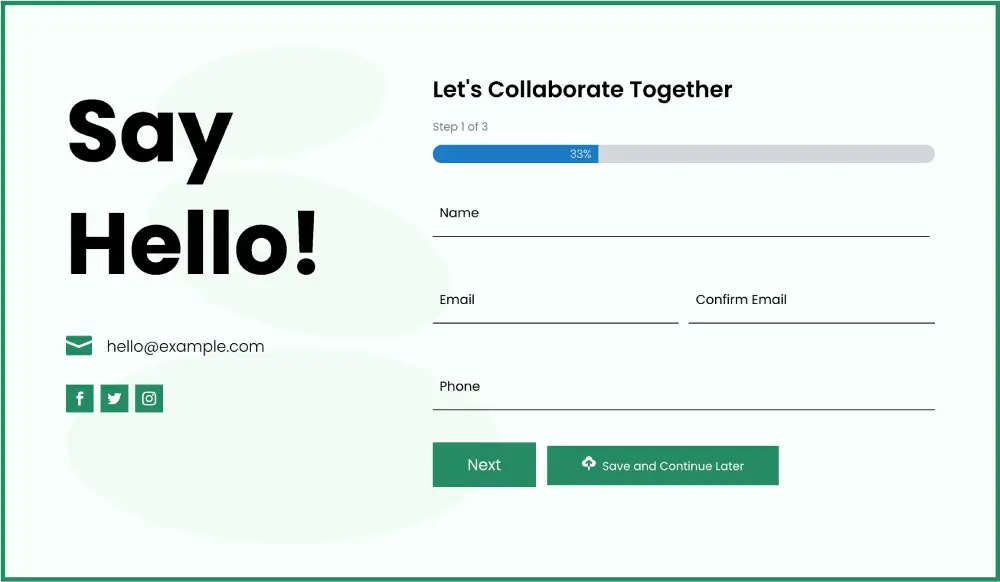 Filterable Gallery
Divi Plus Filterable Gallery module provides a smart option to filter and browse the images quickly using the category filters. It comes with an incredible Masonry layout to make the best use of the available space and display all the images in an elegant way. Divi Plus Filterable Gallery is loaded with convenient options to choose an optimal image size that perfectly matches the design needs of your gallery. View every image in detail using a one-click triggered Lightbox with brilliant pagination options. Display image titles, captions, and lightbox arrows in your desired style by personalizing their color, appearance, and shapes. Showcase your gallery in a stunning way using eye-catching motion effects. Moreover, you can customize the background, size, and shape of category filter tabs the way you want with the amazing styling options available in Divi Plus Filterable Gallery.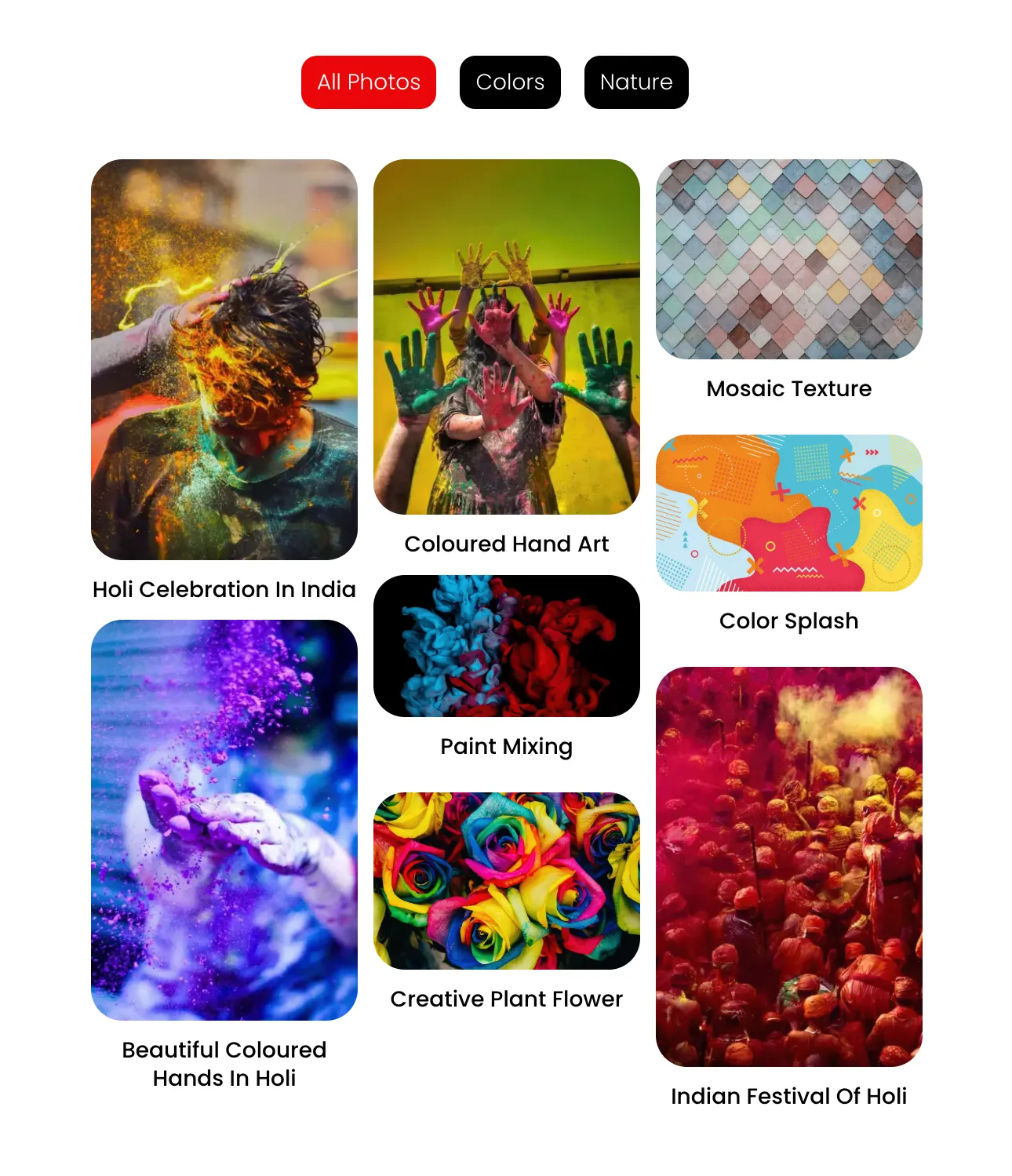 Interactive Image Card Module
Add More Content On Images With Amazing and Interactive Cool Effects
Users like to read and interact with content that looks interesting, and with the Interactive Image Card module, you can make that in a few clicks. Whenever the users hover on the images, the content will appear in a nice animation effect you choose for the occasion. The module includes 10 interactive animation effects with additional options to present interactive image cards in a much promising style.

Create Exciting Popups For Divi
Divi Modal Module
Using this module and its features, create Divi Popup with video overlay, text, image, and even elements created using custom CSS. Moreover, all the customizations of this module are super easy that anybody with little or no Divi web design knowledge can create the ultimate Divi Popup overlay.
Popups for divi can help you do good with your business or profession. And good popups for Divi can help you do better. And that's what the Divi Modal module of the Divi Plus plugin does. It provides you with the options and tools that not only help you create Divi Popup but make them better.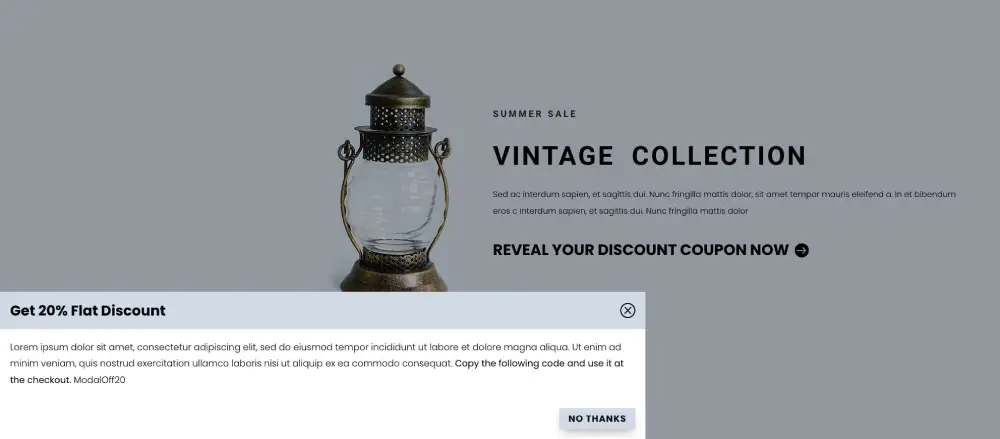 So they can toggle effectively
Content Toggle Module
Whether you want to display pricing tables or any comparative data, the Divi Plus Content Toggle module can help you achieve that in a very easy way. No coding or designing skills required. All you have to do is just insert the DP Content Toggle module on the page and add your content you want users to switch. It has multiple features and customization options that allow you to design not just content toggle, but more than that, which impress users and more likely go with your offerings.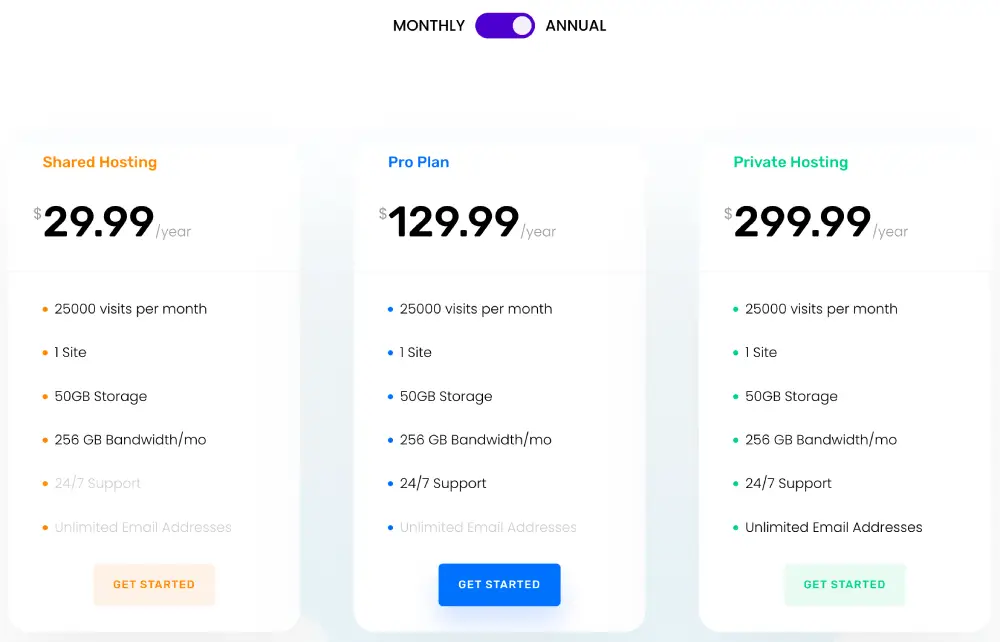 Divi Timeline Module
So you can tell amazing moments in the timeline
Impressively share your story using this Divi Plus Timeline module. It allows users to create elegant, engaging, and exceptional timelines on a Divi based site with lots of features and customization options. After using this module, you won't need any Divi timeline plugin, and you'd be able to design and add timelines of any kind.
Ajax Search Module
Let Your Users Search and See The Results Faster Than The Bolt
Display search results to the user right at the moment when they type for it. The Ajax Search module of the Divi Plus plugin lets you create a search bar that displays results from Posts, Pages, Projects, and Custom Post Types by performing a search including their Titles, Contents, Excerpts, or combination of these. In addition to these, you also get the option to display featured image, title, excerpt, or combination of all in the Ajax Search result — Everything, right when they type.

Text Highlighter Module
Represent Crucial Text With Interesting Highlighters
If you want to make your Divi text center of the attraction on your site, then using the Text Highlighter module, it's easier done than saying. It combines a lot of text highlighting styles and customization options, which makes highlighting a text super easy and fun. Whatever your website's niche or theme is, the highlighting styles fit the design in the exact manner you want them to be.

Blog Slider Module
A New Way to Showcase Your Divi Blog Posts
Want to slider your blog posts on an archive page? Then this module can help you impressively do that. The Blog slider module of the Divi Plus plugin gives you the highly customizable controls to slide blog posts on an archive or single post as a recent post slider in a much easier way.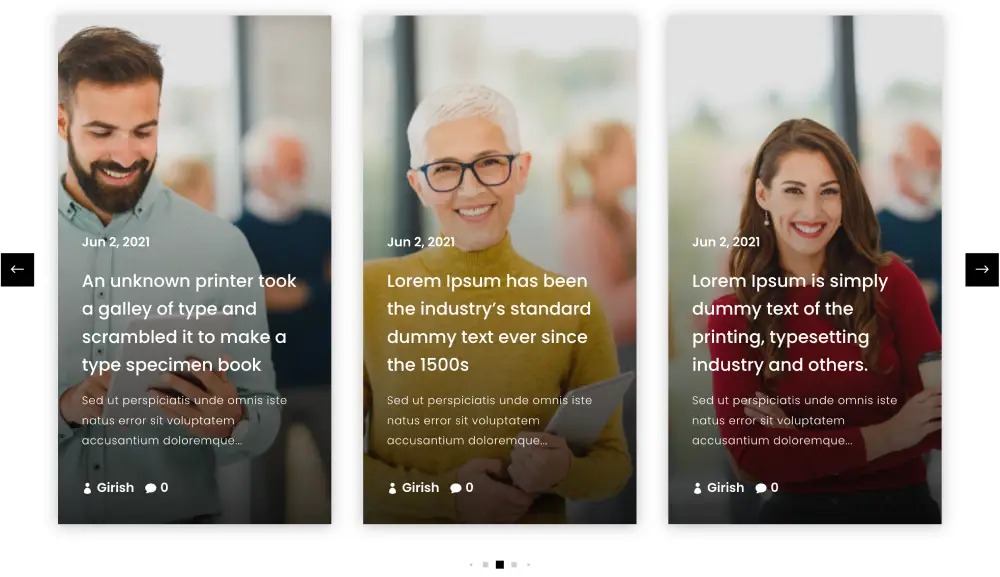 Blog Timeline
Divi Plus includes a blog timeline module that will let you display your blog posts in a nice interactive timeline. A great way to tell stories via your blog posts.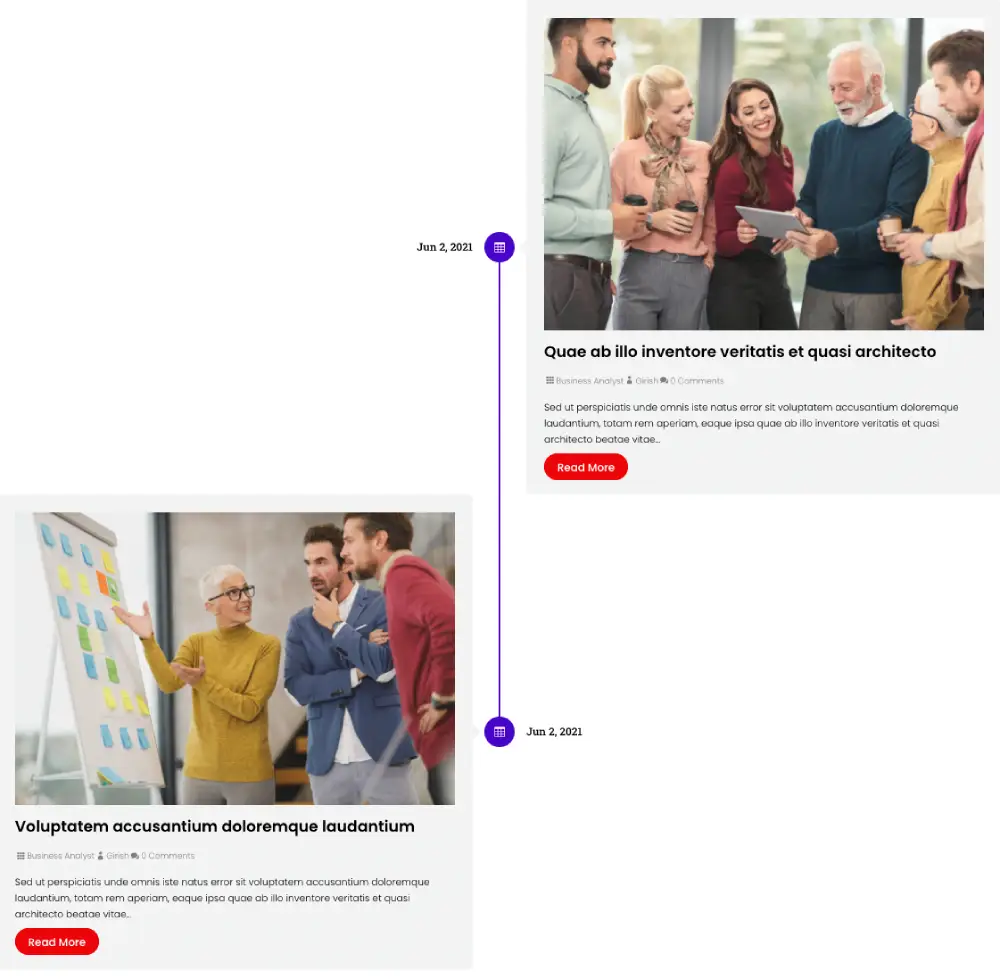 Divi Vertical Tabs + Horizontal Tabs
Create a horizontal or a vertical tab in the Divi theme with the newly introduced advanced Divi Tabs module. This module includes features that will let you create tabs like never before in Divi. You get the option to display your tabs on the left, right top, or bottom. Divi vertical tabs module will also let you display tabs title with icons and images.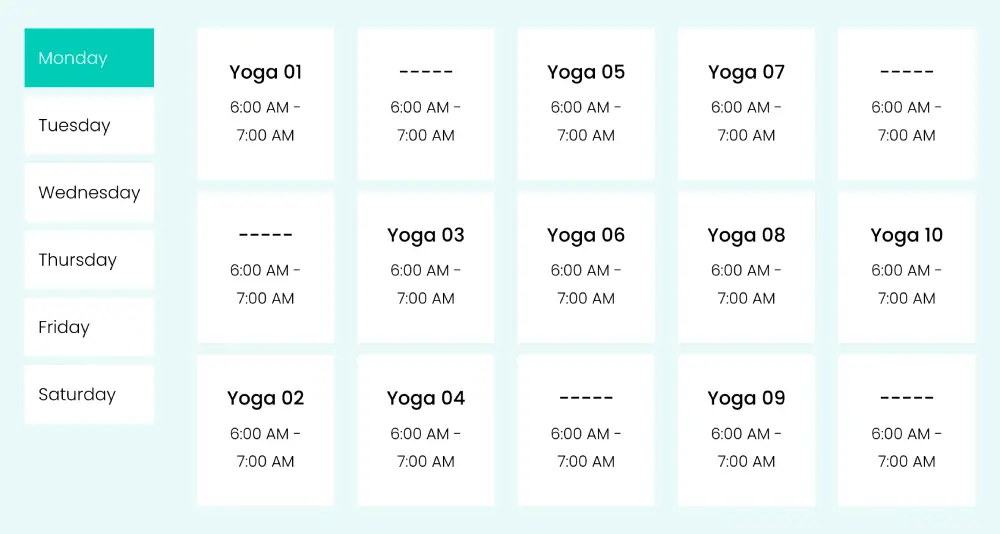 Divi Gallery Module
Create Exciting Divi Masonry Image Galleries
The Masonry Gallery module is a sophisticated module for the Divi theme that allows you to create image galleries in a modern style, yet suitable for classic as well as simplistic web designs. The module provides wide functionality to showcase images from the media library; add overlay effects, show images in the lightbox, and display title, and caption. Customize the lightbox background, close icon color, and arrow color. You can also change images size from the medium, large, and full options. Add multiple columns and much more to make the masonry gallery outstanding in all ways.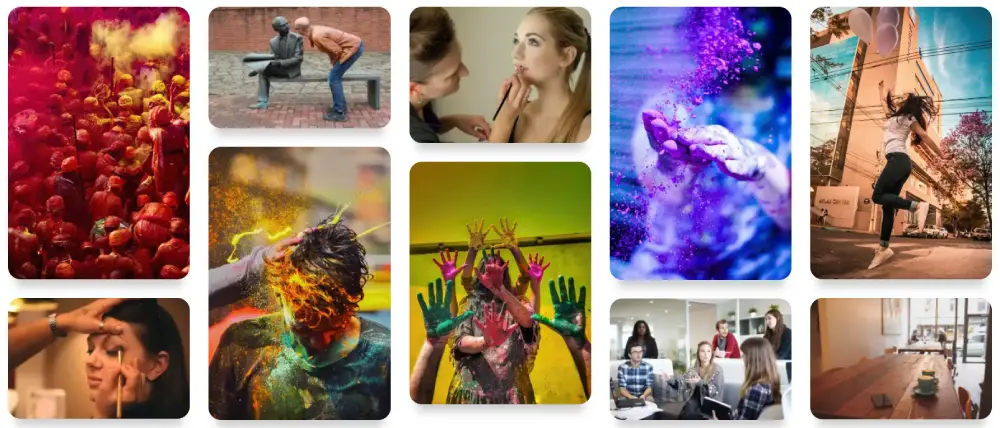 Divi Accordion With Images
Grab The Attention with Highly Responsive Image Accordions
Divi Plus Image Accordion module is a fully responsive, smooth image accordion module to display your image content in a much engaging and exciting way. Using this module, you'd be able to add image accordion in both horizontal and vertical styles. Plus, it allows you to activate its content on hover as well as when users click on it. In addition to these features, you can also add a button and take users to another page for more information. Makes it perfect for any design needs and user experience.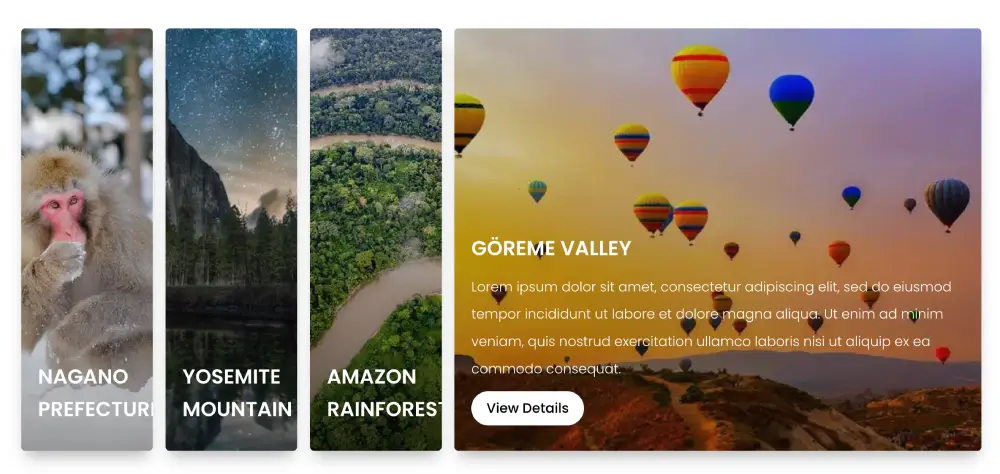 Image Card Module
Add Stylish Image Cards in Style
Make your website's content look more engaging, beautiful, and interactive with the stylish Image Cards you can add using the Divi Plus Image Card module. It enables you to create beautiful image cards that can display customized title, content with a read more button, and an icon of different shapes that are Circular, Square, and Hexagon. Apart from this, you get multiple other options to make image cards stunning in all the possible ways. Try it today for yourself.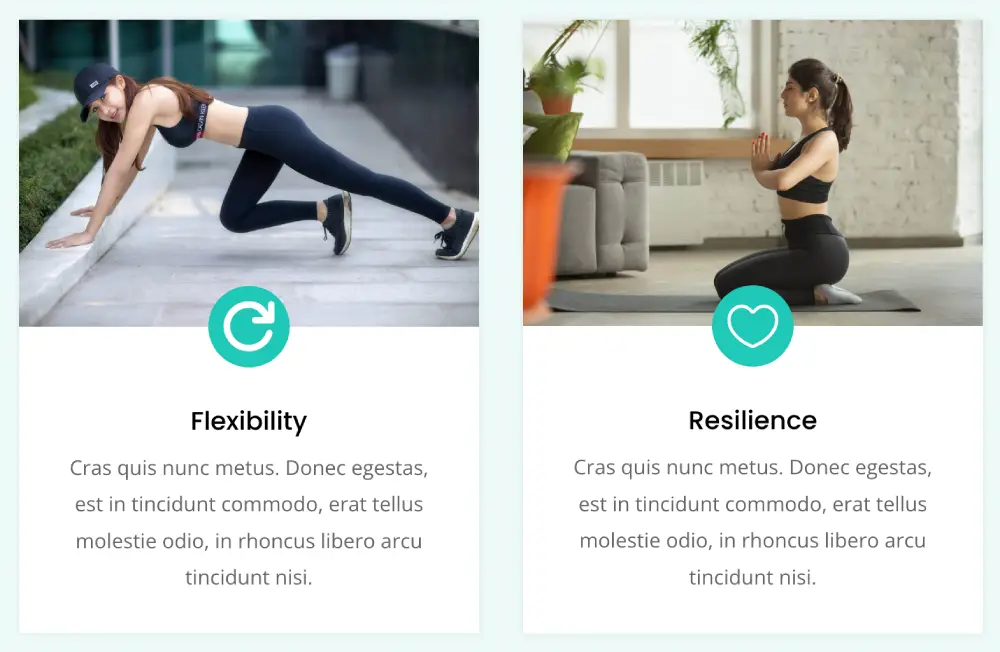 For impressive image hotspot
Hotspot Module
No need to purchase a separate Divi image hotspot plugin because Divi Plus got the most refreshing option for you to create an image hotspot. The hotspot module available with this plugin not only allows you to add an image hotspot on a page, but it will also make the Divi hotspot look more engaging, attractive, and informative than ever from which users can't take their eyes off.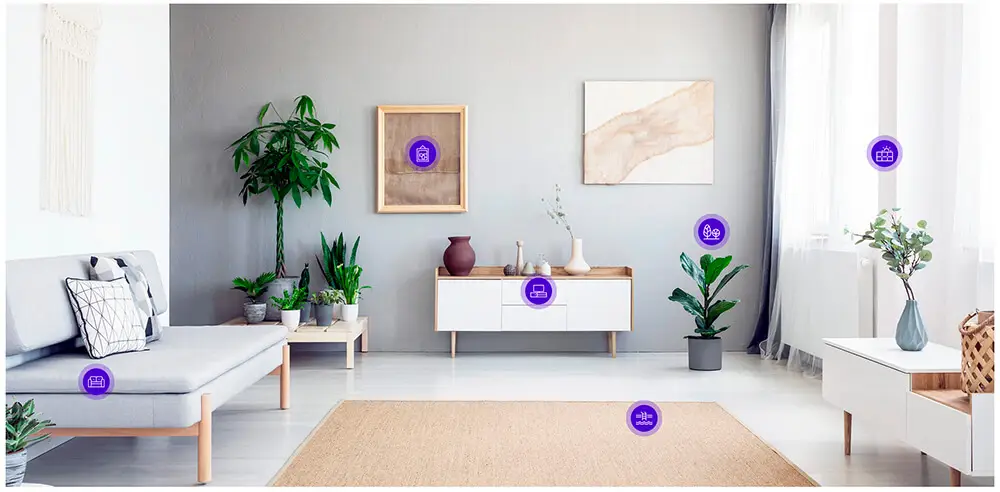 Divi Logo Slider Module
For Engaging Client Logo Slider
Whether you want to add a Divi logo slider or carousel, using this module, you'd be able to add both without any issue. Divi Plus' Logo Slider module provides you with a handful of options using which you can add a client logo slider in a minimum time possible.
A logo slider with Divi compatibility and visual builder support.
Image Mask Module
Add Shaped Images for Every Purpose
The Image Mask module of the Divi Plus plugin is an advanced Divi tool that makes beautiful images even more interesting by putting them inside elegant shapes. It combines 50+ masking styles that you can apply to the site's images in no time. Moreover, to create shaped images, each style and element has multiple numbers of options that let you change an image look and feel entirely. Options like different elements, 360 degrees rotation, shapes and element color change, size, position and a lot more.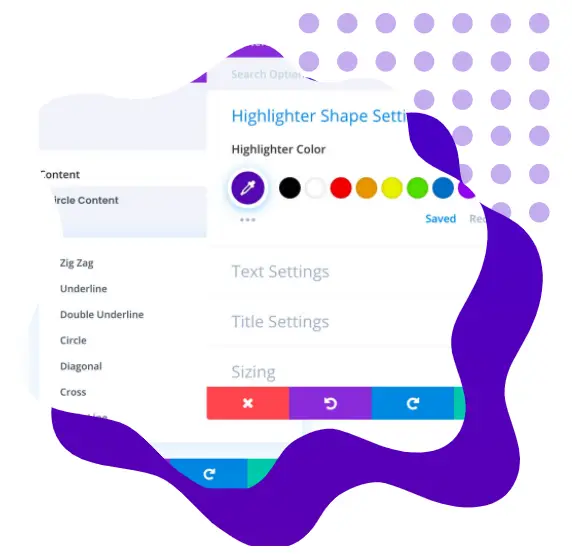 Image Card Carousel Module
Slide Images With A Button, Content, and An Icon Together
Add images with content, a button, and an icon on the sliders. Set icons on the left or right side, give them a colorful shape and make their presence small or big. Customize the content to the fullest, change font, alignment, and much more. Plus, apply custom styling to the button to make the image card slider complete with details. You can also display slider arrows and pagination dots. So, users can slide and look at the images more easily.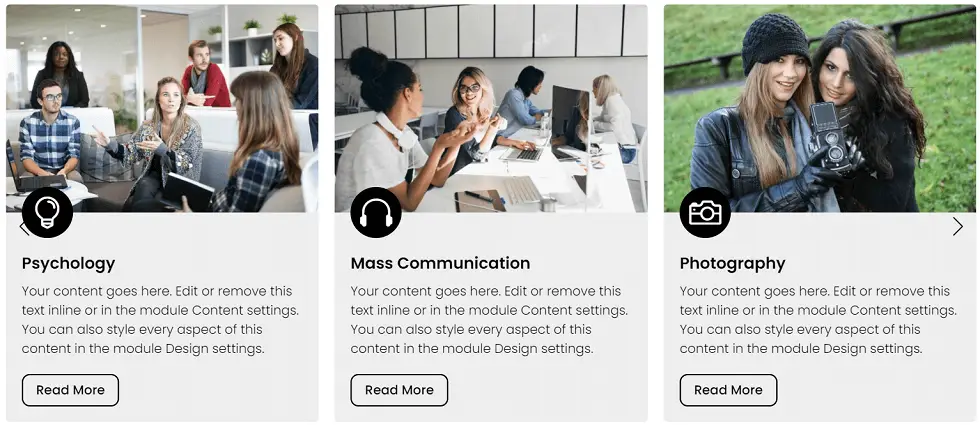 Image Magnifier Module
Allow them to take a closer at the images
Add an extra eye for the users to see a picture from a closer look. The Image Magnifier module adds a magnifier on an image when users hover on it. Plus, you can control the magnifier lens's size, speed, color, and more. This module provides the perfect detailing of a picture, no matter how small or big it was.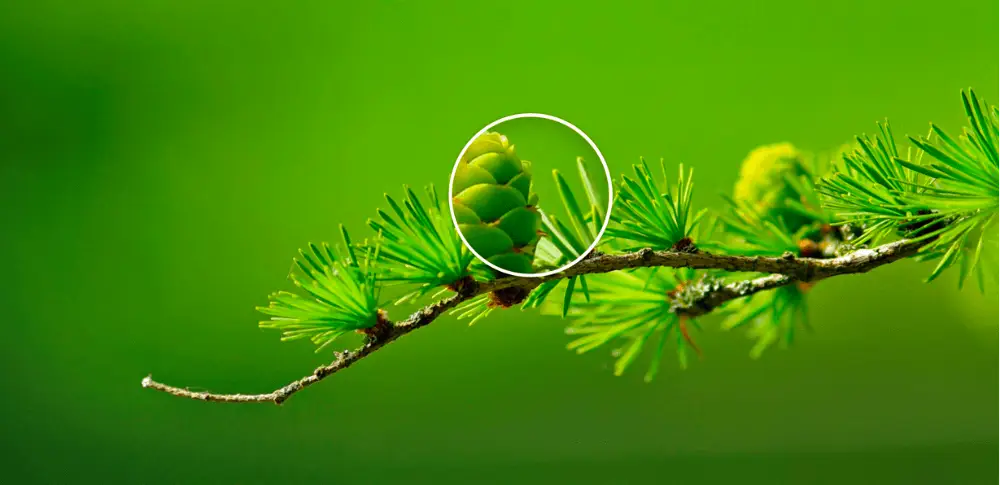 Before After Slider Module
Smart image comparison
It's a new way to compare two versions of an image. With Divi Plus Before After Slider module, you've got the option to compare pictures together with a cool slider. No need to add images side by side.
It has many customization features to make Divi Before and After slider more promising. Like multiple sliders (includes click and without click slider), orientations (horizontal and vertical), overlay, and custom label support. Divi 4.0 compatible and responsive to all screen resolution.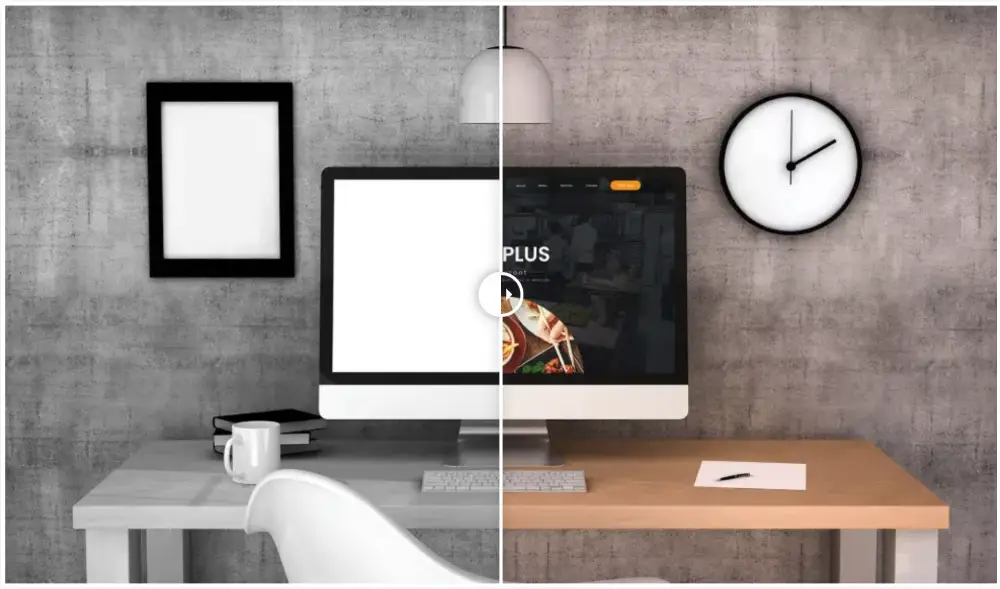 Lottie Module
Add Engaging Lottie Animations In No Time
Want to attract site visitors on their first visit? Use the Divi Plus Lottie module to add moving Lottie animation on the website with multiple features and customization options. Using this module, you'd be able to run Lottie animations on Hover, Click or set them to autoplay. You can reverse Lottie animation's direction and apply a loop for endless animation. In addition to these, you can also control the Lottie animation speed and apply custom styling to make the Lottie animation beautiful and out-of-the-box.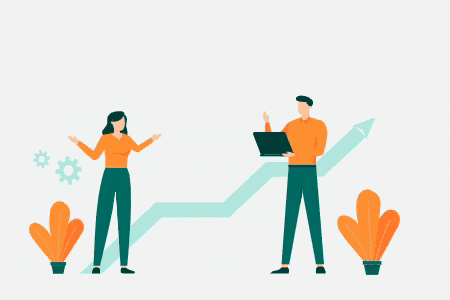 Floating Image Module
Up and Down, Left and Right, Float Images Like Astronauts in the Space
An image or images, float them smoothly in multiple directions with style. Use the Divi Plus Floating Image module and make essential images look different and important. Apply different floating effects, set animation delay, choose different animation repeats, and much more. Give your pictures complete freedom to float like an astronaut in space.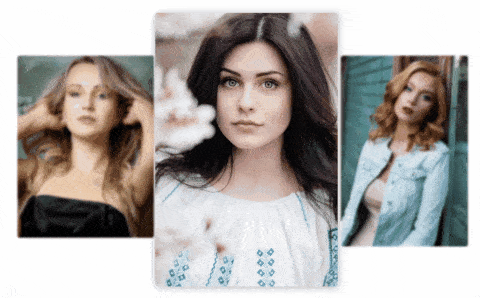 Scroll Image Module
Smooth Scrolling Effect for Images of Any Kind
Excite users with elegant scroll effect on images when they hover. Using the Divi Plus Scroll Image module, you can set images to scroll in different directions: Top, Bottom, Left, and Right. Furthermore, you can also decide whether to scroll images fast or slow with an intuitive scroll speed control. Change alignment, and apply other designing options to make the scrolling images look more fantastic.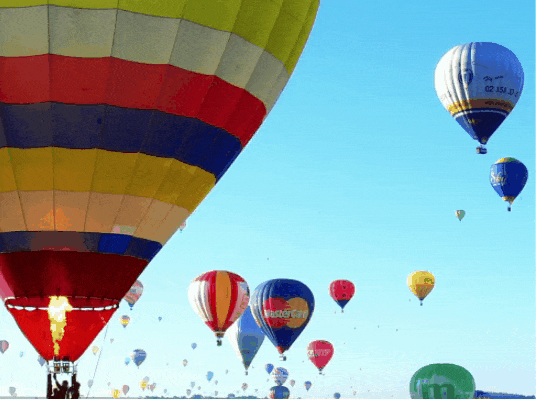 Bar Counter Module
Show Skills and Stats in an Engaging Way
Got skills and want to show them in style on your website? Then guess what? The Divi Plus Bar Counter module gives you multiple outstanding layouts of unique styles to add vertical bar counters for different purposes. In addition to these, you can apply animation effects on the counters, choose separate colors for both filled and empty bar, and adjust bar counters height and width for enhanced visibility.
Divi Tilt Image Module
Catch extra attention from the visitor with amazing tilt images
Incite users with a stunning tilt effect on images when they hover. With the Divi Plus Tilt Image module, you can set tilt rotation, perspective, speed, and glare. It is a very unique and cool module in which you can add a 3-D effect to the images easily. Furthermore, on the image, you can add an icon, button, title, and description along with a nice hover effect that captures the user's attention significantly.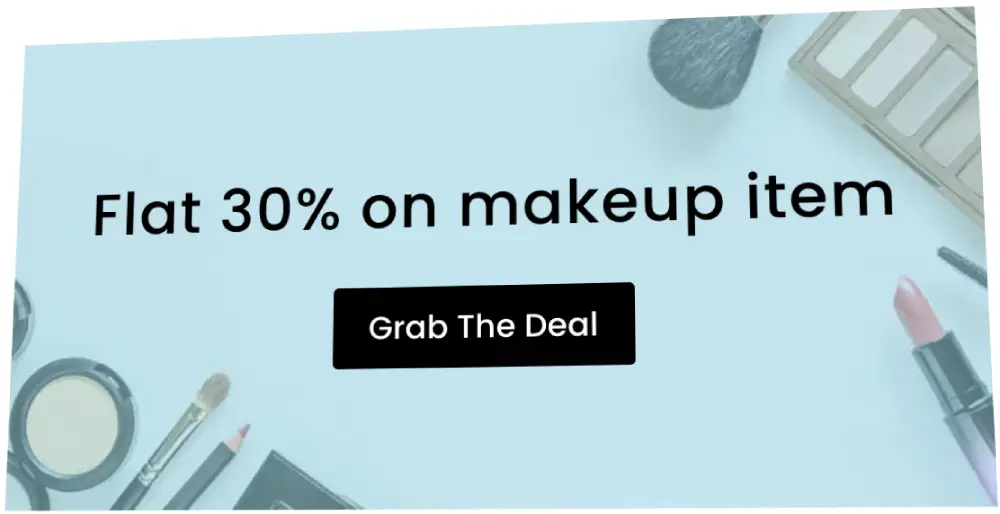 Team Slider Module
Showcase Your Organization's People and Talent on an Attractive Slider
Testimonials build trust showing people how satisfied other customers are. And team sliders boost their trust by showing them the skills, experience, and authenticity of the staff, providing them the services. The team slider module of the Divi Plus plugin fulfills this purpose completely and immensely. It includes multiple layouts, sliding effects; an option to display multiple members, order them by different types; create team member's custom post type, and much more to make team sliders look engaging, interactive, and effective.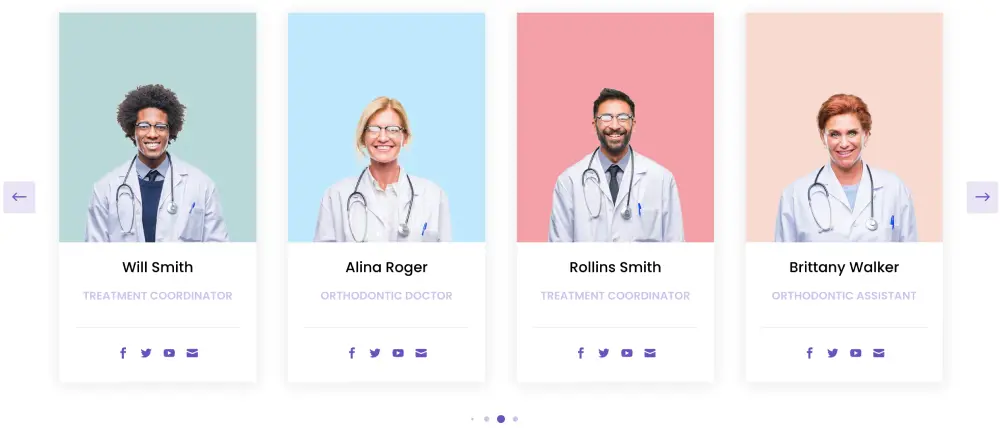 Team Grid Module
Use the Team Grid module to highlight your team members in flair. It has four different grid layouts for displaying team members and gives you the ability to categorize team members with the help of the category filter, making it simpler to gather the information for a particular group of individuals. Hover effects and trigger events are other incredible features that allow you to display information in an attractive and engaging way.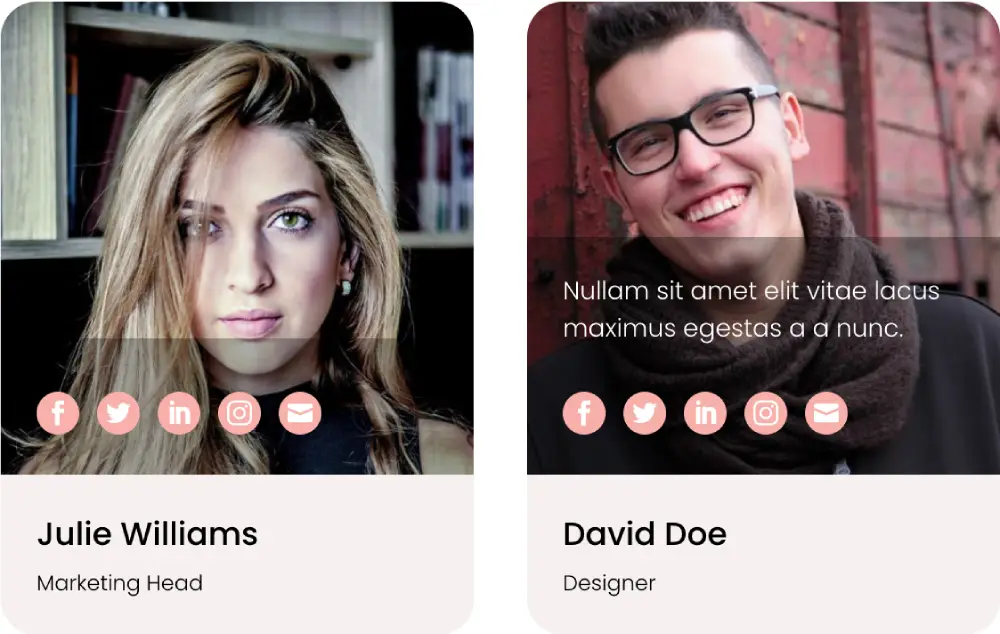 Star Rating Module
Let's Add Star Rating That Appears in Search As Rich Snippet
The Star Rating module provides you with the options to add ratings of different kinds that would appear in Google search results as rich snippets. Furthermore, using this module is as simple as adding a text using the Divi theme's text module. And you can customize each element of this module without any issues. Like, you can add a rating title and style it for a better look and feel. You can change the rating stars' size and add a background color to both the rated and non-rated stars. You can change the star rating position and many more easy-to-use options for better star ratings.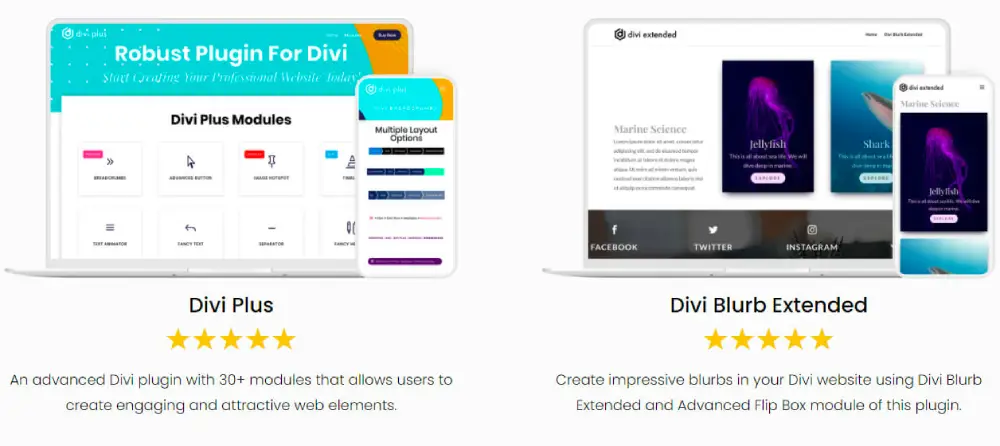 Testimonial Grid Module
Showcase Client Testimonials in a Beautiful Grid With Masonry Layout
Level up your Divi theme's client testimonial showcase with the Testimonial Grid module. It includes multiple layouts that allow you to display testimonials in a grid with multiple columns and masonry support. Plus, you can show star rating, author's name, designation, and company name. You can also use Gravatar Image as review author's image. And many other easy-to-use options to make testimonials look better and out-of-the-box.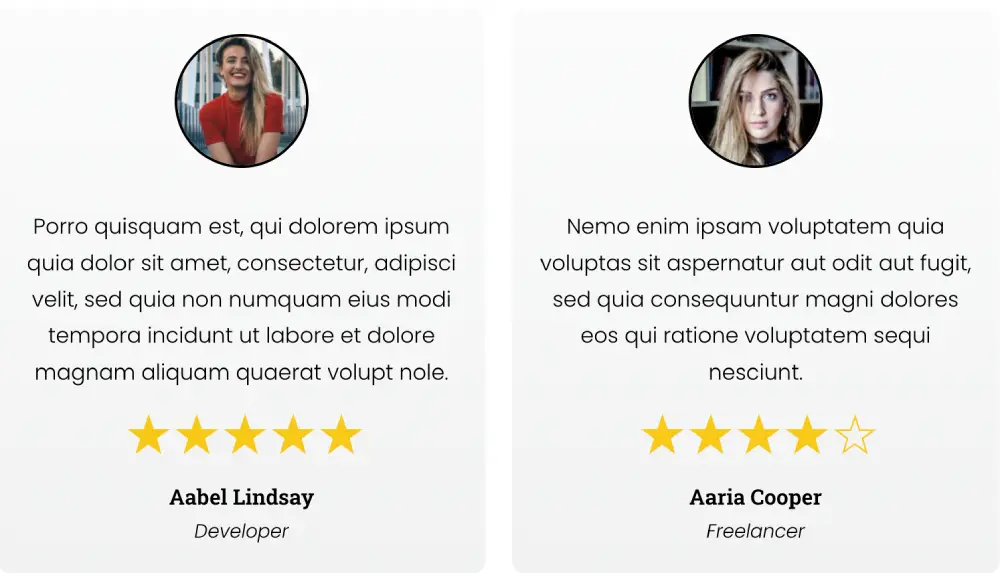 Testimonial Slider Module
Let Your Testimonials Speak With a Beautiful Slider
The Testimonial Slider module makes it easy for you to rotate your client reviews in a much engaging and beautiful way. Using this module, you'd be able to use multiple slider layouts with different slide effects that mesmerize the viewer. Moreover, it includes additional features to make the most out of the testimonial slider. Features such as Slider Arrows, Paginations with different styles, Star rating, author image, and many more.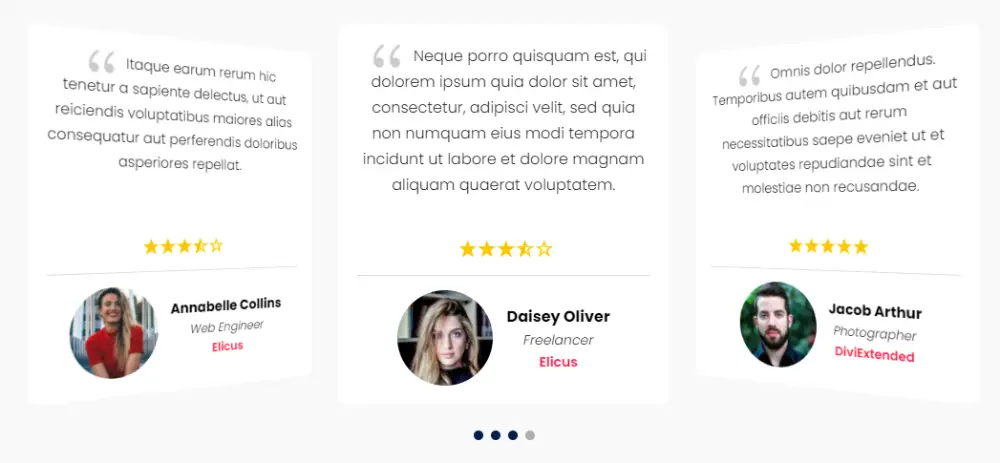 To let them click with excitement
Button Module
Don't just add a button on your Divi theme website, else add an advanced and exciting button on your site with Divi Plus Button module. It comes with multiple layouts and background hover animation effects that not only make buttons look attractive but also inspire visitors to click on them with spirit.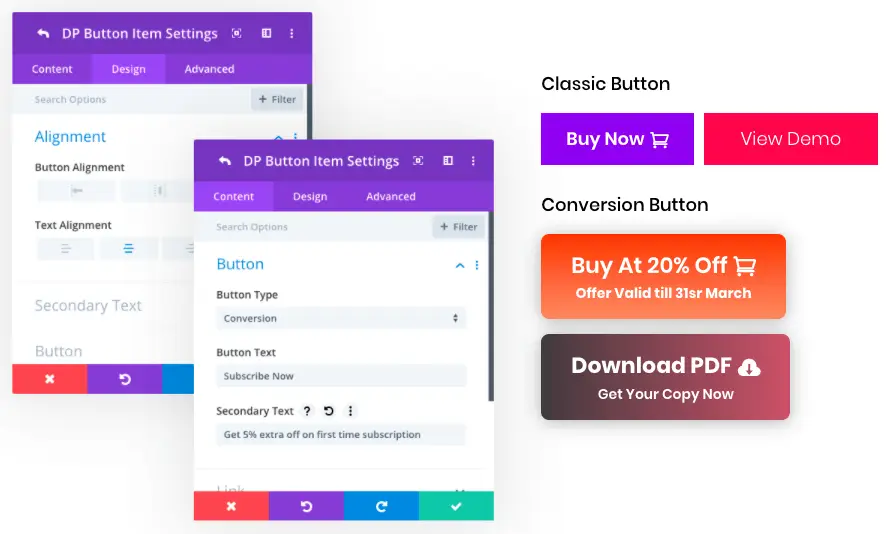 Divi Breadcrumbs Module You won't find anywhere!
Divi Plus Breadcrumbs module helps the user navigate the website in an elegant and easy way. It has multiple attractive Divi breadcrumbs layouts that attract the users, and they find it the easiest way to navigate throughout the site.
This Divi theme breadcrumbs module available with Divi Plus plugin is fully compatible with Divi 4.0 and follows all the guidelines of Google to make a page appear in search results with breadcrumbs. Divi Plus Breadcrumb module is a quick and effortless approach to create breadcrumbs in your Divi theme. Plus, with this module, you will not need Yoast SEO or other Divi plugins to form or add breadcrumbs. This single module takes care of everything related to breadcrumbs and how they'll appear on the search result.
Using this module, you'll not only help the user, but you'd also help search engines to index your website on the server in the right and standard manner.

Flip Box Module
Flip Box Module: To make you content flip like a box
This Divi flip box module of Divi Plus plugin allows you to create content on cards that can flip in many directions. It includes 2 flip box layouts that are Flip and 3D Cube. Both these layouts include multiple flip and entrance directions and other customization options. Using these user-friendly options, you can make engaging content as well as interactive. Plus, you'd be able to add a read more button and use both icon and image on the flip box's front and backside.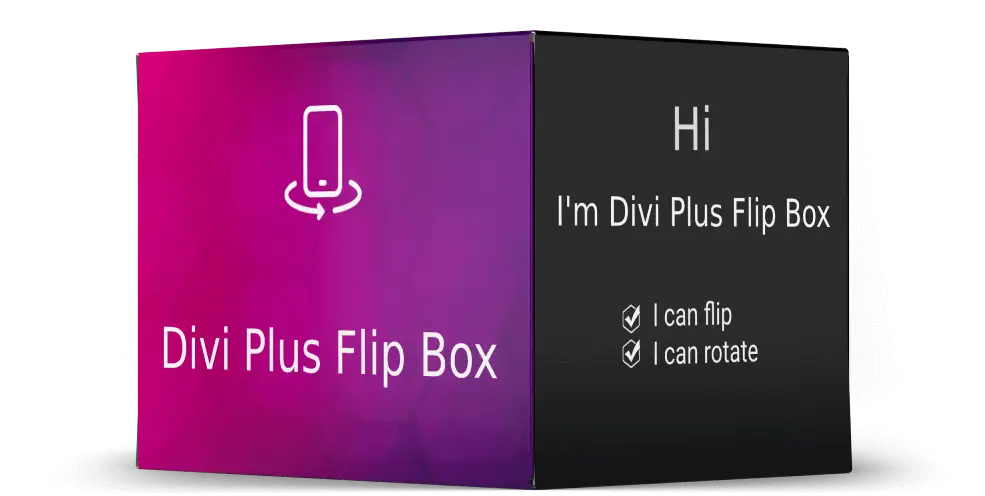 Fancy Heading Module
Easily create beautiful headings without coding
Now with Divi Plus Fancy Heading module, you have many possibilities to design and create custom heading for your Divi theme website without writing any heading CSS. Divi Plus Fancy Heading module is an ultimate Divi headings (h1-h6) customizer module that can create the most compelling headings of a different color, font styles and font-weight. You can even set the background of the heading with color, gradient, or image.
Using this module, you will be able to create beautiful headings that increase the engagement of the visitors to the content on your website more than ever. 

Fancy Text Module
Use gradient or background image to the text of your website
Don't just add simple text on your website because with the Divi Plus Fancy Text module, you've got the power to add attractive text with many amazing customizations. This Divi text module allows you to add text having gradient and background image with lots of other customization. So, your website's content can look more vibrant and promising, which users like to see and engage with.

Text Animator Module
To create attractive Divi animated text
Want to create animated text for your Divi theme? Then Divi Plus Text Animator module has everything to help you create the best possible Divi text animation. This module has over 10+ animation effects. Plus, multiple creative customization options to design elegant animated text as well as provide them useful meaning. So, visitors can easily interact with them and acquire the information they're looking for.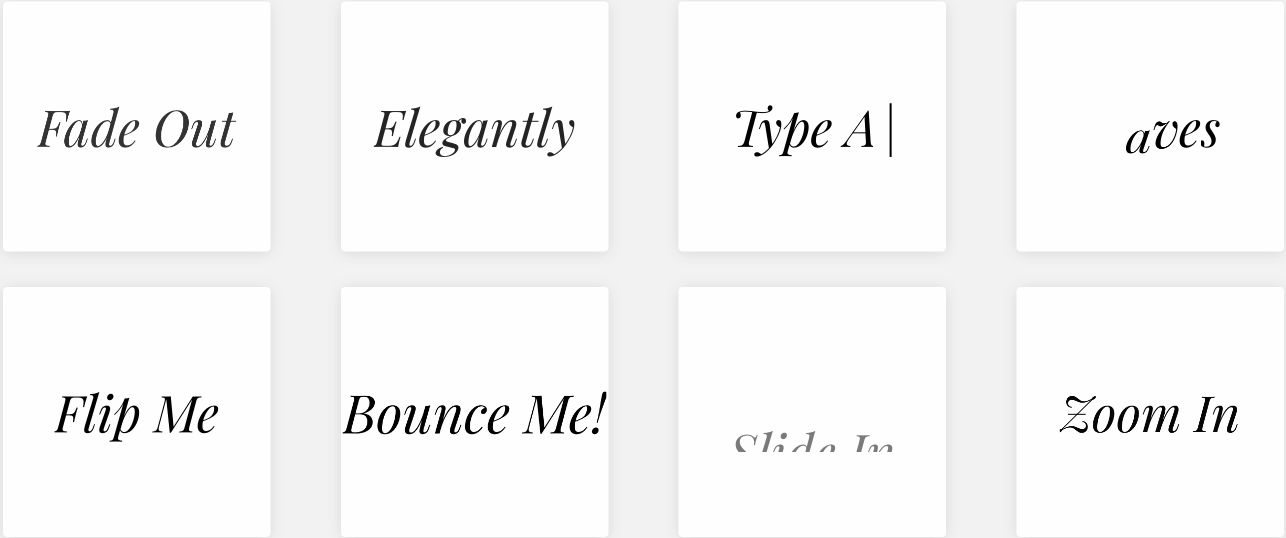 Separator Module
With multiple line styles, gradient and icons support
Using the Divi Plus Separator module, you can add stylish separators to your website. It has 8 fantastic separator line types, which you can use to add separator on webpages. Along with many separator line types, it also allows the user to add separator with a text or cool icon. Even using this module, you can add separator lines having a shadow effect with multiple customizations. Like, thickness, color, and more. Furthermore, Divi Plus Separator comes with many other customizations to make the separator stunning and stylish even more.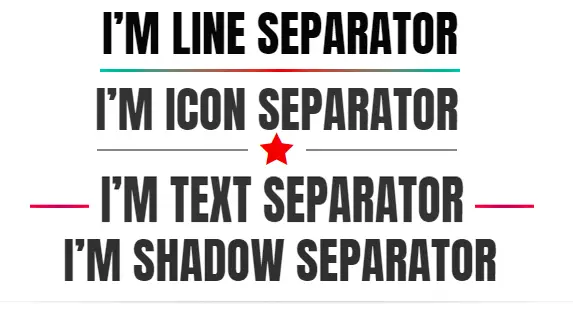 Business Hour Module
To put extra emphasis on working hours
Don't just simply add business hours at the bottom of the site. Else make them more working and impressive with Divi Plus Business Hour module. It allows you to add business hours having a background with color, image, or even video. Customize business hours look and feel with text and other useful settings.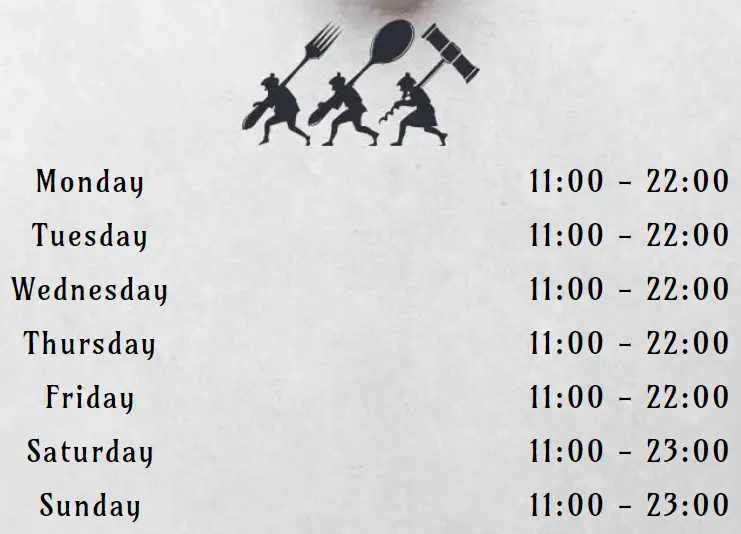 Price List Module
The Perfect Way to Display Products and Services With Pricing
The Divi Plus Price List module provides you with the options that enable you to add products and services having customizable pricing. Add any kind of product with any type of pricing and engage your site visitors more than ever.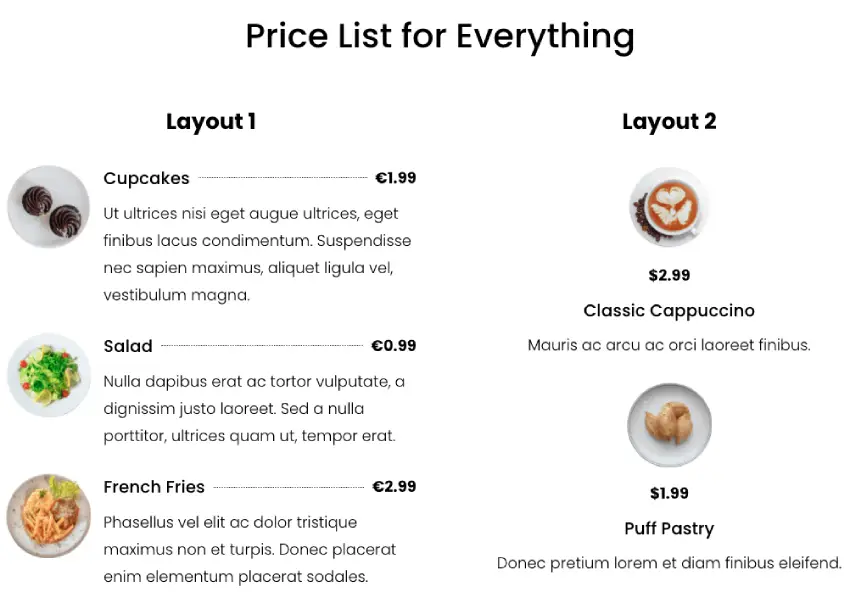 Form Styler Module
Contact Form 7  Styler for Divi
This module can help you customize your Divi contact forms altogether created using Contact Form 7. It comes with options to change input fields text color, the background of the contact form, apply focus color on fields, and much more. Thus, giving you the ultimate control to make your subtle contact forms much better and more engaging.
Say goodbye to basic and simple contact forms created using the Contact Form 7 with Divi Plus Form Styler. So, users fill up their details with excitement and joy.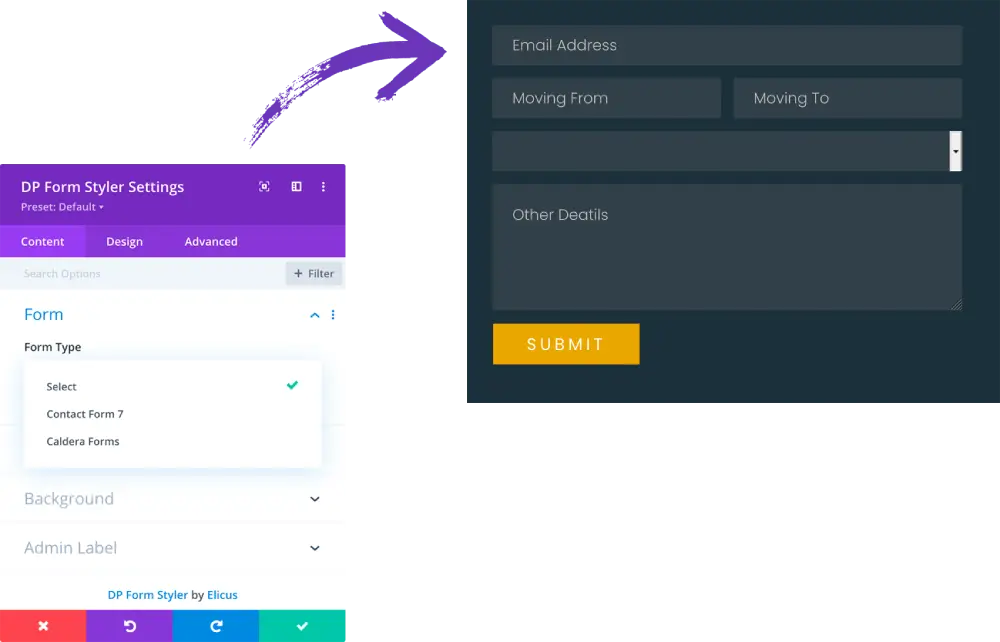 FAQPage Schema Module
Win High Search Rankings With FAQs Optimized For FAQPage Schema
An advanced module with easy-to-use controls to create and add beautiful FAQs to the page fully optimized with FAQPage Schema. Plus, it also includes multiple layouts that are Accordion and Grid to display your FAQs in a much promising and informative way. You can also show your FAQs up to 4 columns, and in masonry formation with Grid layout. In addition to these, the FAQPage Schema module hosts a lot more features to make it look more beautiful. Like Accordion Icons for both the closed and opened state, separate background customizations for question and answer. And much more.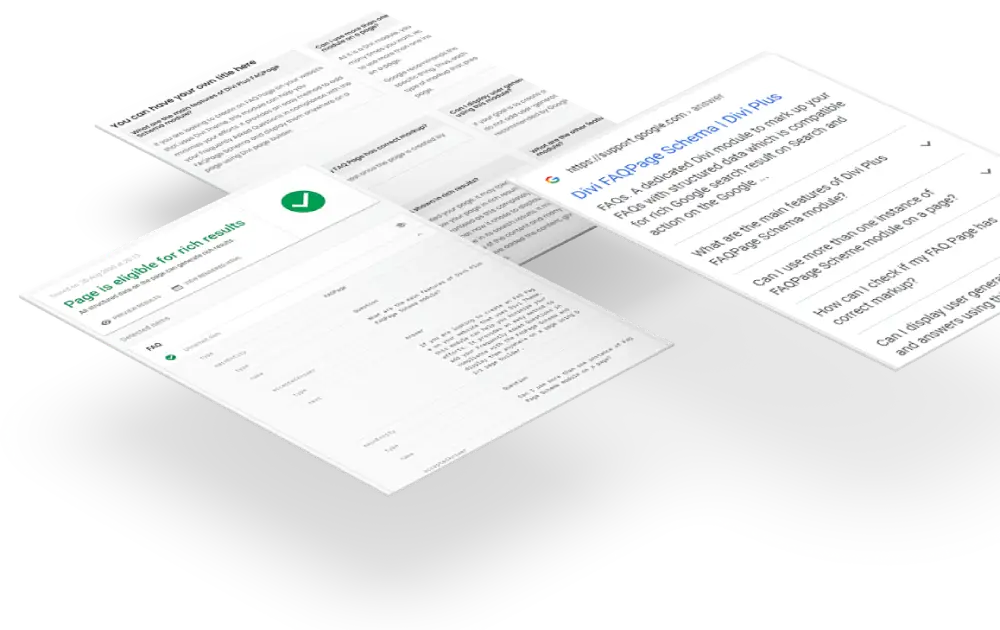 How To Schema Module
To create HowTo structured data pages with ease!
Now, with the How To Schema module of the Divi Plus plugin, you can easily create beautiful and well-organized HowTo structured data pages. Using this module, you don't have to follow the usual methods anymore to make your place in the search results as a featured result. Whether you want to create a cooking recipe or a tutorial of any subject, the How To Schema module gives you full control to make and showcase processes easily.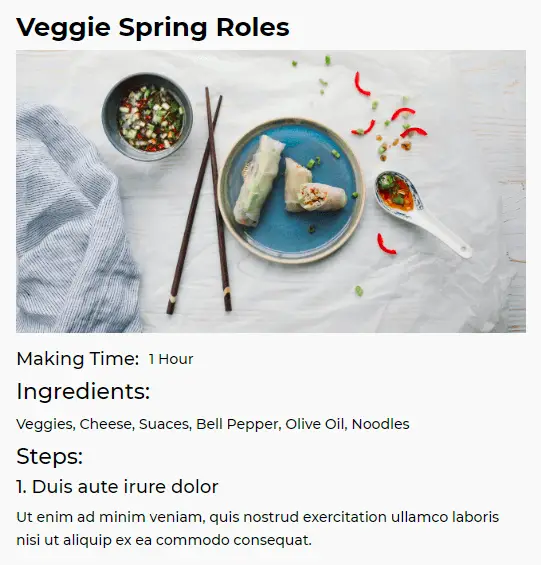 Facebook Like Module
Like Button for Divi Web-pages
The Facebook Like module brings Facebook likes closer to your Divi based website. Once added to a page, it allows visitors like that page, using their Facebook accounts. And that's not all; you can change how the like button looks, where it should be placed, and whether to let people like a page or recommend.
Facebook Share Module
Let People Share Your Pages on Facebook Without Leaving the Site
The Facebook Share module lets you add a Facebook Share button that allows site visitors to share your website's web-page on their timeline, in groups, events, pages they manage, or to their friends via a Facebook Message.

Facebook Page Module
Easily Display Facebook Page on Your Divi Website
Display events, updates, and much more from your Facebook page with the Facebook Page module. Add it to your Divi website, and it will let you easily promote any public Facebook Page with its activities. Just like on Facebook, your visitors can like and share the Page without leaving your site. And above all, they can send messages directly into your Facebook page account, if you want to.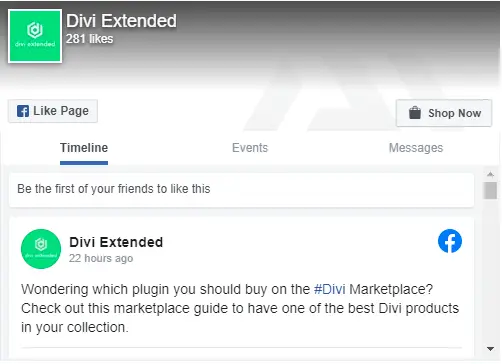 Facebook Comments Module
Let Your Visitors Do All the Facebook Commenting Right on the Website
The Facebook Comments module lets people comment on your website's posts, pages, and content using their Facebook account. Moreover, it also allows them to share their comments with their friends and family on Facebook Wall.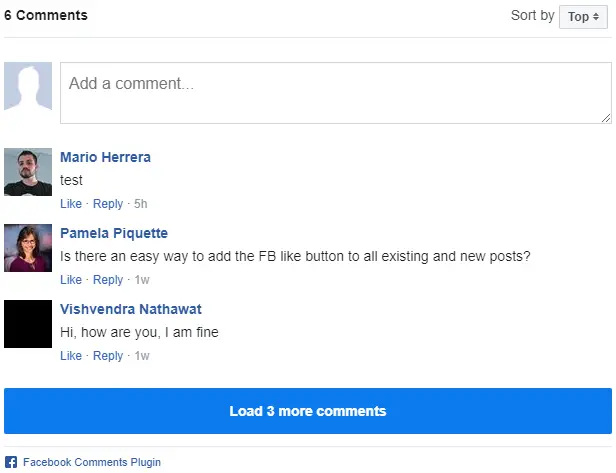 Facebook Embedded Post Module
Catch Extra Attraction From Users With Facebook Posts On The Site
This social media module for the Divi theme allows you to easily add your Facebook post to the site by simply using the post URL. And not only posts, but you can decide whether to display text, video, or image with it. Plus, with this module, you also get the option to maximize its look and feel.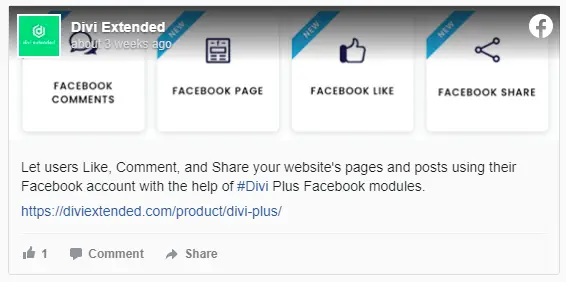 Facebook Embedded Video Module
The most suitable way to display Facebook Video on your Divi Site
Using the Facebook Embedded Post module, you can easily add your Facebook page or accounts video on your Divi theme website with just its URL. Plus, extra features to make those videos look more promising and engaging in the minimum time possible without any extra effort.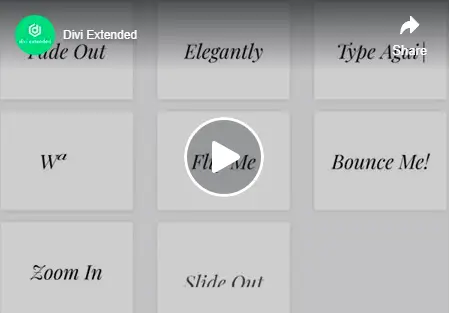 Twitter Embedded Tweet Module
Now it's easy for them to see your Tweets
The Twitter Embedded Tweet module of the Divi Plus plugin gives you ultimate control to add your tweets easily on the site. Moreover, its styling features allows you to add tweets in Light and Dark theme. Hide or display tweet media previews with a single click. And many more features to make the most out of it.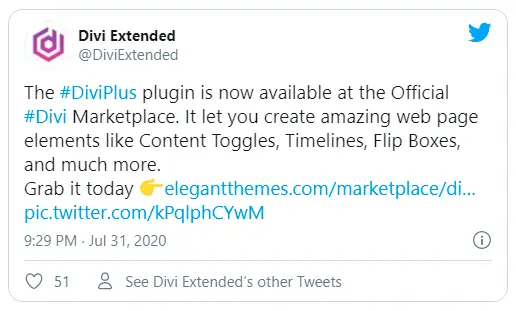 Twitter Follow Button Module
Add the Twitter Follow Button in the easiest yet Ultimate way
Increase your Twitter following by adding a follow button on your website using this easy-to-use module. Nothing much you'd need to do when adding a Twitter follow button. All you have to do is just enter your accounts username and it will appear the Twitter Follow button. Then you can customize its appearance, can showcase your followers count. Make changes in the button's size. And a lot more features for better user engagement and fan following.
Twitter Share Button Module
Now it's easy for them to share your Website's Content on Twitter
The Twitter Share module of the Divi Plus plugin enables you to add a share button to your website that would allow website visitors to share your site's content on Twitter, then whether it is post, page, or custom post type. Wherever you'd use this module, it will allow users to share it on their Twitter account without any issue. In addition to this, you can add custom share text in their tweets, hashtags; mention your account or other twitter users.
Twitter Timeline Module
Showcase Updates from your Twitter Account on the site With Ease
Add extra attraction and keep users on the site for a longer duration with the Twitter Timeline module that allows you to showcase your Twitter account's updates directly on the site. Just add the module to the page and enter your account's username, and it will be there. Moreover, the features that come with this module allows you to change the timeline's theme from Light to Dark or Dark to Light. You can choose to display up to 20 tweets. Apart from these styling features, it also includes further options to make Twitter Timeline look more engaging and better.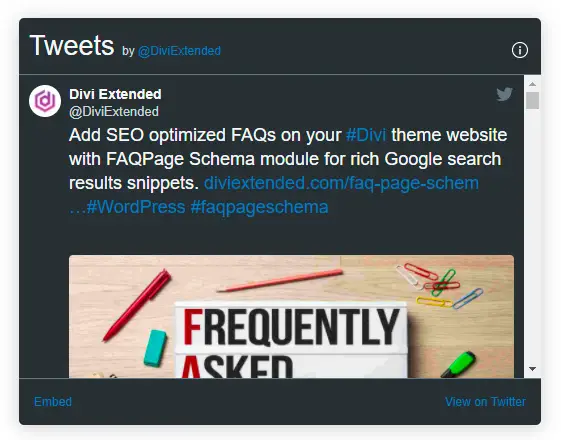 Divi Scheduler Extension
Display Divi Elements When The Times Right
Using the Scheduler Extension, you can set the time to display a particular section, row, column, and module from a specific date or in between dates. Makes it the perfect choice to display offers, discount and more on special times of the year. Like Flash Sale, free tutorials, and much more.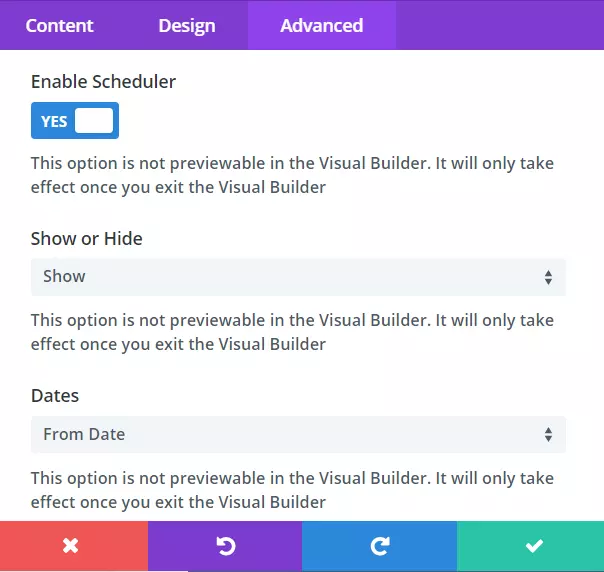 Visibility Manager Extension
Hide or Show Different Elements Of The Divi Theme
It allows you to either hide or show a particular section, row, column, and module to All Users, Logged In Users, or Logged Out Users. It makes it easy for you to create websites that deal with membership or paid content delivery.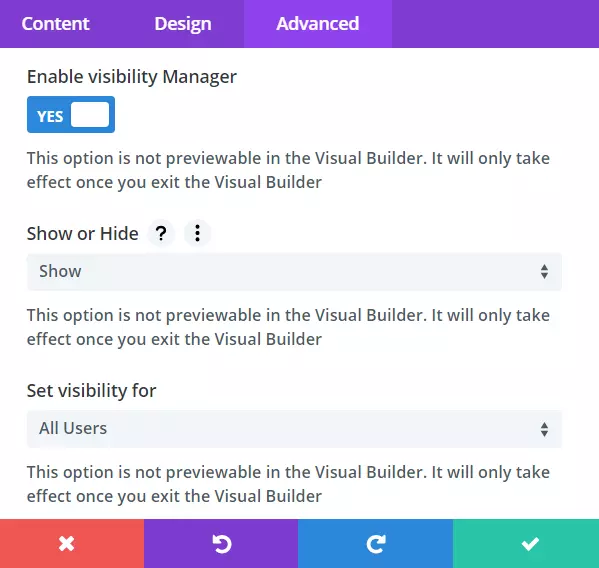 Divi Particles Background
Bring Background Alive With Amazing Moving Particles
Add beautiful Particles backgrounds like Circle, Triangle, Edge, and Star to any section, row, column, and module. Increase or decrease particle number, density, and size. Enable particles interactivity on hover and click. And many more options to make the Particles background more attractive and elegant.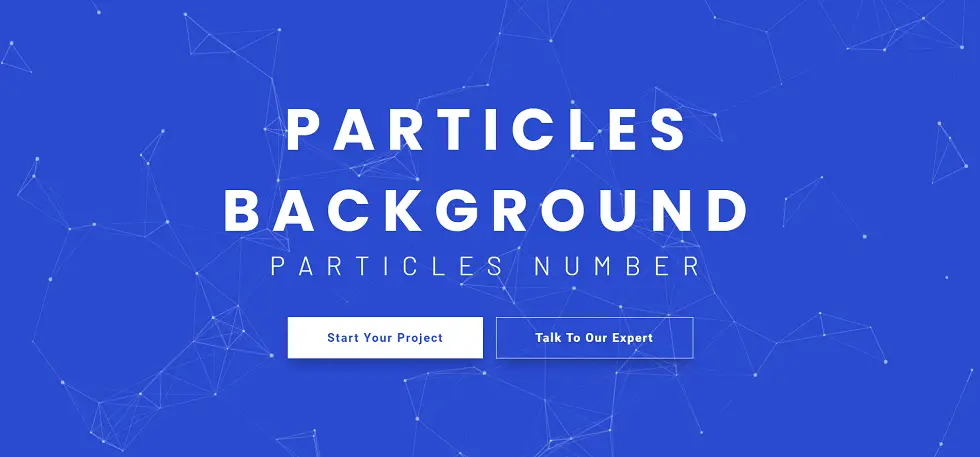 Divi Library Shortcode Extension
Add Anything From The Library With A Code — Shortcode
An easiest and quickest way to load saved layouts from Divi Library. The Divi Library Shortcode Extension adds a section of the Divi Library with layouts' shortcode, which you can directly use on a Divi Builder. And display any layout, whenever you want and however you want.