Showcase Web Content in a Whole New Way With All in One Carousel Plugin for Divi
Blog Carousel enables you to show all the blog posts in a fine carousel along with the content. With the Content Carousel, you can display crucial content in a stunning carousel with some relevant images. Using the amazing carousel effects, the Image Carousel allows you to present images in a spectacular way. Each carousel module is highly customizable and has many options to tune it as per your needs.




Slide, Coverflow, Cube, and Flip Effects


Customizable Pagination and Navigation
Multi Module Carousel Plugin for Divi
Get started with the All in One Carousel Plugin for Divi and start creating stunning carousel for images, content and blog. Check out for more features in coming updates.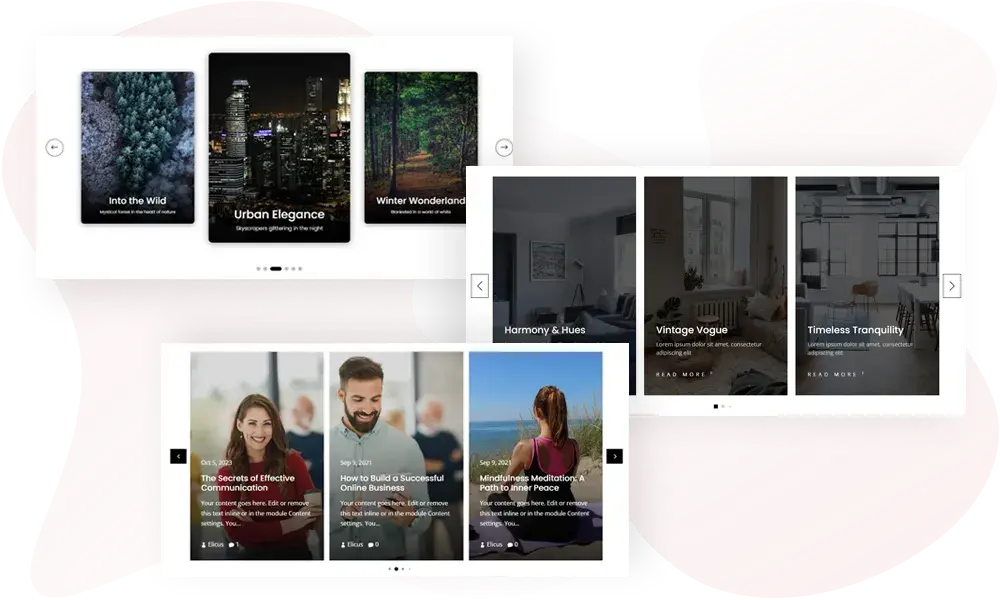 Blog Carousel to Showcase Blog Posts Interactively
Engage all the visitors to read your latest blog posts using the amazing Blog Carousel. Let them browse your blog posts rapidly with an interactive carousel that is highly customizable.
Five Spectacular Layouts
The five layouts and sorting options in the Blog Carousel module help you arrange the fresh posts in your desired way. Organize and give a quick preview of your blog posts to the visitors using these four carousel layouts.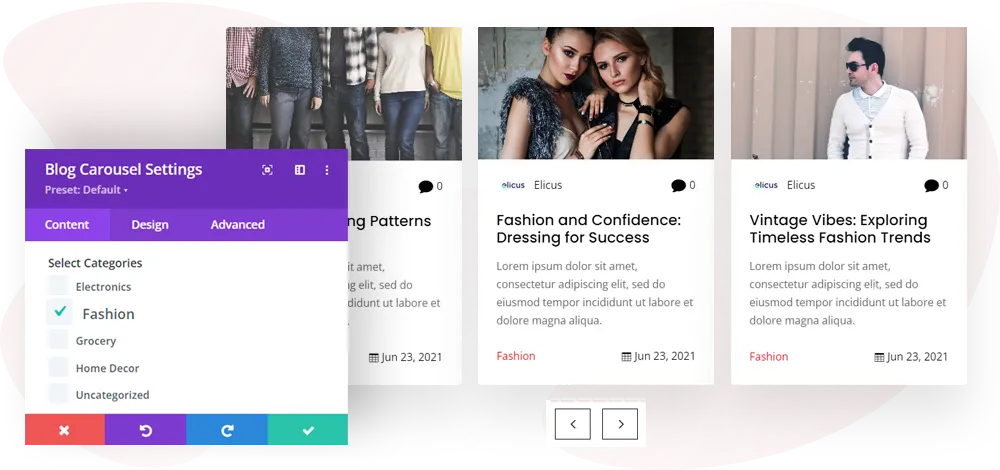 Show Blog Posts of Specific Categories
It also has the option to select and display blog posts of specific categories.
To display posts from particular categories in the carousel, you only need to choose those categories using a checkbox of the Blog Carousel module.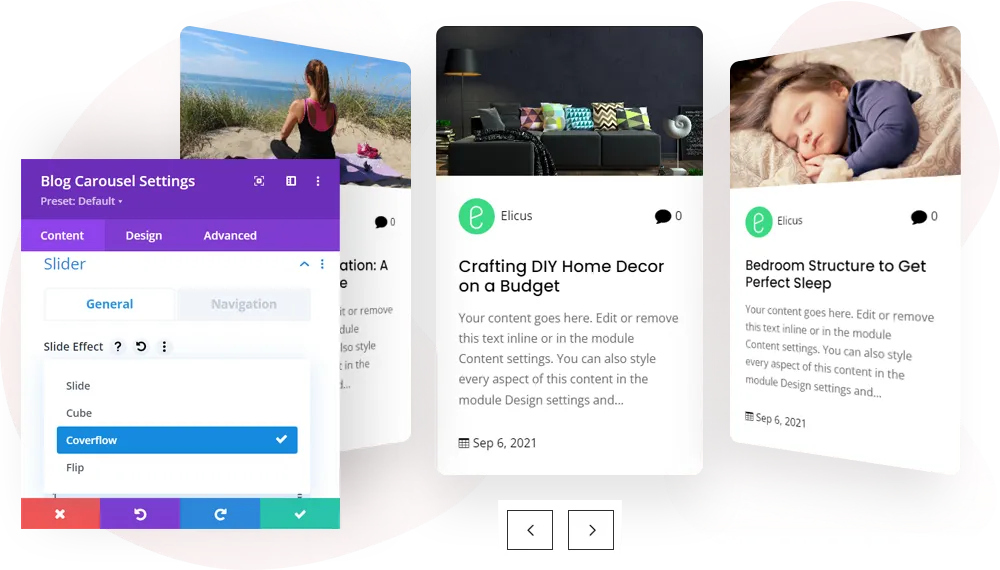 Display Whole Content or Only Excerpt
You also get the convenience of choosing what you want to display, the whole content or excerpt only. You also have the option to define a custom length of the excerpt on the Blog Carousel.
Control and Style the Metadata
Show the featured images and metadata of posts in your custom style.
Select a predefined custom size of the featured image in the carousel. This carousel module also offers you the option to display or hide the Author, Date, Categories, or Read More buttons.
Extensive Slider Options
Use the four dazzling slide effects to attract visitors to your blog posts. Select the number of posts per view, Autoplay, and Pause On Hover options to enhance the look and feel of the carousel.
Content Carousel to Highlight Valuable Content
If you want the visitors to read an essential piece of content on your website then the Content Carousel module is there for you. This will help the visitors explore content more conveniently.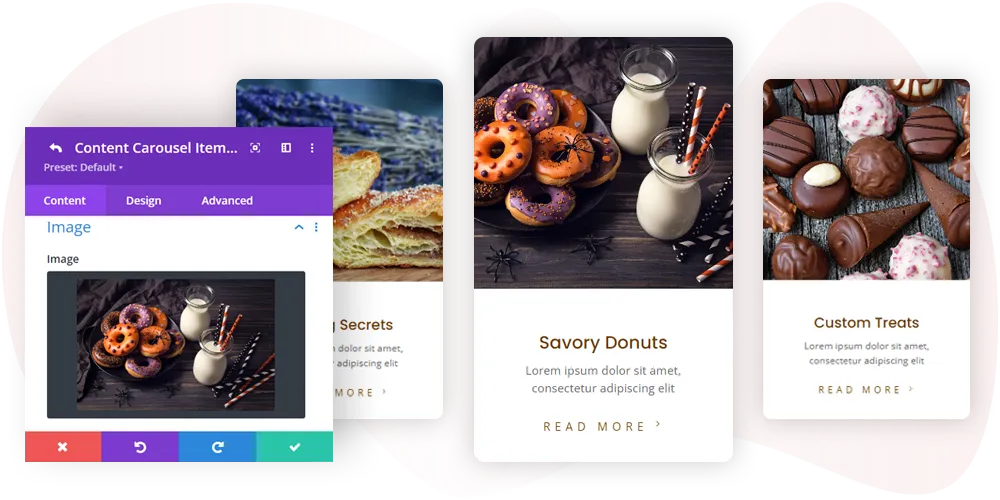 Display Title and Subtitle
The Content Carousel module allows you to display the content with a title, subtitle, and relevant image. This would be helpful to grab a quick idea about the content.
Deploy the Read More Button
An optional Read More button to explore the whole content is also made available. You can display or hide it as per your needs. It comes in handy when a visitor wants to go through the entire content.
Custom Length for Excerpt
The Content Carousel module also allows you to define a suitable content length so that users can see the information they need. An appropriate number of words for an excerpt creates a sense of curiosity about the content.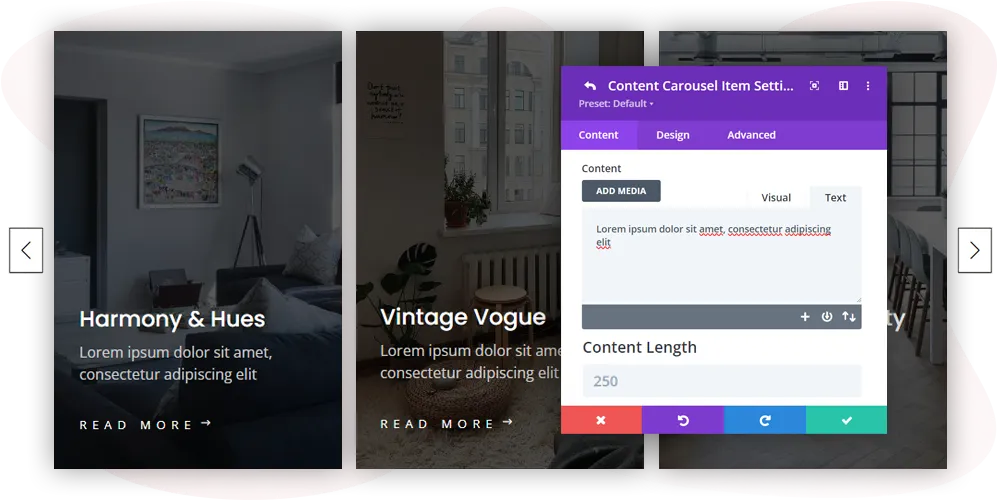 Place Content in Multiple Positions
This module lets you organize the content on the top, bottom, left, right, and overlay position to the image. Placing the content in multiple positions enhances the visual design and user experience of the carousel.
Image Carousel to Exhibit Images Stunningly
With the help of the Image Carousel module of this Divi carousel plugin, you may fascinate visitors with breathtaking images. This carousel module assists you in giving visitors an engaging, dynamic perspective of your projects, goods, and more.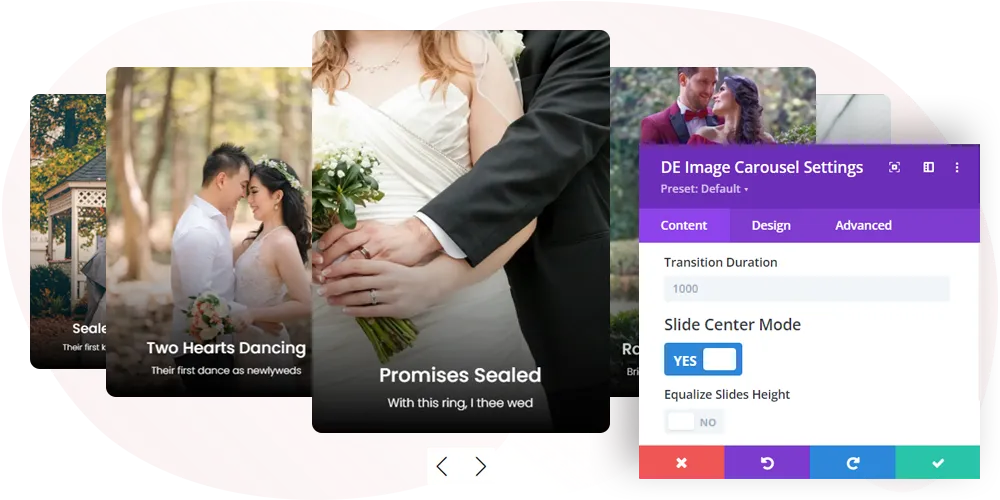 Slide, Cube, Coverflow, and Flip Carousel Effects
You can attract visitors with 4 eye-catching carousel effects that can stunningly display images. The four carousel effects in the Image Carousel module can be selected based on your requirements and goals.
Slide Center Mode
The Slide Center Mode of the Image Carousel module primarily focuses on and provides the necessary spotlight to the center image in the carousel.
This helps in capturing the quick attention of the visitors to the images.
Lightbox for a Detailed View
This module includes a lightbox so that visitors can examine the products or projects in a thorough detailed view. The Lightbox precisely displays every fine line of the image and provides an immersive view.
Position Align Titles and Subtitles
This module allows you to customize the alignment and location of titles and subtitles over the photos. The left, right, top, bottom, and overlay positions are among them.
Pagination and Navigation Elements
You can swiftly scroll through the images in the carousel by using the Navigation Arrows and Dot Pagination elements provided by the Image Carousel module.
Divi Card Carousel Module
The cards are equipped with images, titles, subtitles, labels, and buttons to make the carousel more interactive. This carousel plugin is highly customizable and is perfect for several kinds of business websites and blogs.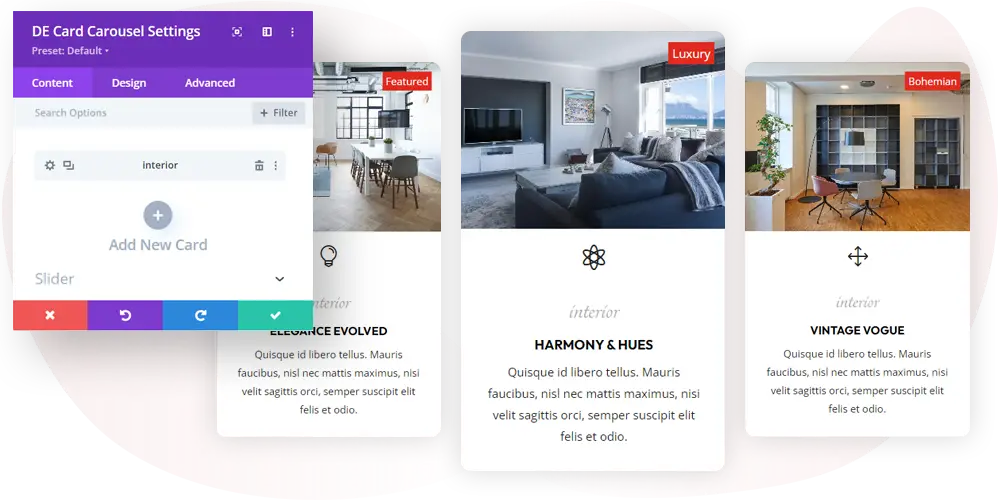 Divi Team carousel Module
Add a team carousel to your Divi website using the team carousel module.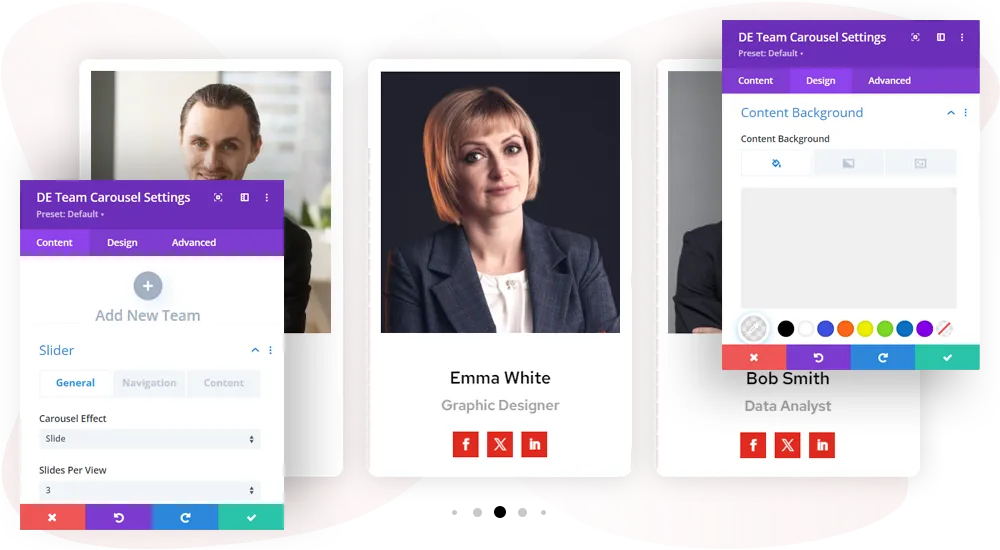 Customization Controls
The plugin comes with a nice set of customization control to let you manage your carousel settings easily.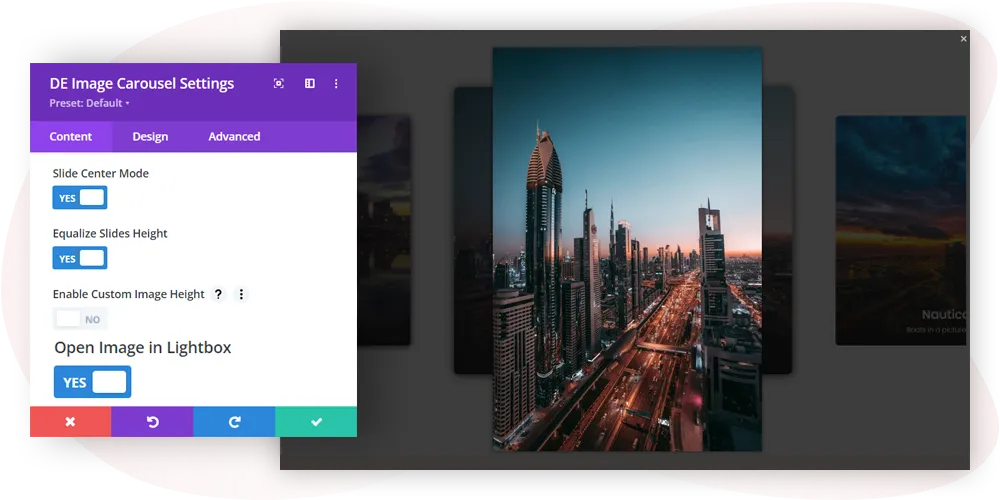 Why Select Divi's All-in-One Carousel?
1. A Single Plugin to Meet Multiple Carousel Requirements
With the help of the All in One Carousel plugin for Divi, your website may accommodate many carousel designs. You can create interactive carousels for your website by utilizing its blog, content, and image carousel modules.
2. Increase User Engagement
Visitors will be drawn to your website's stunning carousels as soon as they arrive thanks to the All in One Carousel plugin. User engagement will be significantly increased by the interactive carousels.
3. Reliable Support
Experience peace of mind with our Divi plugin support. We're here 24/7 to provide reliable assistance, ensuring your website runs flawlessly and your productivity is never compromised.
4. Easy to Use
The All-in-One carousel is really easy to use and its innovative features allow you to personalize it to the way you like it. The straightforward controls allow you to activate or deactivate particular carousel features easily.
What types of content can I display with the Divi All in One Carousel plugin?
You can use the All in One Carousel plugin to showcase a wide range of content, including images, blog posts, content, and more. It offers flexibility to present diverse content in a dynamic way.
Can I customize the appearance of my carousels to match my website's design?
All in One Carousel plugin offers extensive customization options, allowing you to personalize the design, layout, color schemes, and transition effects to align with your website's branding and style.
Is the Divi carousel plugin responsive and mobile-friendly?
Yes, the All in One Carousel plugin is designed to be responsive, ensuring that your carousels adapt seamlessly to various screen sizes and devices, including mobile phones and tablets.
Is technical support available for the All in One Carousel plugin if I encounter any issues?
Customer support is offered to assist you with any questions or problems you may face while using the Divi carousel plugin.
Does the All in One Carousel plugin for Divi receive regular updates?
As long as your license is valid, you will receive the update. Look for an update notification on your WordPress website, then click the link.