Powerpacked Layouts Plugin for Divi
Design everything that comes to your mind using the Divi Layouts Extended. A layouts cloud full of unique design options to build websites and web page elements of any kind. It's a wonderful plugin that will provide you with wonderful pre-built Divi templates using the 1-click import option.
More Layouts, More Possibilities, Single Plugin: Divi Layouts Extended
For a better design, you need better resources, and with Divi Layouts Extended, you get ultimate Divi premade layouts full of elegance, visibility, and flexibility to be customized. Plus, it includes over 1700 layouts meaning you've got a handful of opportunities to try and build a website out of the norm. Say it layout library or layouts cloud – Divi Layouts Extended is the best tool to find trending, eye-catching and beautiful layouts for a Divi website.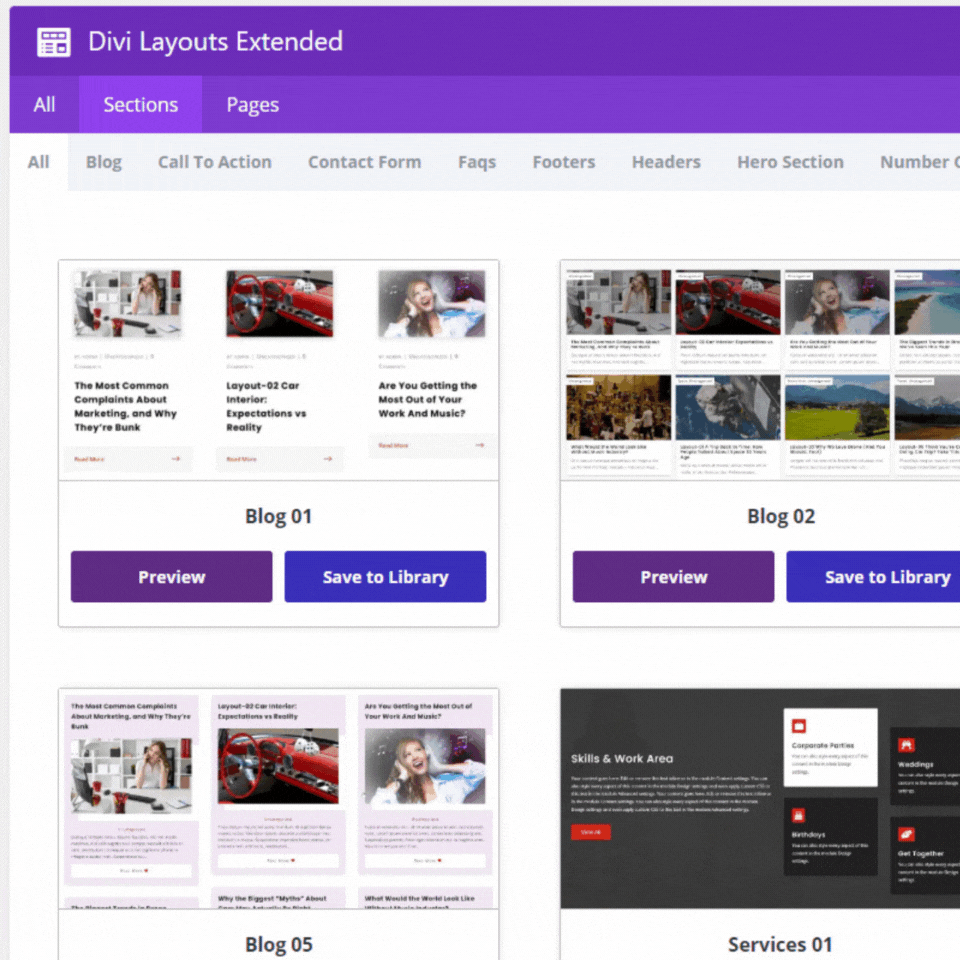 Optimized Header and Footer Layouts for Easy Navigation

Headers and footers are the necessity of a website to guide users in the right direction. And this plugin provides you with highly-optimized divi navigation layouts that take users to the right place without confusion. Further, these include different elements that enhance their use to the fullest. For example, social media icons, subscribers form, CTAs and more.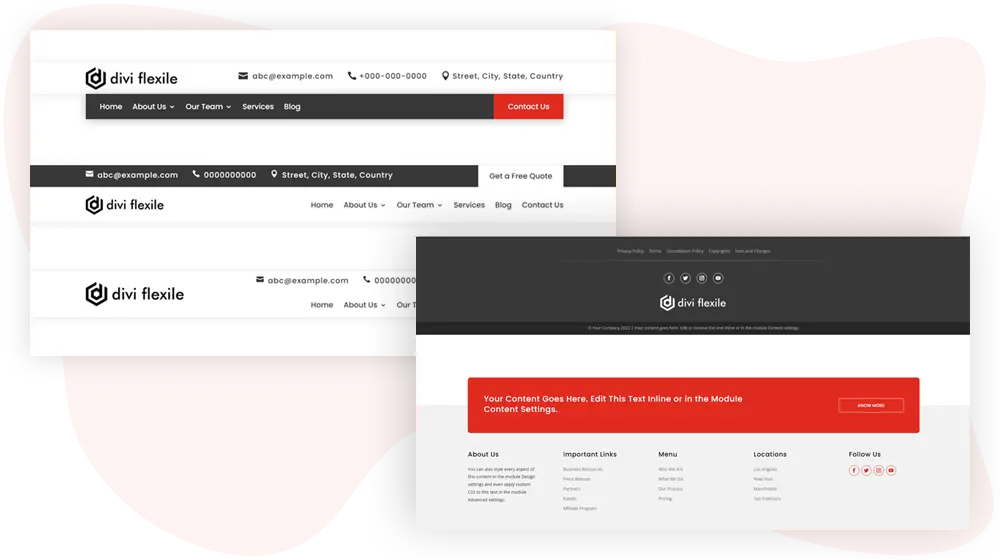 Outstanding Blog and Post Layouts for High Readability
Reach a wider audience by publishing quality posts and keep them engaged using the blog post and post templates included with Divi Layouts Extended. It comes with the best blog layouts that allow you to present your thoughts with more clarity and visibility. All Divi post templates are designed keeping the latest trends in mind that engage users with the content for extended periods. Thus, you get more user sessions and high rankings in the search.
Start Strong and Impress Effectively Using Hero Sections and CTA Layouts
Capture users' attention as soon as they land on a page using the highly attractive hero sections and CTA layouts. Use vivid images, bold content and more to provide users with a rich experience the moment your website loads in front of their eyes. Utilize highly creative CTA layouts to create excitement in the users' minds with number counters, videos, and more to motivate them to take your targeted action.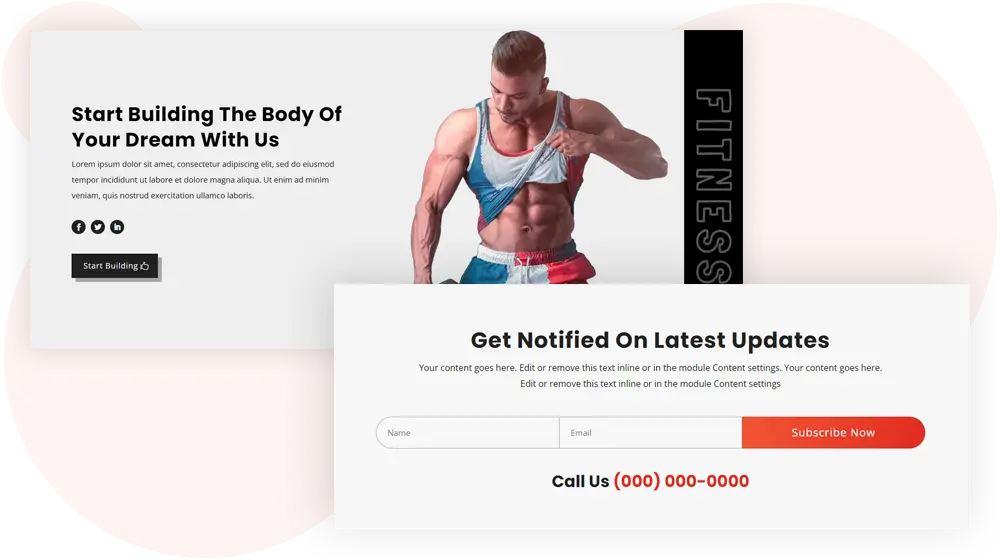 Level Up eCommerce Store With Engaging Woo Sections and Pages

Make announcements, highlight product launches, show discounts and more with the pre-built WooCommerce sections you get with this plugin. And in addition to the sections, you get highly modern store pages such as Product, Cart, Shop and Checkout. Using these pages and sections, you'll be able to transform your Divi eCommerce site altogether without missing any part.
Let Them Subscribe Through Beautiful Opt-Ins
Provide your users with a clear area to subscribe to your emailing list. The Divi Layouts Extended include several email opt-in sections suitable for websites of any industry. Whether you need an email opt-in for a medical website or for a simple blog, the layouts included with this plugin won't disappoint both you and your visitors.
Add Eye-Catching Landing Pages
In addition to the eye-catching hero sections and CTA layouts, the plugin also includes pre-built Landing pages for various occasions. Whether you're targeting an ad or explaining your products or services to the user, you get landing pages to fulfil all your Divi web designing needs. These Divi theme layouts include content areas, different elements, and sections to explain/show different things such as team members, testimonials, services and a lot more to build a landing page that reflects everything of your goal.
There are over 35 landing pages, which you can use however you like because they're customizable, too.
Show Experience and Expertise Using Number Counters

Got huge experience or expertise in your field and want to showcase it to visitors in the best way possible? Then guess what? The Number Counters layouts included with this plugin are perfect for your skill showcase. These number counters have background images, percentage signs, icons, circular bars and more to express your skills, experience, or other countable subjects creatively and beautifully.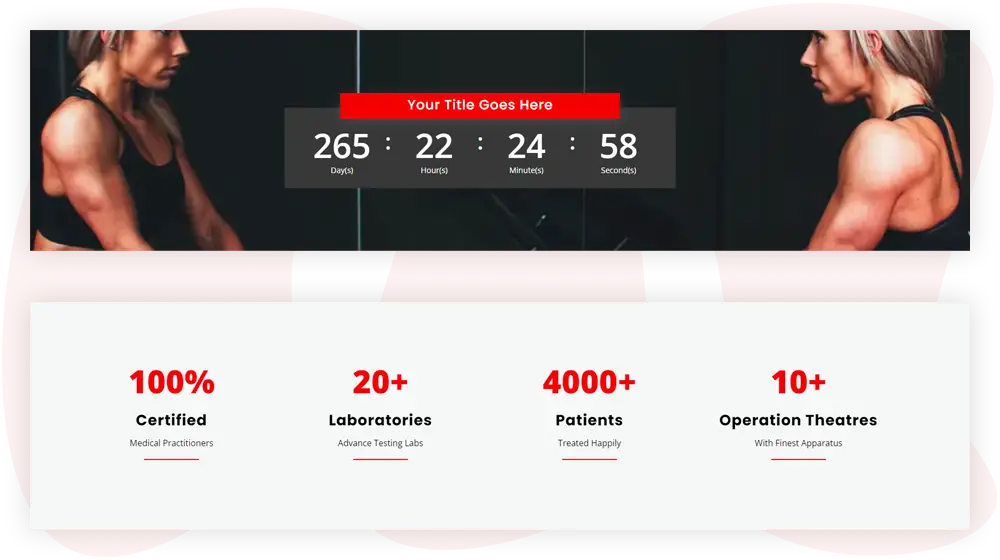 Bring Your Team Under Spotlight Using Team Sections
Leave no one behind, and bring your professional and highly qualified team to the front using this plugin's modern Divi team sections. Whether your website represents a community or business, these team layouts can fit superbly into any specification. With these team layouts, you can display members' images, bio, designation, and social media profiles.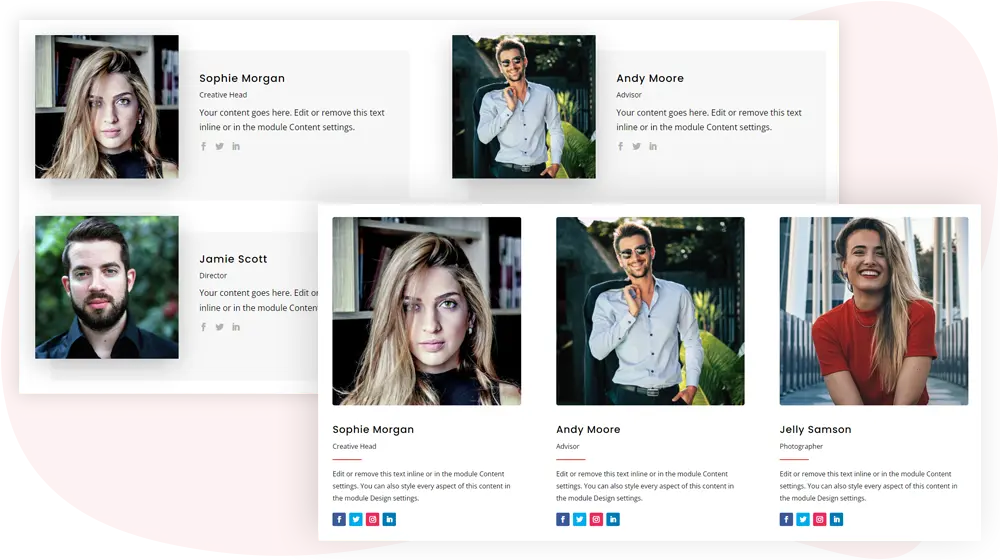 Let Your Past Customers' Words Work For You Through Interactive Testimonials
Divi Layouts Extended also includes testimonial layouts to help you showcase reviews from your customers, clients or users. Using these testimonial layouts, you can display reviews interactively on a slider with multiple layouts and effects. Furthermore, you can list testimonials in a grid with a masonry design. Plus, they all will be star-rating schema optimized. Thus, with trust and design, you'll also get engaging rating snippets on the search. These layouts include the author's image, review, quote sign and designation for an exciting view.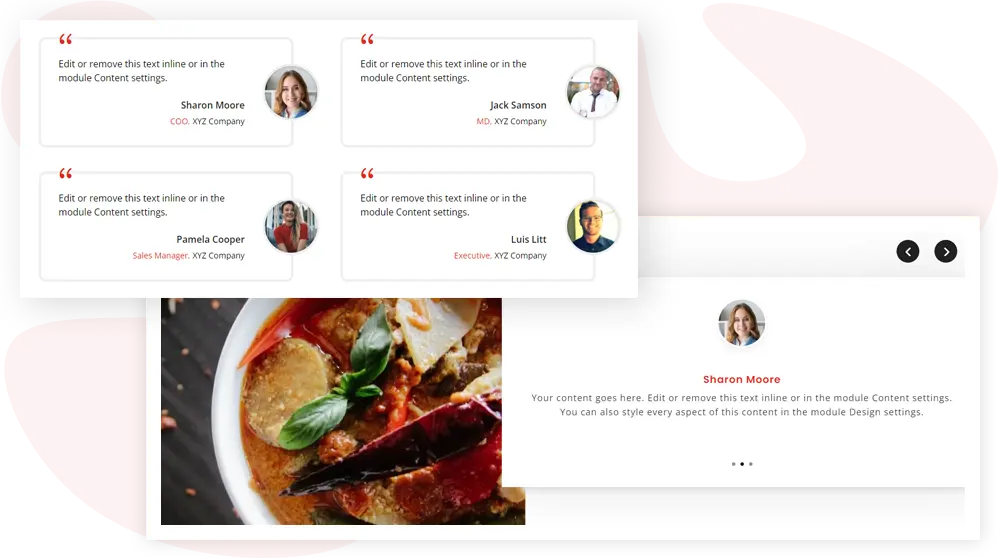 Add Content Precisely Using Optimized Tabs
Eat less space on the site and add crucial information as concisely and beautifully as you can using the Tabs layouts. Add vertical tabs or horizontal tabs, or both, you get layouts to change your content orientation whenever needed. Plus, use layouts with the image in the background or color; it's totally up to you – Divi Layouts Extended provides you with all the possibilities.
Readable, Spacious and Easy Contact Form Layouts
Capture or receive better leads with transparent and motivating contact forms. The layouts we have added to the plugin are designed to increase user focus while interacting with the form. This will help them utilize the fields efficiently, and they'll submit queries without error or missing information. You can also display Google Maps, social media icons, contact details and more to make the most out of your contact forms.
Lots of Layouts, Less of Worry: Quality and Dedicated Support

With lots of layouts, you also get quality support from us. No matter what issue you face using the Divi Layouts Extended, you can reach out to us without hesitation. And we'll do our best to resolve the issue. Our purpose is to simplify how you design with Divi, and this plugin and our support will allow you to do that immensely.
Keep Going, Keep Growing – Regular Updates, More Possibilities
Right now, there are hundreds of layouts, and soon there will be thousands of. The plugin will get regular updates to add more layouts and improve the style of existing ones to help you stay ahead in the market no matter how fast curves it takes. With Divi Layouts Extended, you'd never have to worry about how your website will look in the future because, with this Divi layouts cloud, the future of Divi web designing is brighter than bright.