A Complete WooCommerce Child Theme for Divi
Are you looking for an eCommerce child theme for Divi that supports WooCommerce? Well, Divi Cart Pro is the all-in-one Divi child theme that brings outstanding solutions to build a fully functional Divi store. For instance, you get multiple store home page layouts and multiple in-built modules that allow you to build a WooCommerce product carousel, custom product page; display a mini cart; use multiple layouts, and more.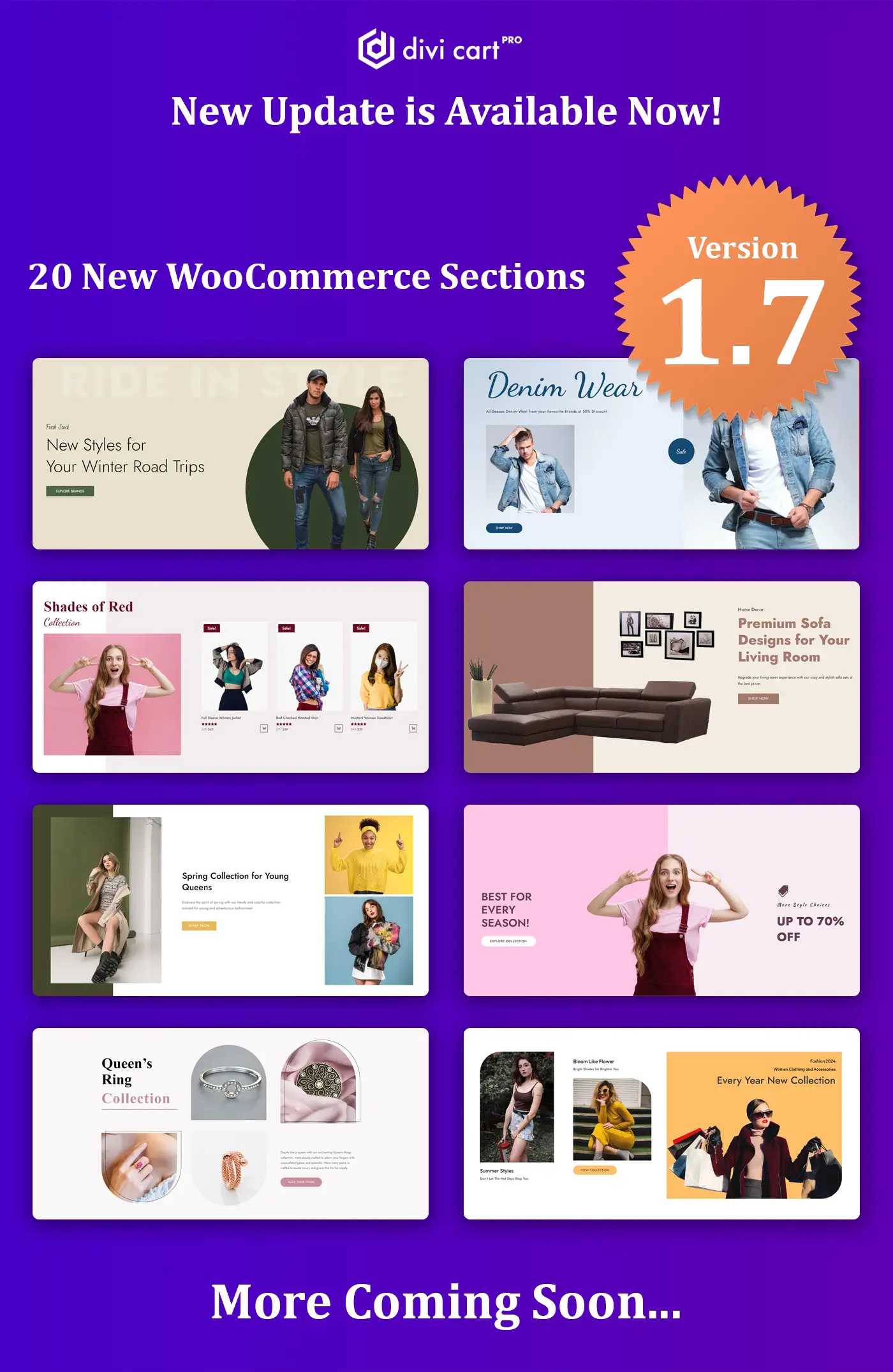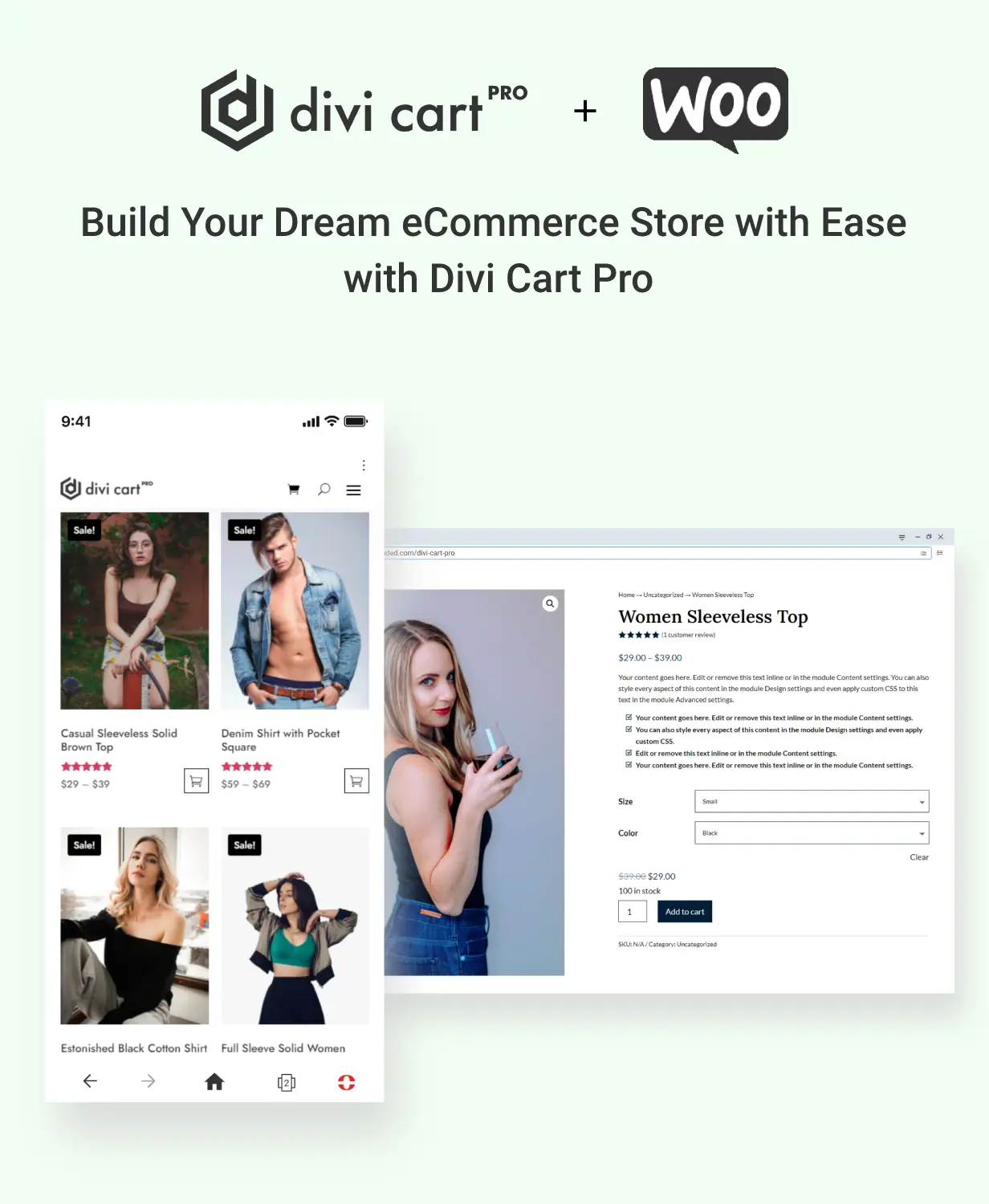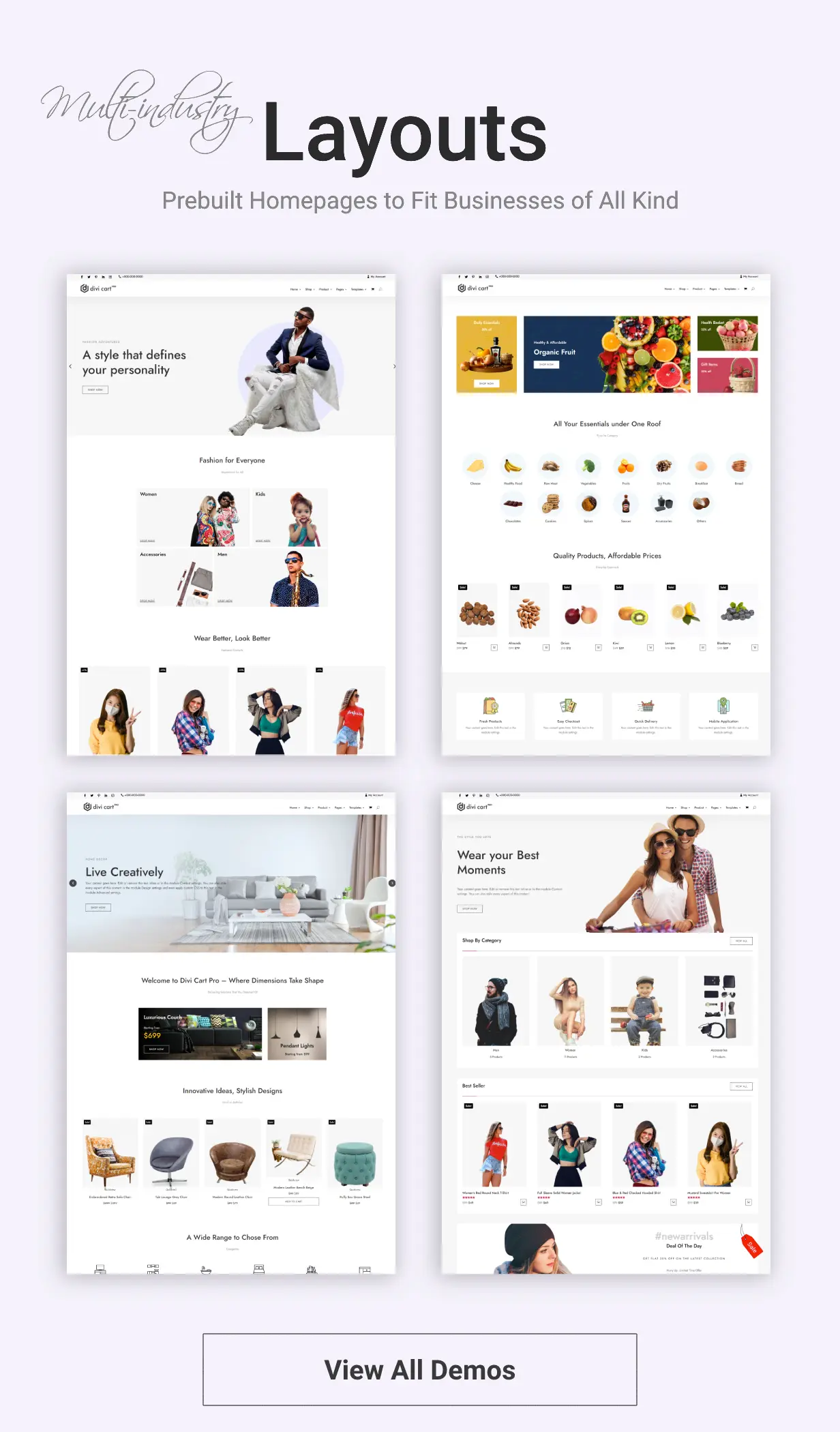 10+ Store Home Page Layouts
Divi Cart Pro comes with pre-built store homepage layouts. Based on your store's niche, you can use these layouts. It includes layouts for a Grocery store, Decor, Furniture, Electronics, and more. Each layout is uniquely designed and contains all the necessary elements to make the homepage explorable.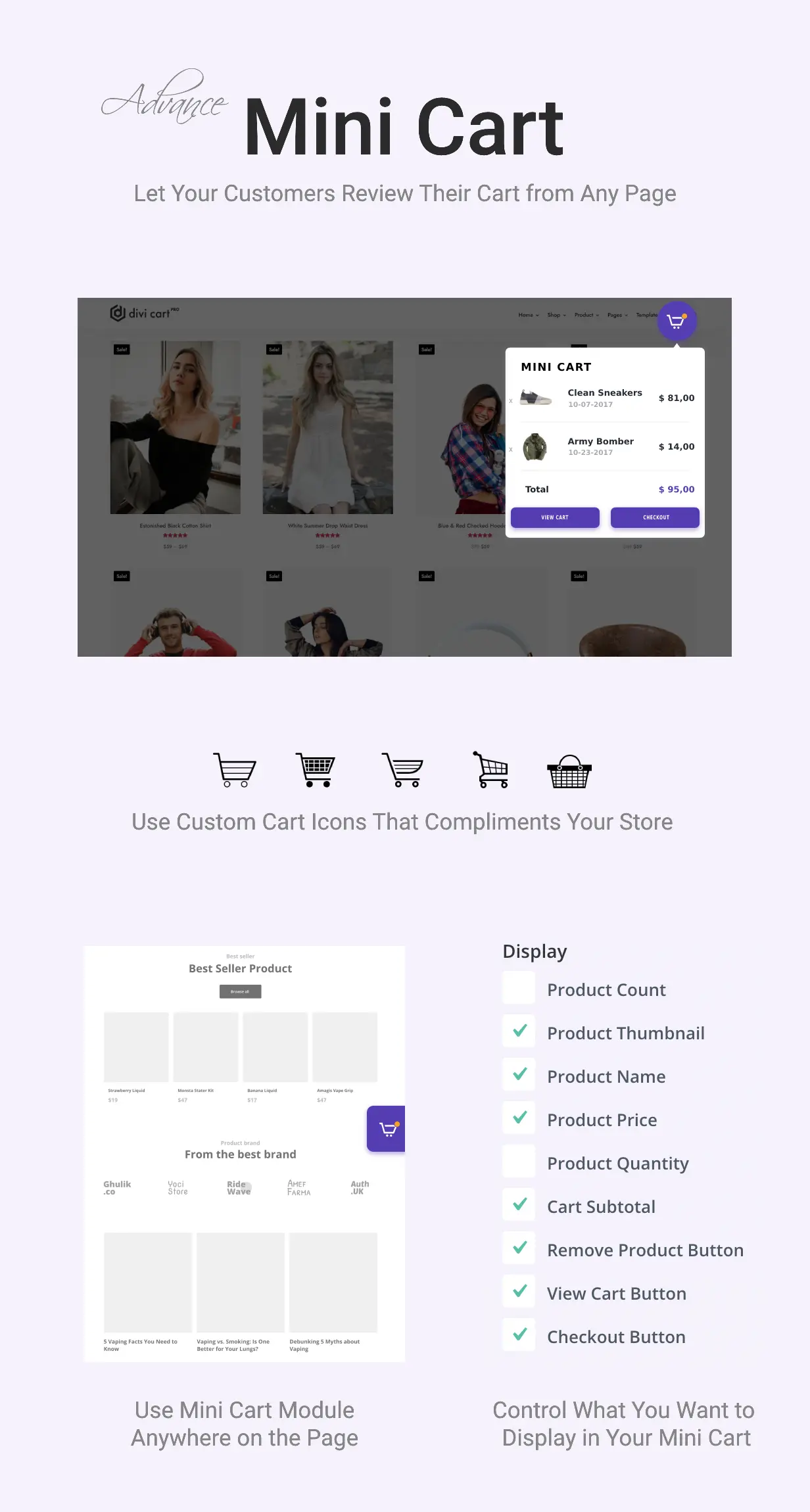 In-built Mini Cart Module
This Mini Cart module available with Divi Cart Pro allows website owners to display a Cart Icon on the website. Using this icon, customers can quickly view their cart items without visiting the cart page. Plus, display cart items info such as quantity and price.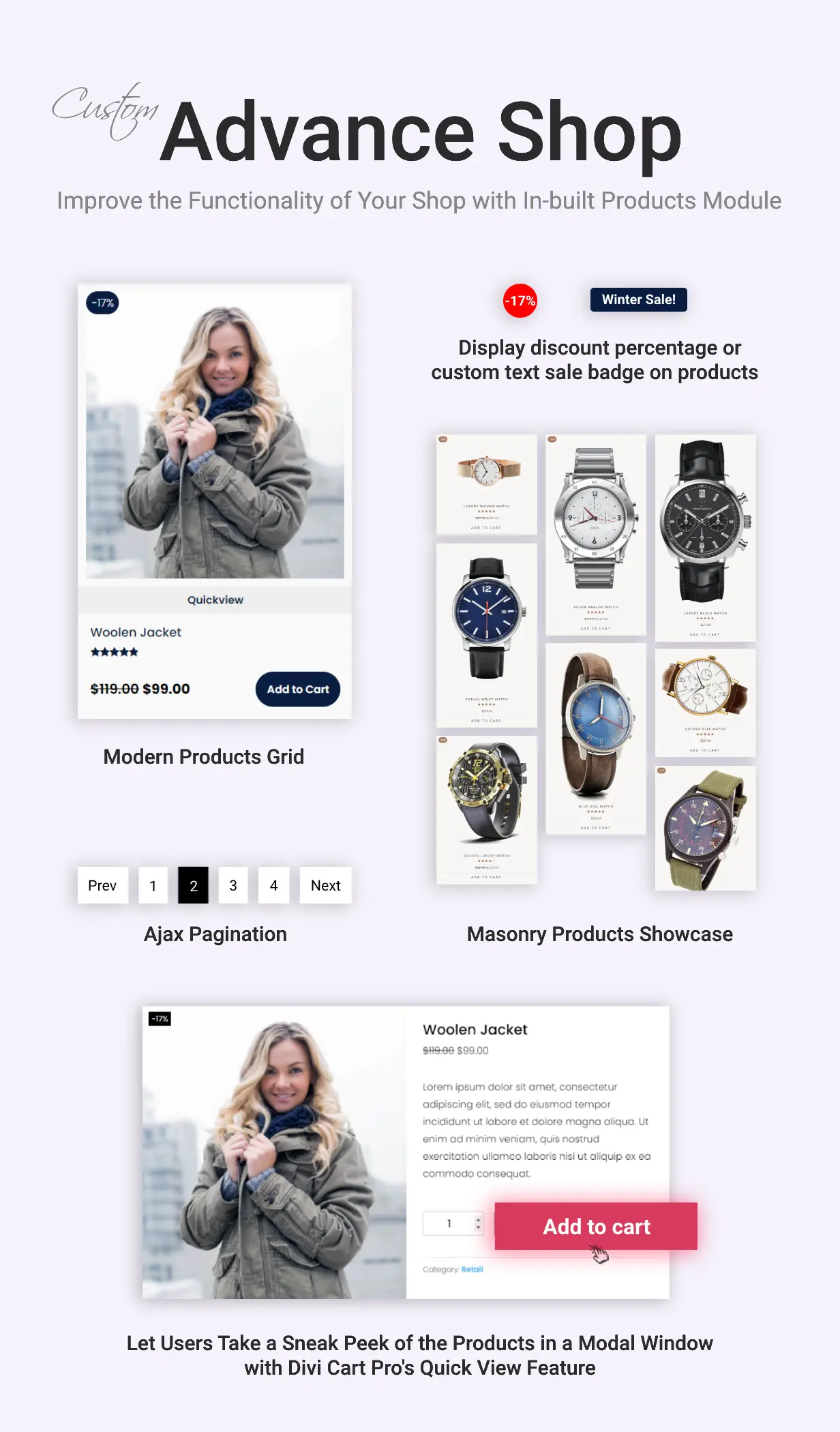 In-built Products Module
Create beautiful custom shop pages using the Products Grid module available with Divi Cart Pro. Add products in Grid with Masonry layout support. Furthermore, enable quick view, pagination, on-hover add to cart button display and other options to make custom shop pages look rich.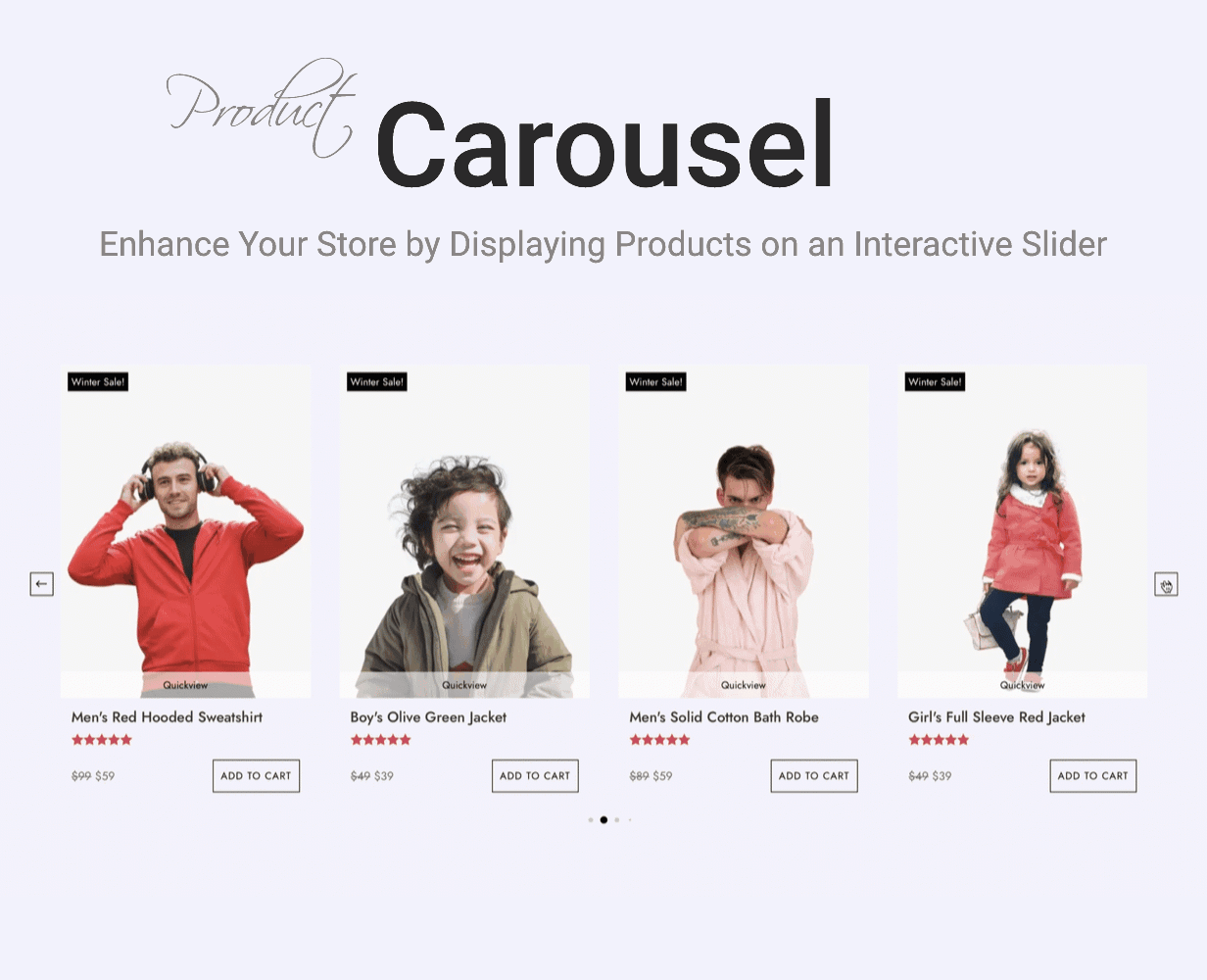 In-built WooCommerce Product Carousel Module
Want to add a WooCommerce product slider on the website? Well, the WooCommerce Products Carousel module lets you do that very easily. You can display your products on a slider with Add to Cart button, Sale Badge, Ratings, Price, and more.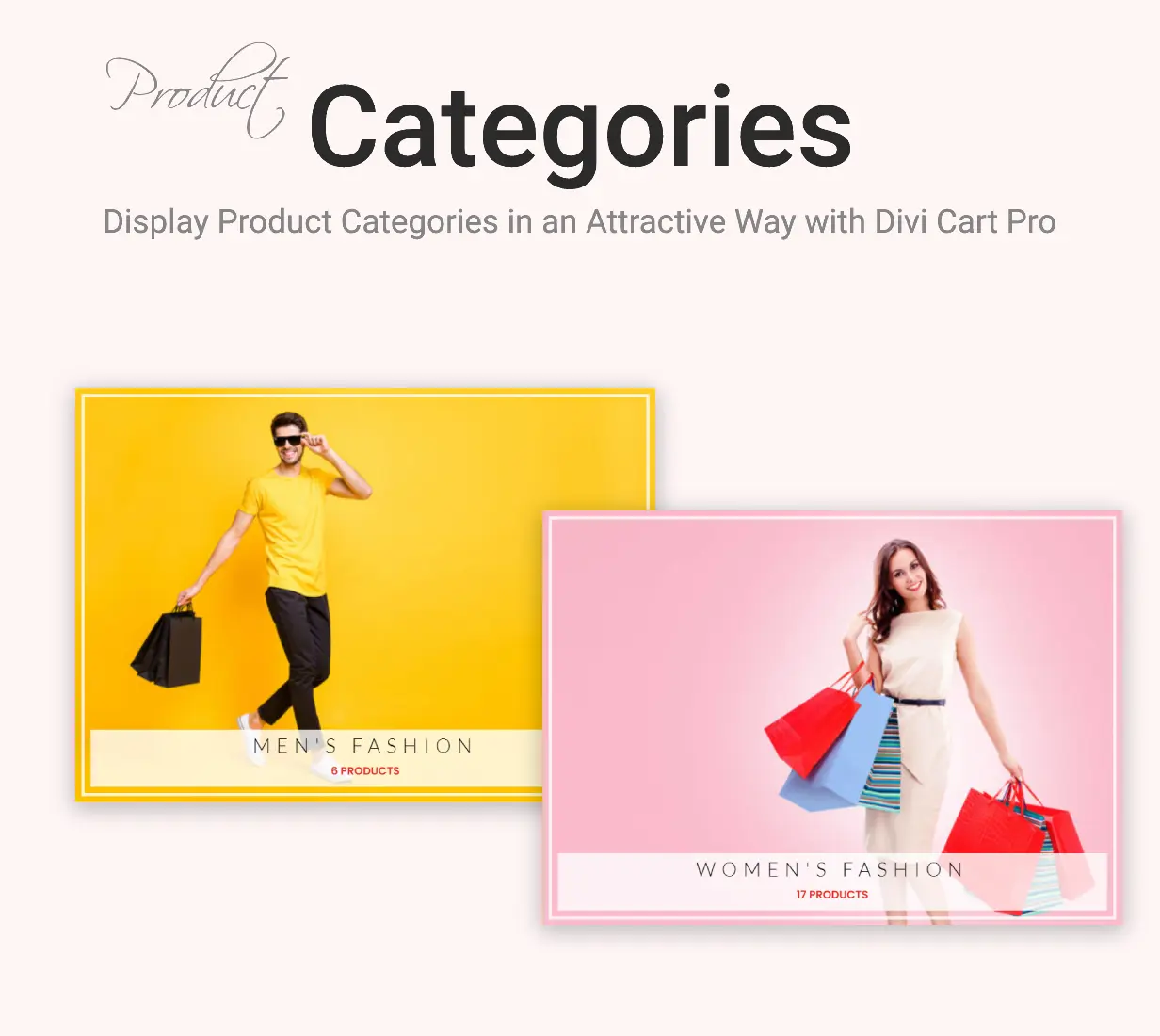 In-built Categories Module
If you want to group multiple categories on a single page, for example, Men's products, Women's products, and Kids' products, then using the WooCommerce Products Categories module, you can do that very easily. It provides you with intuitive options that make showcasing categories collection amazing.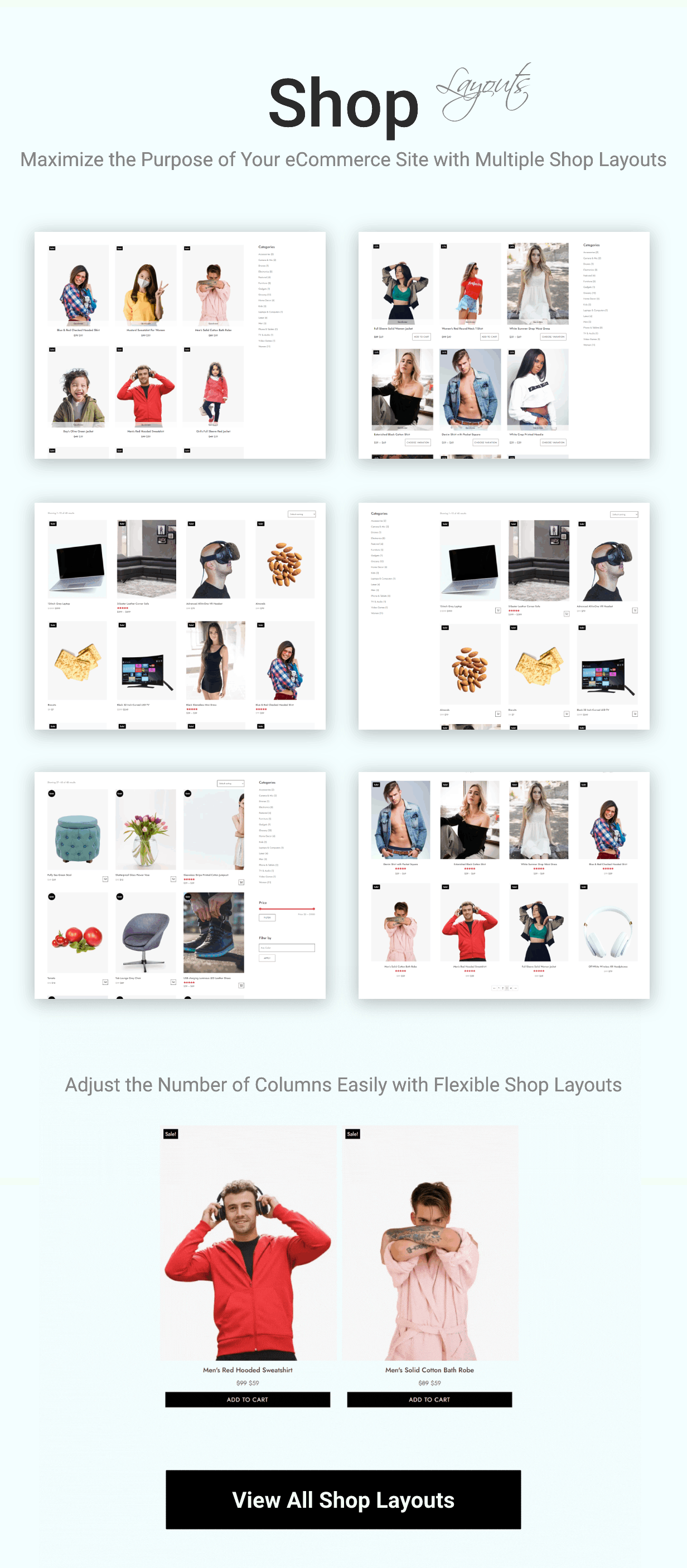 Multiple Shop Templates
For those who don't want to build shop pages from scratch, Divi Cart Pro includes a number of Shop templates. These templates are ready to use and allow you to display your products in the best way.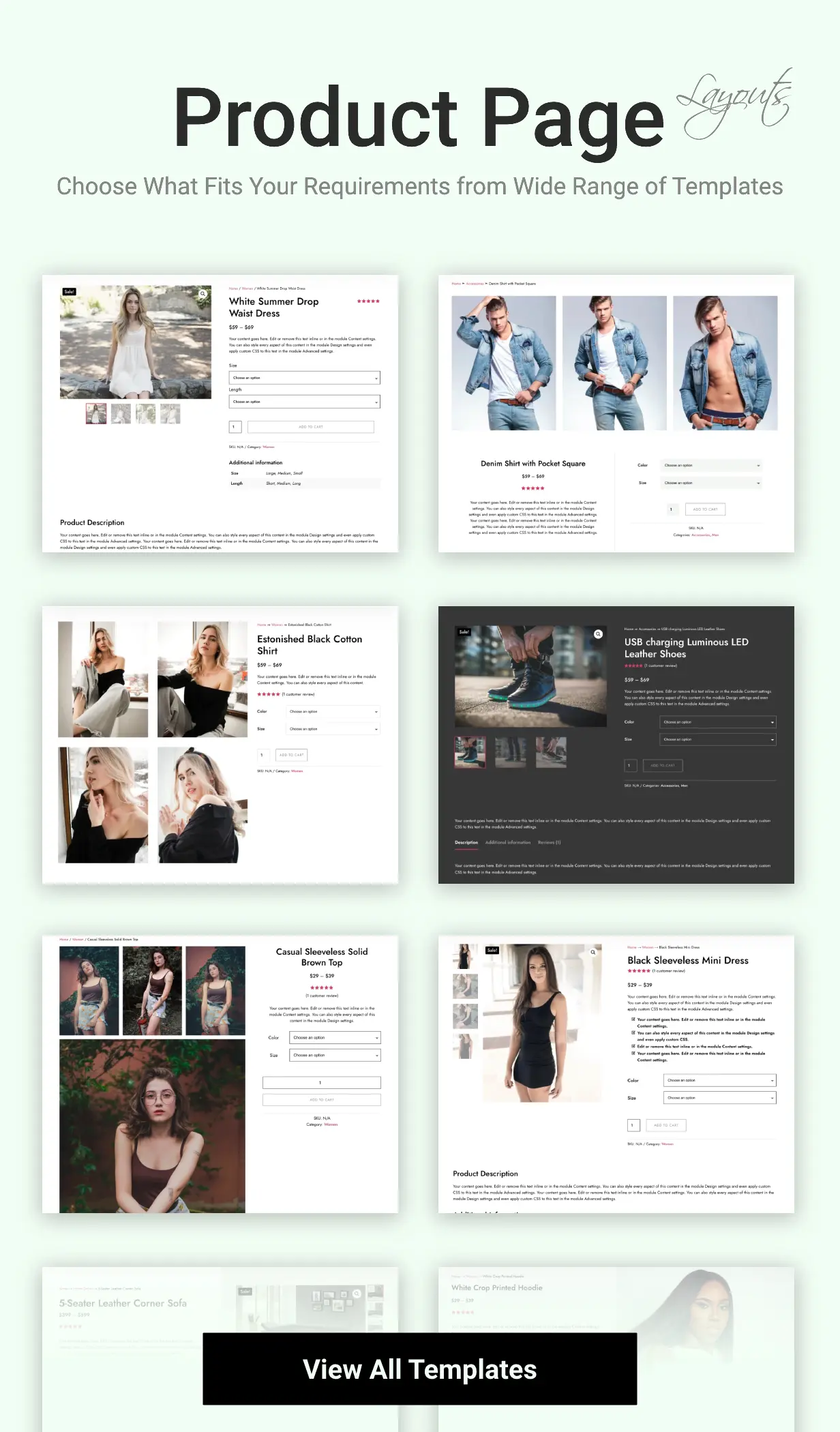 Multiple Product Page Templates
Divi Cart Pro also comes with product page templates, so you can easily bring uniqueness to the products. Now, you don't have to keep a single design for various kinds of products. You can have different designs for Group products, digital products or physical products. Based on your requirements, you can choose the best available option.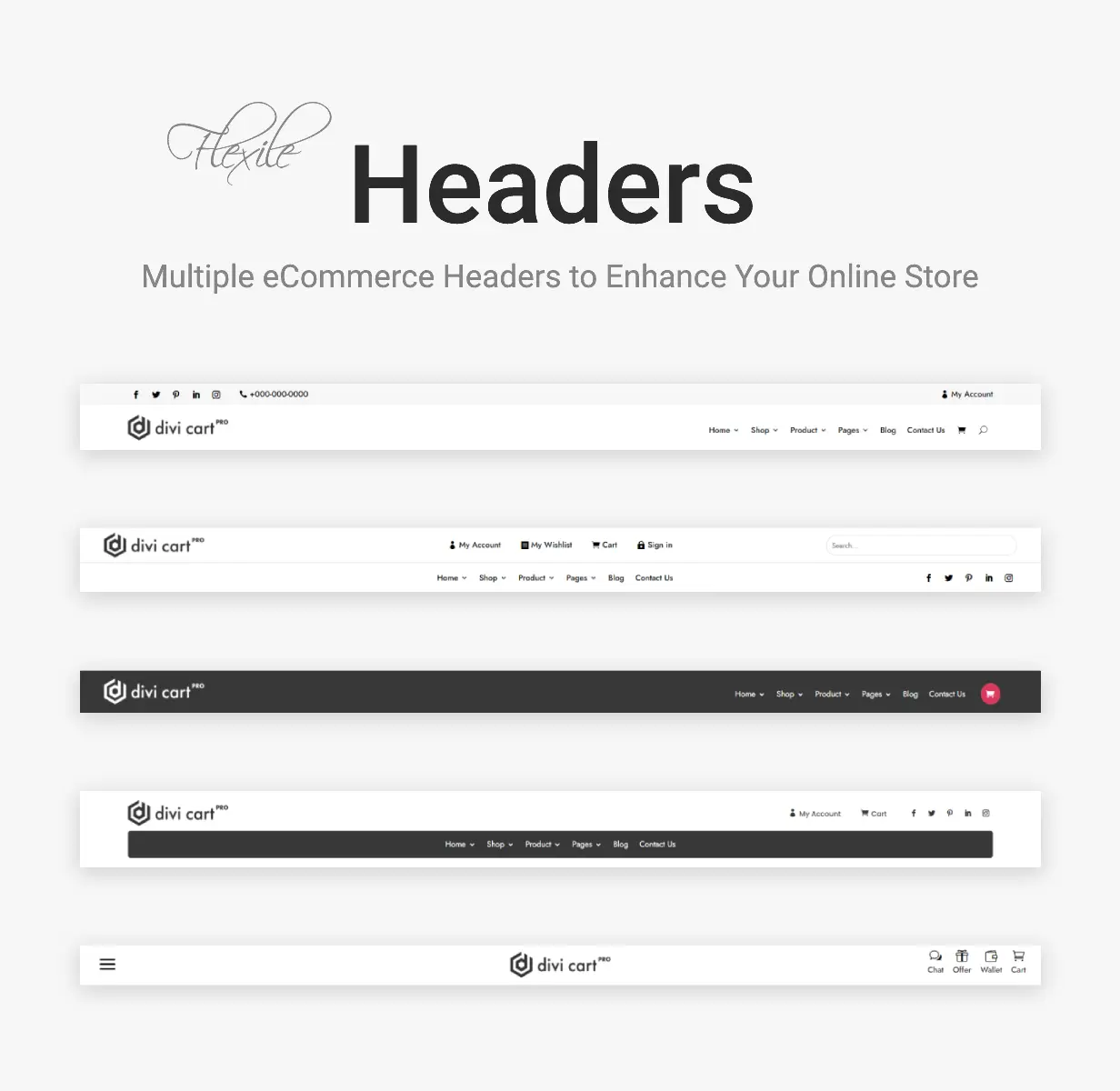 Custom Designed Header and Footer Layouts
Give a perfect starting and ending to your Divi WooCommerce store using the easy-to-use Header and Footer layouts. One provides users with confusion-free navigation, and another offers useful links without extra effort.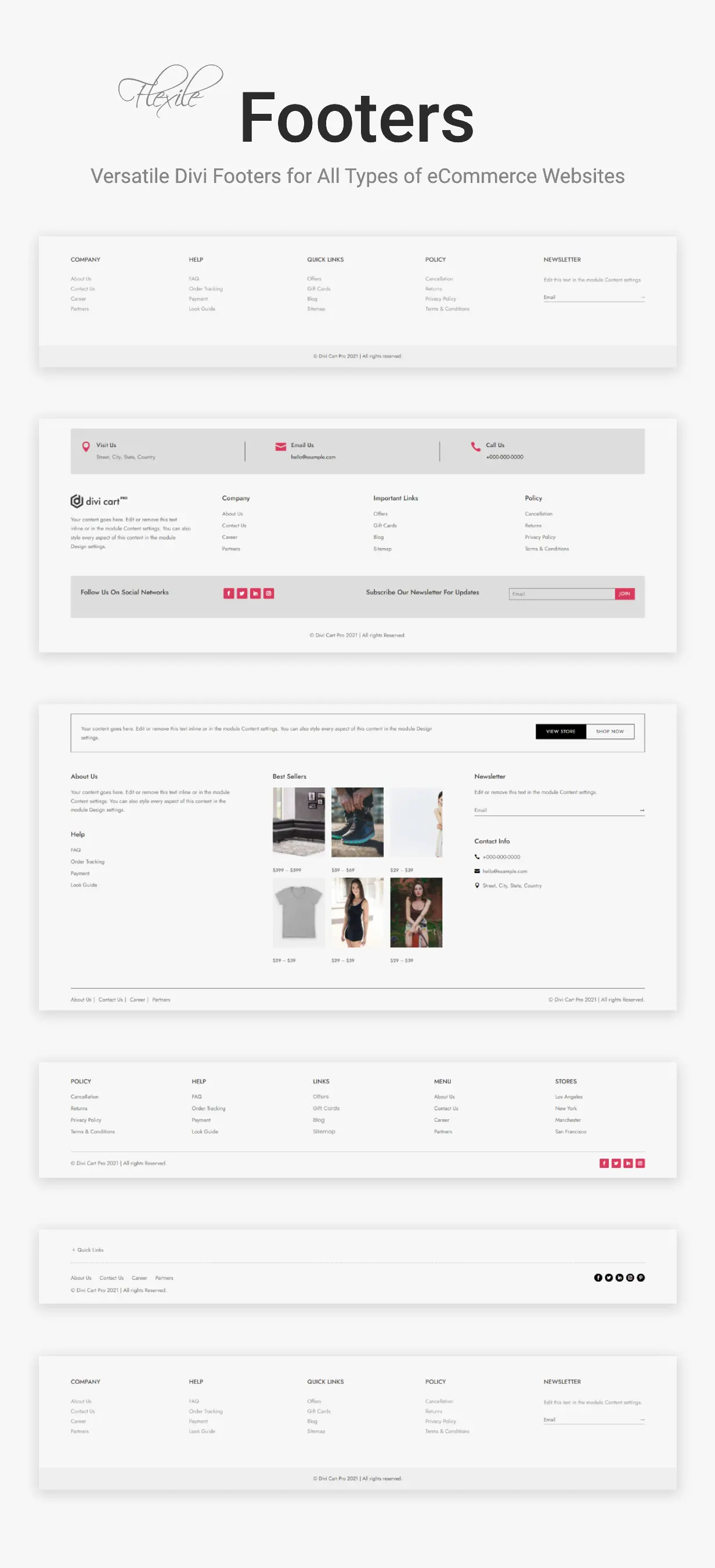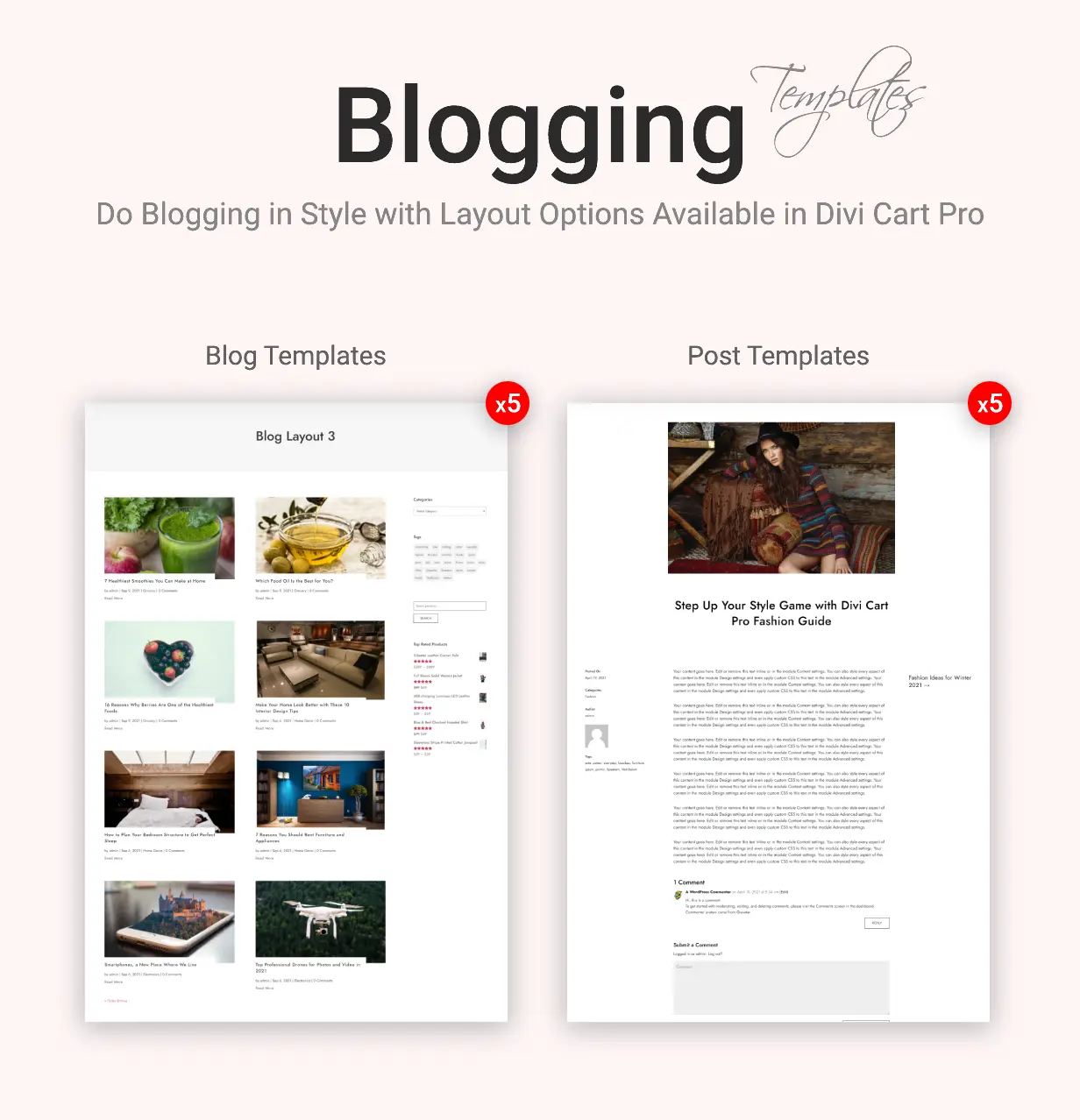 Blog and Post Templates
Reach out to a broader audience by publishing meaningful posts. And to present them in the best and most readable design, use the Blog and Post templates Divi Cart Pro includes. With these layouts, your eCommerce store is ready to do wonders.