Halloween, Black Friday, Christmas Eve, and New Year are around the corner. It's the best time of the year to come back to your business or professional website and spend some time on it to improve its visuals. Or, if you haven't designed your website yet, then still, it's the best time of the year to do that. But, you have to be quick.
And to help you keep up the pace, in this post, we're going to look at 5 stunning websites or child themes, if you want to call them that, created using the Divi theme. These websites are a combination of highly engaging and interactive elements that, if you include on your website, you'll surely get some good results. The creative elements and stylish designs will immensely grab users' attention and motivate them to either try your services or stick with them indefinitely.
Plus, what's more interesting about these websites is that you can easily get them for your Divi website. How? Let's find out!
All the child themes we cover in this article are free to download and require Divi Plus plugin.
1. Agency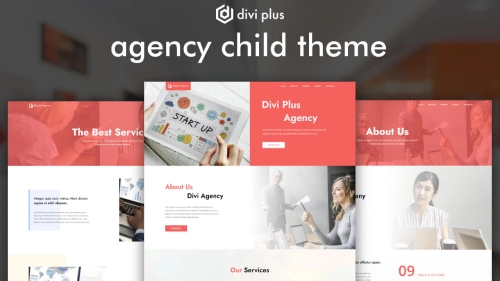 If you're about to set up an agency website or give a new look to the old one, then the Agency Divi website can provide great help. It starts with an elegant transparent header and wide 50-50 hero section. The headings include dual-color, and CTA offers an interactive hover animation. There are multiple pages included like About Us, Portfolio, Contact us, and more to help you get started real quick. The color combination around the whole site is done very effectively to bring richness to every area. In addition, there are different sections that allow you to showcase your portfolio, clients, team members, and testimonials. The website is created keeping everything in mind to fulfill the version one's looking for in their website.
Download This Free Agency Child Theme For Divi
2. Construction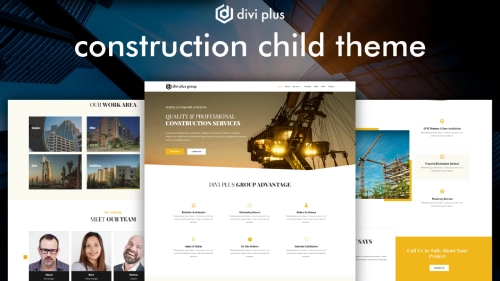 The Construction Divi website is what you need to shape your construction business website properly. With over 13 different pages, this child theme makes it possible to cover vast sections. On the homepage, the hero section of the website starts with dual CTAs perfect for providing users with additional options. Then, you get multiple blurbs that enable you to showcase the values or advantages of choosing your business. The parent Services page allows you to highlight key factors of your services, and secondary services pages explain a particular construction service with organized content sections, number counters, and customer testimonials at the bottom. With these, you can also display construction galleries in the lightbox having slider arrows and customized titles with further descriptions. Thus, it makes it possible for you to represent your work to interested clients in a much exciting way.
Download This Free Construction Child Theme For Divi
3. Lifecoach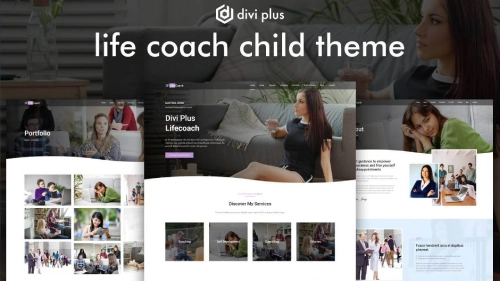 Lifecoach brings good in people, and their website should do the same with elegant colors and soothing eye designs. Therefore, the Lifecoach Divi theme provides you with a straightforward web page layout yet equipped with the latest functionality. Like multiple sections to help users schedule an appointment based on a particular coaching theme. If you're a coach, you can use the About me area on the homepage to highlight your achievements with a big and vivid image. Plus, if you have some tips to share, then you can do that as well with engaging blog posts. There are over 7 pages that enable you to list down different courses; offer coaching packages, upload podcasts to coach with your voice, and much more. The website color is joyful and the moment visitors arrive on the site, they'll fall in love with it.
Download This Free Live Coach Child Theme for Divi
4. Medical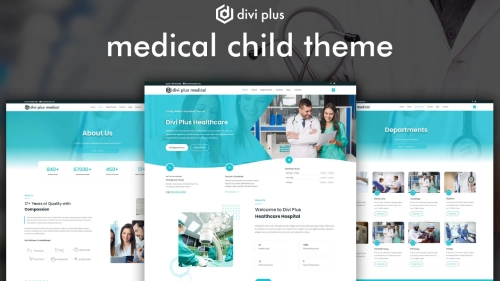 From the homepage to the contact area, give your healthcare website a clean and professional look it deserves using the Medical Divi child theme. Moreover, it further includes different useful web page elements that make the site highly functional. The homepage includes business hours, organized blurbs to highlight healthcare services, staff on a slider, an appointment form, and a post slider to share the latest news. If you look into the additional pages, you can find number counters showcasing expertise, content sections to provide more information about the clinic or hospital, patient testimonials, and more. Using the department and doctors page, you can easily let patients find out what areas your organization provides treatments for, under whose experienced physician's guidance.
Download This Free Medical Child Theme for Divi
5. Restaurant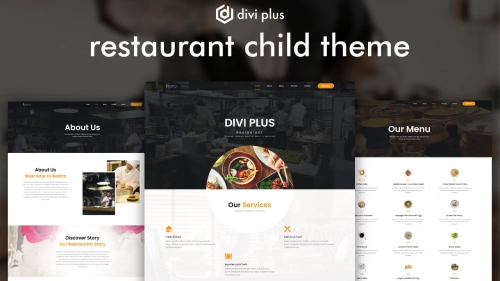 Create a fabulous online presence of your restaurant using the Restaurant child theme. With 6 delicate pages, you can efficiently serve your restaurant's details to the guests what it offers and how. Be it a food menu or gallery; this child theme allows you to do both. You can even showcase your master chefs in a stylish way highlighting their designation and social present. Use the About us page to engage guests by telling the story behind your love for food and backing it for others. The Menu page, make it possible for them to eat the food with their eyes first looking at the delicious food's thumbnail, ingredients, and more. Above all, make it easy for the food lovers to book their table at your place with a single click leading them to the Book Now page with a simplified booking form.
Download This Free Restaurant Child Theme For Divi
Wrapping Up
Whether you call the above child themes or websites, it really doesn't matter because, despite their calling, they provide a complete solution to set up a professional website in no time. They include multiple pages, the latest designs, functionality, and above all, they're available for free.
Yes, they're absolutely free for you to download and give your website a new and fantastic look. So, if you don't want to delay, then head over to the links now and shape your website the way you want them to be.
That's it, but we're not done yet until you give those a try. Happy designing!