The only plugin you'll need to beautify your Divi Gravity Forms that provides you with loads of easy-to-use customization options. Whether you want to match your website design scheme or bring uniformity among other forms, the styling options you'll get with this Divi Gravity Forms Styler plugin won't disappoint. Add colors, typography, and more to the fields and labels. Customize radio buttons, checkboxes, and other field types. Apply proper tweaks to the success and error messages to ensure they are visible and attractive while providing the correct information. And like these, there's more you can utilize to make your Gravity Forms in Divi highly engaging and a work of state-of-the-art.
Use Gravity Forms in Divi Without Shortcodes
Copying and pasting the form's shortcode over and over makes progress slow and tires you like fever. But no more! The Divi Gravity Forms Styler gives you the fastest and easiest way to insert Gravity Forms in Divi. All you need to do is insert the style module, then select the form. And that's it; your form is on the page.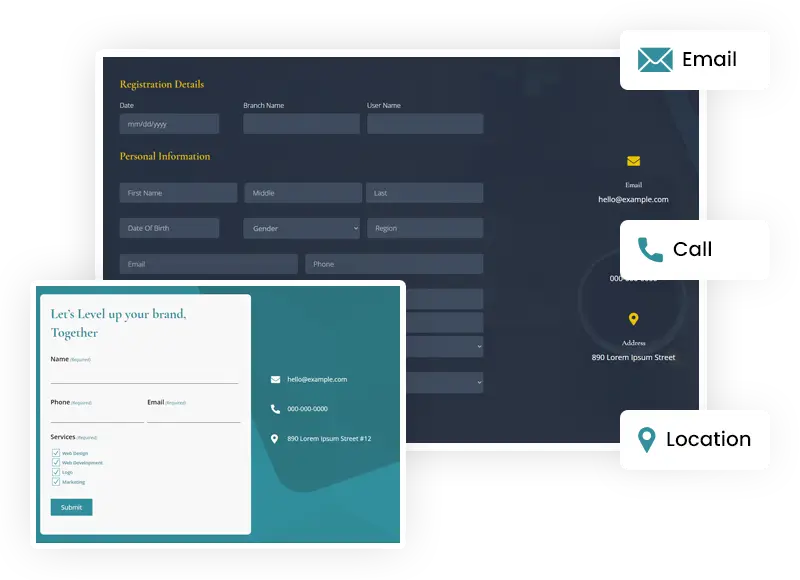 Show Eye-Catching Form Title & Description
Make your Gravity Form in Divi purposeful by adding its Title and Description. Thus, allowing users to know why it's on the page without making them guess it. Plus, you can apply the different customization options to make them look stylish to catch users' eyes without delay.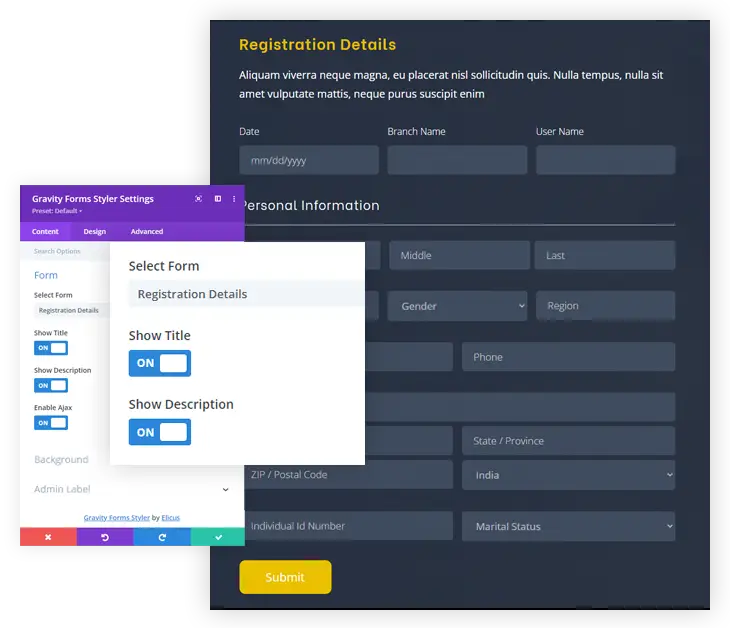 Enhance Input Fields Styling
Give users a clear and spacious Divi Gravity Form by optimizing its input fields. Using the plugin, you can adjust fields' background, text color, border radius, and more to make them look captivating so users can easily locate them and enter the details required.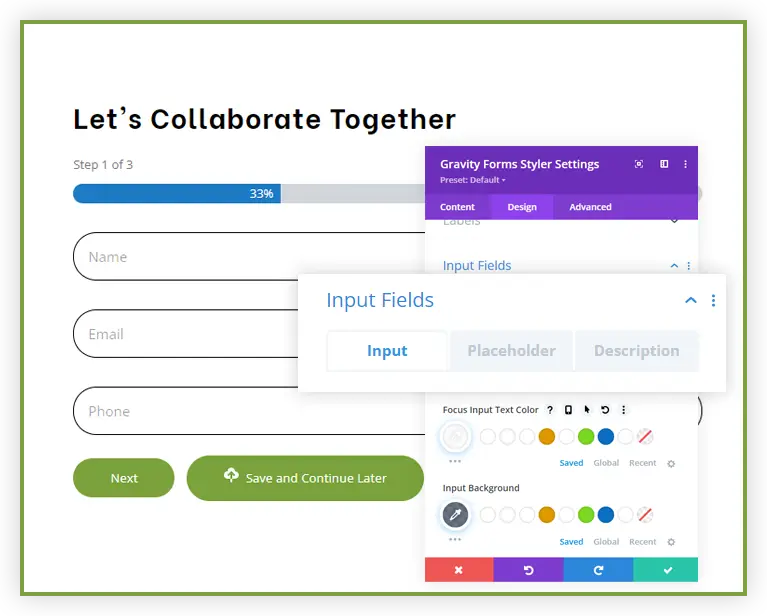 Add Classy Radio Buttons, Checkboxes, Textareas, and Upload Fields
If your styling input fields, then why leave Radio buttons and Checkboxes behind? And not only them but the Text area and Upload field as well. Using the Divi Gravity Forms Styler, you won't. It provides several easy-to-use options that let you customize these easiest and most expressive information collectors.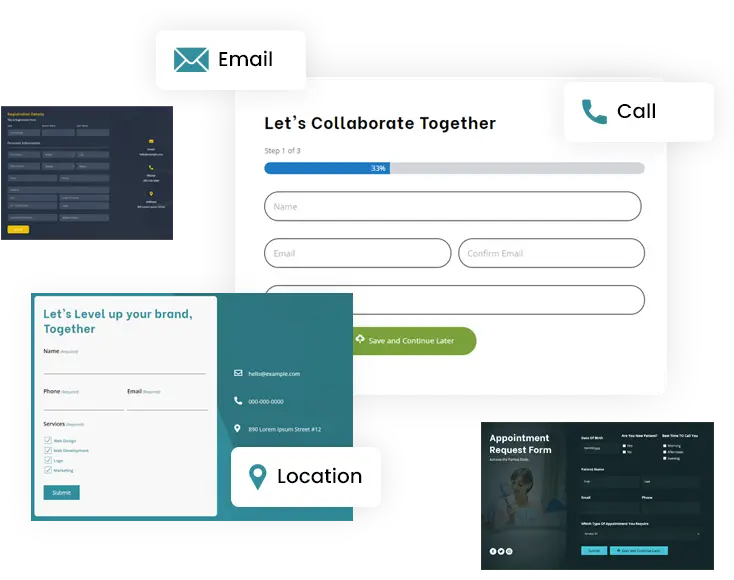 Text Customizations for Labels, Required Text, Success or Error, and Instructions
It's essential to make the Gravity Form informational and easy to be filled. Therefore, the plugin includes the option to apply text customizations to the form elements' text to make them highly readable. Plus, you can also customize the messages users get after submitting the form. Thus, allowing you to have complete control over your Divi Gravity Forms.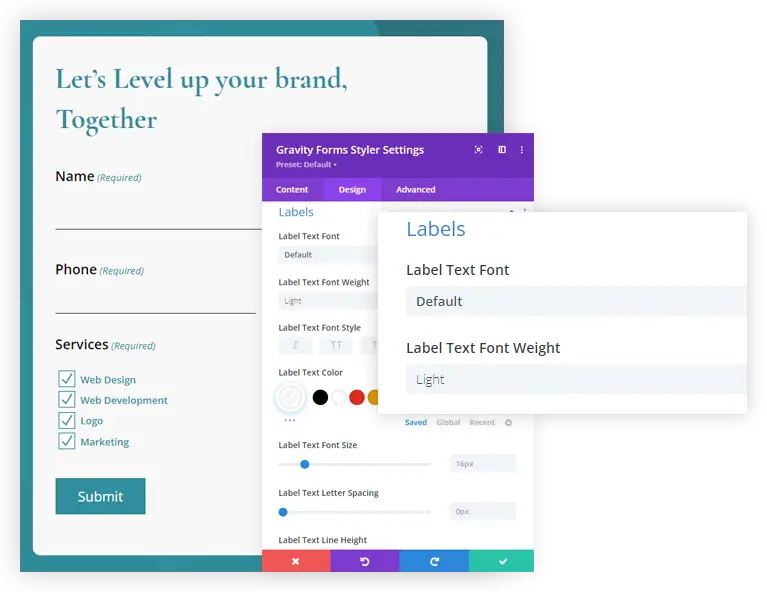 Turn Buttons Into Super Buttons
Improve the style of your form's different buttons such as Submit, Next, Previous, Save and Continue to polish the professional look you have given the form by utilizing the above features. It allows you to style buttons' color, typography, background, and a lot more.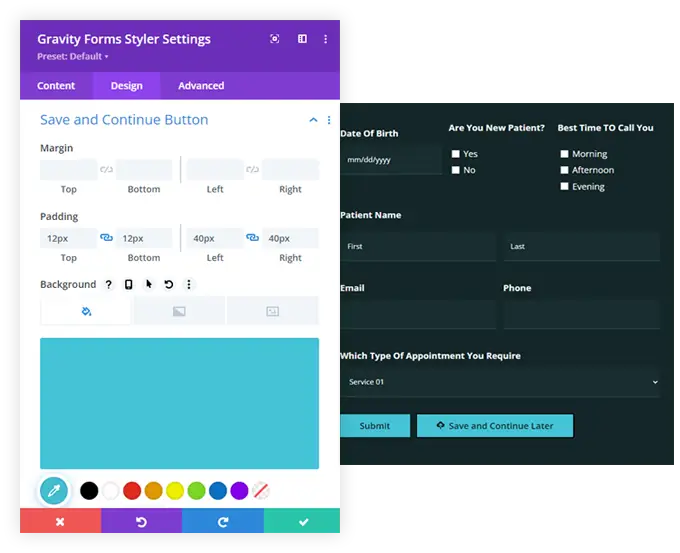 Get Better With Regular Updates
To help you style Gravity Forms in Divi for many years to come, we offer frequent updates to ensure you get the latest features, improvements to the existing options, and fixes to any bugs that might occur during the plugin's lifetime. Thus, providing you with a future-proof impressive Divi Plugin to style Gravity Forms.
Never Stop Styling Gravity Forms in Divi With Outstanding Support
Whether you find difficulty using the plugin or it's not working on your website. Reach out to us at any time without hesitation to resolve your issue. Our team of professional WordPress developers will be more than happy to assist you on your journey to style unlimited Divi Gravity Forms.