Today, I've come bearing exciting news for you, just like Santa. And not only news but offers that will rock you on your seat not matter where you are seating. For starters, let me say, "You can get Divi Extended Lifetime Membership Worth $2881 in $240!"
What? That's unbelievable. Thousands of dollars products in just $240. How is this even possible?
But yes, it's possible because Divi Extended Black Friday Super Sale 2021 is coming on 26th November, and it's bigger than ever. Bringing offers & exclusive deals that would let you with awe 😲
Let's find out how.
Bucket Exclusive Divi Extended Products at Flat 40% Discount
---

Sounds impressive, right? Over 50+ premium Divi products at Flat 40% discount rate that too from #1 Divi Marketplace Seller. It's beyond belief, but you've got to because this Black Friday Super Sale, this is precisely what's going to happen right in front of your eyes.
You can make all of your long-time favorite products yours at the lowest price ever. It's the biggest discount of the year. Once it's gone, it's gone. Let's take a look at some of the premium Divi Extended products you can grab during this Black Friday Super Sale 2021.
Divi Plus

— Swiss Army Knife for Your Next Divi Projects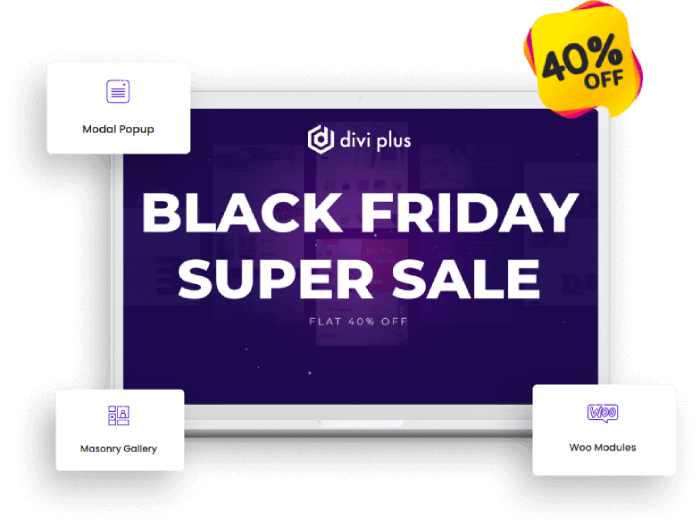 If you're good with Divi, then you'll be super with our flagship, premium Divi plugin, the Divi Plus. It's a highly efficient plugin with lots of features that aren't easy to count. Simply think of it as you don't have to look for any other Divi plugin once you get Divi Plus. The Swiss Army Knife for Divi projects— it's everything you need and will be.
The remarkable aspects of Divi Plus are —
50+ powerful and extraordinary modules.
4 highly functional extensions.
7 ready-to-use pre-built websites made entirely from Divi Plus modules. (around 20 more full free child themes coming this Black Friday).
50+ elegant starter templates.
250+ fast and easy-to-use design section blocks.
If you have all of these, what else do you need then?
Divi Flexile Headers

— Outstanding Headers That Fit All Screens Elegantly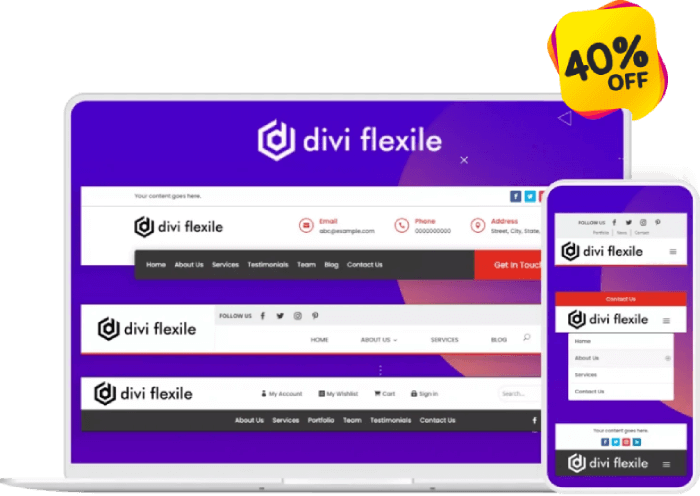 With Divi Flexile Headers, you can make your website visitors' exploration easy and simplified. The headers turn the navigation into something highly organized that doesn't distract or hold users back from acquiring all the information they need.
Moreover, these header layouts are designed in a way that can be used for websites of different niches. Even, you can customize them per your requirements. Whether it's sticky headers or RTL ones, the pack comes with all the scopes and flexibility.
Divi Blog Extras

— The Only Plugin You Need to Create State-of-the-Art Archive Pages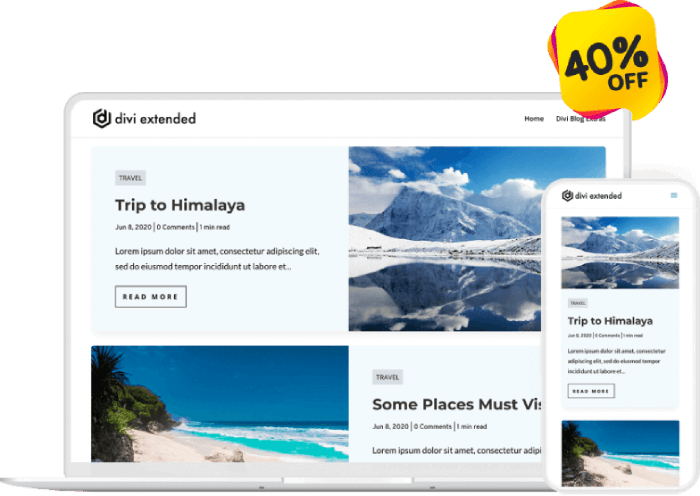 Archive pages created using the Divi Blog module are good, but if you want to make them look great, you need Divi Blog Extras. With over 10+ layout options, you can create archive pages for different types of custom post types. Whether it's regular posts or something you've created additionally, Divi Blog Extras will continue to do its magic seamlessly. And that's not it; the plugin's each layout comes with multiple variations to help you create a unique experience on your site at all of its post types.
Make $2881 Worth Items Yours in Just $240 — Best Time to Become a Lifetime Member (Once gone, this offer won't be available till next season.)
---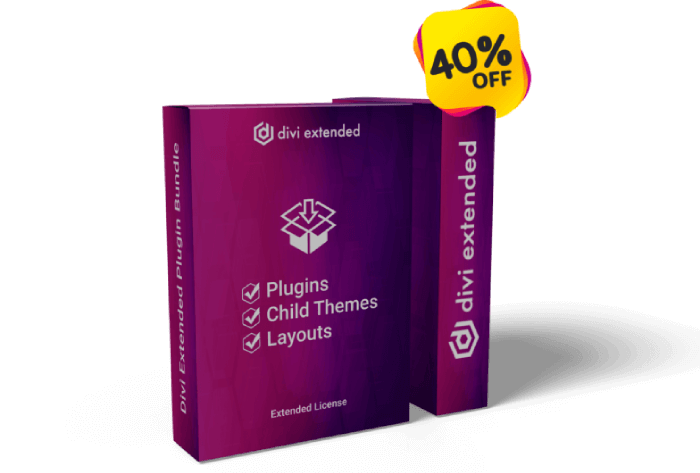 It's cherry on the ice cream because Lifetime Membership not only gives you access to the current products, but it also fills your pocket with future ones. And this Black Friday sale, you can become our Lifetime Member at just $240 and access all the premium products that are worth $2881.
Once you become our Lifetime Member, you'll have the following benefits right away.
12 Premium Divi Plugins, including the Powerful Divi Plus.
18 Outstanding & Modern Divi Child Themes including Flexile.
250+ Highly customizable and flexible Divi Layouts. 
Exclusive access to all the future products.
Lifetime Updates.
Lifetime Support.
Each product is unique, includes multiple features, and is highly powerful to build unique Divi websites of any kind, whether it's today or tomorrow.
Yes, the whooping Flat 40% discount is here, but suppose you require an Extended version of Divi Plus, Flexile, and Divi Blog Extras, then it will cost you around $190, and you'll only get 3 products. However, if you go with the Lifetime Membership, you'd only have to pay $50 extra, and you'll have everything we've got in our store, in addition to those 3 best selling products. So, it's a deal of a lifetime consisting of excellent Divi web designing tools and possibilities — something you don't want to miss anyhow.
Introducing 2 New Products based on Divi and WooCommerce
---
The 2 new Divi products that will become part of the Divi Extended family are Divi WooCommerce Extended and Divi Cart Pro. Both products are powerful tools to create an outstanding Divi Shop. Here's a quick intro about them,
Divi WooCommerce Extended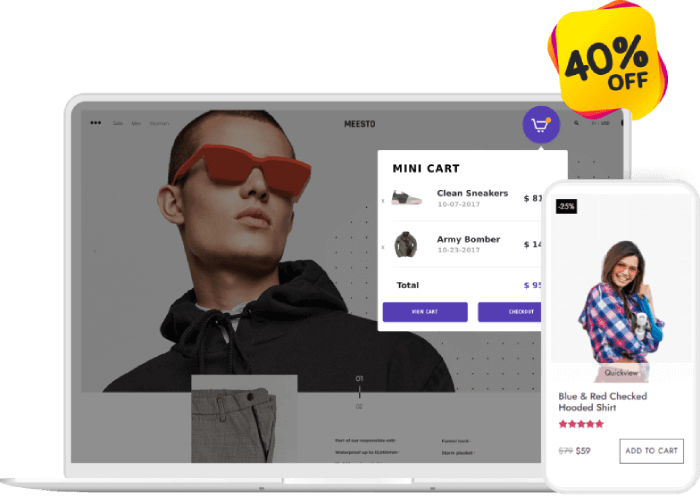 Creating online shops powered by Divi and WooCommerce is easier than ever using the Divi WooCommerce Extended plugin. It's a complete Divi shop builder plugin that provides you with 5 different easy-to-use modules that make it possible to create a highly functional Divi WooCommerce store in no time.
Divi Cart Pro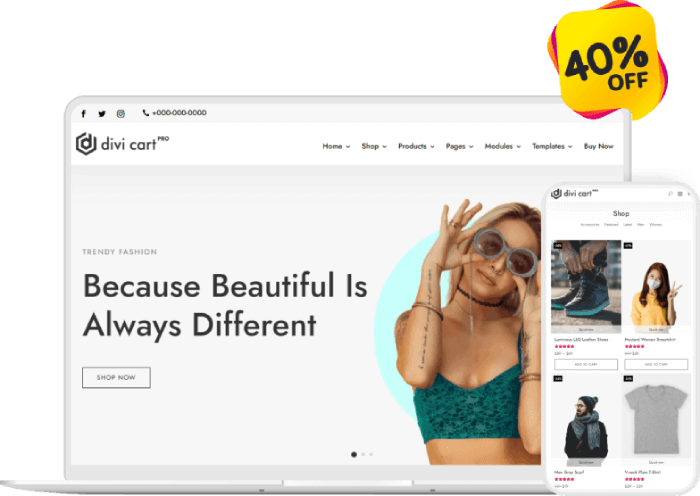 Don't want to create the shop from scratch? No worries, because Divi Cart Pro comes with all the necessary options to build your business' store without spending extra time. It's the powerful Divi WooCommerce child theme that allows you to build a modern shop of different kinds easily. Whether you want to sell digital products or something physical, Divi Cart Pro sets you in the right direction where you want to be.
Now, what's cool about these products is that when you become our Lifetime Member at just $240, you'll find these in your account with other products available to download.
Similarly, you'll find other future releases in your account once you become our Lifetime Member. That's why it's more beneficial for you to choose the Lifetime Membership during this Black Friday sale. Because as more products are going to be introduced in our store, it will keep getting expensive.
Thus, right now is the best time to become our Lifetime Member at the very least price.
Fantastic Prizes Worth $10k+ That Will Make Your Day
---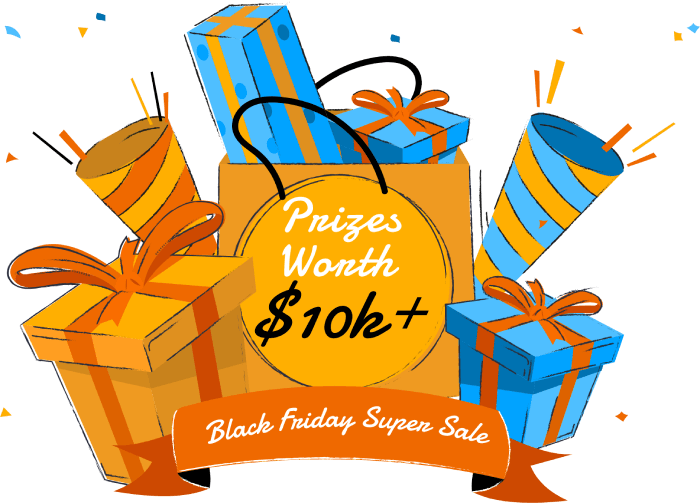 Without prizes, no sale is enjoyable, and therefore, to make our Black Friday Super Sale magnificently fun, we're giving away huge prices worth 10k+, even when you'll not make a purchase. Well, that's interesting, wanna know how? Keep reading, because first, I will share what prizes you can win this Black Friday regardless of minimum spend.
Supercharge Your Website With a Free Annual Membership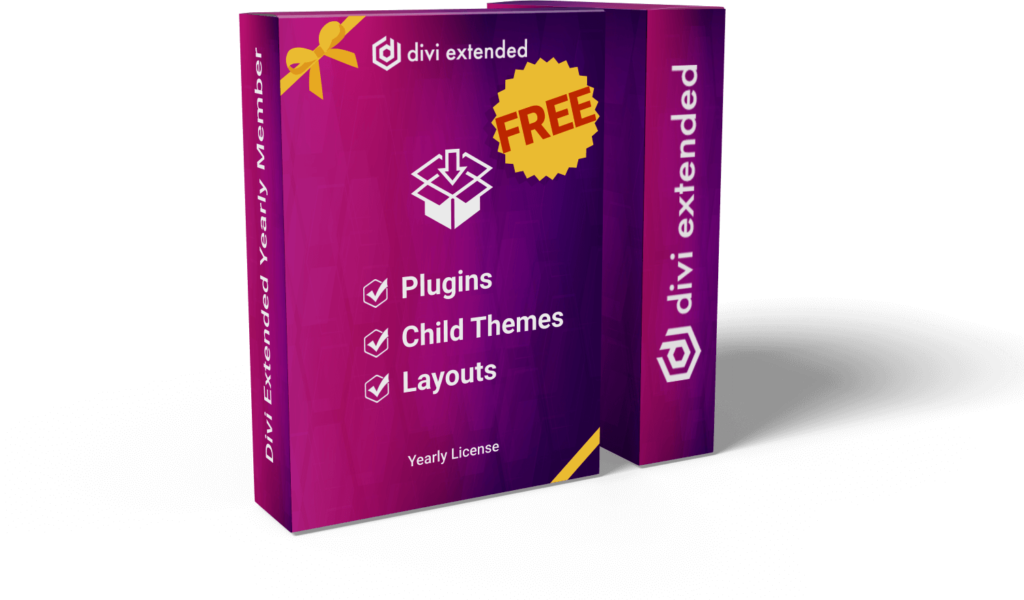 Like our Lifetime Membership, you can access all the Divi Extended products (current & new) with our Annual Membership, but for a year. And if you become our 1st, 10th, 25th, 50th, and 100th buyer during this Black Friday Super Sale, you can have it for free.
A year full of highly functional Divi tools that would allow you to improve, design & develop exceptional web projects. Even more, you can get this membership again once the year ends at an attractive discount.
Thus, it's more than a prize.
Win Your Spot in First 100 Customers to Get a Free Copy of Flexile Theme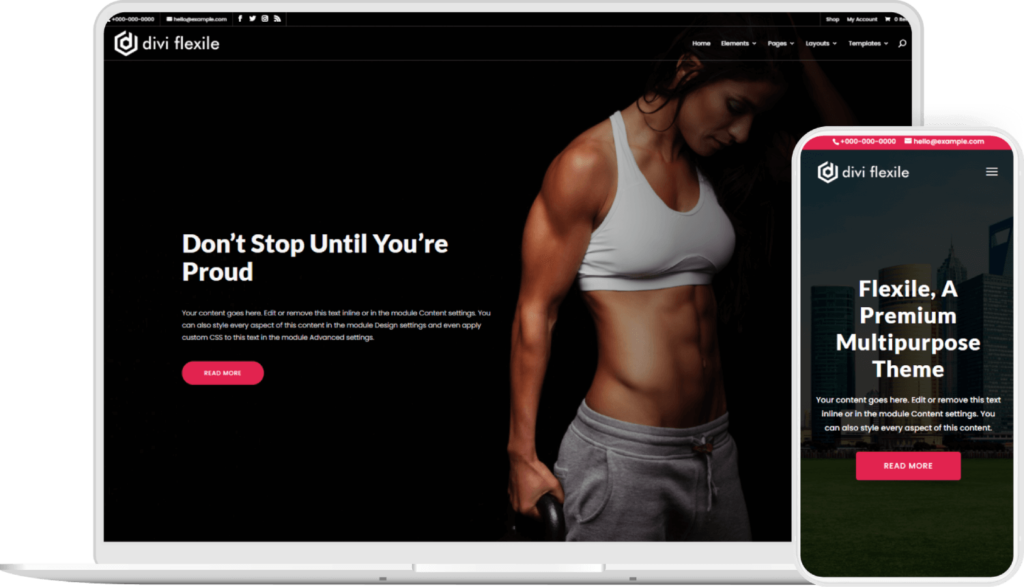 We've decided to give prizes and this time we're more serious than the last. Therefore, even if you can't make it to the golden spot (1st, 10th, 25th, 50th, and 100th,) we'll reward you with our highly customizable and outstanding child theme Flexile if you become one of our first 100 customers during the sale.
And winning a free copy of Flexile is as cool as becoming our Lifetime Member. One gives you multiple products, so another allows you to build websites of different industries. Here's what you'll get with the Flexile multipurpose child theme.
11 different homepages across multiple industries.
12 high converting landing pages.
And over 250+ elements and layouts.
You better don't want to miss the sale.
Participate to Win a Lifetime Membership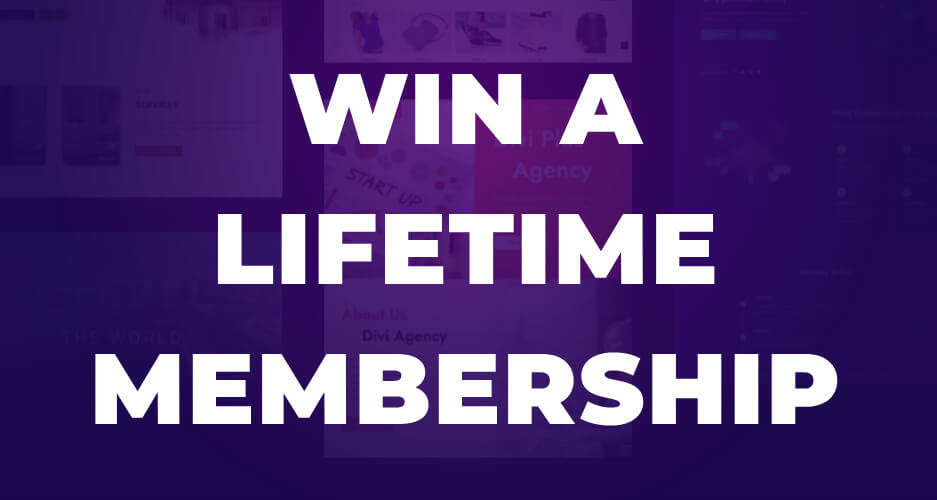 We want to make this year's Black Friday Super Sale exciting even before it starts. So, to do that, we're giving away the Lifetime Membership for free as well. And to make it yours, all you need to do is participate in the contest. Nothing to purchase while you wait for the sale to begin. The participation will increase your chances to win, and if all the odds are in your favor, you can have the magic of Divi Extended Lifetime Membership — for free, as I was saying. So, hurry now, submit your entry today to gain more leverage, or someone else will.
What Are You Waiting For? Add the Sale to Calendar & Be Ready to Become Our Lifetime Member
---
Whether you're a freelance web designer or tackling several clients under an agency, if you've got the Divi theme, then the Divi Extended Black Friday Super Sale is for you. And it would be best if you didn't miss it anyhow. If you do that, you will miss utilizing the awesome plugins, child themes, and layouts made exclusively for Divi web designing projects.
Moreover, the sale provides you with the exceptional opportunity to grab all the outstanding Divi Extended products for a lifetime at just $240 only by becoming our Lifetime Member. And you don't miss the sale, so we're giving you the option to either subscribe or add it to your calendar. Therefore, whenever the clock hits the right time, you'd be notified about it and take all the benefits at the right time.
Click here to add the Sale to your calendar, and once it starts, we'll notify you about it. Do it; what are you waiting for, because getting Lifetime Membership at these lower prices is a once-a-year opportunity.