The exciting deals for premium Divi Extended products are about to go live in a few hours with the Black Friday Super Sale. The sale will last only 3 days, and if you miss it, you'll miss all the great benefits it has to offer, including the massive discount on the Lifetime Membership.
Therefore, without spending much time, quickly take a look at the following offers and get ready for the sale when it starts to grab everything you can before it goes…
Flat 40% Discount Site-Wide — Biggest Discount of the Year
---

Create amazing websites with amazing tools that could be yours at a sensational discount of 40%. If you visit the Divi Extended store after a few hours, you can get everything at this discounted price, even without using any coupon code.
Yes, that's right. Whether it's Divi Plus, Flexile Headers, Divi Gallery Extended, or any other Divi Extended product, you can put all of them in your cart at this price and continue the process of developing impressive Divi websites without spending much time.
Our Divi products make developing and designing Divi websites quick and easy.
Best Time to Become a Lifetime Member (Access All the Items Worth $2881 and More at Just $240)
---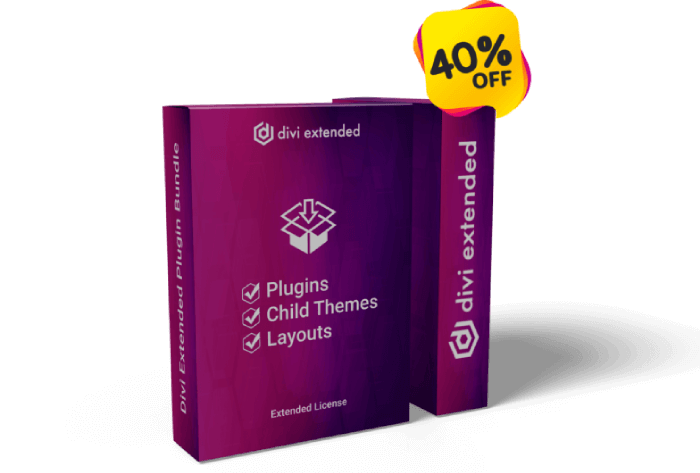 In addition to the Flat 40% OFF, we've even discounted our Lifetime Membership plan to make this year's Black Friday Sale both super and fun. The Lifetime Membership provides you with more benefits than any other offer we're giving this Black Friday Super Sale.
Why?
Because Lifetime Membership allows you to access all the products we got in our store. And all means all,
18 Powerful Plugins
13 Modern Child Themes
Over 250+ Flexible Layouts.
And Access to the Future products as well.
What's more interesting is that you can have all those in your toolbox forever. Yes, the Lifetime Membership provides you lifetime access with regular updates and support for a lifetime. Hence, it's the best deal we've got for you. And it's the best time to become our Lifetime Member because you can access all the current and future products worth $2881 and more at just $240 only.
Create Amazing Divi Shops With 2 Newly Introduced Products
---
E-commerce is an integral part of any online venture, and Divi makes it more functional and easy to manage with WooCommerce. And to boost the functionality of these two robust online shop building solutions, we've developed 2 highly powerful and feature-rich products.
Divi WooCommerce Extended – Divi shop builder plugin.
Divi Cart Pro – Divi shop builder child theme.
These two products will take your online shop building experience for the Divi theme on cloud seven. And today, we've released them for you.
One makes you build Divi shops from scratch; then the other allows you to quickly set up the presence of your offline business online with all the essential designs and power features in no time. And guess what, you can have these in our Lifetime Membership.
The Lucky Winners of The Contest
---
To put the cherry on top of our Black Friday Super Sale's exciting discount, we've asked users to participate in a simple contest to win the Lifetime Membership for free. All they had to do was share a bit about our Black Friday Sale on their social media accounts. And whoever did the best got their hands on the limitless possibility to create outstanding Divi websites using our premium Divi plugins, themes, and layouts for a lifetime.
The winners of the contents who won our Lifetime Membership are,

Monika Boušková

William Munroe

M.A. Bell

Gabriele Mammarella

Harold Datus
Didn't Win the Lifetime Membership? No Problem, We've Got Lots of Prizes to Cheer You Up
---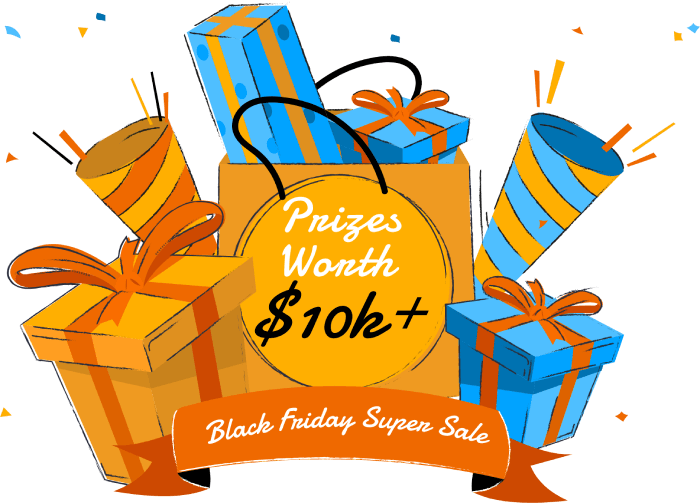 There's always a chance. If you didn't win our Lifetime Membership, don't feel bad about it. We've thought about everyone and, therefore, can't let them go without winning anything. That's why we are giving prizes worth more than 10k, and they're not just prizes but useful tools that would help you design the best Divi website you can ever.
If you purchase products on our Divi Extended store during this Black Friday Super Sale, you can win,
Annual Membership — Allowing you to access all the current and future products for the next one year. Become our 1st, 10th, 20th, 50th, and 100th customer to win it. Brace yourself; the sale is about to begin, you could easily win your spot.
Flexile Child Theme — A multipurpose Divi child theme that enables you to build websites of any kind with over 300+ elements. Become one of the first 100 buyers to have it in your toolbox.
Now, Wait for No Longer! The Sale Will Last for 3 Days Only. So, Grab Everything While You Can!!
---
The Sale is going to start in a few hours. You have to act fast because if you don't, you could miss the chance to win all the fantastic prizes. Plus, the discounts and best time to become our Lifetime member will only be available for 3 days.
And for a super sale like ours, 3 days go very fast. So, without delay, grab all the fantastic Divi Extended products (especially the Lifetime Membership) when the sale starts to build long-lasting websites in no time.
Happy Thanksgiving!