Whether you're a website designer/developer or owner of a site, a good-looking website is everyone's need. You don't want to operate a website that doesn't look good. Therefore, WordPress makes building beautiful websites possible, and on top of that, Divi fulfills the ease of use. If you're using WordPress and Divi for your website, then Divi theme layouts could be your solution.
Yet, downloading, then importing and finally using them is an uphill battle.
Thus, keeping this long, complex cycle of downloading and importing Divi layouts in mind, we have developed a new plugin – Divi Layouts Extended. It simplifies how you use Divi templates on a WordPress site. And in this blog, we'll unravel everything this plugin has to offer and how you can use it to the fullest.
Get Premium Divi Layouts With Divi Layouts Extended
---
Even though Elegant Themes provide amazing templates for Divi through their layouts library, you cannot use them for elemental purposes. For instance, if you need a design for a gallery, you'd have to first import the entire page template and then remove the additional design it has.
This will take more of your time and you might find yourself troubled by all the adjustments you would need to make.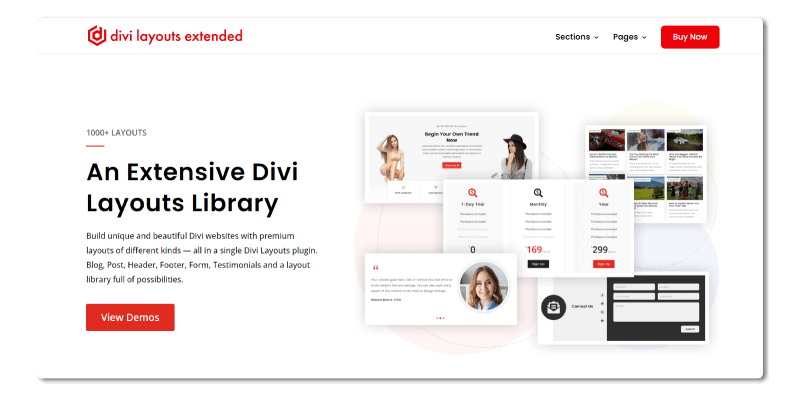 However, Divi Layouts Extended saves you from all these kinds of hassle.
It's a premium Divi plugin with thousands of Divi theme layouts to fulfill specific design needs. With this, in addition to Divi page templates, you get layouts for different elements. And currently, it includes over 1000 best Divi layouts to complete Divi web projects of any kind. You can cover business websites, educational websites, health websites, and whatnot.
The layouts offer richness and compatibility that can be applied to websites of any domain. And what's even more fascinating about Divi Layouts Extended is that you don't have to import layouts manually.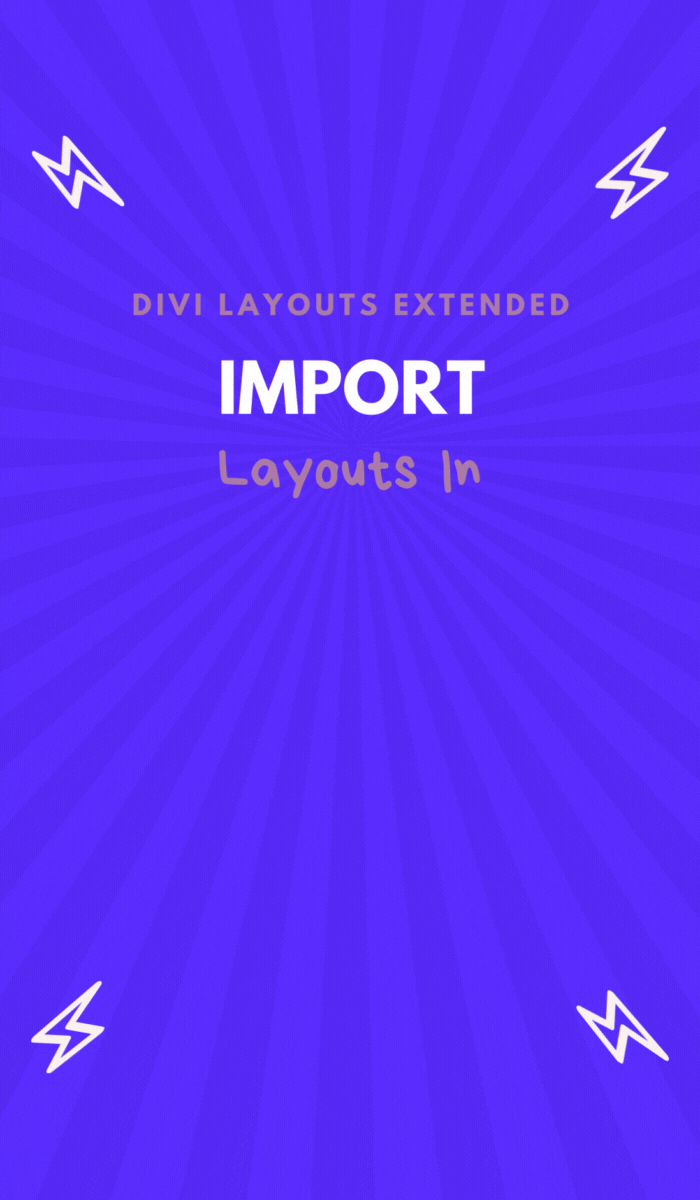 Yes, you don't have to import the Divi theme layouts manually. It comes with an automated system that allows you to preview your best Divi layouts and then save them to your library with a single click.
Once the layouts are saved, you can use them in the builder whenever and however needed. Isn't it fantastic? And that's not all it has to offer.
The plugin lets you easily find your desired layout using the Search option as well as sort them under different criteria. For example, view popular layouts or apply other filters like Name and Date in ascending or descending order. Furthermore, to keep the layout panel looking less bulky, you've got pagination support. With this, it'll be easier to find layouts and use them effectively.
Using Divi Layouts Extended, you power your Divi web designing with the ultimate tool that can help you make the most out of your designing skills and website, too.
How Can This Single Plugin Help With Best Divi Layouts?
In addition to the individuality of the layouts, 1-click import, search, sort and pagination options, there are many benefits of using Divi Layouts Extended. For instance,
The layouts are highly responsive and customizable.
Elements, Divi Sections, and Pages are available as templates for Divi.
Use layouts on websites of different business niches.
Preview layouts before saving them.
Layouts are built using or according to the latest trends.
Lightweight, clear and rich design totally based on default options of Divi theme.
With all these benefits, you'll have a website that would engage and attract users immensely. And you'd find positive results without doing much. We've looked at the benefits, and functionality of the plugin, and now it's time to check out what level of layouts it has to offer.
A Look at All the Best Templates for Divi (1000+) and More Coming Soon!
---
The latest version of Divi Layouts Extended came under short notice and brought more than hundreds of new Divi layouts. Now, you can enjoy over 1000 layouts that include elements(modules), sections, and even pages. And the following are just the beginning of the huge that would come in the near future.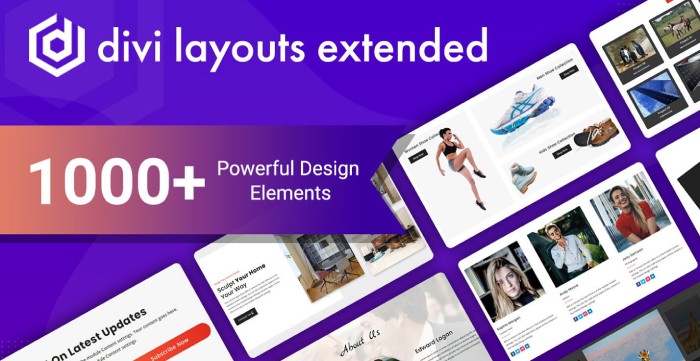 Divi Blog Layouts
The blog layouts of this plugin include featured images, title, custom read more button, on-hover animation effects, meta, excerpt, and column style. Some layouts have 2 columns, and another has 3, each providing a unique design for the post archive.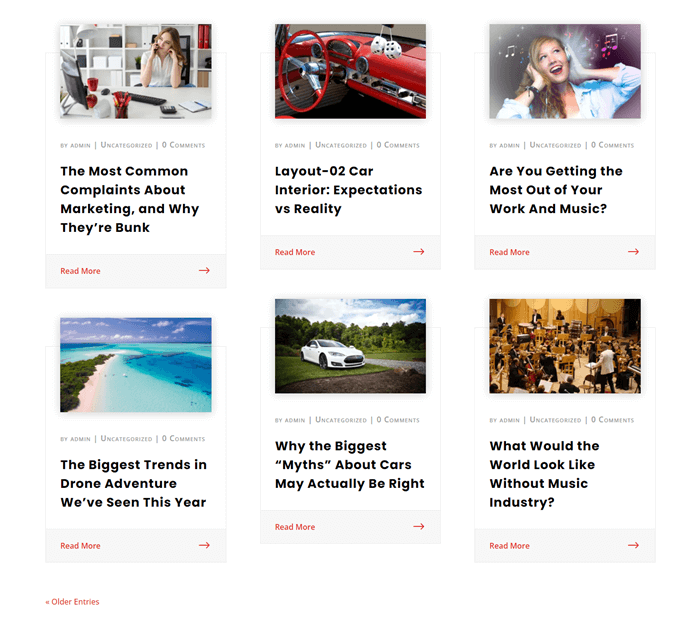 Divi Header Layouts
Using the header Divi theme layouts of Divi Layouts Extended, you can easily organize the menu items and provide users with simple yet effective navigation. You can include CTA, social media links, contact details, promotional messages, a search bar, etc.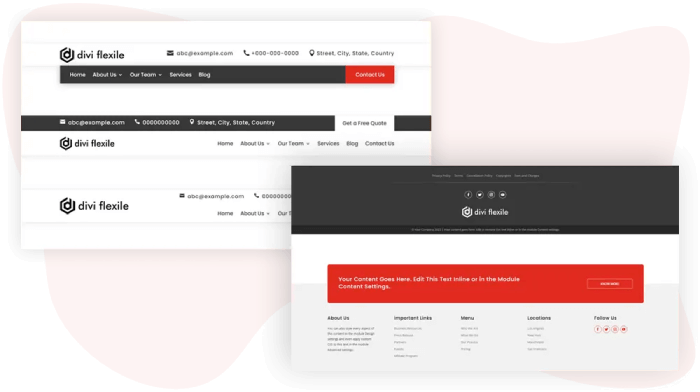 Divi Portfolio Layouts
The portfolio layouts allow you to showcase your work beautifully and attractively. You can have overlay color on the project images, show icon on-hover, use CTA with content, category filter and more.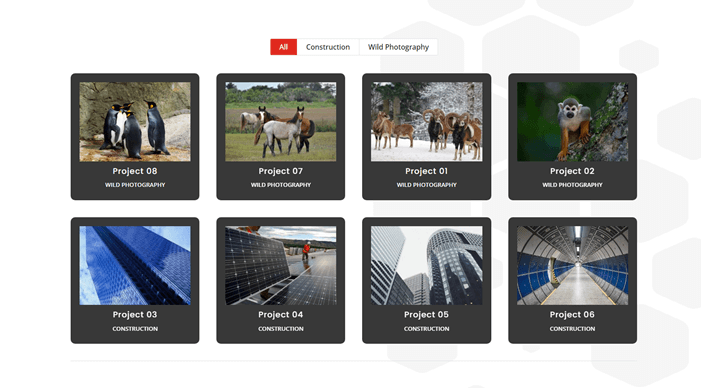 Divi Tabs Layouts
Using the tabs layouts, you can easily display crucial information in a concise and beautiful way. These layouts allow you to have a different background color for each tab's title. You can also use tabs of different orientations, body content, etc.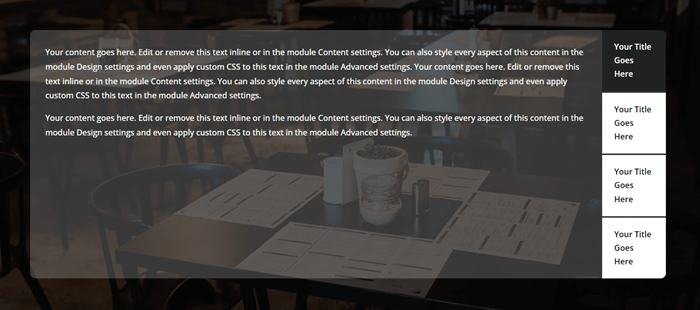 Number Counters Layouts
Number counters are a great way to display your experience in a particular field, and the layouts of Divi Layouts Extended help you do that extensively. You can use layouts with numbers, progress circles, and more.

Woo Sections
Woo Sections are the promotional layouts for Divi that you can use to announce, highlight, promote or even capture users' attention. Using these layouts, you can run a timer offer, display catalogs, discounts and more.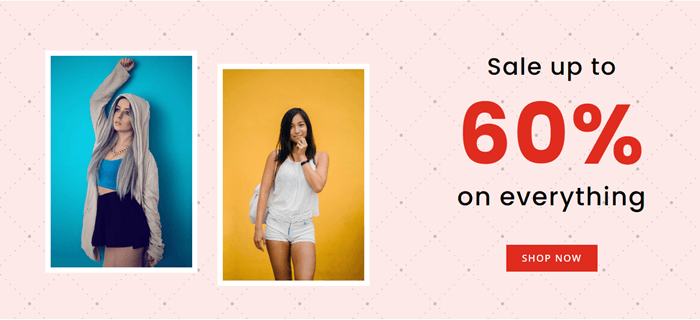 Divi Gallery Layouts
Gallery layouts of this plugin let you easily create image galleries of different types. You can add galleries with a frame, title and caption, column space and overlay icon.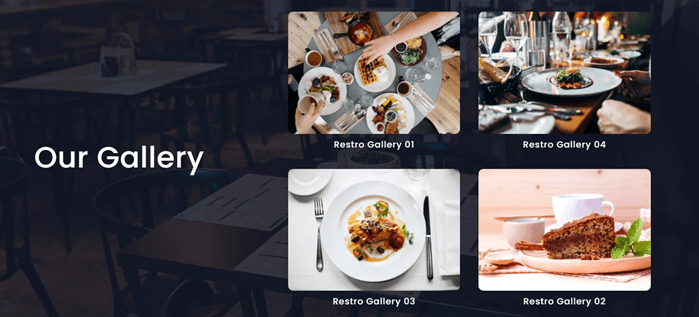 Divi Timeline Layouts
The Divi Timeline layouts available with the plugin allow you to add details about essential events in the most creative way. You get different vertical and horizontal timeline layouts to highlight crucial moments better per your requirements.

Divi Slider Layouts
Looking for a way to add your content on an interactive carousel? Well, the Slider layouts you get with Divi Layouts Extended do that very smoothly. Plus, it's possible to use images and buttons as well.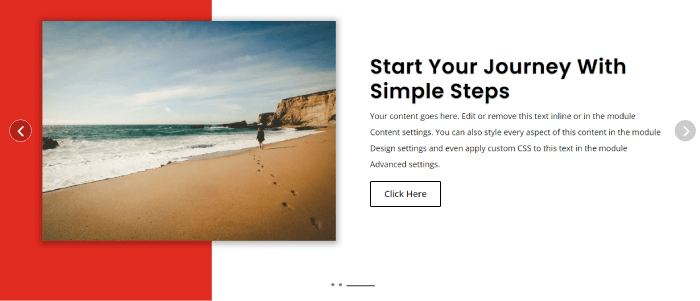 WooCommerce Pages for Divi
If you're operating an eCommerce store, it's probable you'd need a design that is reflected on every area of the site. With Divi Layouts Extended, you get multiple WooCommerce pages for Divi to apply customizations effectively. It includes pages for Shop, Product, Cart and Checkout.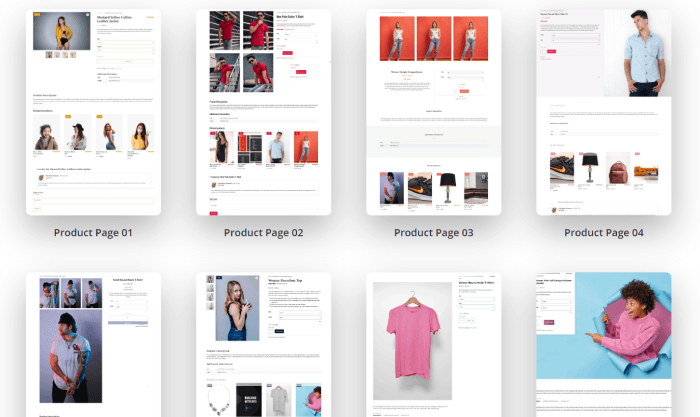 And a Lot More Divi Theme Layout Options
In addition to these layouts, you get more with Divi Layouts Extended. It provides you with sections, pages, testimonials, blurbs, heroes, contact forms, and much more, using which you can profound your website in every sense.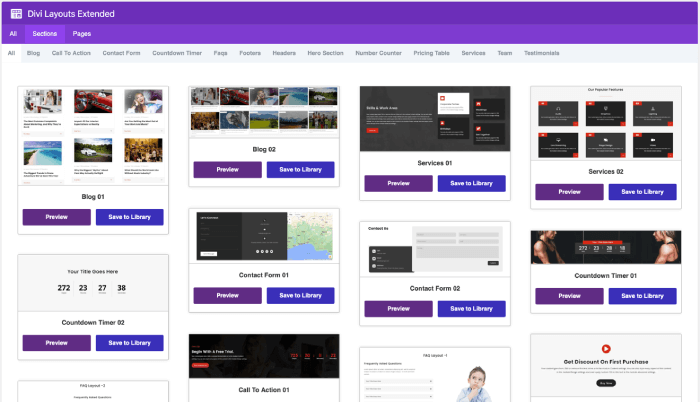 How to Install Divi Templates Included With This Plugin?
---
To use the Divi theme layouts you get with this plugin, first, you need to get the plugin from Elegant Themes Marketplace.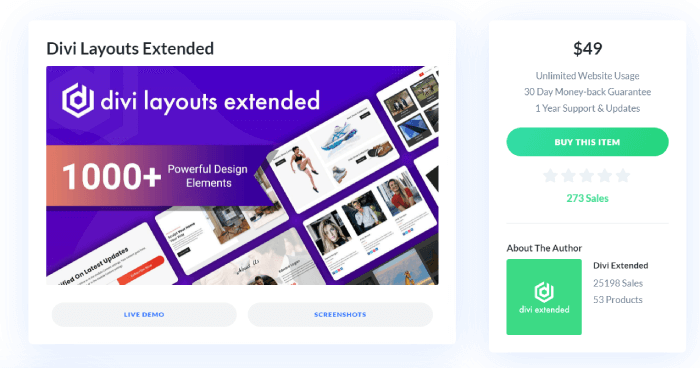 Once you have the plugin, simply install it as you install other plugins on your Divi WordPress site. Now, after installing the plugin, go to Divi Layouts Extended in your WordPress admin sidebar.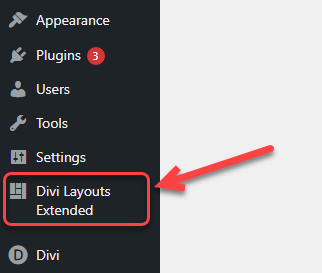 This will open the layouts cloud panel where you can see all the layouts available.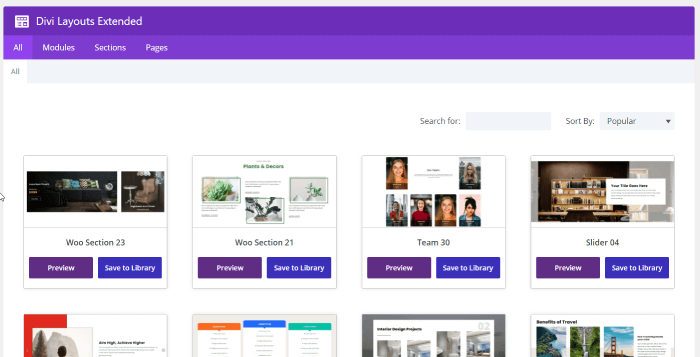 Explore the tabs if you want to, then click on Preview to see how a layout looks before saving it. And if you're satisfied with it, click Save to Library.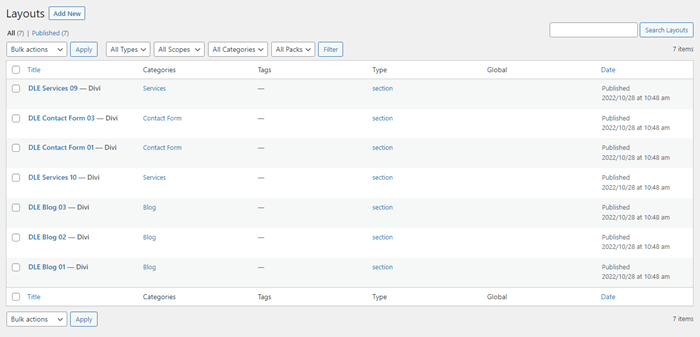 Once the layout is saved, you can find it in the Divi Library. Or you can open the builder to use it.
More Benefits of Divi Layouts Extended – the Perfect Divi Layouts Cloud for Your Website
---
Divi Extended products always bring more to the table. And the same is true with this plugin. In addition to the layouts, you get benefits that allow you to utilize pre-built design to the fullest.
30-day Money-back Guarantee: If you get Divi Layouts Extended from Elegant Themes Marketplace, you're entitled to a no questions asked refund policy. If you don't like what we are offering, you can always ask for a refund.
Frequent Updates: Yep, that's right. We release regular updates to improve the plugin as well as add more number of layouts. Thus, with time, you can always rely on your investment and remain ahead of the competition.
Dedicated Support: Custom assistance is everything, and we take care of this with great caution. No matter what issue you're facing, you can always reach out to us. We'll try our best to resolve the issue and help you make the most of Divi Layouts Extended.
Easy Documentation: If you're good at DIY stuff, then our easy-to-understand documentation will be a great addition to your toolbox.
Wrapping Up
---
Pre-built layouts will speed up the process of building a website. And not only speed, but you also get a quality design that will last many years. Furthermore, you have the control even to customize the layouts however you need. And to have them on your website, you only have to press click.
Divi Layouts Extended for $49 opens extensive possibilities to build classy websites in a short time. And to use it, there's no complex steps. Simply get it, install it; save layouts, use layouts, and you're done.