If you're using the Divi theme for your WordPress website, you've already made an excellent choice. Divi is one of the most powerful WordPress themes in the market that provides you with intuitive and unique solutions. By using this theme, it's easier to build websites of different kinds without spending much time. Furthermore, what makes Divi the most preferable are the 3rd party tools available to boost its performance. For instance, Divi extensions/plugins available in the Divi marketplace are perfect go toes.
And if you're looking for Divi extensions that can help you enhance your website in terms of both performance and style, then read this post till the end. In this, we will look at the 13 best Divi extensions one can use on their website for different requirements. Whether you want to add a Divi popup or a products carousel, these extensions give you the best solution.
So, if you're ready to explore these Divi addons, then scroll down without skipping.
13 Best Divi Extensions/Plugins to Improve a Divi Website
---
The following Divi plugins are premium Divi extensions from Divi Extended. You can find these extensions on the Divi Extended store, or you can visit the official Elegant Themes Marketplace. These extensions are fully compatible with Divi and WordPress and provide the easiest tools to build magnificent Divi websites.
Based on your requirement, get the tool that suits you the most.
(1) Divi Plus: Powerful Divi Extension With 50+ Modules and More
For a Divi user, there are multiple times when he/she needs tools to accomplish multiple designing tasks. And in that situation, many users look for different extensions, and once their research is completed, they end up installing more than one Divi plugin. Now, there's nothing wrong with installing multiple plugins; however, if all are for front-end requirements, then they can lower the website's speed.
Because each plugin will load its script on the front end, which makes the server busy to fetch every request. Hence, a website that makes people wait for the content to be loaded. And if your website is taking more than 3s to load, you're in a serious situation.
But, for this kind of situation, there's a solution – Divi Plus.
It's a multipurpose Divi plugin that includes over 50 modules, 4 Divi extensions, 45+ pre-built websites, 50+ starter templates and 250+ section blocks. With all these resources, you don't have to install multiple plugins. Furthermore, what's interesting about Divi Plus is that despite having a lot of functionalities, it doesn't make the website heavy.
If you use two modules on the page, it will only load scripts for those modules and nothing else.
Overall, Divi Plus is a must-have Divi extension if you want to enhance your website in every area – whether it's design, functionality or performance. This single plugin offers you the best solutions you're looking for on your Divi website.
(2) Divi Layouts Extended: Divi Extension With 1300+ Pre-built Layouts for Divi
If you don't like building a website from scratch. Or if you're so busy handling multiple clients' requests at once, then pre-built layouts are always a savior. However, if you go with Divi's default layouts, you're only settling for what other users use on their websites. Therefore, if you want to save your website from the repetition of design, choosing something different is a perfect idea.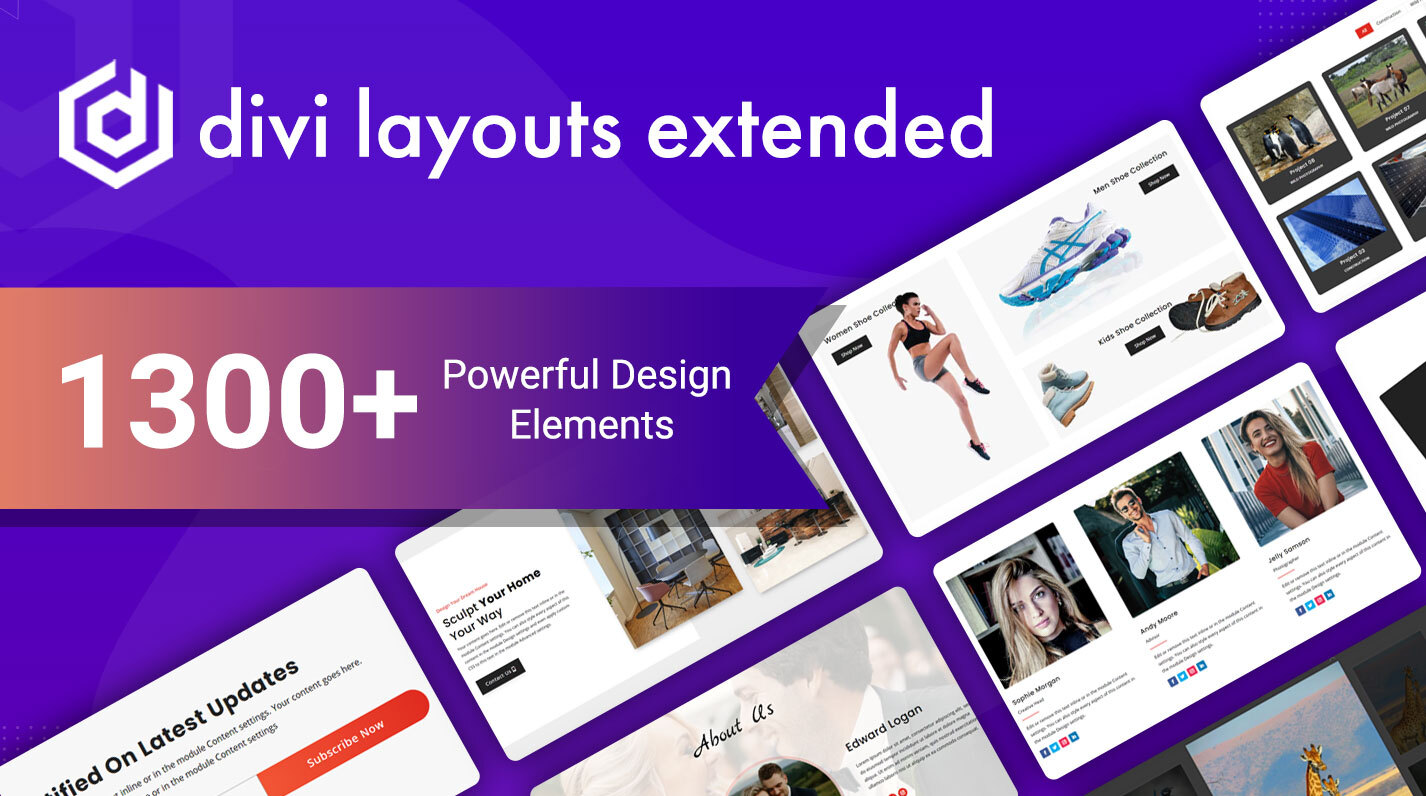 And Divi Layouts Extended could be something different. It's an intuitive plugin for Divi that brings you unique and ready-to-use Divi templates. By using these templates, you would be able to build different kinds of engaging web page designs. Plus, you don't have to undergo multiple steps to get these layouts.
This Divi extension has an in-built panel that lets you view the layouts and download them directly inside your WordPress dashboard.
Hence, a fast and effortless approach to use the best Divi layouts.
(3) Divi WooCommerce Extended: The Only Plugin You Need for Divi WooCommerce Stores
Divi perfectly supports the WooCommerce plugin. Using these two, you can easily build an eCommerce store. But, with the default settings, you might not get the advanced functionalities or a highly engaging design. Therefore, in that case, the Divi WooCommerce Extended plugin is the Divi WooCommerce toolkit you need.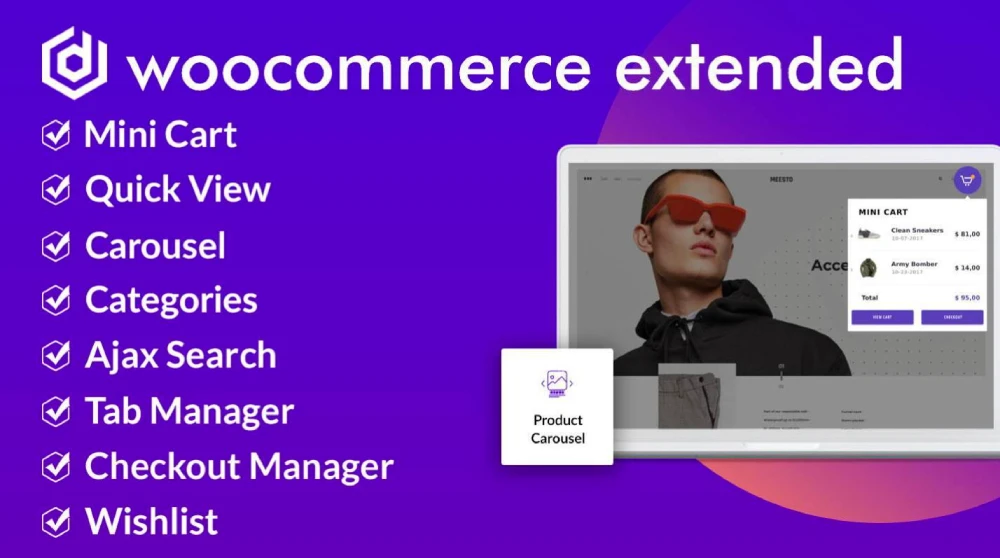 It comes with multiple modules, extensions and even layouts to level up your Divi digital store. The plugin easily lets you build interactive elements that turn a simple store into an outstanding one.
The Divi extensions and modules you get with this plugin are,
Product Tab Manager.
WooCommerce Checkout Manager.
Products Carousel.
Ajax Search.
Products Grid.
And Products Categories.
Using all of these modules and extensions, you'll build an eCommerce website worth visiting a thousand times.
(4) Divi Blog Extras: The #1 Divi Blog Plugin in the Market
Blogging is one of the hardest yet most rewarding professions. If you publish the content on a regular basis, it will only take you a few years to see the results you want. But only publishing won't take you there; you need to present the content in an engaging way. Post layout and blog layout matters the most. And if you're thinking of giving a better look to your Divi blog page, look no further than the Divi Blog Extras.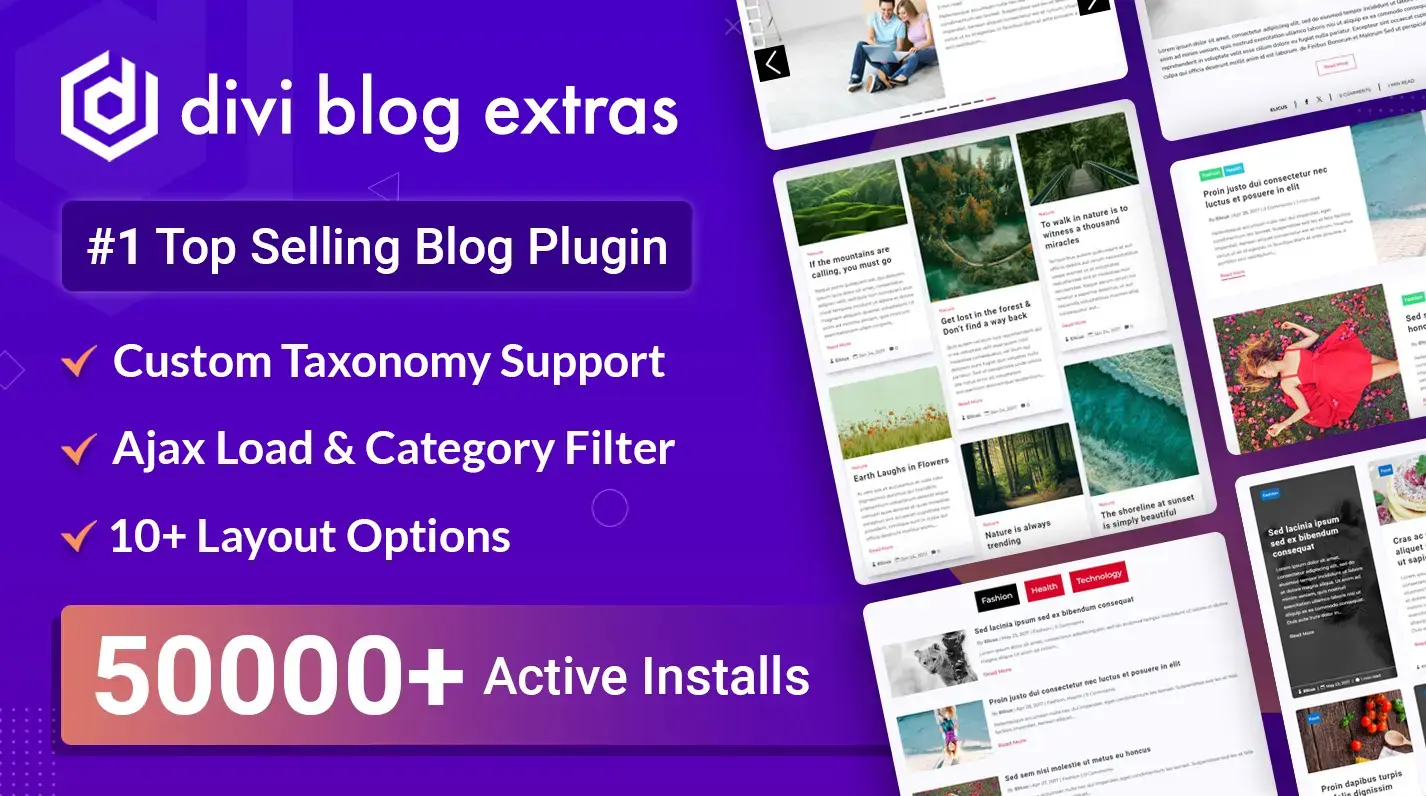 A powerful, multi Divi blog layout plugin that makes it easy to customize the archive pages of a Divi website. Using this plugin, you can customize your blog page in up to 15+ variations. The layouts it includes are,
Box Extended
Grid Extended
Block Extended
Classic
Masonry
Full Width
Full Width Background
And Slider.
In addition, you get the options to customize custom taxonomies; apply Ajax loader, category filter and more. There are also 60+ pre-built designs you can download for free.
(5) Divi Gallery Extended: An Intuitive Divi Extension for Alluring Image Galleries
With bulk image editing, you get multiple masonry gallery modules and other customization options to create attractive Divi image galleries using the Divi Gallery Extended plugin. It's a premium Divi add-on with unique options to display images inside a gallery. Unlike the default gallery, this plugin adds the lightbox effect, pagination, category filter, and custom links.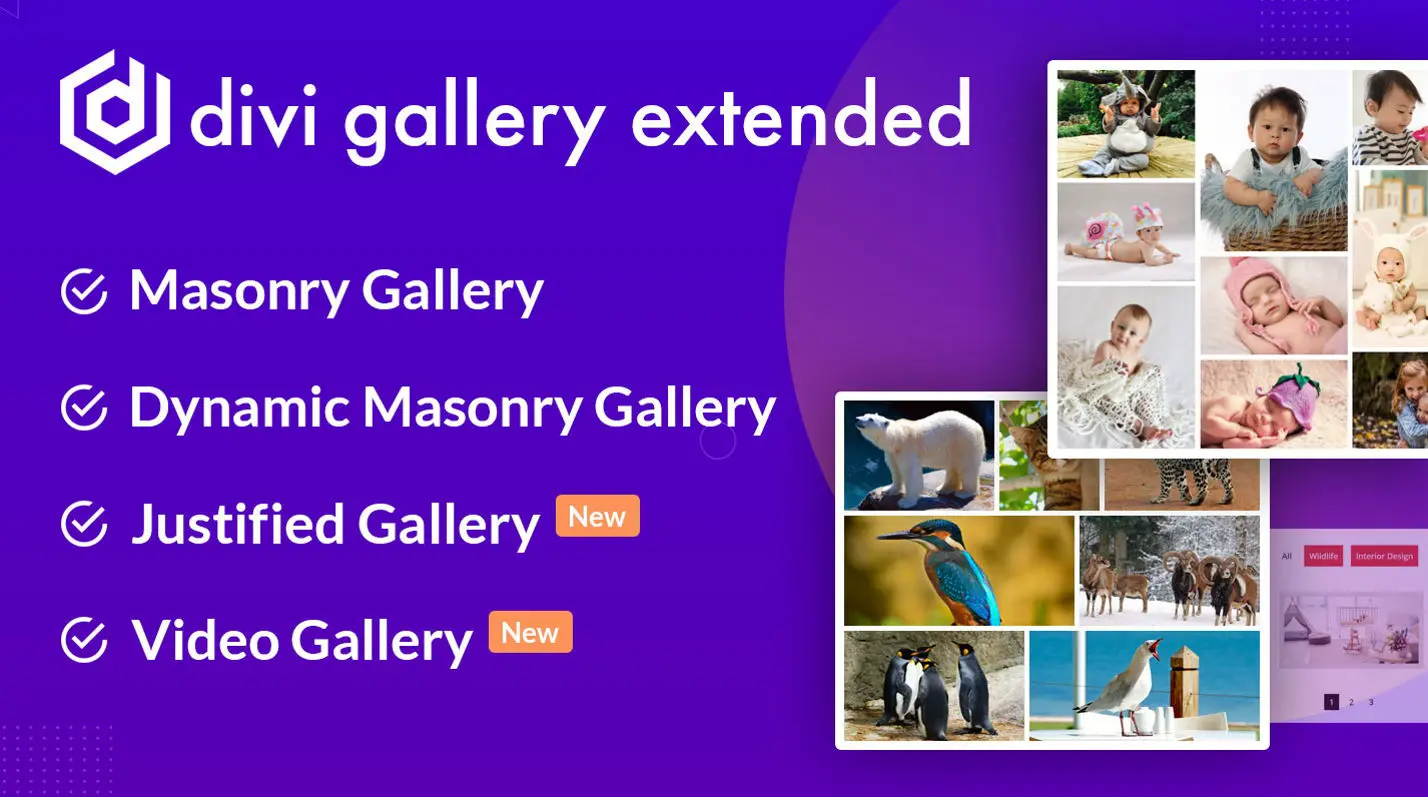 So, if you want to level up your Divi image galleries to the fullest, this plugin is the perfect tool you can try today. Using this Divi masonry gallery extension, you can
Add unlimited images to the gallery.
Sort images in up to 15 columns.
Adjust column spacing.
Display image title and caption.
Style gallery close icon and arrows.
Apply overlay effects.
And much more.
(6) Divi Modal Popup: High Functional Plugin for Divi to Create Non-Intrusive Popups
Popups are a great way to market your products, services or announcements. By default, Divi offers no particular solution to create and display popups in Divi. But, using the Divi Modal Popup plugin, you can do that easily. If you want to build the best Divi popups, this extension can really make a difference.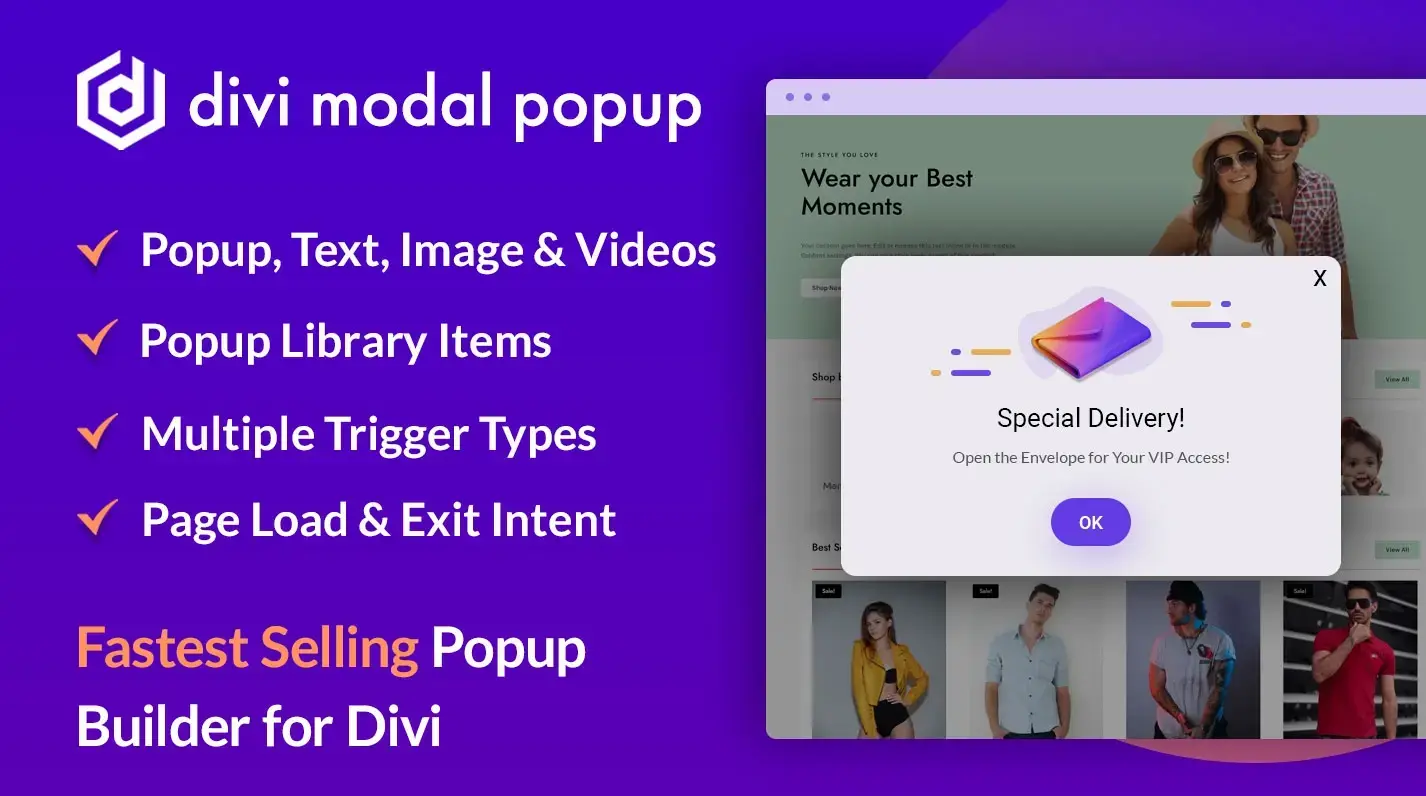 Divi Modal Popup opens doors to the easiest way to create popups that can be triggered using different triggers. You can use,
Elements
On-Page Load
Time Delay Popup
On Scroll
Exit
Furthermore, in the body of the popup, you can use,
Text.
Video.
Image.
Shortcode.
And even Divi Library Layouts.
In addition to these, you get more options, such as animation effects and placement options, to make a particular popup more effective. Hence, a fully-fledged Divi extension to build and display highly functional pop-ups on a Divi website.
(7) Divi Testimonial Extended: Divi Plugin With 20+ Testimonial Layout Options
When someone wants to try your services or products, what they look after exploring what you're offering is social proof. Are you genuinely giving what you're talking about, or it's just a tactic? That's the question they have in their minds.
From many social proofs, what stands firmly are your customers' testimonials. They build trust that no other social proof can. And for a business website, they work like a charm.
However, adding your customers or clients' reviews simply won't bring much attention. Therefore, it's always best to present them in a way that puts highlight and by using the Divi Testimonial Extended plugin, it's easier done than said.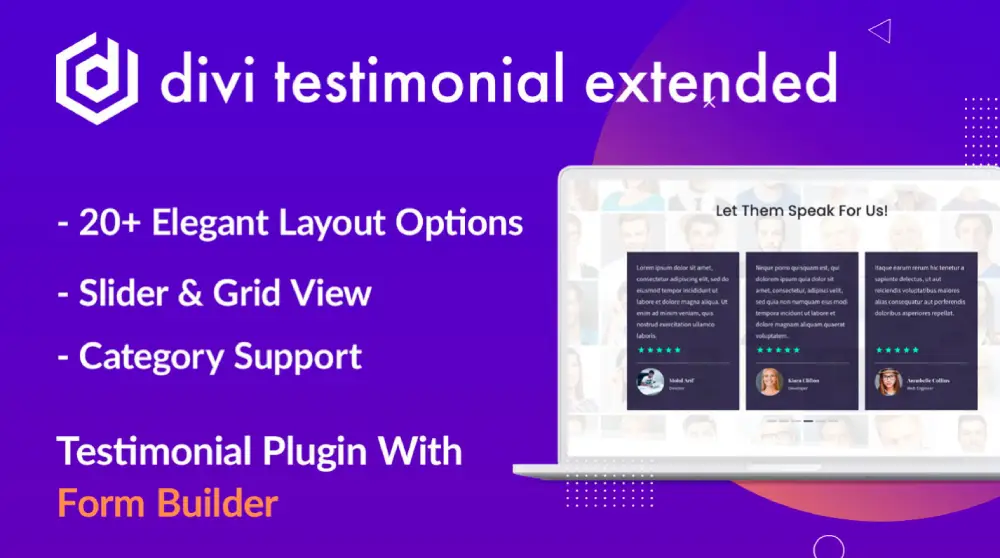 Divi Testimonial Extended is one of those Divi extensions that make designing super easy. Using this plugin, it's faster to showcase testimonials on a slider with different animation effects. Even you can list beautiful looking testimonials in masonry layouts as well. What makes this plugin a must-have are the:
20+ Testimonial Layout Options.
Support for Category.
And a front-end form to receive customer reviews.
But that's not all. Each layout includes many customization options that make your testimonials highly engaging. For example, it supports Gravatar, Star Rating Schema, Slider Arrows and Pagination Customizations, Review Customizations and much more.
Once you get it, you won't need any other Divi testimonial slider plugin.
(8) Gravity Forms Styler for Divi
Many users use CSS for Divi to style Gravity Forms on their websites. Some might face issues like Gravity Forms not integrating with the WordPress Divi theme, and others feel very agitated about using shortcodes.
These all make using one of the best WordPress contact form plugins harder. But if you're using Divi, you are in the right surrounding because the Gravity Forms Styler for Divi plugin resolves all these issues. With this plugin, you don't have to use CSS and Shortcodes to style and use the Gravity Forms in Divi.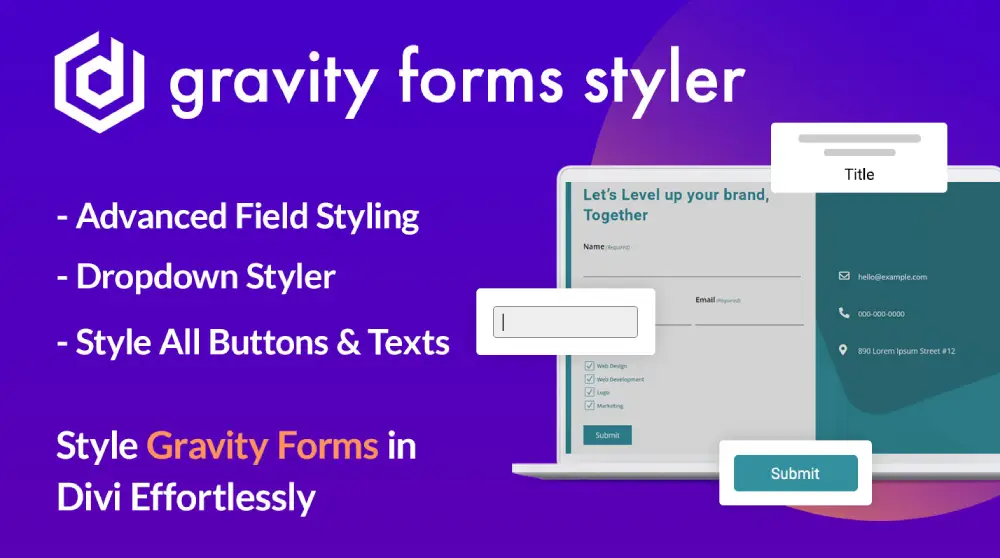 Plus, there will be no integration issues as well. This plugin offers you seamless options that make customizing Gravity Forms in Divi easy. By using this plugin, you can,
Showcase customized form title and description.
Customize input fields.
Customize radio buttons, checkboxes, text areas, upload fields and more.
Apply text customizations on Labels, Required Text, Success or Error Messages, and even Field Instructions.
With these, you can also enhance how the submit button looks. You can change the Padding, Margin; apply Background, etc. Overall, it's a complete Divi plugin that offers outstanding options to enhance a Divi Gravity Form to the fullest.
(9) Divi Restro Menu: Present Divi Food Menus Impressively
Own a restaurant or a food corner, and want to display menus on the website? Then, using the Divi Restro Menu plugin, you can do that very quickly and beautifully. This plugin provides you with 2 Menu layouts with different customization options.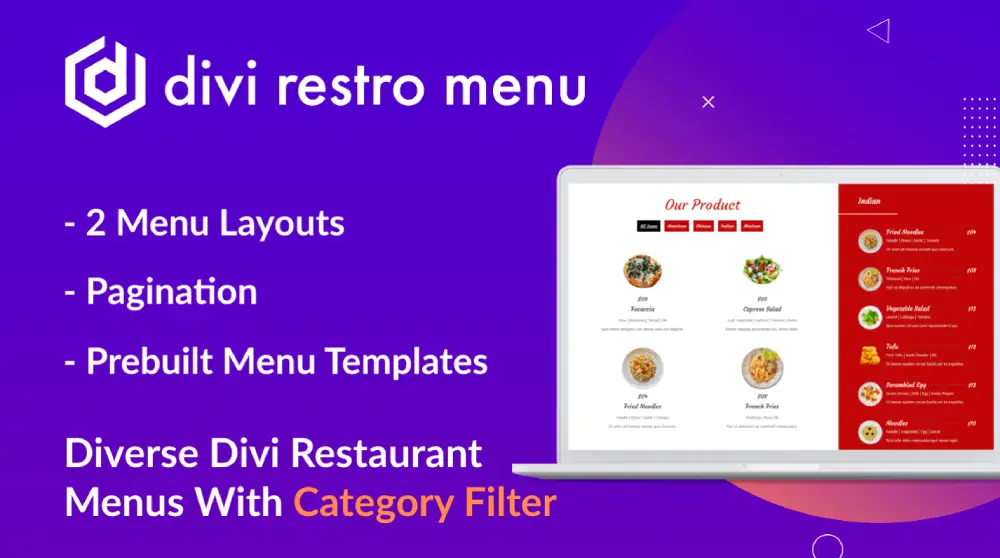 Each menu layout showcases your food menu items vividly and allows guests to make up their minds without taking time. Using this plugin, you can display food thumbnails and prices in different currencies, use a filter bar, add food descriptions and more.
When you get this plugin, you get pre-built menu layouts to ease your workload.
(10) Divi Blurb Extended: Add Divi Blurbs With Buttons
Show content with a button and make it flip, too. That's what Divi Blurb Extended can help you do. It enhances how the Divi blurb works and provides useful information to the users. You can utilize this plugin with 5 blurb layouts and 6 advanced flip boxes.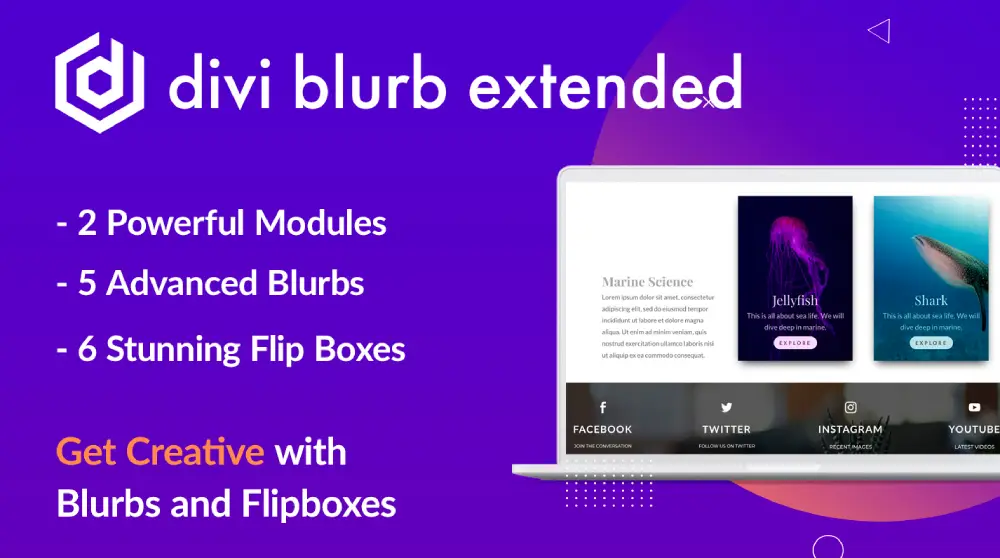 In addition to that, you get other customization options that allow you to use custom icons, apply shapes to the icons and even change their position. This plugin takes the level so high to use blurb in Divi. The layouts and flipboxes you get are,
Classic
Flipbox
Easebox
Borderbox
Image Card
Flip
Zoom
Slide
3D Cube
Grow
And Cover
By utilizing all these blurb and flipbox layouts, you'd add content in a nice way from which users won't take their eyes off.
(11) Divi Ajax Search: Plugin for Divi for Effortless Search and Discovery
Allow your website visitors to search without effort using the Divi Ajax Search plugin. It lets you add a live search bar on your website that showcases users with search results while they type the query.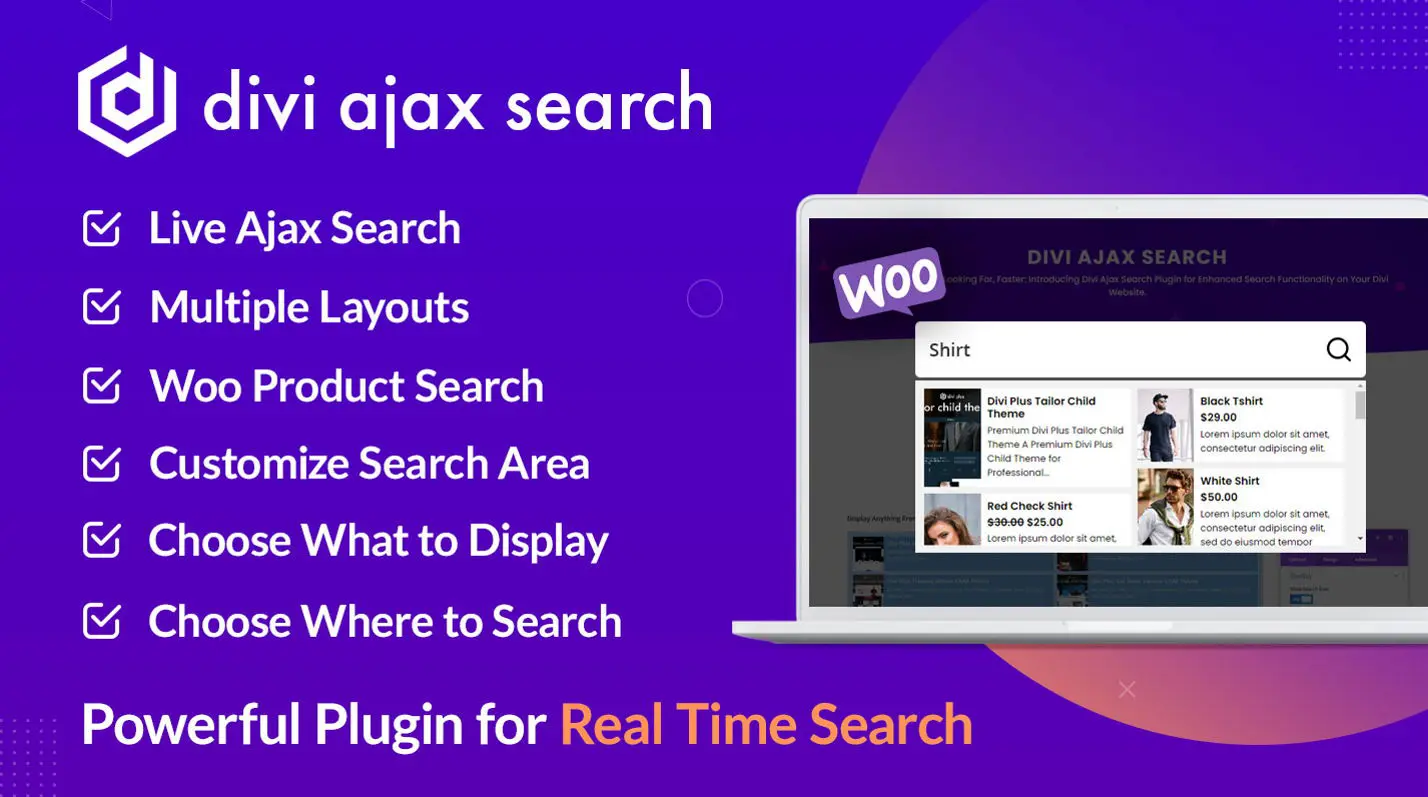 It's a fast and clutter-free search tool that makes your website easy to explore. Using this Divi extension, you can let users search,
Posts,
WooCommerce products,
Projects,
And pages.
Plus, it includes different customization options using which you can enhance the look of your search bar, its results and even the search loader. It's a lightweight, easy-to-use plugin that can definitely improve the working of your site.
(12) Divi Content Toggle: Add a Toggle Switch to the Content
Want to save space on your Divi web pages but still don't want to skip the info? Then, using the Divi Content Toggle plugin, you can do that effectively. This single plugin allows you to add your content concisely using a toggle/switch.
You can use text and library layouts to create essential designs. For example, you can build Pricing Tables for Month and annually and display them separately using the toggle, just like the following example.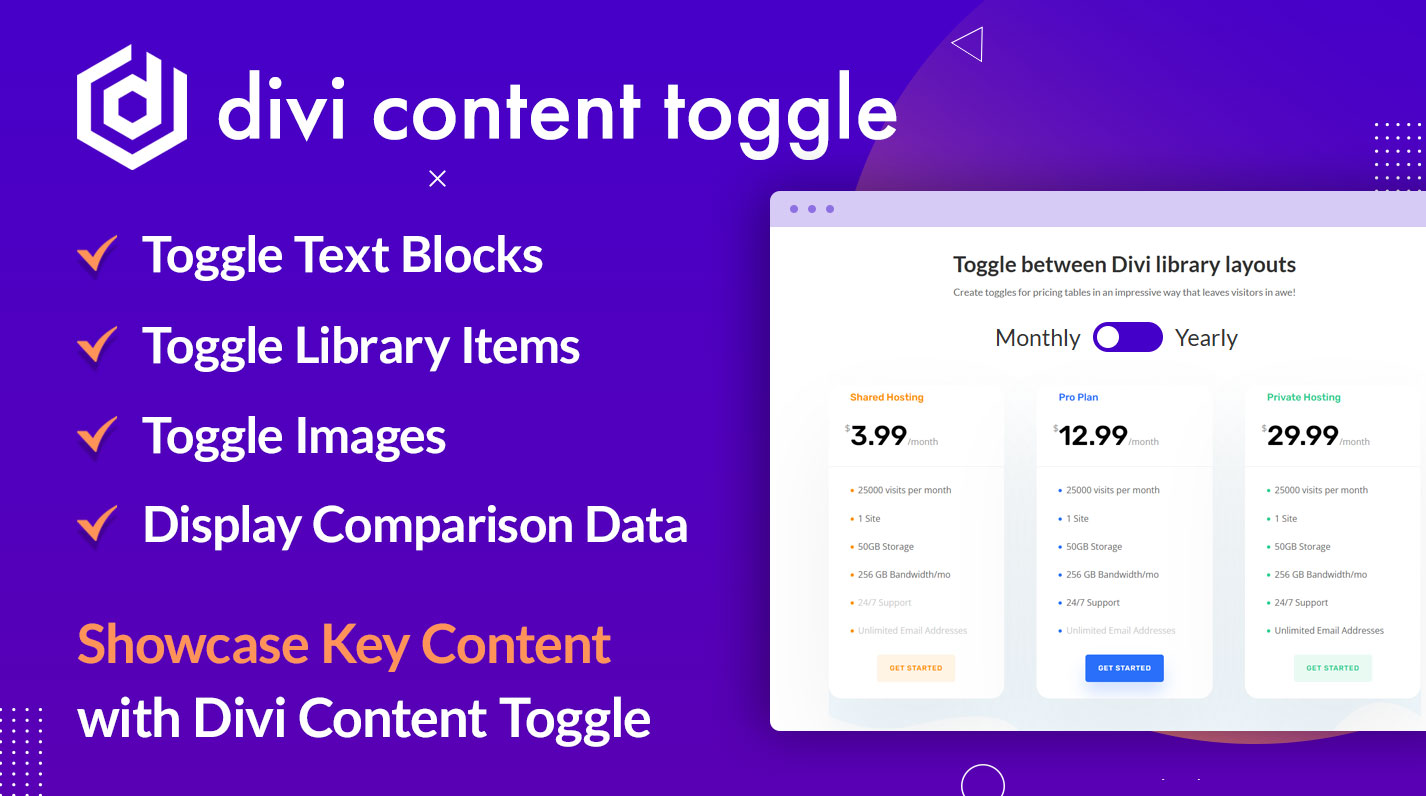 The plugin offers more options that let you customize your toggle for both active and non-active views.
(13) Divi Post Extended: Easy-to-Use Divi Extension to Enhance Posts Readability
Just as customizing a blog page is essential, optimizing the post layout is crucial. Because to read content, users will end up on the design of your post. And if your post's design isn't good, they'll leave your platform no matter how good your content is.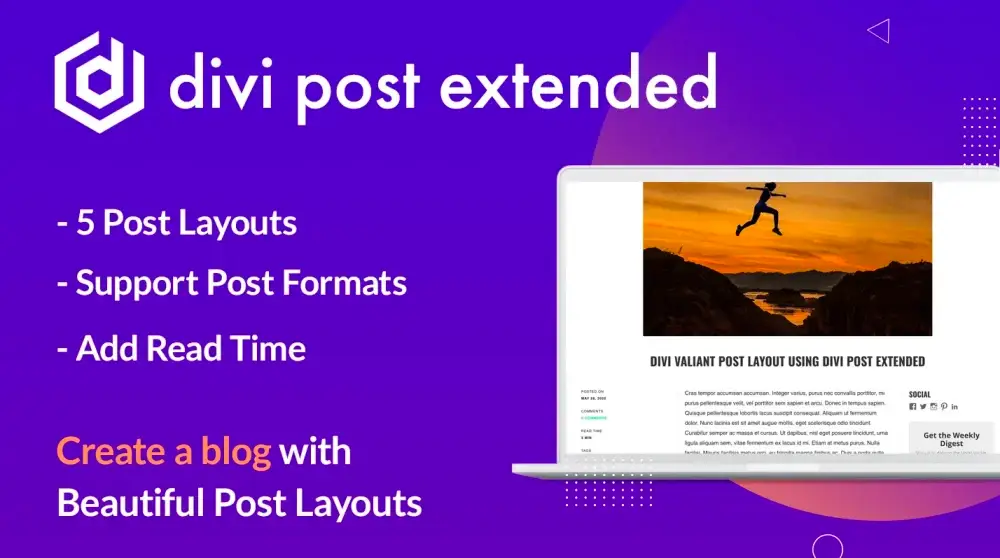 So, to make the Divi posts worth reading, the Divi Post Extended plugin comes into play. Using this plugin, you can easily customize your posts page without the need to use the Divi Theme Builder. This single plugin provides you with 5 posts layouts that support different post types that are,
Video
Audio
Quote
Gallery
Link
Fullwidth
Right Sidebar
And Left Sidebar
Apart from these, you can display post-read time as well as use the layouts in Divi Theme Builder, too. Overall, a simple-to-use plugin to quickly enhance the look and feel of your blog posts.
Choose the Best
---
So, by now, you might have made up your mind about which Divi extension you want to use. We discussed a total of 13 Divi Extensions that were,
By using these, you can enhance your website's performance, design, and functionality. They provide you with a wide range of modules, pre-built layouts, and other functionalities that can help you achieve your website goals without making your website heavy or lowering its speed.
Therefore, look closely at each of them and quickly install them on your website to leave a longer-lasting impression on your users today.