Divi is a remarkable drag-and-drop website builder that allows you to create stunning Divi email optin forms and attract leads. However, creating an optin form is only the first step. To make the most of it, you need to optimize your optin forms to convert more visitors into subscribers.
If you're struggling to expand your email list using Divi email optin forms, this post is here to help! In this, you'll find the top 7 methods to enhance your email optins and increase your email list. These tips will take your email marketing to the next level, whether you're new to it or an experienced user.
Let's dive into the topic and discover how to optimize your Divi email optin for maximum conversions.
(1) Use Pop Ups Effectively
---
The first thing you, as a website owner, have to do to improve Divi email opt-ins is to show that you accept newsletter sign-ups. If you're not showcasing, how will you bring people to sign up? And the #1 effective way to do that is running pop ups.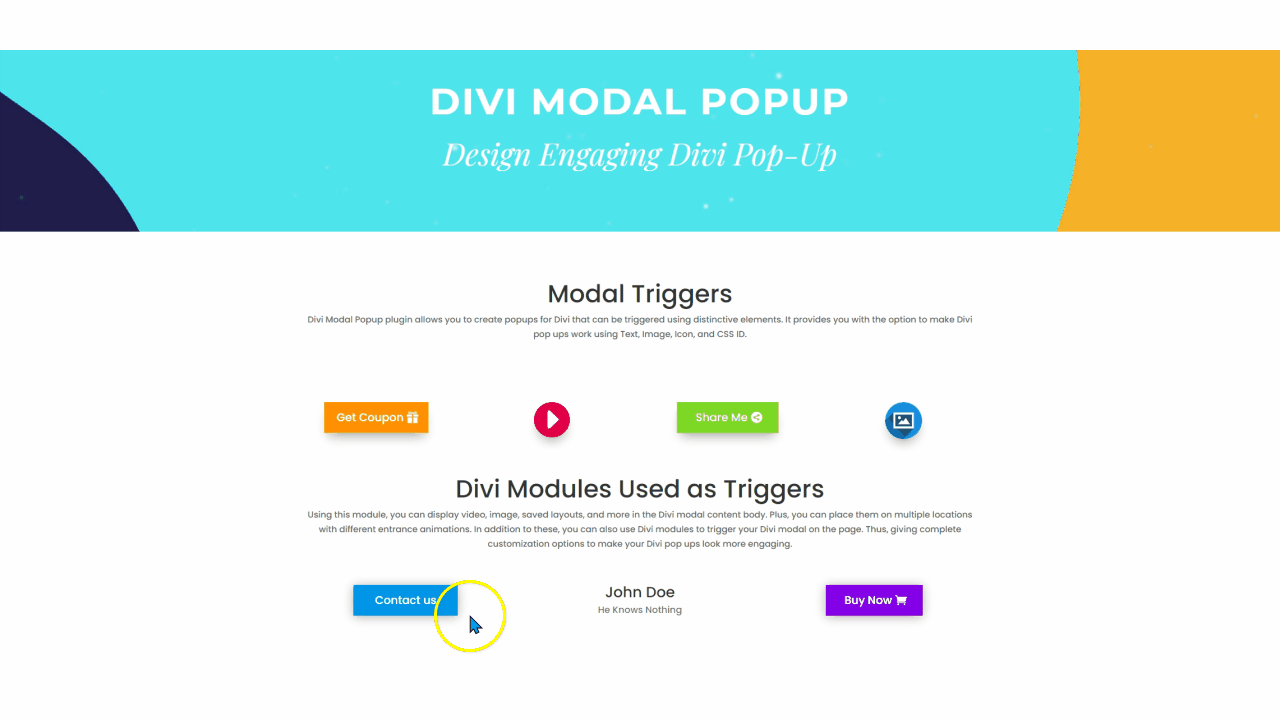 Yes, pop ups.
The amazing web page element can help you build an email list quickly. Through popups, you can share or promote what special you're offering to the users effectively and explicitly. Popups capture the user's eyes and make them aware of the highlight.
In the popup's body, you can add a Divi email form. Add a captivating copy and let users know that if they sign up, they can be part of the promotion. Or whatever you're offering for their benefit.
Now, what's crucial to note here is how you build a popup and use what. If we talk about Divi, then the Divi Modal Popup plugin is what you can try to build a highly functional Divi popup.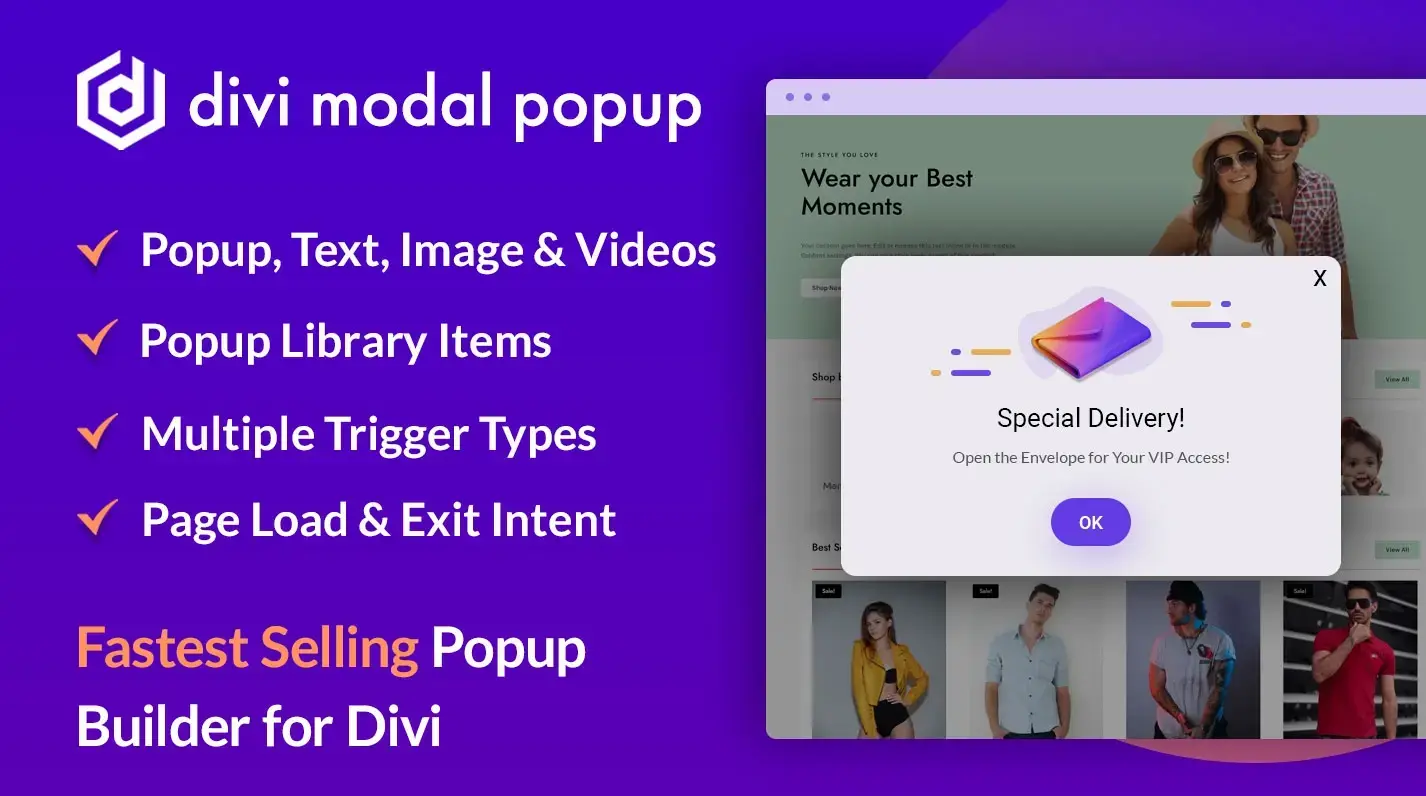 It's a premium Divi plugin that lets you trigger popup using triggers such as,
Elements (Button, Icon, Image, Text and CSS ID.)
On-page load.
Time delay popup.
On Scroll
and Exit-intent.
You can use different content types in the body of the popup. For example, you can add Divi form using Divi library layouts, videos, images, text and more.
Besides these, you get many placement options, animation effects, and other features that allow you to create popups that are,
Non-intrusive.
Engaging.
And highly converting.
With the use of Divi Modal Popup, you can build these types of popups and improve your Divi email optins.
(2) Add Divi Email Form in the Footer/Header
---
Okay, you don't want to interrupt the user's view with a popup despite the fact that popups are the best way to build an email list effectively. Now, what else?
Well, the Header and Footer are one of the most seen or interacted parts of a website. Website visitors indeed use these two elements to explore the platform if you have designed the website nicely by yourself or by taking help from an agency.
So, header and footer. To improve your Divi newsletter signup and build the email list, you can display a subscriber's form at these locations. If not the header, then you can definitely go with the footer area. Whether you want to build the list for a newsletter or other marketing goals, simply add a form at the bottom.

Now, when you do this, ensure that it matches your website's design, just like in the above example. And if you have a nice platform and people find it useful, they will definitely subscribe.
Adding a Divi email optin form at the header or footer isn't tough. You can use some Divi premade layouts to do that effectively. The Divi Flexile Header and Footers pack offer the best Divi layouts for Header and Footer.
The following are part of these layouts packs, which you can easily download and use on your website.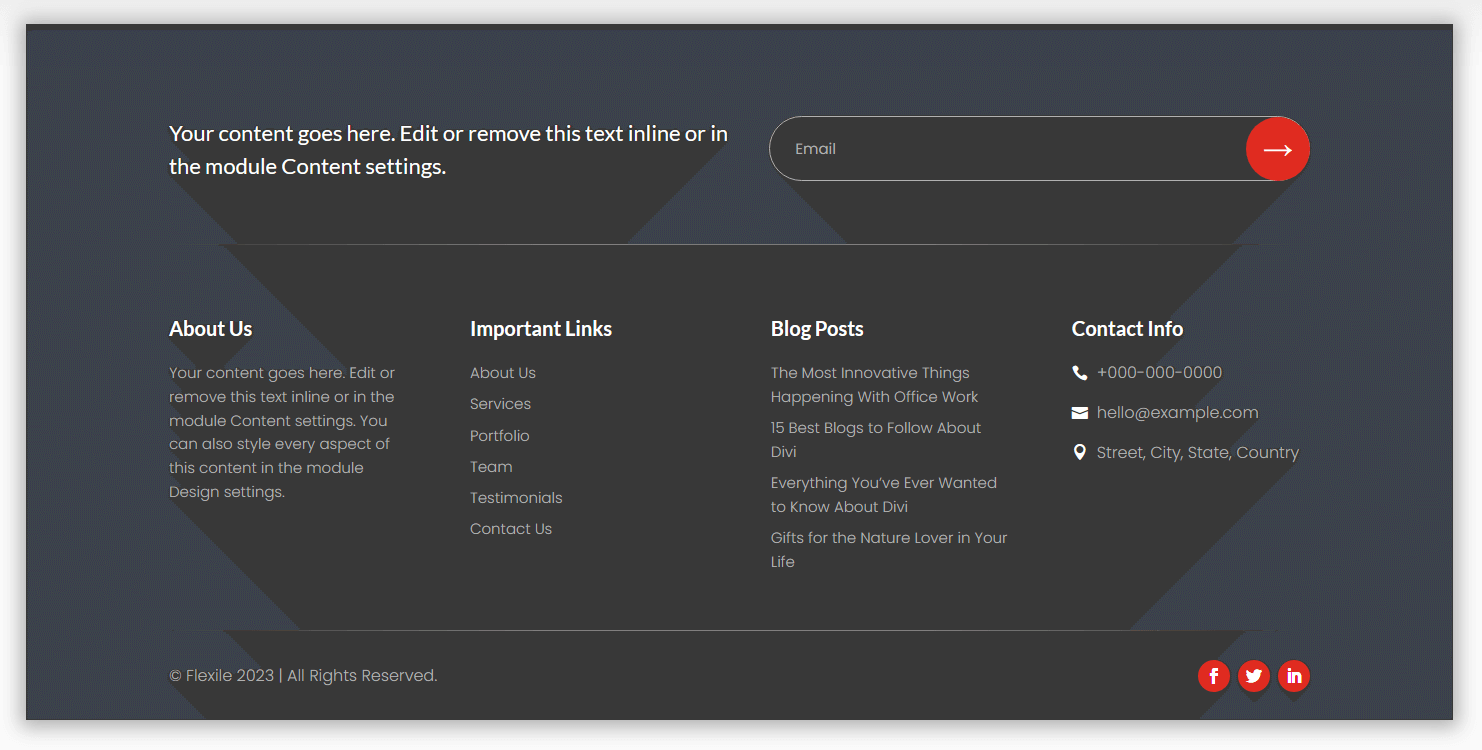 (3) Use Divi Email Form Inside Content (Posts)
---
One of the best marketing ways to reach a big audience is to publish blog posts. If you're doing that and receiving a good amount of traffic, then you're already one step ahead in building the email list. And the way to do it is to insert a Divi email optin form inside the post templates.
You can do it when the user starts reading the content. However, what's effective is you add the form at the bottom.
First, let the user read the whole piece. Let them enjoy it, and if it's worth their while, they will surely go for the subscription. To add a subscriber's form, you can use the Theme Builder or take help from Divi's Bloom plugin. And if you want to do it quickly, you can check out some pre-built blog and post templates.
(4) Run Events With Countdown Timer
---
Another way to speed up your Divi email marketing list building is to add a countdown timer to the events.
From time to time, every website owner runs promotions and sale events. These timely events bring a lot of attention and increase the chances of sales. However, what else these events can do for you is build an effective email list.
And that you can do by using countdown timers.

You can place these timers next to your events and evoke emotional triggers like FOMO.
This will create a sense of urgency in the user's mind, and they surely sign up for the event. So they can make the most out of it without losing the chance when the event goes live.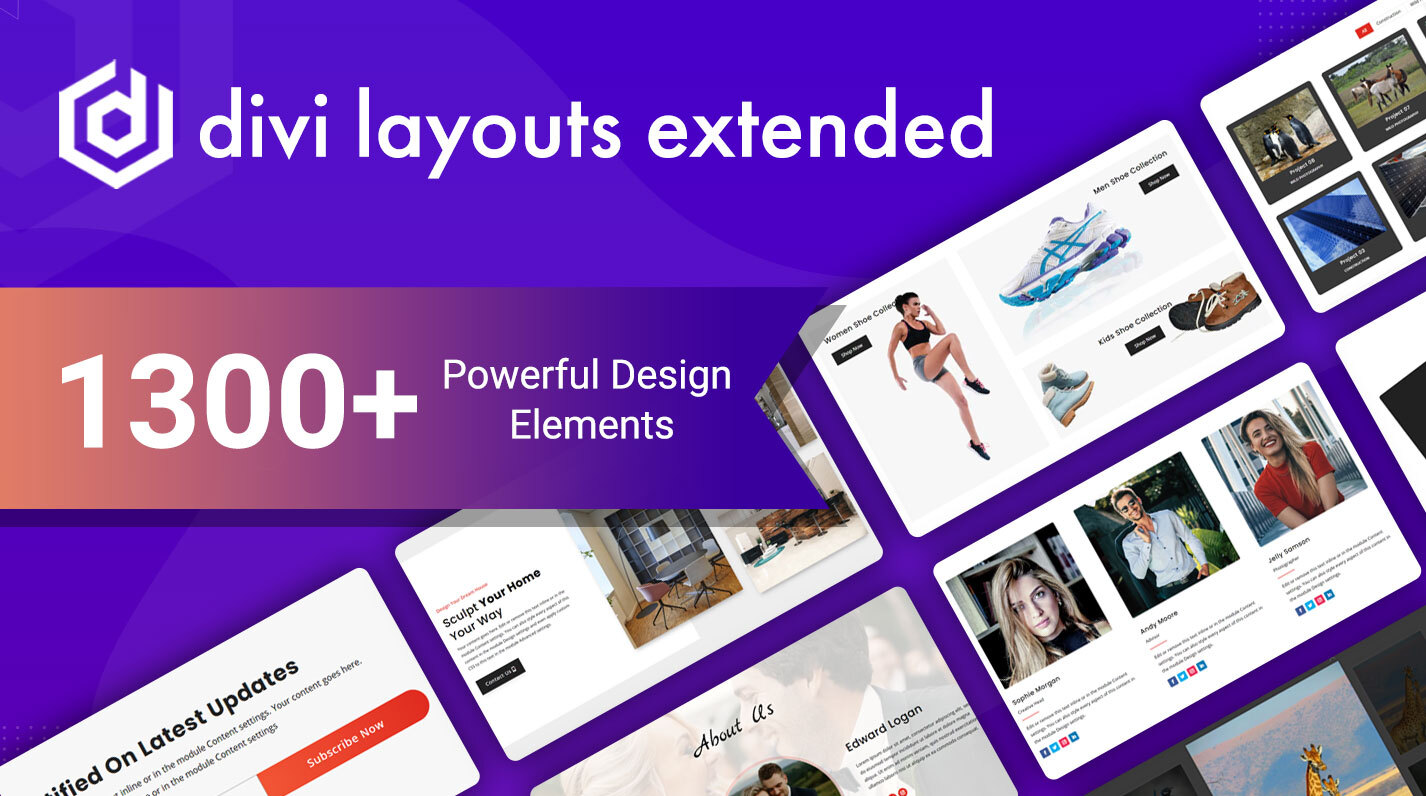 Divi Layouts Extended is a perfect plugin for adding countdown timers to your website. It offers a total of 30 countdown timers layouts. Each layout is ready to use and provides you with uniqueness. You can find rounded timers, timers with background color/image, calendar-like timers and more.
(5) Use Opt-in Fields at Checkout
---
For most website owners, the real conversion is the completion of the buyer's journey. If customers are reaching the checkout page and happily investing in your product or services, then it means you got it right.
If the checkout page receives happy results, you can leverage it to improve your email opt-ins. You can add a checkbox on your checkout page asking users to subscribe. If they are happy with your products and services, they will surely subscribe.
You don't have to do much; just simply add an email optin checkbox on the checkout page.
(6) Add Personalized CTAs
---
Personalization is something that touches the customers' hearts. They give them a sense of belonging. And if you feel like you belong to something, you think about it with stillness. Therefore, to build the email list, you can use personalized CTAs asking for users to sign up.
And to do that effectively, you can use the layouts available with the Divi Layouts Extended.
Yes, this plugin provides you with optimized CTAs that can help you attract users and build the list.
(7) Build High Converting Hero Section
---
Optimizing the hero section of your website is vital for capturing your visitors' attention. Plus, it helps encourage them to subscribe to your email list. A high converting hero section should have a clear and compelling headline that conveys the value of subscribing. Additionally, it should include a prominent email optin form that requires minimal fields to complete.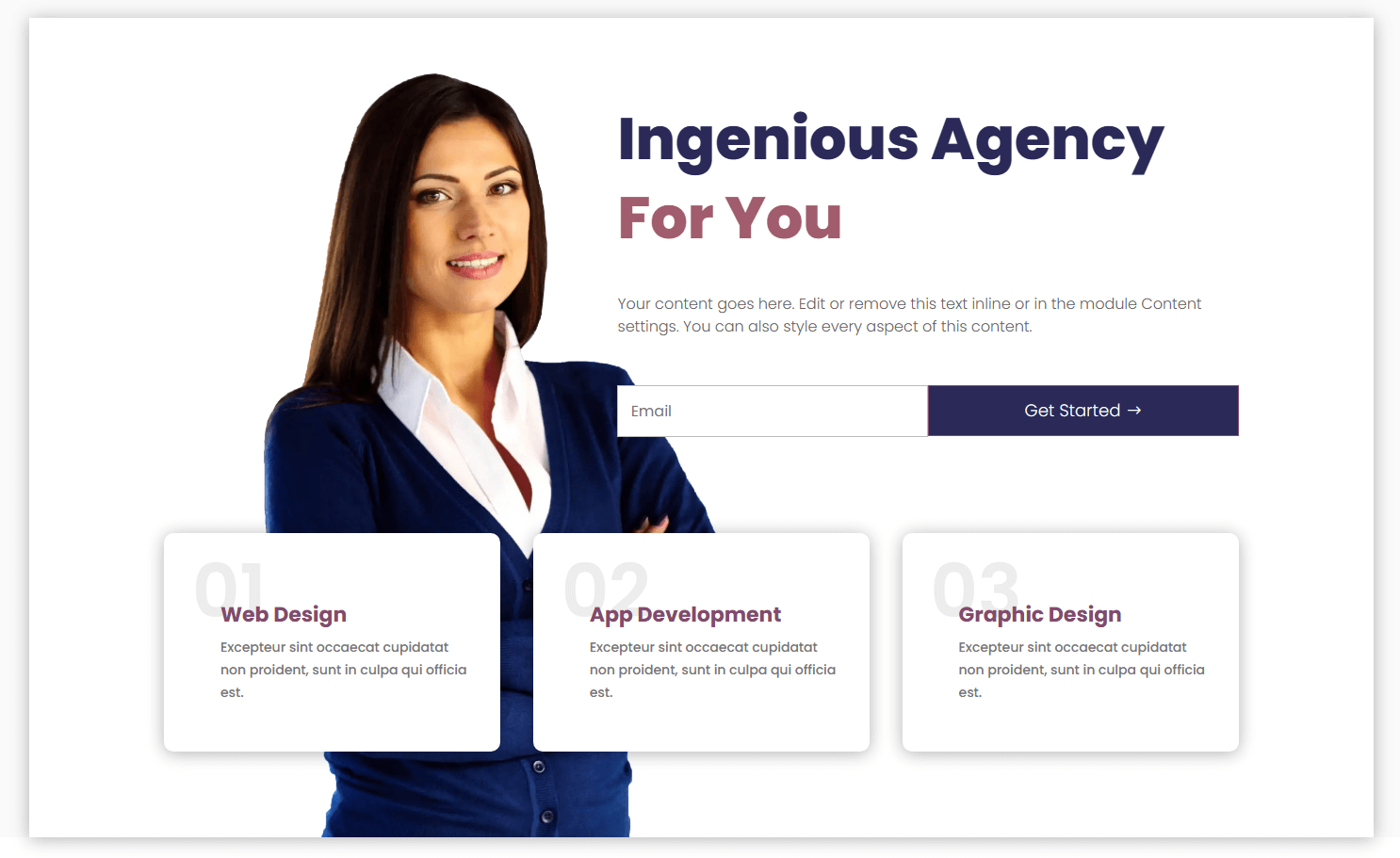 Social proof can help build trust and convince visitors to subscribe. Testimonials or the number of existing subscribers are great examples of social proof. Visitors often seek quick and easy solutions to their problems. Hence, presenting a compelling offer and making it easy for them to take action can increase the likelihood of subscribing to your email list.
To quickly come up with a high-converting hero section, you can use the layouts available in the Divi Flexile Hero Sections pack.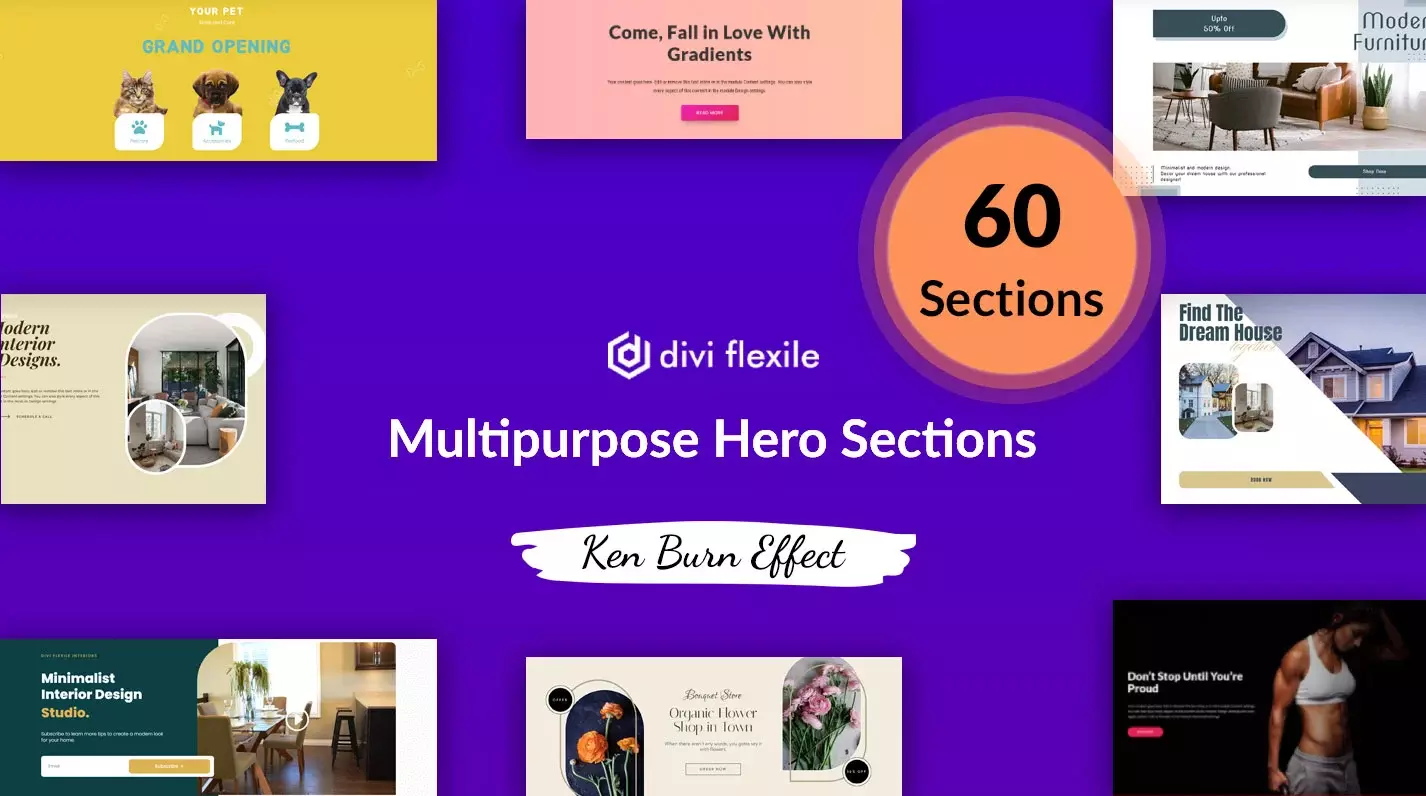 It's a premium hero layouts pack for Divi with 60 hero sections. Each layout is ready to use and unique. There are many hero sections that fulfill the criteria for enhancing your email list. For example, fewer optin fields, high converting copy and optimized CTA.
Conclusion
---
So, these were the top 7 methods that can help you enhance your Divi email optin efforts. Each method brings sets of its own processes to implement them effectively. For instance, not overdoing the popups is crucial to keep them non-intrusive and user friendly.
By utilizing some of the methods, you can surely improve your Divi email listing efforts. Plus, the solution available doesn't require you to spend more time. There's a plugin to build engaging popups, and there are layouts to go after other methods.
Now, it totally depends on you which method works best for you.