Getting started with WooCommerce and Divi is straightforward. It doesn't require any complex steps or high-end coding to make your store up and running. Divi's unique WooCommerce modules make things even more interesting.
However, there are still some areas where you can feel Divi's default modules are a bit limiting. Therefore, to eliminate this limit and help you get the most out of the Divi WooCommerce store, a new plugin has come to your aid – Divi WooCommerce Extended.
Using this new Divi WooCommerce plugin, it becomes easier for you to customize your Divi store where Divi's default modules don't reach. However, this new plugin isn't any replacement for Divi's default WooCommerce modules. Rather, an addition to improve your already fantastic store.
Do you want to look at this new plugin and its modules? Then, without dwelling more, let's get started.
Divi WooCommerce Extended by Divi Extended
---
Divi WooCommerce Extended is a premium Divi plugin for WooCommerce that adds 5 modules and 3 extensions to improve your digital store's look and functionality. These modules and extensions allow you to customize Divi WooCommerce stores in no time. This Divi WooCommerce plugin doesn't require any specific niche. You can utilize its options no matter what your online store is about.
Whether products or services, Divi WooCommerce Extended will provide you with amazing tools.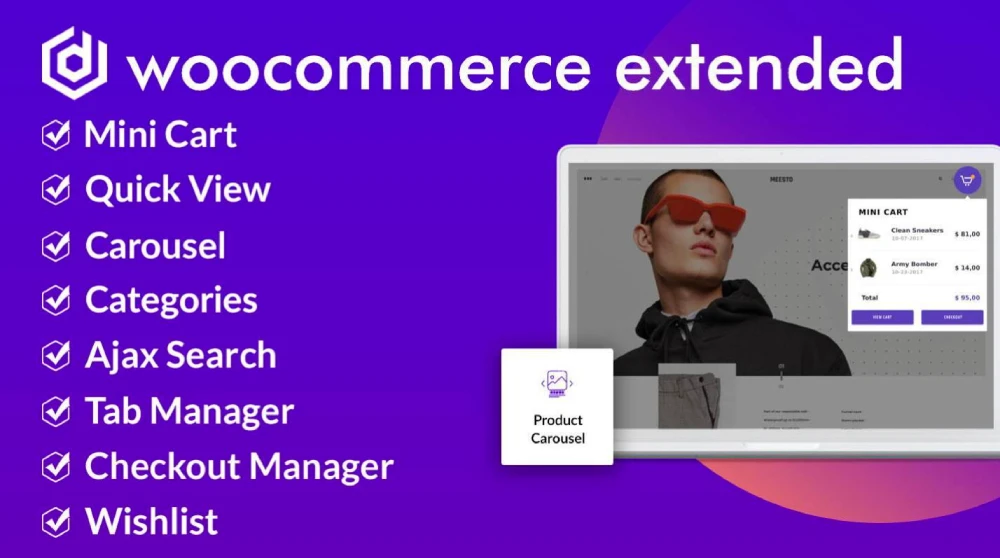 And modules and extensions aren't the only specifications; instead, there's more to discuss that you can avail of in a few clicks. And we'll look at each one by one as we progress in this post.
Insight on Divi WooCommerce Extended- A Premium Plugin for Divi eCommerce Stores / Shops
---
Divi WooCommerce Extended is a power-packed plugin with multiple features and options which would help you take your online store to a new level. As a heads up, this is what we're going to discuss about Divi WooCommerce Extended (DWE.)
5 Astonishingly Powerful Divi WooCommerce Modules
---
Even though it currently includes 5 modules for a Divi WooCommerce store, you'd find them more than sufficient. Each module exhibits multiple options making them whole for what you would need to improvise your store.
Here they are –
Mini Cart –
To Simplify the Purchasing Process
Who doesn't like to finish shopping quickly with those items they'd buy in their sleep. Everyone, right! So, to make this possible on your online store, Divi WooCommerce Extended provides you with the Mini Cart module.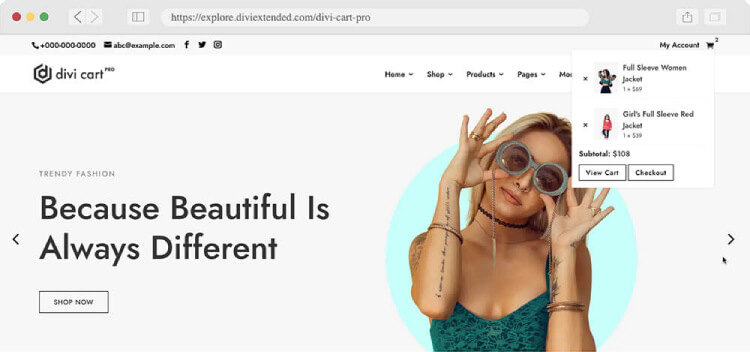 This highly functional module adds a Mini Cart icon on your website allowing customers to review what they've added to the cart without visiting the cart page. And that's not all; it includes various options to customize its functioning per your needs.
The module lets you configure what to display with Products in the Mini Cart: Products Count, Thumbnails, Subtotal, Price, Quantity, Remove option, Cart and Checkout page button, etc.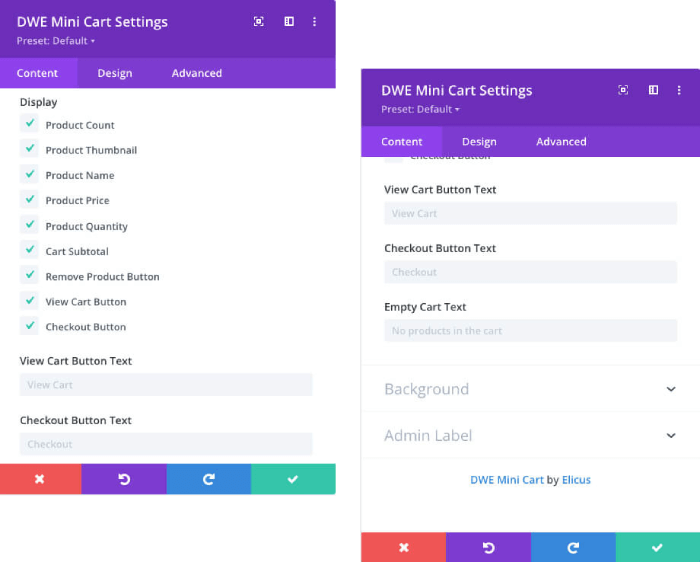 Further, you can select how to display the cart as it supports 4 types of display options.
Dropdown
Overlay
Off Canvas
And Modal.
If you choose the Dropdown option, you get additional options like Cart Placement and Trigger. Overall, this unique module allows customers to review their added products in the cart right from the location they're exploring the shop or product.
If they want to keep the products, they can do it from there. If they want to see what the total is, they can do it from there. And make their buying decision instantly. Thus, simplifying the purchase process of your store.
Product Carousel –
Improve User Interactivity on Divi WooCommerce Products
Increase user engagement on your Divi WooCommerce shop through the Product Carousel module. It enables you to showcase different products on an interactive slider that can be customized to meet your needs.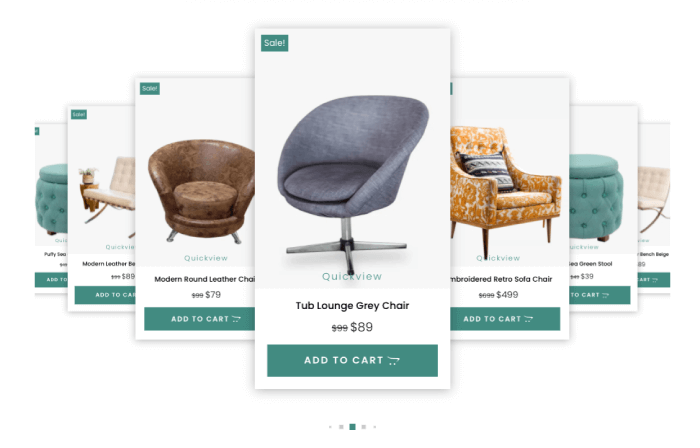 This particular module consists of options that you can utilize to show Featured Products, Best-seller, top-rated items, and products on Sale on the carousel. You can even change the layout of the carousel under 3 different styles. Allowing you to create a diverse environment if you're using multiple sliders on the shop.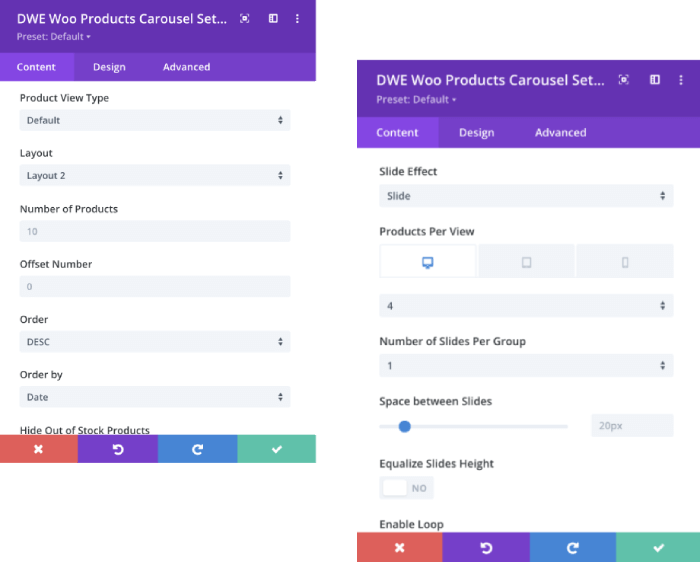 And that's not all; it also features 4 slider effects to improve product carousel functionality as well as impression. The unique slider effects you can find with module of this Divi WooCommerce plugin are:
Slide.
Cuber.
Coverflow.
And Flip.
Each effect comprises multiple options that let you make the most of your showcase. For example, you can choose to enable the Zoom effect, Hide/Show Out of Stock products, Display Sliders and Pagination, and more.
Products Grid Module –
Beautify Your Divi Shop Better Than Before
Like what you can do on the slider but don't need a slider? Then the Products Grid module of this Divi WooCommerce plugin is what you need.
Similar to the Products Carousel module, the Products Grid module allows you to display store products engagingly, but not on a slider, rather in an amazing Grid layout, the same as the screenshot below.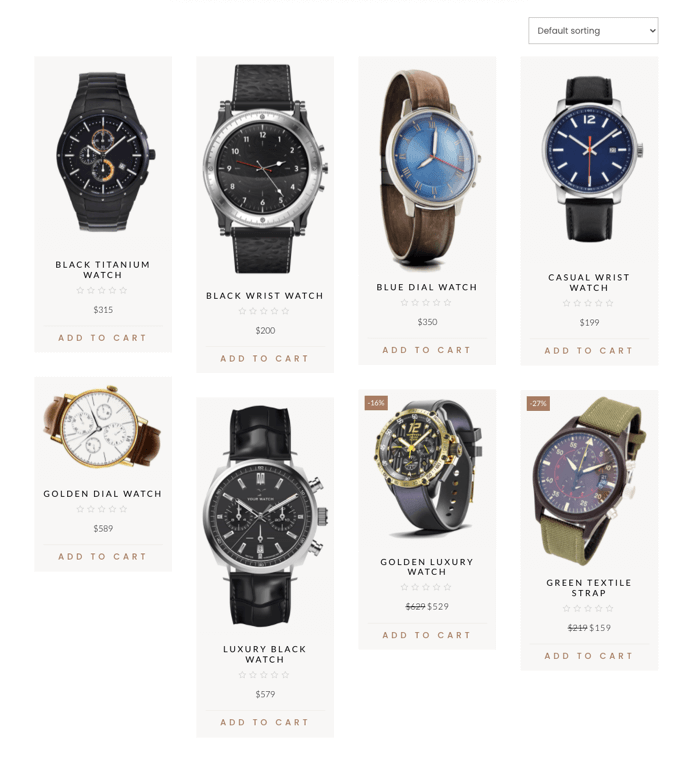 It also includes multiple layouts and allows you to show Featured Products, Top Rated, Best Seller, and Sale items in the grid. You can even control the number of columns up to 6 for your Grid products. Plus, turn it into a beautiful Masonry products gallery if you like.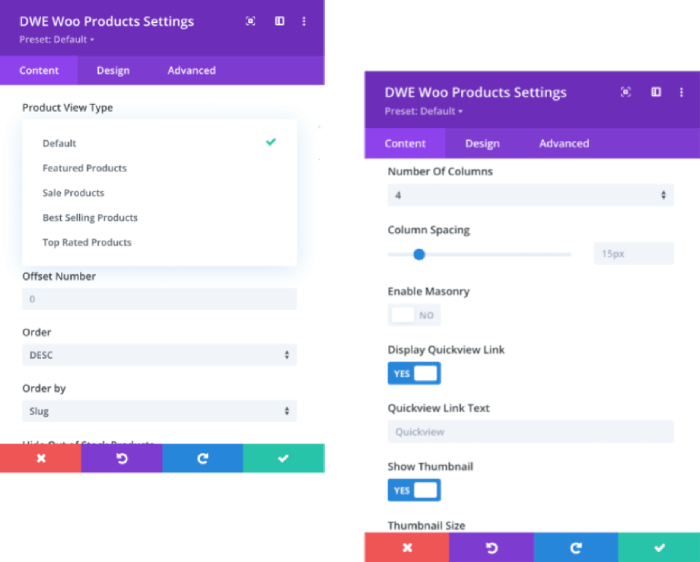 Further, you can set the spacing between columns, apply quickview, show sorting dropdown element etc. Using the Products Grid module, you can create a shop page from scratch that would have advanced functionality meeting your ideas.
In addition, the module also allows you to change Add to Cart button text, enable Pagination, Zoom Effect, and more.
Products Categories Module –
Group and Show Different Products Categories Together
To create special sections on the store and provide customers with a direct way to explore them, you can utilize the Products Categories module. It provides you with the options to group multiple store categories and create an attention-grabbing area like the following.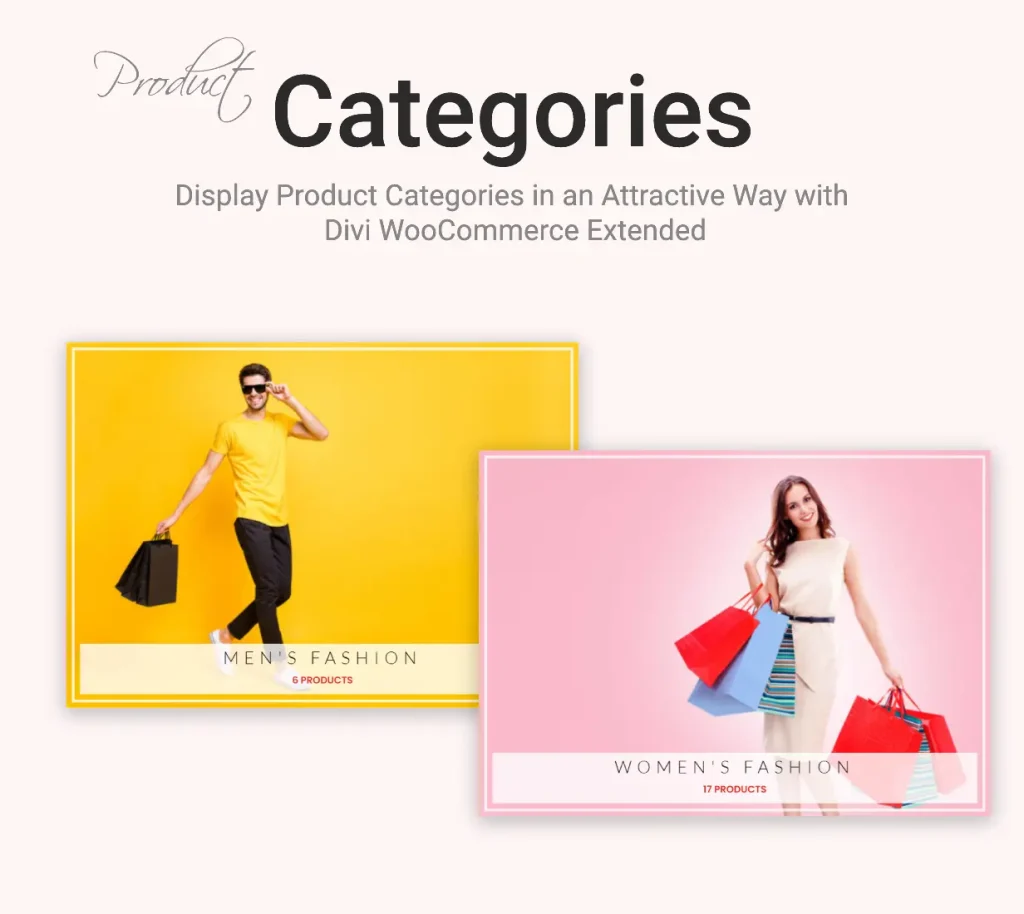 The module consists of multiple layouts with a number of column support, spacing, masonry effect, and more.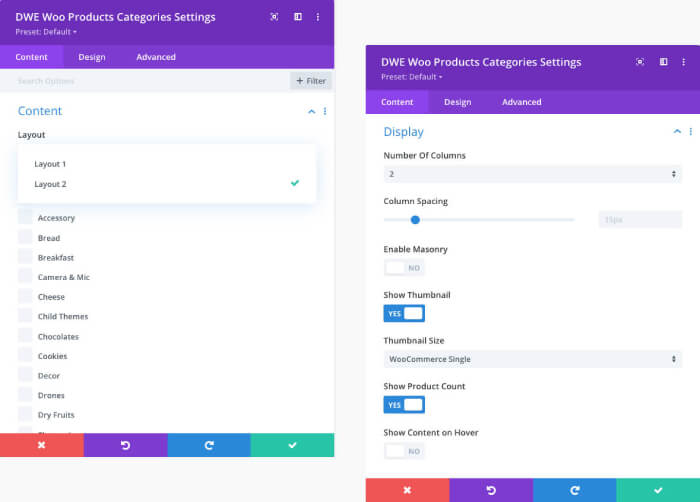 One layout allows you to simply show product categories with thumbnails, names, and product counts. The other lets you add a border and background around product category tiles and product name, respectively.
Besides, you can apply the Zoom effect, change alignment, and optimize readability through different text customizations available in the Design tab of the module.
WooCommerce Ajax Search Module for Divi –
Let Customers Find Their Favorite Items in No Time
Using this particular module, you make your already fast Divi WooCommerce store super fast. Users can effortlessly discover the products they want to buy and make the purchase decision in no time.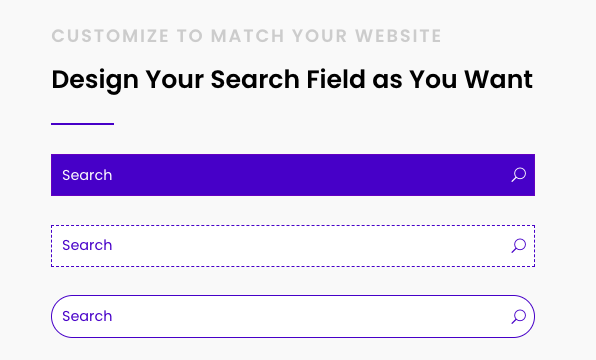 It increases the functionality of your Divi store as well as improves usability. Just let your customers type, and they'll have their product placed in front of them. What's more interesting about the WooCommerce Ajax Search module is that it doesn't open a new page to show results. Instead, users see the results live right under the search bar when they type a query.
Thus, a highly responsive WooCommerce store is made with the highly functional Divi WooCommerce plugin and its module.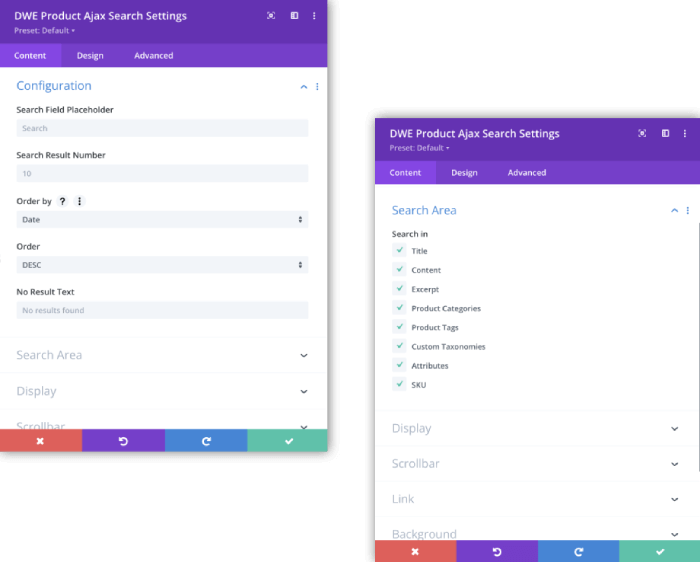 The module lets you configure search query run in the following Product aspects,
Title.
Content.
Excerpt.
Tags.
Custom Taxonomies.
Attributes and SKU.
Further, you can choose what to display in the results. The module allow you to display one style or combination of the following,
Product Title
Excerpt
Featured Image
And Price.
It's up to you how you combine these options to create a perfect result showcase. For example, Product Title with Featured Image. Or Featured Image with Price and Excerpt. It's totally up to how you to utilize these options.

Even after these powerful features, the module lets you decide whether to show/hide the results scrollbar. And again, that's not all; there's more you get with the module to utilize in your Divi shop.
Multiple Divi WooCommerce Extensions for Advanced Improvements
---
Where modules help you improve a website's look and feel alongside a performance at different times. The extension comes in place when you need deeper customization to your website. We have added the following extensions to the Divi WooCommerce Extended plugin by keeping this idea in mind.
Product Tab Manager
Checkout Manager
Wishlist Manager
Product Tab Manager –
Showcase Product Details in an Organized Way
The Product Tab Manager extension provides you with the options that you can use to improve how a product's information is displayed. Rather than scrolling a long page for details, users can find information in different tabs.
And it's possible with the Product Tab Manager extension.

Using the extension, you can enable the Description tab, Review tab, and Additional Information Tab. Further, you can set a custom text for each one to make them suitable per your web store.
Checkout Manager –
Simplify Your Divi Checkout Fields in No Time
With the help of the Checkout Manager extension, it becomes easy to configure fields of the checkout page on your WooCommerce store. It enables you to set fields under different states.
Hidden
Required
And Optional.
Furthermore, you can set custom labels for the fields, placeholder text as well as hide the label if you want. The fields you can customize with this extension are:
First Name
Last Name
Company
Country
Address 1 and 2
City, State, Postcode
Phone and Email.
If your business requires all, keep them all enabled. Otherwise, you can choose which one works the best on your checkout page. Besides, the extension also allow you to change fields width: Full, Half, and Second Half. Thus, complete control over your checkout fields.
Wishlist Manager –
Allow Customers to Save Items in Wishlist
The new Wishlist Manager extension lets you add Wishlist functionality to your Divi WooCommerce site. Using this, it becomes easy to build a comprehensive Divi web store that also allows customers to save items for later purchase. The wishlist manager extension lets you,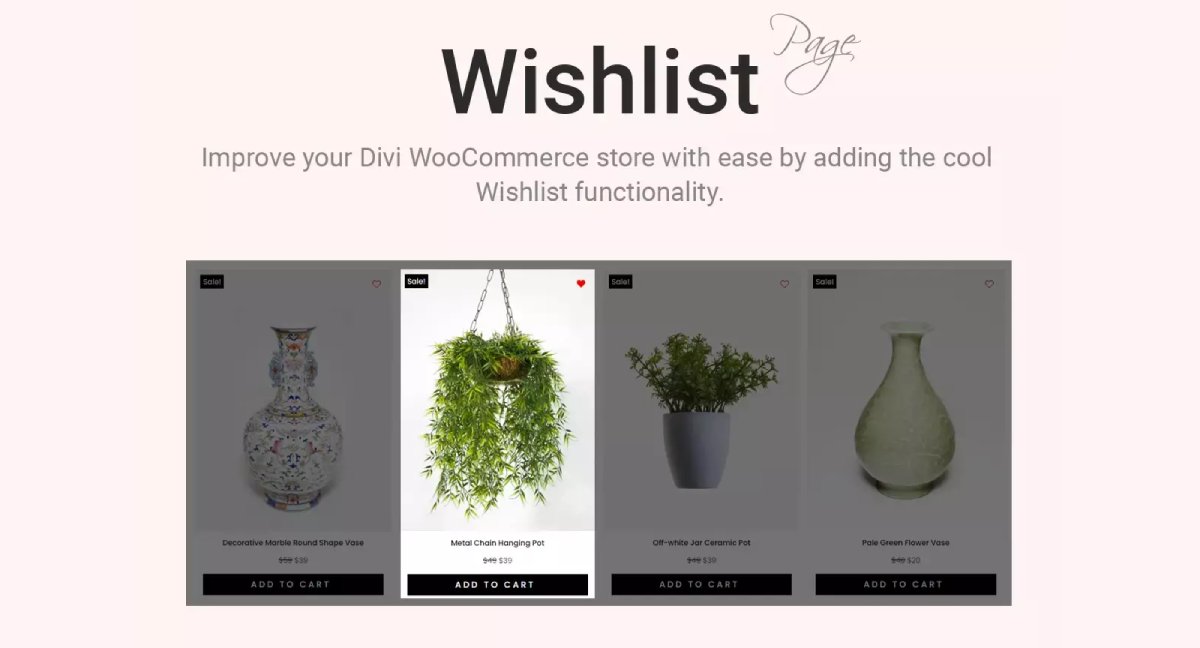 Add Wishlist Button as Icon, Text or both Text & Icon.
You can enable the wishlist option for Logged-In Users only.
It also allows website owners to change Wishlist Button's Position for Products Loop and Product pages both.
You can also use custom text for the Wishlist button and its notification text.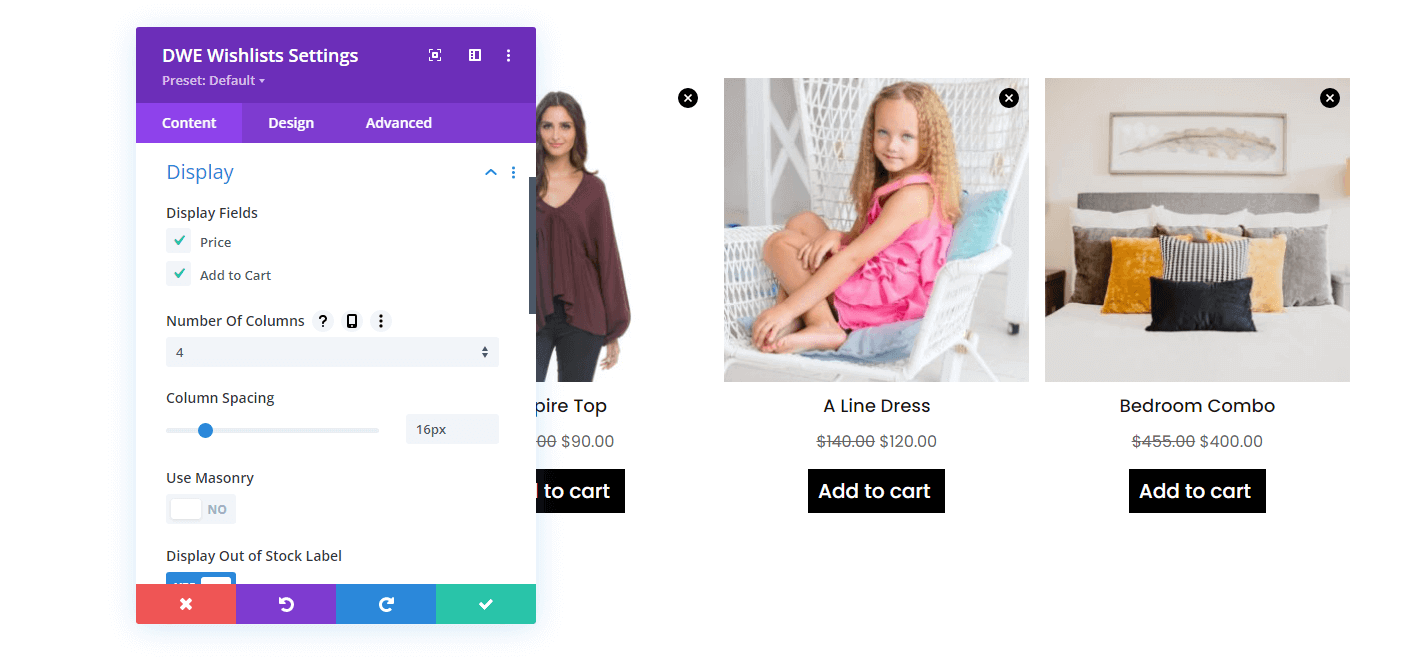 Besides all these features, the Wishlist Manager extension also adds a module to the Divi Builder. Using this module, you can build a custom wishlist page to display wishlisted items. Thus, enhancing every area of the eCommerce store effectively. The module lets you,
Display multiple number of wishlist products on the page.
Show custom "No Result Text."
Adjust columns up to 5.
Adjust column spacing.
Use Masonry Layout.
Showcase Price field and Add to Cart button.
And there are more options to design and customize the wishlist page beautifully.
Unbeatable Performance As You Get With Divi and WooCommerce
---
As Divi's one of the powerful WordPress themes, and WooCommerce is the #1 eCommerce platform, what could you expect other than outstanding performance? Divi WooCommerce Extended has both of them as its core. Therefore, there's no compromise for you to make when it comes to utilizing this plugin on your Divi WooCommerce store.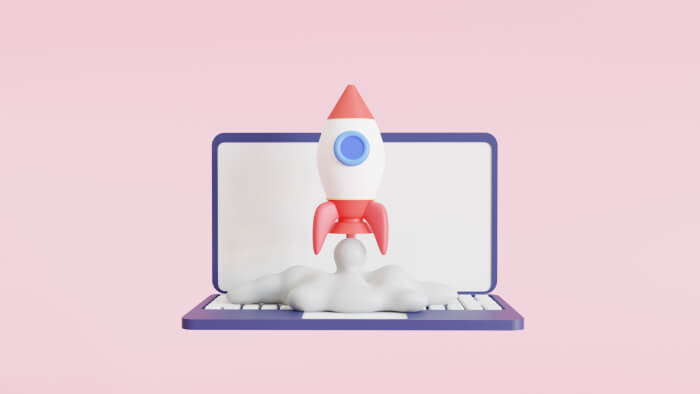 Further, we have developed it by keeping its scripts to a minimum. So, your website doesn't have to load much during its utilization. And you can work blazingly fast. Even after completing the project, the module only uses the scripts used, which means no bloat on the front end.
Overall, you get a highly functional Divi WooCommerce website with no compromise on performance and speed.
Pricing That Easily Fits in Your Pocket
---
Nothing could go wrong with Divi WooCommerce Extended, even when it comes to pricing. Whether you're starting or already an established agency or freelance professional, getting DWE is as easy as ordering a cup of coffee. Although you may have to wait for your coffee, that's not the case with our Divi WooCommerce plugin.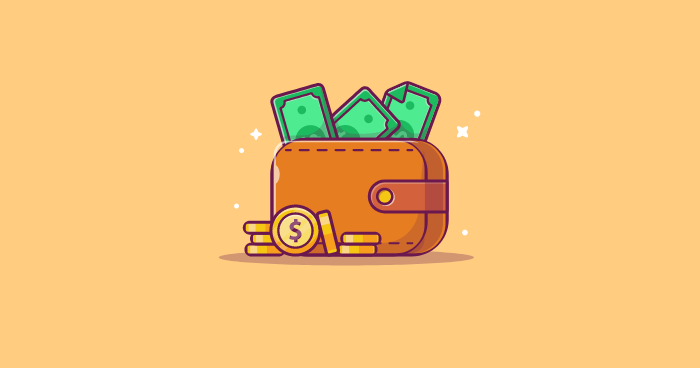 At your convenience, you can get the plugin from both Elegant Themes Marketplace and DiviExtended.com. However, you may find a bit of a difference, but it's not huge. At Elegant Themes Marketplace, you can get the plugin at $59/year with 1-year support and updates and a 30-day money-back guarantee.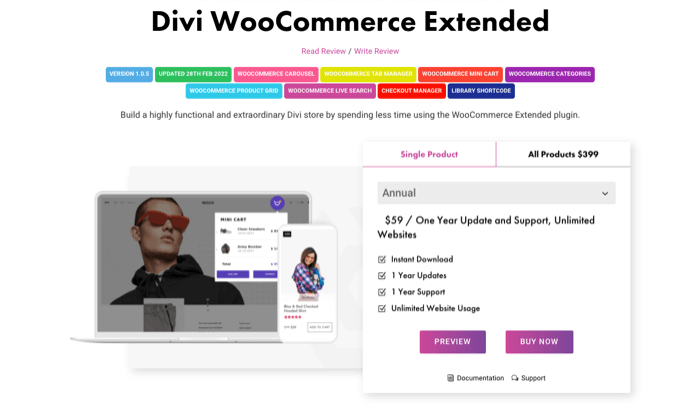 On DiviExtended.com, you can get it under two licenses:
Annual – $59 / One Year Update and Support, Unlimited Websites.
Lifetime – $149 / Lifetime Update and Support, Unlimited Websites.
Now, whatever suits you the best, you can go with that. As with both platforms, you'll get the same plugin and high-quality support. So, there's no confusion, only preferences.
Simplified Documentation Work for Superfluous Work
---
From installing to inserting the module on the page, you can find everything related to DWE on our Knowledge Base. We keep straightforward and up to the point documentation, so without getting yourself confused, you can get the best out of your plugin.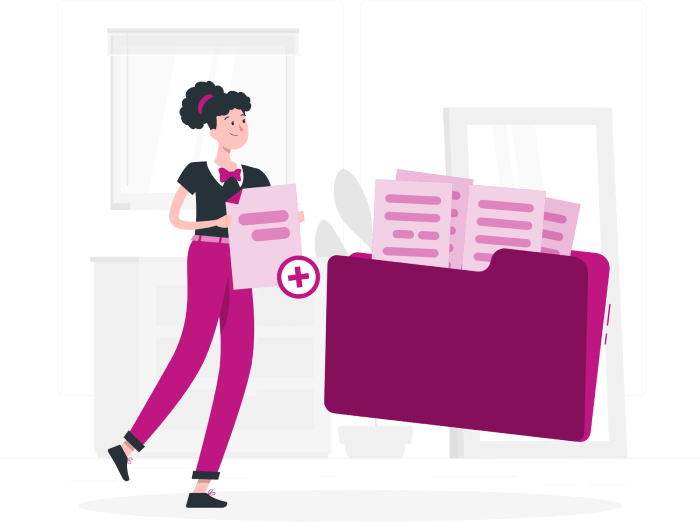 Furthermore, we keep updating the documents as per new queries and updates. So, you can always find the right solution to utilize the plugin efficiently. Thus, getting DWE is always fruitful without any dilemma.
Stay Ahead With Regular Updates and Improvements
---
Updates help keep your web store functioning with the latest trends as well as secure from new threats. Therefore, we ensure that Divi WooCommerce Extended gets regular updates with new features, performance enhancements, and security from all the venurbalities.
So, you don't have to risk your Divi WooCommerce store anyhow. And not primarily due to DWE.
With new updates you can find, we add several things to the plugin and the module. For example, we add:
Modules.
Extensions.
Improvements to the existing modules and extensions.
Performance improvement.
Compatibility to the latest Divi and WooCommerce updates.
Fixes to the previous issues.
Security enhancement and more.
Outstanding Support That Keeps You Worry-Free
---
Whether you purchase the plugin from Elegant Themes Marketplace or our store, you'll always get impressive support from our team. We take tremendous pride in helping our customers get the best out of our products. Therefore, we take all kinds of support requests as far as they're concerned to our plugins.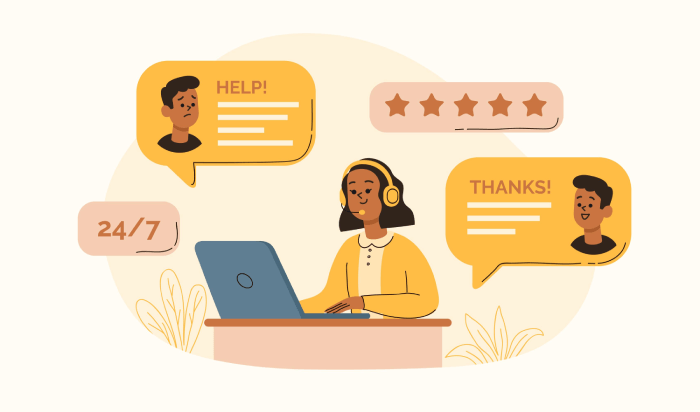 Whether you're facing a technical issue, the plugin's not working; you cannot install it, and whatnot. If your problem lies under our support terms and conditions, you don't have to worry at all.
Just let us know what's causing you trouble, we'll pass it to our support team, and they'll get back to you within minimum time.
The Bottom Line
---
A plugin should meet your requirements to qualify as a working addition to a web store. And this is what you can ensure when you get Divi WooCommerce Extended. It provides you with features, it provides you flexibility, and above all, it provides you with outstanding support.
Therefore, it simply means, for whatever usage you'll get this Divi WooCommerce plugin, it will satisfactorily fulfill them. Whether you need it for a new website or trying to improve an existing one, the plugin will never disappoint.
So, get it today, try its unique features the way you could, and let us know how you feel about it in the comments.