Over 42% of the online world is running on WordPress, and there's no doubt in it. WordPress, unlike other CMS, provides all the necessary tools and options to create a website of any kind. Even without writing a single line of code. However, despite its easy-to-use framework, maintaining it might require more effort than other things. Though it's less complex than others, but for many users, it's not an easy deal. And because of this, they look for WordPress maintenance services.
Nevertheless, like CMSs, the internet is full of WordPress support and maintenance service providers. From those, many are overrated, and you'd find them everywhere. And because of that, you might end up choosing one of them and get adequate support whilst expending money like liquid.
Therefore, to help you find the best WordPress maintenance service provider without costing too much from your pocket. As well as get the same support like the overrated ones. In this blog post, we'll discuss the 7 best support and maintenance providers for WordPress. Who are not only good at their job but excellent at it. Plus, they'll never disappoint you whether you need them today or tomorrow.
Let's see who they are, how they provide their services, and why you need to trust them with their skills.
1. WP AOS — 24/7 WordPress Management Services
---

An update might go wrong, and spam would get inside your WordPress website's core. That's it, everything will be at risk, and you could lose an entire business. But with WP AOS' 24/7 WordPress Management Services, you get dedicated plans according to your requirement to protect the site you love the most.
If you need maintenance, they provide a maintenance package. When you need security, they offer a security package to ensure nothing can breach your website's core. If you're in need of custom web development, WP AOS can help you with that as well. And there are other WordPress services that can help you boost a website's performance.
WP AOS is the hub to get your WordPress issue resolved under different packages based on your budget. Whether small or big, they've got something for everyone.
Key Services (WordPress Maintenance Package Only)
Weekly maintenance reports.
Weekly theme & plugin updates.
Offsite Backups.
24/7 Uptime monitoring.
Security monitoring & Malware removal.
iThemes Security Pro plugin with a lifetime license.
Performance monitoring.
Google Analytics integration.
Speed optimization.
Mobile & tablet optimization.
30-Day Money-Back.
And more services.
Pricing of WP AOS
Secure — €29/month with Email support.
Maintain — €79/month with Email, chat support and 1 website edit.
Scale — €299/month with priority support, unlimited website edits and 2 hours of custom development.
User Ratings for WP AOS
Trust Pilot — 4.3/5 star ratings based on 9 customer reviews.
2. Stylemix — 24/7 WordPress Support & Management Service
---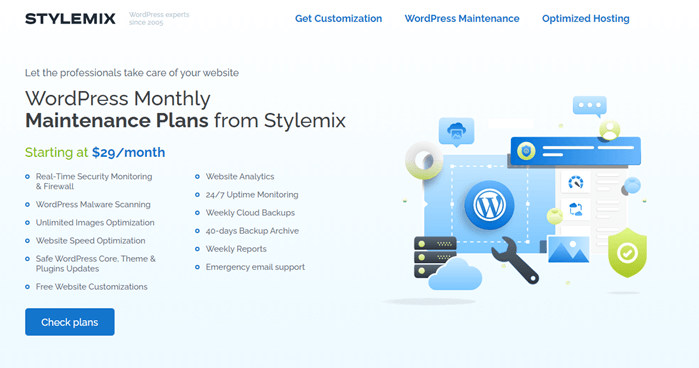 For WordPress users, who want quality maintenance and support under minimum amount, Stylemix is where they can get it. And not only maintenance services, but you can expect them to provide you with website edits. They are the elite authors at ThemeForest working around WordPress since 2005. So, you can trust them with their work and the kind of excellent support they'll provide you.
From WordPress fixes and customizations to real-time security monitoring, Stylemix can offer all the essential support with top-notch skills. You don't only have to trust their skills or experience, but you can completely rely on what they do and provide. They've got over 50000 customers and built over 15+ themes and plugins from which Bookit is their sensational product.
By all of these, you can get an idea of how capable Stylemix is in its work.
Key Services of Stylemix's WordPress Website Maintenance Plans
WordPress fixes and customizations.
WordPress uptime monitoring.
Migrate WordPress site to the new domain
Pagespeed optimization
WordPress malware scanning
Real-Time security monitoring
Images optimization
And more.
Pricing of Stylemix's WordPress Maintenance Services
Starter — $29/month with Cloud Backup.
Basic — $39/month for everything in Starter and unlimited image optimizations.
Professional— $49/month for everything in Basic and 1hr of development time.
User Ratings for Stylemix
Trust Pilot – 4.4/5 star ratings based on 27 customer reviews. (Ratings for the entire Stylemix group.)
Facebook Reviews — 4.8/5 star ratings based on 232 votes. (For Stylemix Themes.)
3. Web Heroes — Affordable WordPress Maintenance
---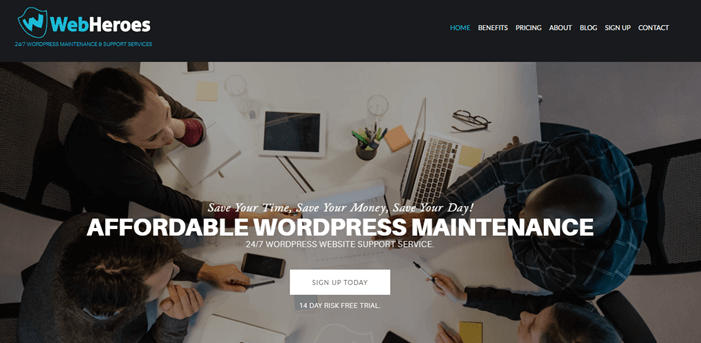 Even though Stylemix maintenance services are among the most affordable ones, but if you need someone who can provide you with everything in a single package, then Web Heroes are your guys. With over 25 WordPress services support, Web Heroes fulfills/responds to your request immediately as well as completes most updates within 24 hours of submission. So, you can rest assured that your website is functioning right without facing any critical issues.
In addition to these, if you want these services for multiple websites, then you could simply add them at just $39/month. Plus, web Heroes also provides add-on services that might help you take your WordPress site to a new level.
Overall, you can use Web Heroes services when you literally need maintenance services. And it's required for small to medium-sized businesses or professional websites. Furthermore, if there will be some additional work, whether on the same site or a different one, you can easily go for that as well.
Key Services of Web Heroes
WordPress core updates.
Plugin update and installation.
3 hours for content updates.
Monthly back-ups.
Security monitoring.
Disaster recovery.
Clean up malware & spam.
DNS, Plugins & SSL Configuration.
Database clean-up.
And over 15+ other services.
Pricing of Web Heroes
Unlimited — $59/month for all services and phone support.
By The Hour — $59.99/hour for development, fixes & emergencies.
4. SkyrocketWP — All-in-One WordPress Maintenance, Hosting, and Support
---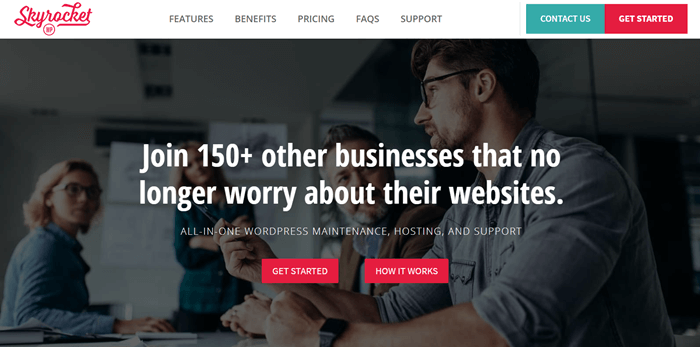 If you need WordPress maintenance, hosting and support under one roof, SkyrocketWP will help you achieve this goal. Under its maintenance services, you get WordPress hosting powered by Kinsta. Plus, it delivers the content on a dedicated CDN to make the website's speed even faster. So, users from all over the world can easily access your website within seconds without waiting too much longer.
Whether you choose the basic plan or the most expensive one, the above hosting and CDN service will be added to every plan of SkyrocketWP at no extra cost. Furthermore, SkyrocketWP maintains the website on Google Cloud, so it remains secure with Google's top-notch security procedures. So, you don't have to worry about how much protection you'll get with SkyrocketWP.
Additionally, with SkyrocketWP service, you get access to a lead generation plugin, allowing you to easily generate more leads on your website with no additional cost. A benefit of a lifetime.
Other Services Included With SkyrocketWP's Plans
Managed hosting with 99.9% uptime.
Complete daily backups.
Hack prevention.
Deep-Level malware scanning.
Malware cleaning & removal.
Lead generating plugin installation.
Pricing of SkyrocketWP Service
Basic — $59/month
Delta 4 — $129/month for Basic features plus weekly Core, Theme, and Plugin Updates, and 1 hour of website Edits.
Saturn 5 — $249/month with Delta 4 services, WooCommerce support and unlimited website edits.
5. Solve Web Media — Create a Better User Experience
---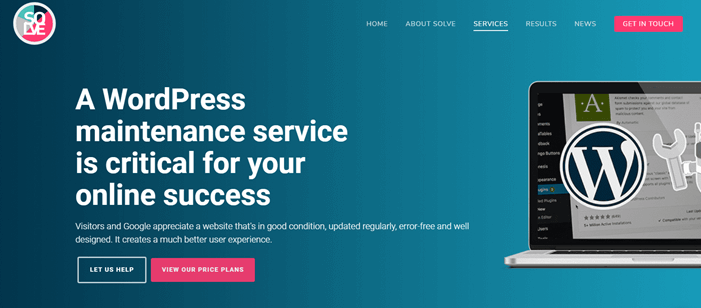 Keep your website in good condition with regular updates, well-designed architecture and free from errors by opting for Solve's WordPress management services. Nevertheless, the best thing about Solve's services is that it offers both single packages combining multiple services and single service on demand.
So, if you need only to apply some tweaks to your website to optimize it for speed, you don't have to go for a complete package. Moreover, the plans it offers are suitable for websites of different sizes. For example, if you're using a simple website having no complex features, you could go with the basic plan. Otherwise, if you opt for the eCommerce maintenance plan, you can maintain a website with massive data and support for digital stores.
However, you can only go with certain services included in the plans when you run those on Solve's server despite all of these. It might look a little disturbing when you want to control a huge amount of the website's side.
Other Services of Solve Web Media
Plugin, Themes and Core CMS updates.
Security updates.
SSL error fixing.
Speed tweaks.
Downtime monitoring.
Ongoing image speed optimisation
Link & error check.
Google Analytics & Search Console setup
CDN.
Pricing of Solve Web Media
Basic WP Maintenance — £35/month
Standard WP Maintenance — £55/month for Basic services plus Added website security, PHP and SSL check/fix.
eCommerce WP Maintenance — £75/month for standard services plus eCommerce updates and checks.
User Ratings for Solve Web Media
Clutch — 5/5 star ratings based on 3 customer reviews.
Google Reviews — 5/5 star ratings based on 71 customer reviews.
6. nuBranch — Take the Hassle Out of Managing Your WordPress Website
---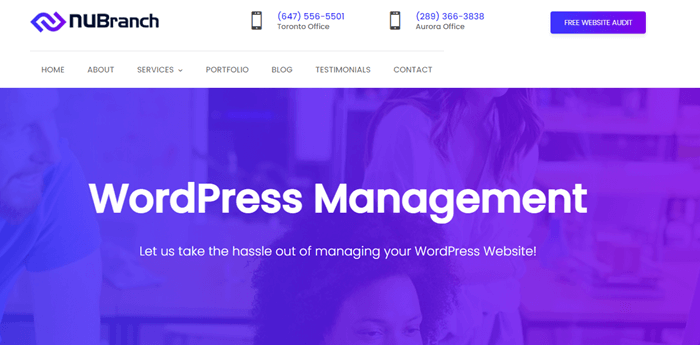 To keep all the heavy maintenance tasks out of your mind and get busy with other transmutation activities for business growth, choosing nuBranch is a perfect decision. Because with nuBranch WordPress management services, you'll get more benefits than any other provider. Though, it's more costly than others as well.
However, this fact won't take nuBranch out of this list as it provides quality service at required times. Furthermore, likewise, Solve, it also offers one-time fix and ongoing website support. Meaning, you've got more options when you go with nuBranch without thinking how much it would cost.
Services Included With nuBranch Plans
Website edits
WordPress updates (Core, Theme, and Plugins.)
Daily backups.
24/7 monitoring.
Content Delivery Network.
Security lockdown.
Complimentary hosting.
Free SSL.
And more.
Pricing of nuBranch WordPress Maintenance Services
Essential — $89/month for 1 Website edit, complimentary hosting, free SSL and more.
Business — $149/month for Essential services plus unlimited website edits.
Business Plus — $299/month for Business services plus CDN, Web Application Firewall and malware removal.
User Ratings for nuBranch
UpCity — 5/5 star ratings based on 21 customer reviews.
Google Reviews — 4.9/5 star ratings based on 29 customer reviews.
7. Illustrate Digital — Custom WordPress Maintenance Whenever You Need
---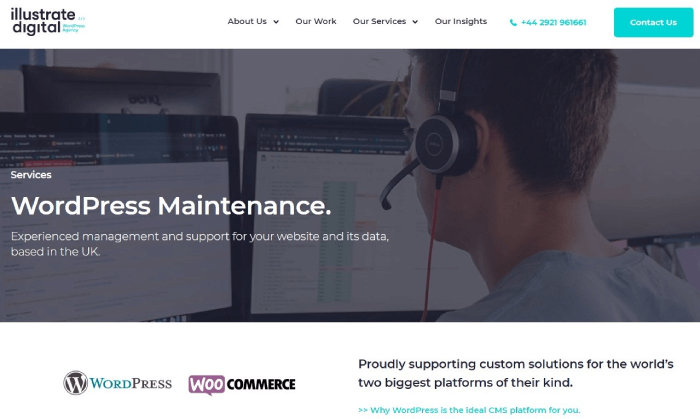 When you don't need pre-defined maintenance plans and want to discuss them before things take place, Illustrate Digital is your one-stop location to get that. It's a WordPress Agency based in the UK with multiple years of experience in web development. They provide complete solutions for your WordPress website plus WooCommerce, too. So, you can get numerous benefits from a single place—no need to hire/ subscribe to different maintenance service providers.
Services Illustrate Digital Provide for WordPress Maintenance
Backups using the secure cloud.
WordPress software updates.
Testing & bug fixing.
Security enhancements.
Speed upgrades.
Inefficient code clean up.
Website restoration.
And more.
User Ratings for Illustrate Digital
Clutch — 4.8/5 star ratings based on 3 customer reviews.
Google Reviews — 5/5 star ratings based on 15 customer reviews.
Ending Thoughts With Divi Extended Quality Services
---
The above WordPress maintenance service providers are excellent at doing their jobs and can efficiently resolve your small to big concerns. However, it would be hard to judge which one is better than the other. So, in that case, you can estimate all those quality factors based on when you should consider one of these.
For example, WP AOS is suitable when you need WordPress services in a dedicated area with customizations. On the other hand, Stylemix is good when you need extra services with customizations at affordable pricing. For maintenance services only, you can opt Web Heros, SkyroketWP and Solve. And if you need quality service, not on a package basis, you could choose Illustrate Design and nuBranch, who can help you with lots of categories.
In this way, you'd be able to find the right WordPress maintenance service provider. But that's not all, because here at Divi Extended, in addition to our premium Divi products, we too provide quality WordPress management services. Let's have a little discussion about them as well.
WordPress Services You Can Expect From Divi Extended
The following are the services you can expect from Divi Extended when you choose us to care for your WordPress website.
Website Update
Outdated Themes & Plugins are vulnerable to attack. We will update WordPress Core, Theme & Plugins & verify site integrity after all updates. To make sure everything's working great and your website's behaving smoothly.
Security Scan
Nobody likes getting hacked, but the risk of it happening is part of the reality of having a website online. We will check for irregularities on your site regularly & fix potential problems before a hijacked site gets you blocked or worse.
Website Backup
Regular backups are the cornerstone of proper WordPress website maintenance. If something goes wrong with your site, we got your back and will restore the latest backup of your website.
Website Traffic State
This tells you which content is popular among readers, how visitors are behaving and much more. We will provide you with a monthly analytics report. This information can help you to tweak our strategy and content efforts accordingly for even more success in the future.
Broken Link Check
By broken links, we mean links either on your site, coming to your site or pointing to another website whose destination no longer exists. This can be because a resource has moved, the URL has a typo, the permalink structure has changed or simply because a page doesn't exist anymore. On the other hand, unavailable links don't make for a pleasant user experience and are one of the fastest ways to increase your bounce rate, which will hurt your search engine standings. We will check those links to keep your site updated.
Load Time Check
Everyone wants a fast website. We will run Google PageSpeed Insights to check website load time and to provide a better user experience.
If you're interested in the above services and want us to take care of your website, let us know through our contact us page. We'd be more than happy to assist you.