Using a theme for events, you can manage and sell tickets on the website. Utilizing various layouts such as Calendar, Pricing and Events, you can profoundly present the information about an event. For an event manager, it's a dream come true. Why? Because they don't have to be involved in the process that they typically do while selling tickets offline.
Therefore, a fantastic Divi theme for events has been built by our designers and developers. It's the Events Calendar Child Theme for Divi that combines all the efficiency and functionality that an event's website would need.
You get solid features and components using which you can build a stunning event website with ease. Keeping all these in mind, let's begin our discussion on the new Divi theme for events.
Why Do You Need an Events Theme?
---
One of the most effective marketing tools for businesses nowadays is a website. It serves as the hub for all your social media accounts.
You can use it for advertising products or services, connecting with potential customers, and displaying your work.
The same is true with an events website, and by using a theme, you could boost its efficiency. How? Well, first, it styles how your website looks, which lefts a lasting impression on the users. Second, you can use it to inform, amuse, and persuade people to register for your events.
And third, there's a huge possibility that people would buy tickets from the site. Based on the Statista forecast, the number of online users for Event Tickets worldwide from 2017 to 2024 is approx. 819.6 million. It simply means having an events website does have potential.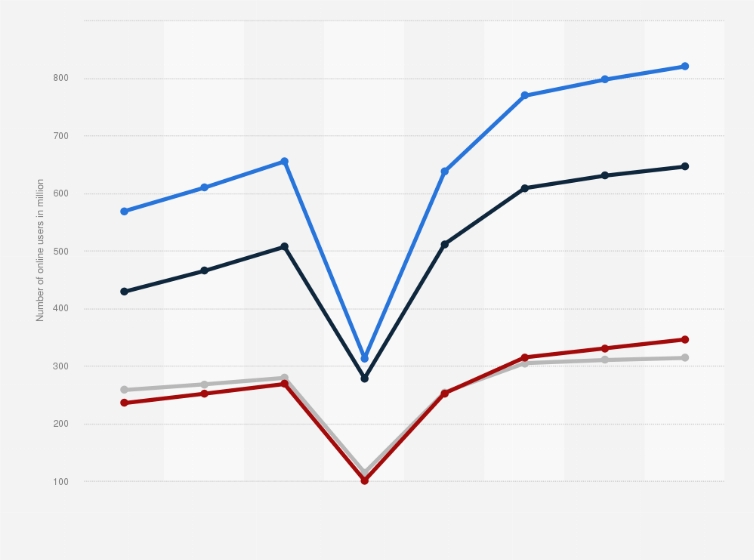 Apart from these, there are loads of benefits that make it crucial to use an events theme for your website.
Benefits of an Events Theme
By picking a good theme for the event's website, you do modify the looks. However, it also lets you produce materials that efficiently target the audience to convince them to sign up for the event.
You can utilize it for to,
Post blogs and stories about the program, speakers and benefits of the events to create buzz and raise awareness.
Upload merchandise products and sell them.
Subscribe users before the event's launch.
Bring sponsors and new collaborators.
With all these benefits, your business or event would see a significant positive change that you've wished for a long time.
What's the Events Calendar Child Theme for Divi?
---
Events Calendar Child Theme for Divi is a new child theme for Divi users to build an events website. Divi being its core, it has custom styling powered with Events Calendar and WooCommerce plugin. Now, you don't have to use any other Divi calendar plugin on your Divi events website. This theme offers all the essential options to run an events website.
Whether you need an events calendar, a store for merchandise and even layouts for events' pricing, you'd get everything with this theme.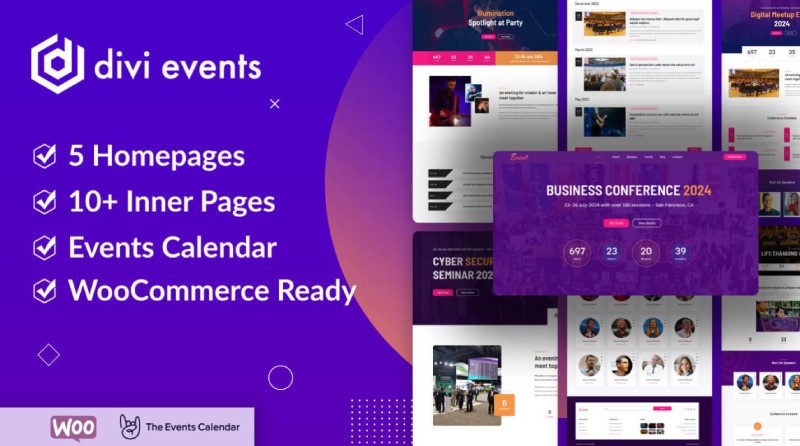 Events Calendar Child Theme for Divi is an excellent best theme for events if you want to use your website for events. The features you get with this theme are effective for any occasion, whether a business event, school event, community event, etc.
We'll look at all the features and options it provides you later in this post.
A Brief Look at The Events Calendar Plugin
---
The Events Calendar for WordPress is the #1 plugin to display events calendars on a website. It supports both virtual and in-person events, so you can utilize it however you need. With the simplicity of the classic editor, it allows you to display events calendar, events card with brief and events page with complete details. You can even showcase a map of the event's location.

And if you like to work on Gutenberg, then it also supports the block editor. You can use the Events Calendar Block to add events or events calendars on any page. This simply means using this plugin to create responsive calendars for events is accessible regardless of your editor type.
In addition, it allows you to sell event tickets without using any extra tool or plugin. Plus, the events widget, custom events taxonomies, Google Calendar or iCal export, etc., makes Events Calendar the all-in-one event calendar plugin you need for your Divi events website.
Since its launch, it has been downloaded 40 Million times with 800,000+ active installations. Now, that's all because it has something amazing to offer, right?
The Events Calendar + Divi Theme + WooCommerce: Events Calendar Child Theme for Divi
---
Divi theme gives you the best looks for a WordPress site. Using The Events Calendar plugin, you'd be able to show the events calendar. And with WooCommerce, it would be easier to run an eCommerce store.
Therefore, we've combined all three and brought you our new Events Calendar Child Theme for Divi. It's a powerful solution for Divi theme users to build events websites quickly and efficiently.
It gives you the best design for an events website, and to display the Divi events calendar while managing a robust store to sell tickets, merch products and more.
Using this, you won't have to use any 3rd party Divi calendar plugin. Whatever you'll need to display or add events on your website, this theme has got you covered. When you do not install another plugin for Divi to show events, your website will be lightweight. It would allow the website to perform at its best without compromising the design.
And not only that, you've got more with the theme when you choose to get it.
What You Get With Events Calendar Child Theme
---
In addition to the capability to display Divi events and run an eCommerce store for events, this is what you get with this theme,
Extra Homepages
Events Calendar Child Theme for Divi includes extra pages for your convenience. If you want to build event websites to target different domains, these homepages will set you right. The homepages you get are,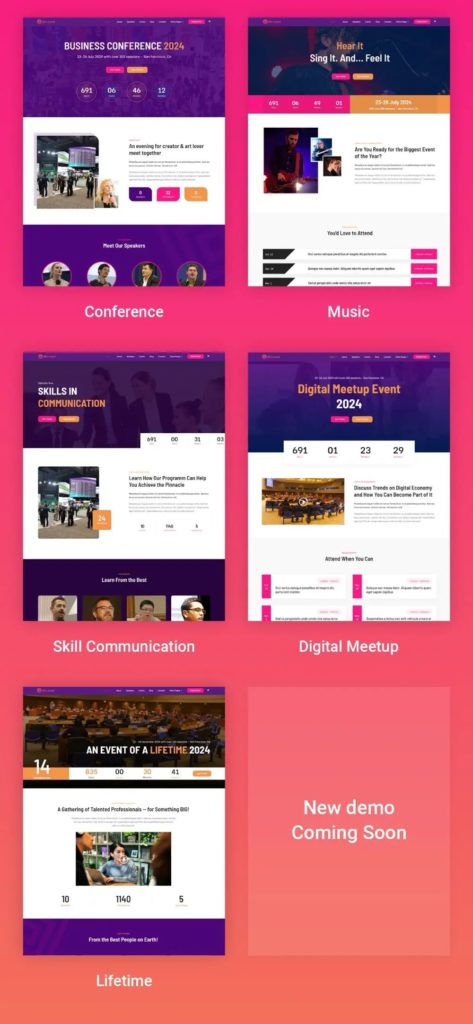 Mega Exhibition
Music Concert
Corporate Meeting
Virtual Gathering
Annual Conference
Each homepage includes all the essential elements to complete them to represent an event website. You can find the events calendar, countdown timer, pricing and more.
Pre-built Inner Pages
With pre-built inner pages loaded already, it gets easier to share other crucial details of the events. Moreover, you don't have to spend more time finding what to build and what to avoid. They also improve the website's capabilities to perform several actions.
For example, using the Blog archive, you can have all your posts listed in a beautiful manner. Likewise, the Events page showcases all the events in an engaging layout that allows searching for a particular event.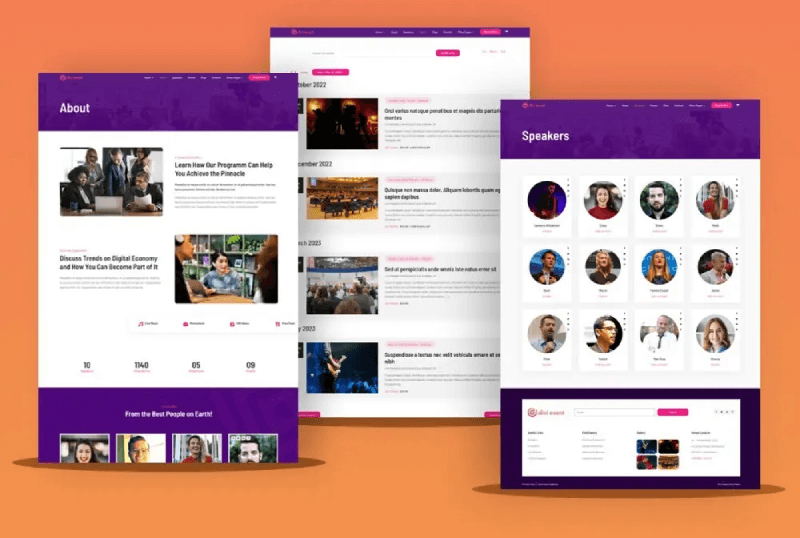 The total number of additional pages you get with this theme is 13, and this is what they combine,
About
Speakers
Events
Blog
Contact
Sponsors
Gallery
Single Speaker
My account
Products
Cart
Checkout
And Shop
5 Calendar Layouts
If you're going to use multiple event homepages, then it only makes more sense to go with different event calendar layouts. The Events Calendar Child Theme for Divi provides you with 5 unique and beautiful calendar layouts. Using these, you'll improve user-friendliness as well as the look of the site.
Each layout includes the event's name, date and time, and, this is how they appear.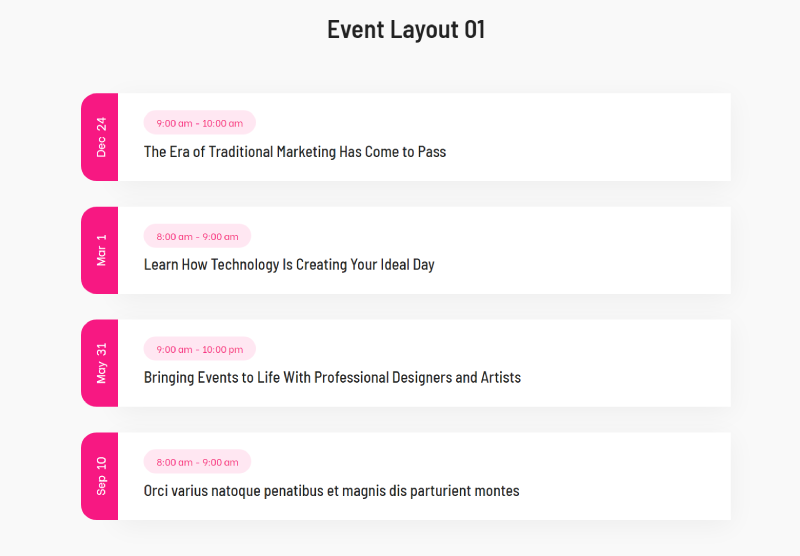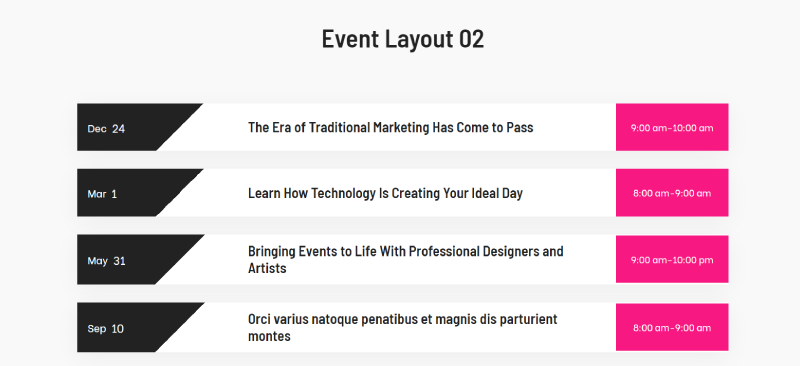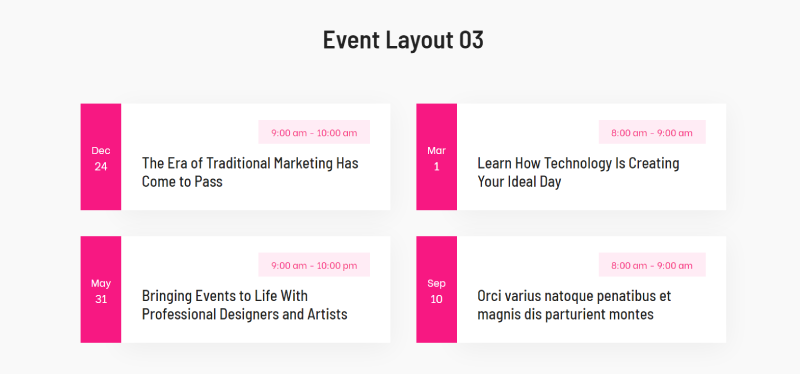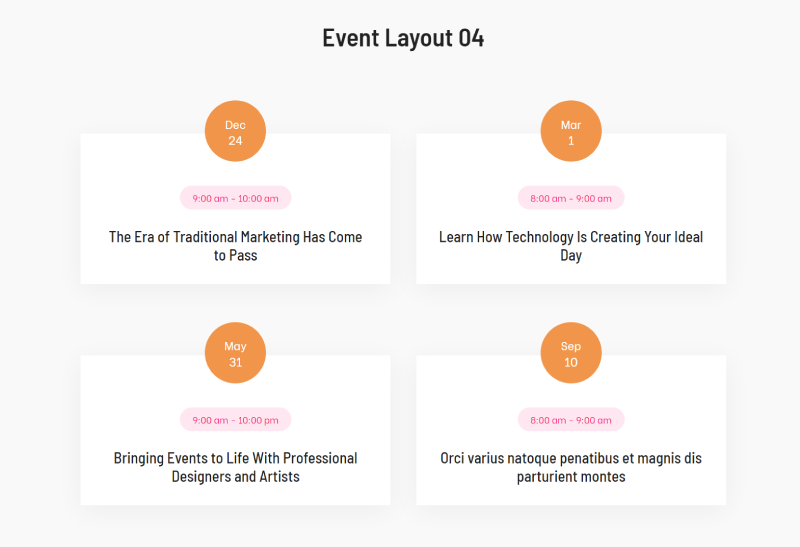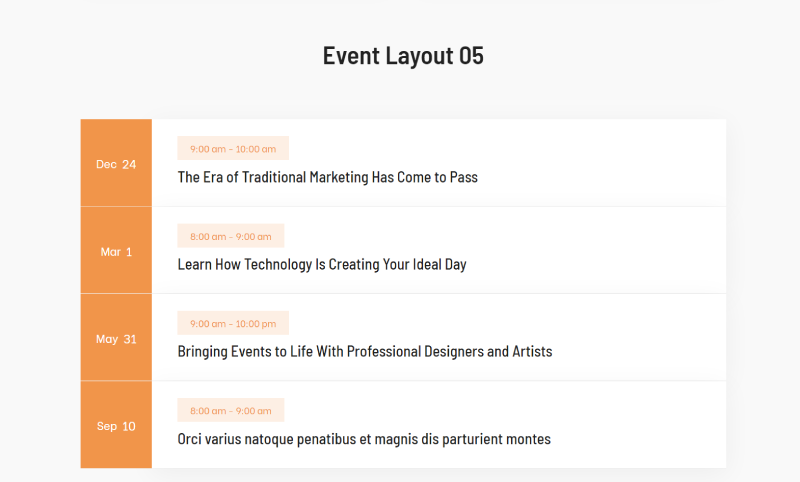 Pricing Layouts
Similarly to events calendar layouts, this Divi theme for events offers layouts for pricing tables as well.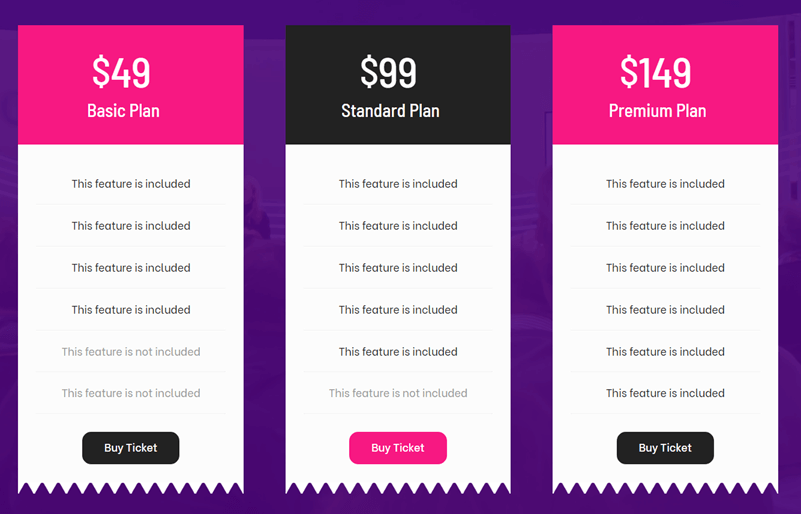 If you're going to create multiple events or different kinds of subscription types, then these will be of great use.
Essential Content Areas, Header and Footer
Homepages, inner pages, calendars and pricing layouts aren't going to complete the job of your Divi events website alone. You need additional elements that make it whole and functional. That's why the pages of this child theme include,
Countdown timers,
Speakers highlight,
Testimonials,
Sponsored gallery,
Post columns,
Plus, the well-designed header and footer layouts make exploring the site easy and fun.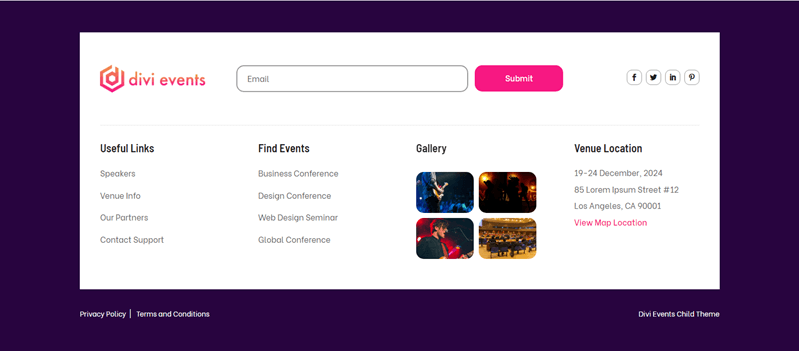 In the footer, you can have the subscriber's form, social media links, events, gallery, venue location, etc. In the same way, the header keeps the essential menu links in place to allow users to navigate easily from page to page.
Import Quickly With One Click Option
---
Now, as you have seen how huge this Divi theme for events is, the one that would allow you to utilize everything it has to offer is the 1-click import option. Yes, you can import everything in a single click without spending too much time.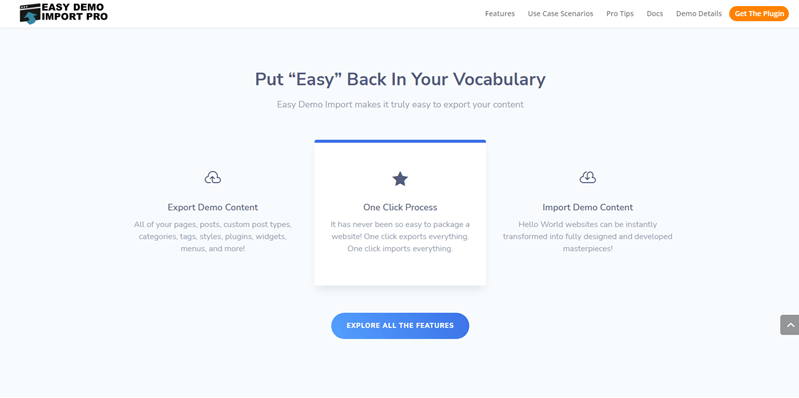 This would help you set up your Divi events website quickly and effectively without facing any technical issues. Plus, you can choose what you want to import and what's not when you run the 1-click import.
Thus, a mindful theme that ultimately cares about your requirements and nothing else.
Frequent Updates and Dedicated Support
---
Technology changes rapidly, so, therefore, to make your Divi events website compatible with every change, we release frequent updates. This would allow you to ensure the website's functionality as well as look updated per the market trends.
Moreover, to help you make the most of it, we also provide dedicated support. So, while using the theme, you can reach out to us without hesitation if you face any issues. And we'll try our best to resolve your query.
This would make using and taking benefits from this Divi theme for events to the fullest.
Where You Can Get the Theme
---
For users' convenience, the child theme is available at Divi Extended and Elegant Themes Marketplace. There's no difference in the product, regardless of where you get it. However, you can get it from Divi Extended at a one-time fee instead of paying every year.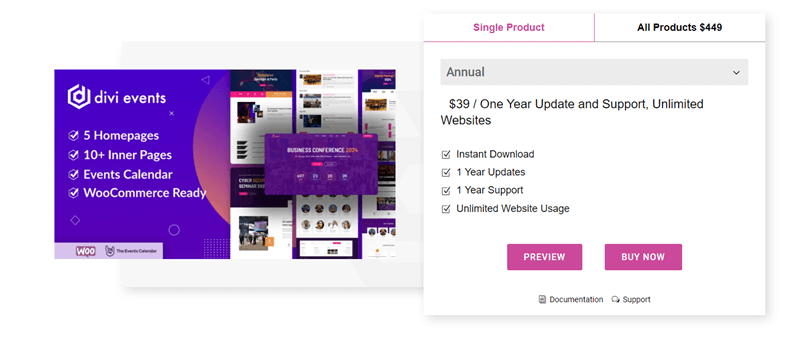 Meanwhile, Elegant Themes Marketplace offers you a 30-day Money-back Guarantee. Therefore, what suits you the best, you can go for it.
Summing Up On Events Calendar Child Theme for Divi
---
The Event Calendar Child Theme for Divi is made with comprehensiveness in mind. Plus, it works amazingly with the Events Calendar and WooCommerce plugins. This single Divi theme for events allows you to manage the events, sell tickets, merchandise and more with a fantastic design.
It comes with all the pages, layouts, and other helpful features you might need to quickly design a highly functional Divi events website, regardless of your experience.
Thus, if you're going to use Divi for an events website, it's highly recommended you don't miss this super amazing newly launched Events Calendar Child Theme for Divi.