With Divi Plus Starter Templates, Divi designers are already creating awesome landing pages for their personal and client's websites. And now, with Divi Plus Divi Child Themes, they can get the best out of the best.
The latest design addition to the Divi Plus plugin will allow you to easily create Divi websites with predesigned pages having Divi modules powered by Divi Plus plugin. There is no need for you to manually add Divi Plus modules to the page and customize them to get your desired layout. Child themes by Divi Plus will take care of everything without having you spending too much time.
If you're new to Divi designing and don't know what's Divi Plus, then let's find out that first.
What's Divi Plus & How It Can Help You Design Better Divi Websites?
---

Divi Plus is a premium multipurpose Divi plugin. It includes multiple modules and design options to help you build websites with enhanced functionality and performance compared to Divi's native modules and other options. Using this plugin and its modules and Divi design options, you can build simple websites to complex ones in no time.
It includes over 50+ Divi modules, 04 Extensions, around 40+ starter templates and 200+ pre-built Divi sections. That an advanced user or a beginner one can easily use to bring the best web design combination using the Divi theme. Each module and extension comes with many different options and features that you can customize and bring something new. More important, each module & extension has coded in a way that doesn't load many scripts when they are getting in use. So, there will be no bloating or affecting your web page load time. Plus, modules and extensions only call for the script when they are on the page.
Starter templates and pre-built Divi sections focus on different business niche and web design areas that come in day to day use. So, you can quickly and efficiently prepare the site, whether in times of high demand or not.
This is what Divi Plus was previously providing to its existing users. But now it has taken a new step to make Divi designing better and efficient. Now, along with these features and design options, you'll also get Divi Plus Divi Child Themes when you get Divi Plus.
What are they? Let's find out.
What Are Divi Plus Child Themes?
---

Divi Plus child themes are Divi child themes made for different industries with modules of Divi Plus. Meaning, now you don't even have to manually add Divi Plus modules on a page to create a custom design out of them. Instead, you can use these Divi Plus child themes based on your business domain, and simply enable the associated modules.
And voila, your website is ready to go live from a one-page website to multiple pages Divi Plus powered website — just don't forget to add your content. 😉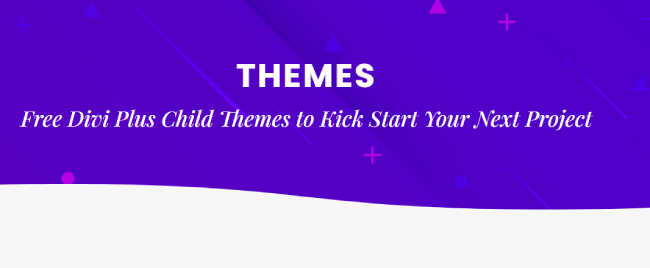 With these pre-built Divi Plus themes, you don't have to go for different-different Divi 3rd party plugins and child themes to bring together a single business website. Divi Plus has everything you need to create a business website or different business websites.
Let's Take a Look at Each Divi Plus Child Themes
---

Currently, Divi Plus has 5 child themes designed for different industries; let's have a quick look at each of them.
(1)

Divi Plus Agency Child Theme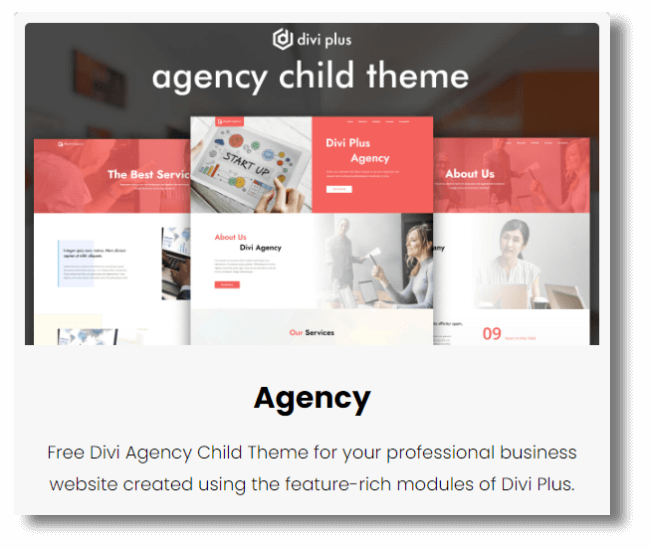 It's a 5 pages Divi child theme with other portfolio and services pages created using Divi Plus. Modules used to create those pages are advanced button, logo slider, testimonial grid and more on the home page. A spacious child theme with elegant room for fonts, images and different Divi design sections. The header is divided into two separate parts. One with logo and the other with menu items per the 50-50 hero space. Moreover, when scrolling the page, it gets sticky and becomes whole.
Each page starts with a vast hero space having text on it and an image in the background with a light color overlay. Plus, the About us page contains a beautiful wide section to add agency info after the inner page header. Furthermore, it also includes number counter and other content section to show the agency's history & mission.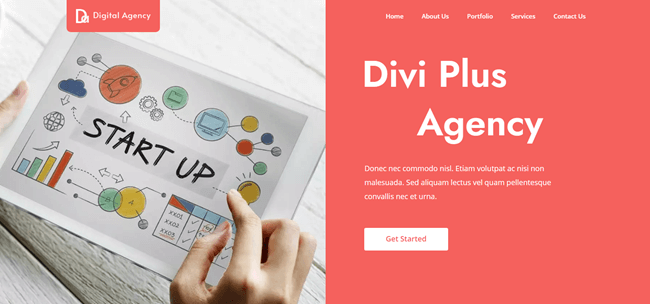 In addition to that, it also comes with a team slider module to display staff members. And the headings were created using the dual-colour heading option.
The Portfolio page showcases projects with a filterable bar, and the Services page allows you to display services in a zigzag manner with content & images. Contact us page includes a beautiful contact form with all the fields and other contact information such as email, contact number, address and social icons. Furthermore, the footer of the Divi Plus Agency child theme is vivid and nicely showcases all the elements. It consists of social icons, agency logo and more useful elements.
View Demo
(2)

Divi Plus Construction Child Theme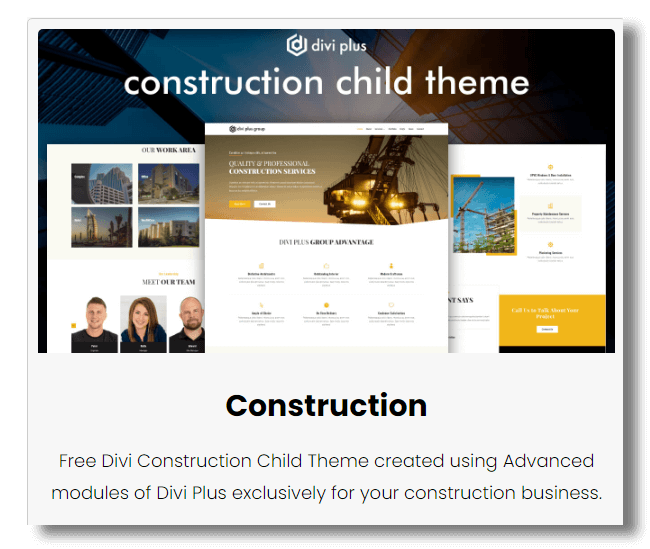 Divi Plus Construction child theme is a 7 primary page child theme with other services page created using Divi Plus modules. It includes a non-sticky header with all the menu items nicely placed. The Homepage starts with a wide hero space having dual CTAs. Then comes the features section with blurbs in multiple columns and color overlay. You can display different projects images, clients logo on a logo carousel with number counters.
Underneath that, add work areas with images and text having a slide and zoom out effects. Show staff members on a team slider.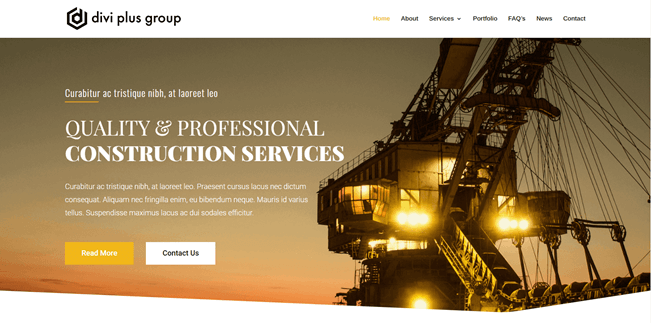 The About us page starts with a short page header, and the content section having fancy heading effects. It includes a team slider, a world map with hotspots, and a timeline to show how your company became a thing.
The primary Services page includes an image on the center with surroundings occupied by blurbs. Secondary services pages start just like the about us page; they have a short inner page header with breadcrumbs, a content section, blurbs with hover effect, round number counters and a team slider. And the Portfolio page includes a masonry gallery and images being opened in a lightbox.
Divi Plus Construction child theme also includes FAQ page, News page as blog area and a contact page. Moreover, the footer consists of testimonial sliders, CTAs, logo and menu items.
View Demo
(3) Divi Plus Photography Child Theme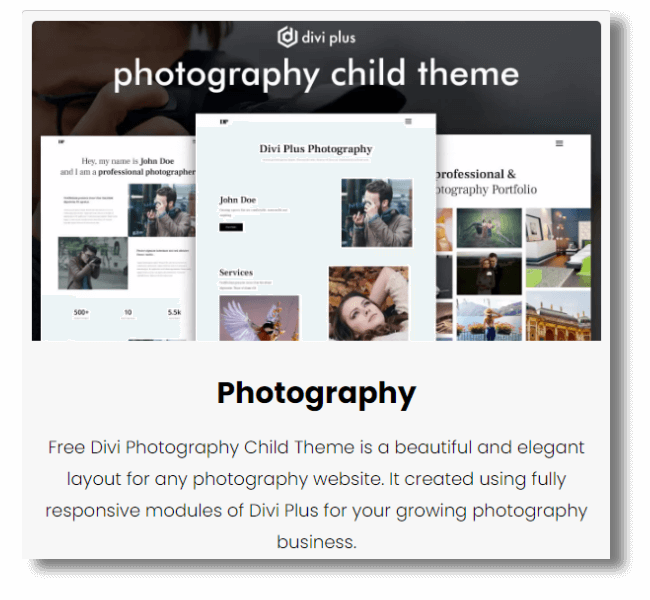 The Divi Plus Photography child theme is a 5 primary-page child theme with menu items appearing as a cover overlay when clicking the hamburger icon. The design is minimalist with all the essential elements. Content and images on the homepage slide upward when scrolling. It includes multiple CTAs and an image accordion at the bottom of the page to display different photography examples.
The About us page includes big headings, images and content areas with CTA and team slider. On the Portfolio page, you can display images in a Divi masonry gallery. Furthermore, the Services page uses a flip box to show different services. In addition to these, the Contact Us page includes an excellent contact form with a black and white combination with a background image in the section.
The footer menu is in the three-row and three-columns format with logo, contact info, social icon and copyright text.
View Demo
(4)
Divi Plus Restaurant Child Theme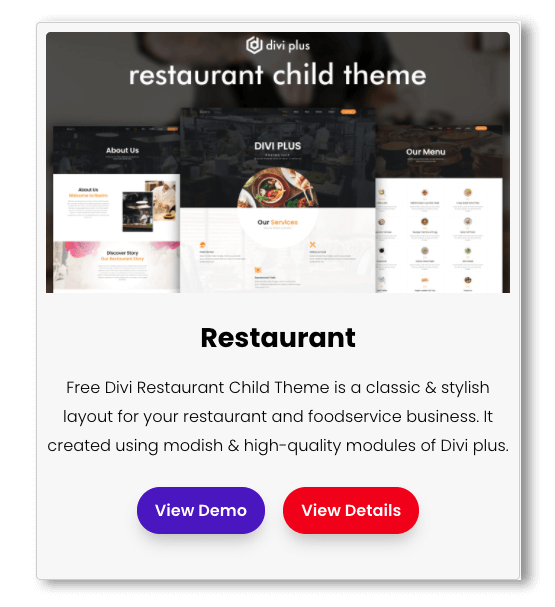 An exquisite Divi theme to set up your restaurant's online presence with Divi Plus modules quickly and effortlessly. Divi Plus Restaurant child theme is a ready-to-go 6 pages modern Divi theme with a beautiful sticky header and a CTA on it linking to the reservation page. It allows guests to book a table at your restaurant efficiently using the booking form containing fields to receive all the essential details of the guest like Name, No. of Guests, Time Slot and more.
More Details
The Homepage starts with a wide hero space giving extra clear room to showcase your brand and its beautiful ambience. After that, you can display your services using icon and content together. Then you could show your menus that are made using the Divi Plus Pricing module that allows you to display food thumbnail with title, price, ingredients and more. It also includes sections to display gallery images, team members (Chef, Cooks, and more) on a slider, business hours and guests testimonials created using the Testimonial Slider module.
The About Us page has a slick start with a wide inner page header that perfectly suit the transparent header. It includes different content sections to share your restaurant's story with beautiful images and number counters. The Menu page includes multiple menu items already placed nicely to help you get started quickly.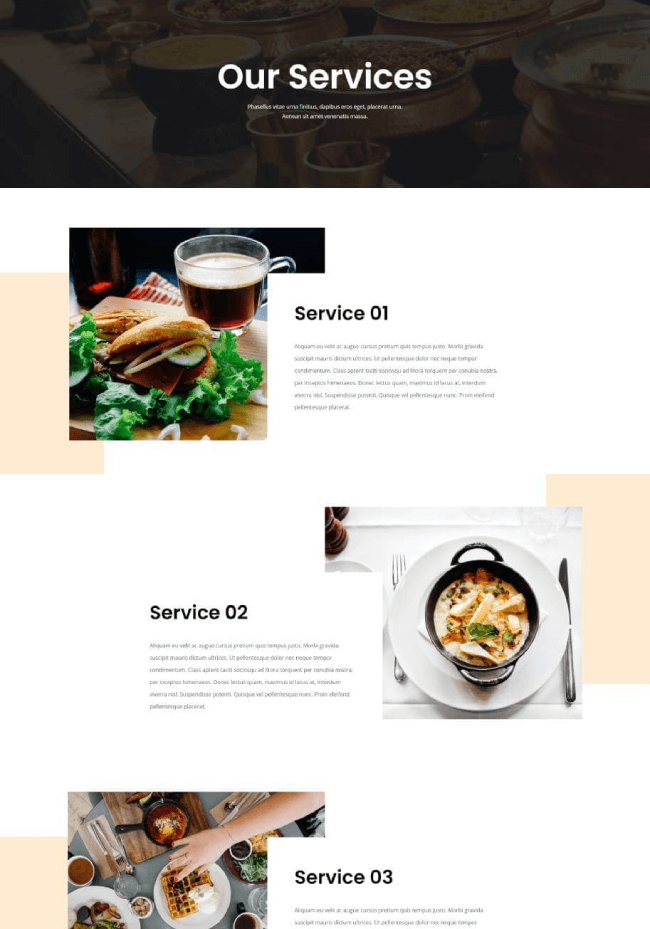 With the Services page, you can beautifully display all the services available at the restaurant with images, big fonts and content to explain them better. The Contact Us page includes a helpful contact form with essential fields, social icons and blocks to add more information about the restaurant like Phone number, address, email, and more.

In addition to these, the footer area is wide, just like the hero space providing adequate space to feature a subscribers form, menu times, copyright text and social icons to make the most out of your bottom area of the Divi restaurant website.
View Demo.
(5) Divi Plus Gaming Child Theme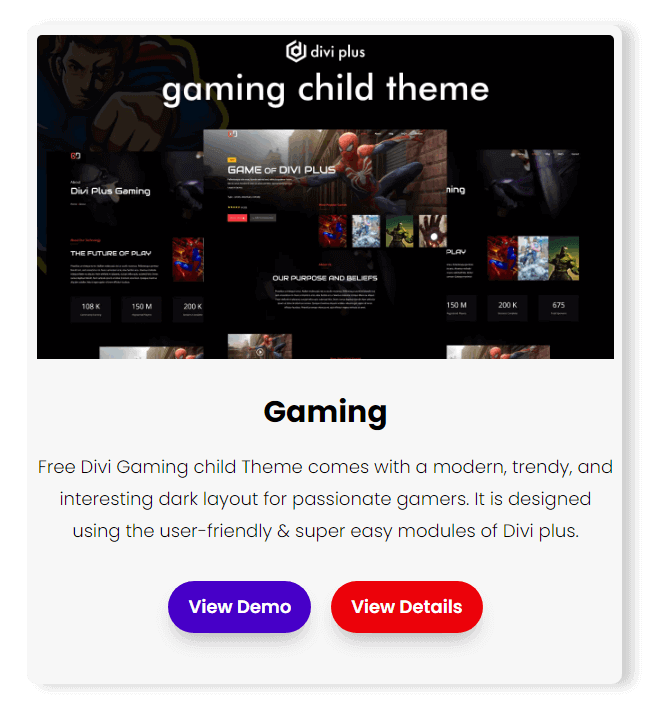 The era of today's time for sports has seen a drastic change. Today, playing games and having fun isn't merely limited to the real world. But it has grown its wings to the virtual world. Or I'd say more than the real world. And in this era of virtual gaming, if you run a business that provides game lovers their favorite virtual world. Then Divi Plus Gaming child theme is the perfect choice to create a gaming website with a dark user interface. 
More Details
The Divi Plus Gaming child theme allows you to do a lot with its 6 pre-built modern pages. Its Homepage features a wide hero space that fills the details about different new games available with dual CTAs and an image accordion. With that, it also includes different content sections to feature games and share the latest news about them with a blog section.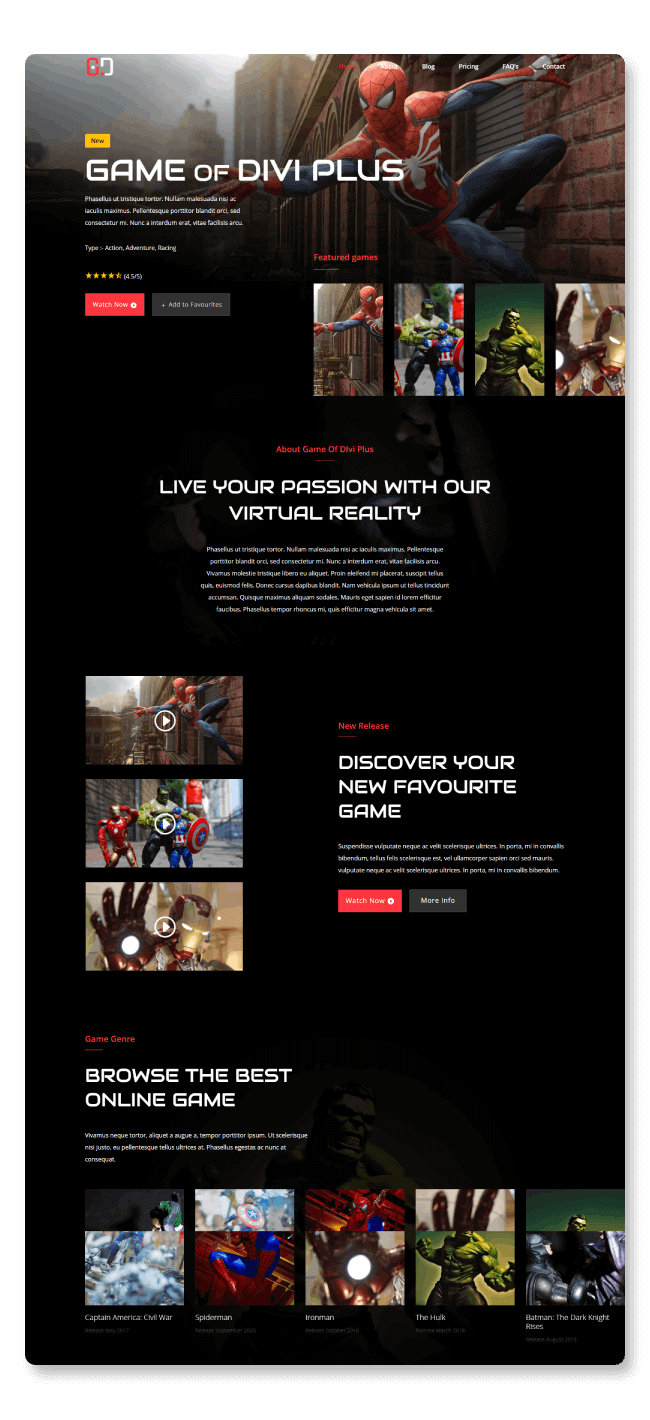 The About page starts with a custom inner page header with an image background and breadcrumbs on it. Then different content sections and image accordions follow it with number counters, video block, logo, and team slider created using Divi Plus Logo Slider and Team Slider module. The blog page has the same inner page start with blog posts spread across the page in 3 column grid formation displaying title and meta description.
The Pricing page available in this Divi child theme provides you with an interactive pricing table to support your vision of a subscription-based gaming website. It's created using Divi Content Toggle module that allows you to create different content sections with a Divi switch. In addition to these, the pricing page also includes price lists with various game's thumbnail and their details.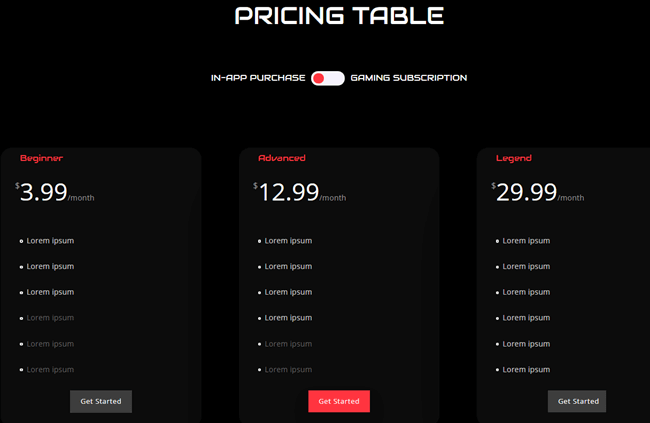 Once you create the website, people will likely reach out to you with different queries. Therefore, this Divi child theme also includes an FAQ page with faqs placed in a zigzag manner to provide users all the answers beforehand. Plus, a Contact page nicely designed with all the essential contact elements, and a contact form. Using these areas, you could easily help your customers and website visitors without any extra effort.

Last but not least, the header and footer layout allow the website visitor to navigate the site easily. Each element: links, menu items, and subscribers field is nicely placed, which doesn't create any design non-uniformity. The header is transparent, whereas the footer follows the child theme's dark UX footprint with a solid dark background.
View Demo.
Get Them Today & Design Outstanding Divi Websites 🎨
---

Bookmark this post and keep coming back to it. Because with time Divi Plus will include more and more highly functional and robust themes to its package. So, if you haven't got your copy of Divi Plus yet, then it's the best time to do it. As right now, it's available at $59 for a single site and $149 unlimited sites. You can also get it on Divi Marketplace at a price of $79/year.
Divi Plus is a complete solution to your Divi designing needs whether you want to build a huge site or a small one. It can help you do it quickly and very effectively. Get it now, and let us know how it helped you do magic in the online world.