Get ready to transform your website with our incredible Black Friday Super Sale 2023, which will go live on Nov 21st at 12PM UTC. Enjoy the biggest discount of the year on all our Divi products, including new and bestselling ones, as well as our membership plans.
And for a limited time, the first 100 customers will receive a free copy of our brand-new plugin! Plus, enter our free contest for a chance to win BIG!! 🙀
⏱ Hurry now, visit our Black Friday page and submit your entries. 👈🏻
FLAT 40% DISCOUNT SITEWIDE
---
A 40% discount sitewide on a Divi store like ours gives you the best possibilities to design better websites.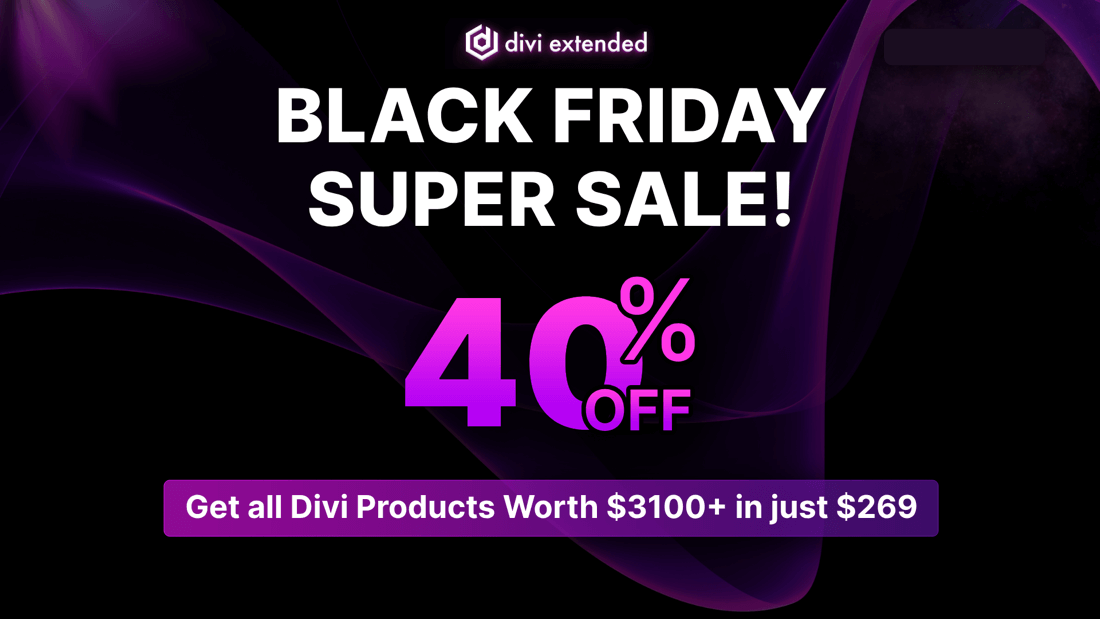 Every plugin, every child theme and every layout at a rate of flat 40% off. This is huge because, under this discount price, you can have your hands on one of the best and most used Divi plugins, themes and layouts available in the market and that too from #1 Divi authors.
This Black Friday sale week, you can also get annual and lifetime memberships at a 40% discount rate, giving you more room to make highly beneficial investments and build unique websites in no time.
This simply means you don't want to miss this year's Black Friday sale and the chance to get the Lifetime Membership at the lowest price possible.
THE BESTSELLING PRODUCTS ON SALE
---
Our Divi store is filled with one after the other bestselling Divi products you can use for your website. And this Black Friday, you can make them yours at whooping flat 40% OFF. Some of the Divi products you can have are,
Divi Plus

It's a multi-module, multi-purpose plugin for Divi that provides 55+ modules, 4 extensions, 70+ pre-built websites, 50+ starter templates and 250+ design sections. With this plugin, it's easy to design and modify websites of any kind.
This Black Friday sale, you can get Divi Plus starting from $35.
Divi WooCommerce Extended

If you're using Divi and WooCommerce to sell online, Divi WooCommerce Extended can be your go-to plugin to enhance the design and functionality of your website. With this plugin, you can showcase products on a slider, display a mini cart in the menu, and customize cart and checkout pages using the available templates.
This Black Friday sale, get Divi WooCommerce Extended starting from $59.
Divi Blog Extras

The all-time favorite plugin to improve Divi blog pages is Divi Blog Extras. With this plugin, you get a blog module that makes it easy to try and apply a total of 10+ layouts as well as display Ajax Load and Category filter with support for custom taxonomies.
This Black Friday sale, get Divi Blog Extras starting from $23.
BEST TIME TO GET OUR LIFETIME MEMBERSHIP
---
Why?
Because it gives you access to all of our
14 Divi Plugins
65 Divi Child Themes
And 2000+ Divi Layouts
For a one-time purchase of $269, you get products worth $3000+. This is one of the do n't-miss deals you can get this Black Friday for your Divi website. It won't come again, and as more products are introduced, the prices will go higher. Therefore, while you have the time, take this deal and transform your website into something amazing.
Furthermore, the Lifetime membership is more than products because with it, you can use our products on unlimited websites with unlimited support and updates for a lifetime.
Now, think. Is it worthwhile to get or not? Yes, it totally is because all the bestselling products will be there, and it's your best chance to get them for under $269 by saving almost $2800.
LAUNCHING NEW PRODUCTS
---
Without launching new products, Black Friday feels incomplete. New tools, new possibilities to design better and serve better. Keeping this in mind, we've decided to launch new and powerful plugins that make it easy for you to add sliding content on your website as well as different kinds of elements.
All In One Carousel for Divi

All In One Carousel for Divi is a new premium plugin from Divi Extended that allows displaying sliders on your website for different kinds of content types. With this plugin, you get 4 modules that let you display,
Blog Sliders.
Image Sliders.
Content Sliders.
And Card Sliders.
In addition to the display, you get more options that make these sliders engaging and interactive. For example, showcase slider arrows and pagination; apply sliding animations; use different layouts; use for categories, and customize every element with complete depth.
During this Black Friday, get All In One Carousel for Divi starting from $23.
Divi Layouts Extended

Divi Layouts Extended is the only Divi layouts cloud you'll ever need. It is the complete package for finding different kinds of Divi layouts and using them on your website without manual upload. It includes a dedicated layouts panel that lets you easily search, preview and download layouts directly inside your website.
The library is growing and currently includes 2000+ layouts for Divi that are customizable and of the latest trends.
Get Divi Layouts Extended starting from $47 during this Black Friday sale.
GIFTS FOR EARLY BIRDS
---
Who doesn't like to receive gifts? Well, nobody. Therefore, to make this Black Friday sale amazing for everyone, we are giving 100 copies of our new plugin All In One Carousel for Divi to the first 100 buyers. Yes, that same plugin we've just discussed above.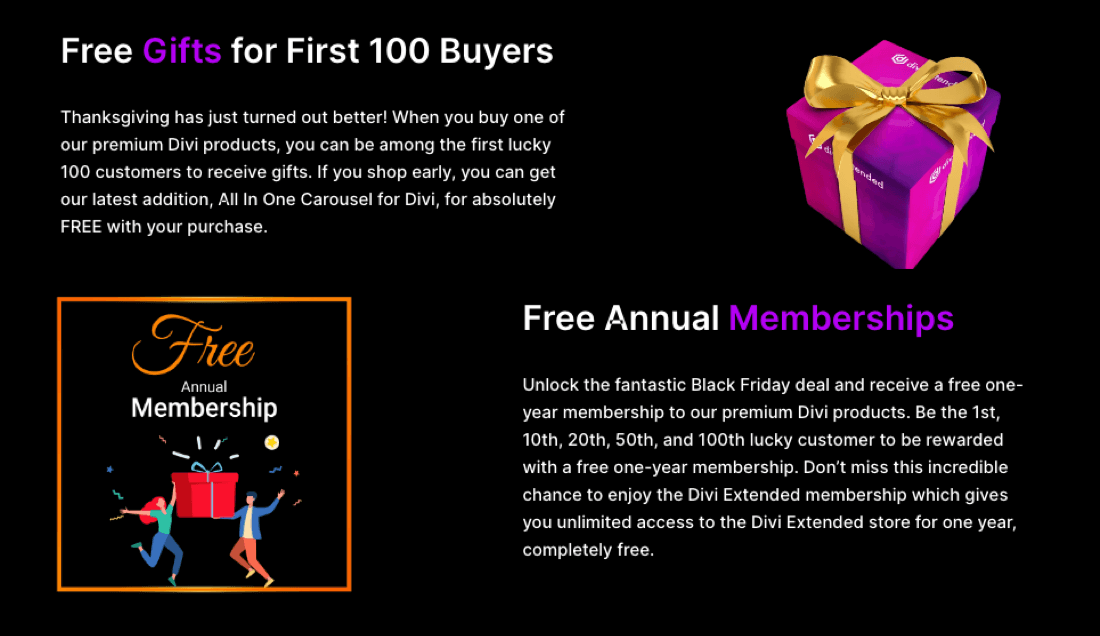 It's a cool tool to enhance interactivity on your website and with that user sessions.
But that's not all we've got in our giveaway. We are very loose when it comes to sending gifts to our users, and that's why if you become one of the 1st, 10th, 20th, 50th, or 100th customers, you can bag our Annual Membership for free.
The membership will give you access to all our plugins, themes, and layouts for a year. You can use them on an unlimited number of websites with one year of support and updates. This feels pretty great, right? Yes, it is because you can have our best-selling products, such as Divi Plus, Divi Layouts Extended, Divi WooCommerce Extended, and more, without paying anything extra.
Just shop the sale as early as you can.
PRIZE FOR CONTEST WINNER (NO PURCHASE REQUIRED)
---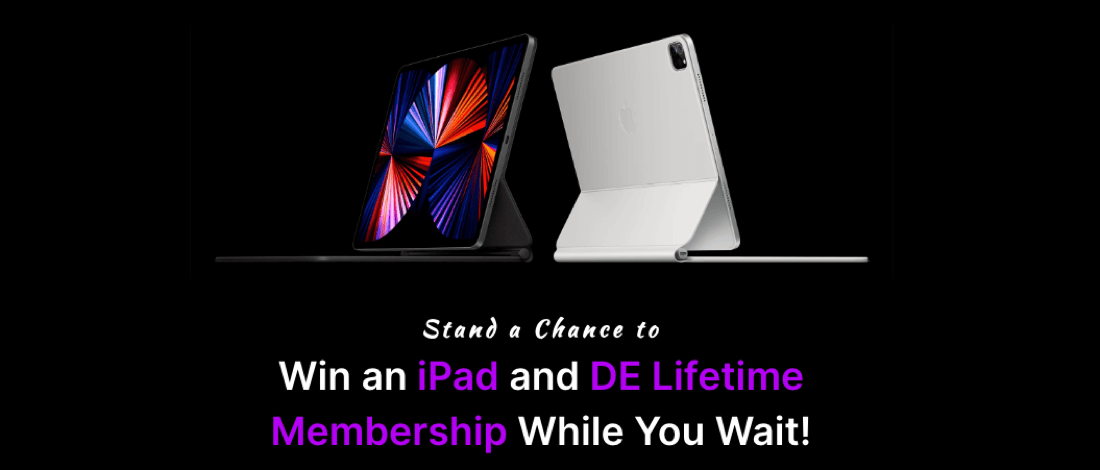 We are blushing 😀 because this Black Friday, one lucky customer or individual will receive an iPad or our Lifetime membership for free. Yes, we are saying it out loud because there's no fun without giving, especially on Black Friday.
This year, it's your chance to win an iPad… and for that, you don't have to purchase anything… all you need to do is participate in the contest.
Simply visit our Black Friday page and submit your entries, which are simple and easy to carry out. Okay, let's give you a hack to win this year's contest. The more entries you submit, the more chances you have to win.
Go now and participate in the contest right away. It will only last until November 21st. So don't wait any longer. If you haven't participated in the contest yet, there's still time.
THIS BLACK FRIDAY 2023 SALE TAKE YOUR WEBSITE TO NEXT LEVEL
---
40% sitewide discount, best selling products at the lowest prices, lifetime membership, gifts, new product launches, and a chance to win an iPad or our Lifetime membership, well this Black Friday couldn't get even better than this. And there's only a few days left.
Hurry now and add our sale to your calendar. When the sale goes live, we'll notify you at the right time so you can make the most of it before it ends.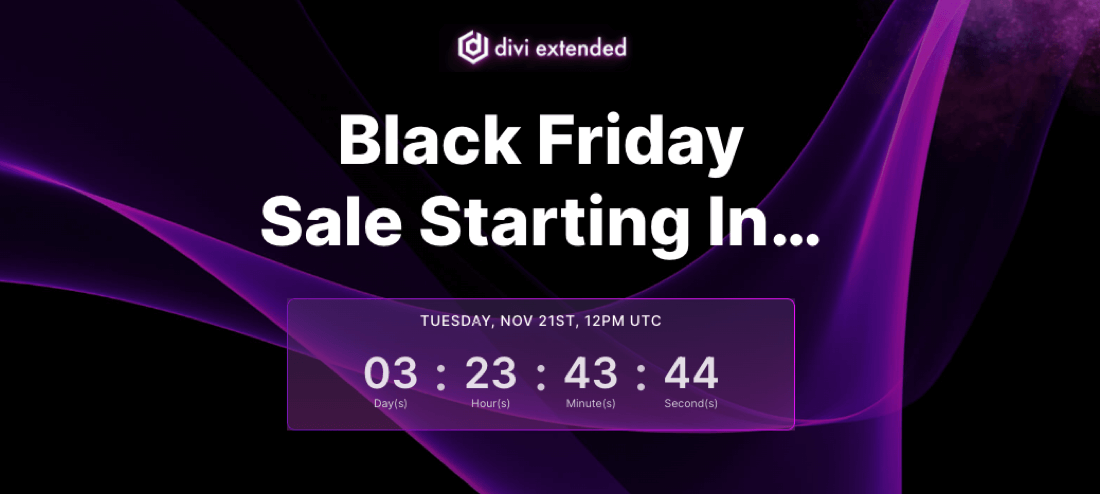 This Black Friday, it's your best chance to get all the powerful Divi plugins, themes, and layouts and make your website look and perform out of the box. Still here? Go and add the sale to your calendar or participate in the free contest to win the prize.