If you're a Divi theme user, you already know why it's the most popular WordPress theme. It offers robust solutions to build powerful websites in no time. And what makes this powerful theme even more functional is its spectacular limitless builder. Both open the way to build websites of any kind.
And to add wings to these powerful web designing tools and your creation, we have designed over 25 free Divi Plus child themes. These child themes are made out of highly functional modules of the Divi Plus plugin. It's a multipurpose Divi plugin that allows you to build any niche website with the highest satisfaction.
We've designed these child themes to lower your burden to complete any project in minimum time with utmost features and functionalities, keeping all the details in mind. When you get Divi Plus, you can have these child themes ready for you to design sensational websites across numerous domains.
Let's take a look at all the Divi Plus child themes you'd get for free with it.
All New 25+ Divi Plus Child Themes (Download for Free)
---
1.
Divi Plus Agency Child Theme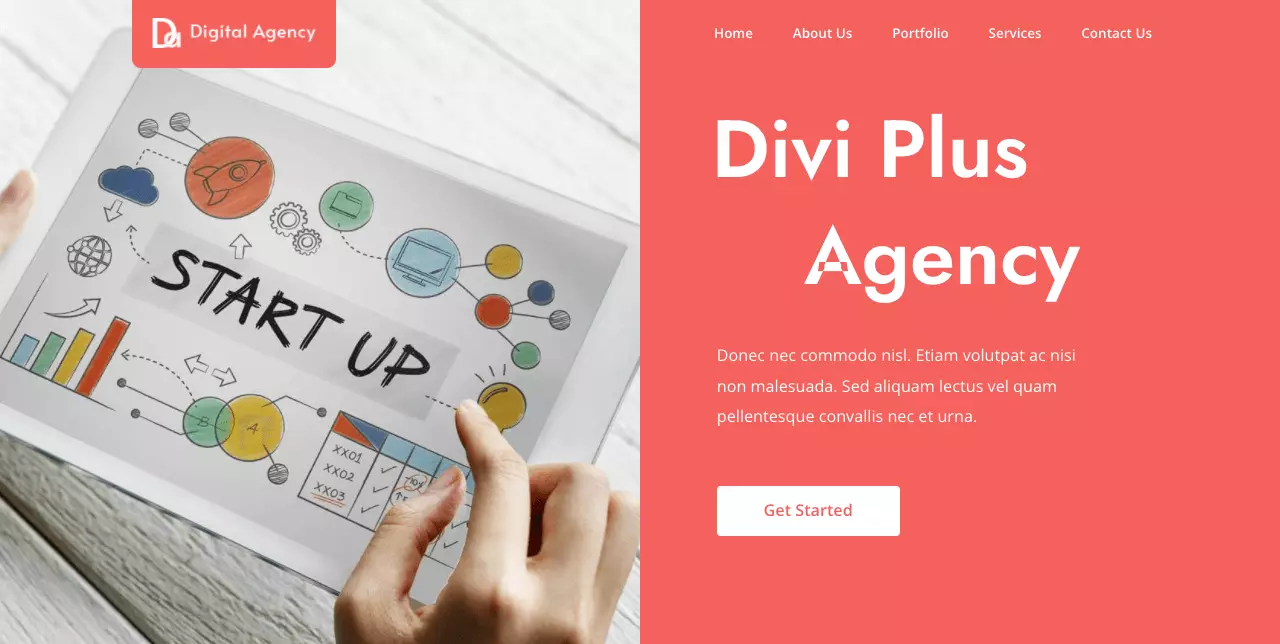 A modern agency's beginning starts with a modern & stylish website that infuses trust in the clients' minds. And if you're looking to do the same for your agency, you can ideally start with the Agency child theme from Divi Plus. It's a 5-page well organized free Divi child theme that could elegantly represent your organization. It starts amazingly with a vivid hero space containing optimized CTA with a distinct white color. The child theme includes areas to show your services, portfolio, partners and team on a slider, and testimonials. To boldly make an impression, you can prefer this child theme as your most decisive move.
2.
Divi Plus Architecture Child Theme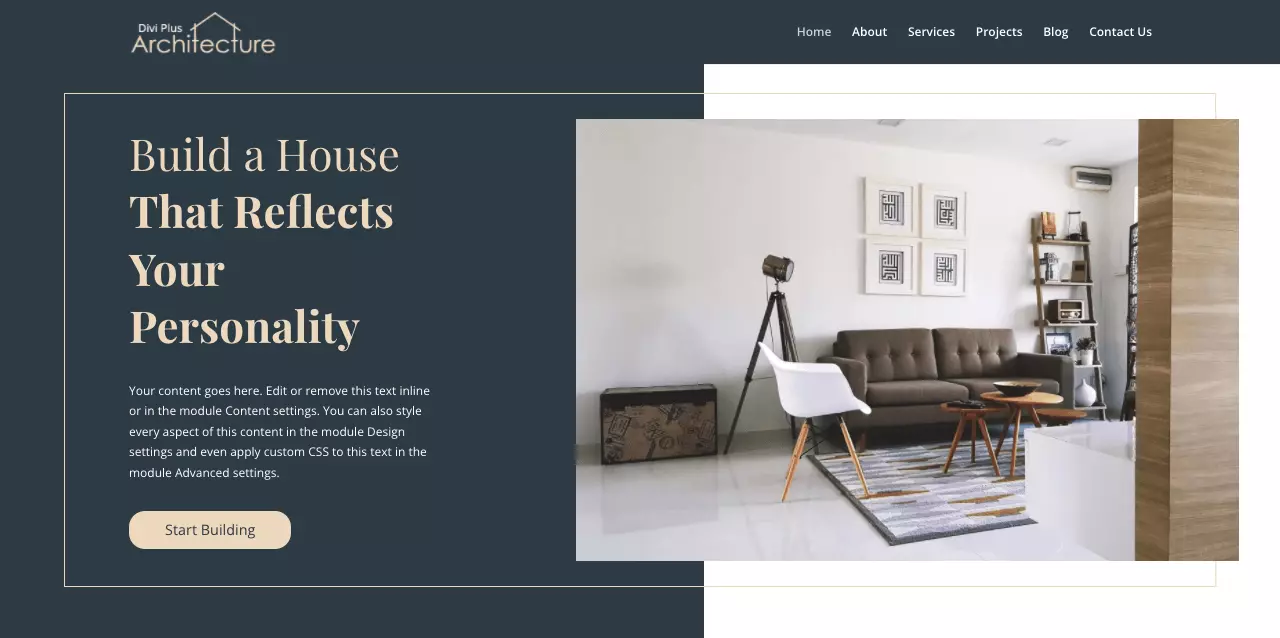 Whether starting as a professional architecture or already an established one, having a well-designed online presence helps a lot. It allows you to represent the real nature of being an architect. Therefore, we've built the Architecture Divi child theme to make the best out of your architecture website. Using this free Divi child theme, you can quickly set an architecture website of 5 pages with a clean and luxurious look. Share what you've done for the past customers and what you can do for them in the best possible way using the Projects & Services page. Moreover, showcase clients' testimonials on an elegant slider and even reach a wider audience with delicate blog posts.
3.
Divi Plus Bakery Child Theme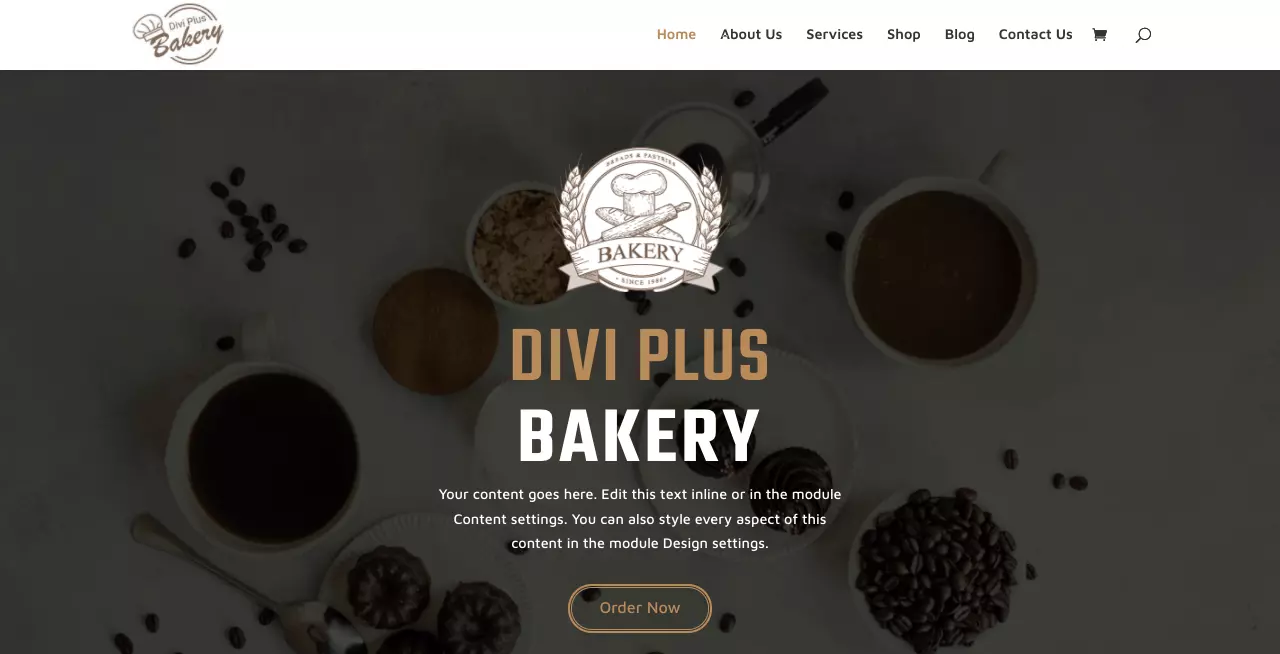 Good food, good life. And good website, good business. Therefore, bring your bakery business to the light with the newly created Divi Plus Bakery child theme. It allows you to set up an online presence and even take orders from that. With 6 different pages, it's combined with the WooCommerce power. So, while representing your brand using the About Us page, Services, and Blog, you can also motivate users to order and find out the taste behind your secret recipe.
4.
Divi Plus Construction Child Theme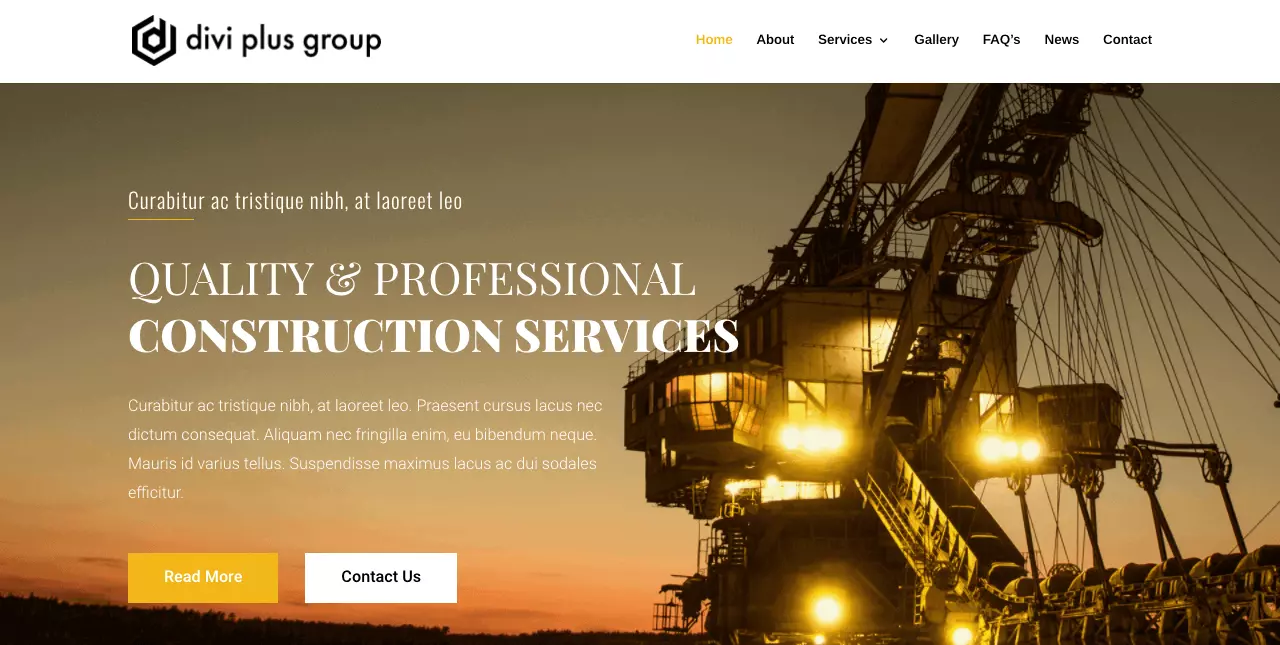 A 13-page child theme provides you with a lot of space to explain the enormous business of construction perfectly. Using the Construction child theme of Divi Plus, you can cover many crucial things about your business. Like what are the benefits of choosing your organization. What industries your organization has served. How many years of experience does your company have, and many more with different sections on the Homepage and others as well. For example, show portfolio, clients, testimonials, team members, and more. You can even use the multiple services page to add information about each service separately in detail.
5.
Divi Plus Dental Child Theme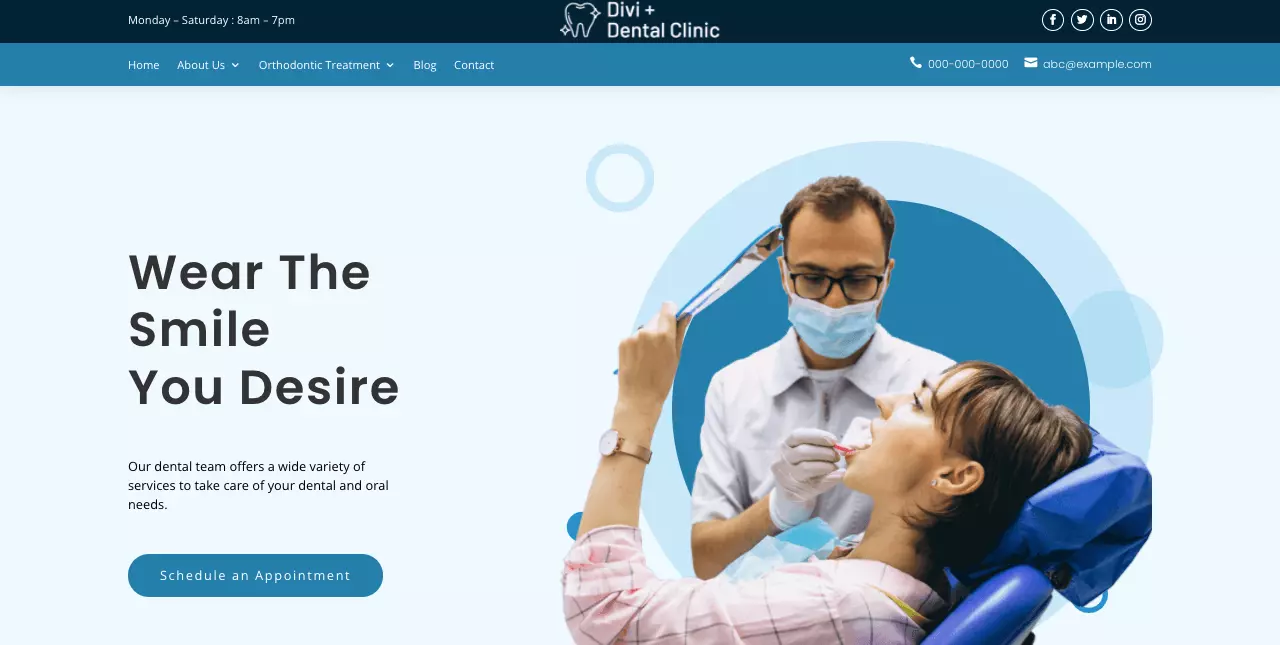 A perfect start gives you a perfect ending. And that's what you can do with the free 10-page Divi child theme for dentists from Divi Plus. It starts with a clean header that keeps all the menu items such as Working hours, Contact info, Social media icons, and the navigation links perfectly organized — including the logo, of course. Then, further, you get a wide hero space with optimized CTA. The child theme wears a very soothing color and places all the sections in the right place. So, you can quickly add your content without making huge changes to it. Whatever you want to do with your dental site, you can make that possible using this child theme. Whether it's showcasing services; asking users to fill up forms, or even publishing posts on oral health. The child theme allows you to do all of those useful activities.
6.
Divi Plus Digital Agency Child Theme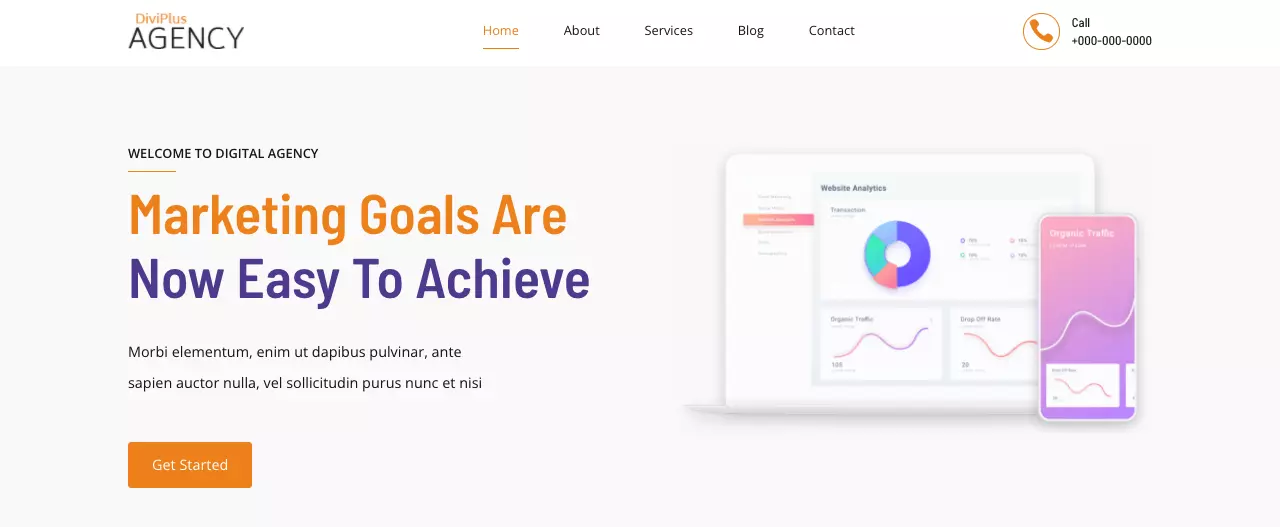 Another free Divi child theme available with Divi Plus is Digital Agency. It's a 5-page child theme that can help you impress your clients before you help them with their online marketing goals. If you're designing for one of your clients, then it could help them impress their clients. The Homepage allows you to share a glimpse of what your digital agency does and how. For instance, you could share the agency's vision in the About us section. Highlight project success rate through progress bars and show niche expertise through blog post links. Futhermore, the additional pages like Services make it possible to expound those glimpses even better with Blurbs, Number counters, and team members.
7.
Divi Plus ECommerce Child Theme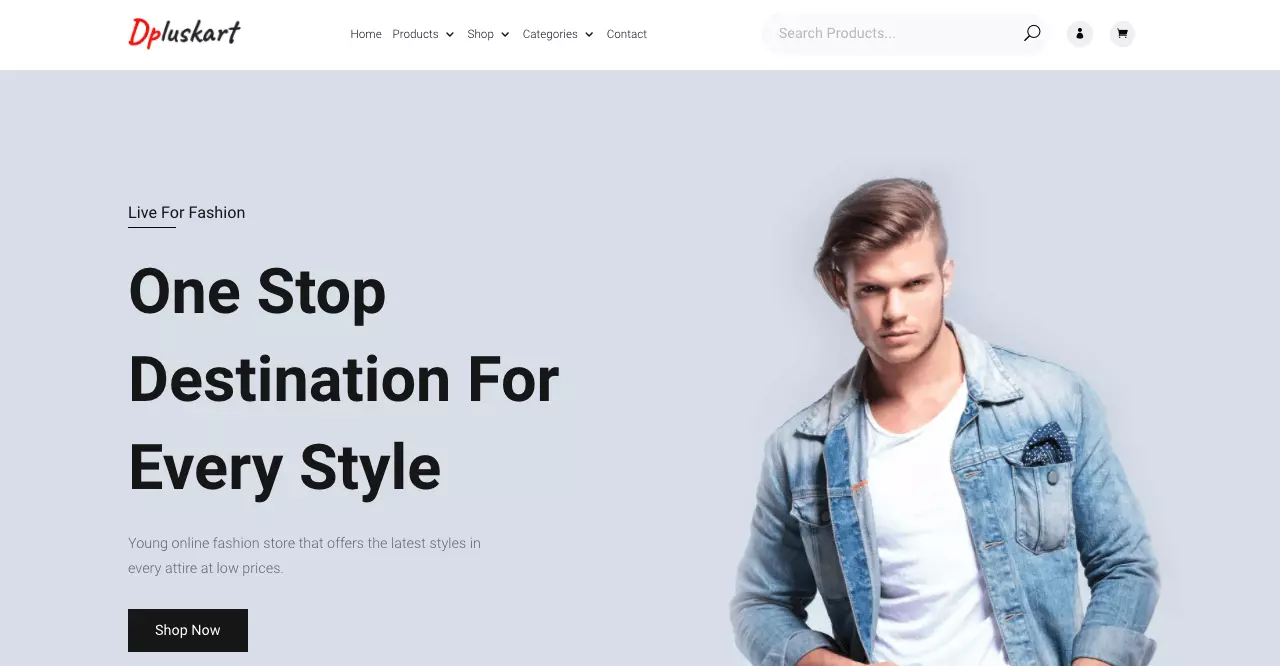 Do more with your eCommerce store using the Divi Plus eCommerce child theme. It's a 7-page Divi theme with multiple categories pages and layouts for Products and Shop. Using the products' layout, you can place store items in Masonry and Grid formation. At the same time, the shop layouts allow you to add a sidebar on the left & right sides. In addition, the Homepage makes the store more accessible and interactive with product sliders, sale banners, and trending products. The child theme also includes on-hover tilt images for special sale sections to improve the web store's functionality. So, you can utilize the functioning of your eCommerce store to the fullest. Even the theme includes a search bar at the top and other crucial elements at the bottom.
8.
Divi Plus Fitness Child Theme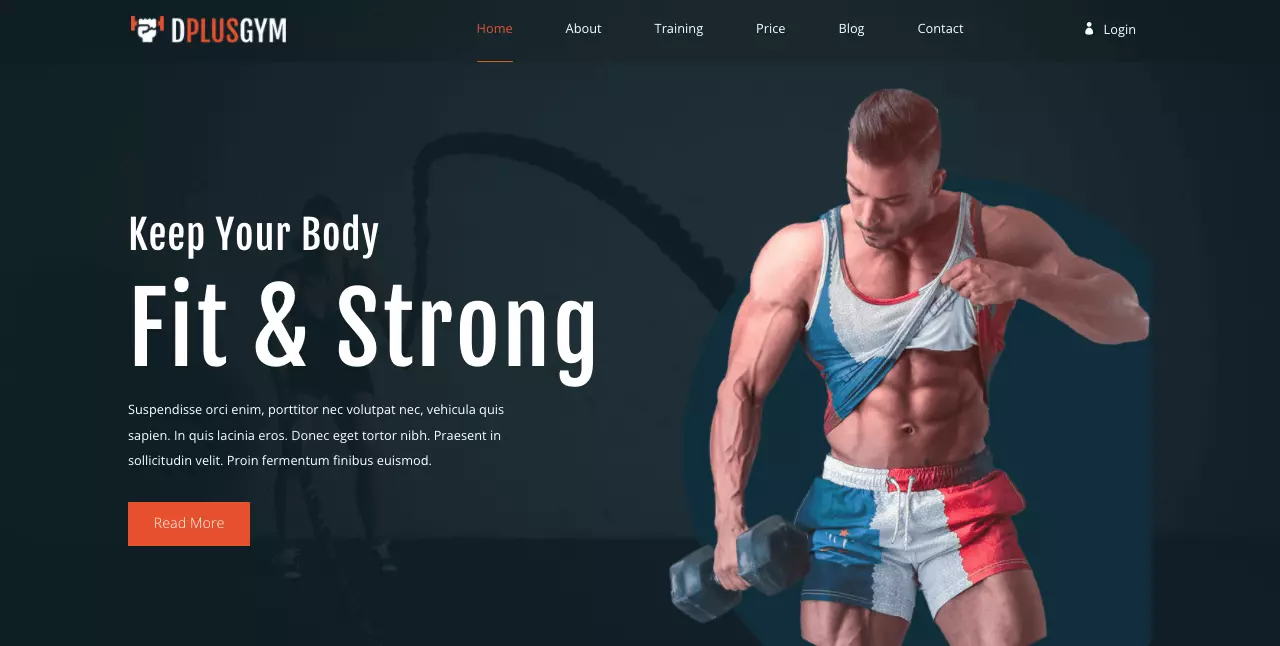 Quickly help your clients establish an online presence of their new or famous gym using the free Fitness child theme from Divi Plus. With all the ready-to-use design elements and sections on the pre-built 6-page layouts, you can effortlessly build a highly functional fitness website. It allows you to add workout sessions on interactive tilt images. Highlight certified trainers on a beautiful slider and even share gym schedules created using the vertical tabs module.
This free child theme for Divi not only allows you to establish an online presence but also helps you reach a wider fitness enthusiast using high readable and engaging blog posts. Moreover, let people know what you charge for the gym membership using pricing tables that are easy to understand.
9.
Divi Plus Freelancer Child Theme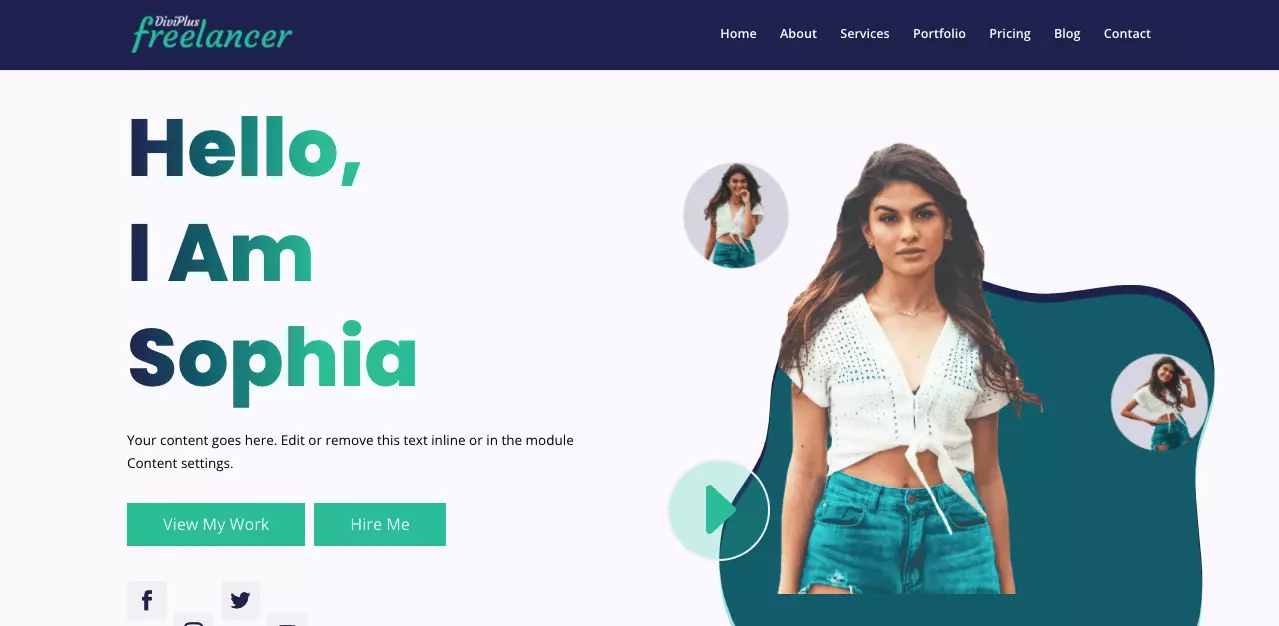 A clean and bold child theme for Divi to showcase your skills and experience to the talent recruitment perspectives in a much profound way. This free child theme provides the design elements based on the latest trends that help you leave an outstanding impression on the hiring manager for a longer-lasting period. It includes 7-page layouts, including a Homepage that starts with a wide and new-age looking herospace. It features dual CTAs, links to social profiles, and a video icon to add information about yourself or the client you're working for.
But that's not all; it features stylish-looking number counters to display achievements. Logo sliders to display for who you've worked. Highlight skills with animated progress bars; infuse trust with testimonials and intimate them with reasonable prices if you prefer to work on your pre-defined rate. This child theme is perfect for those freelancers who want to make an impact with their presence.
10.
Divi Plus Furniture Store Child Theme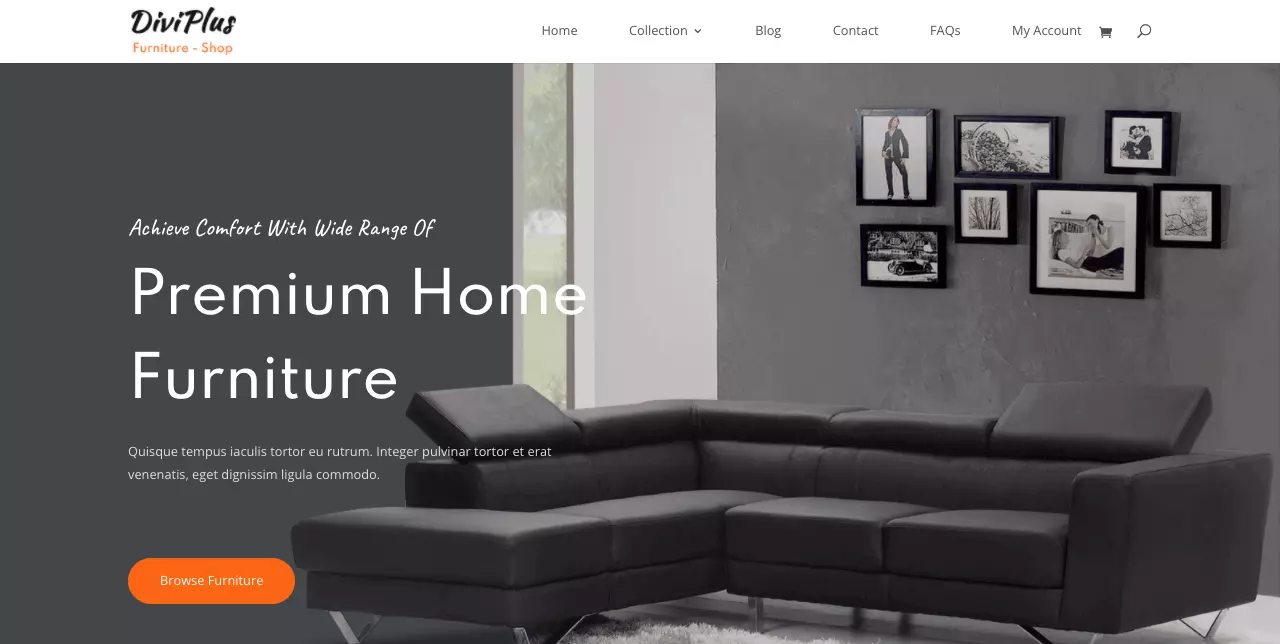 Whether a small furniture store or a big one, using the Furniture Store child theme from Divi Plus, you can build the exact web store you want it to be. It's a 6-page theme that enables you to create product collections using the Collection page. Share the latest news and tips about furniture or home decor using the blog page. Allow customers to reach out through the Contact page that includes a distraction-free contact form. Moreover, if you want to add FAQs, you can utilize the FAQ page and let users access their accounts using the My Account page. The homepage is designed to enhance the store's usability with CTA-enabled Blurbs, Product sliders, Featured products, and more.
11.
Divi Plus Gaming Child Theme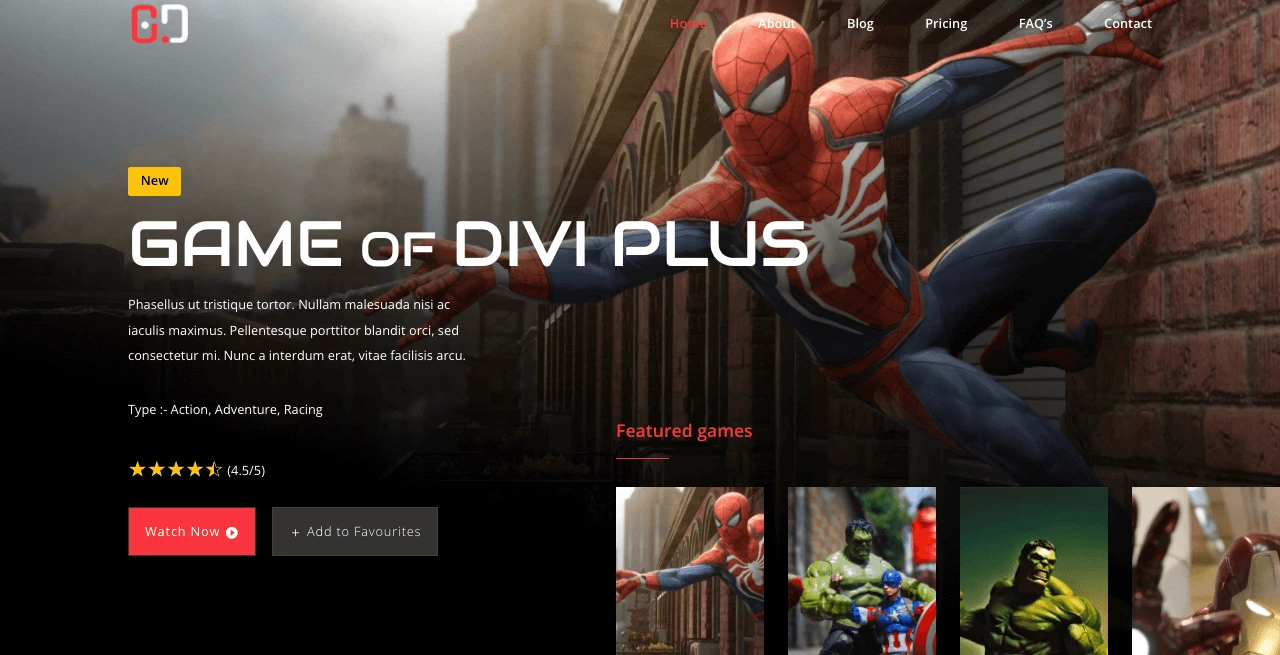 With a dark interface, create a cool gaming website that provides gamers with information about their favorite play. Using the free Divi Plus Gaming Child theme that includes 6 pre-built pages, you can build a gaming website that fits today's modern design ideas. Share the latest news about new games, add gameplay videos, offer premium gaming plans, and much more to make the most out of your online gaming platform.
12.
Divi Plus Home Buyers Child Theme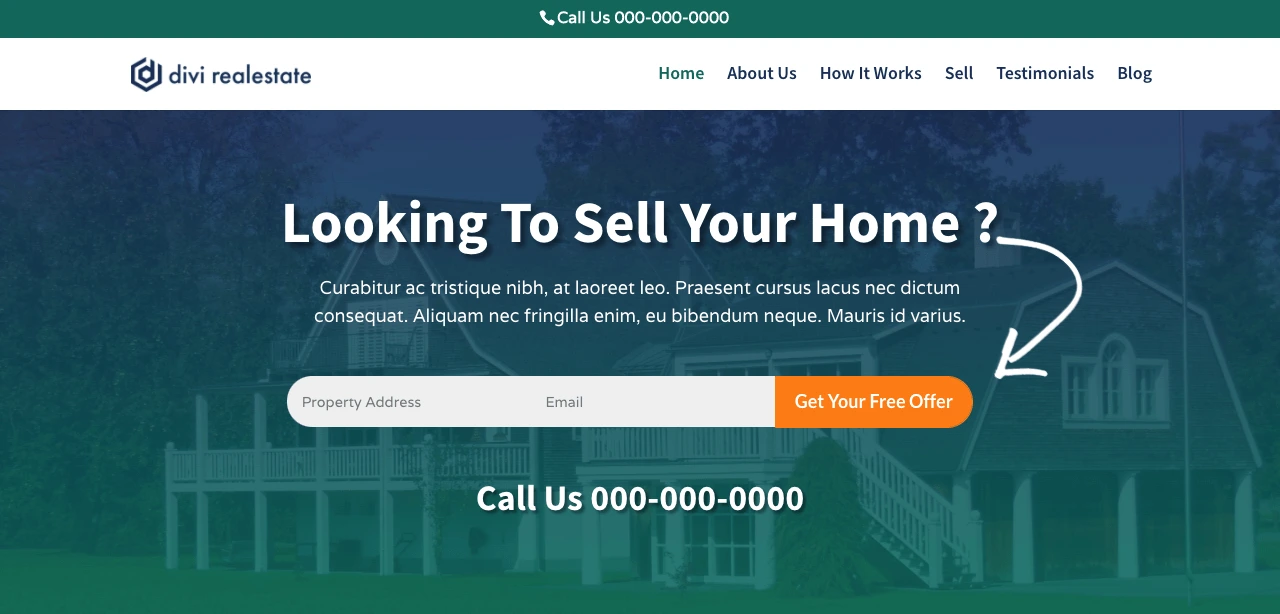 Home Buyers is a 6-page Divi child theme that provides a perfect start on the homepage with a CTA and lead generation form. Then, you get a logo slider; blurbs to explain your home buying and selling process. Furthermore, it includes sections to showcase features table and then vertical tabs containing different content elements. And not only this, but the homepage also features a customer testimonial slider and star ratings. In addition, the About us page contains highly readable content areas with images; blurbs for process, and Team members with On-hover detail revelation. The How It Works page allows you to describe the process of how residents can sell their property. It includes content areas with images followed by a video section.
Similarly, the Sell page allows you to showcase the perks of selling the house to your company in tables. And with the help of the Testimonial page, you can put all the customer reviews on a single with a star rating, author image, and comment.
13.
Divi Plus Law Firm Child Theme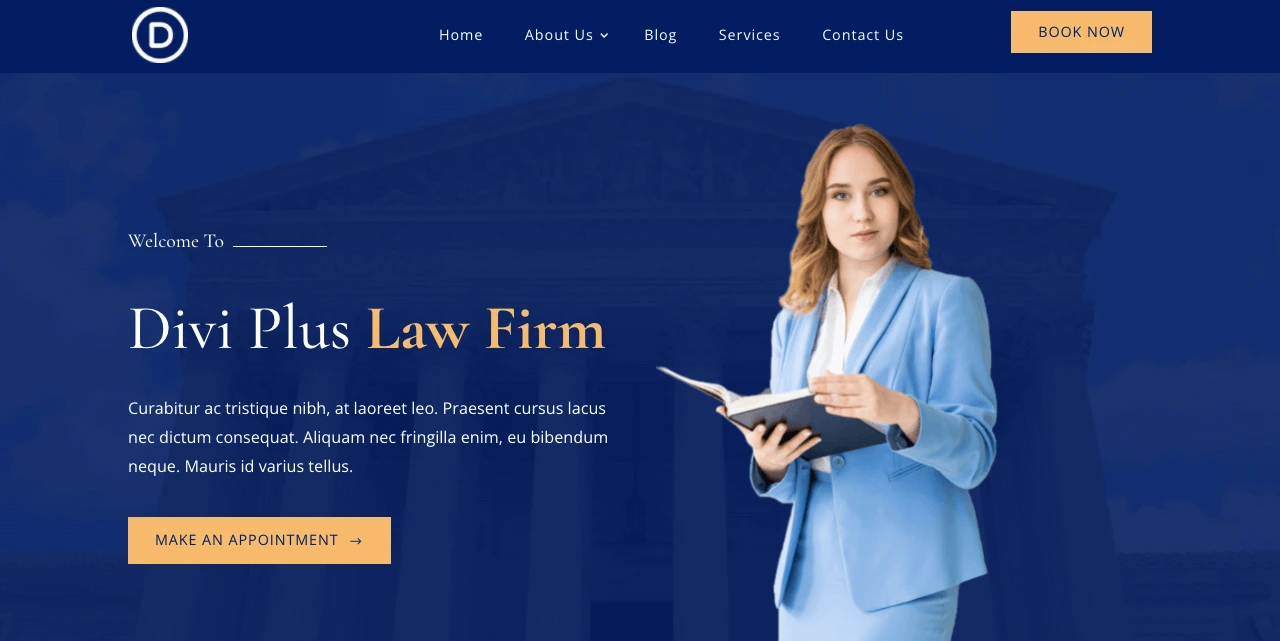 Create professional law firm websites that capture users' attention in the first moment using the Divi Plus Law Firm child theme. With 6 uniquely designed pages keeping the profession in mind, leave a longer-lasting impression that motivates clients to hire your team to handle their legal battles. Whether you want to create an online presence for law firms or individual lawyers; the theme perfectly represents the organization or an individual professional's idea with different content sections in a fully responsive design.
Moreover, you can utilize this free law firm child theme for other similar working domains as well. Like, financial services, recruitment services, consultancy services, or more.
14.
Divi Plus Lifecoach Child Theme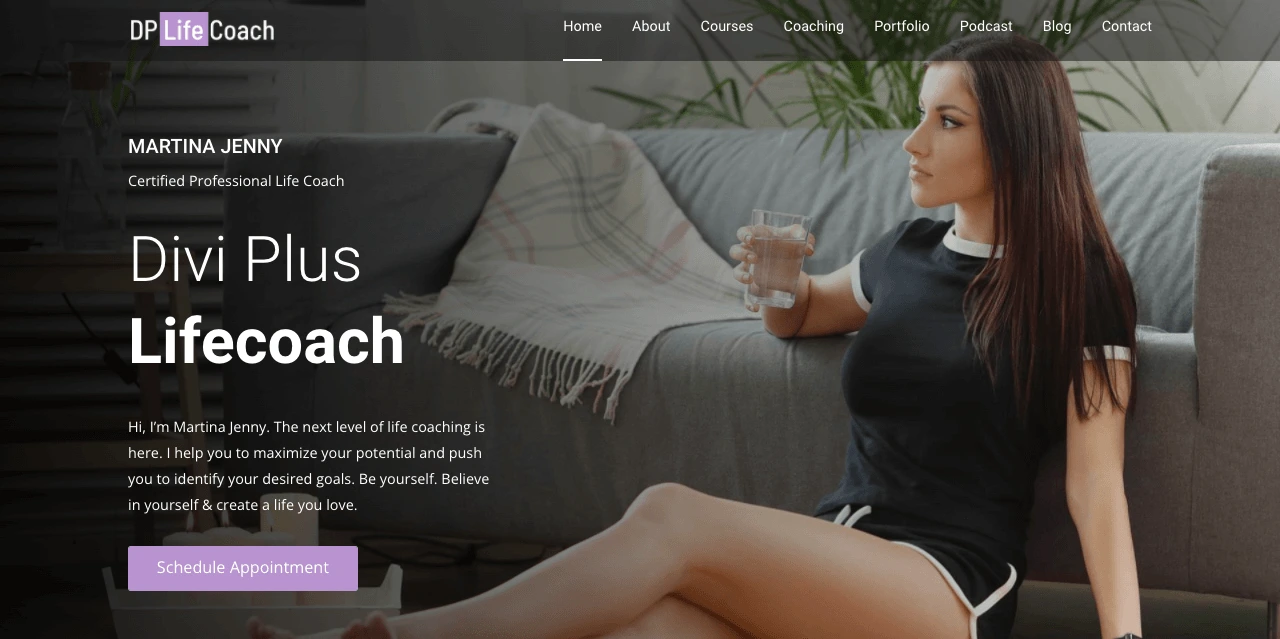 Build an outstanding lifecoach website for your clients who love to inspire people through their work. The LifeCoach child theme is a 8-page Divi Plus theme that provides you with pages to add services, posts, podcasts, and more to help people connect with the coach genuinely and do better with their lives. Whether you or your client want to inspire people with words or voice, this single child theme can help accomplish the goal easily.
15.
Divi Plus Medical Child Theme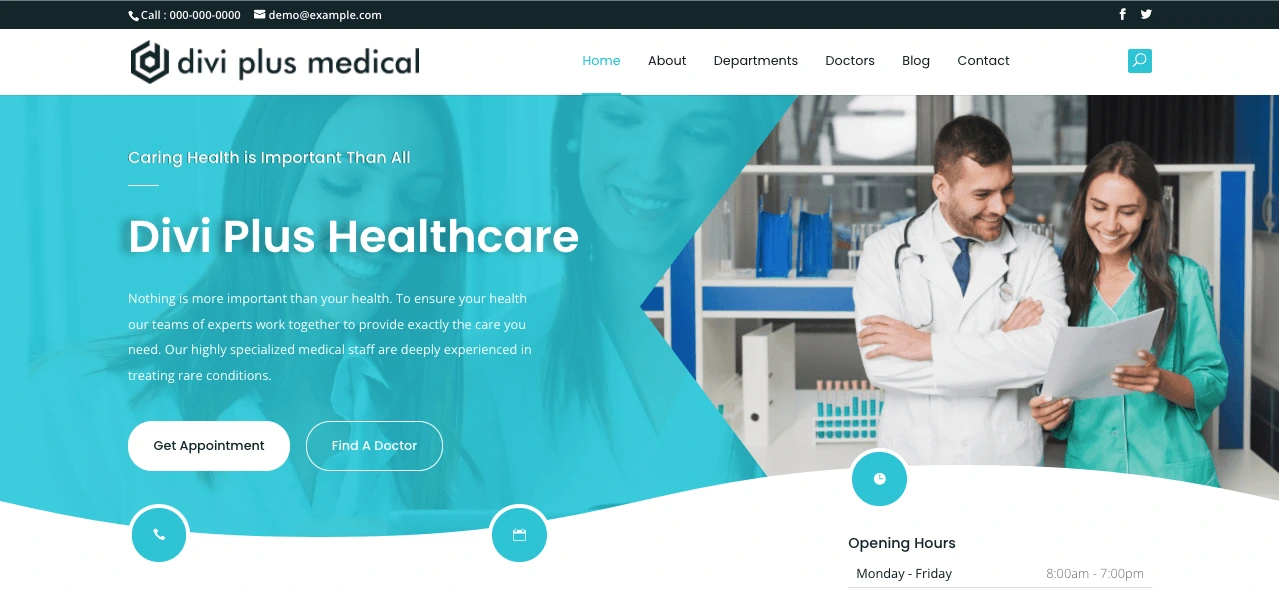 A 6-page Divi Medical child theme with many designs and content elements to create single to many departments healthcare websites. The pages included with this child theme are Home, About, Departments, Doctors, Blog, and Contact. Starting with the Homepage, you get a well-designed Herospace allowing you to add your organization's message with convincing dual marketing buttons. Further, it includes blurbs to show emergency contact numbers, doctor's schedules, and hospital working hours. Apart from these, the other elements it has are Number counters, blurbs for specialties, team sliders, testimonials, a highly functional booking form with multiple fields, and more.
The About us allows you to share the organization's vision more profoundly with number counters and several content sections. Using the Departments and Doctors page, list all the services your hospital provides with highly experienced physicians. Show each department and staff members' details clearly and allow patients to book an appointment directly from those pages using the contact form.
16.
Divi Plus Modern Shop Child Theme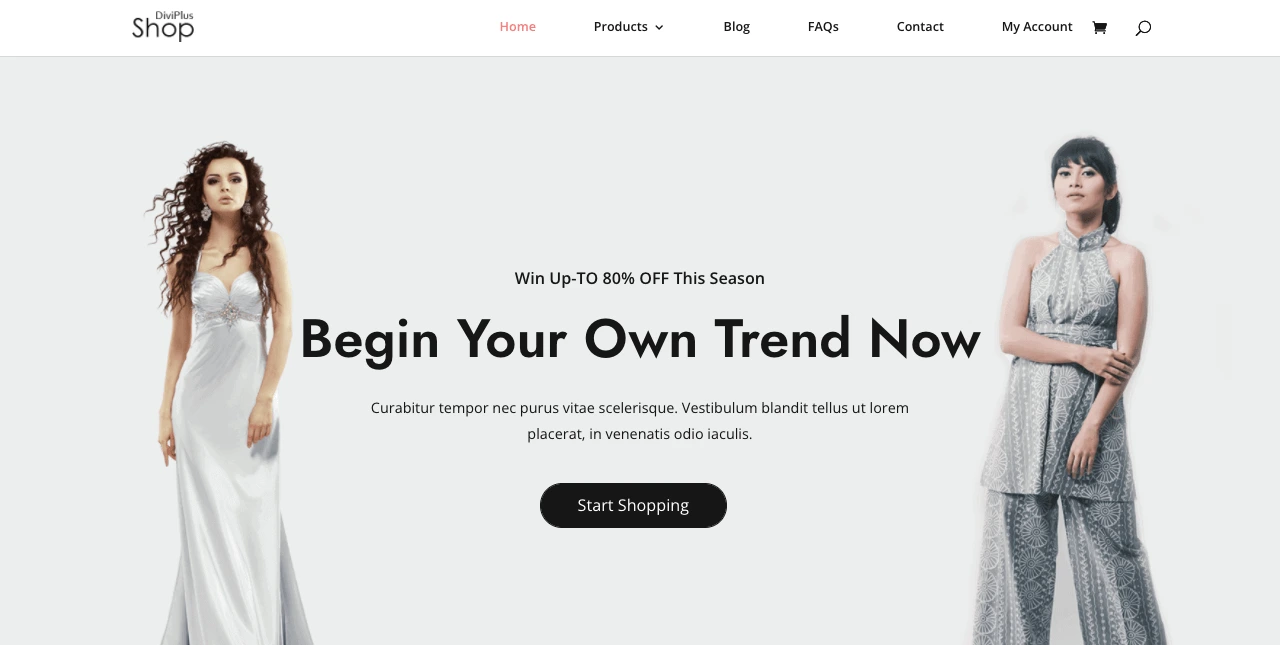 Build the best for your eCommerce store with the Modern Shop theme that's combined with the latest design trends and functionalities. It's a 7-page theme that allows you to create super-stunning web stores in minutes showcasing products in the best possible way. The homepage of this child theme includes engaging products categories, sliders, banners, etc. There are 3 shop page layouts enabling you to highlight different products in different styles. Moreover, each product page follows a clean and elegant look presenting all the details brightly. In addition to this, you can publish blog posts with high readability for brand announcements and more.
17.
Divi Plus Music Event Child Theme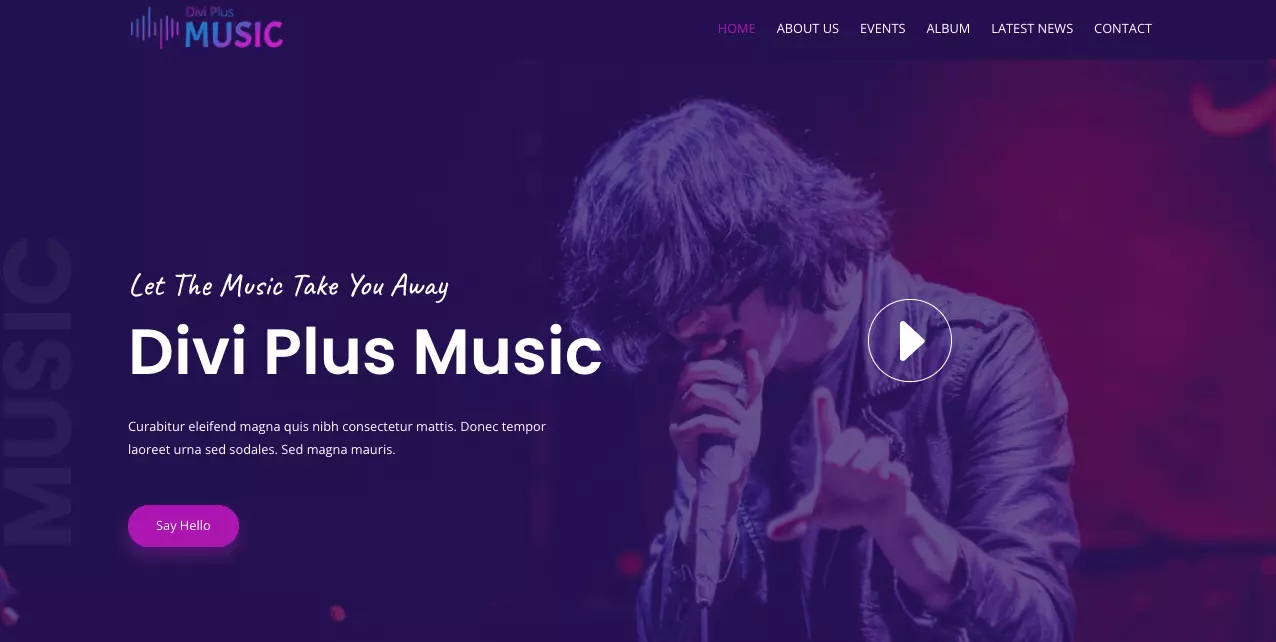 Create a buzz about all the music events you're going to organize, with a super stunning musical-colored theme. The Divi Plus Music Event child theme is all dedicated to musical events with perfectly designed 6-page layouts. You can use this theme to highlight upcoming events with interactive images. Make album announcements or add events rocking galleries. List down the latest news and much more without spending a lot of time. For the 21st centuries music era, the Music Event child theme from Divi Plus is what you need.
The theme supports adding videos, sharing testimonials, publishing posts, creating an events timeline, answering fans' query and much more.
18.
Divi Plus Non Profit Child Theme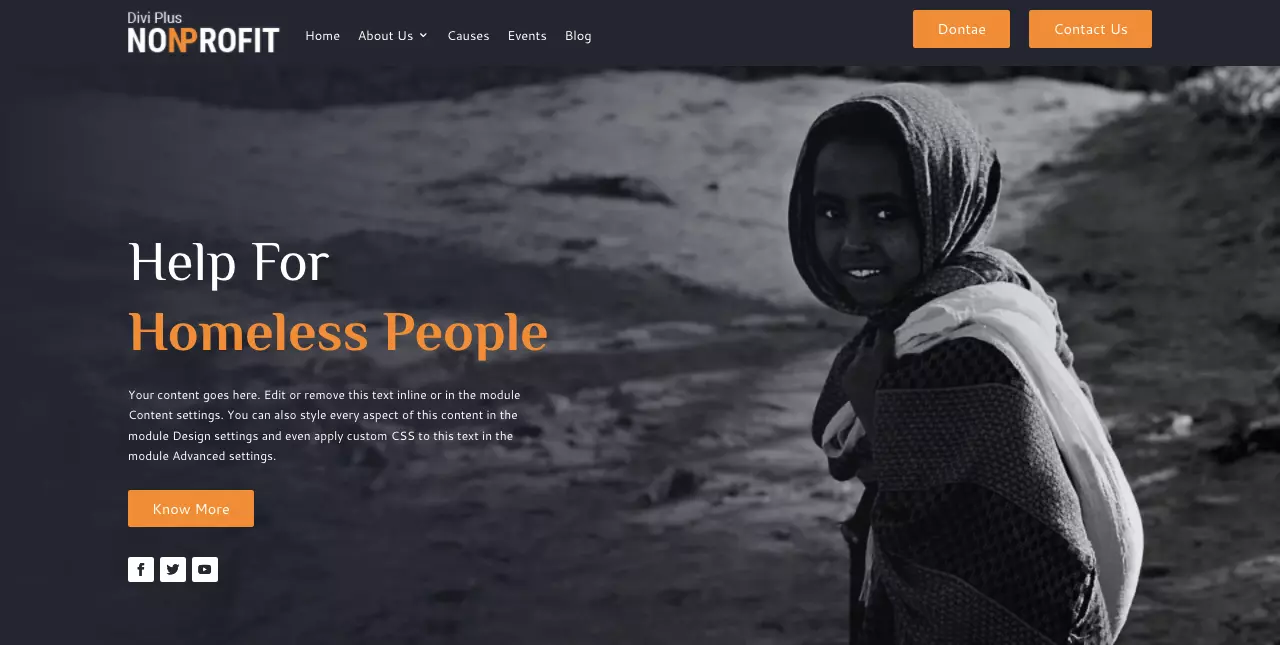 The Divi Plus plugin offers a lot of intuitive tools that could be used to build websites of any domain. Therefore, we've designed the Non-profit child theme to help you raise funds and charities for the social cause. It's a 7-page theme that allows various activities to be performed. For instance, the Homepage allows you to share how much your organization has contributed to society's goodwill with number counters. For what causes you're requesting a donation, and how much you've received through progress bars. And also, on the homepage, you can share the upcoming social welfare events in an engaging timeline.
The About us provides space to add content telling the organization's story. The page also includes world image masking children photographs, which you could replace with your own. Add the people behind the movement through the team member module, share the goals in beautiful blurbs, and even ask for volunteering with an optimized form.
19.
Divi Plus Photography Child Theme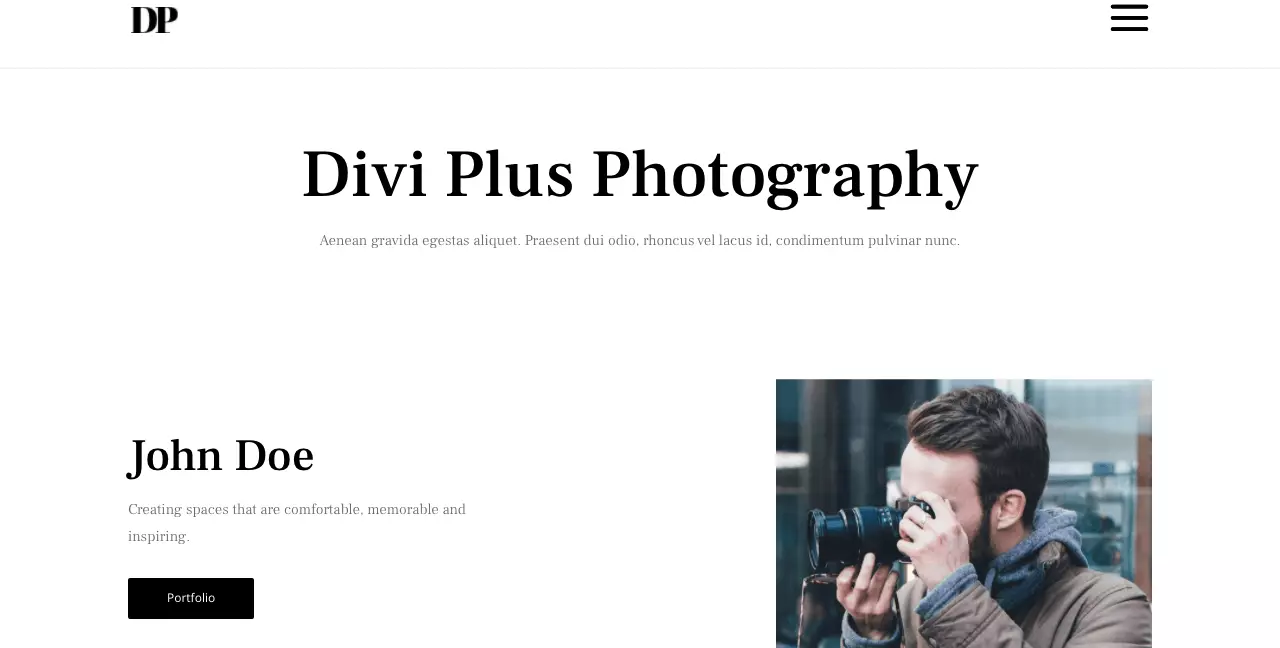 Got a real taste for capturing moments? Then, our Photography child theme could help you establish your state-of-the-art online presence. Whether for hiring purposes or selling your art, the Digi Plus Photography child theme is what you need. Even for your clients as well. It's a 5-page theme with all the necessary web page elements to complete the site. With an overlay menu, showcase everything about your skills and services in a modern look. This particular free Divi child theme uses floating images, advanced buttons, image accordion, and more powerful modules to enhance the site's beauty and functionality.
20.
Divi Plus Portfolio Child Theme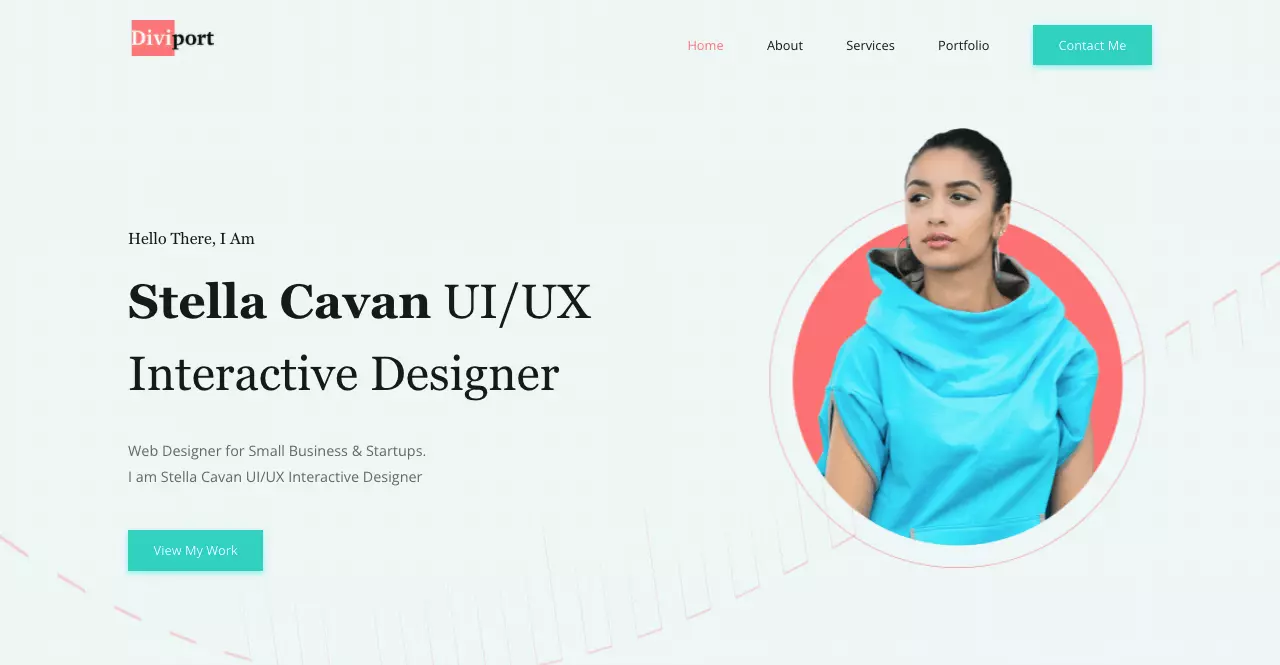 Whether you're a designer, coder, or even writer, if you've got a stunning portfolio, you need a stunning portfolio website to leave talent-hiring managers in awe. The Divi Plus Portfolio child theme provides 5 different pages to talk about your experience, skills, ideas, and domains you love to work with. It has a clean user interface that doesn't distract the visitors. All the color schemes are perfectly tuned to every design element. Whether it's skills' progress bar, experience's timeline or even clients' testimonials; the theme never disappoints.
The five different pages included with this child theme are Home, About, Services, Portfolio, and Contact Me. Each page includes the powerful modules from Divi Plus to help you get the most out of your portfolio child theme.
21.
Divi Plus Restaurant Child Theme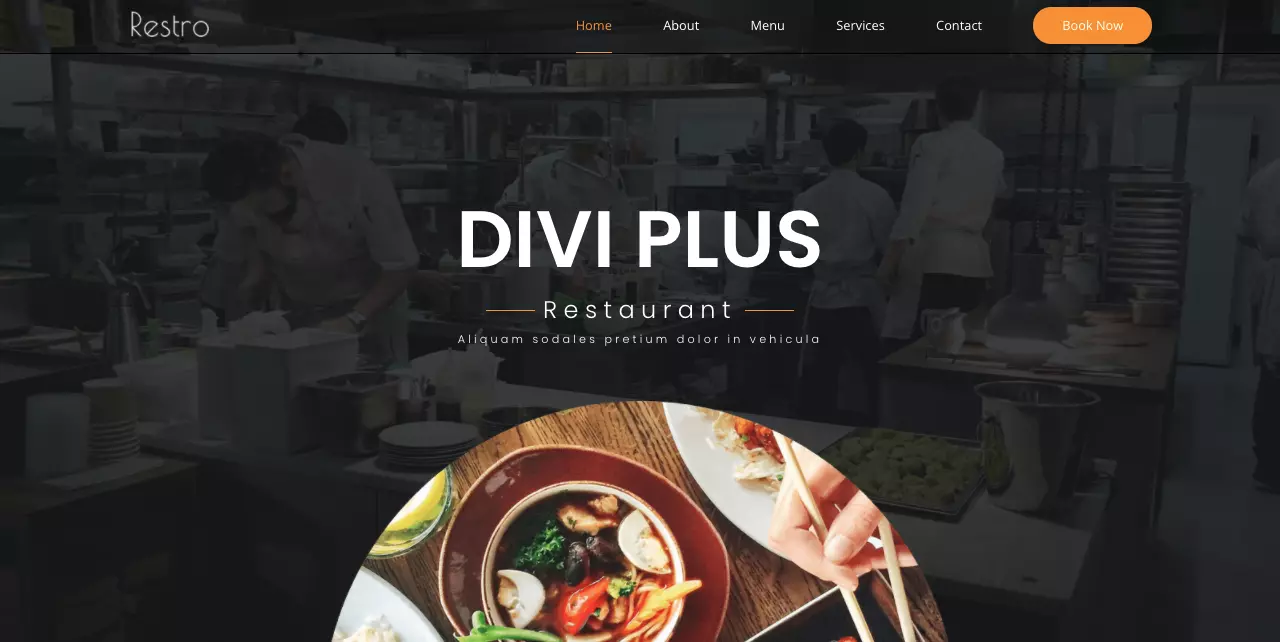 Intrigue guests with our free restaurant child theme for Divi that presents your food outlet in the most promising way. The Divi Plus Restaurant child theme includes 6 pages: Home, About, Menu, Services, Contact, and Book Now. These pages use the highly customizable modules of Divi Plus to add information about the restaurant entirely and beautifully. For instance, the Home page uses the Price list module to display food menus.
It also uses the Masonry Gallery module to add glimpses of your restaurant, the Team Member module to show off the restaurant food department, the Business Hours module, and Testimonial Slider. Similarly, other pages also utilize Divi Plus modules such as Floating Images, Dual Color Heading, Form Styler, and more.
22.
Divi Plus Salon Child Theme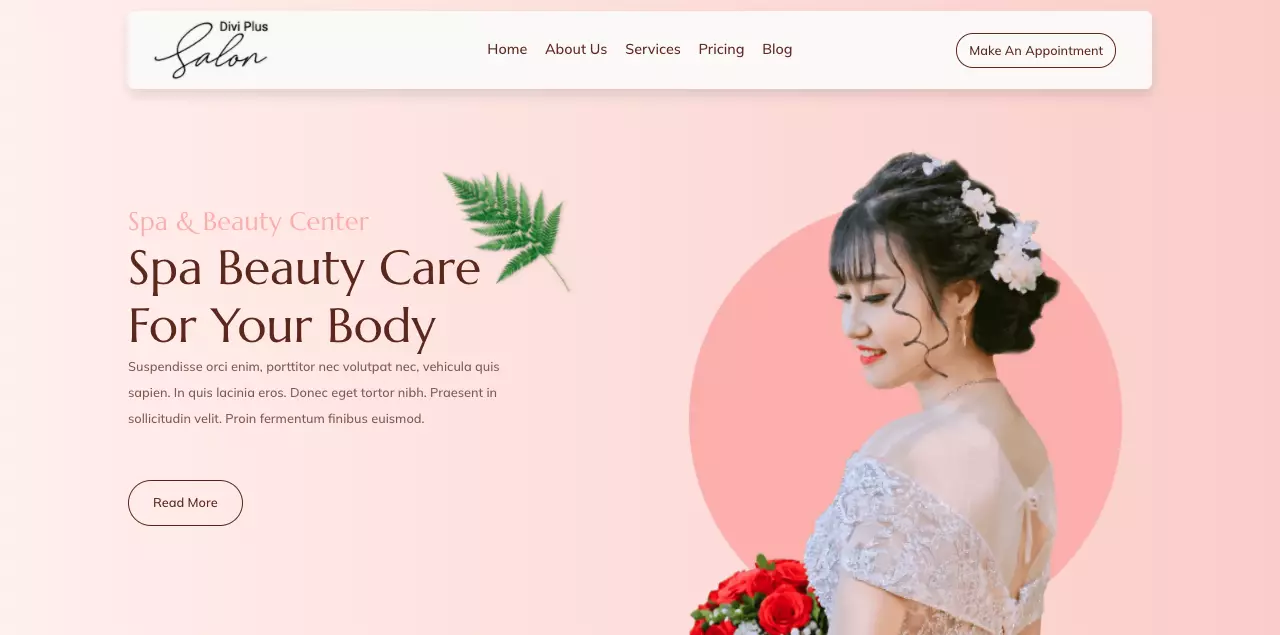 Engage customers instantly when they open the site to learn more about the many beauty sessions your salon provides, using the free Divi Plus Salon child theme. It's a 5-page theme power-packed with highly functional Divi Plus modules and an exquisite design your clients will love to interact with. The child theme starts with a smooth and delicate sticky header that perfectly keeps all the items well aligned. It includes various beautiful sections that tell users about your services, experience, pricing, and more.
From the homepage to making an appointment on the booking page, the users won't take their eyes off the site for a single moment. And to make that possible, it used Divi Plus modules like Form Styler, Testimonial Grid, Blog Slider, Advanced Button, Pricing List, Floating Images, and many others.
23.
Divi Plus University Child Theme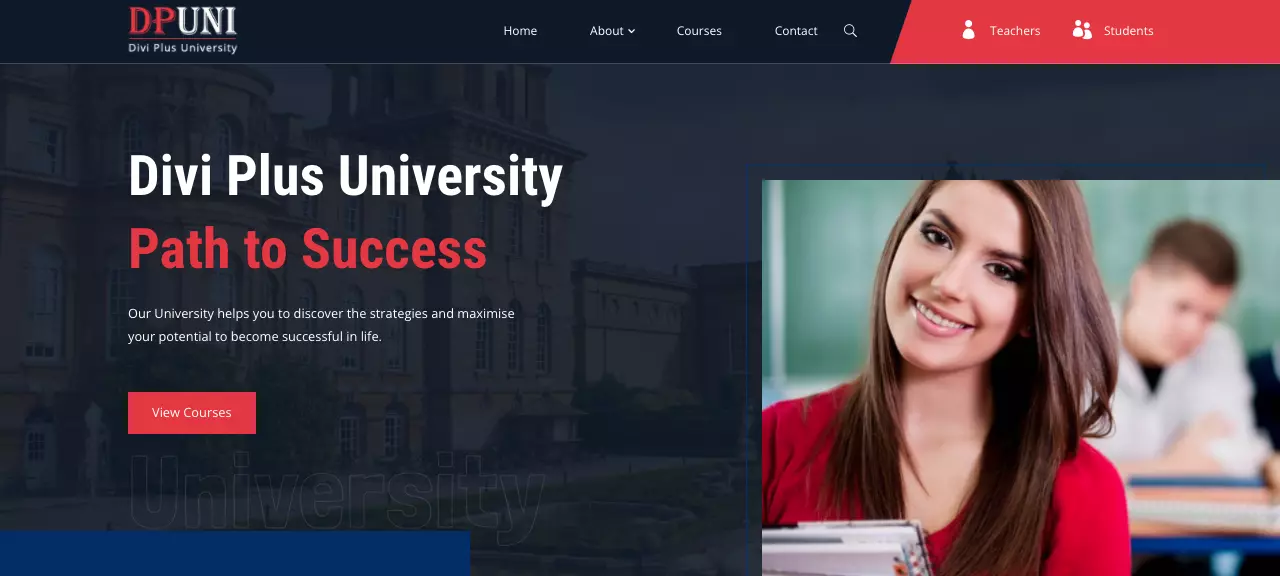 Using the Divi Plus University child theme, allow your students to explore the amenities provided by the institution in a much more compelling and straightforward way. It's an 8-page theme that uses Divi Plus modules such as Fancy Heading, Blog Slider, Testimonial Slider, Modal Popup, and more to provide the educational website's look it deserves.
Furthermore, by using the pre-built pages (Home, About, Faculty, Facilities, Courses, Blog, FAQs and Contact), you can add all the essential information about the institute in no time. The pages contain ready-to-use sections; therefore, all you need is to replace the content with yours. And that's it; your professional-looking educational institute is ready to do wonders.
24.
Divi Plus Wedding Child Theme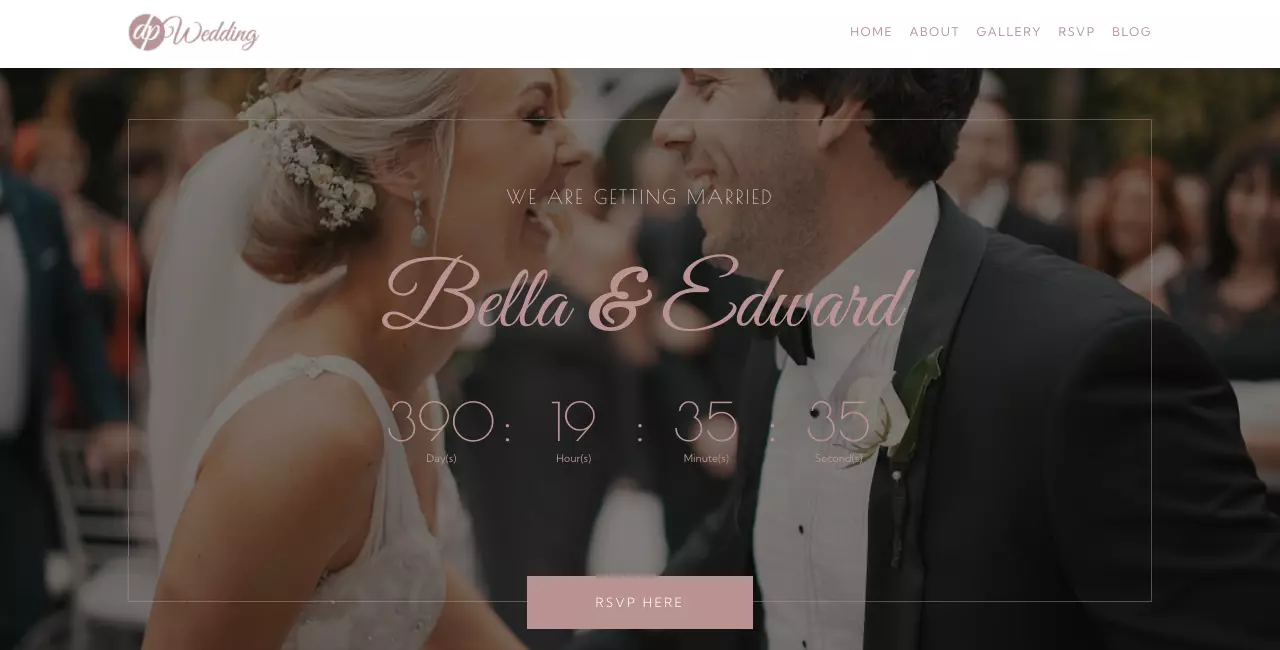 A wedding should be worth remembering. And with the free 5-page Divi Plus Wedding child theme, you can make it possible by sending friends, family, and relatives an attractive digital invitation. Using this free Divi child theme, you can make your special day count with a wide herospace on the homepage having a days counter. Elegantly display bride & groom in the image mask featuring heart shape. List down all the wedding events in an exciting timeline or through interactive image cards. Moreover, with the use of additional pages, you can shade even more light on special occasions.
25.
Divi Plus Wedding Planner Child Theme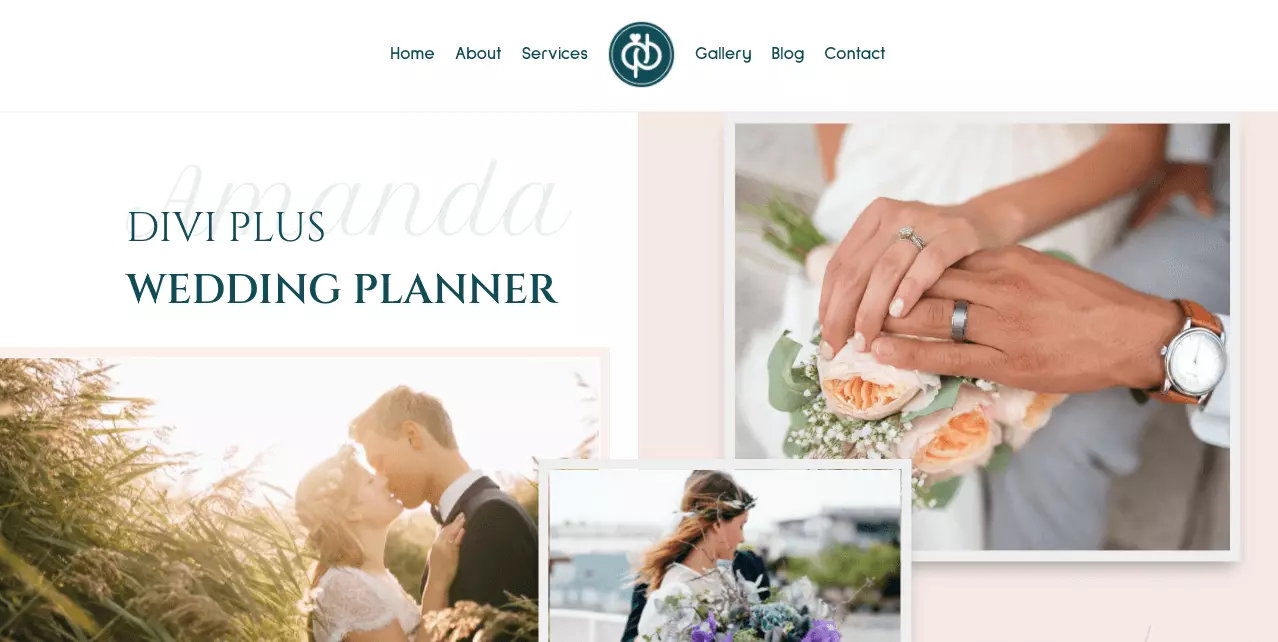 Take your wedding planning business to new heights with our feature-rich free Divi Plus Wedding Planner child theme. It provides you with 6 beautiful designed pages that elegantly represent you as 'the professional wedding planner.' Or perhaps your clients for whom you're designing the site. All the content sections and design elements are placed at the right location, so you don't have to make massive changes. Simply replace the demo content with yours.
The Homepage allows you to share the weddings you've planned in beautiful floating images. Add famous clients on the slider you've worked for. Show services on interactive image card sliders, and they're many design elements that will help you impress the couples who are about to get married.
26.
Divi Plus Yoga Child Theme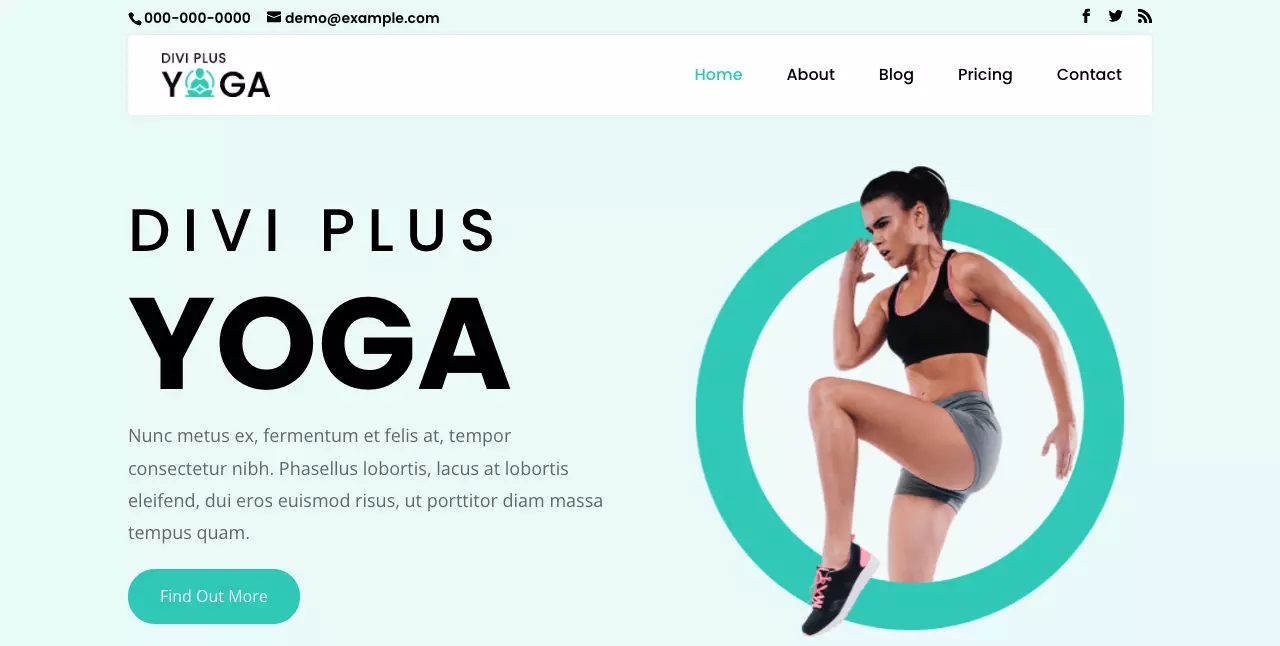 Share or teach your yoga practices to a wide range of audiences through the Divi Plus Yoga child theme that comes with 5 pre-built pages. It features a professional start with a highly functional sticky header that includes contact info, social icons, and navigation links. Add your experienced yoga teachers' images in a beautiful floating animation. Highlight different yoga services using the image cards, and showcase the staff on an interactive slider. Moreover, if you've got a different schedule throughout the week, the theme also features an organized calendar created using the Vertical tabs module.
Make All of Them Yours During This Cyber Monday Sale
---
Building websites is interesting and helps different businesses grow their income exceptionally. And during this Cyber Monday sale, you can make this work of building websites even more interesting and fun when you get the Divi Plus plugin. It's a premium multipurpose Divi plugin that includes over 50+ modules, 04 extensions and 60+ starter templates, and 250+ design sections. Moreover, you also get the 25+ Divi child themes we've looked above for free with all these outstanding features and options.
So, by getting Divi Plus, you're getting many possibilities. Even you can take more benefits by becoming our Lifetime Member that provides you with 12 Divi Plugins (including Divi Plus), 18 Child Themes, and 9 Layouts packs at just $399 — during this Cyber Monday Sale. In addition, the Lifetime Membership gives you access to future products for a lifetime.
Therefore, it's the best time to become our Lifetime Member.
Get Access to $2881 Worth Items at $399