Hear! Hear! The Black Friday Super Sale 2022 at Divi Extended is live. All the best deals, biggest discounts and free prizes are making their way to the users' cart. If you're still here, then wait no more. Because a sale like this comes only once a year that offers $2800+ worth of items for only $269.
And not only this, there's more that makes this year's Black Friday sale super. Visit the sale page now and make bestselling and popular products yours now at a huge discount. And design world-class Divi websites in no time.
Lifetime Membership (Worth $2800+) for Only $269: Unlocked
---
Our Lifetime Membership is the golden ticket to the best of the best Divi products for a lifetime. Our store includes 12 popular Divi plugins, such as Divi Plus, Divi WooCommerce Extended and Divi Blog Extras. Plus, we have in-store 50+ themes and 500+ pre-built modern and engaging layouts.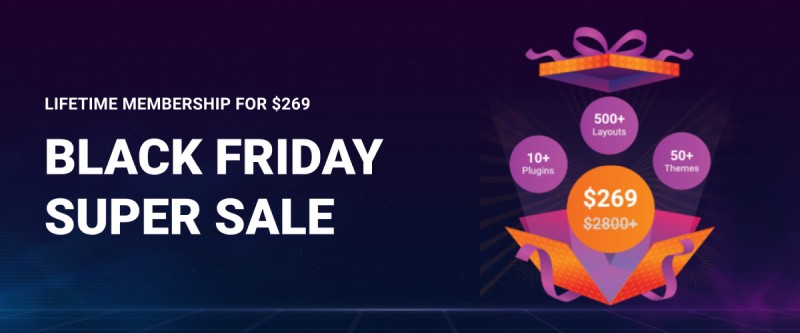 That's huge, and using all of these, you'll come up with a website that everyone likes to visit and explore for a longer period.
All these powerful and easy-to-use Divi plugins, themes and layouts value over $2800. But…from today to the next few days, they can be yours only for $269. And not only the plugins, themes or layouts but access to Lifetime Updates and Support.
Still, there's more, which is, using all of the amazing products for a lifetime. Yes, you get access for a lifetime. And this Black Friday Super Sale is the best time for you to become our lifetime member and get the outstanding tools from #1 Divi Author.
Bestseller Products From $9: Unlocked
---
That's amazing, right?
Most popular and bestseller products from $9 actually from $8.4, which turns more value to your profession and businesses. There are more deals on our products, which you shouldn't miss.

All in One, Multi-purpose Plugin: Divi Plus from $59 $35.4
The best tool everyone loves to have in their toolkit, and Divi Plus is not just a tool. Rather, you can call it a whole toolkit to design, modify, level up and do so much more with your Divi website.
It includes 50+ modules, multiple extensions, 30+ themes, 55+ starter templates and much more. With all of these, you can never stay behind while building a sensational Divi website, whether for yourself or your client.
Advanced eCommerce Plugin: Divi WooCommerce Extended from $59 $35.4
Divi WooCommerce Extended offers you multiple modules and extensions that level up your eCommerce store. Using the tools it provides, you can add the style to your store. Tweak its functionality and add more power to the site that allows easy exploration and the best place to shop.
You can display quick views, add a mini cart, showcase products on carousels and much more to make the Divi shop extensive.
Get Divi WooCommerce Extended Now
Flexible Headers: Headers for Divi from $14 $8.4
Easy navigation makes visitors' day and not only theirs but yours, too. Using the layouts of Headers for Divi, you add a well-organized Divi menu to your site. It includes headers that allow you to showcase social media links, promotional bars, CTAs, and more elements. Plus, you get layouts that can work on RTL websites, too.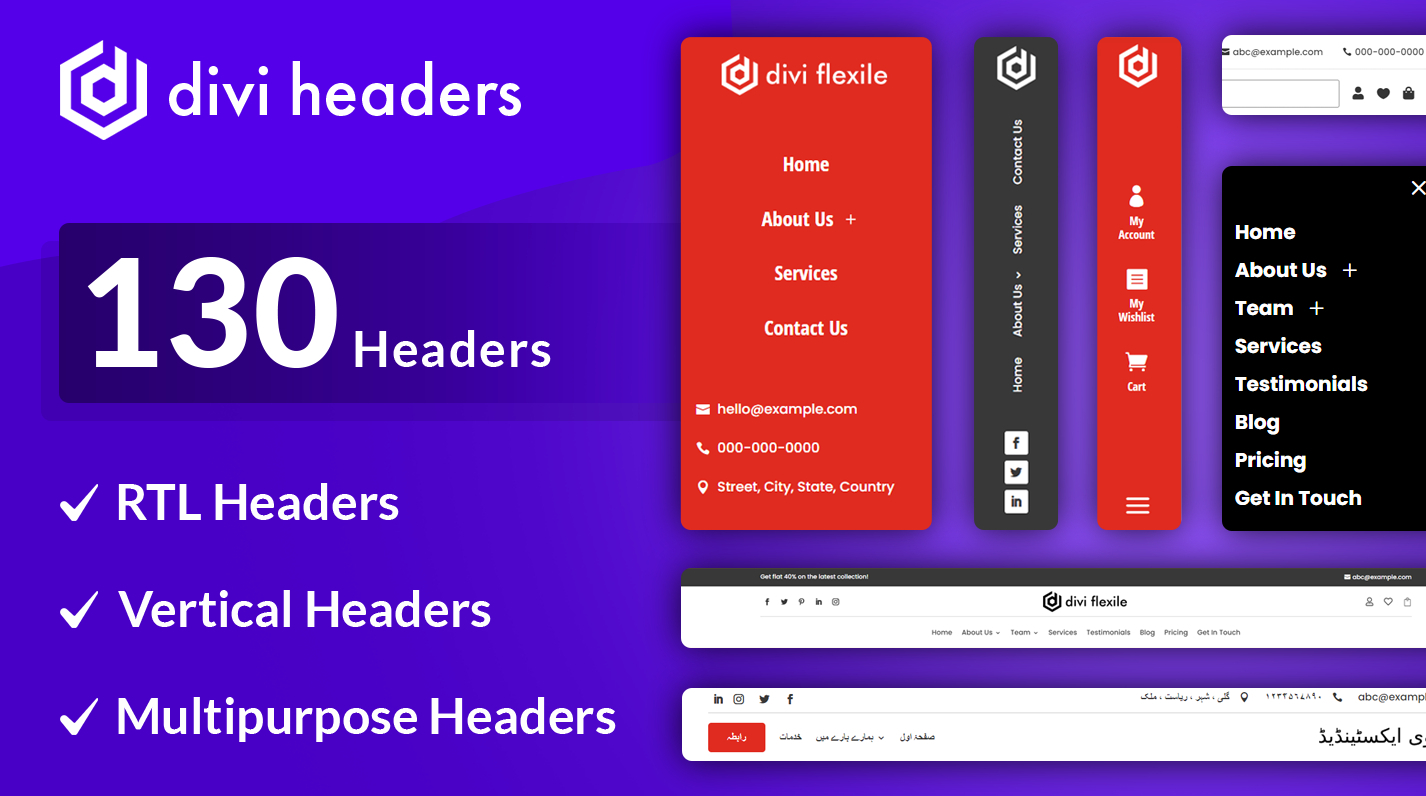 With that, there are vertical headers, off-canvas headers, WooCommerce headers and a total of 130 headers that suits a website of any business niche.
Ready to use eCommerce Theme: Divi Cart Pro from $39 $23.4
Build influential Divi eCommerce shops using the ultimate Divi Cart Pro child theme. It provides multiple modules allowing you to show quick views, mini cart, carousels and more. You also get pre-built homepages and over 30 templates to beautify different areas of your Divi shop.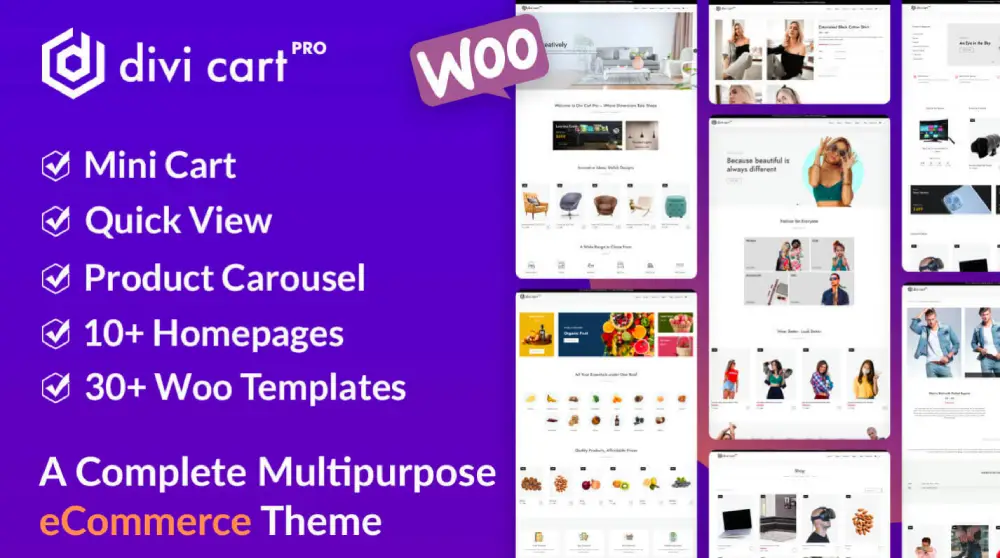 The theme is ready to use; all you need to do is replace the demo content with yours.
Site-wide Huge 40% Discount: Unlocked
---
Our site-wide discount allows you to get our Annual Membership at a Flat 40%. It's big because with that you can access all of your products for a year. Yet, Lifetime Access makes it for a lifetime. So, we suggest you go for it.
In addition, there are many products you would like to grab while the Black Friday Super Sale is Live.
Black Friday Super Launch: Divi Layouts Extended
---
Divi Extended Black Friday Sale is Super, but what makes it even more super is our launching of new products. Each year we try to come up with something amazing and outstanding, and this year we're not behind.

Behold! We're thrilled to announce the launch of our highly functional plugin: Divi Layouts Extended. A lightweight plugin provides you with an extensive library of pre-built custom layouts of different kinds.
Name any layout you need, and this plugin's library will bring it in front of you. Plus, no need to download or import layouts manually. The 1-click layout import in the plugin's panel speeds the process. And you can make it yours this Black Friday at the same flat 40% discount. 500+ layouts and it's growing, and all you have to pay is $29.4
Free Prizes Worth $10000+ For Early Birds: Unlocked
---
Yes, yes, yes! We can't run a Black Friday Super Sale without free prizes, and this year we've taken it to the next level by offering free prizes worth $10,000+. However, the catch is how fast you're to shop when the sale is live, and it's already Live.
Don't wait here. Go and grab the stuff because…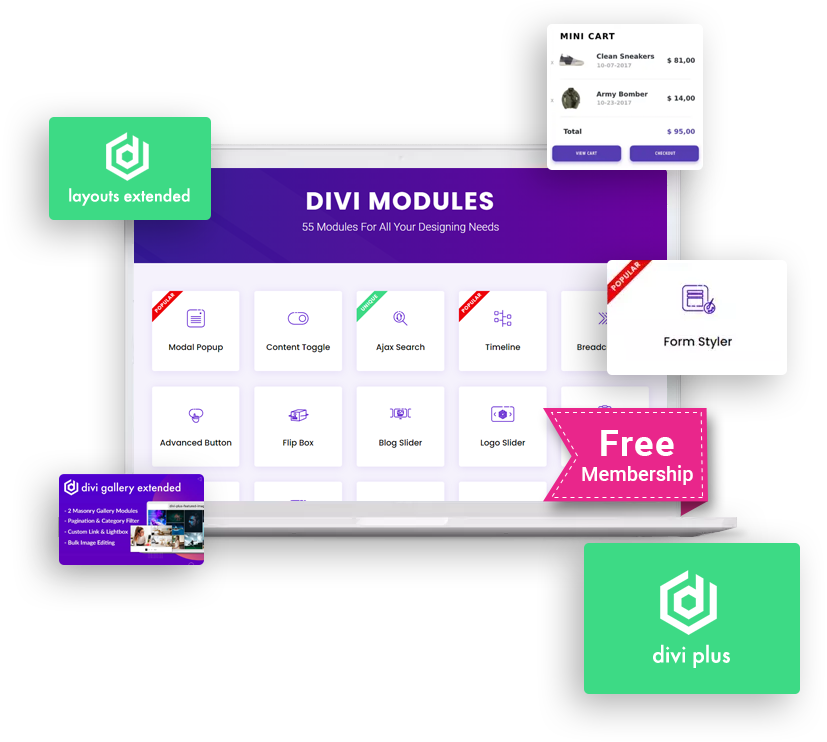 Free Annual Membership to 1st, 10th, 20th, 50th, 100th Buyer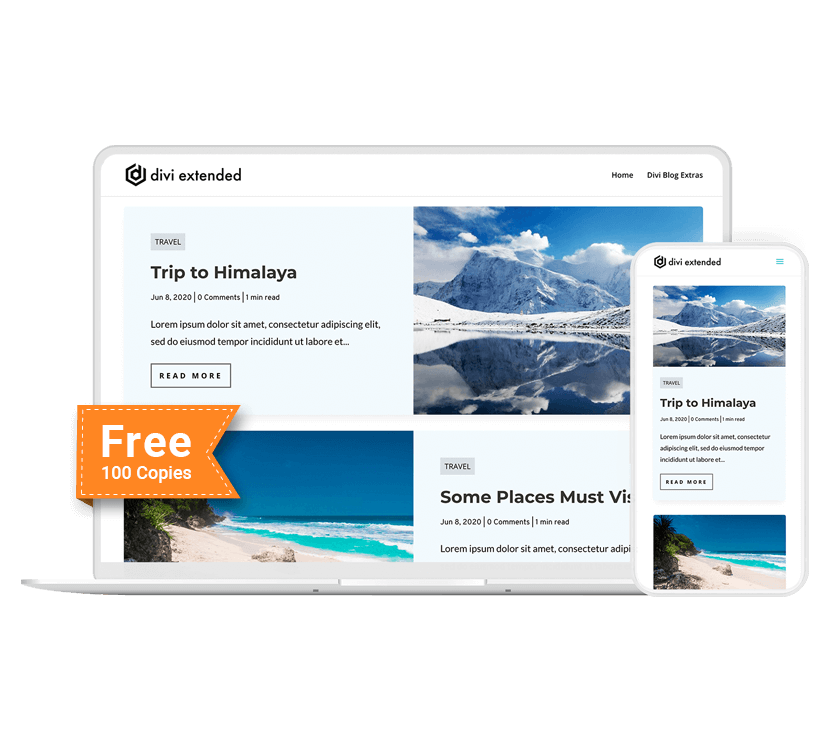 Free 100 Copies of the Best Selling Plugin Divi Blog Extras
If you're still here, I suggest you shouldn't.. because our sale is hot and you might miss the chance to get amazing products as well as the chance to win free prizes. Hurry now! And make Lifetime Access yours today, offering bestselling products worth $2800+ for only $269.
Sale Is Live – Best Time to Become a Lifetime Member