First, Halloween, then Black Friday, and after that, New Year, all three super-sale events are around the corner. It will be the best time to level up your Divi website, and for that, one will definitely need a Divi theme addon.
Before these festivals, make all the necessary changes to your website so that as many users can effectively explore it. Plus, you can run as many as possible sale events with all the effective web page elements. The coming 60 days are the best time of the year to maximize the business revenue by offering deals, new products and even freebies. Using one of the best Divi extensions, you can meet all of your expectations and with Divi Extended Membership, it becomes seamless.
Whether you are an agency or individual looking to boost a website's design, performance and functionality during these and beyond the festive season, this is the only Divi theme addon you'll need.
Why? Let's find that out.
Home of Best-Selling Divi Products
---
What makes a product a best-selling product? It's its quality, its performance, its user-friendliness, its budget-friendly cost, and the support provided by its creator. That's what makes a product a best-selling product. Hence, when you choose to become a Divi Extended member, you choose best-selling products, which means you get everything mentioned above.
The best-selling products included with this Divi theme addon are,
Divi Plus—an All-in-one Plugin for Divi
With Divi Plus, you can build any Divi website. It's the all-time favorite plugin to design quickly and effectively. This single plugin brings all the resources needed to build their dream website. Also, using this Divi theme addon won't make your site heavy. Instead, the elements you'll add using this plugin's features only load scripts where they are used and only when users access them.

Divi Plus offers way more possibilities than one can anticipate. With it, you get,
55 Divi modules.
04 Divi extensions.
50+ Pre-built websites.
50+ Starter templates.
250+ Design sections.
With all these, you can surely come up with a Divi website that stands out from the crowd and that too in minimum time.
Headers for Divi (Divi Header Layouts Pack)
Over 200 header templates for Divi. That's impressively huge and worth having in your design arsenal. A website's header is a crucial and most used part of the site. Therefore, it's essential you build it with everything in mind—for example, fewer menu items, proper spacing between elements, logo visibility, and more.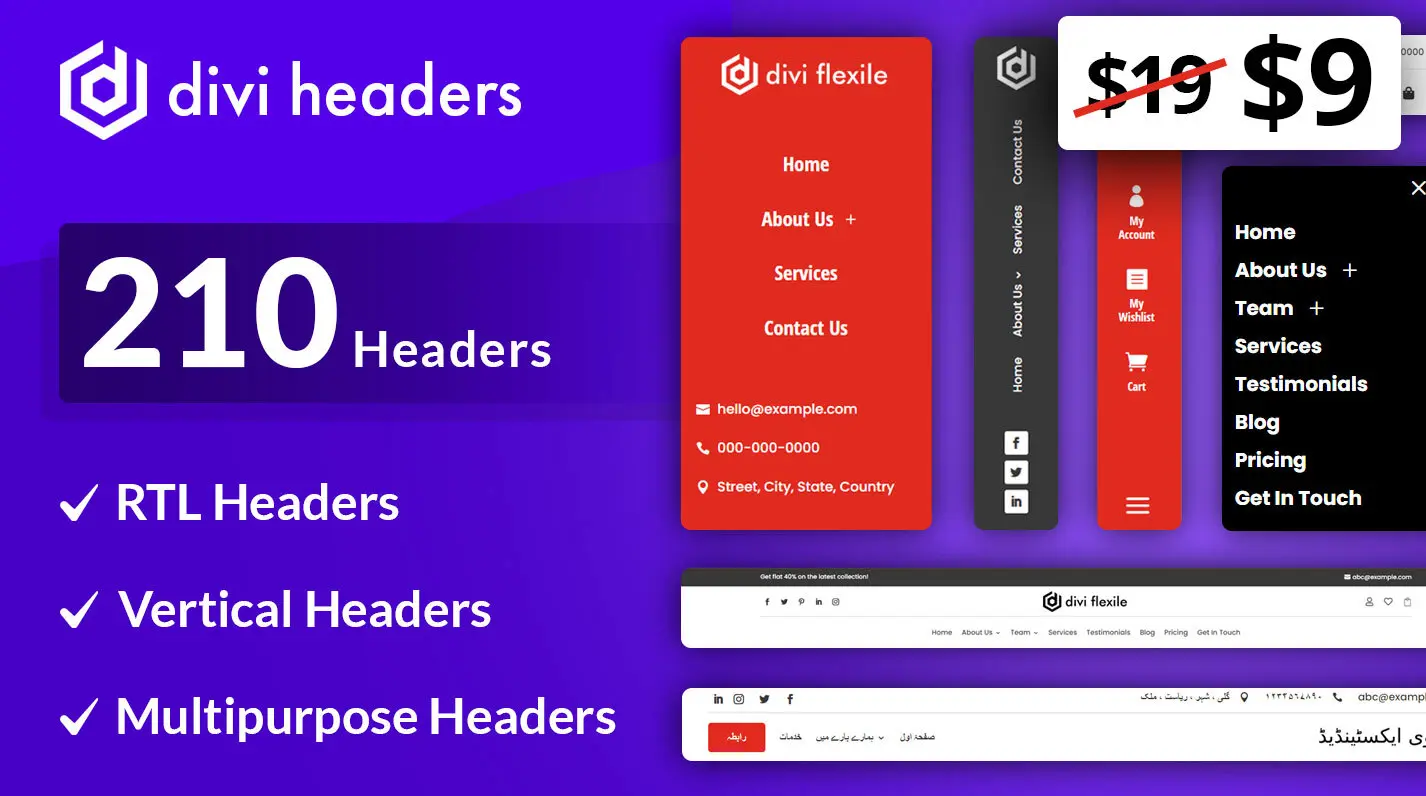 Inside this pack, you get variations, functionality, and a mix of modern design trends. This header layouts pack offers you layouts for,
WooCommerce websites.
RTL websites.
Multipurpose.
Announcements.
And much more.
If you want to maximize the impact of your website's header, this layout pack is all you need.
Divi Layouts Extended (The Huge Library of Divi Templates)
What if all the required templates are found in a single plugin? What if…well, forget about what if because the Divi Layouts Extended plugin is the live example of the huge Divi layouts library containing more than 1800 layouts.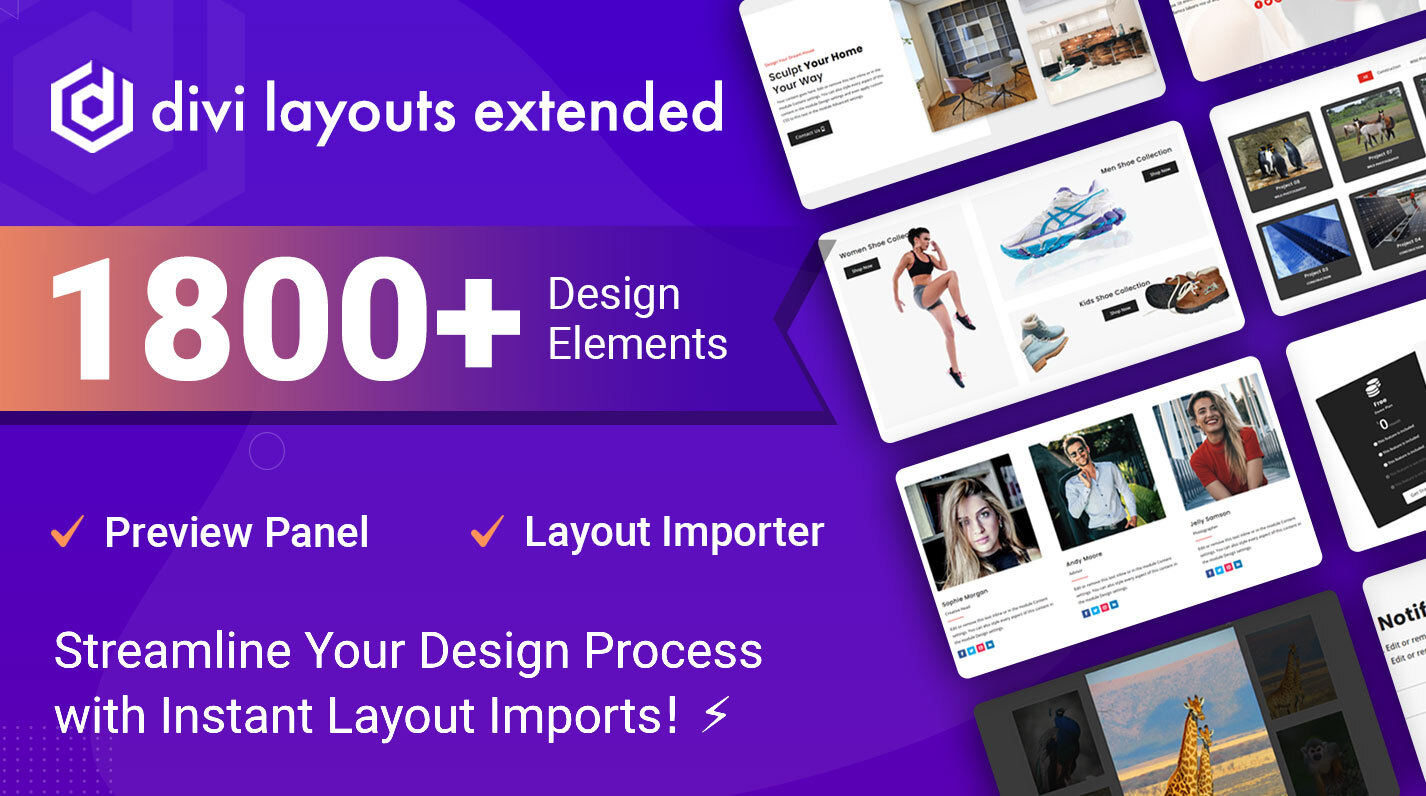 It's another best-selling Divi product you can find in the Divi Extended membership. This plugin fulfills every requirement one might have when it comes to layouts. You get layouts for,
WooCommerce.
Blog.
Gallery.
Portfolio.
FAQs.
CTAs.
And many other Divi templates.
Furthermore, it features a layouts panel that quickly allows you to search, preview, download and use the layouts on your Divi website. Besides these powerful Divi products, you get other amazing tools and packs with Divi Extended, such as,

Divi Blog Extras – the #1 Divi blog plugin to customize Divi archives pages. It supports Custom Post Types and offers a category filter option.

Divi Gallery Extended – Showcase images in a masonry gallery with support for lightbox, overlay, pagination and more.

Divi Modal Popup – Popup non-intrusive modals on the Divi website without blocking the user's view.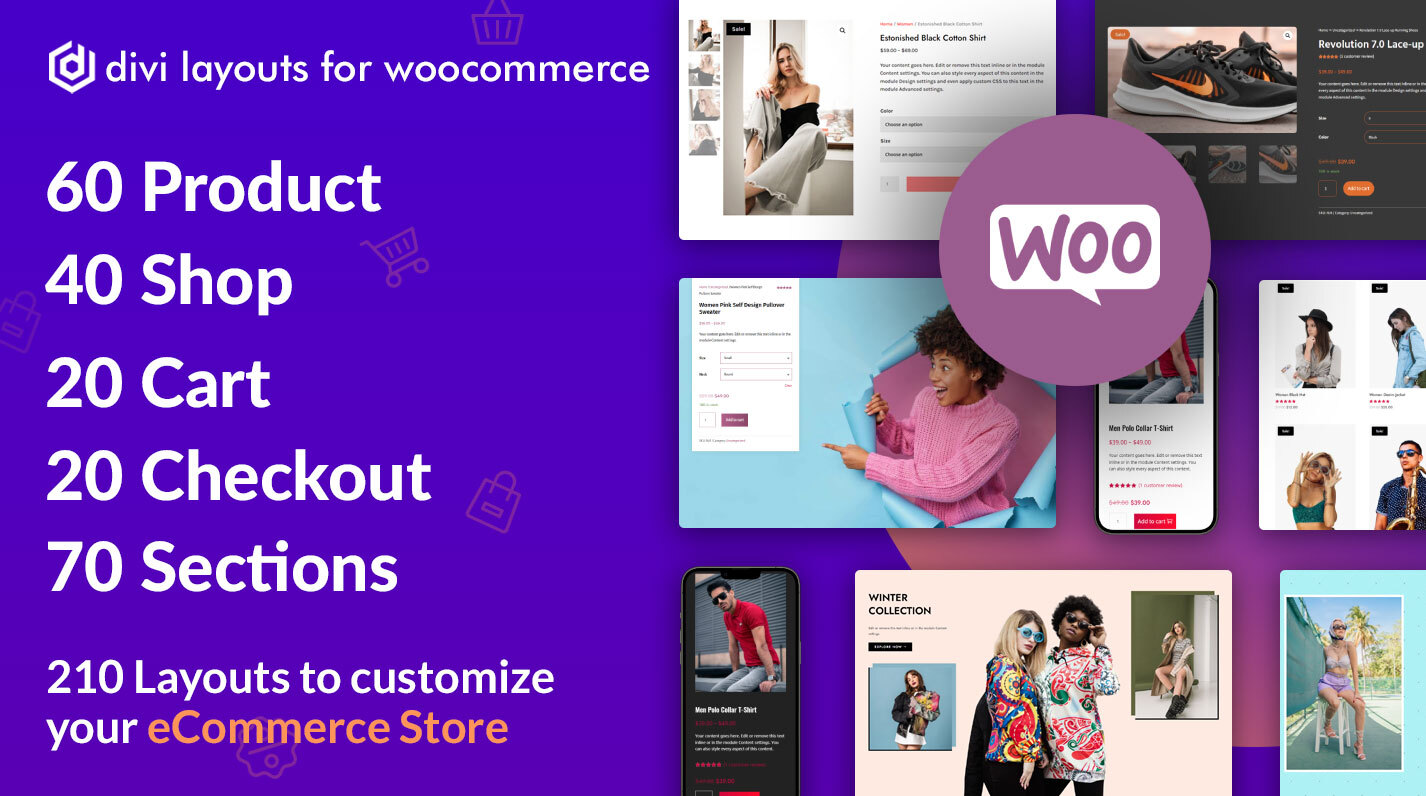 WooCommerce Layouts for Divi – a complete Divi WooCommerce layouts pack with templates for Shop, Product, Checkout, Cart and Sections.
By using the above best-selling Divi plugins, themes and layouts, you ensure your website has the best look and performance that lifts users' experience immensely. With these, there's no looking back when it comes to design an outstanding Divi website without coding or starting from scratch.
Over 13 Powerful Divi Plugins
---
Your Divi suite should contain tools that take your website to the next level. By getting Divi Extended Membership, you ensure that you're ready to design any type of webpage element. In this Divi theme addon, you get a total of 13 outstanding plugins for Divi that maximize your efforts. Whether you need a simple image blurb or an advanced search field, using the plugins included with Divi Extended Membership, it's all possible.

In addition to the plugins mentioned above, you get the following ones in the membership as well,
With all these plugins, it becomes easier to customize a Divi website however you want. Not only plugins but Divi Extended Membership also features pre-built child themes to boost your productivity.
60+ Divi Child Themes to Kick Start Any Project
---
As the Divi theme and its builder get more user-friendly, the demand is to finish projects as early as possible. If the project is basic, it could be done in a week or two. However, when things get complex and demand is urgent, then utilizing Divi's options at its full potential becomes tricky.
But with Divi Extended Membership, you can save yourself from having a hard time using the pre-built themes available.
By subscribing to Divi Extended, you not only get flagship plugins, but you also get your hands on flagship child themes covering numerous industries. No matter what kind of website you want to build, there's something you'll definitely find.
The bestselling and most loved child themes included are,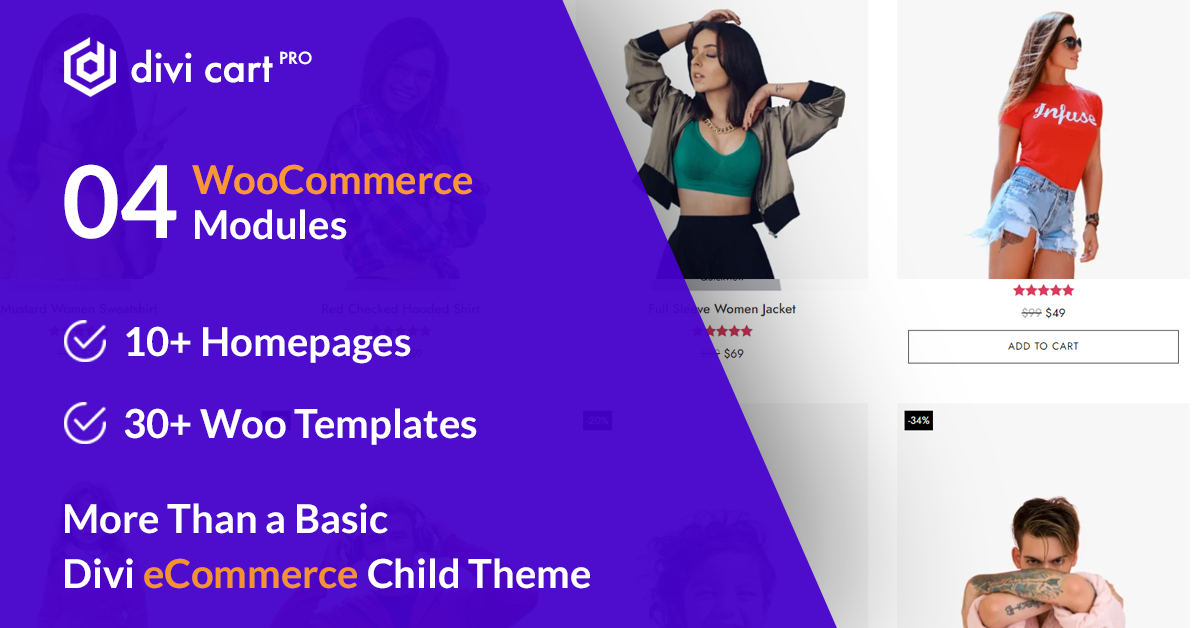 Divi Cart Pro – The Powerful Divi and WooCommerce Theme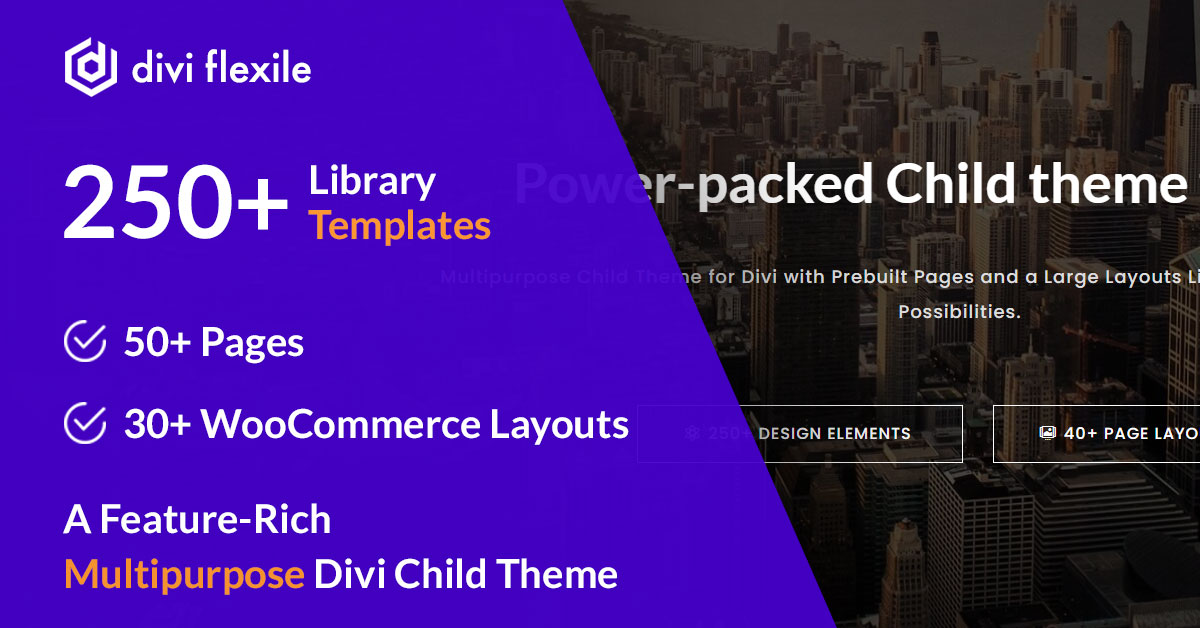 Flexile – All-in-one Divi Theme You Need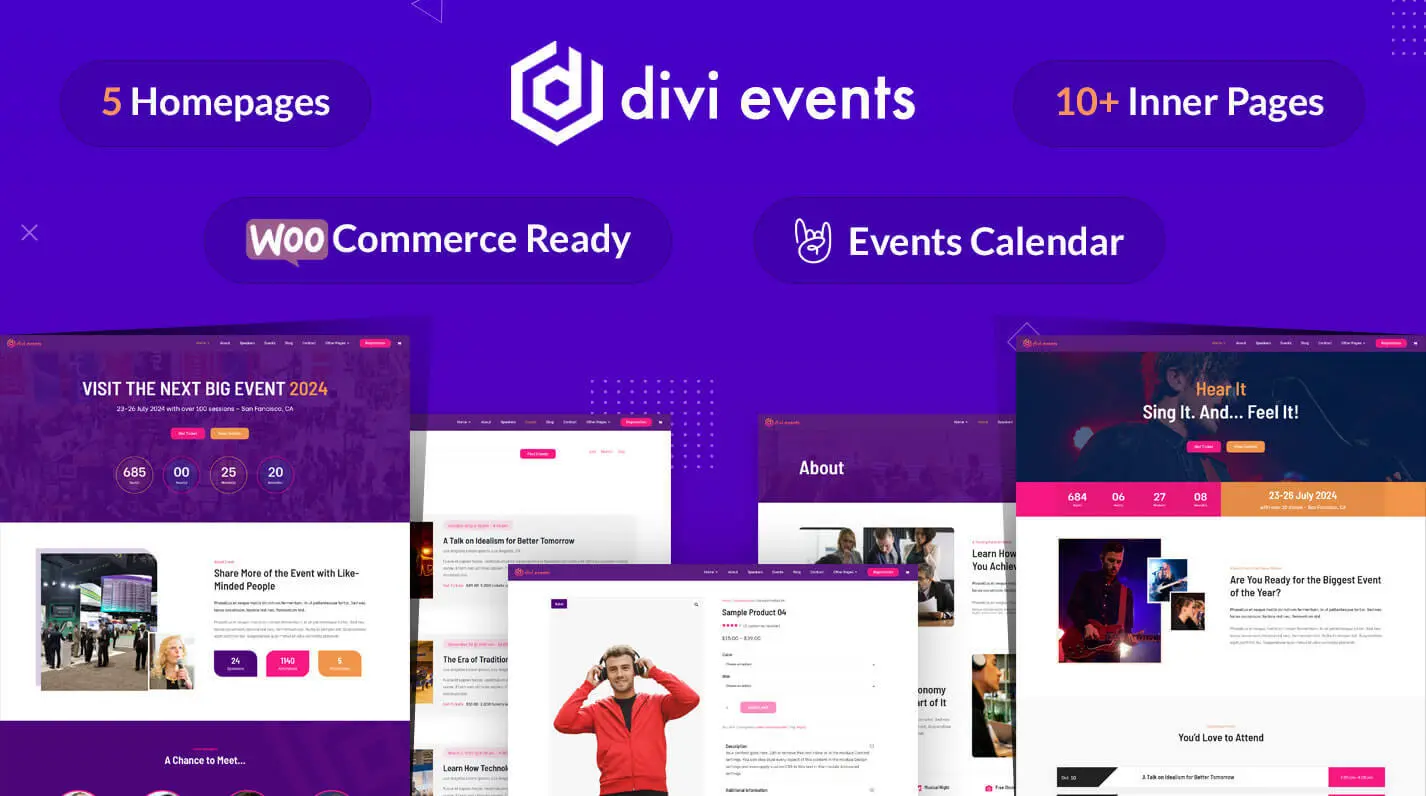 Events Calendar Theme for Divi
Apart from these child themes, there are over 60 Divi child themes available with the Divi Extended membership. No matter what industry of website you want to finish, these child themes will assist you without spending much time.
Complete Package of Outstanding Divi Layouts for Everyday Use
---
2000+ layouts. Yes, you read that right. When you get the Divi Extended membership, you choose the possibility to utilize 2000+ Divi layouts that are ready to use. These layouts can transform an old website into a new one and upgrade an outdated one in seconds. Whether you need layouts for the hero section, footer, blog pages or posts, this membership has solutions that keep all the design requirements in mind.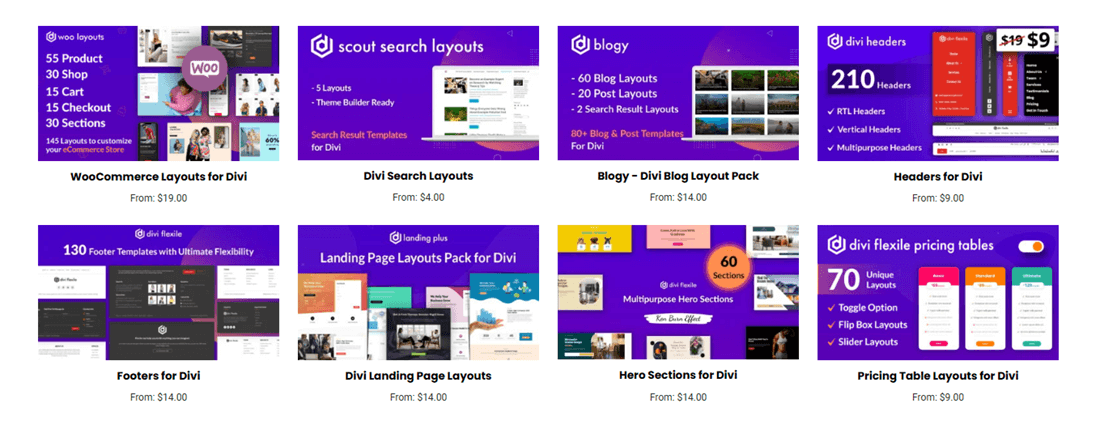 There are over 100 footer layouts with elements like Instagram Feed, social icons, maps, WooCommerce products and more. You get landing page layouts allowing you to enhance the website's homepage with elements like number counters, team, testimonials and contact forms. And that's not all you get, but there are plenty of Divi templates you can utilize, such as,
145 layouts for the Divi WooCommerce store.
80+ blog and post templates.
70 pricing table layouts with toggle option, flip box, slider and more.
Overall, you get Divi layouts to improve the website's beauty, functionality, and performance. And everything inside a single Divi theme addon: Divi Extended Membership.
Why Is Divi Extended Membership Good for Agencies?
---
For Divi agencies, a heavy workload isn't a new thing. Because of the popularity of Divi, they get tons of projects they need to finish in due time. Now, the question is, how can the Divi Extended Membership help them?
Well, for starters, the 60+ Divi child themes they get with the membership are ready to use. Regardless of the business industry, they can use them to finish any project quickly. All they have to do is replace the demo content. And now, as Divi AI is available to help, you can replace the demo content in a jiff. In addition, plugins like WooCommerce Extended and Divi Plus provide you with immense possibilities for building outstanding platforms with eCommerce capabilities. And mostly, clients who reach out to the agencies are looking for eCommerce capabilities or functionalities on their platform.
If you don't want to build everything from scratch, the Divi Cart Pro is the perfect child theme for creating a Divi eCommerce website. Hence, by opting for Divi Extended, you decide to opt for complete peace of mind.
Why Is Divi Extended Membership Good for Individuals?
---
When individuals go after designing a website, what they look for is the easiness to build whatever they've in their minds. With Divi Extended as their Divi theme addon, they take the easiness one step ahead. They can find plugins to build any web page elements, child themes to quickly finish their dream website and layouts to modify if something they don't find suitable to their specific need.
If they want to optimize the archive page, there's the Divi Blog Extras plugin. If they want to showcase their portfolio of amazing photography, there's the Divi Gallery Extended plugin. And if they need more creativity, then the modules of Divi Plus can help them achieve that effectively.
Overall, there's always something for someone when they choose Divi Extended Membership.
Divi Extended Customers Love Each Product
---
Our products power 200K+ websites, making us one of the most favored Divi product authors. Users rely on our product's functions, unique designs and the support we offer them. They have nothing to worry about with Divi Extended Membership as their Divi theme addon. Whatever they need to build their next Divi project, they can find it right in this membership. Hence, a complete solution to fulfill all of their Divi design requirements.
Don't take our word for it; see what our customers have to say and decide for yourself.
Source: Trustpilot.
Our Team Is Always Ready to Support
---
Helping our customers is another quality product you get when you become our member. We take your request under full consideration and resolve every issue you might face while working with our products. Therefore, you can use each product at its full potential no matter what your project's scope. Our customer service includes easy documentation, in-depth tutorials and dedicated support executives whenever you need them.
Is Divi Extended Worth It? (The Bottom Line)
---
Totally! With Divi Extended as your Divi theme addon, you get your hands on 2000+ Divi products, including bestselling Divi plugins, child themes and layouts.
A package full of creativity, performance and functionality so that you can build Divi websites of any kind regardless of your Divi user level. You don't have to code; you don't have to follow complex processes to utilize these products.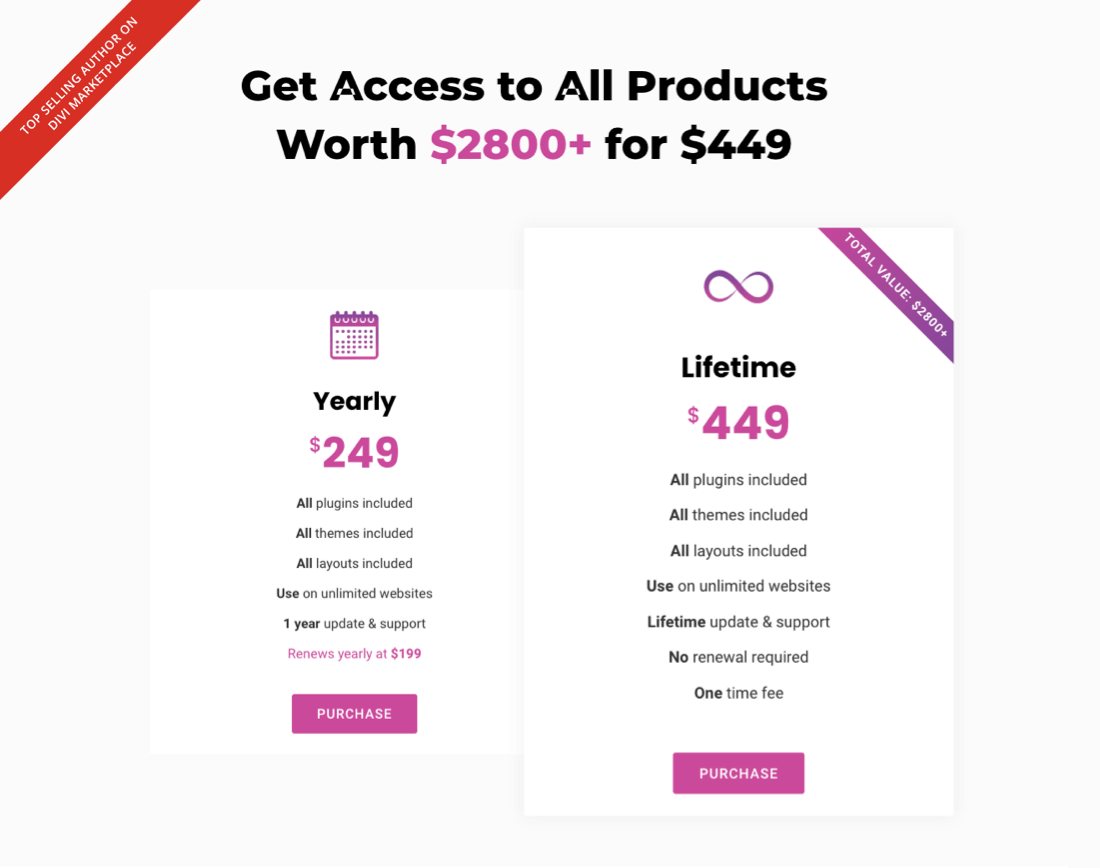 Everything is super easy and user-friendly, which would streamline how you build Divi websites, keeping the latest design trends in mind. For all of these, all you have to pay is $449 as a one-time payment, and it will unlock the endless possibilities to boost your potential to design out-of-the-box Divi websites in no time.
Therefore, make Divi Extended your only Divi theme addon this festive season to level up your creative process by spending less time and amount.