Having knowledge of something always helps with the task at hand. The same is true with Divi. If you're working on a Divi web design, you can always leverage Divi resources. Yet, finding Divi theme resources could become a daunting thing if you're new to Divi.
Nevertheless, this doesn't have to say that experts don't need resources to improve their skills.
Therefore, if you're looking for Divi resources to either gain knowledge, find a Divi tutorial for beginners or simply boost what you already know, this post will lead you to the right platform. In this, we've covered significant websites and resources that can help you become better at using Divi. Furthermore, what's interesting about these Divi resources is that they all are free.
Thus, improve your Divi skills without spending any amount. If you're excited to explore these resources and what they've got for you, then let's get started without delay!
10 Best Divi Resources Platforms to Learn More About Divi Theme
---
1.
Divi Resources – Elegant Themes Blog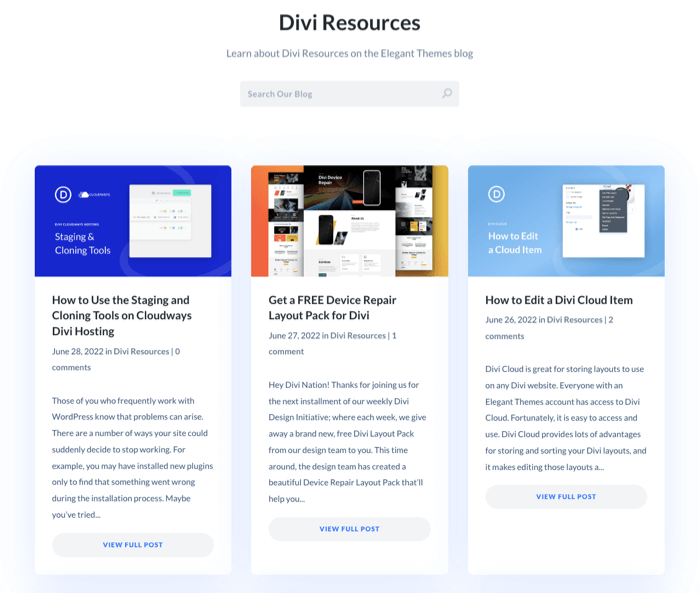 If you're looking for the best resources, you can't ignore the Elegant Themes Blog itself. Here, you'll find all the necessary Divi tutorials for beginners. Even they post solutions that allow experts to improve their design. And not only design but their knowledge as well as business.
At Elegant Themes Blog, you'll find Divi resources that allow you to explore new products like Plugins, Themes and Extensions. You'll also see posts discussing how to use a particular CSS or JS to extend Divi's functionality. Besides, Elegant Themes experts regularly publish free layouts that you can download or create from scratch.
One of the great things about their content is that each post is written, keeping both beginners and advanced users in mind. Each solution has easy-to-follow steps and explains a particular subject efficiently and thoroughly.
Thus, you can rely on the Elegant Themes Divi tutorial no matter your requirements. Besides the blog, you can access their YouTube page if you're not handy with written solutions.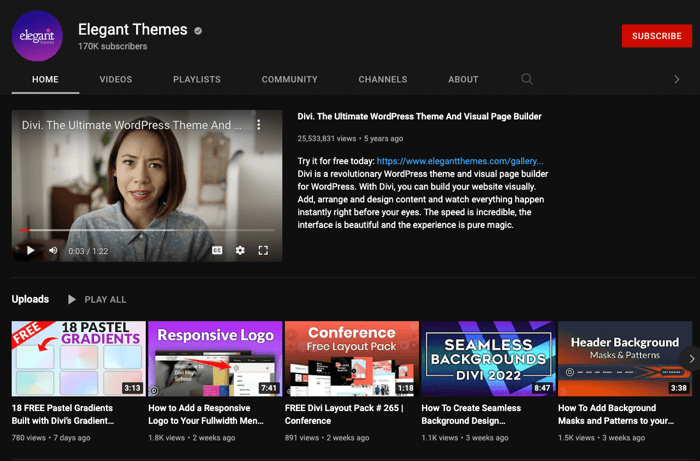 If you're new to Divi, you can explore Documentation, where you'll find posts that explain all the features of Divi and its builder.
2.
Divi Resources Archives – Divi Extended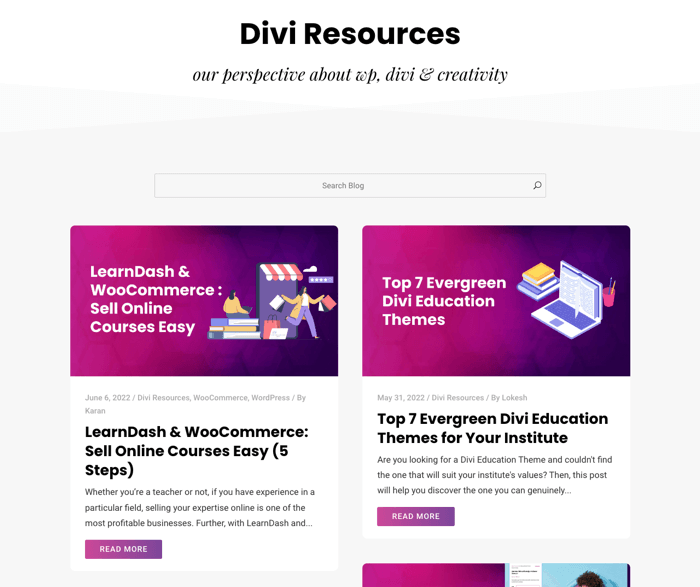 Divi Extended is the top-selling author at Divi Marketplace. Our products help Divi users make their website beautiful, powerful and more functional at the same time. Likewise, our Divi tutorials allow them to make the most of their Divi project. Whether your website is about personal use or professional, our Divi resources can help you take it to the next level.
Our Divi tutorials cover wide topics. You can find solutions from adding a social icon at the footer to equalizing the columns' height. And these solutions are not only limited to Divi. Rather, we've got posts that allow you to extend our product's use, too.
Plus, you'd find tips for website design, meaning that you're covered from everywhere on our platform.
Whether it's about Divi, WordPress or even the entire web domain, at Divi Extended, you'd find resources that can boost your overall web designing skills. We've got solutions for Divi child themes. We've got solutions to speed up your website. And we've even got the solutions on how to build your own module.
Thus, Divi Extended is one of the best Divi resources you can go for.
3.
Andy Tran's Curated List of Awesome Resources – GitHub
GitHub is a well-celebrated platform among web designers and developers. And Divi isn't untouched by that fact. You'd find many solutions on GitHub that beautify your site or enhances its functionality.
Among those, one is Andy Tran's GitHub library consisting of many topics exploring the Divi theme. Andy is a former Elegant Themes staff engineer who contributed to the development of Divi 3.0. Although he's left Elegant Themes, his library of Divi resources at GitHub is still available.
There you'll find Divi code snippets to apply tweaks to your Divi configurations. Plus, it includes many resources that explore Divi from many angles.
For example, podcasts, tools suggestions, and community links could be found.
By utilizing all of these, you'll have better knowledge of Divi – how it works, its essential components, and where you can learn more about them.
4.
Resources for Divi – Astuces Divi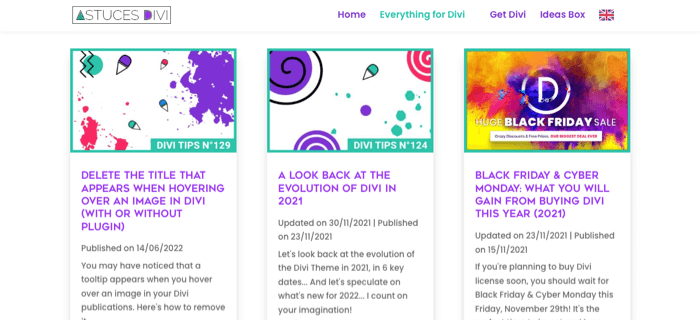 Video tutorials have become a preferred way to learn something new. Yet, when it comes to copying and pasting the snippet, text tutorials take the podium. And to support this notion, you have the Astuces resources.
There are over 35 Divi tutorials that allow you to apply changes to the default functions. Each post is written in a simple and easy-to-follow lang making your Divi experience seamless.
Some tutorials are a few years old, but this platform keeps them updated. So that you'd have no issue while implementing the solution to your updated environment.
From fixing the Divi text module toolbar to creating a promotional bar, here you'll find many essential tutorials.
5.
Mark Hendriksen's Resources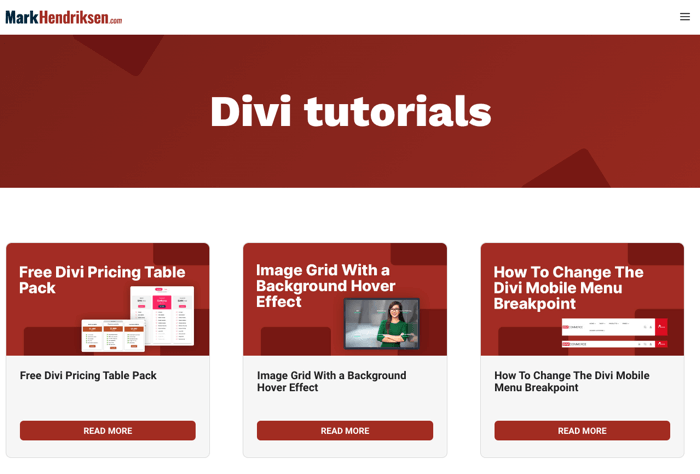 Just like Divi Extended, Mark Hendriksen is also a Divi Marketplace author. He has developed many Divi products that allow Divi users to turn their simple website into something incredible in no time.
Likewise, he also organizes posts that enable users to extend Divi's look, performance and functionality without using any extra tool. There are over 160 posts that discuss code snippets, Divi performance enhancements, plugins, themes and layouts.
With all these free resources, you'd have an online presence that'll serve its purpose to the fullest.
6.
The Divi Teacher – Pee-Aye Creative Blog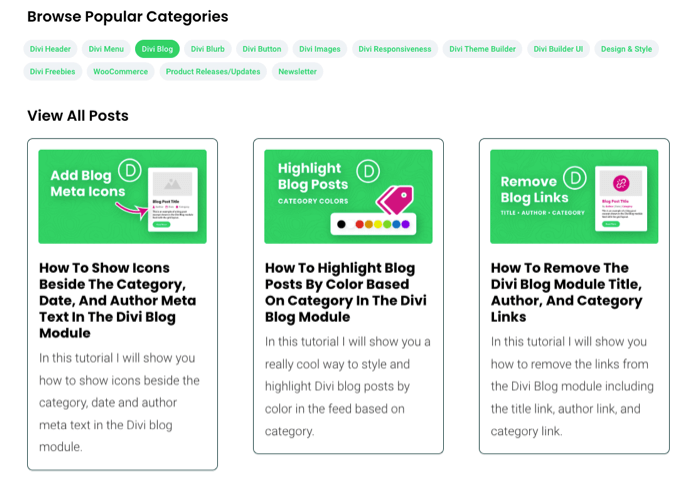 Some of the best Divi tutorials you can find online are from Pee-Aye Creative. After Divi Extended, the one that comes as a top seller are Pee-Aye Creative. Their products are amazing and allow you to improve your site intuitively. On their platform, you'll find solutions for both their products as well as the default Divi options.
You can explore Divi CSS tutorials for beginners, web design tips and more.
Each Divi tutorial available at Pee-Aye Creative is simple and easy to follow. Thus, allowing you to quickly understand the concept and apply it to your site. What's interesting about these tutorials is that they've got both text and video versions on the site.
So, if you want to continue watching the video, you can do that. There's no need to leave the platform.
7.
Divi Web Design Resources – Divi Lover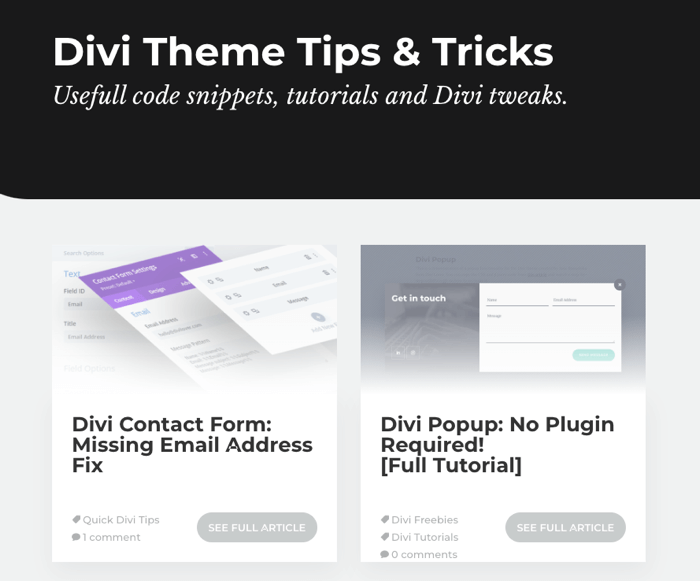 Similar to Donjetë Vuniqi of Elegant Themes, Ania possesses outstanding Divi skills as a woman web developer and entrepreneur. Her products are loved by hundreds of users and allow them to customize Divi as they want. In the same way, her blog includes several Divi resources that can guide users to extend Divi's capabilities.
Whether you're a new user or an experienced one, her tutorials will give you more insight on how to use Divi to its full potential. For instance, you can find tutorials on customizing the Read More button, Divi Global settings, Hover effects and more.
8.
Divi Tips and Tricks by Divi Cake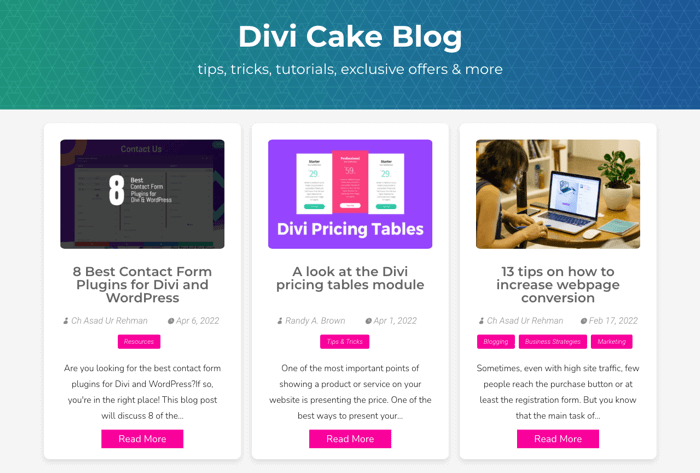 Prior to the official Elegant Themes Divi Marketplace, Divi Cake was the #1 platform to get 3rd party Divi plugins and child themes. Even so, it still offers some of the best Divi products that aren't on the marketplace.
With outstanding products, it also manages the outstanding Divi resources, which you can utilize to bring significant change to your website.
Its blog posts include tips, tricks, tutorials, offers, and much more to improve Divi theme-based websites. If you're looking for Divi educational themes, there are posts discussing that area. If you want to learn more about Divi theme builder, there are posts explaining that.
Whether you're a beginner or advanced user, the Divi resources this platform has won't disappoint.
9.
Divi Tutorials – the DiviMundo Blog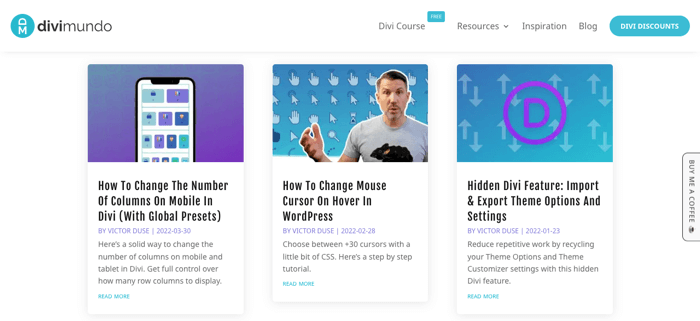 DiviMundo is a fully dedicated blog that provides you with Divi tutorials. Its owner, Victor Duse, has been creating a Divi-based tutorial since 2017. He's a Swedish web designer, developer and teacher with over 20 years of experience. He's also the founder of WordPress Agency – Duse Media. This means you can rely on his tutorials and knowledge.
At DiviMundo, you can find 40+ easy-to-read Divi posts available for free. Plus, there's a Divi Course available on the platform, which you can start for free and later pay to continue.
With all these, Victor also shares one of the best plugins and themes you can use. For example, he suggests our Divi Blog Extras to improve your Divi blog pages.
If we talk about the posts, they are easy to read and cover a wide range of topics. For instance, the tutorials include hiding the Divi footer with no CSS. It also has posts for saving Divi Form submissions in the Database, hiding Divi modules and more.
10.
Divi Tutorials & Web Design Courses by Josh Hall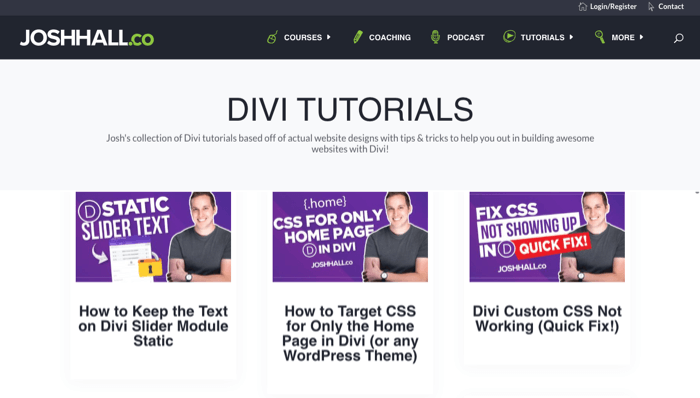 Last but not least…
If you want to learn more and more and more and more about Divi, Josh Hall is the right person you should go to. His platform, which is named after his name, has covered Divi from everywhere. Whether you want to watch tutorials, listen, read or even talk about, the platform has everything.
And for all that, you don't even have to pay. However, there are some resources you'd have to take part in by paying, but overall there's free learning.
Josh Hall has been a Divi user for more than 10 years and also wrote for the blog Elegant Themes. His work has been featured on many online platforms, making him the right Divi teacher you're looking for.
Further, his platform not only discusses Divi. Instead, you'd find resources that give you complete knowledge about web designing. Thus, it's a place to boost everything you want to know about the online world and how it works.
The Wrap Up
---
For a new user, it could become hard to know where to gain more info about Divi. There are many platforms that promise that they provide the best Divi resources. However, without trying, it's harder to tell whether they are actually.
But with the above-curated list, it'll become easier for you to visit the right platform for the right information. We hope this blog post helped you learn a lot about the different Divi platform that makes using Divi interesting.
If you have something in your mind, please do let us know in the comments.