Are you looking for a Divi Education Theme and couldn't find the one that will suit your institute's values? Then, this post will help you discover the one you can genuinely trust. This post will discuss 7 Divi child themes that include loads of resources to build an evergreen educational website.
Using the theme mentioned, you'll have an educational website that will serve your ideal audience significantly. It will have all the necessary pages and elements required to run an education site at its best.
That being said, let's get to our child themes without further intro!
1. Divi Daycare
---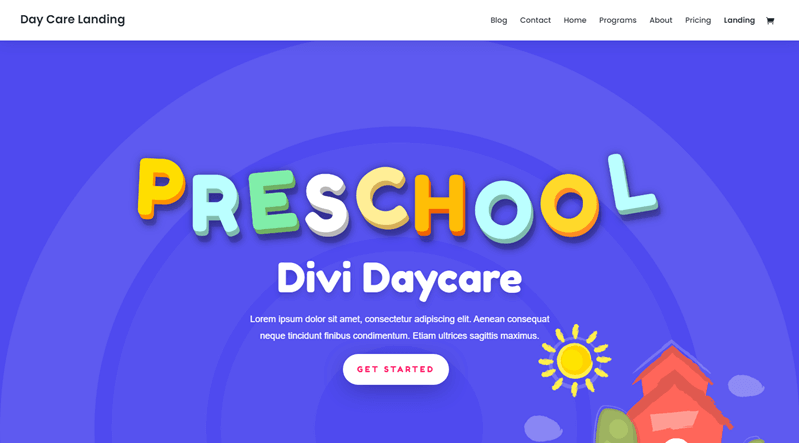 Divi Daycare is a free educational child theme with 7 different page layouts. It's a default theme provided by Divi that you can access from Divi's Layout Library. Using this child theme, you can create a website for your pre-school, aka daycare. It offers a sophisticated design that's enough to present a pre-school's theme.
The Homepage starts with a wide hero space where you can show the ambiance of your pre-school. Then you get different content areas to add the school's information most creatively. Likewise, the Landing page allows you to share additional info using blurbs, videos, accordions, etc.
With this, you can utilize remaining pages such as Blog, Programs, Pricing, About, and Contact to help parents find everything they want to know about your pre-school.
2. Divi Elementary
---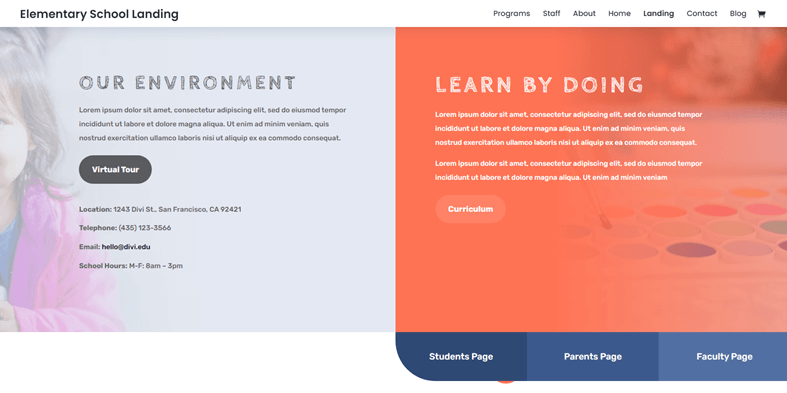 Another education layout with different pages you can get from Divi is Divi Elementary. It's also free like the previous one and offers the same number of pages. Although it's best suitable for an elementary school, you can try it for daycare. Like Daycare, the Homepage also starts with a wide hero space but offers content areas in multiple columns. There, you can share the school principal's details, school location, opening hours, and more.
Further, the updates you share will be visible like a timeline we're used to on social media platforms. In addition to the Homepage, it includes Programs, Staff, About, Landing, Contact, and Blog page.
Each page has a very creative font selection, color scheme, and placement of the elements. In the programs, you can see the services creatively placed side by side with the parallax effect. The same design and representation of elements can be found on other pages. Thus, allowing you to build an elementary school's website simple yet creative.
3. Divi Highschool
---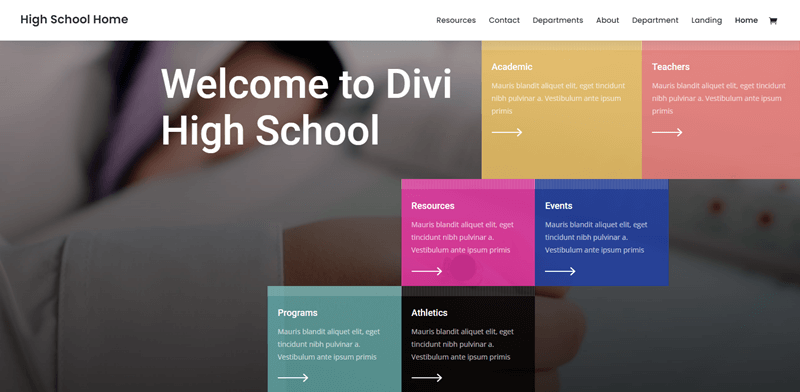 You don't operate a pre-school or an elementary; instead, you've got a High School. Or you've got a project to build a high school website. In that case, the above won't work as supposed to. Nor Divi will hold you back from finding a suitable education template because it offers another free child theme – Divi High School.
Using this Divi Education Theme, you can build a high school website of any kind.
Likewise the previous ones, it, too, offers 7 different pages. You've got Homepage, Resources, Contact, Departments, About, Department and Landing.
The Homepage has a modern start with a wide herospace containing links to different areas of the site. Then, you've got blurbs representing upcoming events of the school, student resources, and more.
Using the Landing page, you can elaborate the things even more comprehensively. The Resources page allows you to list down all the links that a student or parent can utilize. Further, The Departments page lists all the departments with their emails, and the About page lets you add the school's info based on different years.
And similarly, the remaining pages provide you with complete control to share School's other information in the best way possible.
4. Divi Edu
---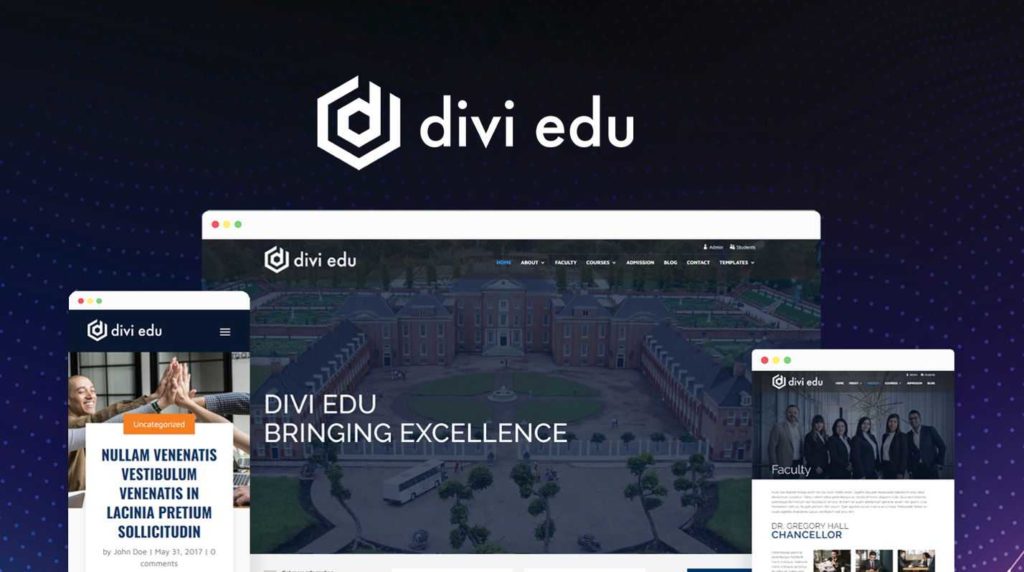 If you require an even more comprehensive and powerful Divi Education Theme, you should go with Divi Edu by Divi Extended.
It's a premium Divi education child theme with over 10 necessary pages. Further, it includes different layouts like Header, Footer, Blogs, and more to optimize the site better. Using this theme, you can create a school website, a university site, and literally educational websites of any institute. It offers a simple homepage that represents an institute with credibility. It has optimized sections, blurbs for courses, links to facilities, and more.
The theme is designed keeping all the devices in mind. Thus, you'll have an institute's site with no worries about responsiveness. Furthermore, you can improve the default look by using the pre-built layouts it offers. Apply customizations as you like and create an educational site that reflects trust and value.
5. Divi Foster for LearnDash
---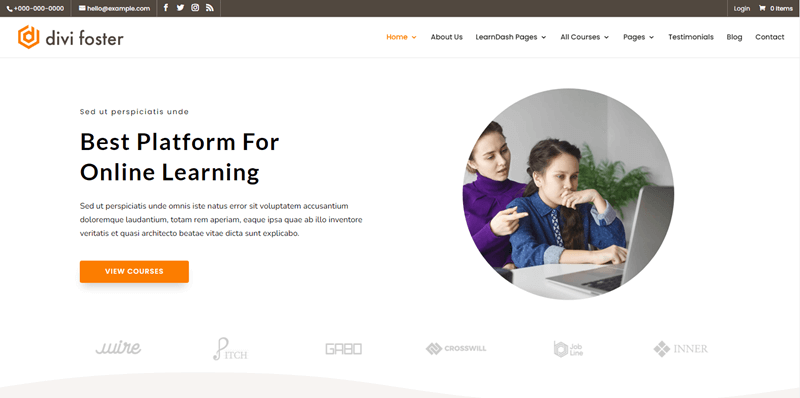 If you're looking for a Divi coaching theme for your site where you intend to provide online lessons, then you can confidently go with Divi Foster. It's a paid educational theme for Divi that you can utilize with the LearnDash plugin. For creating and selling online courses, LearnDash is one of the best platforms. And using Divi Foster, you'd be able to make the most of it.
This child theme provides multiple layouts for the homepage, course, lessons, and 10 additional pages. If you're using WooCommerce, you can even then utilize this child theme that offers various WooCommerce templates.
In addition to these, the child theme has a very persuasive approach to laying out each design element—for example, the courses section on the homepage, testimonials, pricing table, and more.
6. Divi Flexile University
---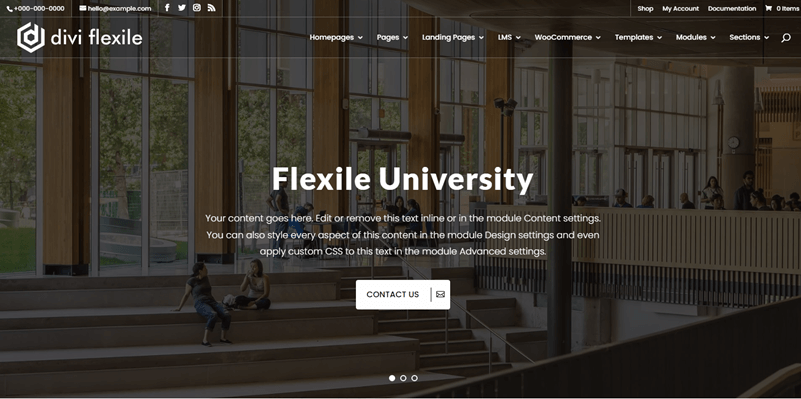 Divi Flexile is a multipurpose child theme that also provides you with a University layout. It includes different options and features that allow users to turn their simple site magnificent. And the same you could apply to your educational website. In addition, it also supports LMS and WooCommerce.
So, if you're targeting an educational eCommerce store or online learning platform, it's possible with this theme as well.
Moreover, you get 250+ Divi elements, 50 hero sections, 150 Header and Footer layouts, and various necessary pages to make the platform live in no time.
7. Divi Plus University
---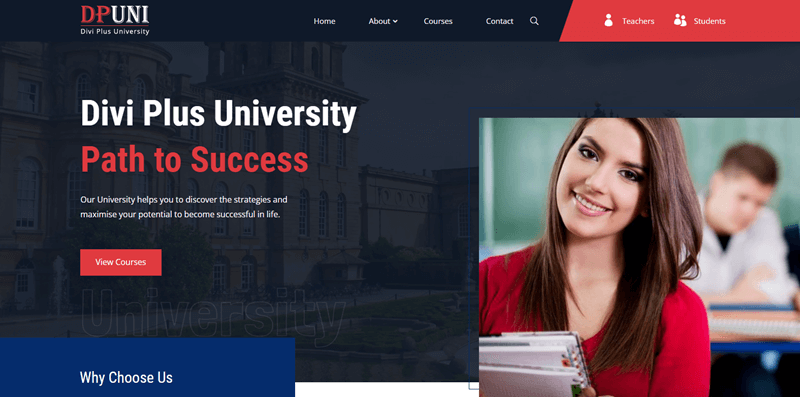 If you're looking for advanced customization for your University website, you should go with Divi Plus University Theme. It's a free Divi education theme that you can avail of when getting the Divi Plus plugin.
It's an 8-page child theme that includes modules of the Divi Plus plugin. These modules consist of advanced options that allow you to take your Divi website to a new level. Whether it's performance, functionality, or even looks, these modules can help you boost your site in different ways.
Even with these advanced modules, the design you get with this theme is straightforward. There are no unnecessary elements that might distract your visitors. Everything is in place to represent the platform as an educational one.
Conclusion
---
So, that's our look at the 7 evergreen education themes you can apply to your Divi educational site. We've covered themes for different levels of education. Plus, a solution to operate an online learning platform such as Divi Foster for LearnDash.
Check out these child themes demo pages, and choose the one that fits your requirements entirely.