Using pre-built layouts in Divi makes life easier for website owners, developers and designers. They provide you with design possibilities that are easier to apply, suit websites of different niches and make it interesting for visitors to explore the platform. Now, what's the cherry on the top are Divi layouts packs that offer you lots of lots of elegant design possibilities.
In this post, we're going to look at the 8 best Divi layouts packs that allow you to quickly add essential elements on the site, such as headers, footers, blogs and product pages.
So, that's enough for the intro. Let's explore our Divi layouts packs.
(1) Divi Flexile Pricing Tables (New Divi Layouts Pack)
---
If you want to add clear and beautiful-looking Divi price list tables on your website, then the new Divi Flexile Pricing Tables pack is the perfect bundle to start with. This new and customizable pricing layouts pack comes with a total of 50 outstanding pricing table layouts for Divi.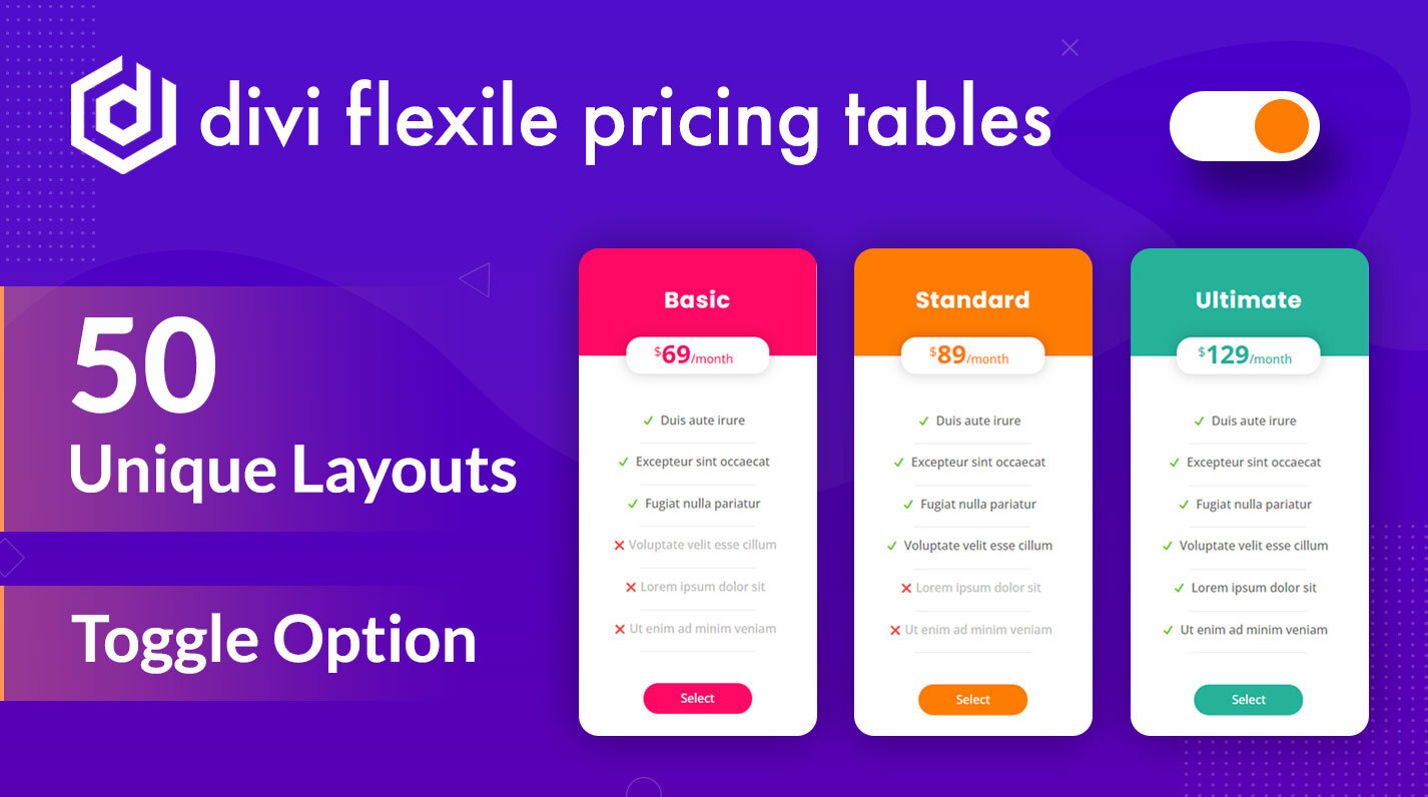 Each layout is unique, follows best pricing table practices and can be used for Divi websites of different niches. The pricing layouts of this pack follow the latest design trends and provide you with satisfaction at the topmost level. Interestingly, you can customize them per your requirements and make them more suitable for your business website. You can change the color, fonts, animations, design, etc.
The pricing layouts are meant to fit your specific design needs. And to use them, you don't have to go through complex processes. Just simply download and upload them to your website the way you do with regular Divi layouts.
By using these pricing layouts, you can
Add pricing details in multiple columns (up to 6)
Use the toggle switch for Annual or Monthly prices.
Add pricing details in Horizontal and Vertical layouts.
Add thumbnails.
Use checkmarks, icons, background images, etc.
And there's more this new pricing tables layout pack offer to the Divi user.
(2) Divi Flexile Headers
---
Divi Flexile Headers pack is one of the best-selling Divi layouts packs available in the market. This single layouts pack comes with a total of 170 Headers for Divi that make a website's navigation easy to explore and clutter-free.
By using the header layouts of this pack, you can give your website the kind of outstanding start it deserves. Not only are these layouts easy and clear, but they are also good at design. Something that will catch your website visitors' eyes at the first moment. Furthermore, you can add menu items in the best way possible.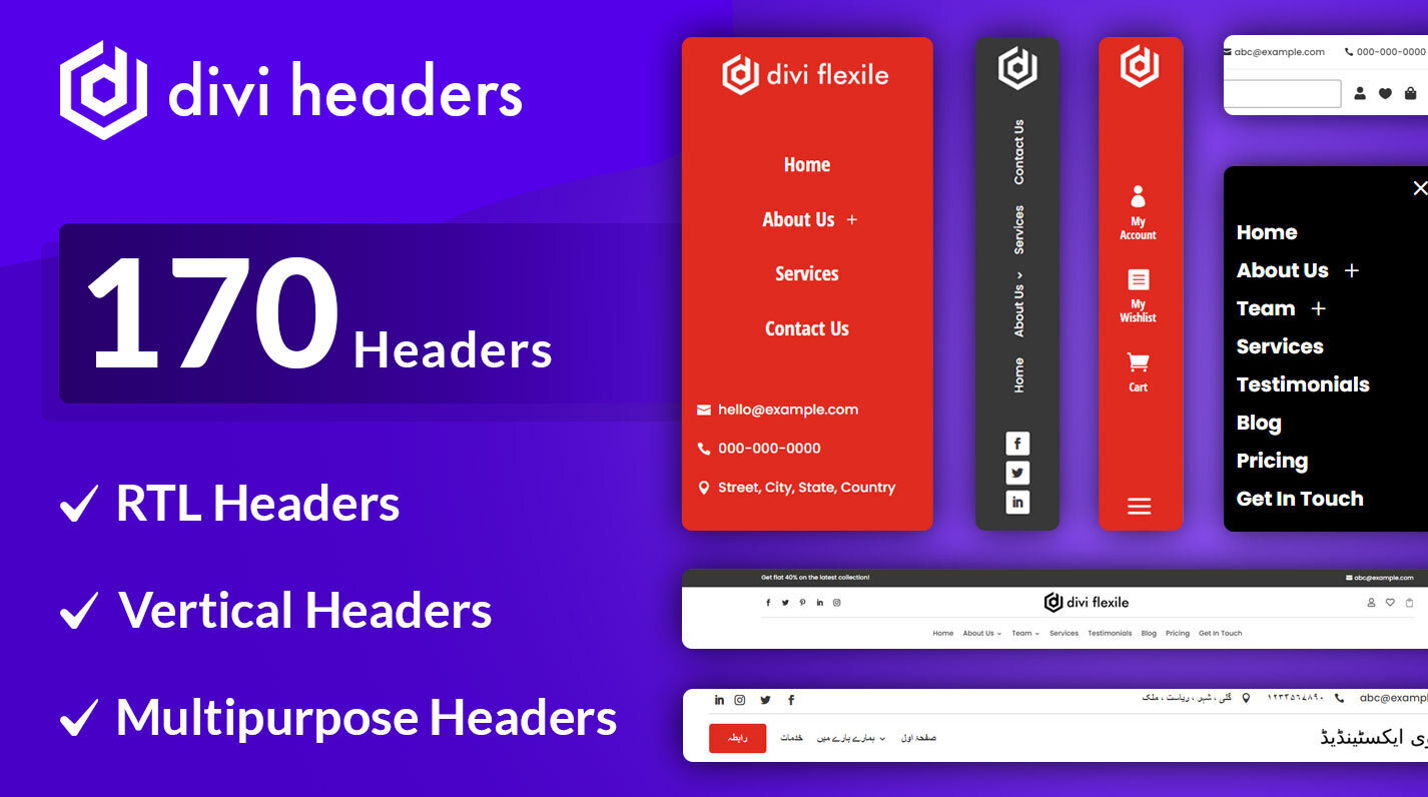 Divi Flexile Headers provides you with,
Header templates for WooCommerce (layouts having my account, wishlist, cart and other eCommerce elements.)
Header layouts with dual CTAs.
Layouts with hamburger menu.
Off-canvas and slide-in headers.
Vertical and Rotated Menus header layouts.
RTL header layouts for websites using Right to Left languages.
In addition, you get regular updates that add more amazing layouts to the pack, which makes it more interesting to build a modern Divi website.
(3) Divi Flexile Footers
---
Once you're done with the headers, what comes next are the Divi layouts for footers. And Divi Flexile Footers is the best Divi layouts pack you can have to enhance the functionality and beauty of your website's bottom area.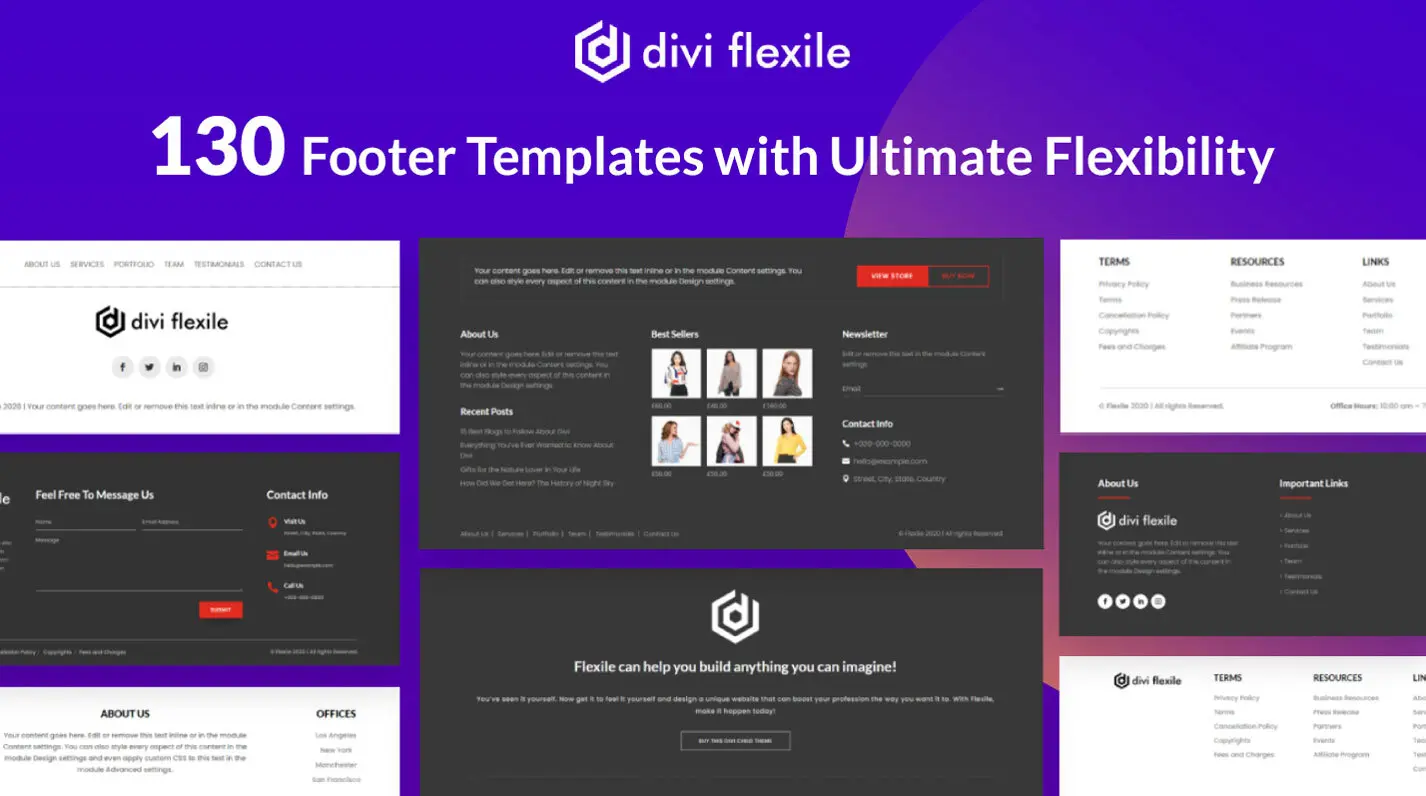 A total of 130 footer layouts you get with this Divi layouts pack which allows you to seamlessly organize essential links and elements at the bottom. By using the footer layouts of this pack, you can add a short introduction of the platform; showcase social media links, recent posts, logo, copyright text, address, subscribe form and much more.
The layouts even make it possible to provide users with a contact form to raise queries.
And that's not all; Divi Flexile Footers includes layouts that enable users to
Display address view on a map.
Add Image gallery.
Showcase best-seller products.
Add vertical social media buttons with dedicated colors.
Use CTAs for the Buy Now and Store view.
Add Visiting hours, appointments or call CTAs.
Add multi-location details with background images.
The above are just a few salient features of the footer layouts available in this pack. There are so many design combinations and possibilities you get with Divi Flexile Footers. For example, you can showcase your Instagram Feed. Amazing, right?
(4) Divi Flexile Hero Sections
---
The hero section of a website is a crucial segment. It sets the pace and mood of the website visitors and how they'll interpret the entire platform. Thus, it's highly recommended you design the above-the-fold area nicely and keep your intended target in mind.
To help you achieve your design goals related to the Hero section, the Divi Flexile Hero Sections pack is ready to offer its best Divi layouts. It includes 60 hero sections for Divi that are beautiful, modern and responsive. No matter from which device the user will explore your site, they'll find the hero section interesting.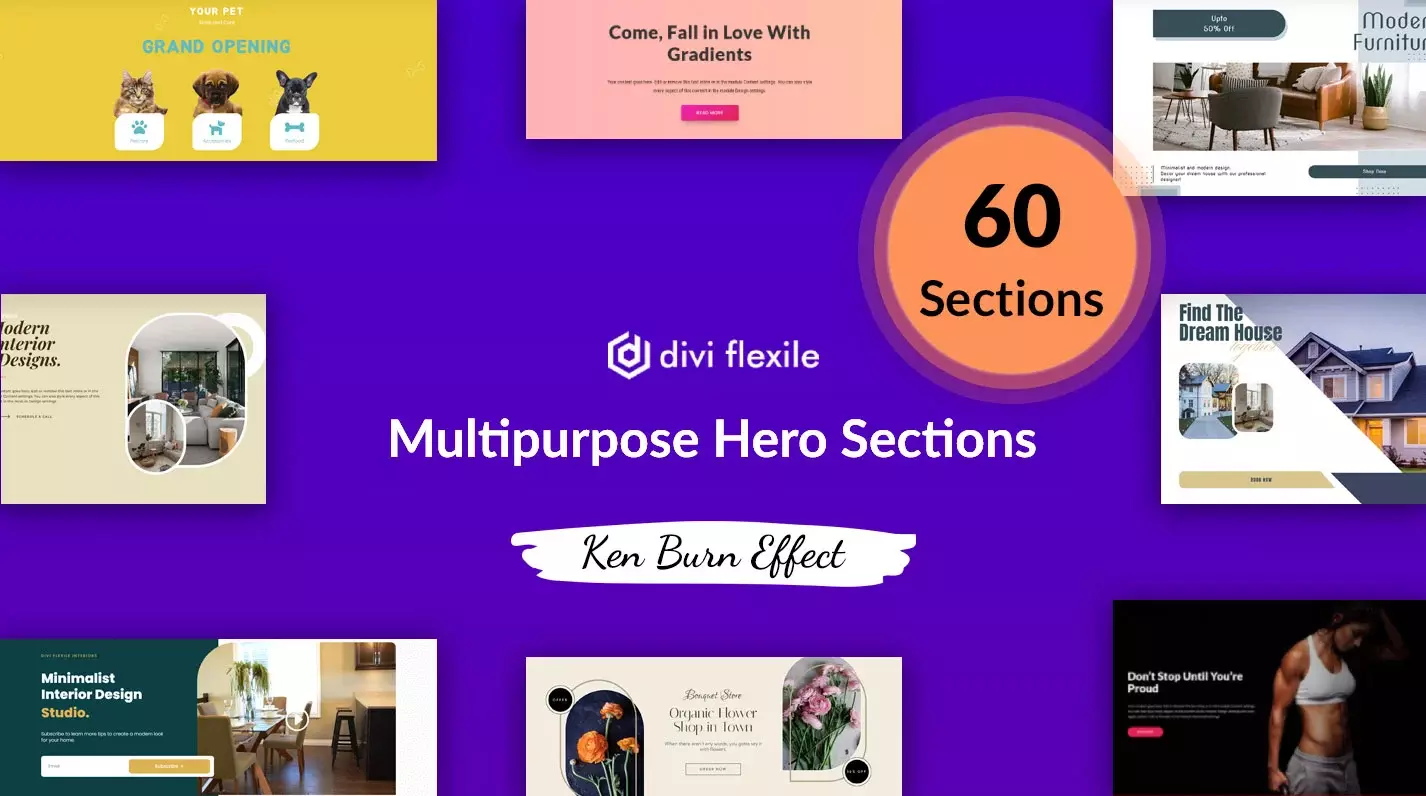 This hero section Divi layout pack combines layouts that have vast design possibilities. For example, you get hero section layouts that have,
Slides.
Countdown timer.
Featured Product.
Registration form.
Multi CTAs.
Search bar.
Video background.
Gallery.
Services with price details.
Moving background image.
And a lot more.
(5) Blogy – Divi Blog Layouts Pack
---
Through blogging, you can reach a wide audience. It allows you to rank your website high in the search and drive effective organic traffic, which is essential for long-term growth. Therefore, it's vital to design the site's archive, post page and search results impressively.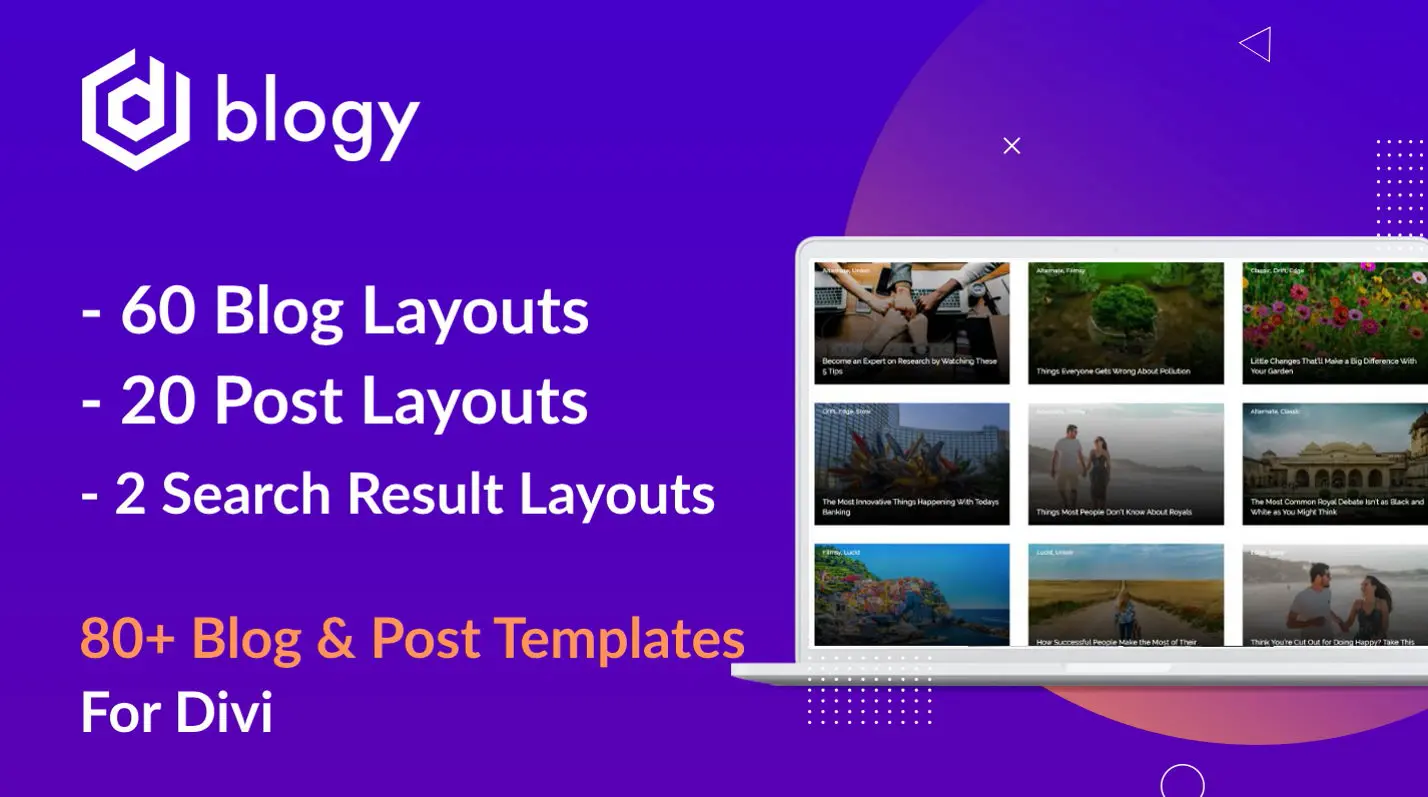 And by using Blogy, it's easier and more fun. It's the best Divi layouts pack that brings a complete package to improve the archive page design, posts and search results. It comes with a total of 80+ Divi layouts that include,
60 blog layouts.
20 posts layouts.
And 2 Search results layouts.
Overall, an ultimate solution to make reading posts on your website easy, interesting and distraction-free.
(6) Divi Landing Plus
---
For Divi web design agencies, Divi Landing Plus could be a game changer. Why? Because for an agency, every now and then, they need to build a landing page that represents a different domain or different web design requirements. If they go after every design from scratch, it becomes time-consuming, and they might not complete as many projects as they want to.
However, by getting Divi Landing Plus, they open the door to landing page layouts of different kinds.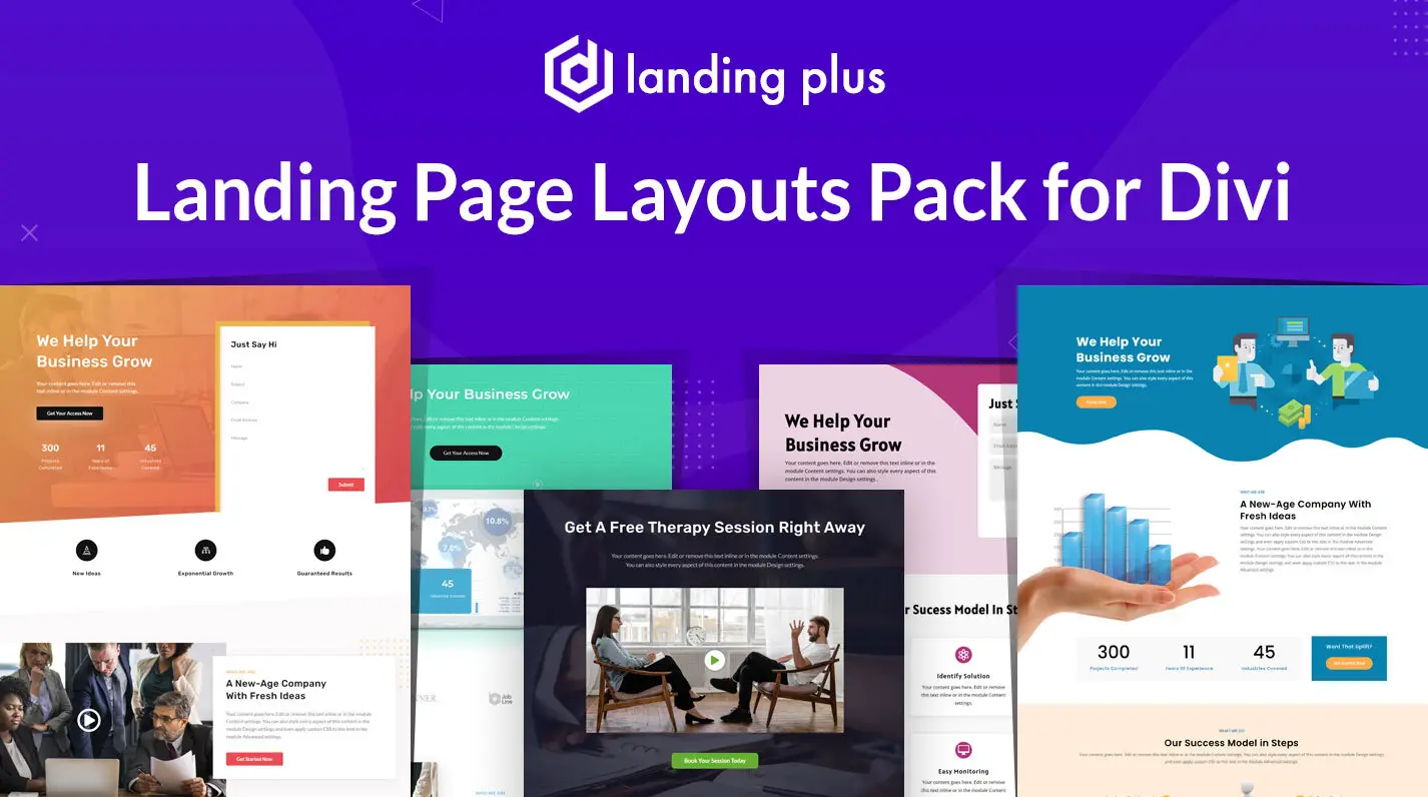 This Divi layouts pack provides 40 landing page templates for Divi that are unique, combine the latest trends and are easy to customize. Using these layouts, you can target any popular business industry. And not only target but impress website visitors at the first moment.
These Divi landing page templates let you add high-converting copy with CTAs. Showcase team with images, designation, and social media profiles. You can also add getting started form, client logos, services, pricing tables, testimonials and a lot more essential elements that make a landing page effective.
(7) Divi Layouts for WooCommerce
---
If you're looking for a Divi eCommerce layout pack that can help you enhance your Divi WooCommerce design as well as functionality, then WooCommerce Layouts for Divi is what you need. It's a premium all-in-one Divi WooCommerce layout pack that will optimize each and every area of the store.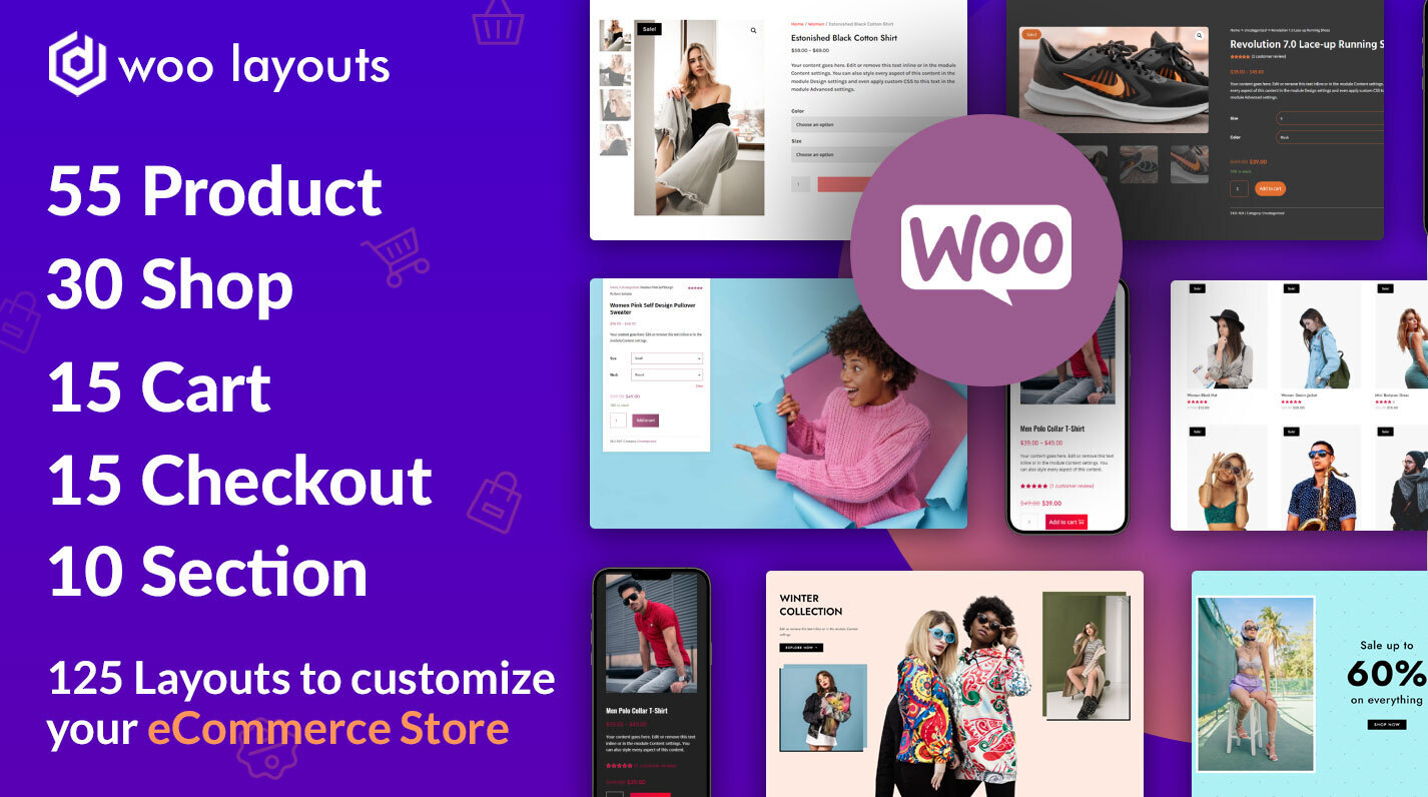 With this unique Divi layouts pack, you get 125 WooCommerce layouts that allow you to customize product pages; shop page, cart, and checkout. Furthermore, you get section layouts that you can use to highlight events, products, catalogs and more.
In the 125 templates collection, you get,
55 layouts for product pages.
30 layouts for the shop.
15 -15 layouts for Cart and Checkout page.
And 10 section layouts.
With these, you can build a Divi WooCommerce store that would entice the user immensely. They would like to spend more time on the platform and are more likely to try the products or services you will provide.
(8) Divi Layouts Extended
---
To design a highly functional Divi website, you'd probably need all the layouts packs mentioned above. However, that could become expensive for some. Therefore, in that case, what's best to use is something that provides you with everything. And there, Divi Layouts Extended steps in.
Although it's a plugin, it offers a Divi layout library that includes almost every layout mentioned above and even more. It comes with a total of 1300+ Divi layouts that make it easier for you to build elegant as well as highly functional Divi websites.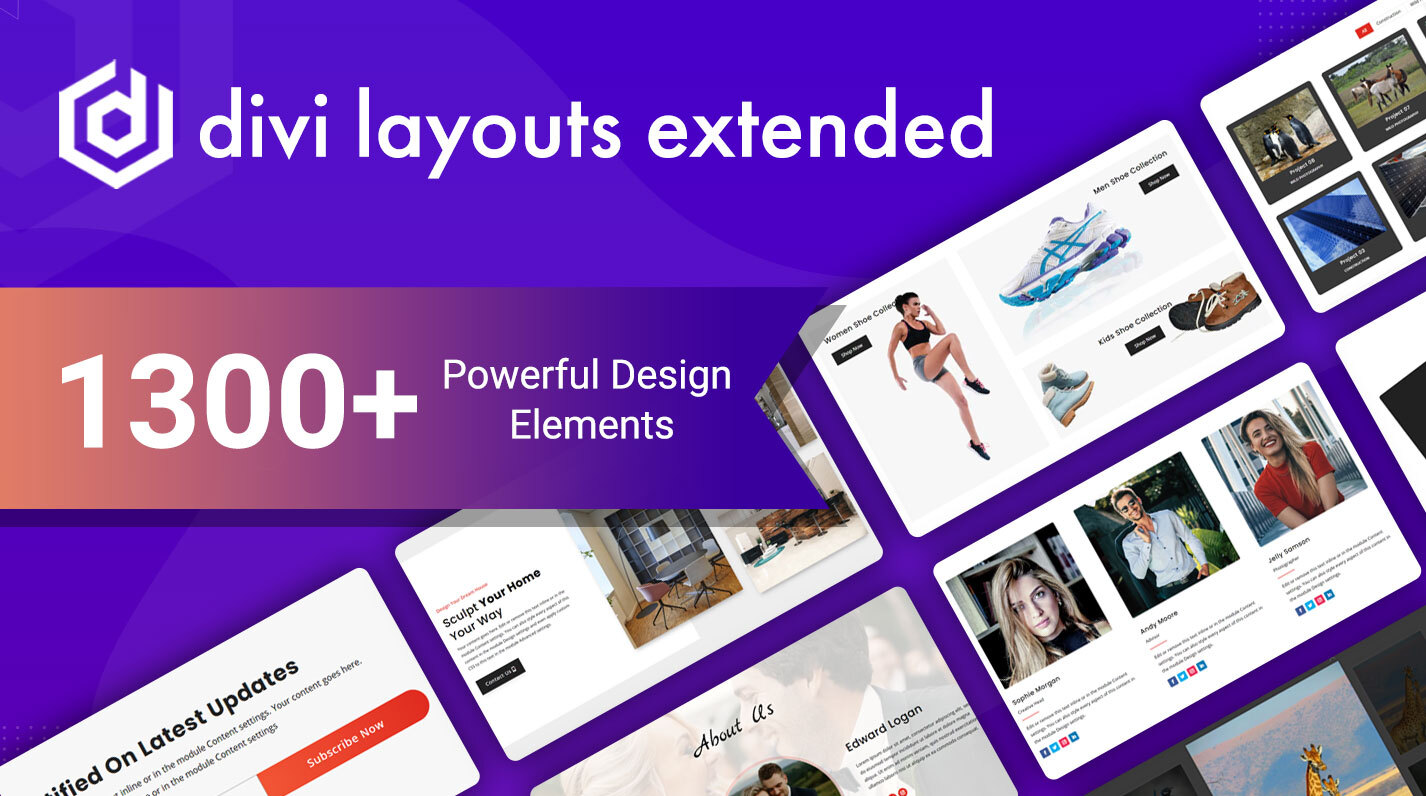 You get headers, footers, hero sections, button layouts, and services layouts, and on top of that, you get pre-built pages, too. With all these, building a site you're anticipating becomes easier.
Conclusion
---
So, that was our take on the 8 best Divi layouts packs you can utilize on your Divi website. Each layout pack follows the latest design trends and is easy to use. Simply download the layouts you want to use, then upload them into your Divi library, and that's it.
You can follow the documentation to make things even simpler. What's interesting about these layouts packs is that they come with frequent updates, which means you'll get new layouts from time to time.
By using the templates available in these bundles, you'll indeed create something out of the box and that too in minimum time. Try them today, and let's know your experience in the comment section.