Divi WooCommerce Product, Shop, Cart and Checkout Page Layouts
Want to create a stunning digital store using Divi with Woocommerce? WooCommerce Layouts for Divi is the ideal collection of Divi premade layouts for designing your online store. It comes with, not a single Divi shop layout, rather a plethora of templates that allow you to customize every aspect of your Divi eCommerce store. You get templates for product pages, shop pages, cart pages, and checkout pages. It also includes layouts for creating various content sections on the site. Use them to highlight events, product announcements, and other information. Overall, this Divi eCommerce layout pack for Divi and WooCommerce will perfect the design you've in mind.

60 Product Page Templates




60 Divi WooCommerce Product Page Layouts
With this Divi WooCommerce layout pack, creating custom product pages has become so easy because Divi eCommerce layouts available inside this package are ready to use. So, no further customization is needed. All you have to do is import these Divi premade layouts, apply them to the product pages, and run your digital store seamlessly.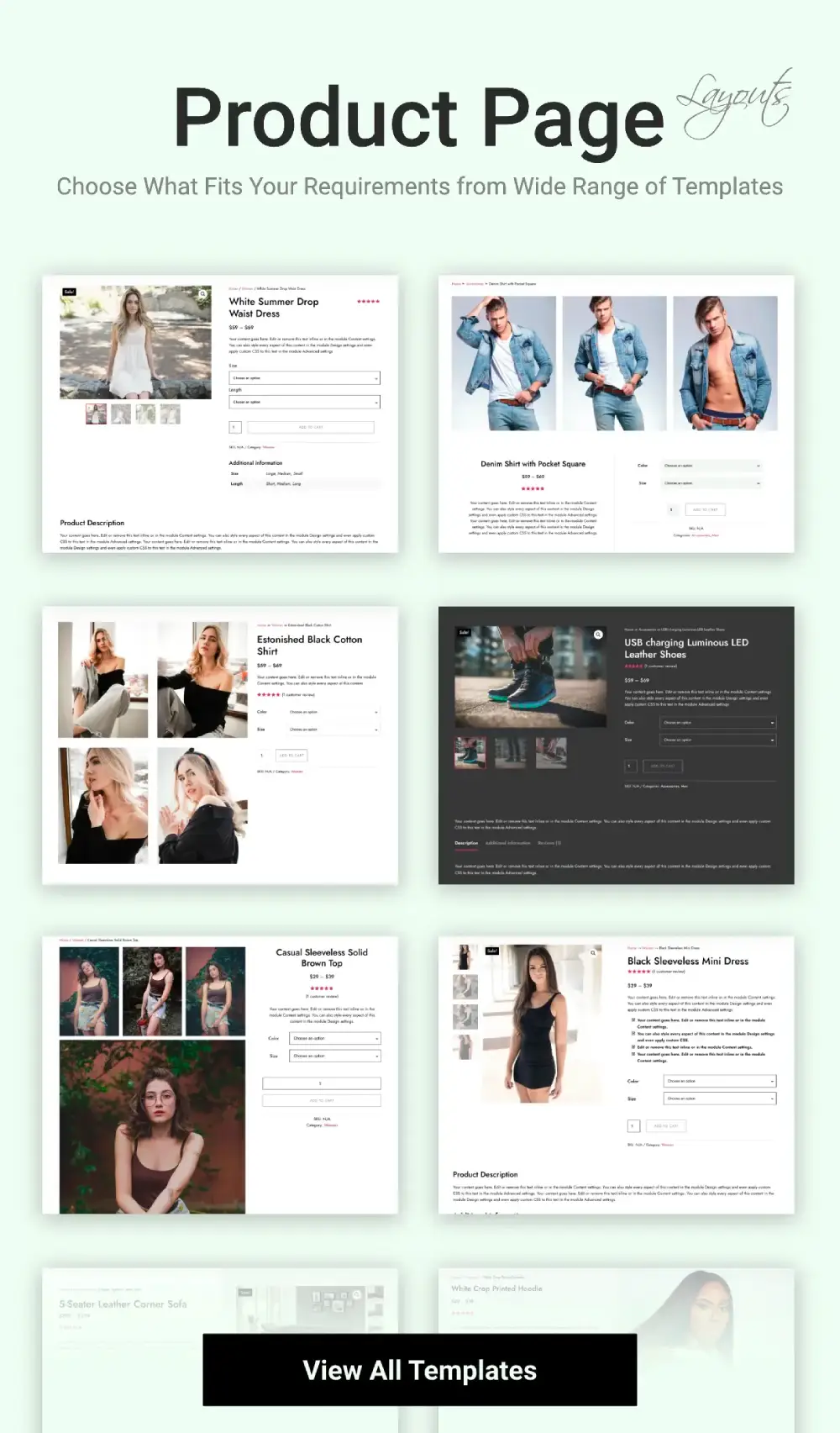 40 Divi WooCommerce Shop Page Layouts
Beautiful ready-made Divi shop layouts that simply need importing and no extra editing. Thus, making these shop page templates incredible time-saver and feature-rich offerings for Divi WooCommerce websites. Your Divi shop page created using a page layout of this pack will make your shop look great and easy to explore. You get beautiful and exceptional elements that no other Divi shop template includes. Display sidebars, sorting filters, product ratings, and more. These elements make your shop page more functional. Thus, try your hands on the Divi WooCommerce shop page layouts of this pack today.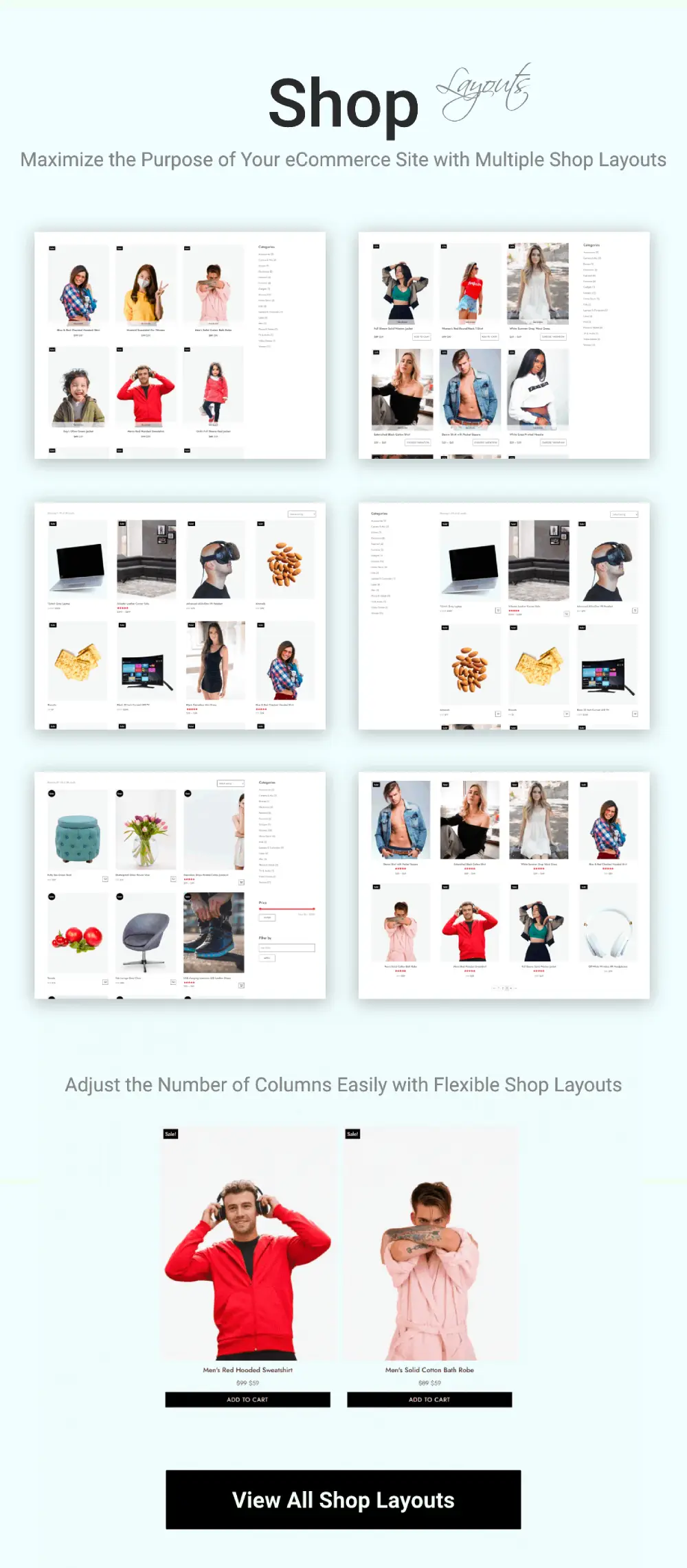 20 Divi WooCommerce Cart Page Layouts
Use any Divi Cart layout of this pack to make your WooCommerce website's cart page seem entirely modern. Plus, provide a highly readable view to review cart items easily. Divi cart pages created using these Divi premade layouts will enhance customers' experience ultimately, as an outdated cart may make the user abandon a purchase in the middle.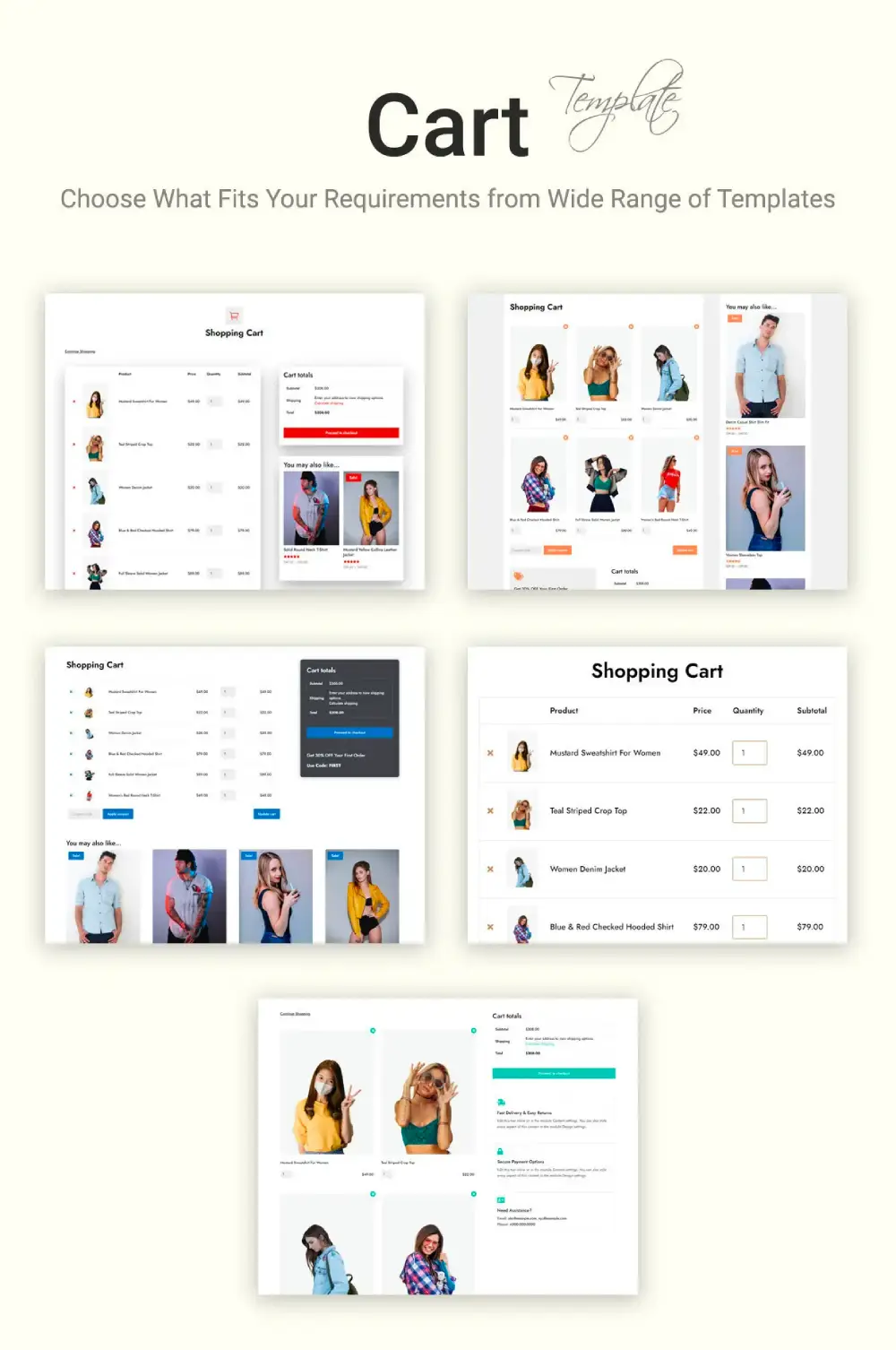 20 Divi WooCommerce Checkout Page Templates
Handle transactions on your website easily with the help of these beautiful Divi WooCommerce checkout page templates. With these Divi checkout page templates, you will have complete control over the whole website, from the store page to the checkout page. Plus, you'd make your website stand out from the crowd. The fully loaded Divi WooCommerce checkout page you create will look modern and provide users with a delightful experience. And to do that, all you need is to import the Divi checkout page layouts of this powerful bundle.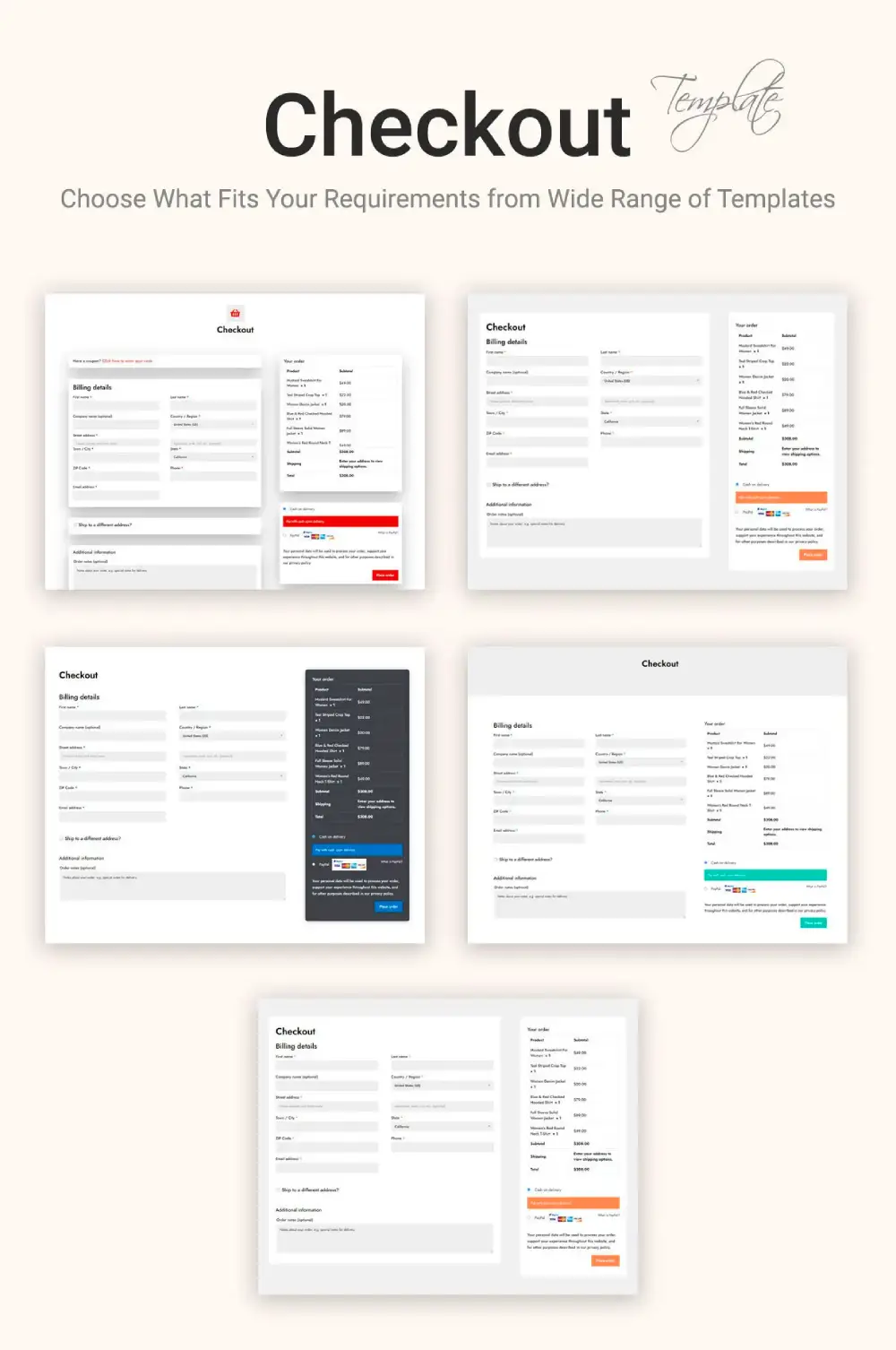 70 Divi WooCommerce Section Layouts
These Divi premade layouts allow you to add Divi WooCommerce Sections to your store to highlight key events or products.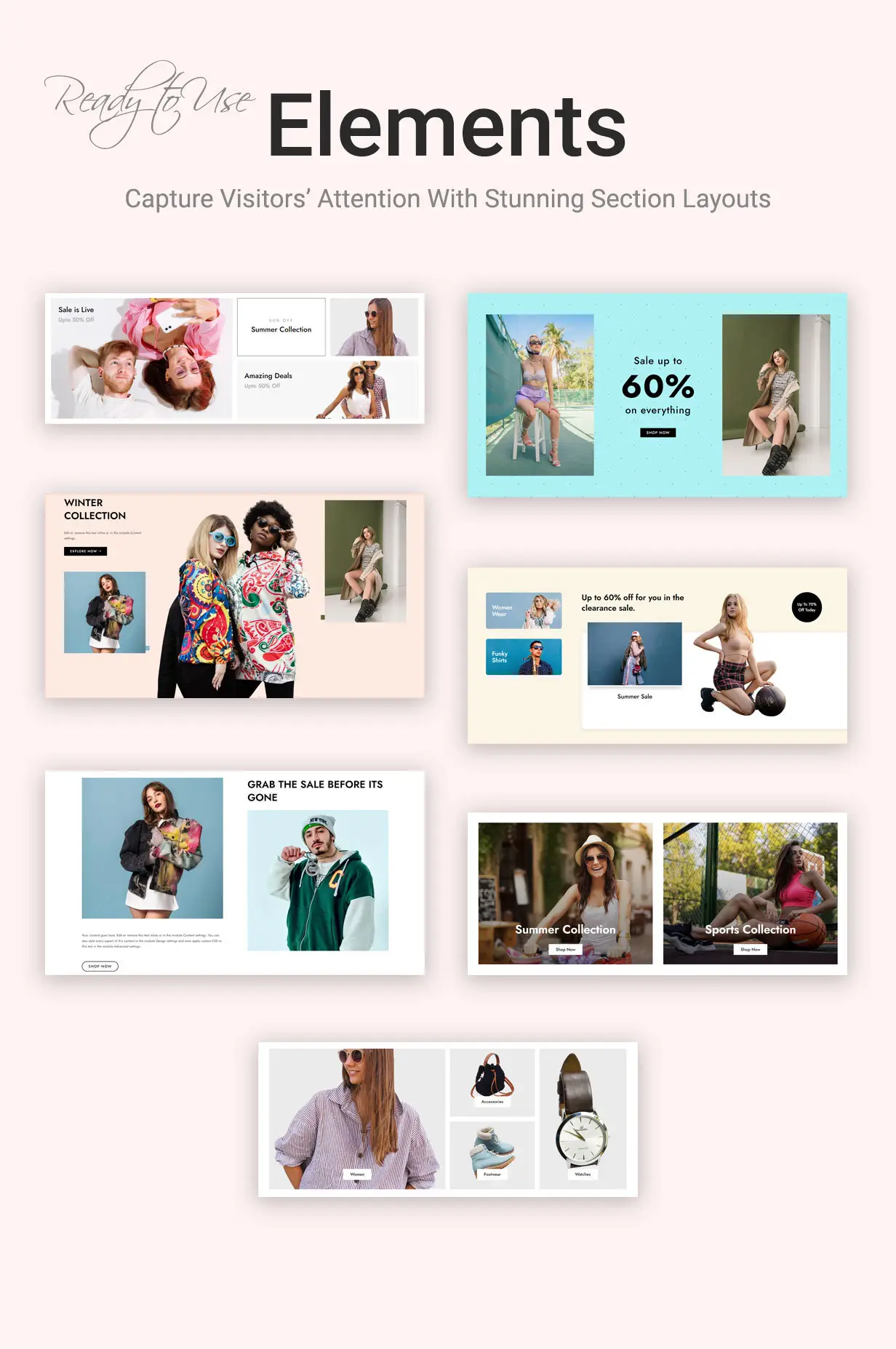 Modern and Mobile Friendly Divi WooCommerce Layouts
Most users these days are more active on mobile phones and prefer to do most of their online searches instead of computers. Therefore, a digital store must always have responsive WooCommerce product pages for mobile devices. And with layouts available inside this Divi WooCommerce layout pack, you don't have to worry about that factor. Why? Because all the layouts, whether WooCommerce shop layout or cart page, are fully responsive to devices of any screen resolution.