How Can We Help?
Search for answers or browse our knowledge base.
Updated installation steps for the Divi layouts for WooCommerce from version 3.0 and above.
From now on you will get separate JSON files for each layout.
For the installation documentation of each layout category, links are given below.
Note: This installation documentation is for older versions. (Till 2.9 or Older)
> In this package, you will get the cart, checkout, shop, product, and section layouts.
> Cart, checkout, shop, and product are the Divi Theme Builder templates.
> Sections are the Divi library layouts.
Steps to Import the Divi Theme Builder Templates(Cart, Product, Checkout, Shop)
To install all the theme builder layouts at once follow the below steps:
After downloading the divi-layouts-for-woocommerce.zip (product.zip if purchased from elegantthemes.com), Extract it to get Divi-Theme-Builder-Templates.json.
Then on WordPress Dashboard >> go to Divi >> Theme Builder.


Click on the Portability Icon, placed on the top right side of the window.
Go to Import tab >> Choose File and browse for the DIVI-Theme-Builder-Templates.json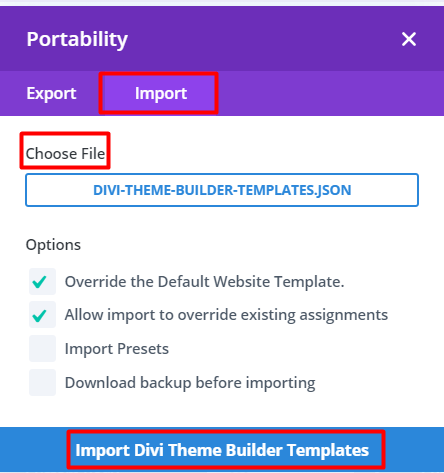 Click on Import Divi Theme Builder Templates.
This will import all the layouts to your Divi Theme builder.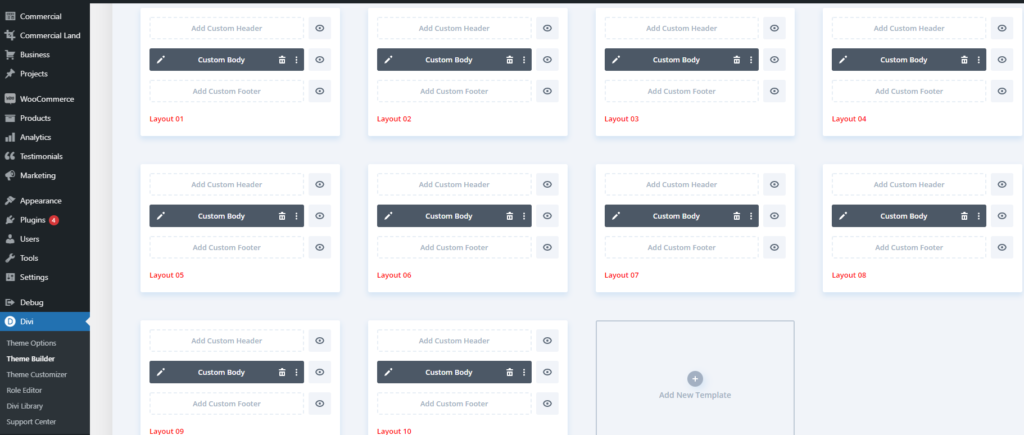 If you want to install any specific layout type, then please move to the following document link:
Steps to Import the Divi Library Layouts(Woo Sections)
Click here to know the import process of Woo Sections.