A Powerful Divi Restaurant Theme With Menu and Events
Divi Chef child theme has 7 very beautifully designed Divi restaurant layout pages. There is 2 custom post type for Divi restaurant menu and events. These custom post types which are part of Divi chef child theme can be used to create and display menu and events very easily without depending on the additional plugin.
There are 3 modules in this Divi Restaurant child theme. First Divi restaurant menu module is for displaying all menu items. The second module is for displaying a filterable Divi restaurant menu. The third module is an event-based module which displays a list of upcoming events.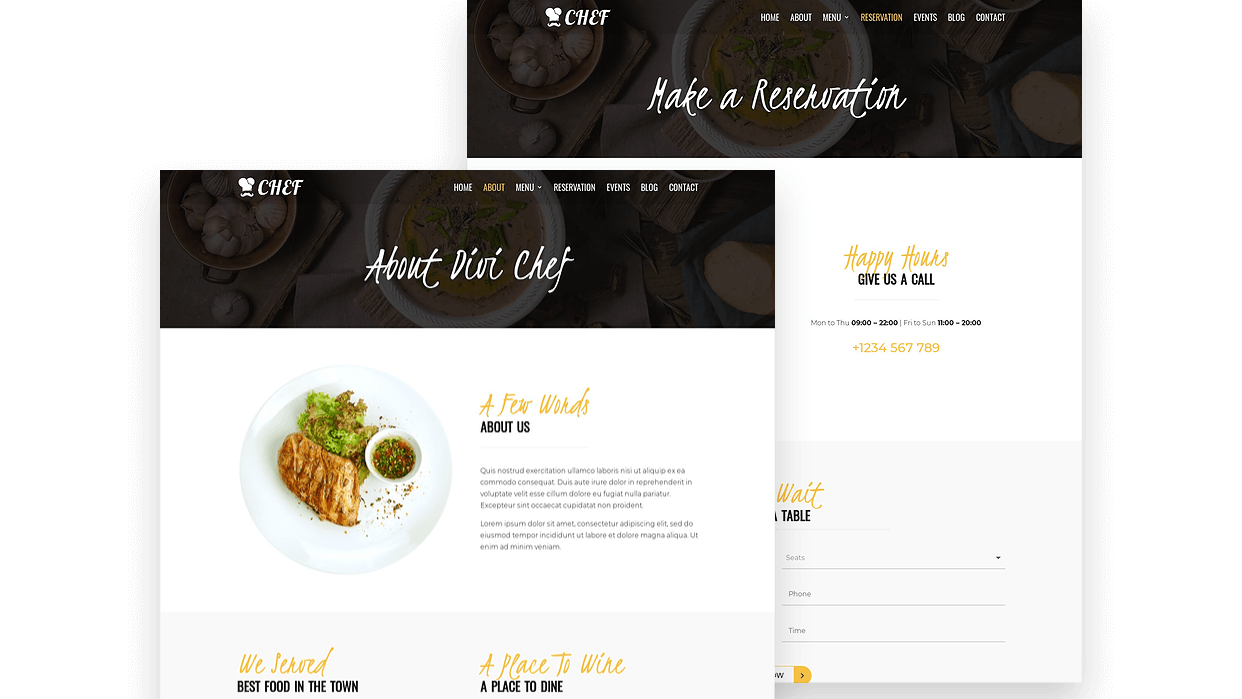 7 Beautifully-Designed Restaurant Layout Pages
Divi Chef would be incomplete without a range of beautifully-designed template restaurant layout pages. The child theme, therefore, comes with seven integrated layouts from which you can choose, depending on the style of your restaurant or eating establishment. The themes are specially tailored to allow bakeries, pizza shops, cafes, and restaurants to attract customers through their websites. Each Divi Restaurant layout is intuitive and naturally encourages users to explore your food offerings further.
Having a beautifully-designed Divi theme restaurant page layout can bring all kinds of benefits to your eating establishment. First, it gives users a more compelling, engaging and professional website experience. With Divi Chef, you immediately improve the customer experience and help to drive people to your restaurant, beating out the competition.
The second benefit is higher conversion rates. You can attract more customers by appealing to them in ways that are true to your brand while retaining all the functionality of the Divi Chef child theme.
Finally, the most critical benefit if customization. With seven layout pages from which to choose, you get to decide precisely how your site will appear to customers online. Divi Chef provides you with tremendous scope to create something that reflects the personality of your business and the characteristics of your products.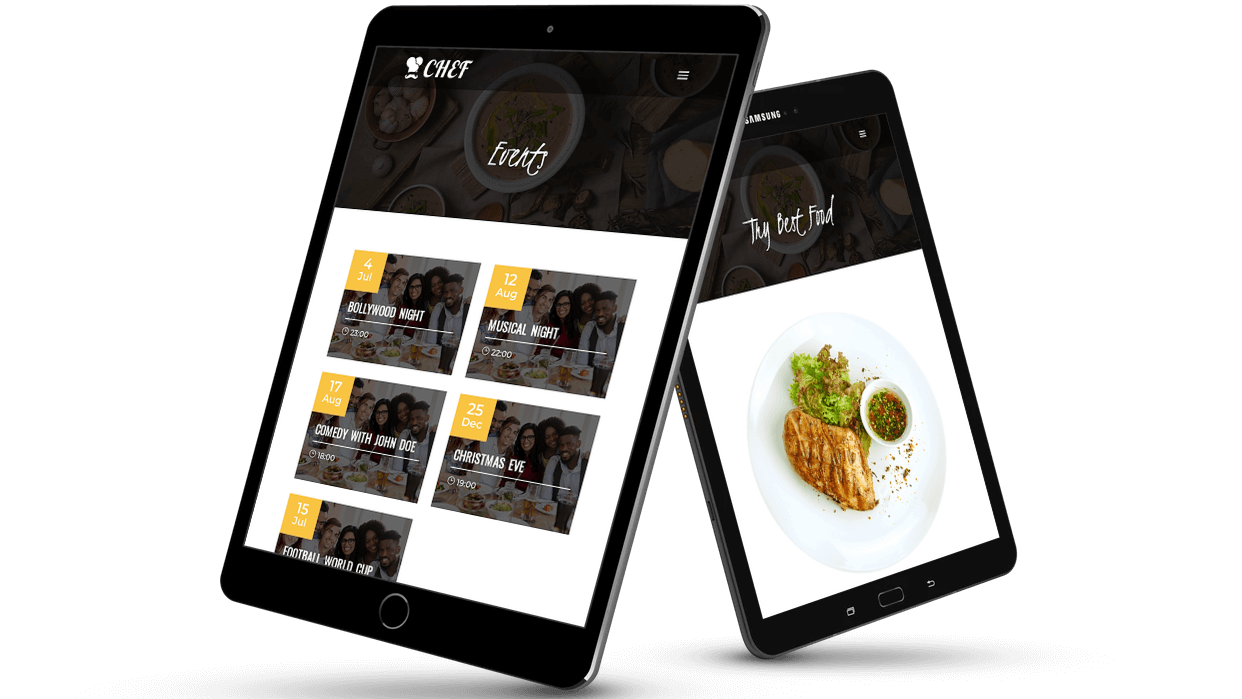 2 Custom Post Types for Menu and Events
You want your restaurant website experience to be as seamless as possible. Divi restaurant child theme gives you the option to create both menu pages and events pages, letting you tell customers what you have in store.
Divi Chef lets you create custom post types for both menu and events without the need to use additional plugins. Not only does this help with compatibility, but it simplifies things enormously. Finally, you can get a restaurant-themed plugin which caters to the precise needs of your operation.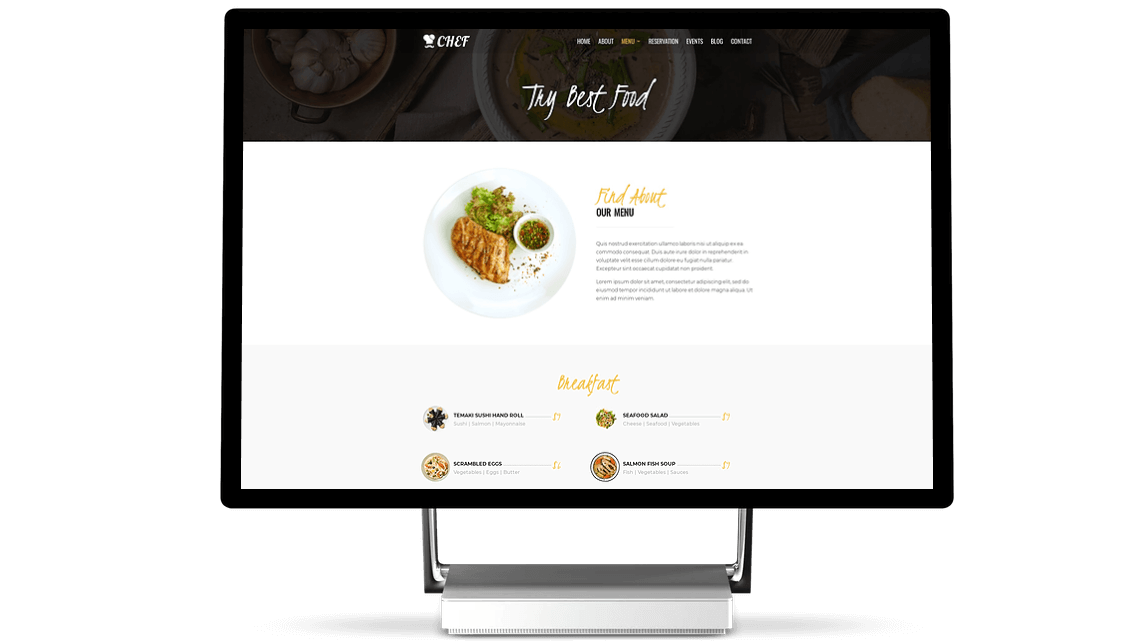 Display Your Menu Items
Go on most restaurant websites, and you'll either find a cluttered, confusing menu webpage or have to download a PDF version of the menu from their site. Neither of these options is particularly user-friendly. Customers don't want their website experience interrupted by clunky menu navigation or ugly pop-ups along their browser toolbar. They want their entire experience of the website to take place in the browser.
With the menu module in Divi Chef, that's precisely what they get. A Divi restaurant menu displays beautifully in the browser with no clunkiness or the feeling that it's just another add-on. You can post your menu pages just as naturally as you would any other page, allowing your customers to browse your offerings easily. The menu system is ideal for eateries that use a la carte options, including sit-down restaurants, fast-food outlets, take-out shops, salad bars, sandwich shops, kebab shops and many more.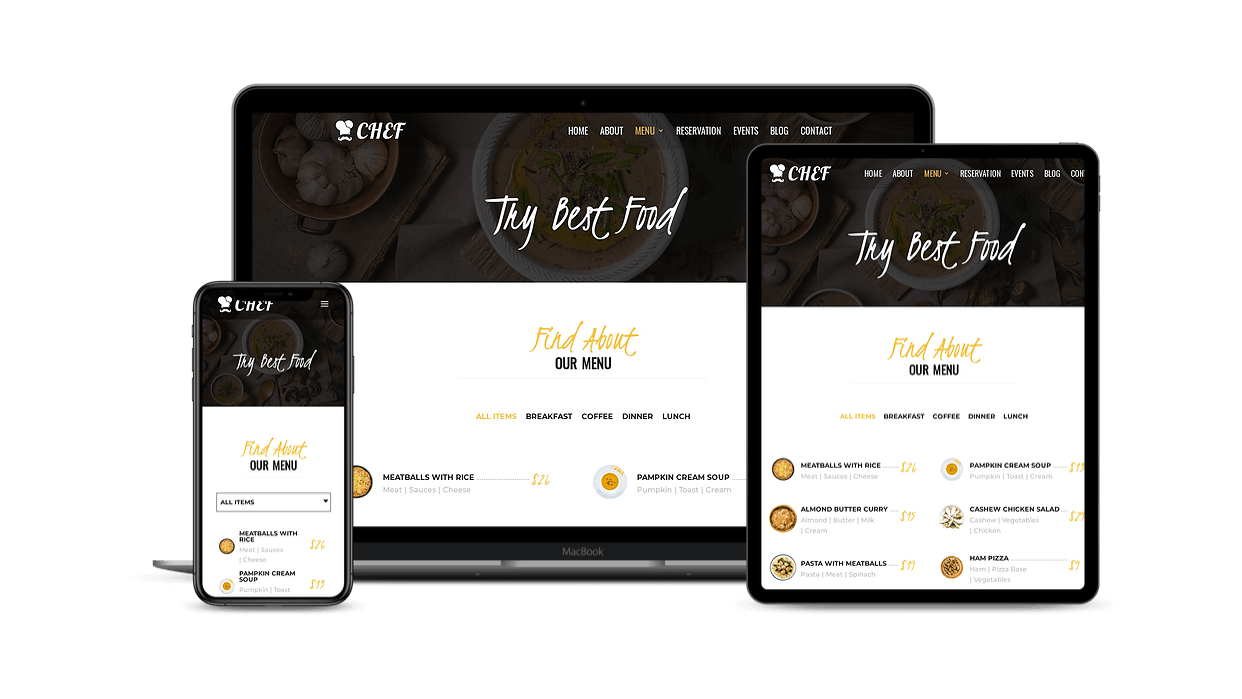 Create Filterable Menus
It is estimated that more than five percent of people are vegetarian or vegan. Researchers believe that around six to seven percent of people have some intolerance to wheat or gluten and that a further 0.6 percent have verified nut allergies.
It's helpful, therefore, to use a Divi Restaurant menu plugin with filtering. A filterable menu lets your users filter your menus across a variety of parameters, all set by you. For instance, a user with a nut allergy can select an option to filter your menu so that it only shows them nut-free dishes. Likewise, you can set it up so that vegans and vegetarians can check a box to see only the meals that they can eat.
Filterable menus are also useful for another reason: to help people find the menu items that they are looking for. It's easy, for instance, to create a filterable menu which shows users all the dishes that contain "chicken," "shrimp," or "cheese" – or all three together. This Divi Chef feature makes it easy for customers to check whether you cook something that they want to eat.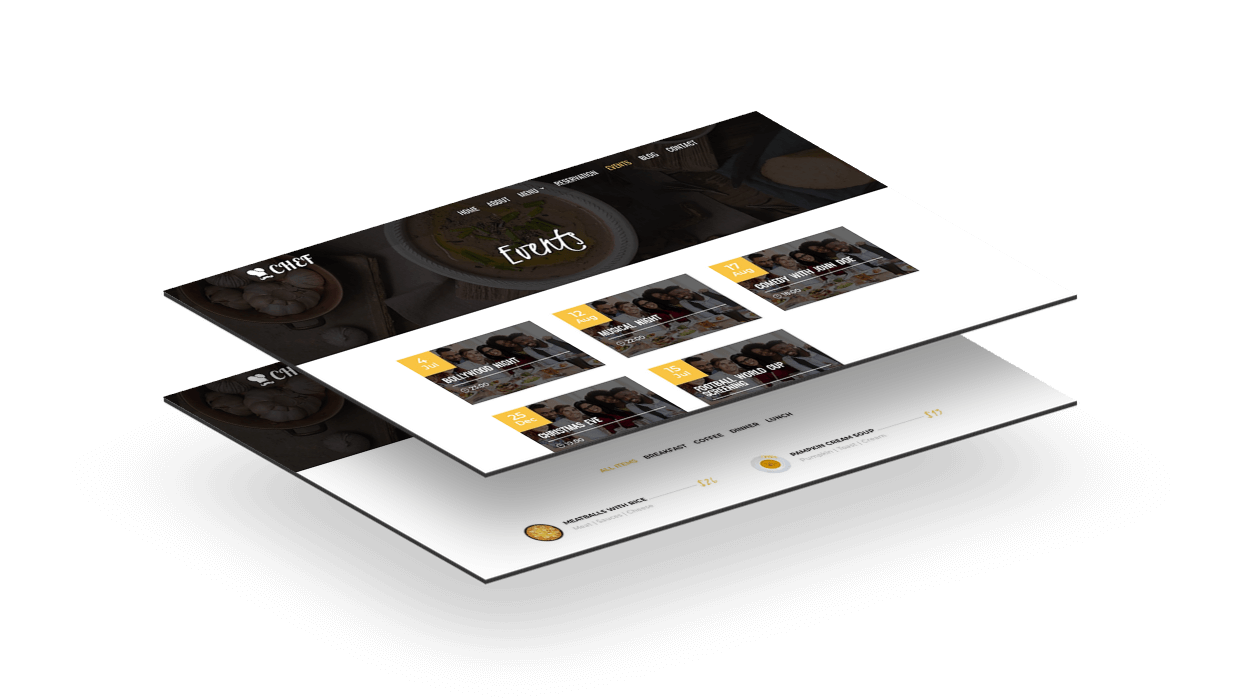 Create a List of Upcoming Events
As a restaurant or eating establishment, you often need ways to inform customers of upcoming events. With the Divi Chef Divi restaurant layout, you can.
The restaurant Divi child theme lets you display an event-based module which shows your customers what's happening at your eaterie over the coming weeks and months. What's more, you can easily update and adjust this list using your Divi restaurant layout pack. All you do is open your WordPress site manager and use the tools provided by the Divi Chef theme. You can create modifiable lists of events that your customers will love.