The term Flexile is taken from the Latin word flexilis, which simply means Flexible. And as the name suggests, you can take an idea of what this child theme can do. It's a multipurpose Divi child theme packed with powerful features and elements that can be used to create websites of any kind. It includes numerous design elements that amalgamate the performance, design, and functionality a modern website needs.
Moreover, it's not just a child theme but a complete framework. Using its elements, one can combine all the features to bring something out-of-the-box. So, no more external dependency upon additional elements from a third party.

However, many features don't necessarily make a child theme super functional. Else, how it adjusts itself according to the design needs is essential. And the Flexile child theme not only fits all the design specifics, but its elements are highly flexible. Meaning that they can take shape into anything a web development project requires. You can take different blurb modules along with some content sections to make your new design. For example, look at the above picture; it explains the efficient working of the Flexile.
When you start to design a website using Flexile, you get the utmost satisfaction from your work. Let's take a look at all the features of this outstanding child theme.
All the features of the Flexile theme
---
It includes features that never let you feel overwhelmed as well as left out. All the Divi elements and options this child theme has were created, focusing on necessity and day to day web designing needs. Not a single option in this feature-rich theme is unnecessary or could cause bloating issues on your website. Every feature is well designed, keeping the latest design and performance trends in mind.
1.

Homepages for multiple industries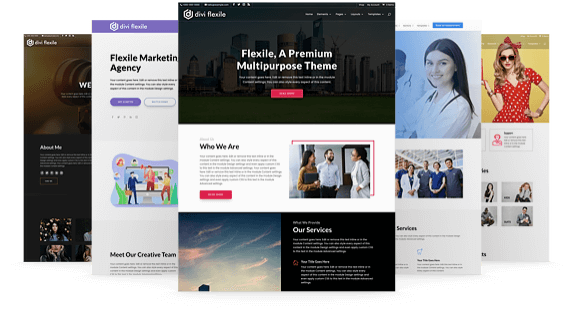 The available multiple homepages can boost your web designing speed & capability across various industries. Each Divi homepage layout is highly customizable and ready-to-use. All you need to do is just replace the predefined content with something related to your business or profession.
The following are the available homepage layouts in the Divi Flexile child theme,
Agency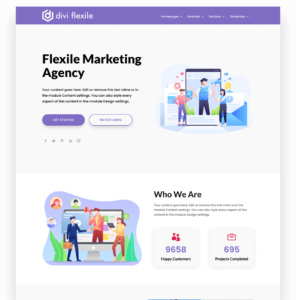 Based on the latest design trends with modern web elements, the Agency homepage is an eye-catching, stylish home layout for agencies of different niche like Web designing, Digital Marketing, Creative, and more. It's different sections, and the content area clearly displays the purpose of an agency website that can turn them into customers from the first visit.
Classic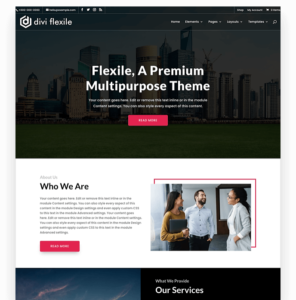 The classic homepage can be used by the website of any industry. You can say it's a universal homepage for businesses that deal with services, products, and customers. 
Medical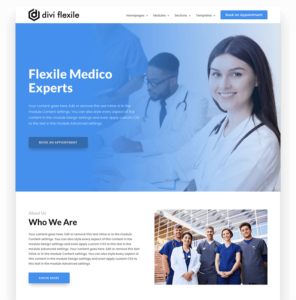 If you want to create a healthcare website across different medical fields, then the medical homepage can be of great use. You can use this demo layout to create a website for dentists, general healthcare departments, neurologists, orthopedists, and more.
Photography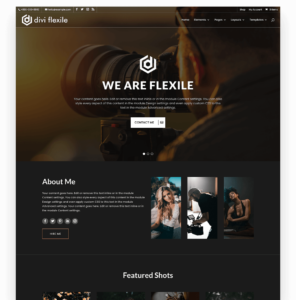 The photography profession needs a passion for capturing the beauty of moments precisely as they are through the eyes of a lens. And this same passion should be seen on a professional photographer's website. Therefore, if you're looking to create a photography website through which you want to mesmerize the visitors, then you should try the Flexile child theme's photography homepage.
Real Estate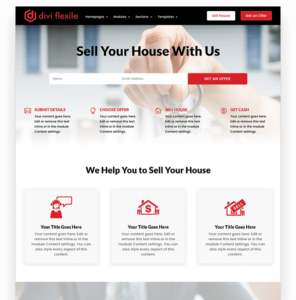 Whether you're looking for a template that perfectly suits a real estate business website or realtors' website, the real estate homepage you get with the Divi child theme Flexile is beyond good. It includes the contact form at the top to generate leads, then blurbs to display your services and other content sections to display essential information.
Store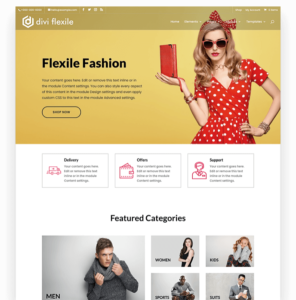 Using the Store homepage layout of the Flexile child theme, you can easily set up a business website with compatibility to sell services and products as a digital store.
University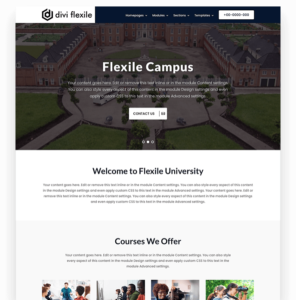 The University website needs to be simple with an adequate amount of different sections to provide useful information to the students, faculties, and parents. And with the University homepage, you can efficiently accomplish that goal.
More homepage layouts are on the way 
The above homepage layouts available with the Flexile child theme aren't the final ones. With time, you'd see more and more homepage layouts available in this child theme for business and profession across different industries.
2.

Numerous Divi design Elements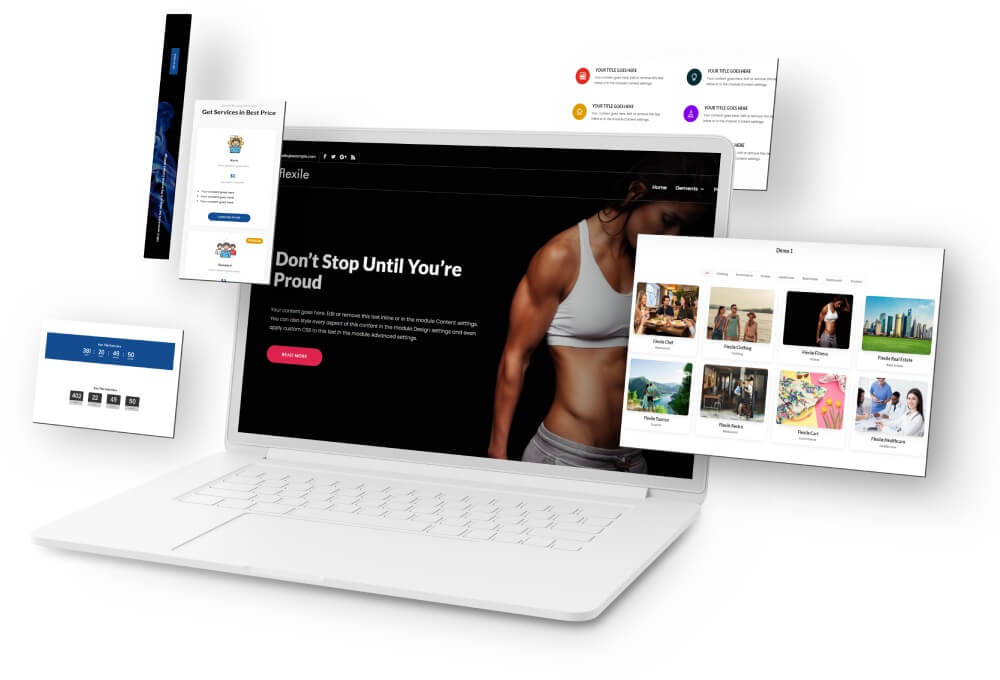 Flexile and its various design elements open up an immense opportunity for you to design a website that can perform really well in all the required situations. And with these handfuls of Divi design elements, the possibility to outperform competitors increases rapidly.
Modules
More number of modules available in a child theme increases a website's functionalities and user engagement with different segments of the site. Moreover, with Flexile, you get different styles for those multiple modules, so better chances to improve the site's functionality at different levels and requirements. The following are the modules and number of styles available with the Flexile multipurpose child theme.  
11 Blurb Styles
28 Button Styles
5 Countdown Timer Styles
2 Gallery Styles
3 Number Counter Styles
6 Heading Styles
3 Portfolio Styles
3 Pricing Table Styles
Sections
The available Divi sections in the Flexile child theme increase users' interaction on a website. Thus, lengthy session duration, less bounce rate, and better conversions. You can, in a small-time period, improve your website's performance in terms of search ranking, conversions, leads, and more.
3 Blog Section Styles
4 Contact Section Styles
6 Content Section Styles
7 CTA Section Styles
4 FAQ Section Styles
10 Services Section Styles
5 Team Section Styles
4 Testimonial Section Styles
Home Hero Section
If you want to use your Divi website's hero space to the fullest, then the Home-Hero Sections are the ultimate elements you can use on your website. These Home hero sections are a combination of multiple elements that extend the purpose of a hero space and bring more to the table, like a dual section on hero space with separate CTAs to take website visitors to different site areas.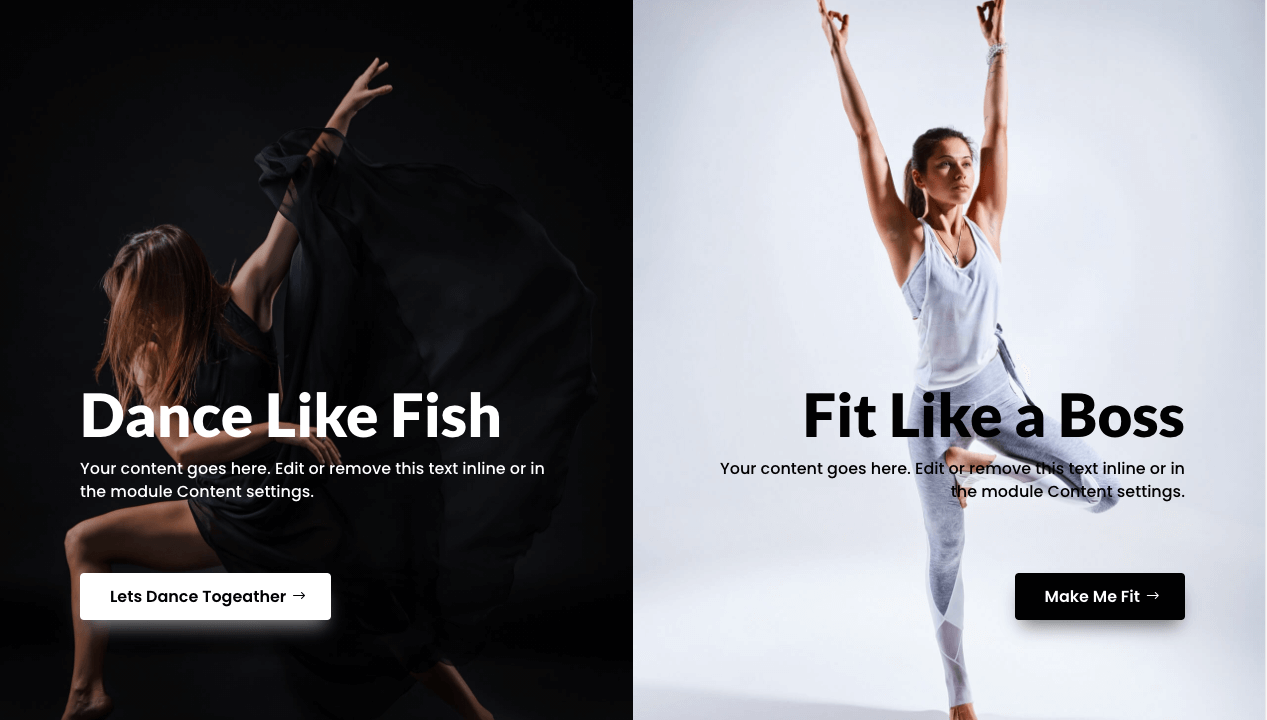 For example, you can look at the above image to know Flexile's home hero sections. You can use the home hero sections to grab users' details with a form, display video in the background, and much more.
Inner Page Hero
The Flexile theme's inner page hero elements provide you with the option to change the inner webpages' entrance. You can apply different page entrance styles for different purposes on the site. The entrance of the about us page can be different from the contact us page. You can flexibly and effortlessly change whatever page entrance you want to. 
3.

One-Click demo importer
There are multiple elements, layouts, pages, and sections available in the Flexile theme that can tire you if you import and place them at their appropriate locations manually. Therefore, to save you from doing the hard work of importing demo content and Flexile elements manually, it supports the 1-Click Demo Import option. Using this feature, all you have to do is select what you want to import to the site and then click "Import."
4.

Effortlessly compatible with WooCommerce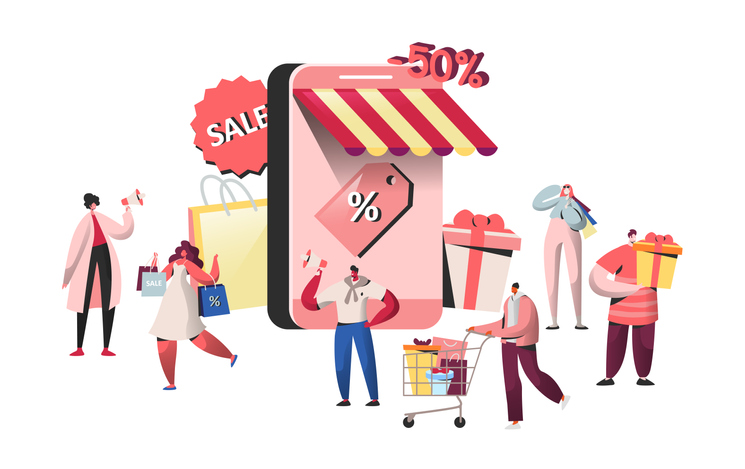 Now or later, you might need to turn your website into a digital store. And a theme that doesn't support any eCommerce option is a total waste. However, as the Divi theme is entirely compatible with #1 WordPress eCommerce solution WooCommerce, therefore you'll never have to face any issue with Flexile to use it as a store. Moreover, the Store homepage was created, keeping this thing in mind in the first place. Both Flexile and its Store homepage is a perfect combination for your new Divi shop.
5.

Modern Inner & Extra pages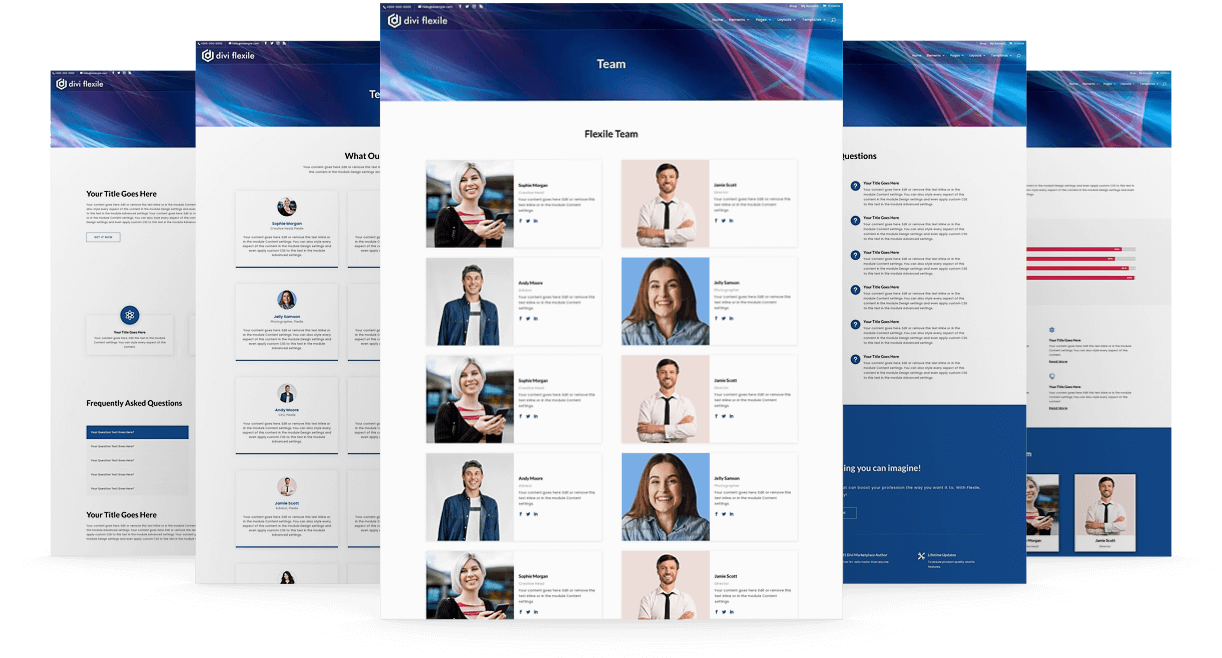 Using the inner and extra pages that come with the Flexile child theme, you can represent and provide your website's necessary information to the visitors uniquely and magnificently. It includes every little page that is essential to design a fully functional website. Plus, each page has a design and multiple sections that can fit broadly in whatever design requirements you will have for different industries and professions.
6.

Multiple beautiful custom templates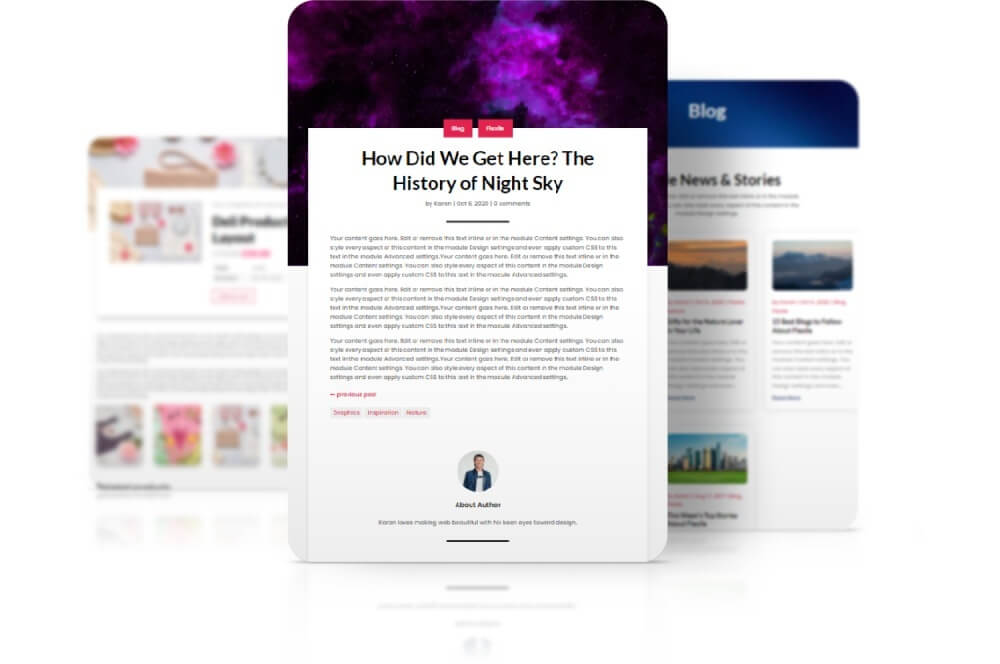 Different custom templates for the Divi Theme Builder enhances websites look and feel. But with custom templates available in the Flexile theme, you can also improve your website's engagement, readability, and clarity. Moreover, apart from visuality, the custom templates can help you improve your website's navigation around different areas. The following are the templates available with the Flexile theme.
Blog Templates
Post Templates
Header
Footer
WooCommerce
7.

Regular Updates for Bigger, Better & Flexible Website

s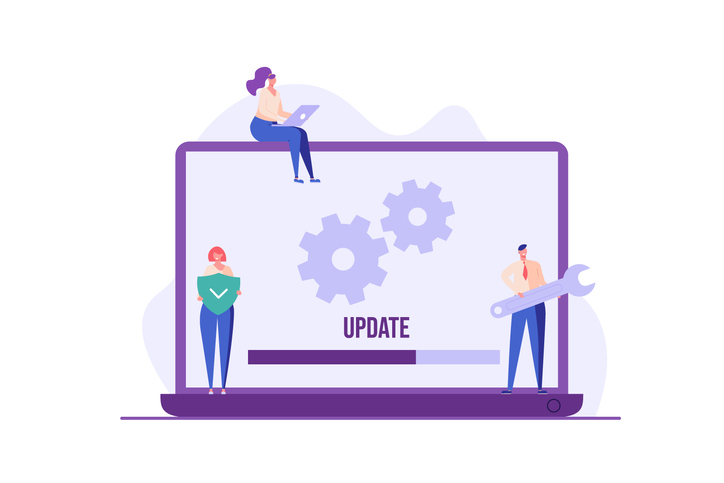 What makes Flexile the most flexible Divi child theme? It's the regular updates and pledges to provide you with the latest features, templates, elements, and much more at frequent time intervals. Each update will stock the Flexile theme with advanced designing tools to keep you at your best work. You'll never find this child theme a choice you got stuck with fewer options. 
How can you get it?
---
The Flexile child theme is available at multiple marketplaces. However, depending on the store you get it, the theme varies what benefits its license would provide you. The following comparison table will help you effectively make your decision to buy this Divi child theme.
| At Divi Extended Store | At Divi Marketplace |
| --- | --- |
| Single Site License for a Single Website | — |
| Extended License for Unlimited Websites | One Licence for Unlimited Websites |
| Lifetime Updates | 1- Year Updates |
| No renewal required | Renewal required |
Conclusion
---
With lots of elements, homepages, inner pages, compatibility for WooCommerce, and other customization options, the Flexile child theme is, in general, a true multipurpose child theme. Whether you want to build a business website or individual, its mega design tool kit helps you accomplish every task in your web designing projects smoothly.
All the features are easy-to-use, highly flexible for ultimate customizations. If you get it, you'll never have to run out of necessary design elements you'd require in day to day web development projects. As mentioned earlier, the Flexile isn't only a child theme; instead, it's a framework using which you can shape your website in whatever design or industry niche you want.
Try it today, and let me know your experience in the comment box below.