There's no doubt in saying that Divi got so many options on the plate for WordPress designers to make an engaging and wonderful website. Yet, there are still some moments when a web designer needs a little extra. Something that would take Divi functionalities to a whole new level. And for those moments comes the Divi Plugins. Just like WordPress plugins, but for Divi by Third Party developers other than Elegant Themes.
In this article, we're going to look at 23 Divi plugins, including free and premium both. Each Divi plugin is easy-to-use that can help you bring massive necessary changes in your Divi theme sites, and make them stand out.
Without any further delay, here we go!
Table of Contents
14 Free Divi plugins
First, we're going to look at our 14 free Divi plugins that you can use on your Divi website, paying nothing. Each plugin has been tested for the current version of WordPress and Divi. So, there's no issue in using them as many other free plugins can cause problems to your website. Thus, we've only listed those plugins that are tested for security and other safety measures.
Contact Form 7 Styler for Divi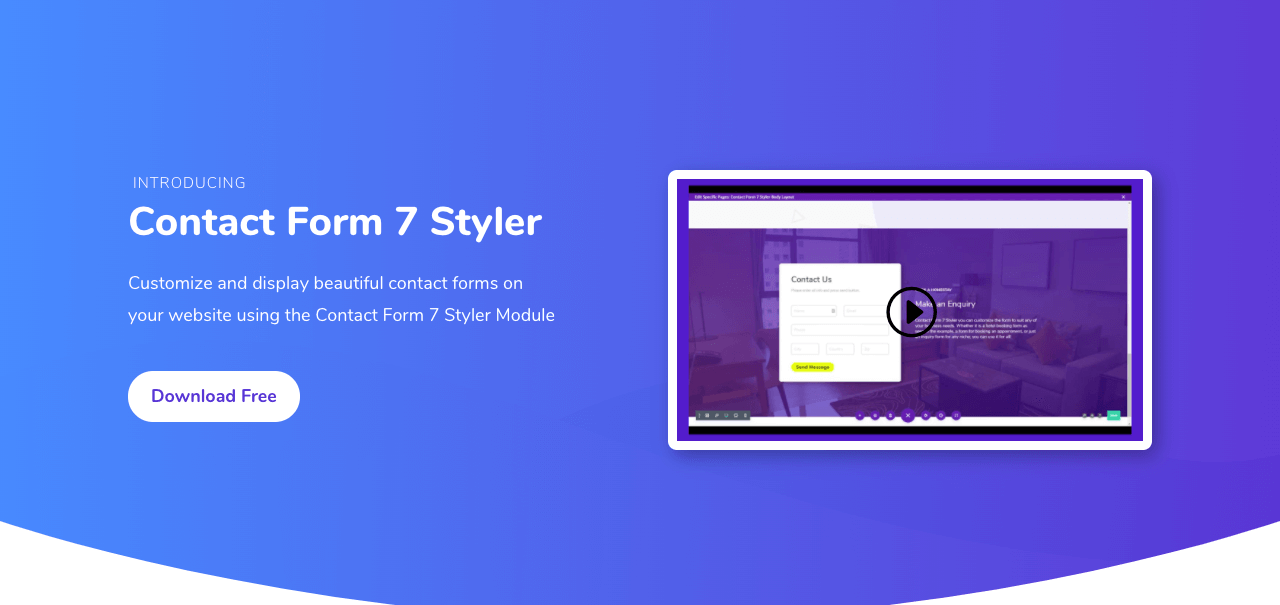 Whether it's a personal website or business, contact forms are important. But their presence only on a site isn't enough. You have to make them engaging, so when users want to fill them, don't feel agitated. And your contact forms should work as they suppose to. Therefore, Contact Form 7 Styler comes in the league. It provides you with the option to make your contact forms look better, engaging, and even more functional. Using its multiple customization options, contact forms you create never go unseen.
Features of Contact Form 7 Styler
Text and background styling options
Customizable padding, margin & border
Form elements styling
Button styling
Style your messages
Manage colors for all form fields
Typography options for everything seen on the form
Dedicated color options for error & success messages
Get it here
Divi Hacks
Have you ever found yourself in a situation when you were checking your site on the mobile phone and suddenly face an issue with it? And you're away from your computer or laptop, then what would you do? Guess what, nothing. However, with Divi Hacks Lite, you can. It provides you with the option that can make backend for mobile phones. So, you can edit your site whenever you want and wherever you want. Well, that's not all it provides, there are many other features you can have with the Divi Hacks' free version.
Features you get with the Divi Hacks' Lite version
Sticky elements
Mobile headers
Force footer to bottom
Add Instagram icon at RSS icon location
Filters for Instagram
Gradient option for Instagram icon
Shadow for sidebar
Edit in visual builder links
Ability to create duplicate posts
And other multiple options
Get it here
WP and Divi Icons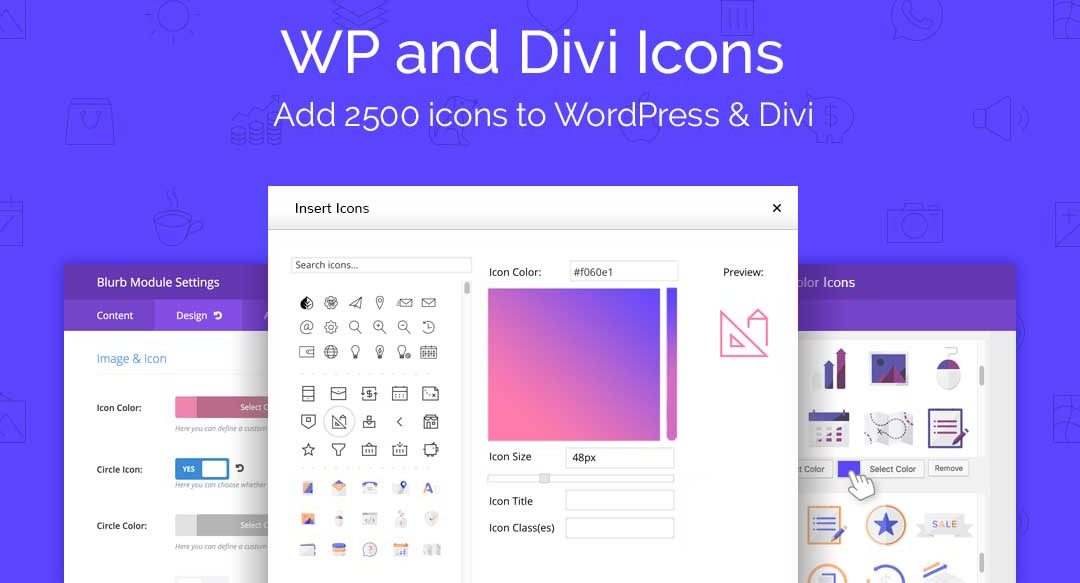 With Divi, you're never out of icons option to add them on a webpage. Yet, sometimes a design needs something extra than Divi already provides. And it's the same in the case of icons. There are multiple events when a design doesn't go well with native icons. Therefore, if you're looking for a way out and want to add some custom icons that would fit the site's design well, then this Divi free plugin can help you do it.
It comes with over 300 custom icons with an option to customize those icons even further. The option enables you to change the icon title, add classes, and choose a color according to your website's surroundings. Moreover, it also comprises multi-color icons to make them even more beautiful and attractive.
Get it here.
Alternate Back To Top Button Styles & Animations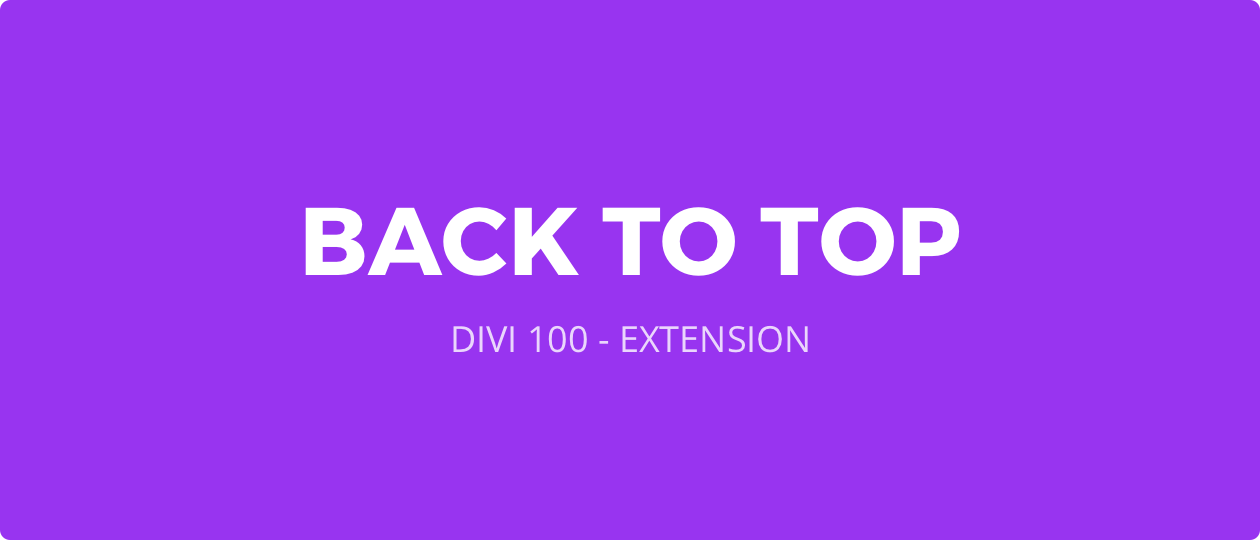 Using this Divi plugin, you'd be able to provide your users with a nice and engaging back-to-top button in the corner of your site. It's a Divi Extension provided by the Elegant Themes itself. It comes with over 7 styles for the back-to-top button, which you can easily apply on the site with its easy-to-use settings and options.
Get it here.
Divi Coming Soon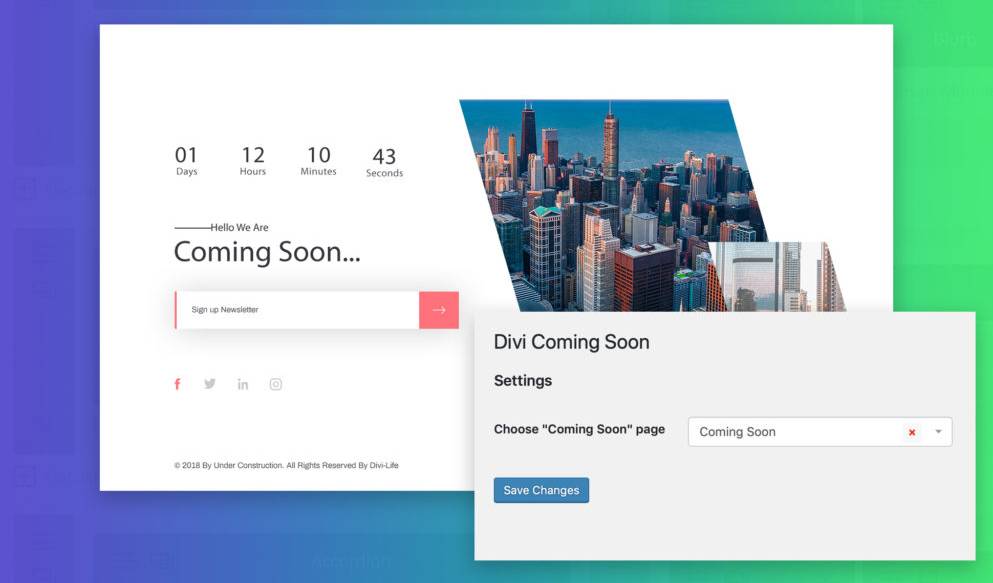 Whether you're designing a new website or making changes in an existing one, having a page like coming soon, you can help your site in many ways, like preventing it from heavy bounce rates. Making your visitors curious and keeping them informed when you're about to come back or launching soon. And with a Divi plugin like Divi Coming Soon, you can do that easily. No need to design and then apply it to your maintenance mode. Because Divi Coming Soon can do that on its own.
Get it here.
Popups for Divi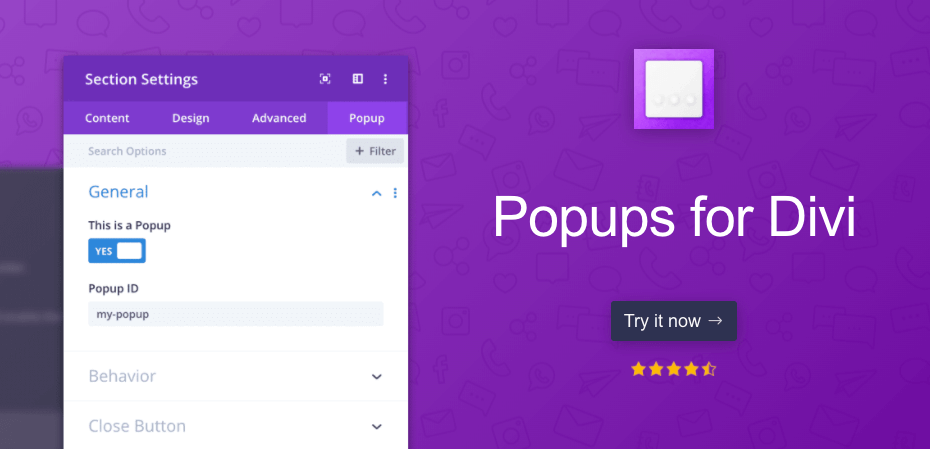 Divi popups can help you do many things. Like displaying subscribers form, special offers, key information, and much more in a most visible way. If you use popups, then you could display something that's essential to showcase, and you don't want it to go unseen. And using the Popups for Divi plugin, you can do it with ease. Its easy-to-use options give you control to make any section a part of popup & trigger them via buttons and links.
Features of Popups for Divi plugin
Make every section a Divi popup
Button and link trigger
Close on background click
Close other popup
Enable popup when user try to leave the page
Option to make close button dark and light
"Disable On" feature
Get it here.
PageBuilderCode

PageBuilderCode brings you the ultimate free Divi plugin you can't find anywhere, Divi Enhancer. Using this plugin, you can make amazing Divi web page elements. It's a multiple module plugin using which a user can create complex web elements in no time, all without writing a single line of code. There are a total of 12 Divi modules you get with this plugin. All are super easy to use, and one can easily create impressive webpages with little or no knowledge of Divi builder.
Modules available with PageBuilderCode's Divi Enhancer
Sticky modules
Divi Bing map with 5 layouts
Hover effects
Flipbox
Image comparison
Animated links
Single layout timeline
Modal pop up
Price box
Food menu
Team member
iHover with 35+ styles
Get it here.
QuadMenu – Divi Mega Menu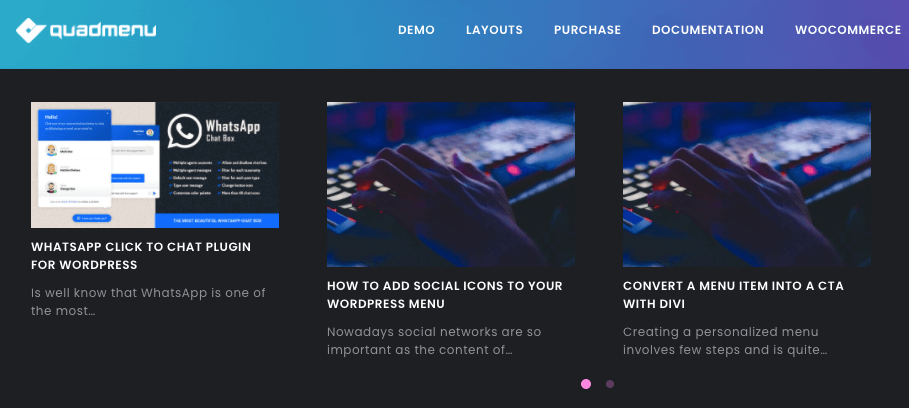 Having a mega menu on a website adds extra to its design. It gives users a nice user interface that navigates them to their page of interest with ease. And if you want them on your business website, then you can do it using the Divi Mega Menu plugin by Quadmenu. Using this Divi plugin, you can add Divi mega menu with dropdown lists, contact form in the mega menu, and shop items with respective categories. Plus, doing everything is easy, and you won't have any problem using this plugin.
Get it here.
Flexstyle for Divi

Using this Divi plugin, you can add unique and modern UI elements to your Divi theme website. It comes with many modules that would make your website look modern, plus it won't slow down its load. Moreover, Flexstyle and its module are so intuitive that anybody with little or no knowledge of Divi, can create fantastic looking web elements.
Features of Flexstyle plugin
Animated titles with 10 different animations which gets activated on loop and scroll.
Button module with particle effect
Divi Cube module to display content as cube
Baraja module to display content boxes as deck of cards
Oridomi module to create content boxes and fold them up like paper.
Get it here.
Divi Responsive Image Sizes Plugin

Whether it's Divi or any other WordPress theme, speed is important. And large-sized images can become the speed breaker of your business website. Therefore, if you're using the Divi theme and want to serve proper images on every device, then this plugin is for you. Moreover, using this Divi plugin, you'd be able to use figure & figcaption tags on your images that Google suggests.
More features
Multiple modules
Multiple image settings
Front-End builder support
Get it here.
Divi Lightbox for Images

Yes, Divi allows you to display your images in the lightbox, but those images which are in the gallery. And if a user wants to showcase an individual image in the lightbox, there's no other way but code. So, to make this an easy approach, this plugin comes in the place. Using Divi Lightbox for Images plugin by Fernando Tellado, you can put any image of any size in the modal window.
Get it here.
Post Type Search Module For Divi

Whether it's a blog page or a simple page on the website, having a search bar can help you improve the site's user interface and the way it provides the information. Yet, it becomes annoying when a user on the blog page finds regular pages in the search. And sometimes, you too want search results to display particular results, which is custom post type. So, to achieve this approach for search, this plugin was designed. Using it, you can display projects, team members, and more keeping pages and posts out. Or vice-versa.
Get it here.
Shortcodes for Divi

Using this plugin, you'd be able to display any Divi library template on your website's pages. It adds an extra column to the Divi library that contains a shortcode for the particular template. Furthermore, to display that template, all you need to do is copy & paste the shortcode wherever you want.
Get it here.
Battle Suit for Divi

When you want to bring huge changes to your Divi theme website, the modules that come with the theme are good and exceptional. However, they are not enough. Sometimes, you need to take help from coding or hire a developer to take Divi designing on the next level. But in the time of urgency sitting with coding can take a lot of time. Therefore, to fill this gap, Battle Suit for Divi has been designed. It comes with a total of 10 modules that can help you achieve complex designing in the minimum time possible as well as without writing a single line of code.
Modules available with Battle Suit for Divi
Another Post: It provides you with the option to display the content of another post including custom post types.
Bucket: Create bucket lists or present products with hover effects just like blurb.
Footer: Customize the Divi footer.
Library Layout: Use any layout from the Divi library.
Masonry Gallery: Display images in a beautiful masonry layout.
Post Button: Add button to a post
Module for Post Excerpt: It allows you to customize and display post excerpts.
Module for Post Featured Image
Post Meta
Post Title
Transformable Image: Use this module to add 3D images with hover effects
Video Lightbox: Display videos in the lightbox.
Get it here.
9 Premium Divi plugins
The above was our look at the free plugins we can use to customize Divi. Now, let's take a look at premium Divi plugins that are bestselling and used most by Divi developers. Each premium plugin available on this list has been tested for the latest Divi & WordPress version. So, you won't find any security or other technical issue when using them.
Divi Blog Extras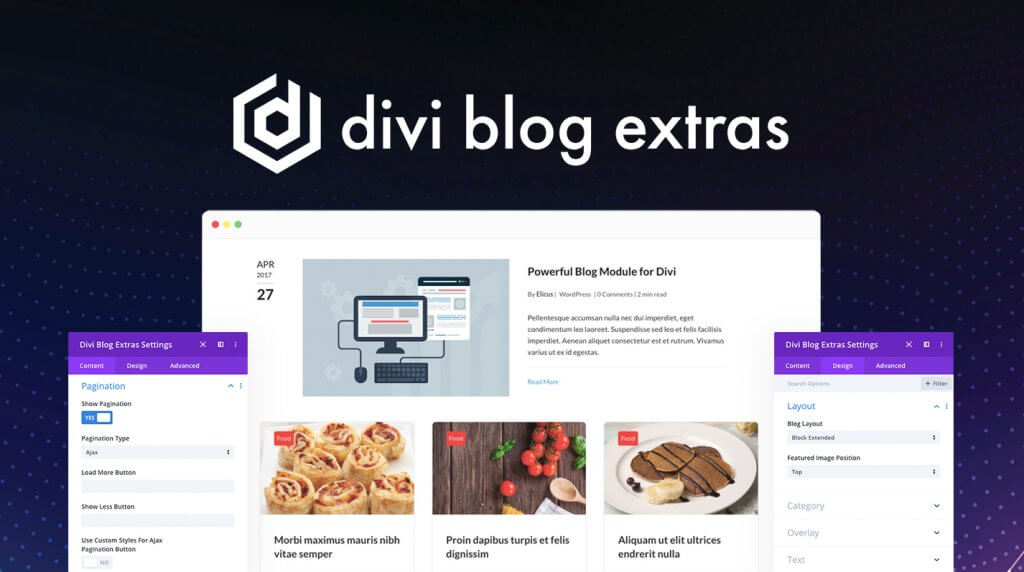 Divi Blog Extras is our premium Divi blog layout plugin that you can use to create beautiful, as well as distraction-free Divi blog pages. It comes with multiple blog layouts that are easy to use and customize. Plus, using this plugin, you can create custom category archive pages. Like date, author, category, tags, and more. The purpose of this plugin is to provide users extra options when it comes to creating blog pages on the Divi theme. And till now, it's the #1 Divi blog layout plugin that has been trusted by more than 16250 websites.
More features of Divi Blog Extras plugin
8 Divi blog layouts with masonry layout support
Ajax Pagination
Custom Taxonomy Support
Show related post
Search page support
Tabbed & list view sidebar for recent posts
Read time support
Custom color for category tags
Divi 4 ready
And many other options
Wow Carousel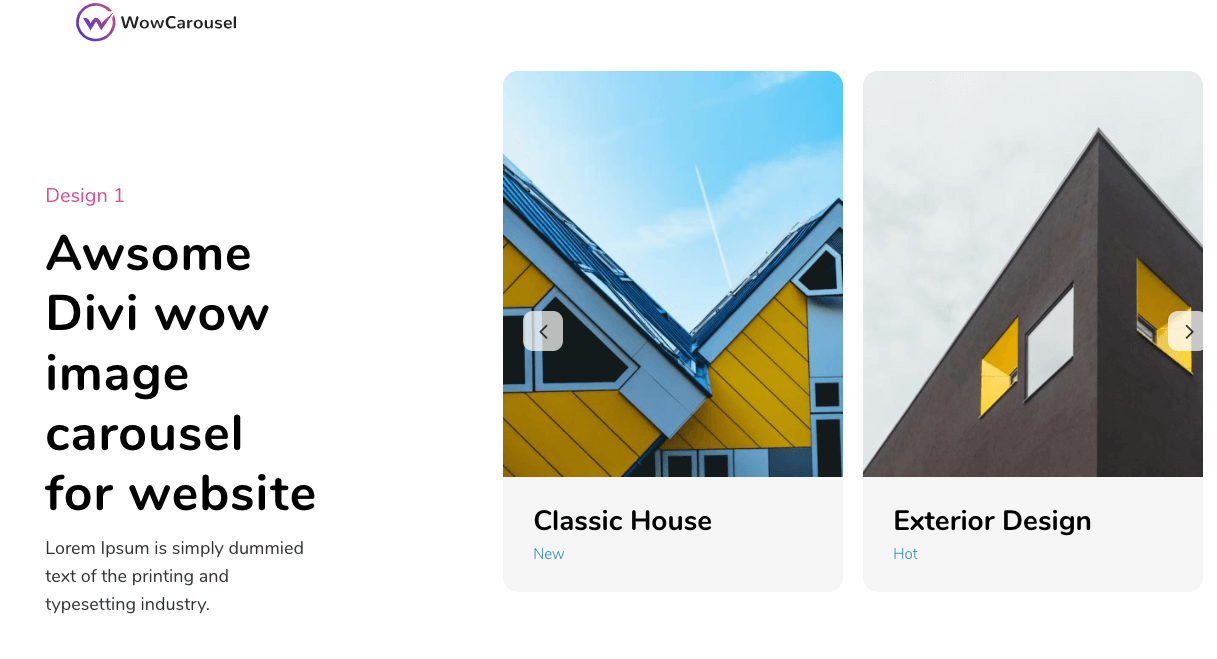 There are many things a user or developer wants to showcase on a carousel other than images only. And using this Divi carousel plugin, you can easily do that. It comes with more than 10 modules, which specifically made to display different web elements on the carousel.
Modules available in the Wow Carousel plugin
Image Carousel module with multiple design combination
Logo Carousel
Content Carousel
Smart Carousel module to slide a complete section
Team Carousel
Card Carousel
Testimonial Carousel
Google Review Carousel
Twitter Feed Carousel
Post Carousel
Product Carousel
Facebook Feed Carousel (coming soon)
Divi Plus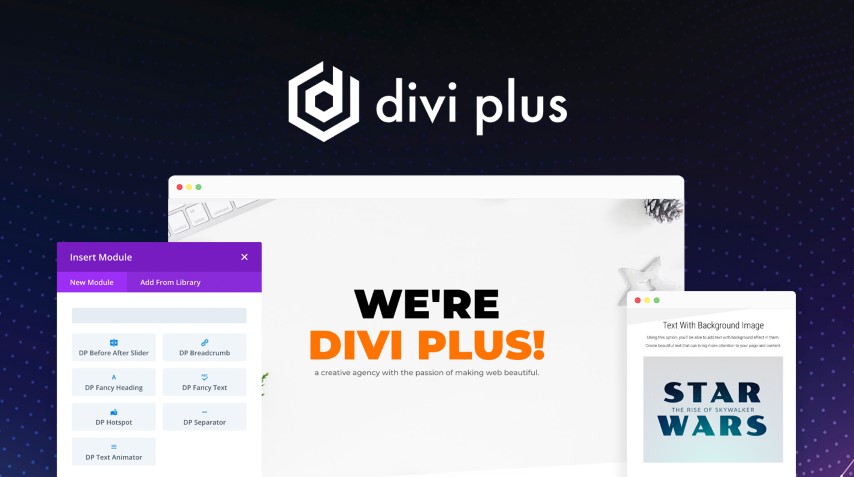 The Divi theme comes with many amazing customization options. But there are many times when a user needs extra options to make the Divi theme website more beautiful and outstanding. Using native modules, users can create that type of website with the help of custom CSS. But a user with little or no knowledge of CSS, it's hard to manage. Thus, Divi Plus plugin comes in the place to ease users' this issue. It has multiple modules that can help the user create outstanding web elements. Like Divi lightbox, pop-ups, breadcrumbs, text with animation effects, inline buttons, etc.
Modules available with Divi Plus plugin
Contact Form 7 & Caldera Form module for Divi to style the contact forms
Logo slider module
Modal to display Divi pop-ups and lightbox for videos, images, and more
Content Toggle module
Timeline module
Advanced Button module
Image Hotspot module
Flip box module
Before-After image slider
How To Schema module
Breadcrumbs module
Business Hours
Fancy Heading module
Fancy Text module
Text Animator module
Separator module
Divi Mega Pro

In our free Divi plugins list, we saw the free Divi mega menu creator, which is good in all ways. But this plugin, Divi Mega Pro, to create mega menus in the Divi theme is better than that. And it has to be because we pay for it. The free quadmenu plugin doesn't have the option to create tabs and carousel. Moreover, if we go for the quadmenu premium version, it doesn't offer the feature Divi Mega Pro does. Like, Tooltip customizations, Close button, and more.
Some other features of Divi Mega Pro
Up or down display direction
Activate on hover or click
Exit on hover or click
Set a hover exit delay
Add a close button
Choose a pre-set width or custom
Trigger with menus or anything
Divi FilterGrid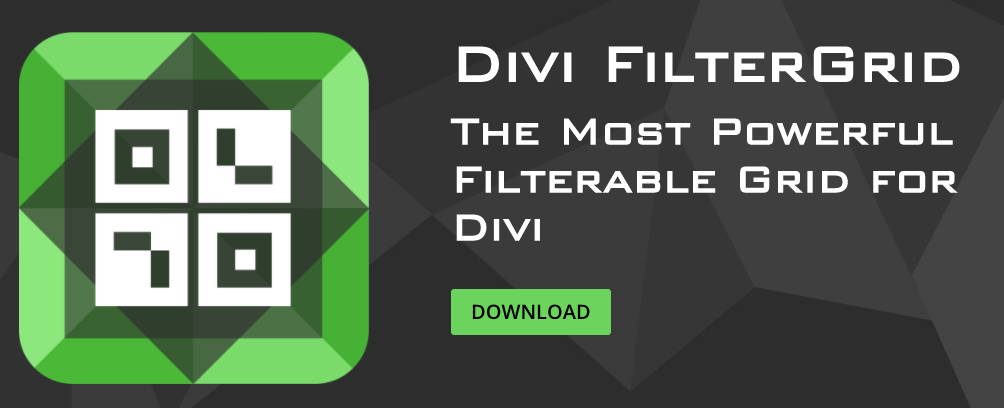 Divi Blog Extras can help you display your post and post types in a grid formation. But if you want to display a category filter bar on those posts, then you have to get the Divi FilterGrid plugin. Because this plugin can add a category filter bar on those posts in a much simple & easy way. Plus, there are more options available with this plugin that can make your diverse content look more accessible & engaging.
Features available with Divi FilterGrid plugin
Content you can with Divi FilterGrid

Post Types
Query
Filters
Search
Elements

Multiple Layouts: Grid, List, and Fullwidth
Dark and Light Skin
Define number of columns
Specify the gap
CSS Grid option for ordering
Dark Divi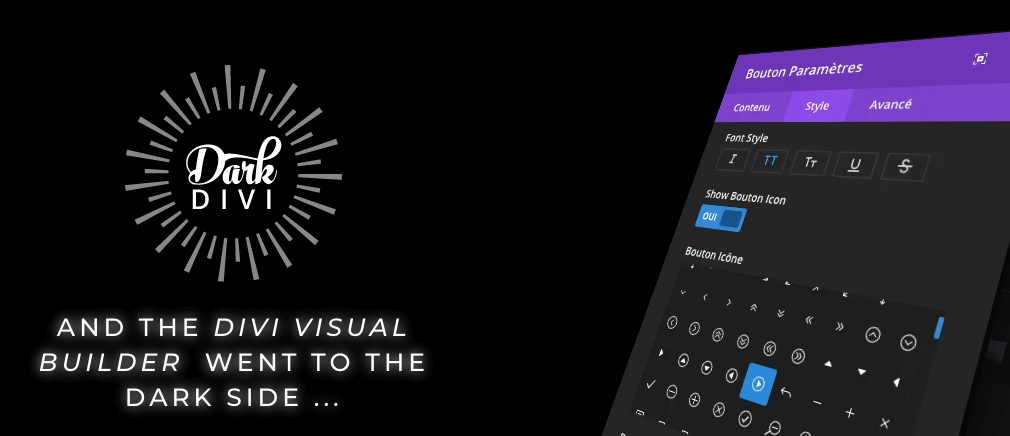 It's possible that ElegantThemes would soon release the dark version of the Divi theme. But till then, you can use the Dark Divi plugin. It would turn your Divi builder in dark mode and provide you all the options with the UI that don't cause any eye strain.
Divi Nitro

Perhaps you're using some WordPress caching plugin to speed up your website. But what would be better is something that is created specifically for Divi. And this plugin, Divi Nitro, can provide you those specifications that are only for Divi theme. Plus, it's a Divi plugin, which means it would work better with the Divi theme than other WordPress speed plugins.
Features of Divi Nitro
.htaccess modifications

Includes leverage browser caching
Gzip compression
HTTP Keep-Alive
Disable Image hotlinking
Cache-Control Headers

Defer YouTube/Vimeo videos
HTML Minification
JS Deferral
Defer Divi Images
CSS Minification
Script Clean-up
JS Minification
In addition to these features, it's less expensive, or I can say it's providing everything in a much reasonable amount than other plugins do.
Divi BodyCommerce

Divi helps you to create any website. WooCommerce helps you to start your digital store. And the Divi BodyCommerce helps you to make that store more user friendly and beautiful. Finally, these 3 would end up bringing nice results for your profession or business. Using the Divi BodyCommerce plugin, you can create an impressive WoCommerce shop. Plus, with this plugin, it's easy and more creative. Perhaps the new Divi Theme Builder provides you with the option to design impressive WooCommerce products. But using this plugin, you'd enhance that functionality of Divi.
Features of Divi BodyCommerce
Product Page Builder
Category Page Builder
Tags Page Builder
61 Modules
Visual Builder Compatible
Cart Page Builder
Checkout Page Builder
Account Section Builder
Login Page Builder
Password Reset Pages Builder
Register Page Builder
Search Results Page Builder
Attributes Page Builder
Custom Pagination
Product Gallery Slider
Thank You Page Builder
Form Field Customiser
Sharing Icons
Custom Checkout Templates
Email Template
Mini Cart
Custom Cart Icon
Improved Custom Badges
Variation Swatches
Custom Checkout Fields
Ajax Add to Cart
WPML Compatible
Custom Product Tabs
Custom Loop Layout (category page)
Product Carousel
Product Slider
Easy Demo Import Pro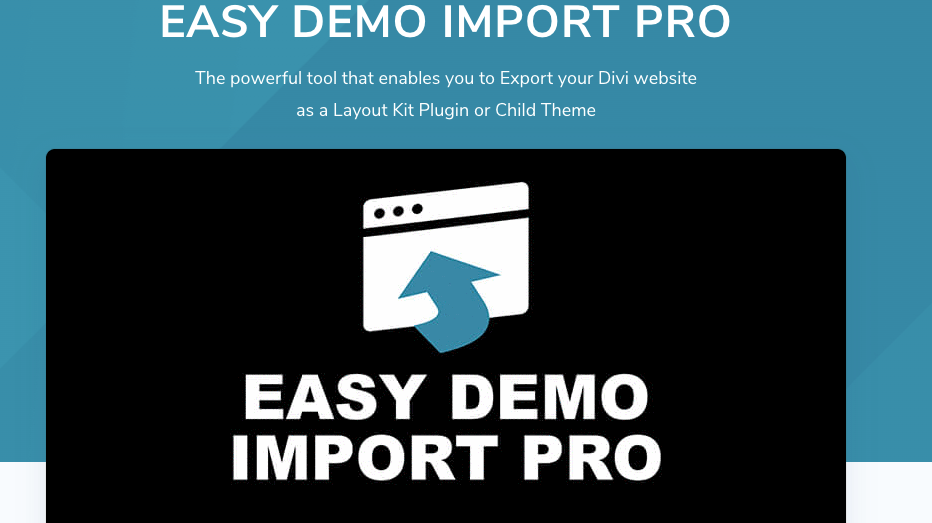 For agencies or Divi child theme developers, it isn't very pleasant to manually export each child theme file into the package they create. Moreover, what's more, troubling is the importing process. You have to run the whole process again to install whatever comes with the child theme. Thus, taking your much of essential time. And there are many times when the client approach with this type of situation. Sometimes, they try to import file 1 of B position at A. When nothing works, they complain in subtle words.
But, if you use Easy Demo Import Pro, the problem of both sides would get solved. It allows you to export everything of your child theme in a 1-click option. Likewise, it provides you with the option to import everything in 1-click at the right locations. Once you start using this plugin, you'd never need another for this type of situation.
Summary
With so many plugins available in the online market, it's hard to choose the right one for the right situation. However, the plugins I have mentioned in the above list can provide design aid to almost all situations from which a designer goes day to day. Moreover, these Divi plugins are the most popular and used by thousands of designers every day. So, there's no seconding guess whether to choose them or not.
Therefore, if you're looking for Divi plugins that can enhance your Divi theme's performance, then I can surely say these are the plugins that you should choose for that purpose.
Did I miss something? Or you think there are some other plugins that should take place in this list, then please let me know in the comment section.