In today's time, an online store can only make good revenue if it has a beautiful design that is easy to access and looks modern. A digital store with only beautiful sections and design and no easy user interface doesn't work. Therefore, Divi WooCommerce Layouts come in place.
If you're developing or designing a WooCommerce-based digital store using the popular WordPress theme Divi, you need something that allows you to utilize these powerful tools to the fullest. And WooCommerce layouts designed by Divi Extended enable you to do the same with no extra effort.
Don't know what Divi WooCommerce Layouts are and how they can help you build a stunning Divi WooCommerce website?
Then, read this post until the end to discover everything you need to know. We'll look at different benefits, templates for WooCommerce, and more to build a highly functional Divi shop. If you're ready to do that, then let's get started.
What Are Divi WooCommerce Layouts?
---
Divi is great when it comes to offering features and possibilities to build outstanding websites using WordPress. It offers modules that let you build something from scratch. And if you don't want to spend time, you can utilize its pre-built templates as well.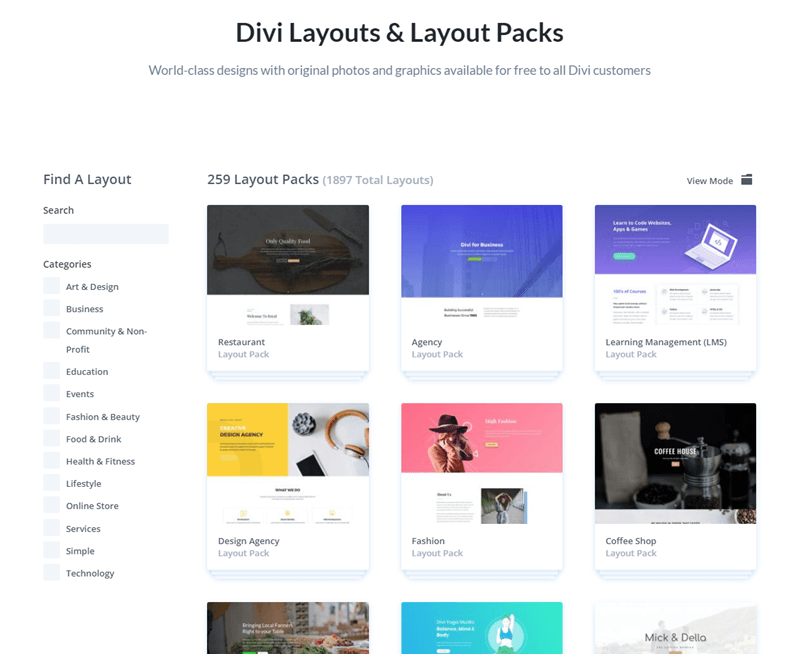 There are layouts literally for requirements of any kind, which also include WooCommerce. If you want to quickly build a WooCommerce store for the bakery, then Divi has it ready for you.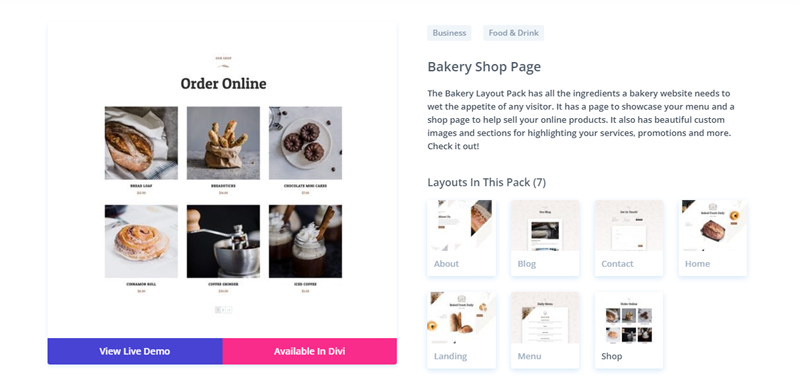 If you need something to support your hardware store, you can utilize the Hardware layout.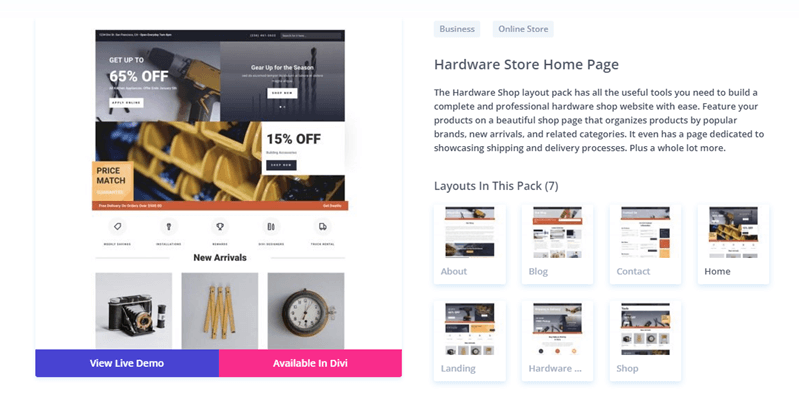 These layouts are configured to support your WooCommerce requirements so you can speed up your project completion rate. And for that, all you have to do is import one of them to your website. Then, replace the content with yours, and that's it; your WooCommerce store created using Divi layouts is ready for sale.
Moreover, if you want to customize something, you can do that as well.
What's Divi Layouts for WooCommerce Pack?
---
What we saw above for WooCommerce is a complete solution to turn your ordinary store into something dedicated. You can say those were not only layouts; but instead, child themes. Because as you can see, the layout options have an About page, Contact Page, and Homepage and are more dedicated to the niche.
Unlike them, the Divi Layouts for WooCommerce Pack provides you with layouts that can perform customizations on a profound level for different areas of the digital store.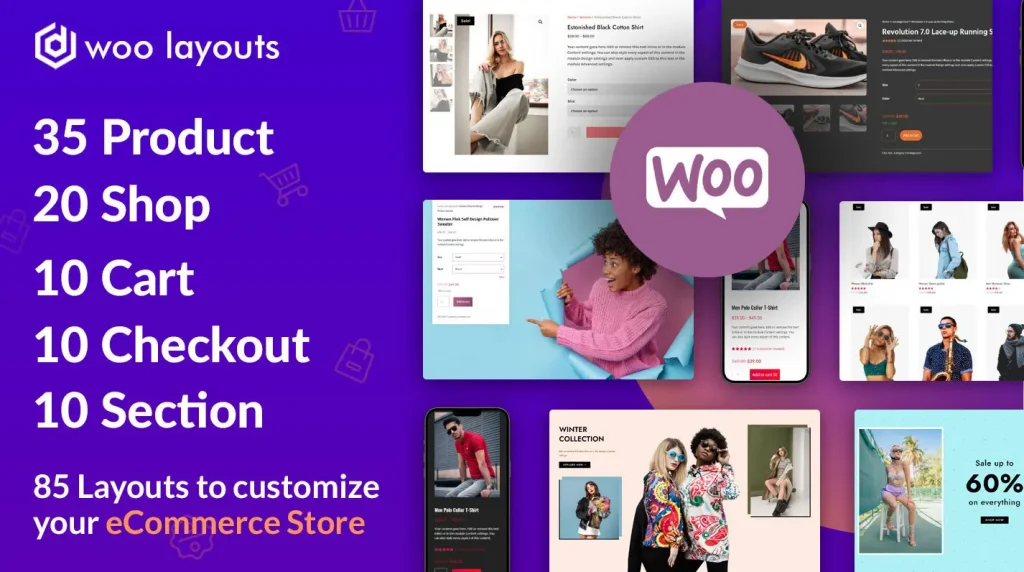 For instance, if you want to customize the WooCommerce product page only, then the layouts pack has several layouts to help you do that. Thus, allowing you to make your Divi shop unique altogether. Likewise, with Divi pre-built templates, the layouts available in the pack can also be imported easily. So, you don't have to spend much time figuring out how to utilize the layouts.
After the new update, the pack included the different layouts that are as follows,
35 WooCommerce Product Pages.
20 Shop Layouts for WooCommerce.
10 Checkout Layouts.
And 10 Sections.
Visit here to check out all the layouts of this pack working live.
A Look at the New Update for Divi WooCommerce Layouts
---
The new update to the Divi Layouts for WooCommerce pack adds 5 new product page layouts, and a completely new design element: Sections with 10 layouts,
5 new product page layouts
10 Sections (New Design Element to the Pack)
These new layouts take layouts number to 60 from 45 layouts prior to this update. It means you have now got 60 design elements to make a wonderful, engaging, and highly functional Divi WooCommerce store. Let's check out these from a closer look.
New Divi WooCommerce Product Page Layouts
As the name suggests, these new layouts allow you to customize your WooCommerce store's product pages. You can use these layouts to bring uniqueness to each and every product you've got on your online store. Or perhaps, bring distinction to product pages of different categories.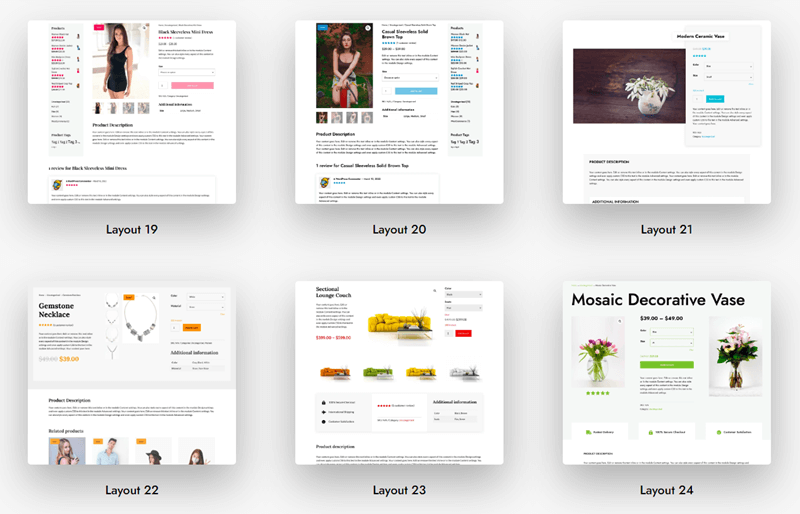 Each product page layout consists of the latest design trends; thus allowing you to keep your WooCommerce store aligned with modern ways of running an online business. Likewise to the previous product page layouts, these new layouts are also easy to import and customize.
Even, you don't have to customize them; they all are ready to use; just replace the demo content with yours. Let's take a look at each new layout.
21.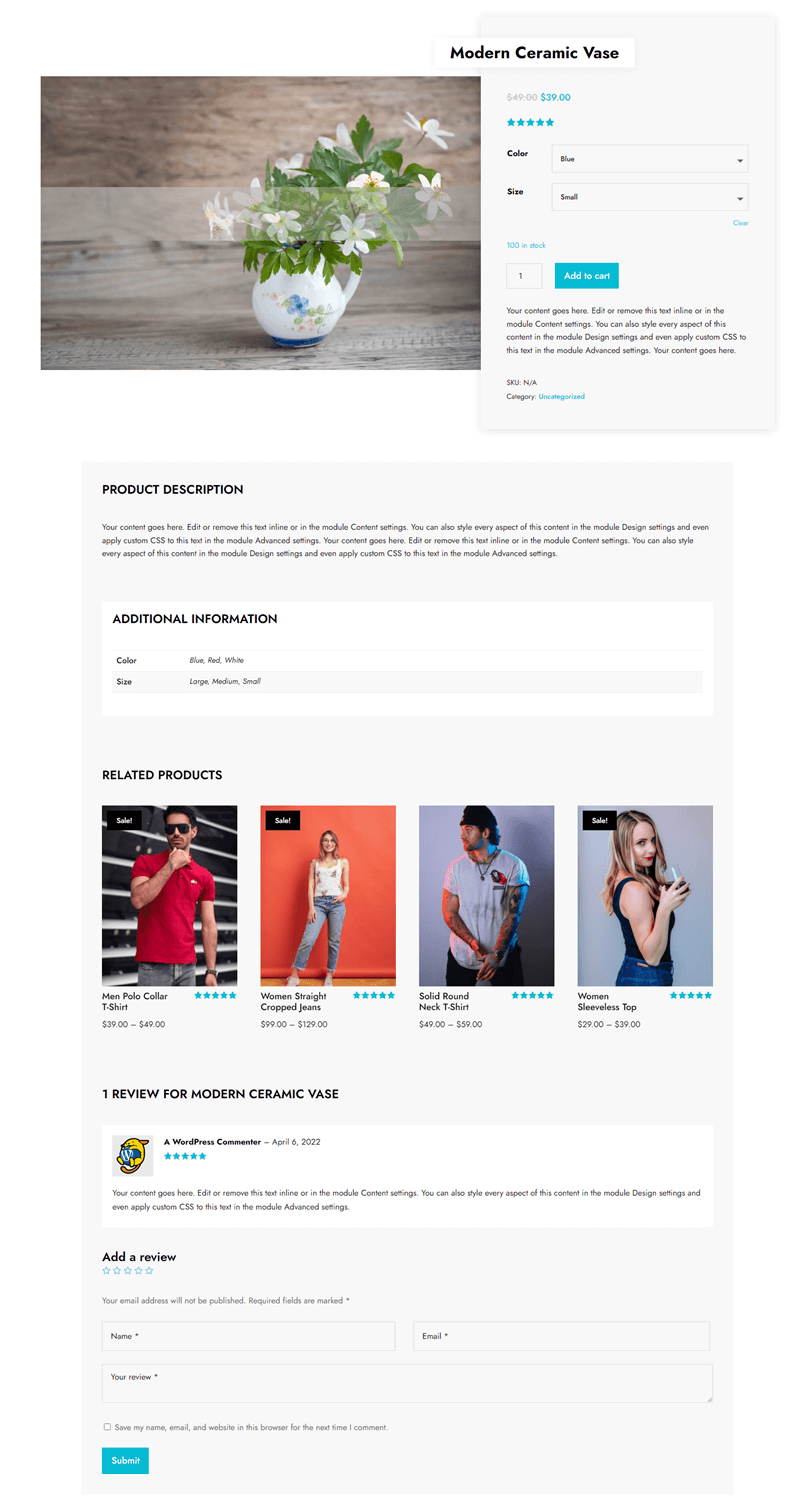 22.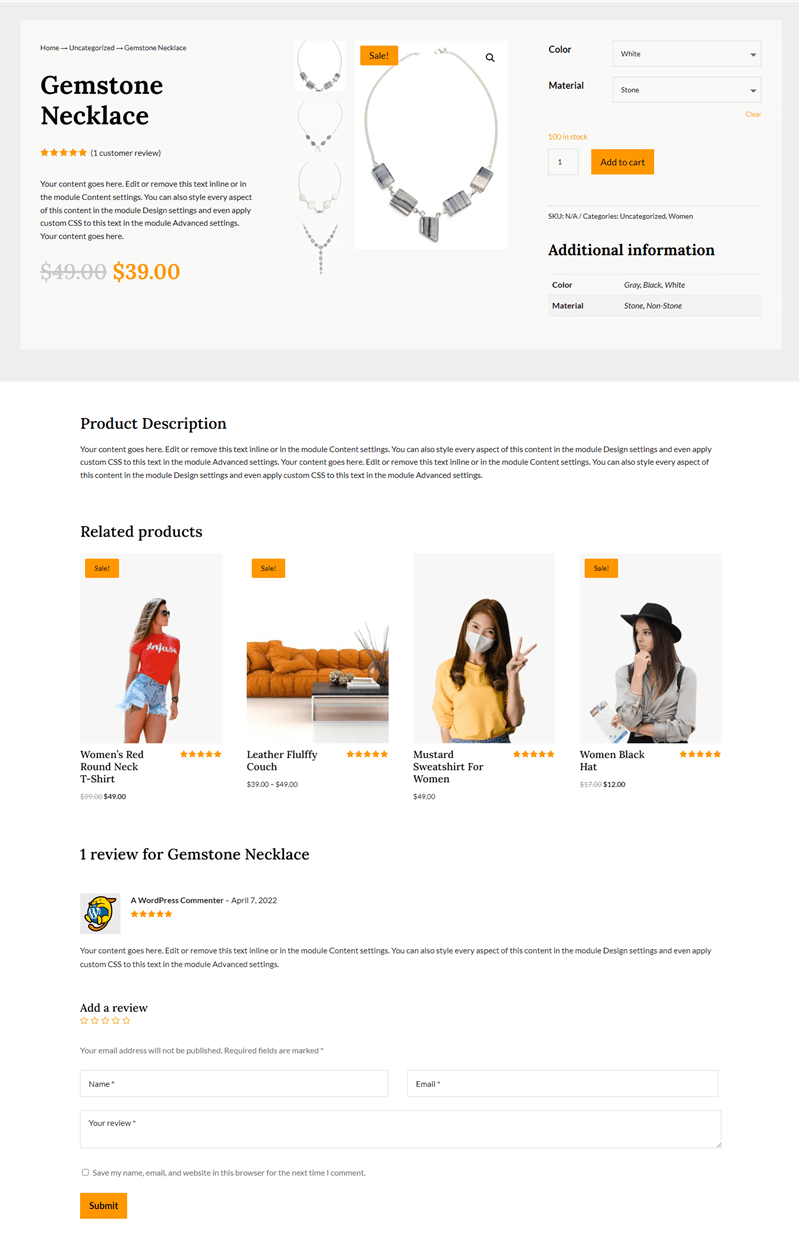 23.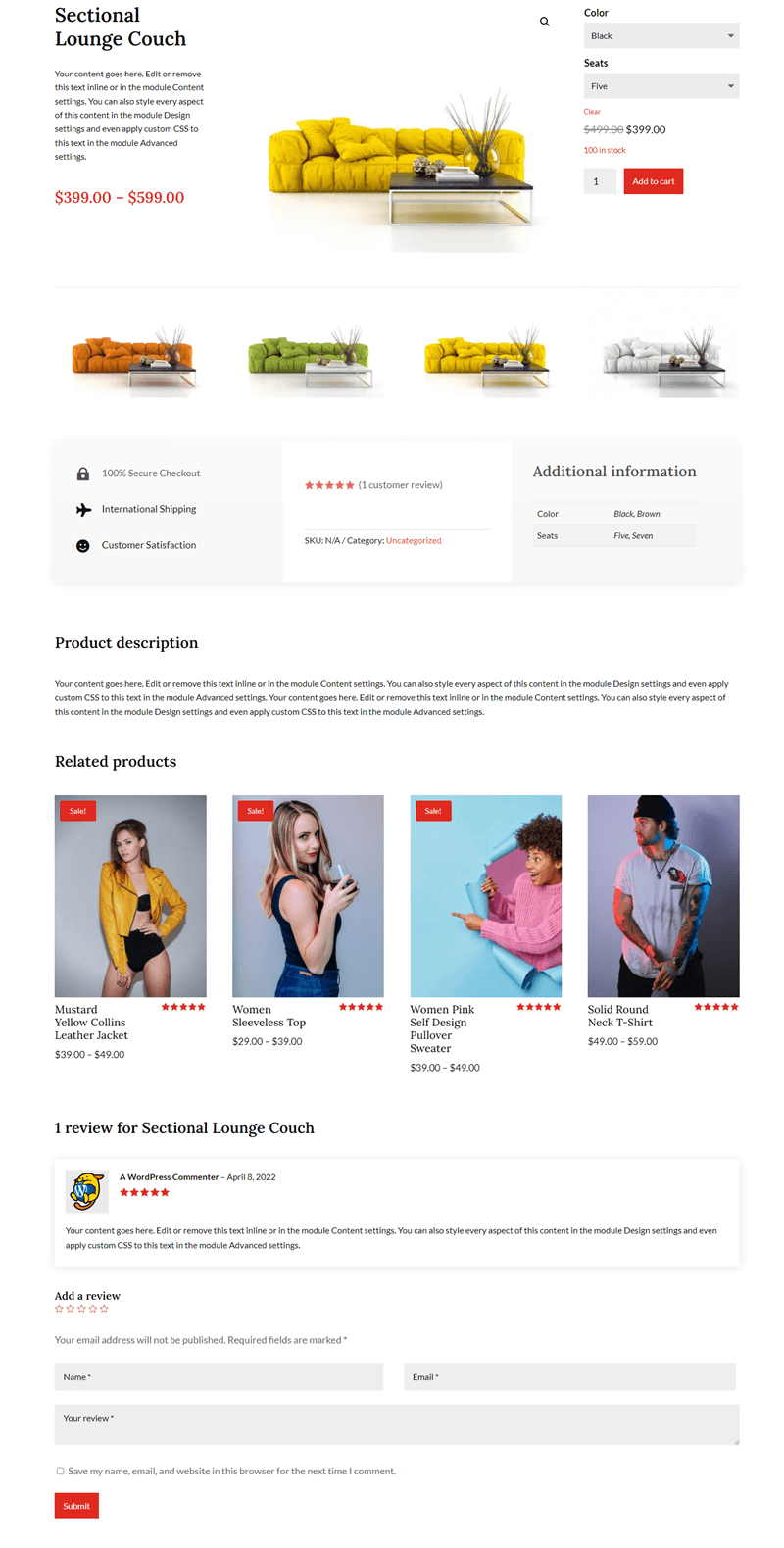 24.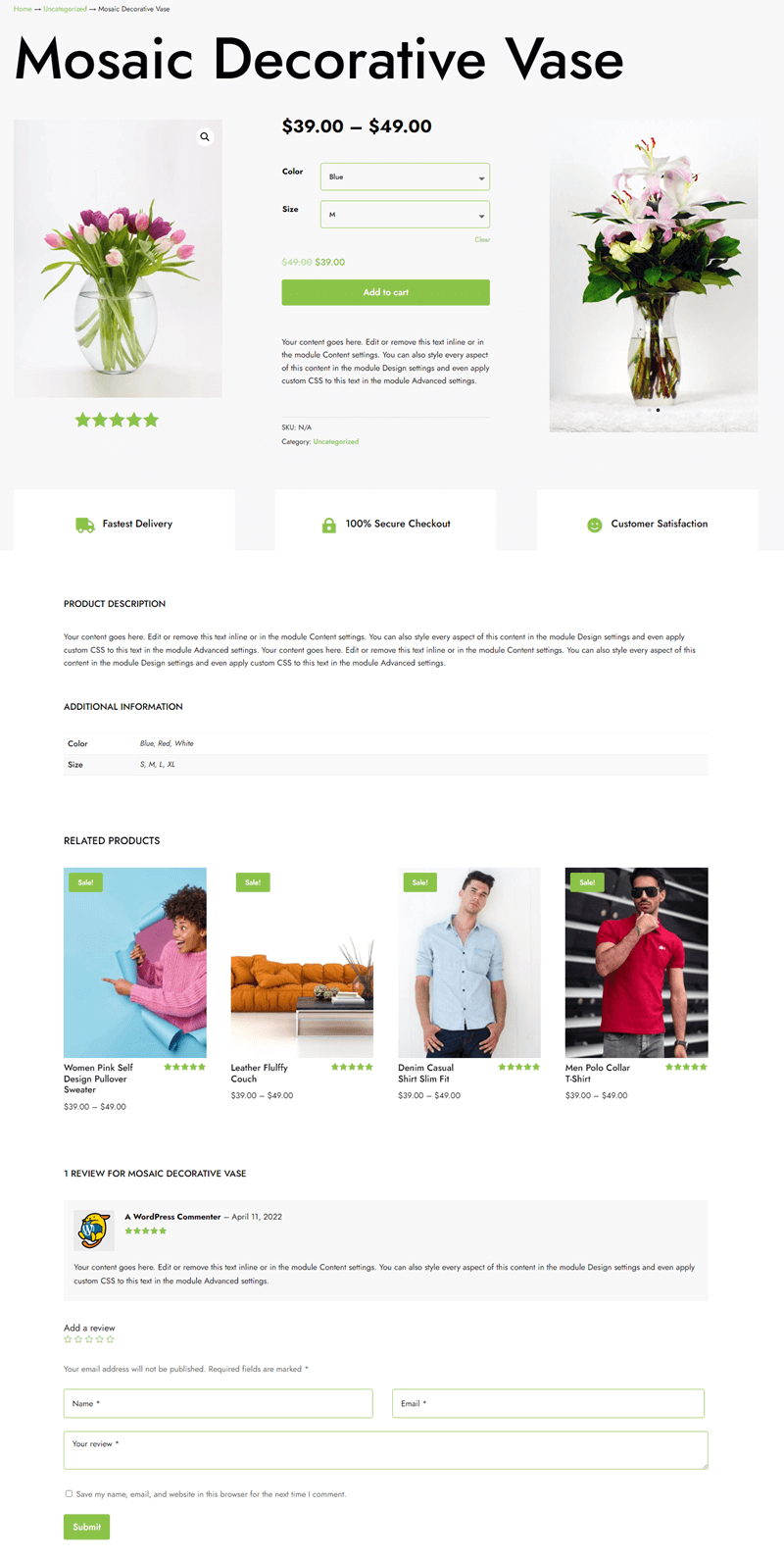 25.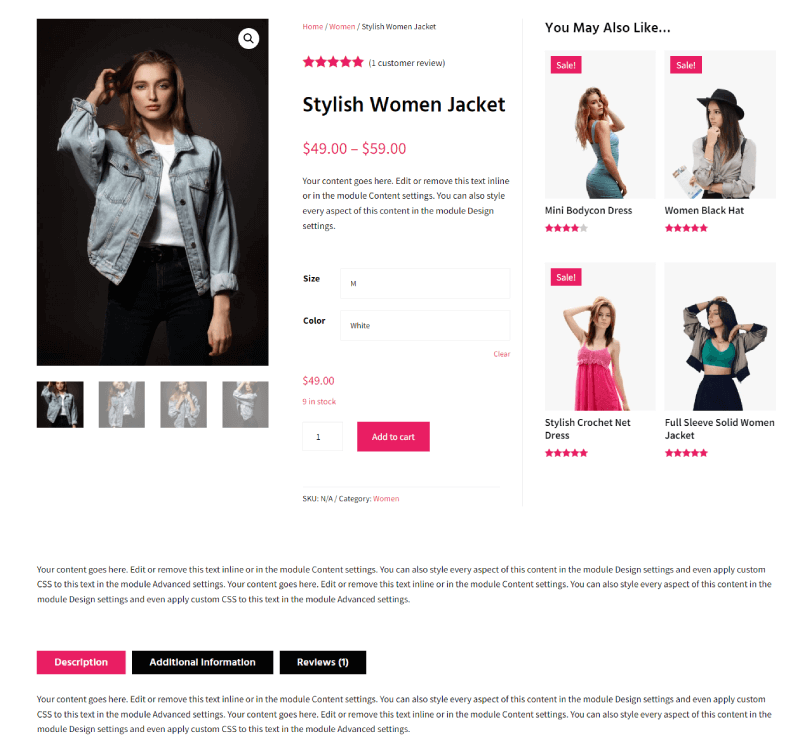 New Section Layouts for Divi WooCommerce
Sections let you highlight the main areas of your eCommerce store. And not only areas but the events you're running as well. For example, if you're running a New Year's sale, then using the sections element, it is easier for you to grab customers' attention.
They're just like banners, products collection, and promotional designs you can see on a particular digital shop. Using these, you can also direct users to a particular area with more ideas, like Clothing sections for Women and Men.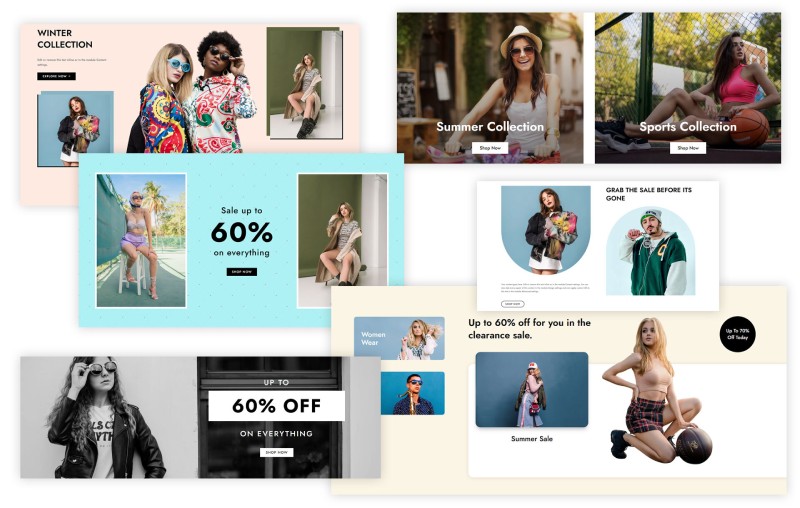 Divi Layouts for WooCommerce provides you with a total of 10 sections layout that you can use per your requirement. Similar to other layouts, sections are also easy to import and customize. Plus, they're designed keeping all device types in mind.
Thus, you're promotion or highlighting of a product or event would be clearly visible everywhere, whether mobile, tablet, or PC.
The following are the section layout you get with this WooCommerce layouts pack.
1.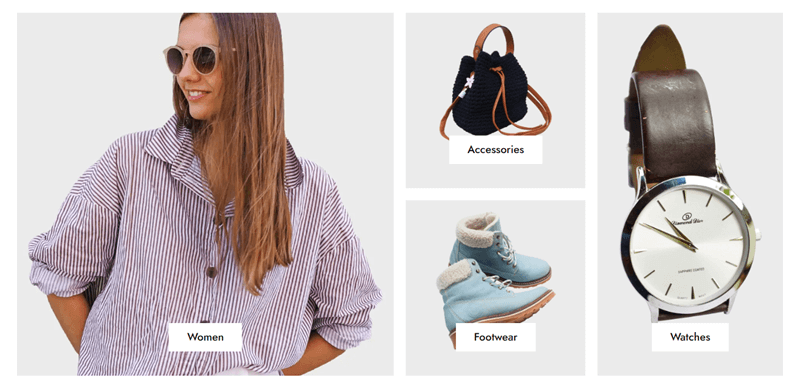 2.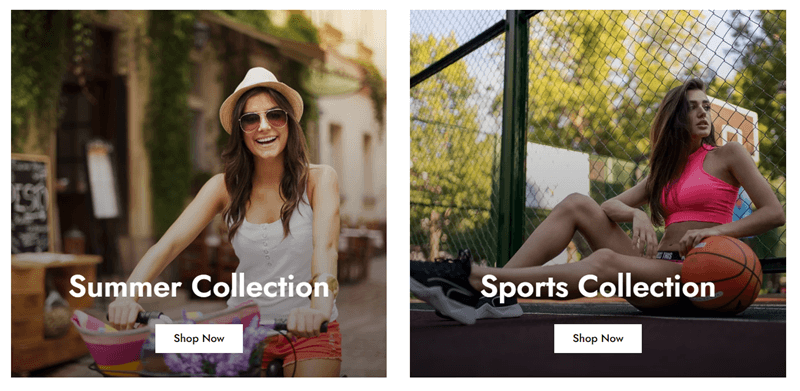 3.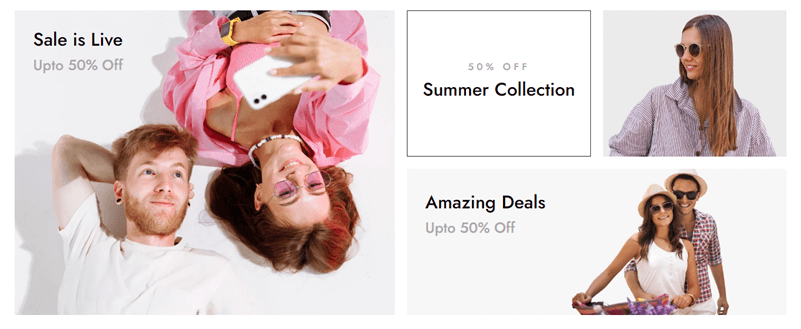 4.

5.

6.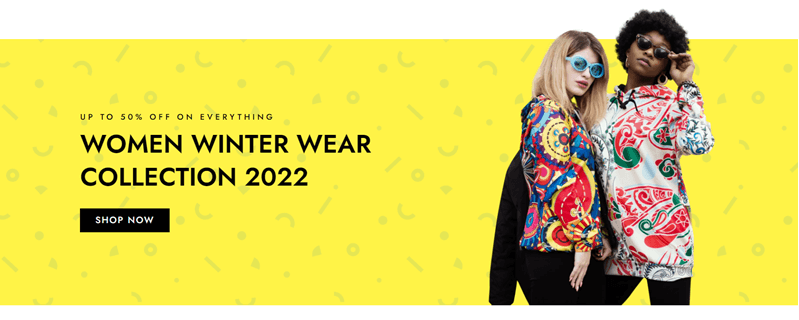 7.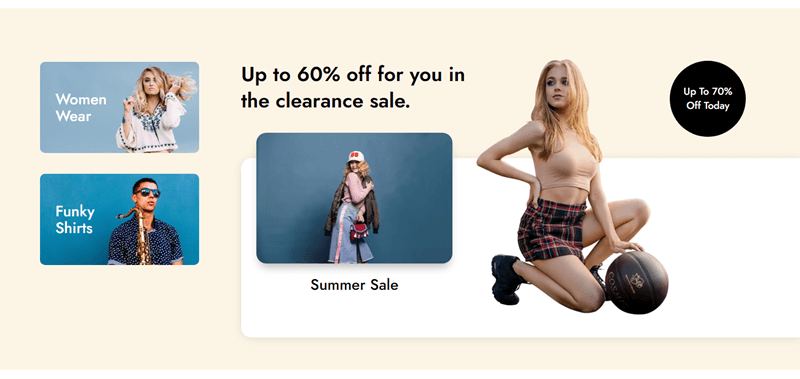 8.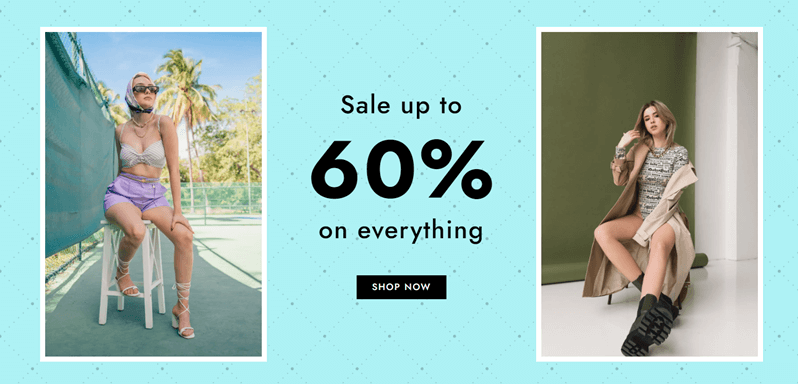 9.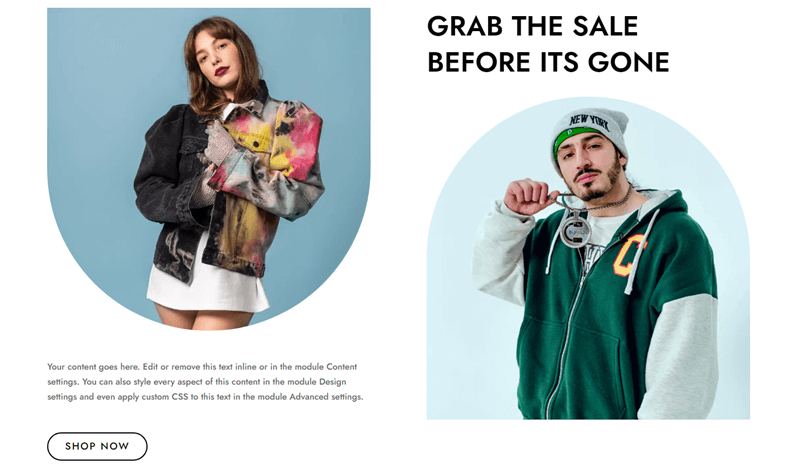 10.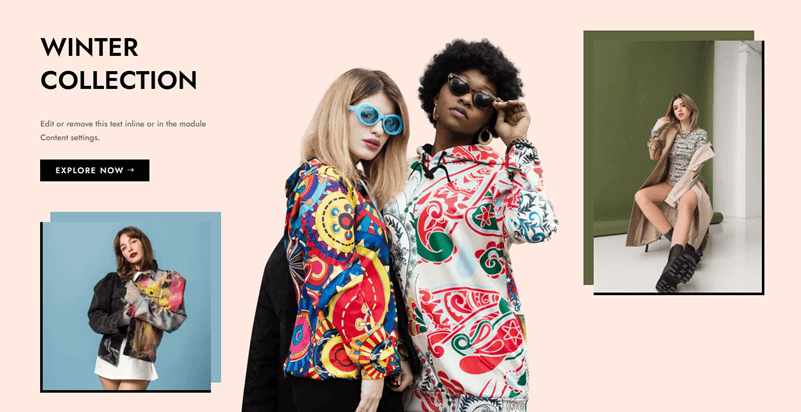 Additional Benefits of Divi Layouts for WooCommerce Pack
---
With products of Divi Extended, it's sure that you'll get additional benefits. And the same is true with Divi Layouts for the WooCommerce pack. Apart from stylish, easy-to-use, and customizable layouts, there's more that you get with them. By looking at the following points, you'd make up your mind to get these layouts as soon as you can.
Responsiveness, Just Like You Need It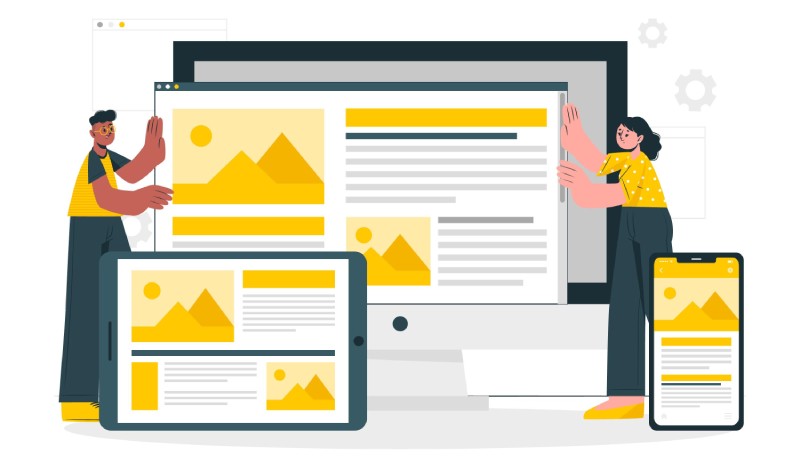 Whether mobile phones, tablets, or even PCs, the layouts available with the pack are as much as responsive as they need to be. Each layout, whether a Divi cart layout or a Divi checkout page layout, fits correctly on users' devices. Once applied to your eCommerce store, you don't have to think much, about whether users are able to access the website right or not.
With these layouts, your store will function at its full potential and beauty no matter where the users arrive.
Customizable to Fulfill Your Designing Goals
We have designed the layouts in a way that you don't have to perform additional changes to them except replacing the demo content. However, if you still want to try something and give the layouts a more different look, then you're allowed to do that.
Each layout, whether a Divi WooCommerce shop page layout or product page layout, will support the design you've in mind and want to apply to your eCommerce store.
Unbeatable Support for the WooCommerce Builder for Divi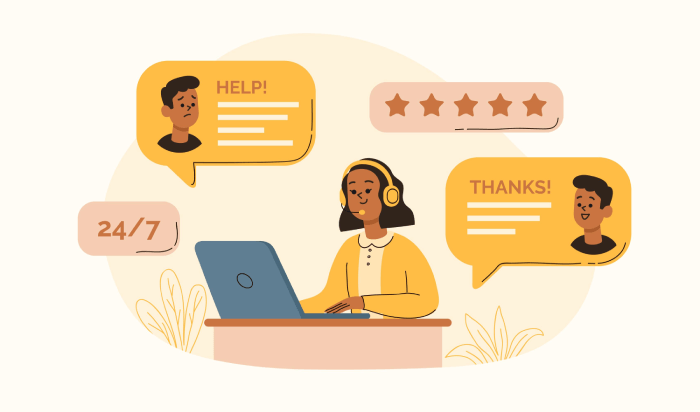 Once you get the pack, you're entitled to the amazing support we provide to our customers. No matter what your issue is, we'll always try and give you the best solution that can satisfy your development or design needs. Our support team is available 24x7x365 days. So, you can reach out whenever needed.
Regular Updates to Keep Your Divi for WooCommerce Always Stylish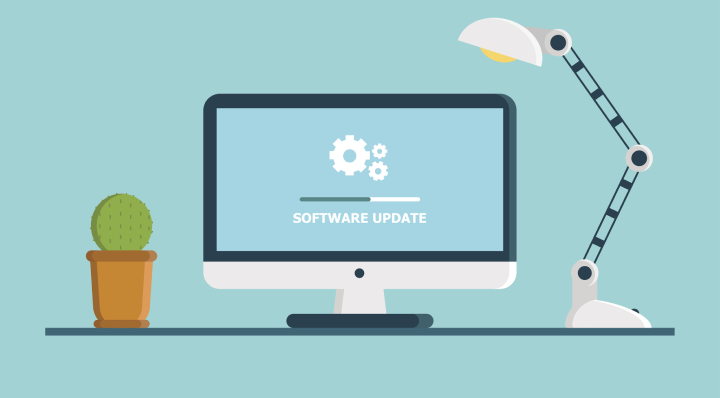 Regular updates add more layouts to the pack. You can expect,
Besides, improved design of the existing ones. So, your WooCommerce store can keep up with the latest design trends in the market. And always look new as you launched it yesterday.
Budget-Friendly Cost
To make Divi Layouts for WooCommerce accessible, we're providing this pack on both Divi Extended and Elegant Themes Marketplace. So, whether you're a new or existing user of Divi, you can make the most out of our layouts pack. Plus, the pricing we have set for this is also pocket friendly. You don't have to spend much to get something out of the box.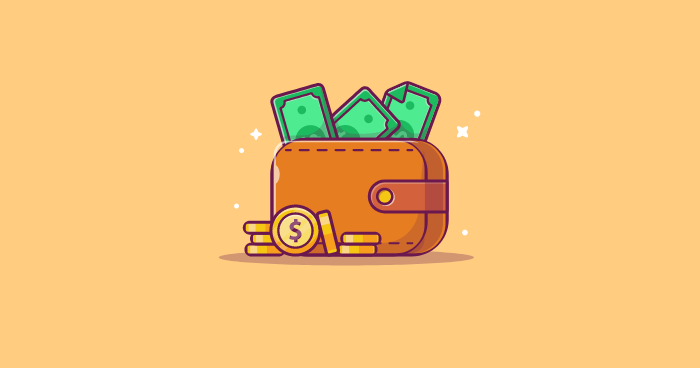 Though, on both platforms, you'll get some different benefits. Thus, when you choose to get our Divi Layouts for WooCommerce pack, make sure you get it from where it's most suitable for you.
The Bottom Line
---
Whether you genuinely want to turn your eCommerce store into something incredible or not, these layouts can always help. As we've already looked, they're modern, responsive, and, above all, ready-to-use. So, you won't have to spend much time getting these on your digital store.
With these layouts, you'll surely attract users' eyes and improve store user sessions, potential leads, and eventually a profitable conversion. Thus, don't wait, and get these layouts today for your Divi WooCommerce store.