If you're here, then it would be wrong to say that you've not ever interacted with an eCommerce platform. Most of the people living today, once in their lifetime, have come across an eCommerce platform and interacted with it. Because according to an Inviqa report it's found that 59% of Millennials first go to Amazon when they need to do online shopping. Moreover, in another report by OptinMoster, it's found that over 93.5% of global internet users have purchased products online. Thus making eCommerce undoubtedly the famous destination online to do shopping. And perhaps because of it, you want to build your own eCommerce platform and are looking for the best eCommerce website builder.
In this article, we'll look at some of the best eCommerce website builders that you could try for your business as per its niche. We'll also look at the fact why you should use them and be a better businessman. However, before we start looking at each eCommerce site builder, it's best we should discuss what's an eCommerce basically and check out other useful statistics. So, you'll have more at your end to make your eCommerce website run successfully.
Therefore without any delay, let's get into the below points.
What's eCommerce?
---

E-commerce / eCommerce/ e-Commerce / ECommerce is an online method to sell different types and categories. You could also say, eCommerce is a way to buy and sell goods or services using the internet. One end (owner) showcases the products or services on a website for sale, and another end (customer/buyer) purchases those products according to his preference using a credit card, debit card, internet banking and electronic wallets or payment gateway like GPay, ApplePay, AppleWallet, PayPal and other.
Once the payment gets successful, the money and data get transferred to the seller to complete the sale. Then, they follow the process of packaging, dispatching and delivering the product if it's a physical product.
In the case of digital products or services, the buyer can get the digital product the right way through the site. Or in the follow-up email. And services could be delivered in person or through an online medium. We'll discuss this in detail in this article.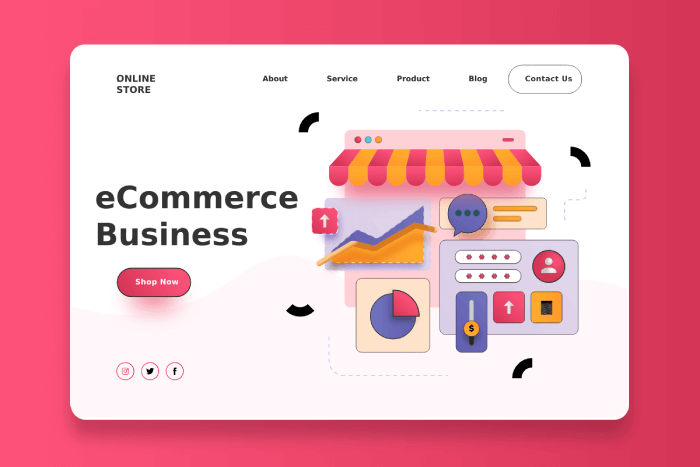 Electronic commerce or internet commerce are also other names of eCommerce. However, online shopping is widely used among customers or buyers. And eCommerce is widely used by sellers and people in business.
Types of eCommerce
Typically, there are 3 types of eCommerce, but as the internet has reached more users, the eCommerce types have also increased. Now, you can have around 5 eCommerce types mainly that are as follows,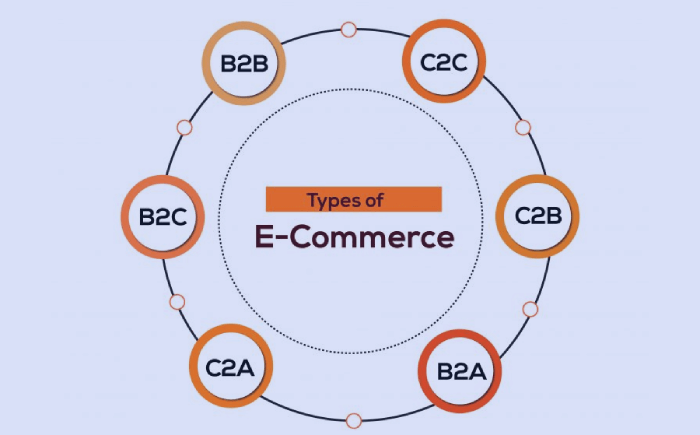 1. Business to Consumer (B2C)
The most famous eCommerce model has seen a considerable rise during its inception. The B2C eCommerce market had over $4.2 trillion in sales in 2020 and is estimated to reach the sales number to $6.3 trillion by 2024. This kind of eCommerce model works when companies manufacture products or provide services directly for the consumers.
For example, you do online shopping at a local clothing store. However, it's not limited to local stores only. You can also count Gymshark, Nike and other brands.
2. Business to Business (B2B)
When you're running a business to provide services and products to another business online, then it's called B2B eCommerce. Though B2C is widely famous, B2B is the one that has more revenues. In the year 2019, it's reported that the global value of B2B e-commerce was at $21.8 trillion, which is 82% of all e-commerce. Therefore, if you're planning to run a B2B online business, you could see many benefits if everything goes right. For instance, you can consider Salesforce, HubSpot, and LinkedIn as B2B eCommerce platforms.
3. Consumer to Consumer (C2C)
When products or services are for sale from a consumer and bought by another consumer online, this type of eCommerce is called C2C eCommerce. However, to successfully carry out transactions for this kind of eCommerce business, both consumers have to use a third party medium in most cases. For example, you can consider eBay, Etsy, Fivver, OLX, Quickr, etc., as C2C eCommerce business platforms.
4. Consumer to Business (C2B)
When an individual sells services or products using his/her creative skills or professional experiences to business organizations, then it's called Consumer to Business (C2B) eCommerce. An individual could be a photographer, writer, marketer or freelancer as well. Elance (now Upwork) was the first platform to offer C2B services.
The C2B eCommerce model is the exact reversal of the B2C model. Where the B2C model is dependent on the consumer, the C2B model thrives itself by providing individuals with an opportunity to sell their services/products directly to companies. In the C2B model, the individual can provide his services to companies through his own platform. Or by using a medium like the C2C eCommerce model.
5. Direct to Consumer (D2C)
With the rise of social media and internet users, a new type of eCommerce has also emerged, which is D2C (Direct to Consumer.) When brands sell their products directly to their end customers without involving any third party, for example, retailers, distributors, or wholesalers. For direct to consumer sales, membership or subscription items are a popular choice with social selling via Instagram, Pinterest, Facebook, Snapchat, etc.
Apart from these eCommerce models, there's another online business model which involves private businesses, consumers and the government that compiles E-Governance. It further includes different models, G2C, G2B/B2G, G2G and G2E. When business entities, consumers, and the government provide services and products online directly for the use of administration or government or vice versa and enable the exchange of information through central websites. It is part of the E-governance model. You can find more about E-governance in a detailed article by Salesforce.
Type of eCommerce Platforms
With different eCommerce types come different eCommerce platforms types. And knowing them helps a business person successfully come out with a business model to shine his/her idea. You can find different eCommerce platforms types, but the most popular are the following ones which you could relate to your business model.
Wholesale
If you want to create an eCommerce site that will sell products of different kinds and from different categories, then that particular eCommerce platform is a Wholesale eCommerce platform. For example, Amazon, Walmart, and Wayfair.
Digital
An eCommerce website like Envato Elements, Adobe Stock, and Freepik provides you with different digital products, better known as a digital eCommerce platform. Here, you can purchase a particular element on an individual price basis or going with a monthly or annual membership.
Workplace
A Workplace eCommerce platform allows individuals or small agencies to provide their services to other individuals or businesses. For example, the popular workplace digital platforms are Upwork, Freelancer, Codeable, and Toptal.
Clothing
If you want to sell fashion accessories or clothes using an online platform, it comes under the Clothing eCommerce platform. There have been many clothing eCommerce platforms that are famous among most the people, such as shein.com, hm.com, gap.com and more.
Educational
When an individual or community (school or institute) sells their expertise on a particular subject to teach students or other individuals, then it belongs to the Education eCommerce platform category. Websites like Udemy, Skillshare, LinkedIn Learning, and FedEx are some educational eCommerce platforms.
Food
UberEats, DoorDash and Grubhub are the types of websites that allow restaurant owners to sell their cuisine or dishes directly to the consumers. Hence, it makes them a Food eCommerce platform. If you want to build an eCommerce website that deals with foods and eating materials, your website will lie in this particular category.
What's an eCommerce Website Builder?
---

As you have now got familiar with most eCommerce facts and statistics, it's best to discuss our main topic. However, before we look at our best eCommerce website builders, first, get an idea about eCommerce website builders.
From the above eCommerce platforms and types, you've got something similar of your own. Now, you want to bring that idea to the floor, and for that, you need an eCommerce website. That website isn't going to show up on its own anyway; therefore, the medium you require is an eCommerce website builder.
Simply put, software that is available online to help you create an eCommerce website is known as an eCommerce website builder. Plus, you don't have to code to build your eCommerce website. The website builders will provide you with a set of elements, modules, and blocks that you can drag and drop to design a particular design.
From creating your online store, shaping product pages, understanding shopping carts, working with payment methods and dealing with customer services, there are many entities to manage that complete an eCommerce website—all you can do with an eCommerce website builder effortlessly.
15 Best eCommerce Website Builders
---

The following builders available for eCommerce sites are not in any particular order. According to your business requirement and designing needs, you can find them best in their own way.
Wholesale, B2B, Multi-Store, Heavy Duty or Any Type of Store
Clothing, Fashion Wears & Merch Stores
Small Business and Ideas
Educational Websites and Sell Online Courses 
Food and Restaurant eCommerce
eCommerce Website Builders for Wholesale, B2B, Multi-Store, Heavy Duty or Any Type of Store
#1 WooCommerce — For Beginners to Advanced Users (Super User-Friendly)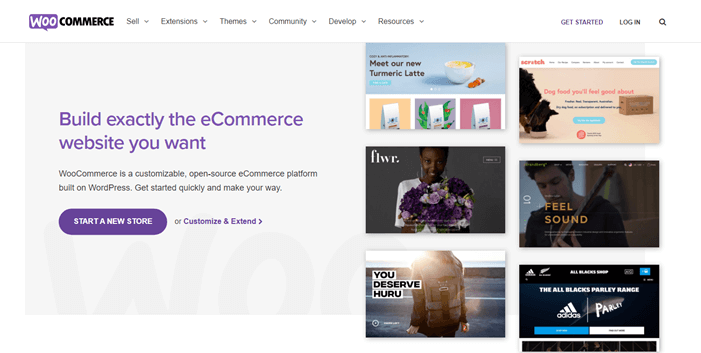 When a business person starts his business; he never thinks of it as a small business. Whether he's planning to sell his products locally or at a global level, he always believes and runs his business as a huge business. And WooCommerce supports this vision by providing enormous options and features to create an eCommerce store of any kind. Nevertheless, it's a plugin that you need to install in WordPress, but it can power your entire eCommerce business idea — the most customizable eCommerce platform for building your online business.
Products, categories, member accounts, statistics and whatnot, you name it, all essential tools for an online store you may require could be found in WooCommerce. Apart from this, WooCommerce is not only the most customizable eCommerce website builder, but it's also the most popular way to bring your eCommerce store or idea live. According to buildWith's report, 27% of online stores worldwide are powered by WooCommerce Checkout. And that's pretty much everything on the internet.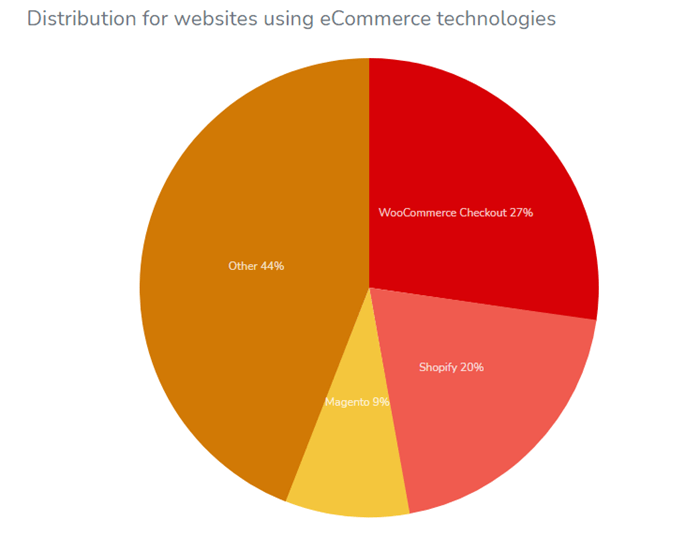 From Cosmos Magazine to All Blacks, many different global & big brands have made their digital store on WooCommerce. And that's not it. What makes WooCommerce the favourable choice to build an eCommerce store, is its availability. It's a free plugin that helps you build an eCommerce store. Plus, it's backed by the most popular way to build a website, i.e., WordPress. Stores created with WooCommerce are secure, functional, reliable and ready to expand. All you need is your business idea and skills to market it to the right audience.
Again, that's not all for WooCommerce. Let's take a look at its features.
Features of WooCommerce eCommerce Website Builder
Sell anything, no sell boundation. Whether physical products, digital downloads or even subscriptions, with WooCommerce, you can sell anything.
Add unlimited products. No products limit as well with unlimited selling.
Reach more audience with built-in blogging powered by WordPress.
Show products on any page or post using shortcodes to gain more exposure.
Create categories, tags and attributes to allow users to find products easily.
Show product ratings and reviews with a Verified Owner badge.
Easily import and export products.
Multiple payments method support. Process payments via Stripe and PayPal. Accept credit cards, Direct Bank transfers, checks or Cash on Delivery.
Show shipping options, rates, and free shipping.

Customer accounts and guest checkout.
Search Engine Optimization.
And a lot more features to help you effectively build and run your online business.
Pricing of WooCommerce
WooCommerce is available for free. And with its free tool, you would be able to create your working eCommerce site.
However, if you require some tools that are not included with the free version of WooCommerce, then you could have extensions at a rate of $49 to $299.
But as far as it's possible, you won't require any extensions for WooCommerce to complete your eCommerce and run the business.
User Ratings for WooCommerce
G2 — 4.4/5 star ratings out of 810 user reviews.
Capterra — 4.5/5 overall star ratings out of 336 user reviews.
Trustpilot — 3.3/5 star ratings out of 31 user reviews.
#2 Wix — To Build Beautiful Stores Out of the Box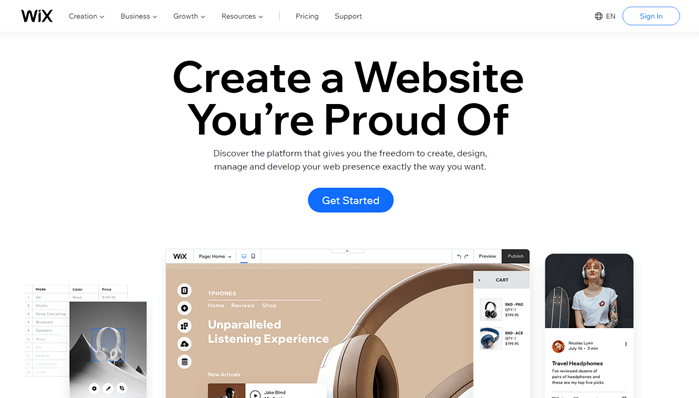 Unlike WooCommerce, where you need to install it on WordPress and get hosting also to run your WordPress. With Wix, you don't need to go through multiple steps; instead, all you have to do is select a particular plan to build your eCommerce store. And that's it; Wix will bring everything in front of you to create an exceptional digital store. However, similar to WooCommerce, it's easy-to-use that allows you to build your eCommerce website quickly via a drag-and-drop interface, which requires no coding. But, you can use code if you like using the former Wix Code, which is now Velo by Wix.
Moreover, if creating an attractive store is in your mind, there's no better place to start than Wix. Because it hosts over 500+ free online store templates that can help you launch your eCommerce store in no time. Just select the plan, select the template and add your products. That's all you'll need with Wix. Beauty is its core, and with a massive library of templates and an easy to use builder, you can enhance your eCommerce website to the maximum level.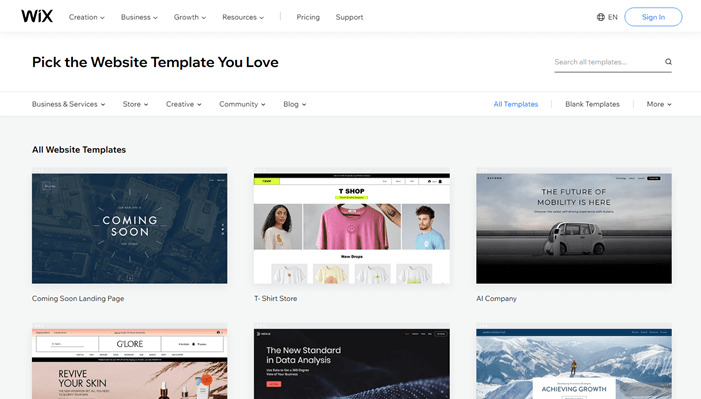 Since its inception in 2006, it has had over 165 million users worldwide, from which 4.49 million users are paid subscribers. So, from this, you can get an idea of how popular Wix is and how it helped many business persons make their dream come true. Using, Wix eCommerce platform, you can build online stores, manage orders and shipping fulfilment from a single dashboard. Add dropshipping, run multichannel sales and a lot more to your eCommerce site. The following features will help you know more about Wix in brief.
Features of Wix eCommerce Website Builder
A functional store manager that allows you to track orders and manage your inventory from mobile and desktop.
Beautiful layouts to display products and in-stock inventory.
No commission to be paid. Accept payments via credit cards, PayPal, offline payments and more for no additional charges.
Attract visitors by showing them coupons and discounts.
Use App Market to enhance website functioning and grow your business.
Easily define tax and shipping rules for different locations worldwide.
Use a custom domain name with free hosting and mailbox.
Track your site's performance and stats with an analytics tool.
Organize your customers' data and information in one place. Use Wix chat to assist your visitors and customers.
Harden your website's security with an SSL certificate.
Provide users with a custom member login page with password protection.
Use Velo to build advanced web applications. Deploy and manage your other web project with serverless computing, easy coding and freedom design.
Built-in SEO tools. So, you can optimize your site for search engine results and make the most out of your web content.
Create a mobile-optimized eCommerce store with scroll effects, video backgrounds, hundreds of fonts, image galleries and much more to outranks others.
Pricing of Wix
Business Basic — $23/month for 20GB storage with 5 hours of video showcase and 24/7 customer care support, and more options. It doesn't include customized reports.
Business Unlimited — $27/month for 35GB storage with 10 hours of video showcase and 24/7 customer care support, and more options. It doesn't include customized reports.
Business Vip — $49/month for 50GB storage with unlimited video hours and priority customer care support. It includes everything in other plans with customized reports.
User Ratings for Wix
G2 — 4.2/5 star ratings out of 1274 user reviews.
Capterra — 4.4/5 star ratings out of 6141 user reviews.
Trustpilot — 1.6/5 star ratings out of 2932 user reviews.
#3 BigCommerce — To Build an eCommerce Store Full of Functionality & Flexibility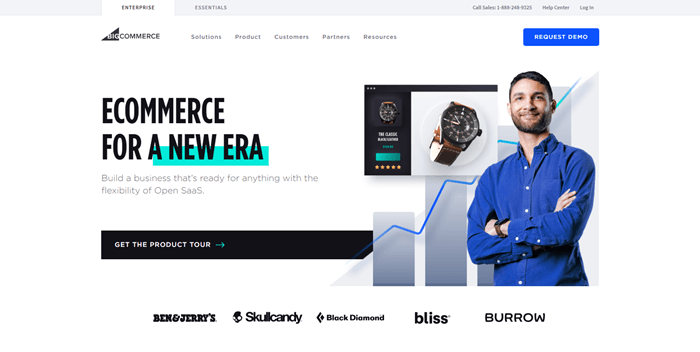 If you're planning to start a business and that falls in the small business category, then BigCommerce might not be the eCommerce website builder you're looking for. However, to shift your eCommerce site that's already getting more users. Or you could say generating up to $50k sales per year and planning to expand it; you're good to go with BigCommerce as its name suggests.
There are two versions of BigCommerce available — Essentials and Enterprise. One that lets you grow your business. And another allows you to expand it at a large number. The notable users of BigCommerce are Skullcandy, Toyota, Harvard Law and more.
Therefore, if you're planning something like that, or your offline business is huge already, BigCommerce can provide you with unique tools to utilize and expand the reach of your eCommerce store around the globe. Whether it's your furniture business or wholesale products, for speedy and stable growth, what you need is something that can handle multiple requests simultaneously, serve an entire customer base of thousands or millions of users, and adapt according to the market change.
With BigCommerce, things like that are not only possible but customizable. You can use automation, personalized content, and different marketing strategies to attract as well as turn leads into conversion. BigCommerce isn't only an eCommerce website builder, but it's more than that.
Features of BigCommerce (Enterprise) eCommerce Website Builder
Brick & Mortar powered store that keeps in-store sales automatically updated with native POS systems.
Integrate with other marketplaces like Amazon, eBay and Google.
Utilize social media by using them as another commerce channel.
Create and switch between multiple storefronts using a single click.
Use and customize themes at a higher level with built-in HTML, CSS and Javascript.
Create an eCommerce store mobile responsive easily.
Like WordPress, then you can also integrate BigCommerce with it.
eCommerce stores optimized for SEO and Speed with Google Cloud Platform infrastructure, Google AMP and Akamai Image Manager built-in.
Allow customers to pay with digital wallets like Apple Pay, Amazon Pay, PayPal One Touch and more.
Display coupons & discounts. Over 70+ native deals and promotions without any scripting required.
Headless Commerce allows you to integrate Acquia Digital Experience, React.js/Vue.js (F/E Framework) and channels toolkit.
Create customer groups for pricing, product access and promotions without having to maintain a second site.
Use price lists, bulk pricing, quote management, and B2B payment.
Supports multi-currency, language and powers your eCommerce store with Global CDN.
And a lot more out of the box eCommerce features to complete your digital store in terms of functionality, SEO, Speed, Security, etc.
Pricing of BigCommerce
Standard — $29.95/month for stores having sales up to $50k/year on a trailing 12-month basis.
Plus — $79.95/month for stores having sales up to 180k/year on a trailing 12-month basis.
Pro — Starts at $299.95/month for less than $400k in online sales, +$150/month for each additional $200k in online sales.
Enterprise — Available on custom pricing for businesses annual revenue cap of more than $400k in online sales.
User Ratings of BigCommerce
G2 — 4.2/5 star ratings out of 378 user reviews.
Capterra — 4.3/5 star ratings out of 186 user reviews.
Trustpilot — 2.2/5 star ratings out of 316 user reviews.
#4 Shift4Shop — The Perfect Fit for Every Shop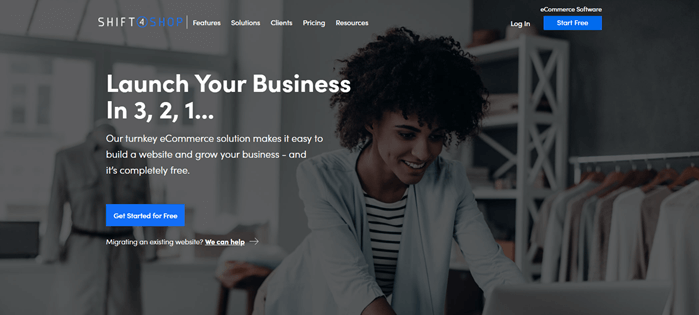 Being one of the oldest eCommerce website builders since 1997, Shift4shop (formerly 3dcart) provides you with magnificent options that can literally fulfil all your digital store building needs. Perhaps, saying that it includes features more than any other builder then would be not wrong. Whether it's mobile optimization, SEO or enhancing websites with HTML & CSS, Shift4Shop's intuitive web design tool makes everything possible.
However, you may find Shift4Shop a bit difficult to use due to its different web development approach than drag and drop builders. It requires you to customize and design your website in the back-end most of the time. So, if you've earlier experience of drag and drop builders, then Shift4Shop might trouble you a bit.
Nevertheless, to ease your digital store building effort, you can access their network of web design experts to build your online shop easily. Moreover, when it comes to features and options, it's not behind BigCommerce or any other eCommerce site builders. The same as BigCommerce, it can power huge digital stores without any trouble.
And the cool thing about it is that it allows you to create your online shop for free with a free domain name, SSL certificate and website themes. You won't need to pay if you use their payment method. And many other features will fancy you and you'd go for it.
Features of Shift4Shop eCommerce Website Builder
Subtle Customer Accounts and Guest Checkout.
Built-in integration with Shift4 Payments for Convenient and Flexible Payment Processing.
Display real-time shipping rates. Connect your store to several carriers, including USPS, Canada Post, UPS, FedEx, and more.
Set up custom shipping types, including free shipping, flat rate, local delivery, and more. Send tracking numbers, "Out for Delivery" updates, and delivery confirmations to ease customers' shipping concerns.
256-bit SSL encryption for a powerful eCommerce security.

100+ free themes for eCommerce stores of different kinds.
Reach a wider audience with an Integrated Blogging Platform.
Optimize your website for mobile-first, Google-Amp, and fine-tune the website's content with Shift4Shop Drag 'n Drop HTML Builder.
Bulk Product Import and Export.
Use Unlimited Product Images with Dynamic Zoom. Embed videos and customize them easily.
A powerful order managing system that provides you with New Order Notifications, Complete Information on Every Order, Status Updates and much more.
Pricing of Shift4Shop
Free forever — Only available for US customers when you use the Shift4 Payments payment option.
Basic Store — $29/month with all the essential features for 2 staff users, unlimited products and no additional transaction fees.
Plus Store — $79/month with Basic Store features, Marketing suite for 5 staff users, unlimited products and no additional transaction fees.
Pro Store — $229/month with Plus Store features, eCommerce Automation for 15 staff users, unlimited products and no additional transaction fees.
User Ratings for Shift4Shop
G2 — 4.0/5 star ratings out of 29 user reviews.
Capterra — 4.4/5 star ratings out of 106 user reviews.
Trustpilot — 3.3/5 star ratings out of 123 user reviews.
eCommerce Website Builders for Clothing, Fashion Wears & Merch Stores
#5 Squarespace – For Modern & Beautiful Clothing Store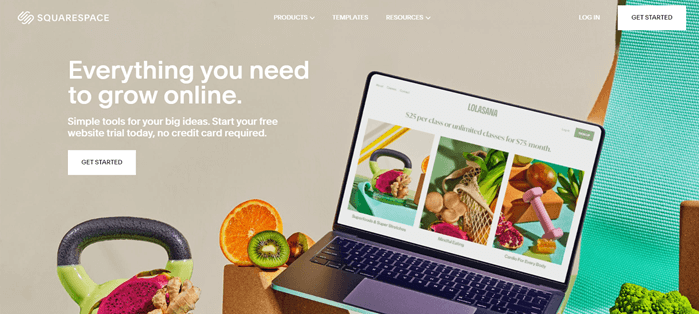 If you want to build a clothing store that should look stylish and elegant, then Squarespace is the builder that can help you build the most stylish eCommerce Store for your clothing business. The moment you choose to build your clothing store, it sets up everything to engage and attract customers and website visitors.
Like Wix, it doesn't require separate hosting, and you can easily use your custom domain on its platform. However, unlike Wix, you don't have the freedom to design as everything would be done on Squarespace's pre-built templates. But for beauty and simplicity, it's good to go.
Moreover, using its additional options, you could optimize your store to perform at its best. Reach more users using SEO tools and attract more leads to the business. Overall, Squarespace is a good start, establishing your brand and managing inventory at a small level.
However, you would find it more interesting that its server's speed won't disappoint you. You may discover speed issues with other hosting providers and builders, but Squarespace delivers your store without letting your customers wait. There's more that makes Squarespace a favourable choice to build an eCommerce store that is as follows,
Features of Squarespace eCommerce Website Builder
Modern and customizable templates.
Sell products, services, subscriptions, and digital content. Do product merchandising and sell better.
Organize products into subcategories.
Product quick view and image zoom.
Display limited availability labels to increase urgency and encourage conversion.
Create automatic discounts that apply to entire orders, orders over a set amount, or specific products, and offer free shipping.
Show relevant products to increase.
Hassle-free manage your digital store's inventory with an easy-to-use interface and quick views into your variants and stock levels.
Import and export products and data. View sales analytics, manage your tax rates, get real-time carrier calculated shipping estimates with USPS, UPS, and FedEx for the U.S.
Perform outstanding marketing with Squarespace Email Campaigns, Newsletter Blocks, Social Media Integrations, Banners & Promotions, and a lot more.
Pricing of Squarespace
Basic Commerce — $35/month

Advanced Commerce — $54/month
User Ratings for Squarespace
G2 – 4.4/5 star ratings out of 883 user reviews.
Capterra – 4.6/5 star ratings out of 2095 user reviews.
Trustpilot – 1.6/5 star ratings out of 576 user reviews.
#6 Shopify — Powerful & Super Customizable eCommerce Builder With Top Notch Support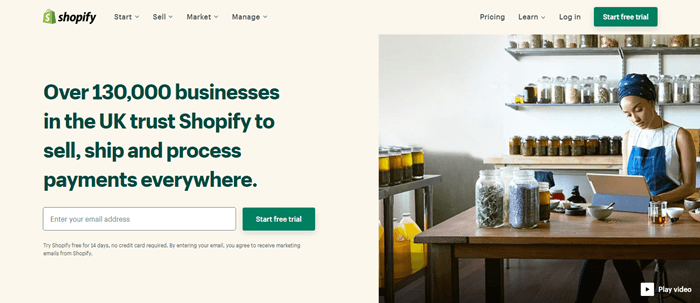 After WooCommerce, the eCommerce builder that powers most digital stores online is Shopify. From the top 1 million eCommerce websites, Shopify is the core for 20% of them. Why? Because the design and functionality it provides are more addable as well as easy to understand for both users and designers as per today's designing trends.
Moreover, just like BigCommerce, the Shopify interface contains all the necessary features to start and grow an online business hassle-free. You can sell anywhere, whether it's POS, social media or other online marketplaces. Plus, the builder is super smooth and easy-to-use that anyone can build any type of eCommerce site. Once you use it, you'd say the Shopify drag and drop is a charm.
Above all, what wins a designers heart is its customer support. Similar to Amazon, Shopify's customer support is top-notch. You can rely on them to guide you with everything in your store. And when you're in need of an expert, you could use the Shopify Experts Marketplace to hire a Shopify expert.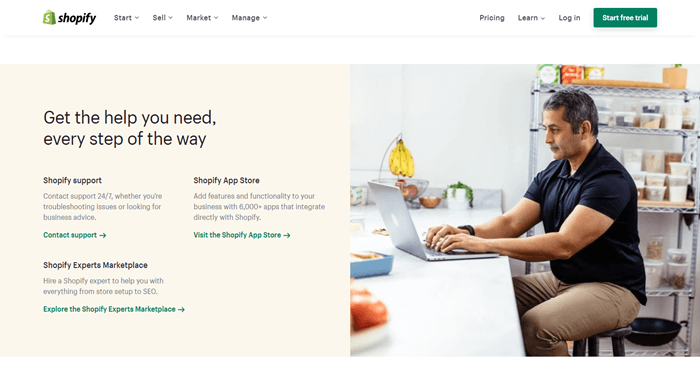 In addition to that, Shopify has also got a huge community forum that could help you find answers from fellow users and Shopify experts. There's more you could get with Shopify and run your online business successfully.
Features of Shopify eCommerce Website Builder
70+ professional themes to get started with your unique eCommerce store.
Mobile commerce ready to help your customers buy from your store using any mobile phone or tablet.
Complete access to the HTML and CSS of your store to customize at a higher level.
Dedicated blogging to publish and categorize articles, moderate comments and more on your eCommerce blog to create the buzz and reach more audience.
Your Shopify eCommerce includes a free 256-bit SSL certificate for better security and user trust.
Receive automatic shipping rates from major shipping carriers like UPS, USPS, and FedEx.
Abandoned cart checkout recovery.
Get paid easily with 100 payment gateways.
Create customer profiles, accounts, and groups.
Every Shopify store is search engine optimized. So, customers can find you better using search engines.
Your sitemap.xml is automatically generated with your products, webpages, and blog posts.
Engage your customers and encourage sales with the option to leave SEO-friendly product reviews on your website.
Inventory management for unlimited products under multiple categories physical, digital and membership.
Pricing of Shopify
Shopify Basic — $29/month with 2.9% + 30¢ per online transaction, 2 staff accounts and up to 4 inventory locations.
Shopify — $79/month with 2.6% + 30¢ per online transaction, 5 staff accounts and up to 5 inventory locations.
Advanced Shopify — $299/month with 2.4% + 30¢ per online transaction, 15 staff accounts and up to 8 inventory locations.
User Ratings for Shopify
G2 — 4.3/5 star ratings out of 3615 user reviews.
Capterra — 4.5/5 star ratings out of 3834 user reviews.
Trustpilot — 1.5/5 star ratings out of 1030 user reviews.
#7 Volusion — Everything You Need To Sell Online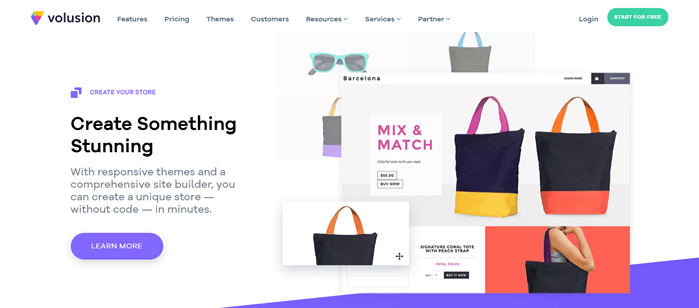 Similar to BigCommerce, the Volusion builder allows you to create a digital store based on revenue cap but gives more space than that. However, with Volusion, you won't get many features just like BigCommerce. But, it's good to set up your digital store, reach more customers with marketing tools and grow the business.
Volusion stands apart because it supports more number products with the freedom to design using Custom CSS, which you might lack in Shopify and Squarespace or find it hard to utilize. Plus, for business growth tracking and sales data, Volusion has the best tools to offer detailed information about your online store's performance over time.
Features of Volusion eCommerce Website Builder
Built-in SEO.
Secure hosting.
Free slideshow.
Customizable storefront designs.
Social media sharing.
Responsive Themes.
Product Display Customization
Process returns and refunds
Barcode Generator
Email marketing tools
ROI Tracking
Abandoned cart reports
Secure checkout for every plan
99.9% guaranteed uptime
Third-party integrations
24/7 dedicated customer support and much more.
Pricing of Volusion
Personal — $29/month for $50k GMV Per Year with 0% transaction fees, 1 staff account, 100 products and online support.
Professional — $79/month for $100k GMV Per Year with 0% transaction fees, 5 staff accounts, 5000 products and online + phone support.
Business — $299/month for $500k GMV Per Year with 0% transaction fees, 15 staff accounts, unlimited products and priority support.
Prime — Custom pricing available for $500k+ GMV Per Year with 0% transaction fees, unlimited staff accounts, products and VIP support.
User Ratings for Volusion
G2 — 3.3/5 star ratings out of 57 user reviews.
Capterra — 3.8/5 star ratings out of 38 user reviews.
Trustpilot — 2.7/5 star ratings out of 373 user reviews.
For Small Business and Ideas
#8 Weebly — Affordable Ecommerce Site Builder With Quality Tools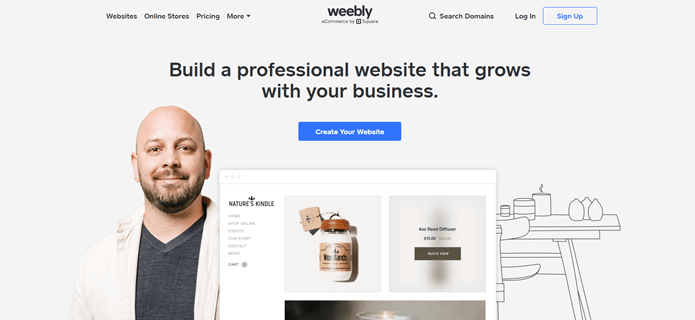 For a competent and professional look, Weebly could be the builder for your next eCommerce site. It's part of the SquareOnline created to build eCommerce sites. Plus, with its powerful marketing and analytics tool, you'll be able to reach more users and have a better idea about them.
The web design tool is intuitive and offers you the compatibility to make changes to your eCommerce site using a mobile phone or tablet. It provides an app for mobile and tablet which fulfils its ' The freedom to work wherever, whenever,' quote.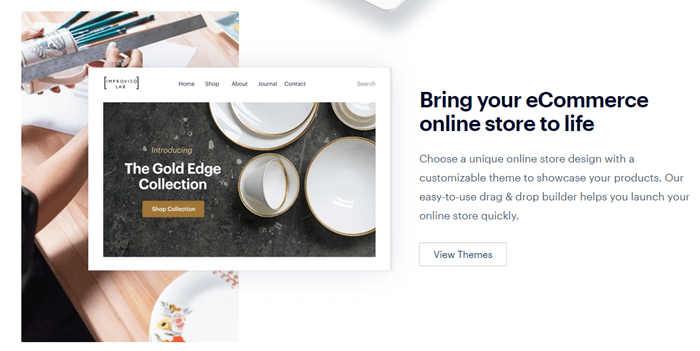 With Weebly, you get shipping control, inventory management, coupons and gift cards options, and a lot more to make your digital store ready. For a small business looking for additional features and better design options, Weebly could be the tool you're looking for.
Features of Weebly eCommerce Site Builder
Build and manage your site from anywhere with mobile apps.
Beautiful, responsive templates for your blog and store.
Third-party integrations for your store using the Weebly App Center.
Create custom forms and manage submissions for your eCommerce store.
Build Your Brand with Google Workspace for Business.
Track visitors and understand performance.
Pricing of Weebly
Business Plus — $38/month
Plans pricing applicable when paid annually.
User Ratings for Weebly
G2 — 4.2/5 star ratings out of 412 user reviews.
Capterra — 4.3/5 star ratings out of 1574 user reviews.
Trustpilot — 2.7/5 star ratings out of 541 user reviews.
#09 Jimdo – Hassle-Free eCommerce Builder for Self-Employed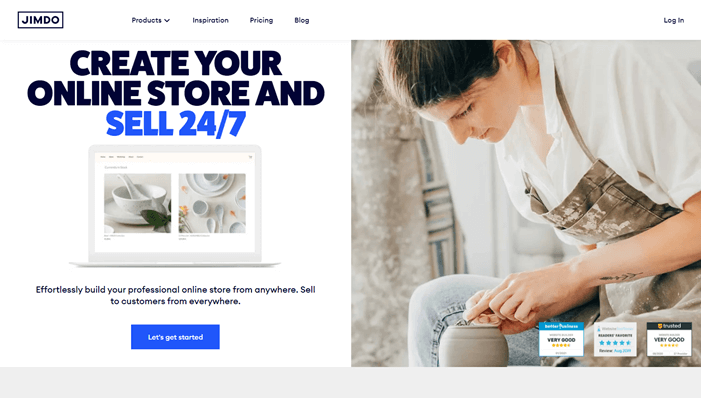 For self-employed professionals, Jimdo is the builder that can help them sell without extra fees and worry about managing complex parts of the online store. The tools you get with Jimdo are intuitive and allow you to build your eCommerce site in minutes and sell products anywhere in the world.
From local pickups to integration with social media networks, Jimdo can assist you with no additional steps and a direct approach to reach a particular eCommerce requirement. And that's not all Jimdo can do for self-employed entrepreneurs. There's more with it, and you can find all of that in the below points.
Features of Jimdo eCommerce Website Builder
No commission fees.
Local pickups.
Payment options from PayPal to Sepa direct debit.
Instagram and Facebook integration.
Optimized for all mobile devices.
T&cs, return policy, and more.
Pricing of Jimdo
Basic — $15/month billed annually for 10 GB Bandwidth, 1 forwarding email address, and 10 GB Storage.
Business — $19/month billed annually for 20 GB Bandwidth 5 forwarding email addresses, and 15 GB Storage.
User Ratings for Jimdo
G2 — 4.0/5 star ratings out of 13 user reviews.
Capterra — 4.2/5 star ratings out of 16 user reviews.
Cuspera — 4.1/5 star ratings out of 554 user reviews.
#10 Duda – Creative Builder for Multi Stores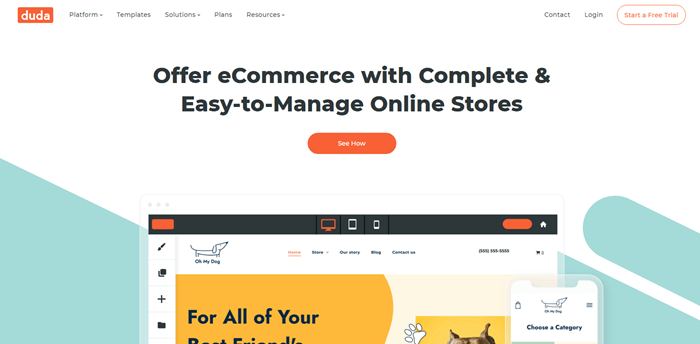 The builder that brings extensive features and supports a low budget with creative ways to build eCommerce sites is Duda. Not only does it allow you to build digital stores, but it also supports selling products from multiple stores. It features the Omni Channel Commerce that allows you to drive sales from your customer's store.
Plus, you don't have to update or apply changes to the inventory because everything gets synced automatically with the store catalog. Duda builder isn't only creative but also modern. Therefore, the store you'll create would have the latest design to engage users and bring more leads to the business. Moreover, with Duda, you'd be able to launch your eCommerce Store faster than any other builder because the interface is direct and brings everything in front without any effort.
Though it doesn't offer free plans, it's one of the least priced eCommerce builders with quality features to effortlessly power up your online store completely.
Features of Duda eCommerce Website Builder
Create a fully responsive eCommerce store.
Online storefront automatically incorporates the same color palette and font styles as the rest of the website.
Set delivery zones for your store simply and easily by marking areas on a map.
Dedicated email marketing with automated store emails for abandoned cart recovery.
More than 30 trusted payment providers, including PayPal, Stripe, Authorize.net, Square POS, and more.
Set a maximum or minimum purchase for checkout.
Sell on social media channels without any effort.
Shipping rates, options, providers, and more to successfully run your Duda powered eCommerce store.
Pricing of Duda
Standard — $8/month for 100 products.
Advanced — $22/month for 2500 products, plus sell on marketplaces like Amazon and ebay.
Unlimited — $49/month for unlimited products with Square POS integration and everything in the Advanced plan and more.
User Ratings for Duda
G2 — 4.7/5 star ratings out of 293 user reviews.
Capterra — 4.6/5 star ratings out of 163 user reviews.
Trustpilot — 4.1/5 star ratings out of 44 user reviews.
#11 Zyro – The Most Suitable Builder for Beginners & Small Businesses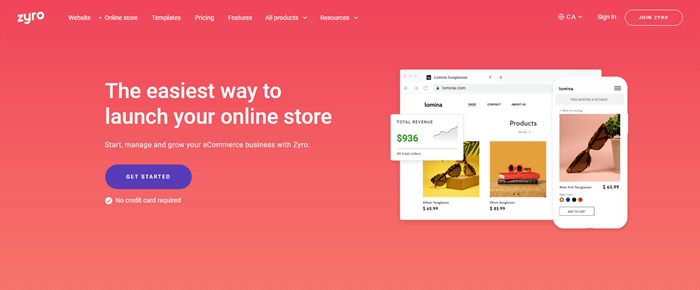 Being the newest one, Zyro offers the most intuitive eCommerce builder that's highly suitable for beginners as well as small businesses. It has a clean and subtle user interface that designers of any level easily understand. With this, you can quickly set up your digital shop and start selling the products.
If you're not looking for anything complex but want to optimize your online store for multiple eCommerce functions, then Zyro's the builder you need. The store you'll create with Zyro would be super clean and speedy. Meaning, customers will be easily attracted towards the content and don't have to wait for any action to be performed.
Features of Zyro eCommerce Website Builder
Build an eCommerce store using a pre-built online store template, then use the drag-and-drop builder functionality to improvise it.
Using Zyro online store, you can sell on Facebook, Instagram, and Amazon.
Manage all of your products by using an intuitive dashboard.
Multiple payment options.
Easy shipping and delivery with order history, track payment and shipping status.
Do better marketing with tailor-made ads on Facebook and Google Shopping.
Easily apply discounts and sell gift cards. And that's all you need.
Pricing of Zyro
eCommerce — $9.9/month for 100 products with 1 year free domain.
eCommerce Plus — $14.9/month for 2500 products with 1 year free domain.
User Ratings for Zyro
G2 — 4.7/5 star ratings out of 28 user reviews.
Capterra — 4.7/5 star ratings out of 133 user reviews.
Trustpilot — 4.6/5 star ratings out of 369 user reviews.
#12 Ecwid – To Drive Sales From Social Media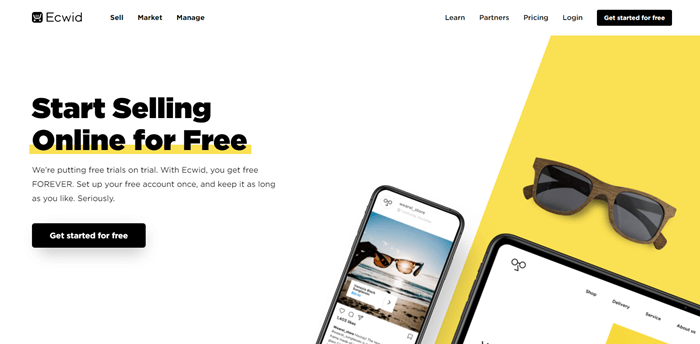 Perhaps you don't have a huge inventory but an excellent following on social media, and you want to leverage that. You've got products but not a store, and telling people to buy them directly from their accounts might confuse them with payments, and you'll not have proper tracking. Moreover, you also don't want to involve yourself in additional tools and functions of a colossal eCommerce Store, so using an eCommerce builder like BigCommerce or WooCommerce is no use.
Therefore, to overcome this situation and provide your users to pay for your products, you can use the Ecwid builder. It gives you the simplest form of eCommerce builder that lets you sell your products using social media. Plus, have proper analytics about them. There's more Ecwid that can make you get excited about it.
Features of Ecwid eCommerce Website Builder
Ship on demand and dropshipping.
Advertise across Google and promote and sell on Facebook.
50 different payment integrations.
Upload several items into your sales database at once.
Tax calculations and shipping assistance based on the customer's IP address.
Integration with other CMS and builders such as WordPress, Wix, Weebly, Blogger, Jumla and more.
Pricing of Ecwid
Free — $0 for an online store to add 10 products.
Venture — $15/month for a more functional online store to add 100 products.
Business — $35/month for a more functional online store to add 2500 products.
Unlimited — $99/month for a more functional online store to add Unlimited products.
User Ratings for Ecwid
G2 — 4.8/5 star ratings out of 199 user reviews.
Capterra — 4.6/5 star ratings out of 481 user reviews.
Trustpilot — 4.6/5 star ratings out of 277 user reviews.
For Educational Websites and Sell Online Courses
#13 Podia – For Beginners Educational eCommerce Store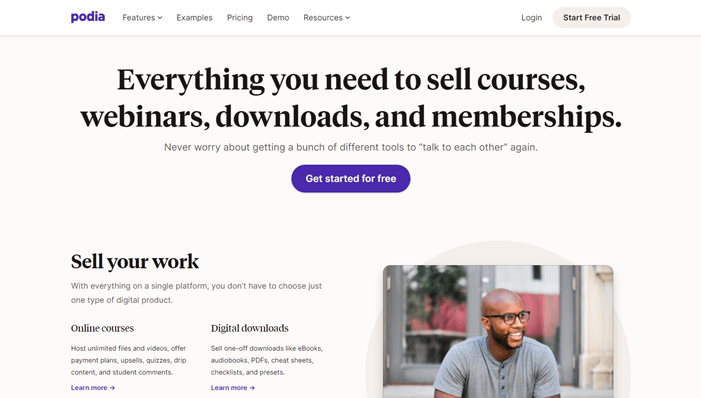 It's best to use a niche-oriented eCommerce site builder when it's about creating a niche-oriented eCommerce platform. And that's what Podia does for educational eCommerce sites. It allows you to create a digital store for your courses, digital downloads and subscription with no extra effort. It includes all the options that can make an educational site complete.
Moreover, if you're just starting with your educational store, its pricing won't eat your pocket. As well as unlike Udemy or other educational marketplaces, you don't even have to pay some additional fees.
Getting started with Podia is simple and doesn't take much time to get familiar with its tools and options. A person with prior knowledge of web development or not can blend himself with its easy to use design tools and unique interface.
Features of Podia Educational eCommerce Site Builder
Sell everything – Courses, Digital downloads, Memberships, Webinars and more.
Custom domain and customized branding options.
Embed opt-in form templates to collect emails.
Assist users with a live chat widget.
Product bundling with support and customer service for digital downloads and courses.
Easily track student progress.
Unlimited bandwidth, courses, file size, sales and students.
Add courses for a one-time cost, a monthly membership, or perhaps a payment plan.
Let students pay quickly and easily with PayPal or Stripe.
Pricing of Podia
Mover — $39/month cannot sell memberships.
Shaker — $79/month cannot market and use Courses Certificates, Affiliate Marketing, Embedded checkout and third-party code.
Earthquaker — $179/month everything you need to sell courses and everything in-between.
User Ratings for Podia
G2 – 4.7/5 star ratings out of 8 user reviews.
Capterra – 4.8/5 star ratings out of 50 user reviews.
Cuspera – 4.6/5 star ratings out of 1271 user reviews.
#14 SamCart – To Grow Educational eCommerce Business at Higher Level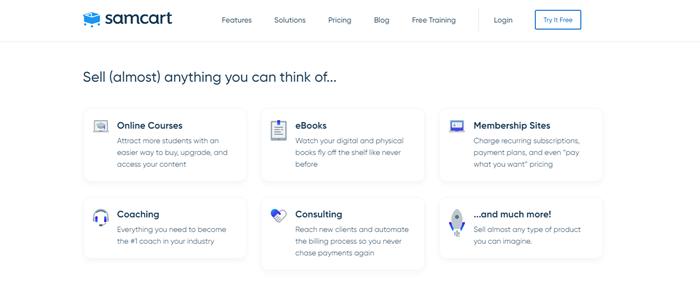 SamCart is the BigCommerce of educational sites. It lets you build your educational eCommerce site with more options for better growth on an enterprise level. You can turn your small business into more of a conventional one. Allow multiple users to access your courses at a single time: download digital products and much more.
Features of SamCart Educational eCommerce Site Builder
Create monthly subscriptions, free trials, dollar trials, payment plans, and a lot more.
Integration engine allows you to integrate multiple tools for email marketing, fulfilment, and digital memberships.
Partial refunds to serve your customers better with flexible options for managing refunds and billing.
Customer portal to easily manage your customers.
Affiliate center to build promotional partners that will market and sell your products.
A/B TESTING functionality for everything you do on SamCart.
Track every dollar back to Facebook, Google or anywhere with smart pixel tracking.
Pricing of SamCart
Launch — $49/month for Unlimited Courses and 1 Admin User account.
Grow — $49/month for Unlimited Courses and 3 Admin User accounts.
Scale — $199/month for Unlimited Courses and 10 Admin User accounts.
User Ratings for SamCart
G2 – 4.5/5 star ratings out of 54 user reviews.
Capterra – 4.9/5 star ratings out of 21 user reviews.
Cuspera – 4.1/5 star ratings out of 658 user reviews.
For Food and Restaurant eCommerce
#15 LimeTray — For Quick & Simplified Restaurant eCommerce Store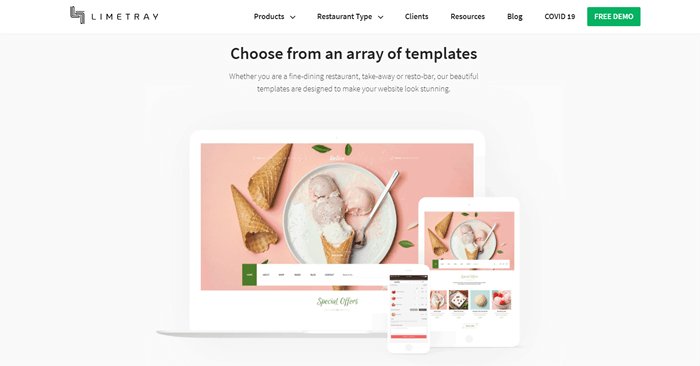 When you require creating a restaurant or food delivery eCommerce site, it's necessary that the site allow users to book appointments or order food. The above builders might enable you to create a restaurant or food delivery website, but you need to use several different tools and extensions to make it completely functional. That would increase your effort, and you'll find your website a bit complex. But with LimeTray, you can simplify your restaurant eCommerce site-building experience.
It provides you with different restaurant and food delivery related web development tools that can lower your effort and boost website performance. Plus, as compared to the above builders, it's available at a reasonable price. The below features will help you understand LimeTray, in a better view.
If you want to use WordPress for your restaurant website, and use Divi theme , then using our Restro Menu you can get the same functionality.
Features of LimeTray Restaurant eCommerce Website Builder
Table booking system.
Food display and ordering system.
Proper analytics and track of orders.
In-built Loyalty System. Reward your customers with loyalty points on every order placed in your restaurant ordering system.
Real-time order status.
Dynamic Minimum Order option to set minimum order value.
Pre-built multiple custom templates.
Accept, and decline bookings with the option to remind guests right from the dashboard.
And many different options to completely make your restaurant website fully functional.
Pricing of LimeTray
Custom pricing is available with a free demo.
User Ratings for LimeTray
SoftwareSuggest – 4.1/5 star ratings out of 16 user reviews.
Capterra – 4.2/5 star ratings out of 4 user reviews.
Software Advice – 4.1/5 star ratings out of 9 user reviews.
Not enough reviews to estimate builder performance and company support.
How to Build an eCommerce Business Website & Run It Successfully?
---
Everything has its process, whether cooking, washing or even building an eCommerce website using a builder. The following steps will help you effectively create your eCommerce website without any extra effort.
Choose Your eCommerce and Platform Type First
Before you start your eCommerce site, it's crucial that you settle on a particular eCommerce type. Because if you're going to run multiple types on a single platform, then you might not be able to run it successfully. Why? Because it might confuse your users or consumers whether the platform is for them or not.
Once you've selected your eCommerce type, the next thing is to select its type. For what type do you want to dedicate your eCommerce platform. Whether it's wholesale, education, or digital, after choosing both types, move to the next step.
Then Buy a Domain Name
A domain name is by far the most crucial step of all. Because after all, your brand is going to be known by the consumers through its name. Therefore, go for a domain name that matches closely with your platform's type. Plus, keep it simple and small. Perhaps around 5-6 letters. Because longer domain names are harder to remember and take more effort from people to type it in the search.
Choose an eCommerce Website Builder
From the above best eCommerce website builders, choose a particular according to your requirement and what feels you the most suitable for your kind of eCommerce site. From the list, most of the builders won't require hosting, but if you're going to use WooCommerce, then you'll need to get hosting as well. Otherwise, you cannot create a website with WordPress. However, with other digital store builders, all you need is a domain name and their plan.
Build Your eCommerce Site
You've got your website builder now, and it has all the tools to create your dream eCommerce site. So, use your creative skills and bring something out of the box. Nevertheless, if you don't want to involve yourself in creating an eCommerce site from scratch, you could also use pre-built templates available with your website builder.
And Get Everything On Board
With tools, you have to do a little more to get recognized by people and the audience you want to target with your product. You have to write eye-catching product headlines, details and help your customers see what you're offering. Plus, you need to market your brand and product to create a buzz and run the business effectively. Therefore, you're required to bring everything on board that you've got to be seen and make an impact. Just like Steve Jobs said, "Think Differently."
The Bottom Line
---

Above was our look at the 15 best eCommerce website builders you could use to build your eCommerce site in an efficient way without spending too much time. Each builder is unique in its own way and can help you build whatever you've dreamed of building. The features are there, how to build a website is there, and what other users think about them is there. So, it's easy for you to pick a performing eCommerce website builder for your business.
Select any particular builder according to your requirement and use your best skills to build something outstanding. And let us know how you felt about making it if it's from the above list.