The new Divi Marketplace by the Elegant Themes has taken its share in the web development world. Now, Divi developers around the world can easily share their awesome products to hundreds of thousands of users. A much like independent PlayStore and AppStore for the Divi theme. Open for everybody.
However, as I said, anybody who design Divi products can list their products on the marketplace. Meaning there would be many plugins, child themes and layouts. So, it would be hard to choose the right one for the right situation. Plus, there are chances that due to some high selling products, you'd miss something great which is not visible to everyone.
Therefore, to help you find right Divi product from the Elegant Divi Marketplace, I have created this blog post. So, without any further moment let's check out some of our best Divi plugins, child themes and layouts.
Divi Plugins
---
The followings plugins at the Divi Marketplace can enhance your Divi theme's functionality in many ways. Plus, all the listed plugins have intuitive control and are highly customizable. So, you can make adjustment according to your needs.
Divi Blog Extras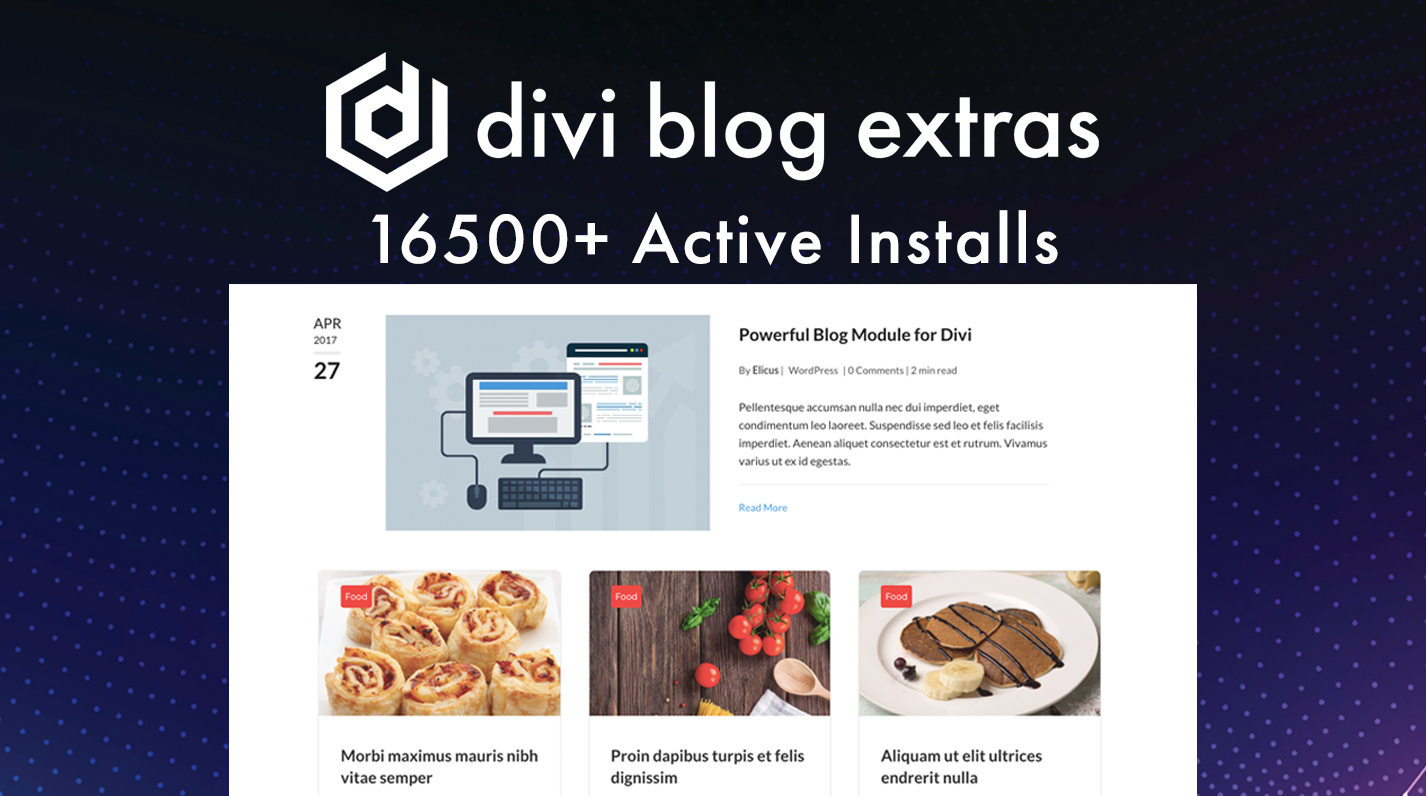 Want to change the look & feel of your Divi theme's blog page, then you should probably get the Divi Blog Extras plugin. Why? Don't ask; there are many reasons that would excite you to have this plugin as soon as possible. With this plugin, you can change the appearance of any category archive page. You can use this plugin inside the Divi's Theme Builder. Display current taxonomy posts. And much more with plenty of blog layouts that would change the blog page entirely in a single click. Have a look at the below features list.
Features of Divi Blog Extras
7 Divi blog layouts with masonry layout support
Ajax Pagination
Custom Taxonomy Support
Show related post
Post Offset in Widget
Search page support
Tabbed & list view sidebar for recent posts
Read time support
Custom color for category tags
Divi 4 ready
And many other options
Divi Plus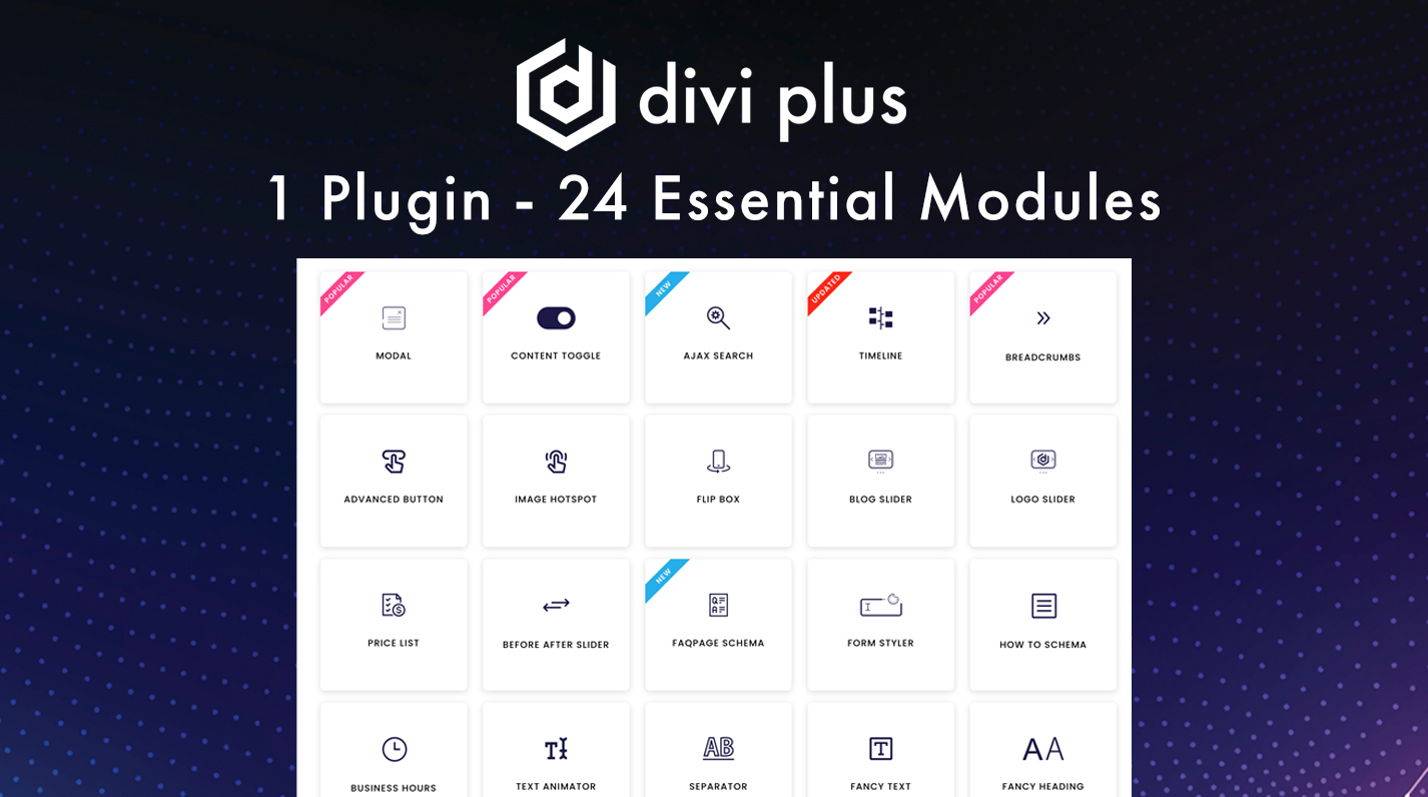 There are many times when a Divi designer needs to add custom CSS in the existing modules to increase their functionality. However, for a freelancer or an agency, it's a tiring job. They have to use the same CSS numerous times for numerous clients. But with the Divi Plus plugin, you can say goodbye to those custom CSS. This plugin comes with multiple advanced, easy-to-use modules that enhance the Divi theme functionality naturally. No need to add custom CSS, all you have to do is insert them on a page. And then see their magic. Moreover, modules are super easy to use, so you have no issue in your day-to-day web designing, no matter what your requirements are.
Modules available with Divi Plus plugin
Contact Form 7 & Caldera Form module for Divi to style the contact forms
Logo slider module
Modal to display Divi pop-ups and lightbox for videos, images, and more
Content Toggle module
Timeline module
Advanced Button module
Image Hotspot module
Flip box module
Before-After image slider
How To Schema module
Breadcrumbs module
Business Hours
Fancy Heading module
Fancy Text module
Text Animator module
Separator module
Blog Slider module
Price List module
FAQPage Schema module
Ajax Live Search module
Facebook modules for Likes, Shares, Comments, and Feed.
Divi Testimonial Extended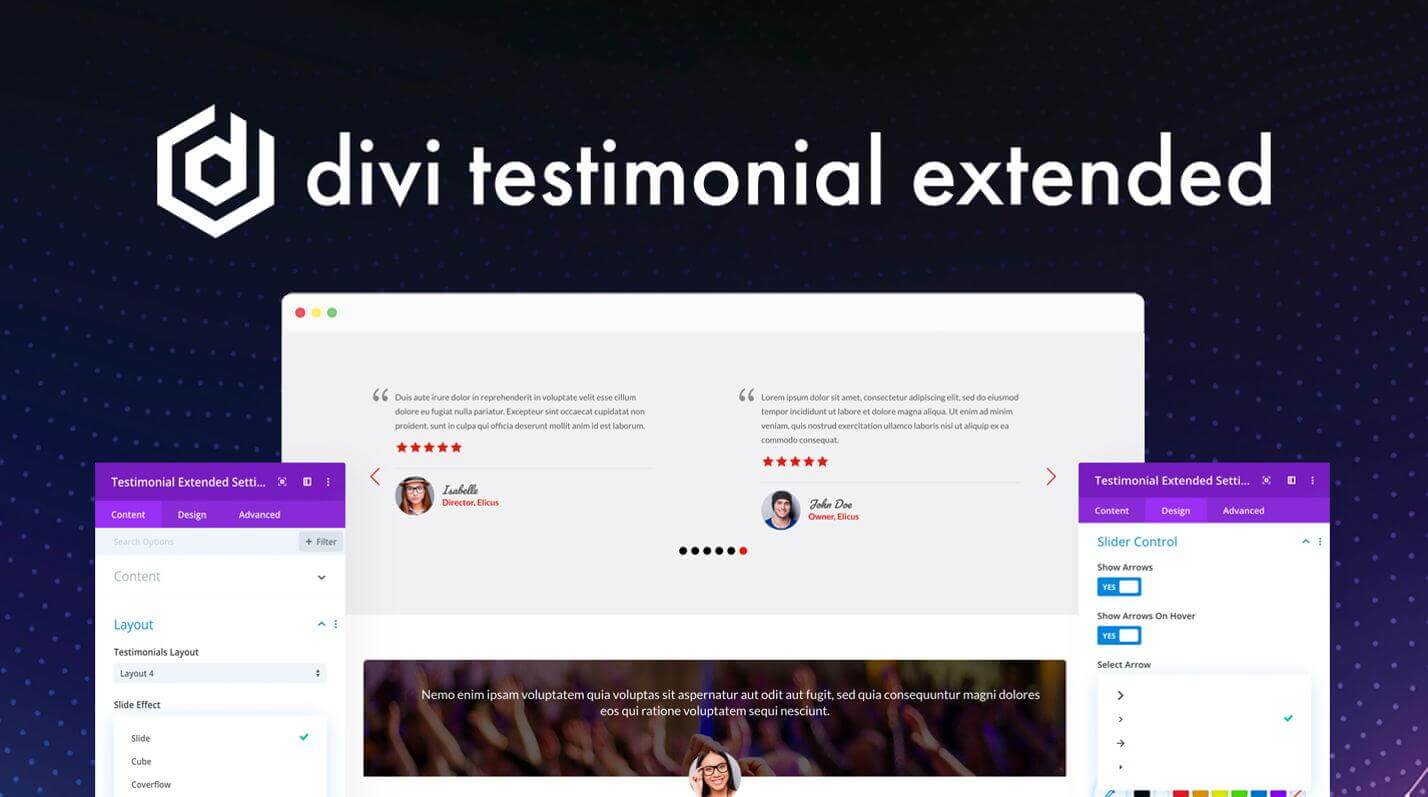 Another plugin you can find on the Divi Marketplace is the Divi Testimonial Extended. Now with the native testimonial module, you can add client reviews to the website. However, those won't slide. So, to solve this issue, we have designed this plugin. It provides you with the option to create rotating testimonials. And build trust among your website visitors in a long-lasting way.
There are 2 modules available in this plugin, Testimonial Extended & Testimonial Form, one to receive testimonial directly from the front-end, so you don't have to create testimonials in the back-end manually. And another module to display them. Plus, the testimonial slider module has different layouts for testimonial slides and animation effects. Look closely at the features list.
More features of the Divi Testimonial Extended
6 Testimonial Slider layouts
4 slider animation effects: Slide, Cube, Coverflow, and Flip
Custom Post Type for testimonials
Display testimonials in Grid and Masonry view
Testimonials per view option
Ability to change review author's image
5 pagination styles: Solid Dot, Transparent, Stretched Dot, Line, and Rounded Line
Multiple Slider Arrow Styles
And many more options to present client testimonials in their best possible way.
Divi Modal Popup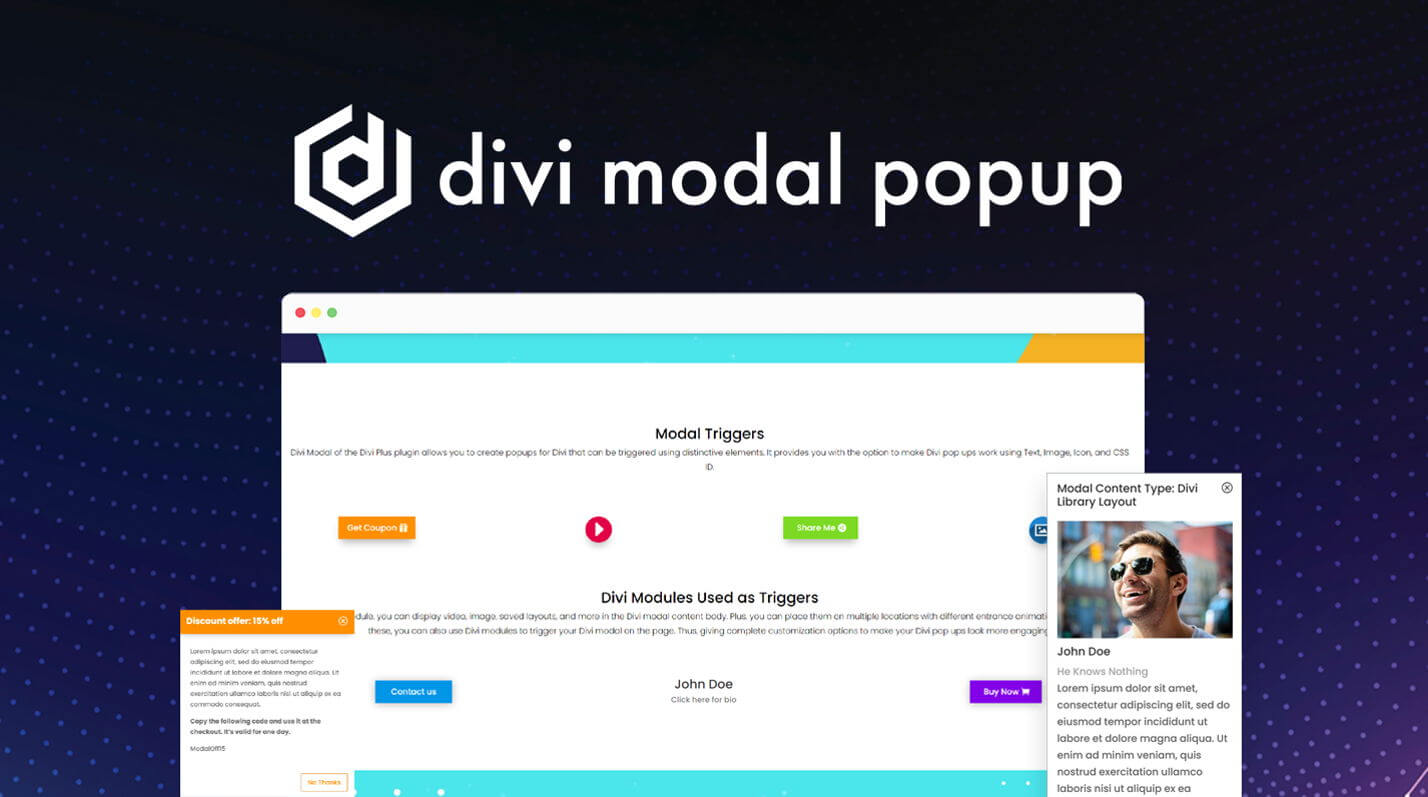 Want to add Divi Overlays and Modal Popups, then you can, for sure, use this plugin. It provides you with the ultimate options that allow you to create beautiful video popups, lightboxes, and other informative popups for Divi with this tool's easy-to-use controls. Furthermore, there are other many features that make this plugin perfect for creating Divi Overlays. And therefore, a suitable plugin available at the Elegant Themes Divi Marketplace to create Divi modal window.
More features of the Divi Modal Popup
Multiple Popup Trigger Options

Elements
On-Page Load (To display popups after the page has passed the set time)

Various Elements Type for Triggers

Button
Image
Icon
Text
And CSS ID (make triggers of your choice)

Option to create Divi Popus for multiple elements

Text
Image
Video
And Divi Library Layouts to give you complete control on your pop up creation.

And Many More Customization
Divi Blurb Extended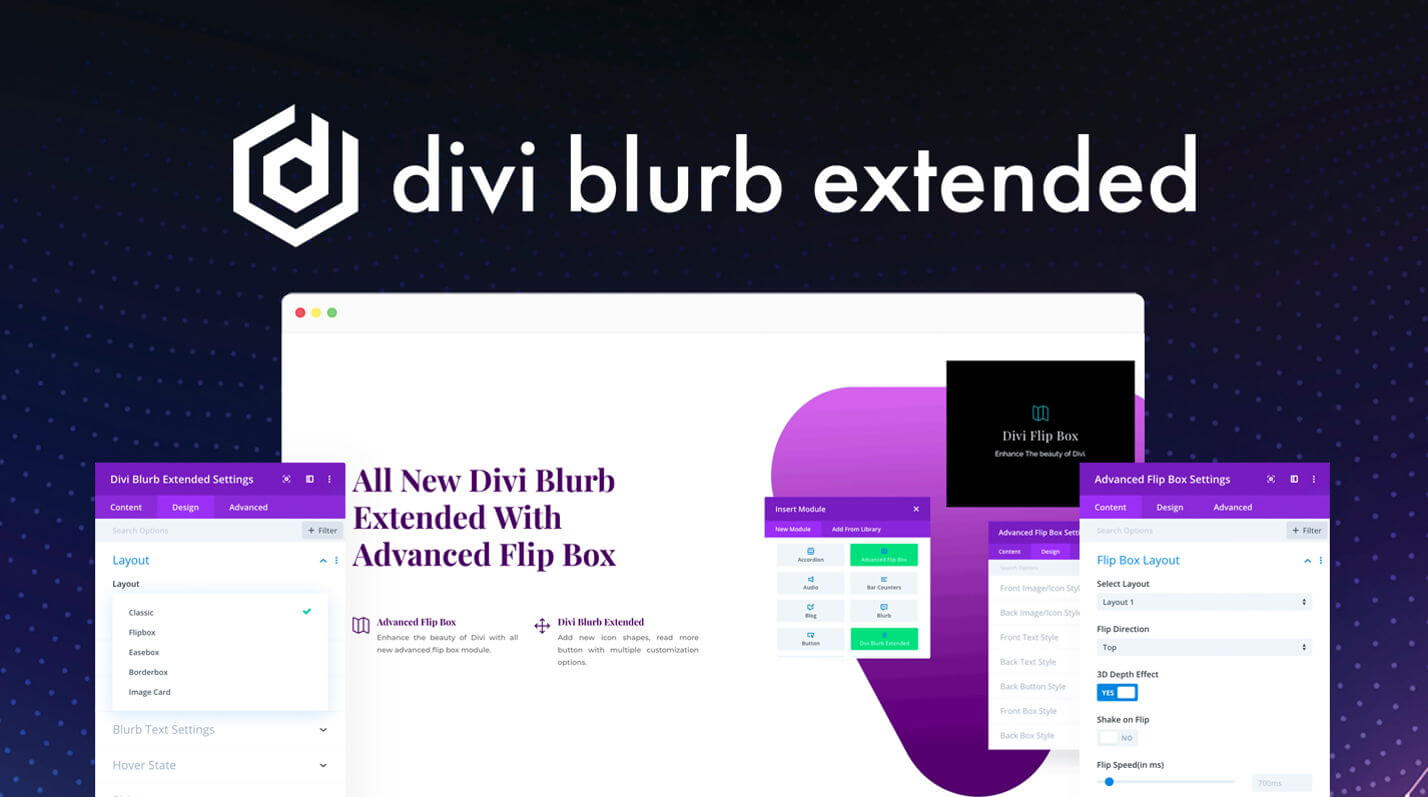 Enhance your Divi blurbs functionality with the Divi Blurb Extended plugin. It allows you to add blurbs with read more buttons, animations effects, and much more. In addition to these, with this plugin, you also get the Advanced Flip Box module, that allows you to create interactive flip boxes.
More features of the Divi Blurb Extended
2 Blurb Module

Divi Blurb Extended
Advanced Flip Box

5 blurb layouts with the Divi Extended Module

Classic
Flip Box
Easy Box
Border box
And Image card.

6 Flip Box layouts

Flip
Zoom
Slide
3D Cube
Grow
And Cover

Ability to add a read more button in Divi blurb
Multiple positions for the blurb icon
Multiple Icon Shapes

Circular
Square
And Hexagon

And many other awesome customizations to make Divi blurb look better than before.
Divi Content Toggle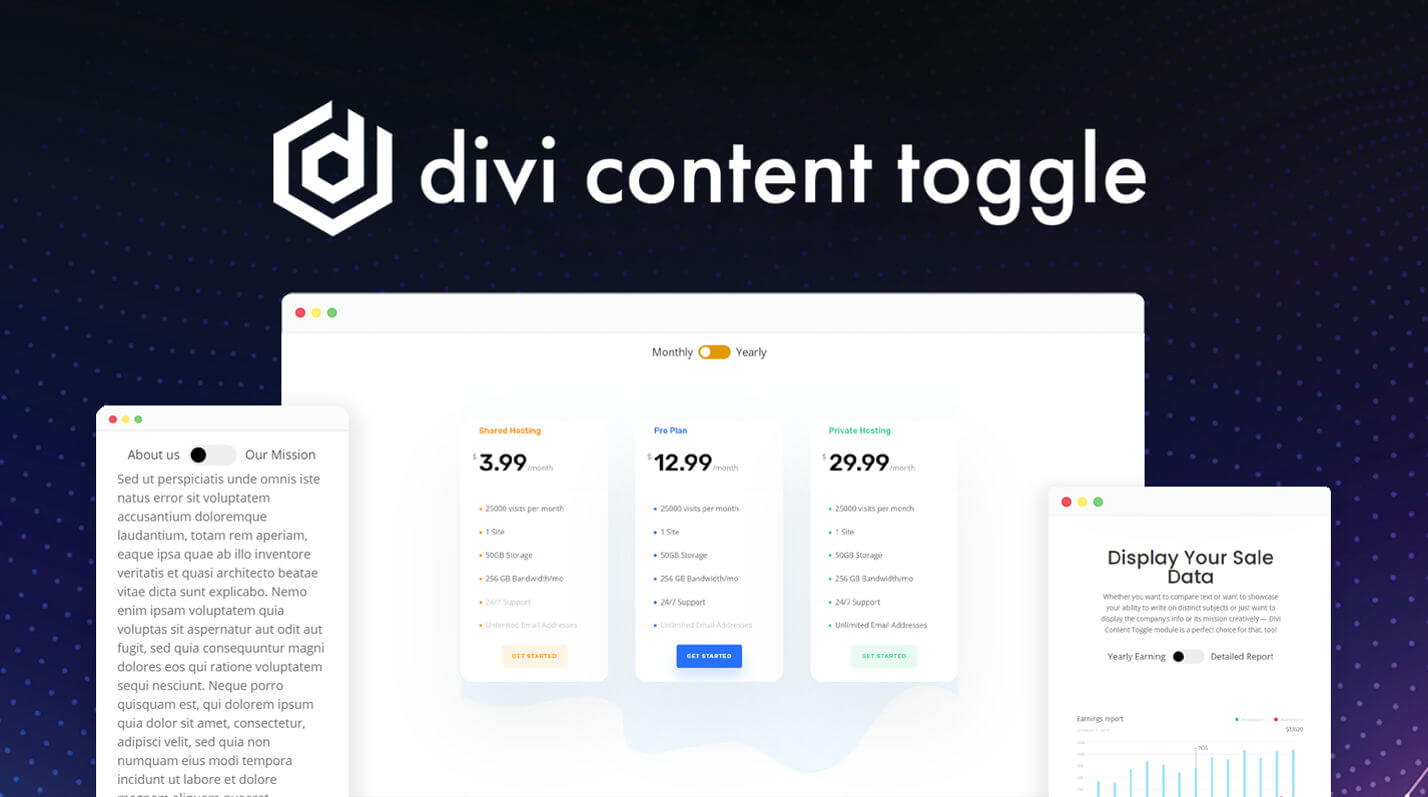 Add content in a much promising way using the Divi Content Toggle plugin. It provides you with options that let you compactly add essential content with a Divi switch. As many times primary content goes a bit longer, which useful for the search engine crawlers, but users get overwhelmed. Therefore, to overcome this issue, you can use the Content Toggle plugin, which resolves this by adding information in a short but not incomplete manner, like pricing tables, travel plans, product feature comparison table, etc.
Divi Restro Menu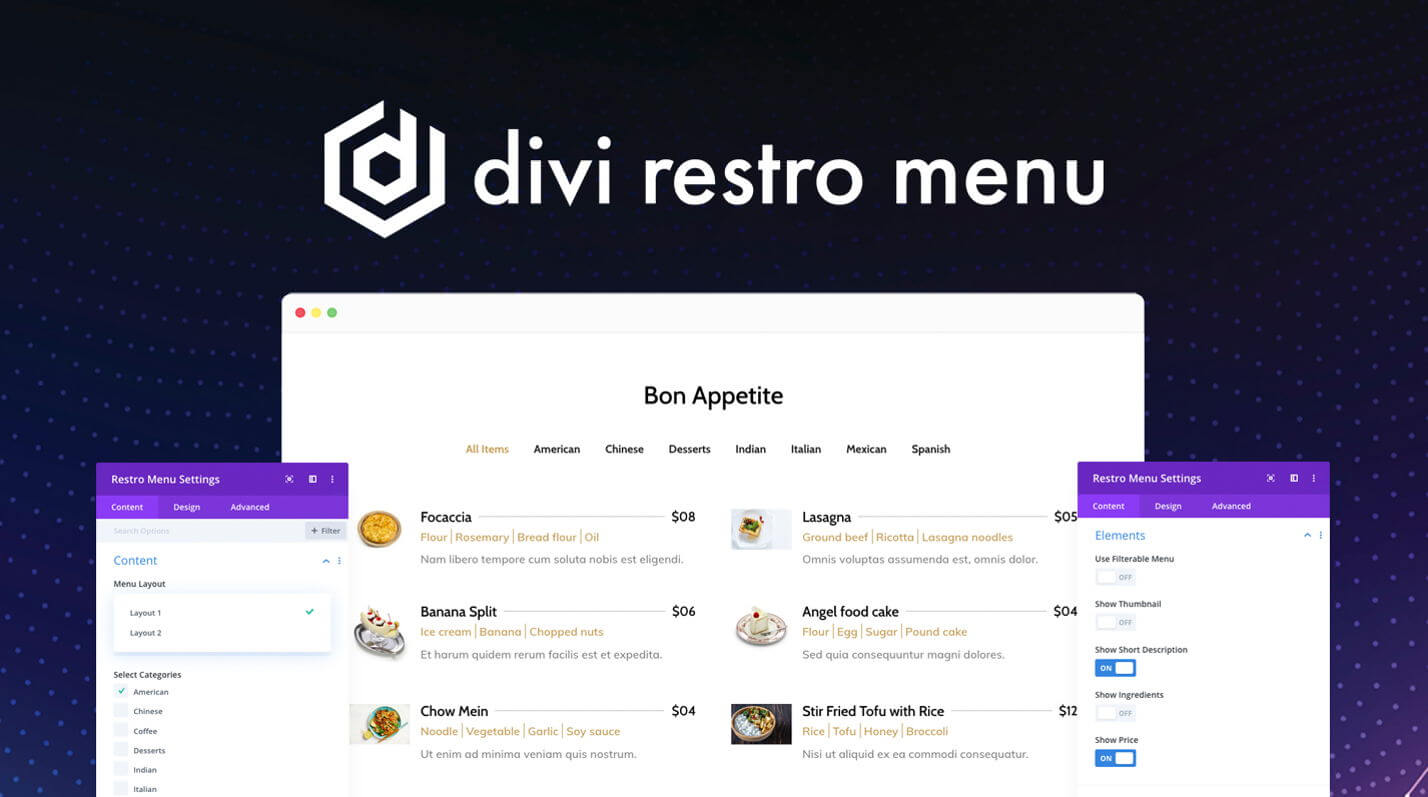 Yes, it's right; you eat your food with your eyes first. And therefore, to present food menus in an exquisite way, the Divi Restro Menu plugin is designed. No matter what type of Divi restaurant menus you want to display on your website, using this plugin, you can do it without any extra effort. So, take a look at this plugin's demo on the Divi Marketplace and decide for yourself. But first, check out its features listed below,
More features of Divi Restro Menu
Multiple Restaurant Menu Layouts

Layout 1: Add thumbnail side by side to the food description
Layout 2: Add food items thumbnail above to the description

Support for Custom Post Type
Create Food Menus with Category Filter Bar
Add food items in columns
Easily specify the price, ingredients, short description, and much more.
Divi Post Extended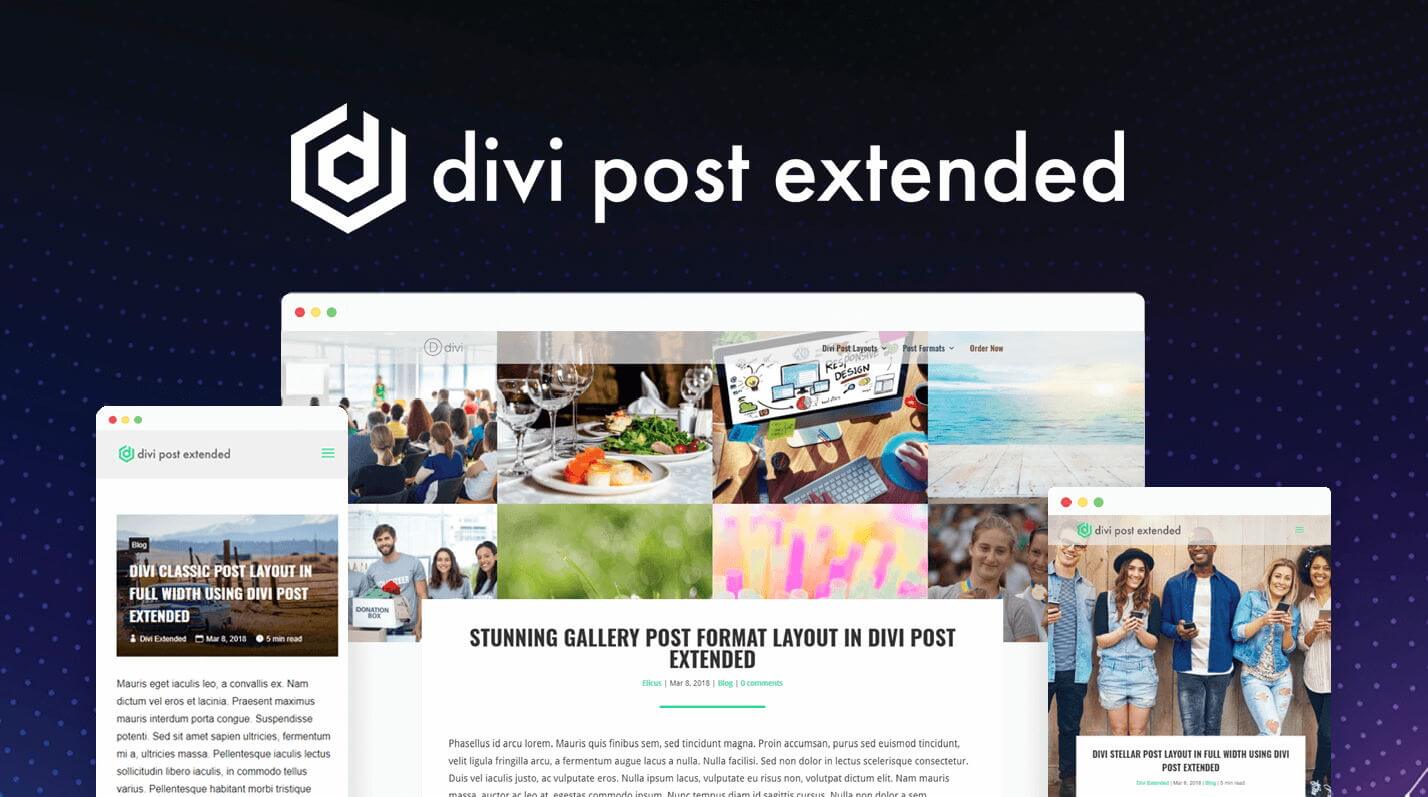 If you're still reading this blog post, then it's not only because it contains useful information, rather the way in which the content presented on it is also important. And that's what Divi Post Extended plugin does. It gives you the controls to make your article or blog post look engaging and easy-to-read.
Using this module, you can change a post's appearance in multiple ways and for multiple post formats. Moreover, each control of this plugin is super easy that you won't find any issue when it comes to enhancing the posts' engagement, readability, and content delivery.
More features of the Divi Post Extended
Unique and Beautiful Multiple Divi blog post layouts

Stellar
Prime
Classic
Valliant
And Lush

Multiple Post Format Support

Standard
Gallery
Audio
Video
Link
And Quote

Options to specify on which post you want to use the post layouts
Estimate read time support
Responsive to all screen resolutions
Display sidebar.
Divi Child Themes
---
With no doubt we say Divi is one of the advanced WordPress theme with a page builder of robust nature. And what makes Divi theme more functional are the child themes we can get from the Divi Marketplace. Below are some of the best Divi child themes you can find at official marketplace. Moreover, using these child themes, you can create a website for any occasion. Let's see what we got!
Divi Real Estate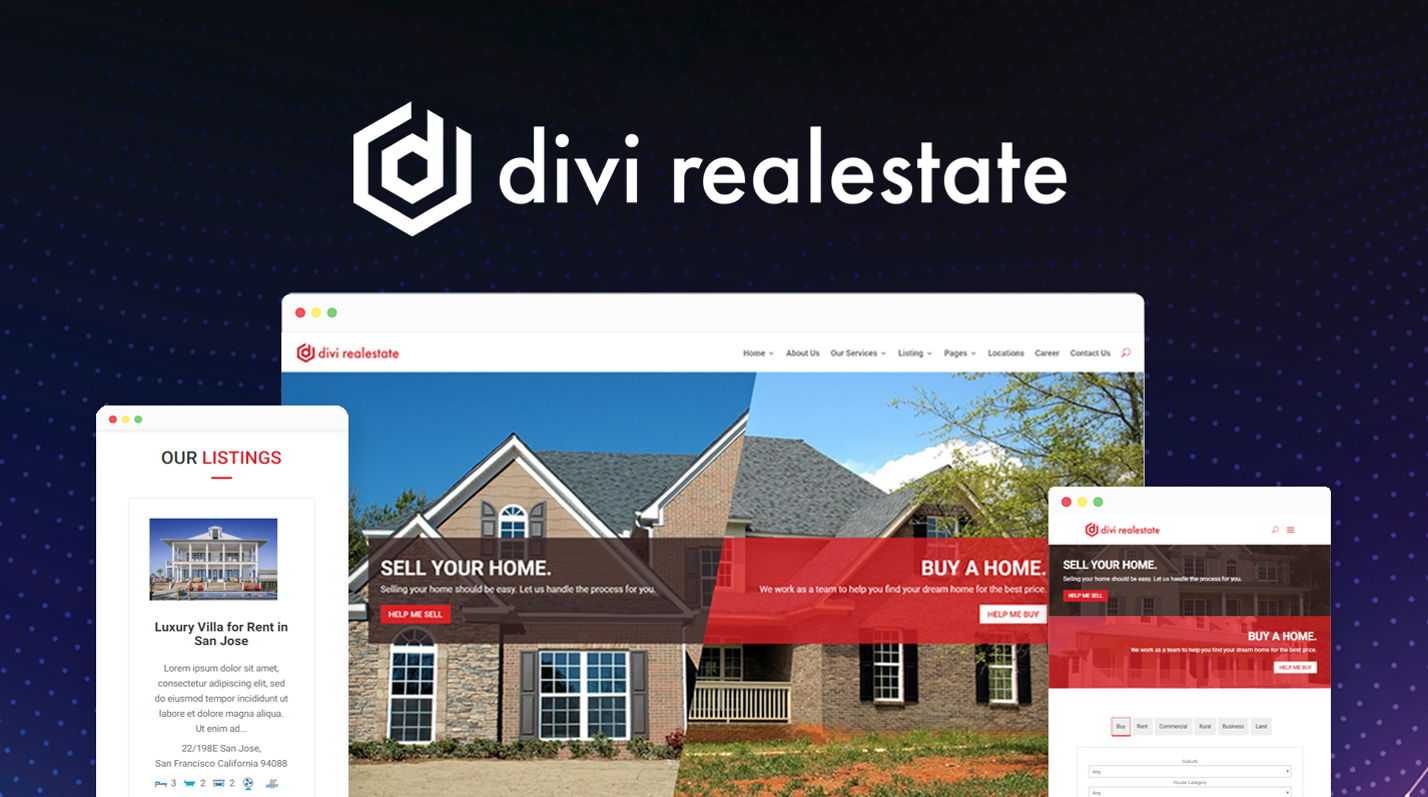 Want to build a real estate business or realtor website using the Divi theme, then you won't any child theme better than Divi RealEstate. Why? Because it offers multiple homepage layouts one with Buy-Sell CTAs and another with property listing. Multiple pre-build necessary pages to set up your real estate business quickly. Moreover, a lot of custom templates for the Divi theme builder to make your website look much better and engaging when it comes to do marketing about your business.
More features of the Divi RealEstate
Multiple homepage layout with CTAs & Filterable Property Listing.
Customizable homepage sections.
Pre-built pages include: About, Service page, Individual Service page, Listing page, Locations, Career, Contact Us, FAQ page, Inspection page, and Search property page.
Multiple page layouts: Full-Width Page, Right, and Life Sidebar page.
Integrated with Easy Property Listing Plugin
Multiple custom templates: Over 10+ blog page layouts, 10 single post layouts and 5 search results page layouts.
Divi Edu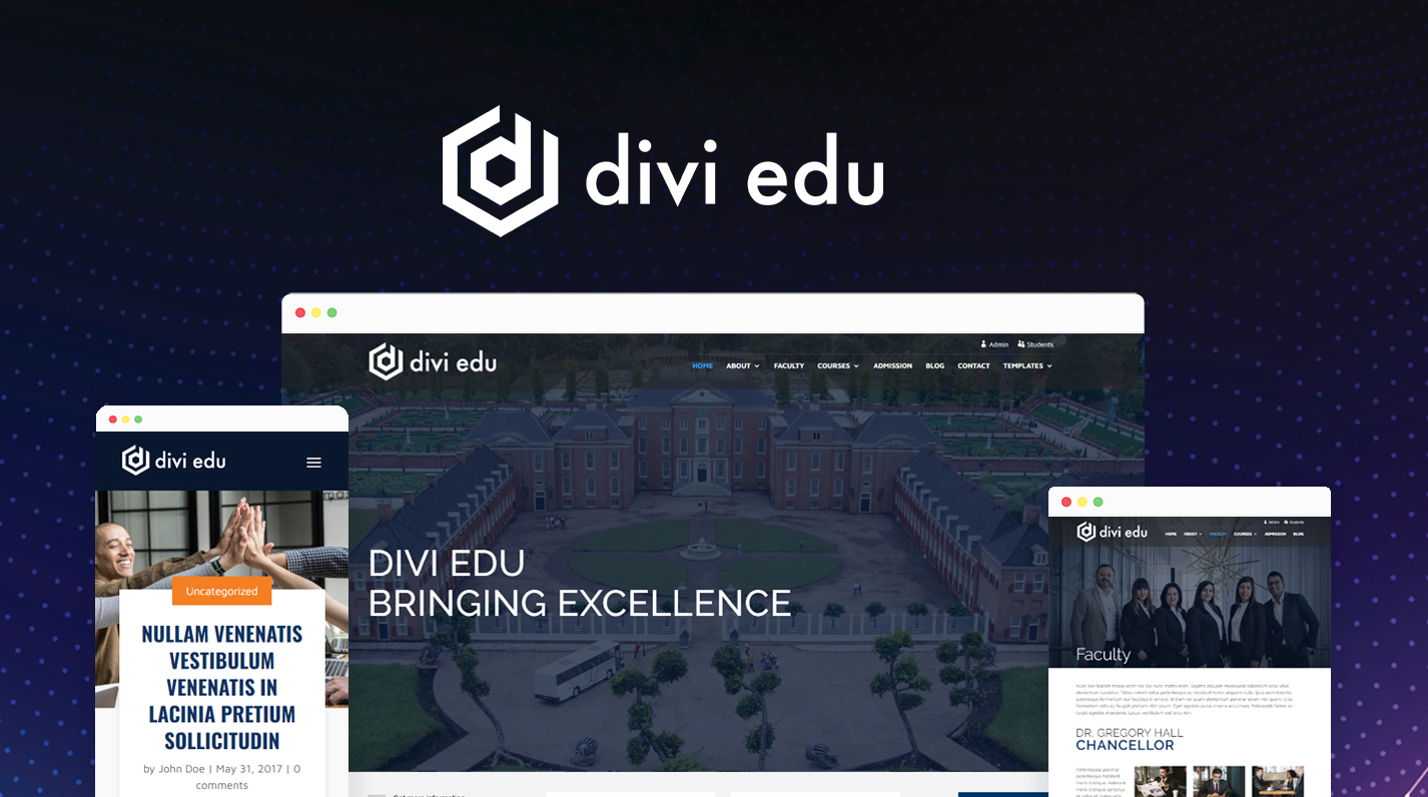 The Divi Edu child theme can help you can create an extensive website for schools, colleges, universities, or any other educational institutes. The pages and layouts comes with the child theme are highly customizable and of modern standard. So, when you create a website for institute it won't look outdated or something of 90s.
More features of the Divi Edu
Over 10+ pre-build pages include: Homepage, About, Facilities, Faculty, Careers, Contact Us, etc.
Over 6+ single post layouts for the Divi theme builder.
Multiple blog page layouts
Multiple individual courses pages
Header layouts
Footer layouts
Image gallery & slider support inside facilities page
Testimonial sections
Map & direction section
Responsive to all devices
Divi Dental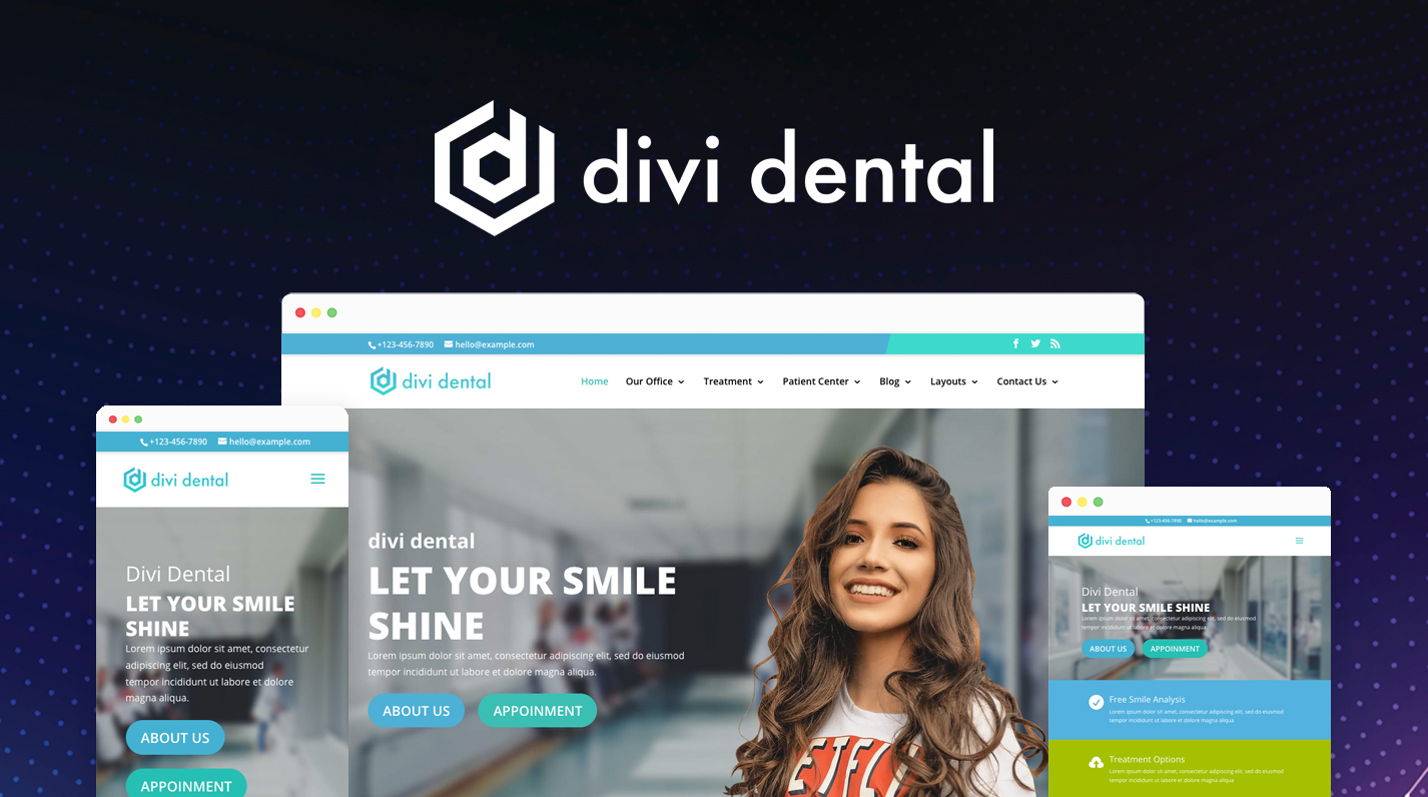 So, if you in need of creating a dental clinic or dentist website, then going with the Divi Dental child theme is an excellent choice. It comes all the necessary pages required. Moreover, its modern design, features, and lightweight size can allow you to create a website more than the purpose oral healthcare. Check out the below feature list to know more about the Divi Dental child theme.
More features of the Divi Dental
Multiple pre-built pages for a dentist website: Homepage, Office (with Doctor, Staff, and Office Tour subsections), Testimonials, 6 Treatment Pages, Patient Forms, First Visit, Cost of Treatment, FAQs, Refer a Friend, Map & Direction, and Appointment Form.
Divi Theme Builder layouts: 2 category archive page layout, 5 header, and 5 footer layouts.
Secondary Menu Bar
Testimonials Sections
Contact Forms included
Display Visiting Hours
And much more.
Divi Girl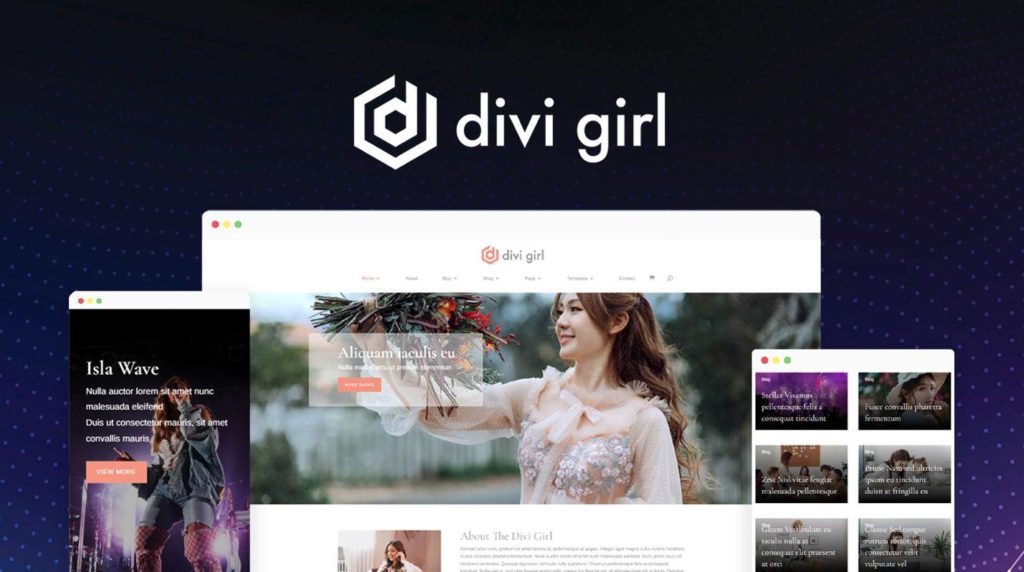 If you're looking for a Divi child theme specifically for female entrepreneurs or professionals, then there are 90% chances that you'd find your desired website look & feel in the child theme. 10% chances are you're not using Divi theme. Therefore, if you're looking for a Divi child theme whether for your female client or your own website. This, Divi Girl, child theme would fit your requirements just right in.
More features of the Divi Girl
Over 12 homepage layouts

Extended: Default homepage with wide hero space, team sections, products & more.
Blog: A blogging homepage for female bloggers.
Lifecoach: Turn your Divi theme for female coaches

Speaker: A modern homepage designed for female motivational speakers
Services
Yoga Trainers
Makeup Artist
Author
Seniorcare
Childcare
Musician
Wedding Planner
Additional pages
And over 40+ custom layouts for Divi theme builder

10 Blog page layouts
5 WooCommerce product page layouts
6 Single post layouts

5 Header layouts
5 Footer layouts
Divilancer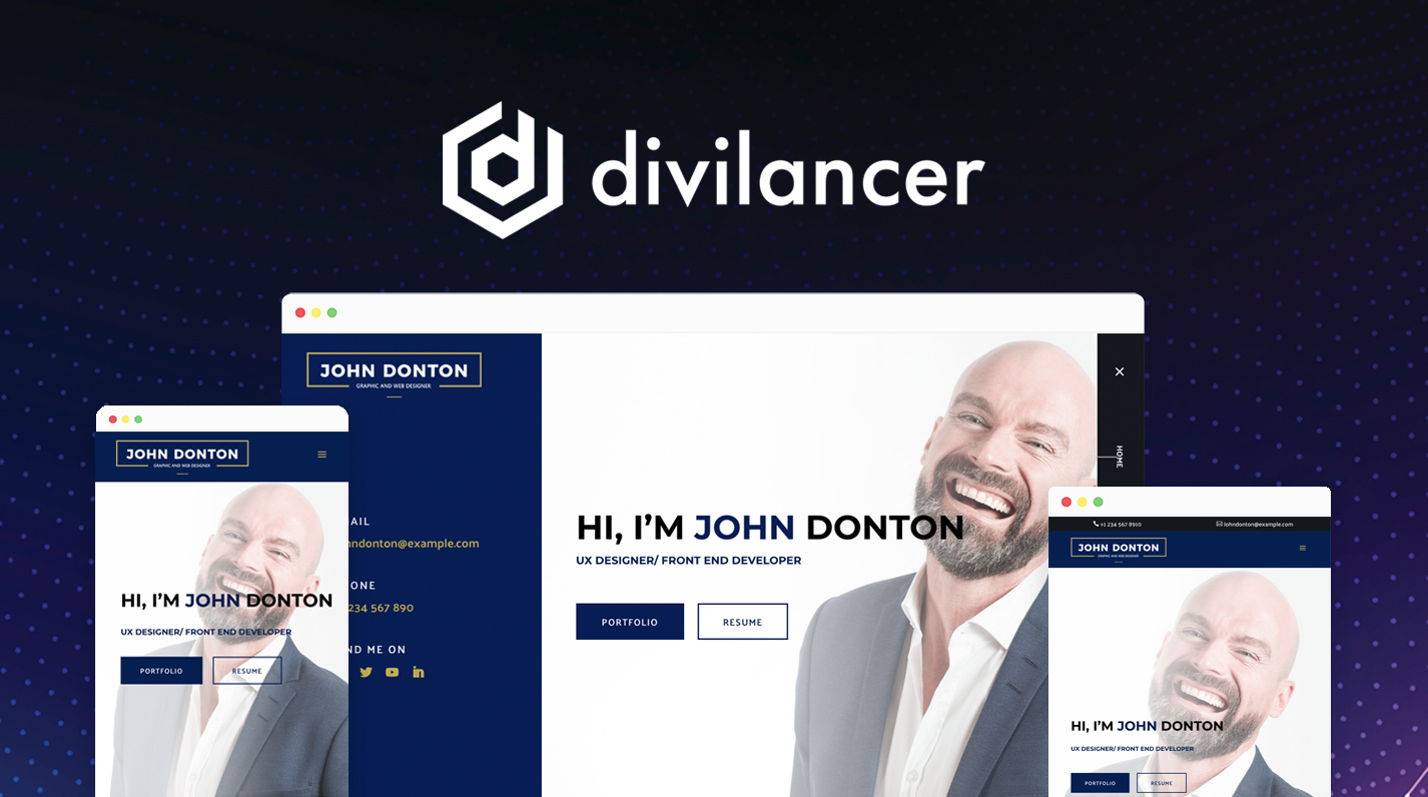 A single page modern Divi child theme for freelancers to showcase their expertise and talent to companies around the world. This child theme would look amazing and add extra points to your skills. It includes multiple customizable homepage sections that are About section, Skills, services, Work Experience, Testimonials, Project/Portfolio, and Links to the latest blogs. Moreover, this child also hosts additional features that make it a complete child theme for freelancers.
More features of the Divilancer
Modern vertical menu bar
Resume download button
Testimonial slider
Work experience slider
Skills progress bar
Project slider
Contact form
And social profile links both in the header and footer section
Divi Classic Agency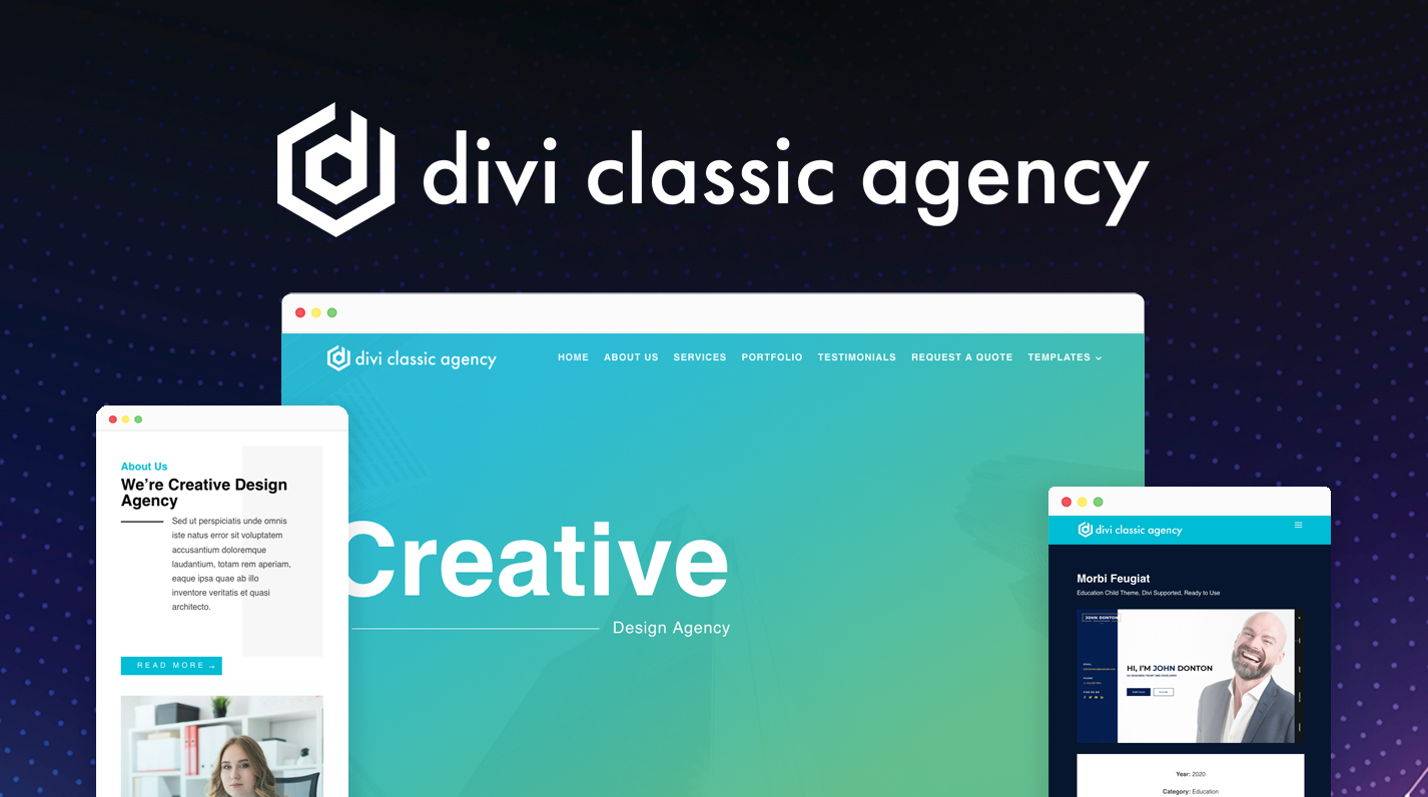 For entrepreneurs providing services for either B2B or B2C, it's essential to have their business website. And with the Divi theme, you can build an impressive website for an agency without any issue. Furthermore, using the Divi Classic Agency child theme, you'd be able to make your Divi agency website even more functional. It includes multiple pre-built pages, layouts, and sections that are essential when it comes to creating an agency website. So, if you want to create an agency website either for yourself or your client. No matter what business, the Divi Classic Agency child theme is the one you're looking for.
More features of the Divi Classic Agency
Pre-built pages included: About us, Our Team, Services, Portfolio, Testimonial, and Contact us.
Divi 4 layouts included

5 header layouts
5 footer layouts
2 blog and category archives
4 post layouts
Ready to use child theme with easy customizations
Homepage with multiple sections
Custom Post Types for Testimonials
Custom built portfolio pages
Client logo slider
Testimonial slider
Nice hover effects on services section
Mobile friendly page
Responsive design
Contact Forms included
And CTA for easy contact
Divi Attorney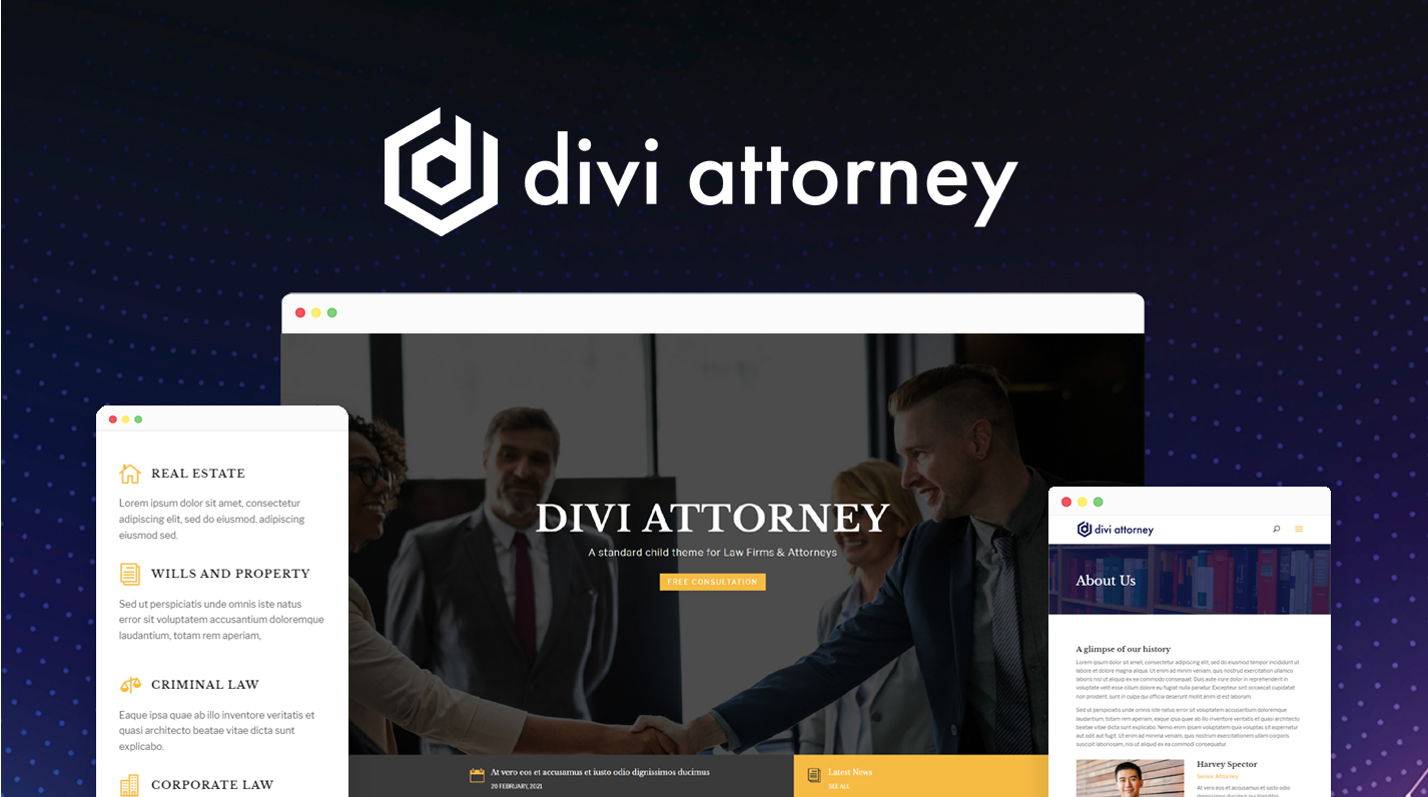 To build a law firm or lawyer website using the Divi theme, then choosing Divi Attorney would be an excellent choice. What you get with Divi attorney is the standard law firm design, fulfilling all the requirements an attorney website need in today's time. Plus, it's an highly customizable child theme, which means you can easily make changes in website's appearance. Moreover, pre-built pages available with this child theme makes it easy to set up your online presence as quickly as possible. In addition to all these, you get plenty other features included in it, so you can make most from your online attorney presence.
More features of the Divi Attorney
Over 10+ pre-built pages: Home, About Us (with FAQs and an easy consultancy form), Services, Services Detail, Attorneys, Attorney Profile, FAQs, Pricing, Career, Blog, and Contact Us.
Over 35 Divi 4 templates

5 header templates
5 footer templates
Over 10 different blog page templates
10 blog post templates
And 5 search results templates
Divi Chef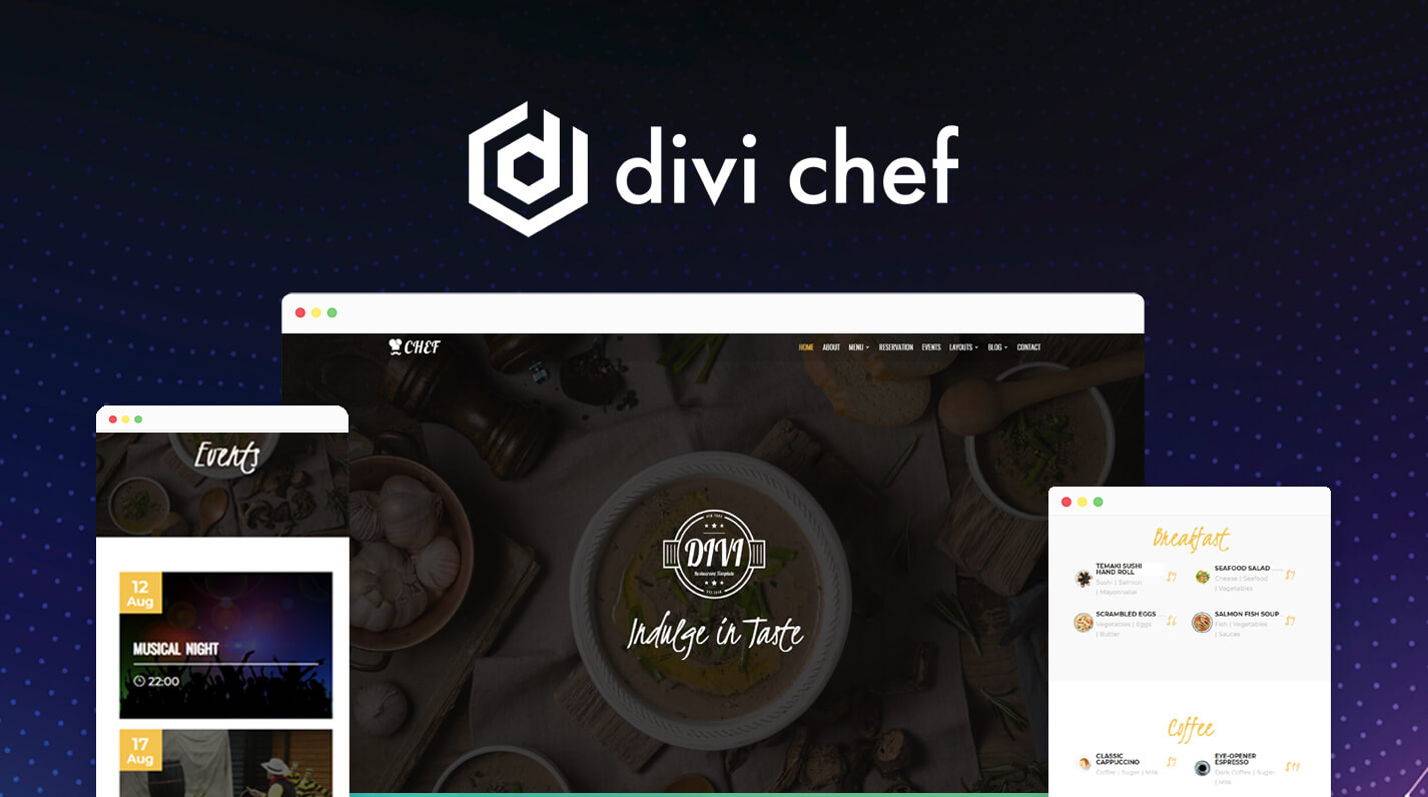 Who likes terrible taste? None. Similarly, nobody likes a bad website for a restaurant or food blogger. Therefore, to provide users a better option for their restaurant website, we've got the Divi Chef child theme. It includes the feature to display restaurant food menus, add filter on them, and much more. It's a suitable child theme for restaurants, cake shops, bakeries, ice-cream parlors, food blogs, and other food offering businesses. Check out the below list to know more about Divi Chef.
More features of the Divi Chef
Ready-to-use child theme with multiple pre-built necessary restaurant website pages.
Multiple custom post types for events and menus.
Create filterable food menus.
And multiple header, footer & blog layouts for the Divi Theme Builder.
Divi App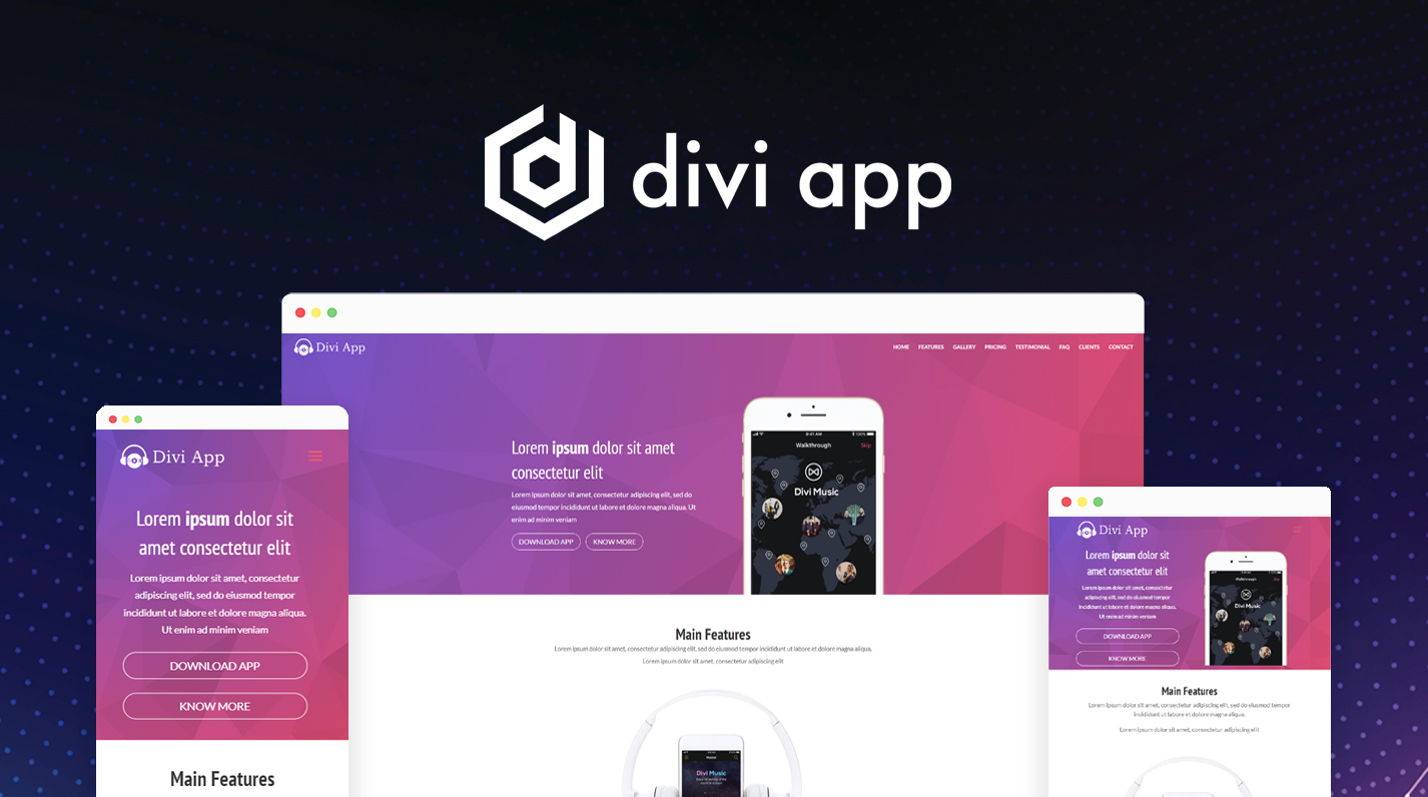 Developed a mobile application, and now in need of creating its website on Divi theme? Then, the Divi App child theme can become a part of your mobile application's journey. It got customizable sections, pricing layout, contact form, testimonials, and many other things a mobile application website should have. Using this Divi child theme, you'd be able to build a site that would represent the application at its best.
1-click easy demo import option
Another great feature you get with these child themes available at the Divi marketplace is that you can import the demo in just a single click. So, you don't have to give extra effort to import all the demo content on your website one-by-one. All you have to do is just select what you want to import, and press import. That's it, all of the demo content will get imported to their respective locations.
Divi Layouts
---
Plugins, child themes, and the another Divi extension that makes a Divi website complete are the layouts. So, you can take benefit from the website from every area of it. Therefore, check out the below layouts available at the Divi Marketplace. And enhance your website's functionality as much as you can.
Divi Blog Layouts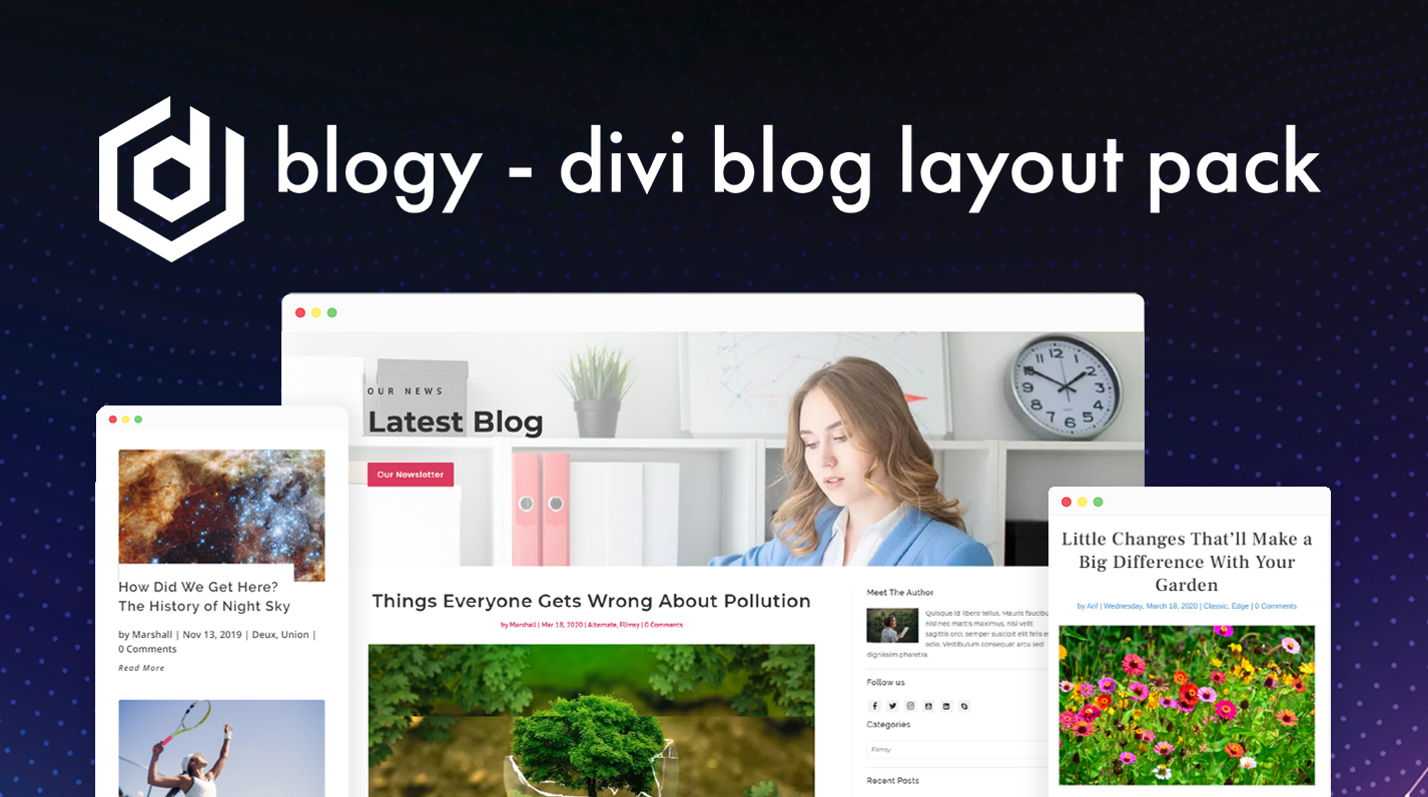 To change the look and feel of your blog pages, then these blog layouts available at the Divi marketplace are one of the best layouts you can have for the Divi Theme Builder. Each layout includes variation in their design to place posts, have CTA to newsletters, customized read more link, subscribers form, and a lot more features you want in a blog page layout. Check out below blog page layouts to bring change in your category archive pages.
More Divi blog page layouts
Brace: Free Divi blog layout
Blogy: Combination of 10 blog layouts and 13 post layouts
Divi Post Layouts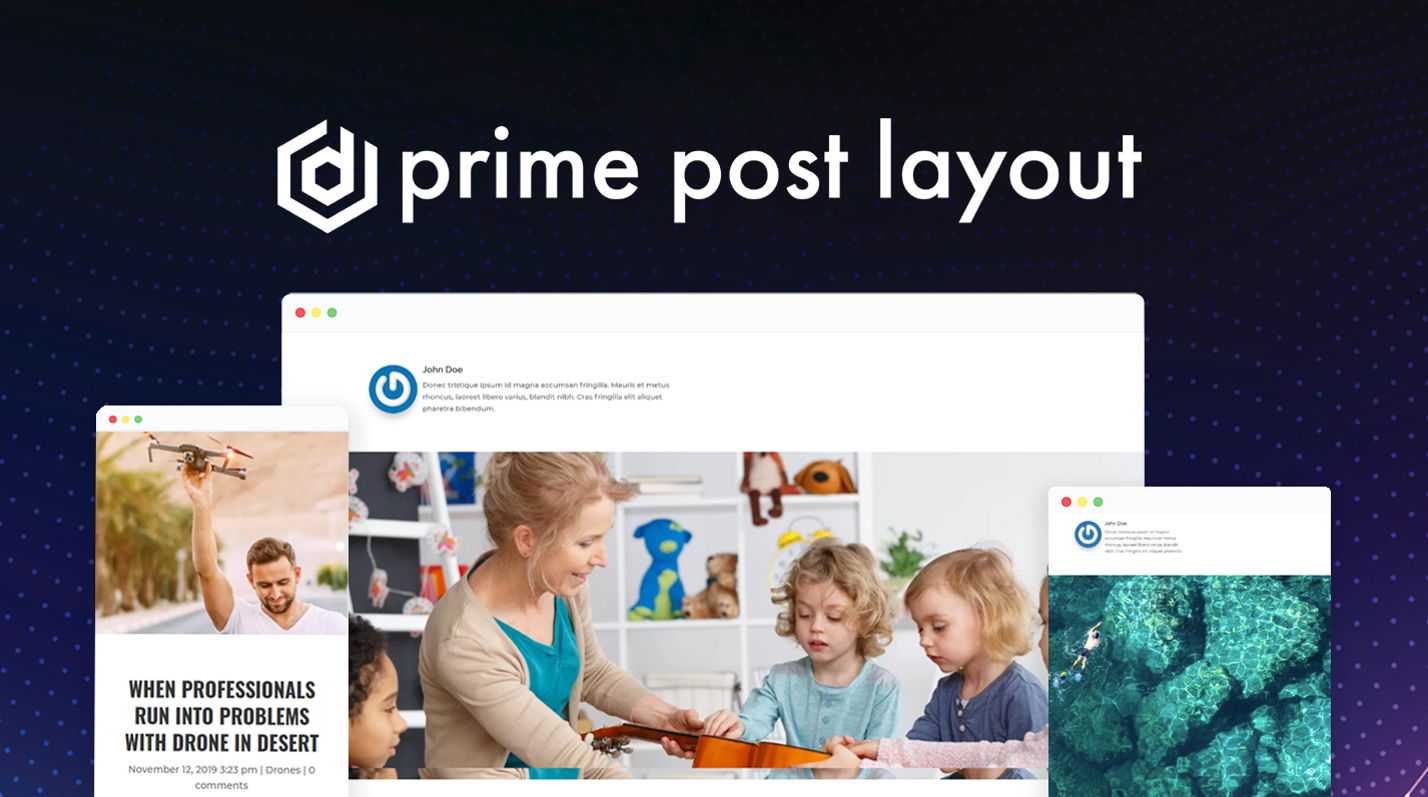 Similar to the Divi Post Extended plugin, the post layouts available at the Divi marketplace allows users to change single post content's style using the Divi Theme Builder. Moreover, using custom templates for the posts, you've also got the option to make changes in the post's appearance. Plus, you can also decide on which article you want to apply the custom template. Check out below custom post layouts to bring change in the article's look & feel.
More Divi post layouts
Blogy: Combination of 13 post layouts and 10 blog layouts.
Divi WooCommerce Layouts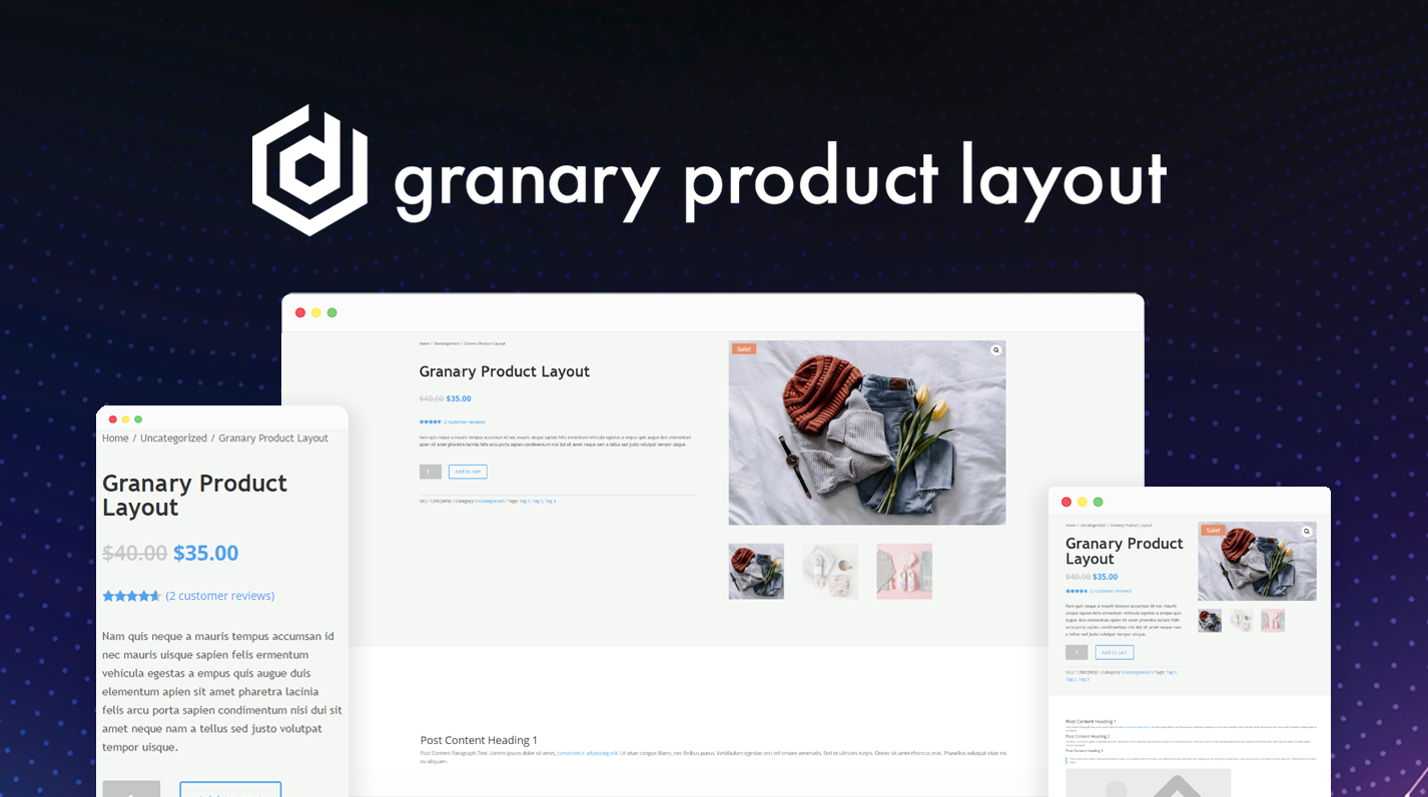 Likewise, the Divi blog and post layouts, the WooCommerce layouts available at the Divi marketplace, allow you to customize the appearance & functionality of your digital store's products in the Divi Theme Builder. Therefore, if you want to bring changes in your Divi store's products, then you should try these below WooCommerce layouts.
More Divi WooCommerce layouts
Bookmark this blog post
Why? Because more Divi plugins, child themes, and layouts are on their way. So, whenever you're in search of something new, you can get back to this article easy, and look for something afresh. Therefore, it's recommended you bookmark this blog post keeping the future in mind.
If you think this blog post has helped you to find something you're looking for, then let me know in the comments.