#1 Top Selling Divi Author.
Get Lifetime Membership for $449
Divi Extended provides you with the best-selling Divi child themes and plugins to extend the functionality of the Divi theme. Join us and add more power to your Divi WordPress website today!
Powering 100k+ WordPress Websites
An Out Of The Box Multi-module Divi Plugin
Whether you're a freelancer or a Divi web designing agency, having tools like Divi Plus can save you a lot of time and effort. This single Divi plugin comes with multiple Divi modules and multiple customizations that allow users to create complex web elements in an easy and exceptional way.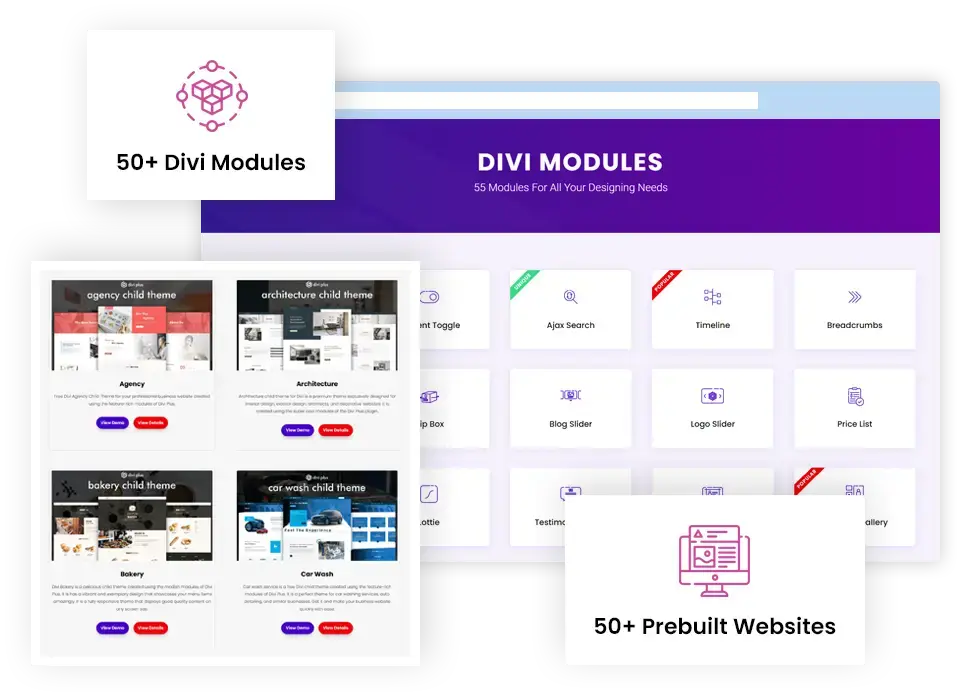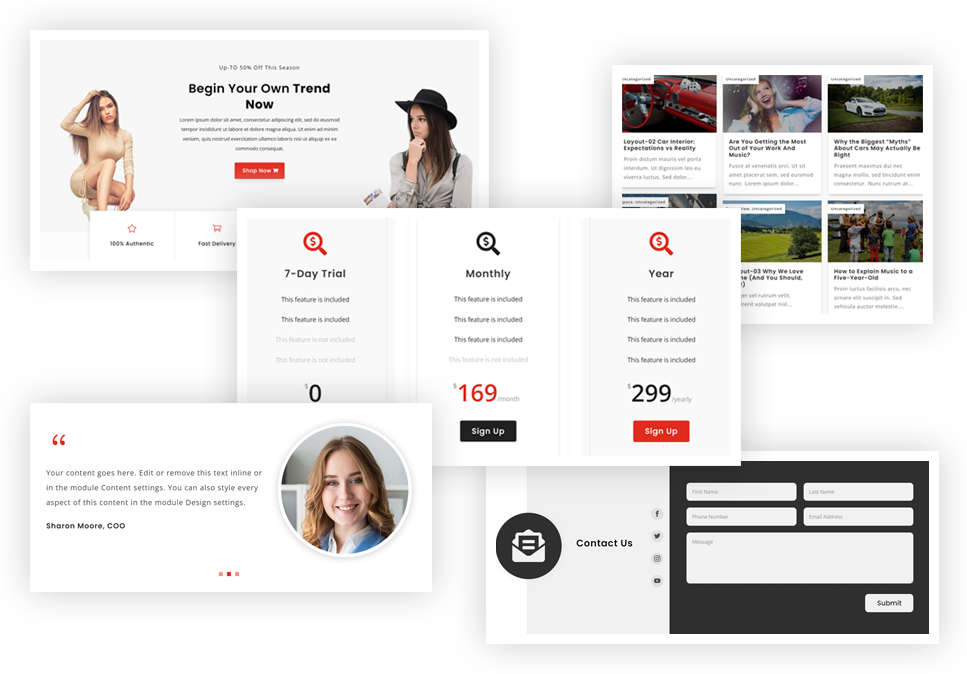 Build Websites Fast With Easy-to-Use Layouts Cloud
Divi Layouts Extended provides you with 1300+ pre-built layouts, which you can use on Divi projects of any kind. It offers highly customizable layouts that can be used easily regardless of Divi experience. Plus, you don't have to download or import layouts manually. The plugin offers an automated system that does that for you in a 1-click only.
Featured Divi Child Themes
Create super-stunning web stores in minutes
Rather than spending days to complete your eCommerce website, get a fully functional web store up and running in minutes using Divi Cart Pro. It's flexible, robust, and impressively easy-to-use that allows you to build elegant WordPress eCommerce websites of different industries. With this child theme, you get all the essential eCommerce homepages, templates, modules, and elements that are necessary for online shops of today's time.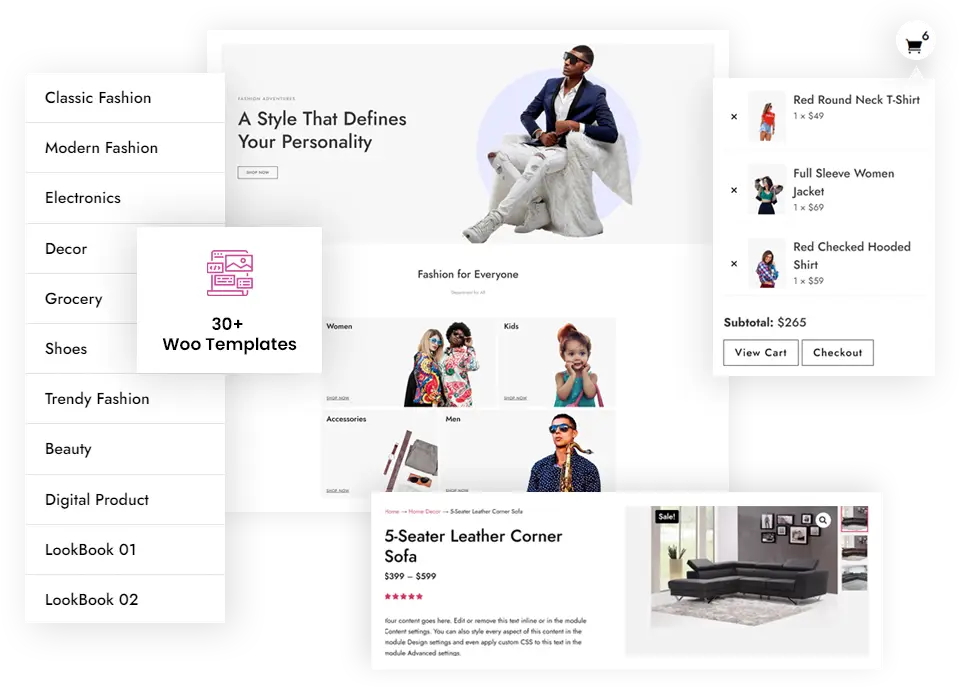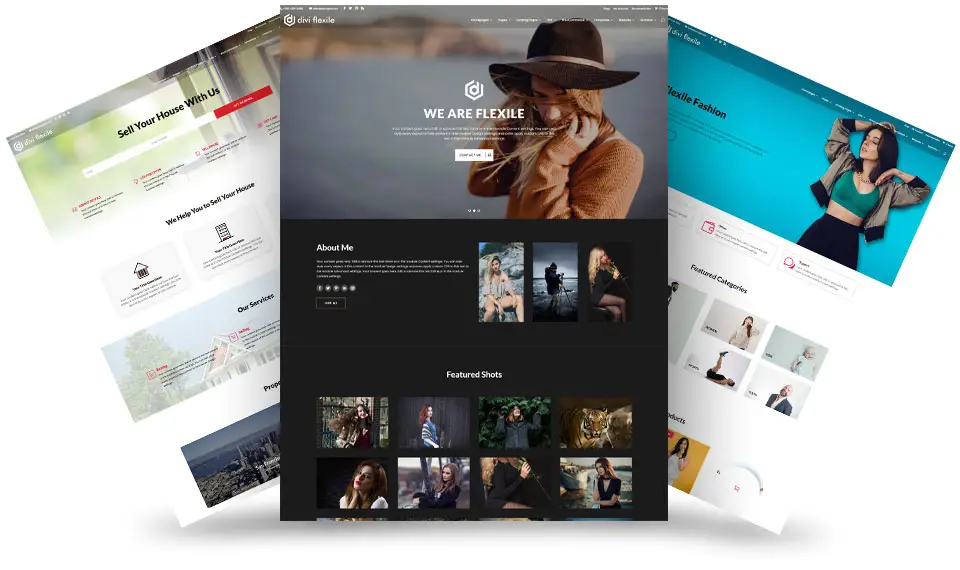 All In One Solution For Every Web Designing Needs
Flexile is a highly creative and responsive Divi child theme packed with powerful and easy-to-use Divi customization options that can create a great-looking professional website in no time. It includes multiple demos, pixel-perfect and customizable Divi elements, outstanding custom templates, and much more. A complete solution to design and shine at the highest level.
Improve Customer Journey Throughout Your Store
Enhance your Divi WooCommerce store's look with outstanding layouts covering different areas. Over 80 Divi WooCommerce templates that turn a digital store into an incredible online platform. You get layouts for Shop, Product Page, Checkout, Cart, and more. With these, you'll increase engagement which will help you drive sales like never before.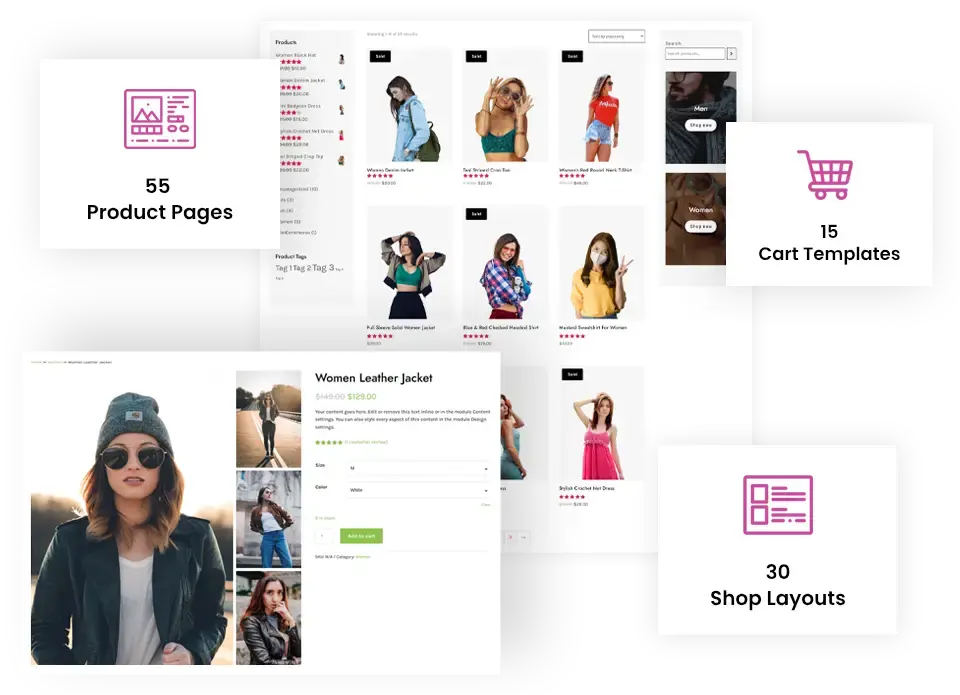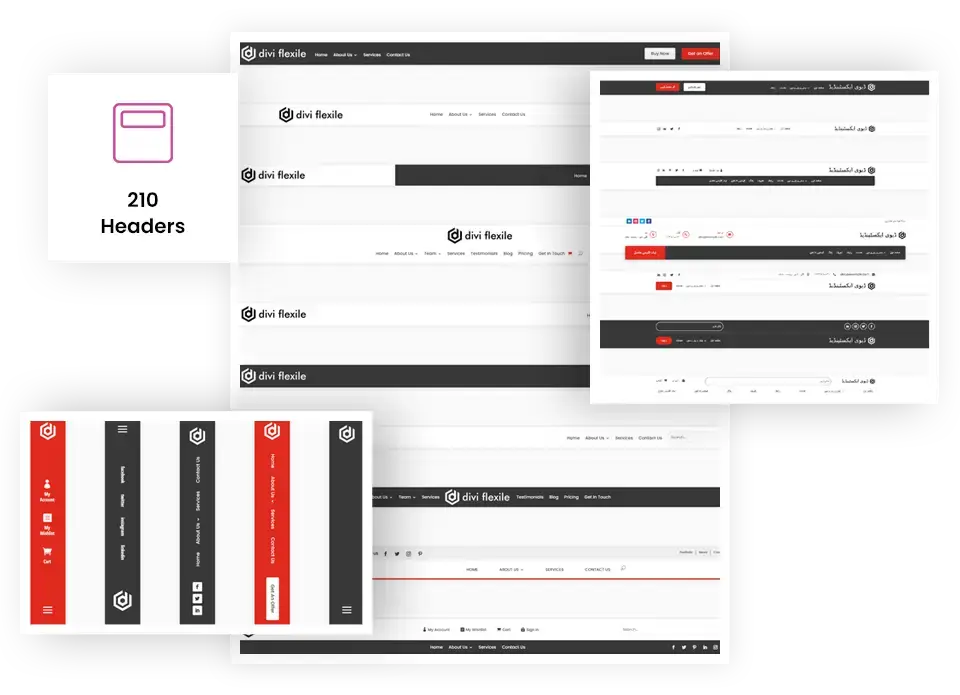 Simplify Your Divi Website's Navigation
For a beautiful, user-friendly website, get Divi Header Layouts that make site exploration super-easy and amazing. Over 100 flexible layouts that are suitable for websites of any type. Plus, more layout options such as RTL headers, off-canvas headers, WooCommerce headers, and so much more. If you're looking for possibilities to design your headers, this pack is essential.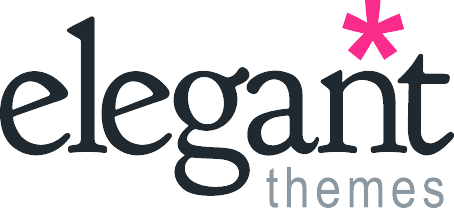 Get access to all
Join The Club

Yearly
$249
All plugins included
All themes included
All layouts included
Use on unlimited websites
1 year update and support
Renews yearly at $199

Lifetime
$449
All plugins included
All themes included
All layouts included
Use on unlimited websites
Lifetime update and support
No renewal required
One time fee
Total Value: $2800+
Don't take our word for it
People Said
Excellent product, works seamlessly with Divi within the Visual Builder. Love the multiple options that add selected movement to the webpage!
DIVI Blog Extras is an excellent product. Functional, stylish, good value and very importantly, robust. Highly recommended.
Wow. This plugin is exactly what I was looking for. Literally a minute after installing it, I realized its worth — and breathed a huge sigh of relief. This single plugin has removed my biggest frustration with Divi (it's limiting blog module) and saved me countless hours of time. I only wish I had known about it sooner!
Divi Blog Extras is an exceptional plugin, providing many alternative ways to display posts not only on pages but within blog posts. Adding Divi Blog Extras within our Contributing Writer's posts and newsletters entices readers to check out past posts. A recent update caused a glitch in the posts. The tech team discovered and fixed the issue for me and will be including the fix in their next update, so all users will benefit. It's such a gift to ask for help and to receive professional support. These folks simply provide an excellent product and great support.
So many features in one plugin, it just keeps getting better! The team keep adding new modules which are brilliant and ones that are actually useful. Support is great for fixing minor issues with responsive layouts and willing to take on new ideas and feedback. Highly recommend this plugin and company to anyone.
This makes working with Divi so much more fun. What I like about the plugin is that you don't need to enable all the features. You can simply enable the modules and features that you need and avoid loading JS and CSS that is not required and thus minimize the bloat.
A great plugin to supplement the (rather boring and mundane) Divi blog layout. Easy to install, set up, and customize. Lots of options and little (if any) impact on page load times. It just plain works, and looks great while doing so. A definite must have for my Divi arsenal.
Excellent plugin, even better service! Support was responded to within 24 hrs and provided CSS help for the plugin that was exceptional, went through this twice on two different issues, just as great each time!
Currently, have this installed on several sites. Worth every penny, very easy installation and looks great. It's now one of my favorite Divi plugins.
This plugin has provided great options for displaying the blog uniquely in Divi. The support has been great and they helped me to adjust one of the layouts to be exactly what a client was looking for. So glad I purchased the Extended license! Thanks!Sheila
Bestselling Products For Remarkable Web Design Experience!
Get Our Divi Products Today To Let Your Creativity Speak!!
With the latest features, mobile optimized designs, and security measures, our products are trusted by thousands of users worldwide. Making them the most suitable and reliable Divi products for your next amazing Divi WordPress web project. Go, and get them now!!!