Search Divi Blog Extras Documentation
Search for answers or browse our knowledge base.
This feature is also available from the Divi 4 theme builder and it is recommended for Divi 4.0 and above users to use that feature. In order to create a category or tag archives, use the following steps:
Create a Divi theme layout.
Assign it to your specific archive pages or all archives (as required).
In the body section, insert the Divi Blog Extras module.
The module will automatically display posts on which this template will be called and display in the Divi Blog Extras layout.
The remaining part of this section was useful before the release of Divi 4. Now you can create the templates using Divi4 Theme Builder using the steps explained above and ignore the settings below (Can be useful if you are using a version of Divi theme older than 4.0
Divi Blog Extras was initially designed to work from Pages and the layouts were not available for category archive pages.
Divi Blog Extras 2.1.5 and above let you specify a global archive layout for all category archives.
Go to Settings >> Divi Blog Extras >> Archives >> Category >> Enable Archive Layout.
Select a layout from the Divi Library. (In order to use this feature, you must create and save a Divi library layout with Divi Blog Extras on it.).
Select the sidebar position for Archives.
Save the page.
This will apply the layout as global Archive layout.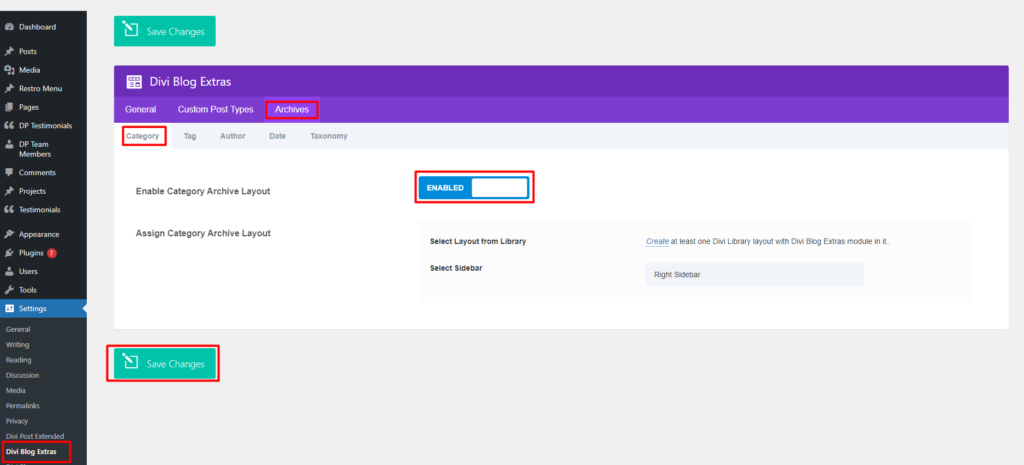 Use Case:
Here is the look and feel of the page which is first created to accommodate the Divi Blog Extras module along with other Divi Modules.
Once this layout is saved to the Divi Library, it will be available for selection as an archive layout. The final look and feel will be like the following where we have opt-in on the top of the divi category page, there is an opt-in at the bottom as well. In the same manner, we can blend the Divi Blog Extras module and use it in the same way.