Create a Medical Website in Minutes With Divi Healthcare
Divi Healthcare is a Ready to use Child Theme for Divi 4.0. With more than 15 page layouts, it can be used to create websites for medical professionals in minutes. Also, it has multiple blog page layout, Divi 4.0 header templates, and footer layouts, all created with Divi's new feature Divi Theme Builder. Multiple services pages, page templates, and several other useful pages, to help you create a purposeful medical website fast and easy without any hassle or worry.






More Than 15 Page Layouts
Divi Healthcare Child theme gives you the freedom to set up a medical website fast and easy. It has pre-built 15-page layouts, which you can customize according to your needs, and after that, your website is all set. Using this Divi health care theme, you'll be able to create a medical website that has all the necessary information, which patients usually find.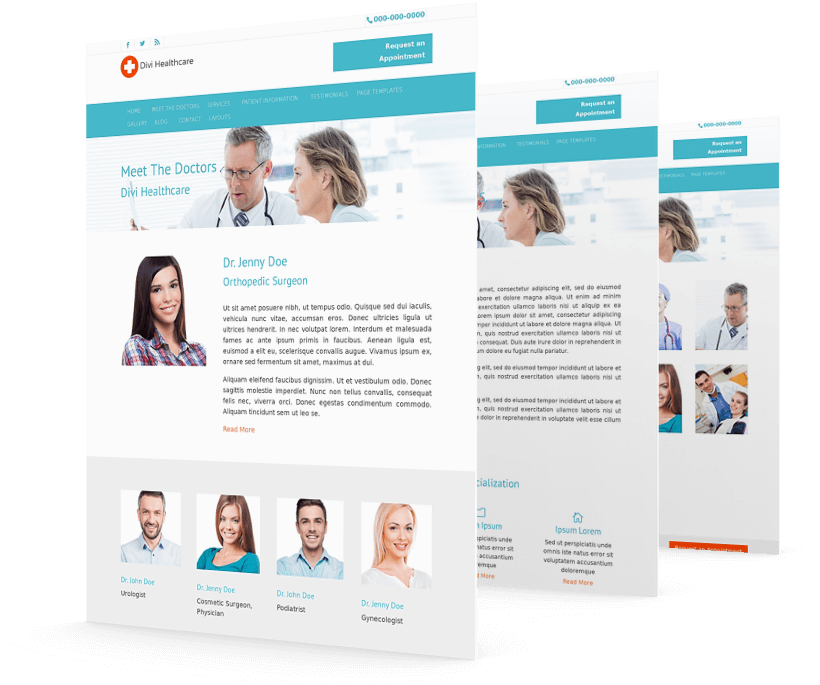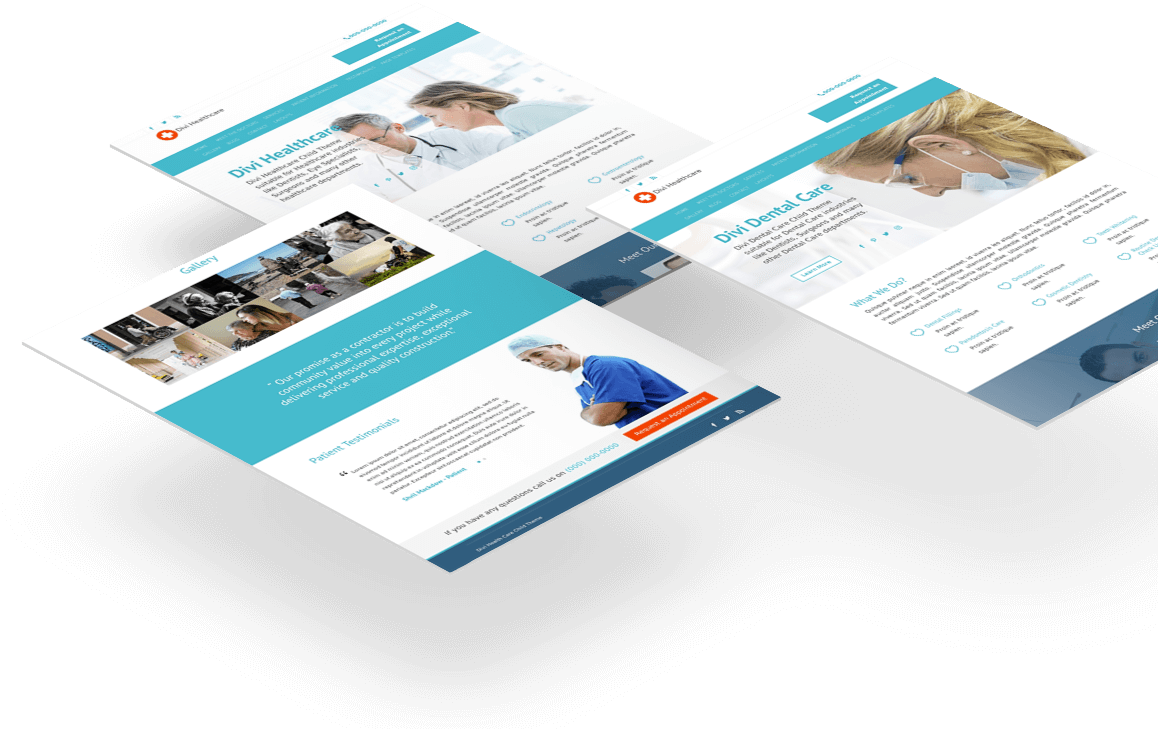 Sleek Multiple Homepage Layouts
A health care theme with multiple homepage layouts to fulfill the needs of several medical niches. Whether you're an Orthodontist or Ophthalmologist, Divi Healthcare child theme got you covered. Because it has 5 homepage layouts, that can be used to create a medical website for different kinds of medical experts. Isn't it sound good?
Clean Blog Pages Made With Divi 4.0
Using the Divi Theme Builder, we've created multiple Divi blog templates and implemented them inside the Divi Healthcare child theme. So, now, with these new blog page layouts, you can create a beautiful blog library inside your medical website. Share details about your curriculum or other useful information regarding health and diseases. It will boost your profession and website among many patients and health freaks around the world.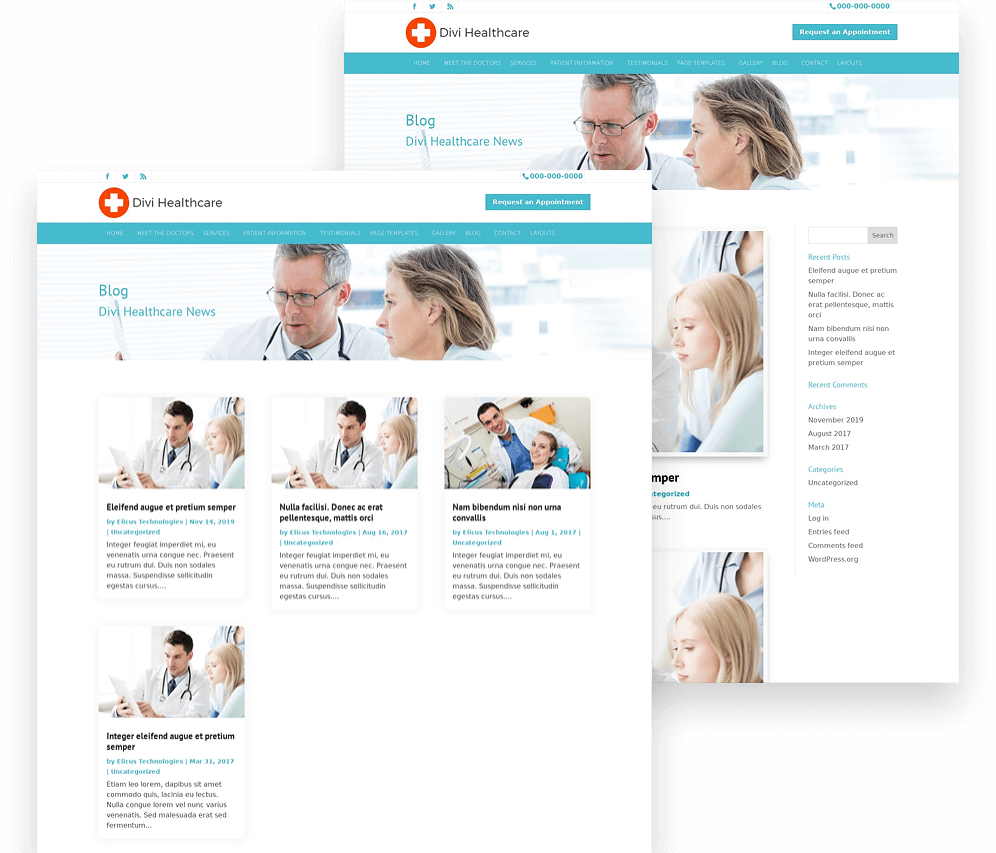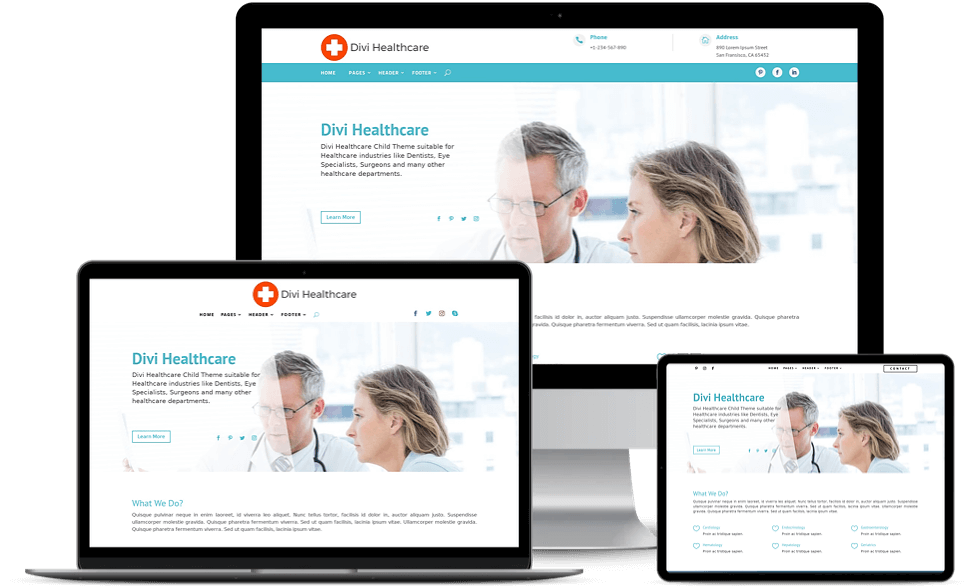 New Divi Header Layouts Created Using Theme Builder
With Divi Healthcare child theme, you get 5 beautiful Divi header layouts, which you can easily apply on your website. All these Divi custom header layouts are created using Divi 4's new Theme builder, which allows you to apply them on your website as a Global or Custom header. You get all Divi 4.0 header templates in the Divi Theme Builder layouts package. Just import them in your Theme Builder library and apply each as you want.
Multiple Divi Footer Layouts Better Than Before
You're no longer restricted to use a basic footer all-around your website. Because with Divi Healthcare child theme, you get 5 attractive Divi custom footer layouts. All created using Theme Builder. Import them to your Theme Builder library from Theme Builder layouts package and apply them as Global or Custom Footer, according to your requirements.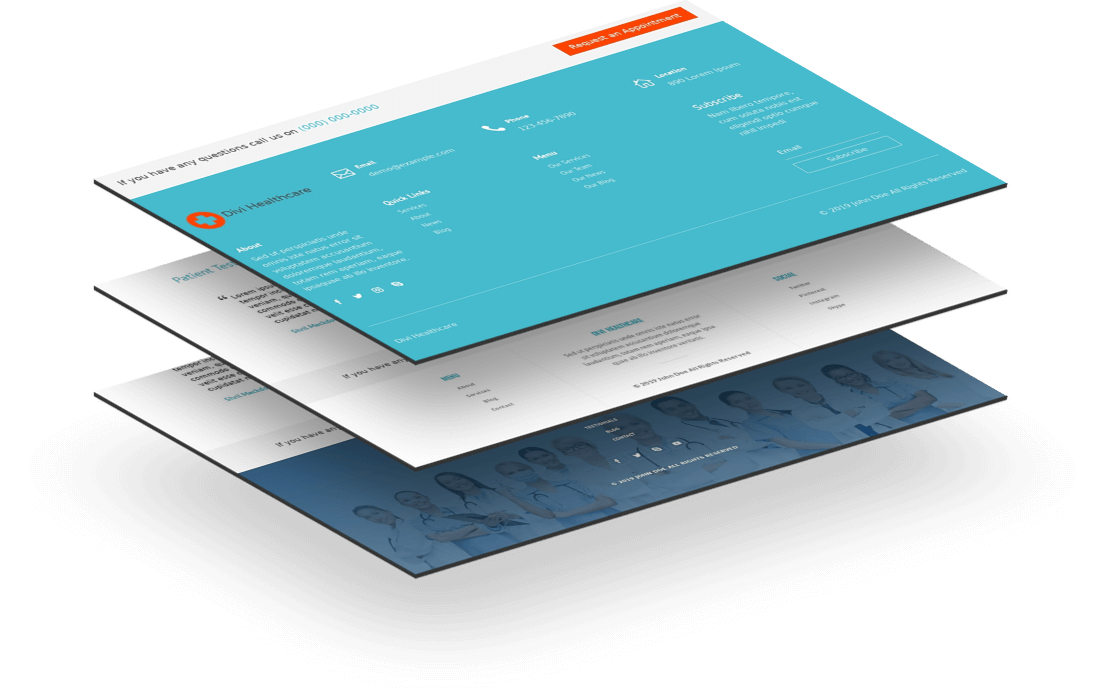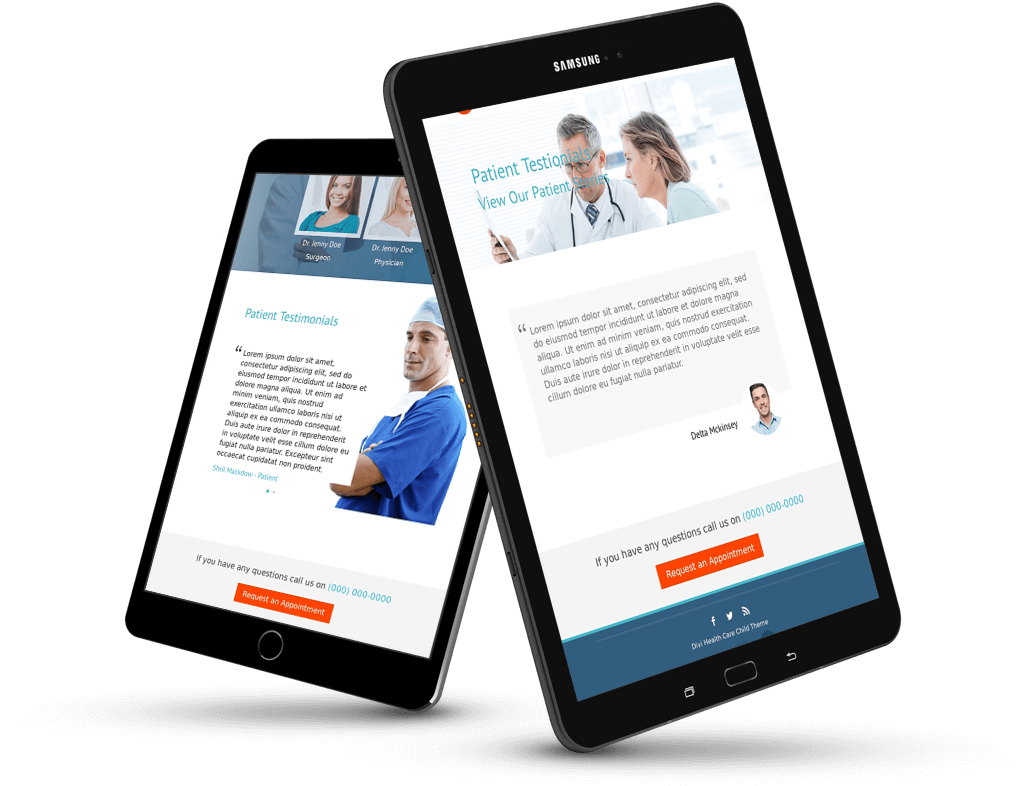 Showcase Testimonials
Display patient testimonials on your medical website with Divi Healthcare child theme. Showing testimonial on your website put positive impressions to the visitors and makes them trust your services. So, they can easily choose you for treatments, among other medical professionals.
Responsive Page Layouts
All the pages and layouts of Divi Healthcare child theme are fully responsive to different screen size devices. So, whether your visitor is on mobile or PC, your website will always deliver its best. Fewer bounce rates and better performance. No worries!