Divi Agency Child Theme Documentation
easy instructions to get you started
Download
A download link is sent in the order confirmation email. The product can also be downloaded from My Account area.
File Structure
1. Name of the main file is divi-agency.zip. It needs be to extracted further before uploading.
2. The extracted zip file contains the following files: (1) divi-agency.zip (2) Divi Customizer Settings.json (3) Divi Theme Options.json (4) content.xml (5) readme.txt (6) license.txt (7) widgets.txt (8) Divi Builder Layouts (9) Divi-Theme-Builder-Templates.json
The last two files are added after Divi 4.0 release which contains the Theme builder settings that can be imported at once (Divi-Theme-Builder-Templates.json) and a directory with the layout files including page layouts and layouts for header, footer, blog, posts etc for using as Divi 4 templates.
Installation
1. Install child theme using extracted divi-agency.zip and activate it.
2. Navigate to theme customizer and import Divi Customizer Settings.json
3. Navigate to Divi theme panel and import Divi Theme Options.json.
4. Navigate to Divi Theme Builder and import Divi-Theme-Builder-Templates.json.
5. Navigate to Tools>>Import, then select WordPress import and import content.xml. This step will create all the pages and posts as on the demo site.
6. Update content and images.
Using Divi 4 Layouts for Header, Footer, Blog, and Posts
Some pre-defined layouts are available as alternate layouts for header, footer, blog archive, posts in this child theme.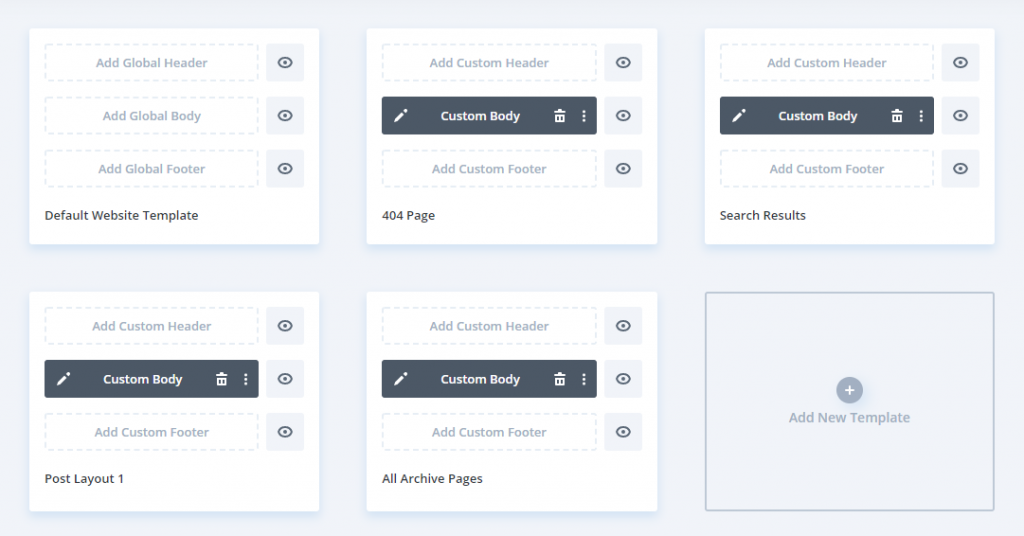 In order to import these layouts, go to the Divi Theme Builder and override the section with the layouts imported from Divi Library. You could add these layouts to the Divi Library from the "Divi Builder Layouts" directory.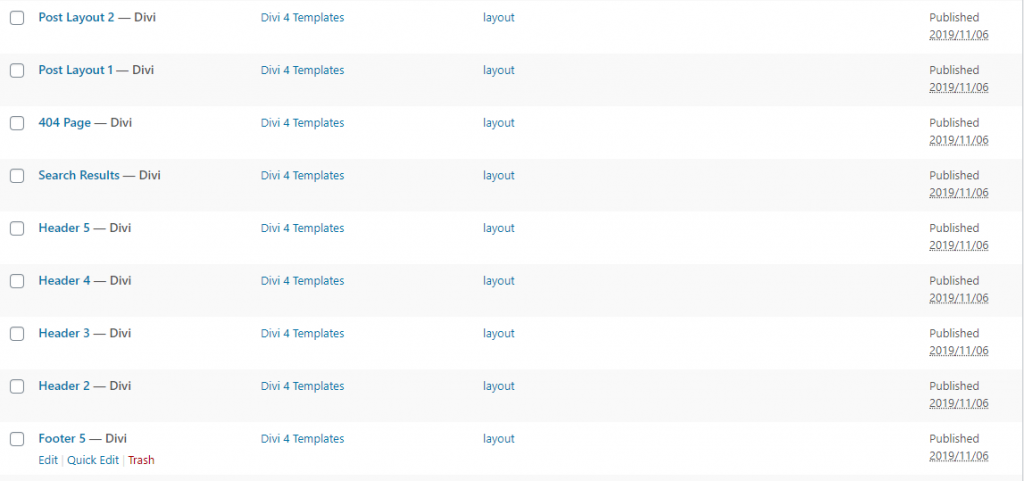 The custom template for the header section comes already along with the child theme in Divi Theme Builder. In case not, then you can easily create one by clicking the "Add New Template" in Theme Builder and choosing one of the header layouts from Divi Library.
In case you don't find header layouts in your Divi Library. Navigate to the Divi Library menu and import header layouts from the child theme pack by clicking the Import & Export button in the library.
You can also change the header layout that comes by default with the child theme package. First, delete the default header layout and then click on the "Add Custom Header," then "Add From Library." Go to the "Your Saved Layouts" column and choose your desired header layout.
The same process applies to use the Footer Layouts, Archive Page, and other custom layouts available with our child theme package.